You know that settling for the same old strategies, software, and approach isn't going to help your business succeed. Luckily, new digital tools that can improve your business' workflow are popping up left and right.
VoIP phone service is no different.
Hosted VoIP gives you advanced PBX (Private Branch Exchange) features without setup costs. It also helps you integrate voice with other channels.
So, how do you switch to VoIP?
To switch from a traditional phone line to VoIP, you'll need to get in touch with a VoIP provider. To make the switch, you'll just need an internet connection good enough to support it (think broadband connections).
If you're looking for a more comprehensive walkthrough, this step-by-step guide will give you everything you need to know.
How to switch to VoIP in 9 steps
1) Plan The Switch to VoIP
Switching your traditional phone system to Voice over IP used to be a massive project.
Previously, you had two dozen other steps to set up a private branch exchange at the office. The technical requirements and hardware costs alone were insurmountable for small or medium-sized businesses.
With a cloud PBX solution, this is no longer the case. But it's still a significant switch in technology. Don't jump into switching to a VoIP without the right infrastructure or training in place. It all begins with a plan.
2) Test if Your Internet Connection is Good Enough for VoIP
With VoIP technology, voice data goes over the internet to telephone networks. A fast and stable internet connection is the foundation of a healthy VoIP system.
We recommend a wired broadband connection with at least 100 kbps (or 0.1 Mbps) per line. For 20 lines, you should have at least 2 Mbps. Both download and upload speed need to meet this requirement. A fiber-optic connection is best, but business-class cable or DSL internet connection would work just as well.
Test if your connection is fast enough with our VoIP Speed Test. If your current internet isn't fast enough, you need to upgrade it before switching to VoIP.
3) Prepare Your Network Infrastructure
Even if you've got the bandwidth covered, your network hardware might not be up to the task. If you use a wireless router or multiple routers, you'll need to make some changes.
VoIP technology works best wired directly into a router or switch setup. Plug every phone into the network switch with Ethernet cables. Those network switches then connect into the router for fast and intelligent network performance.
Larger offices might need several switches and a Virtual LAN (VLAN) configuration. A VLAN is intended to intelligently segment the network by MAC addresses in an organized, strategic way. This improves VoIP device performance by lowering network congestion.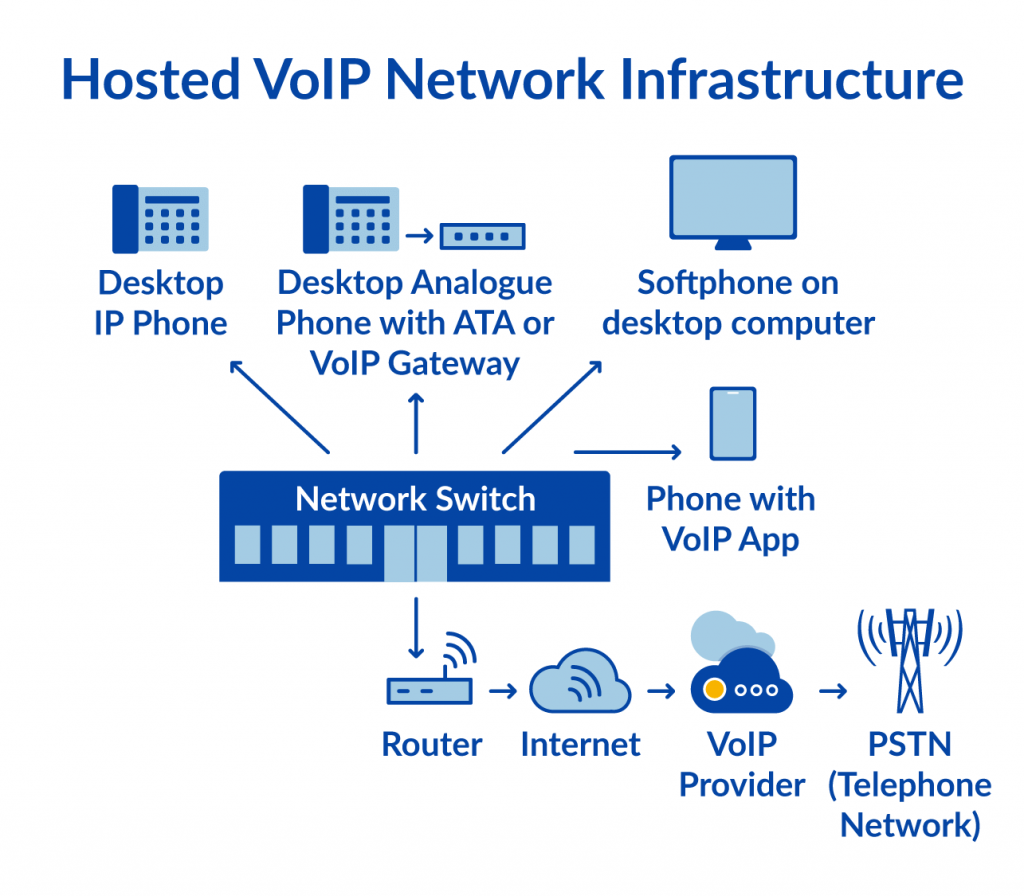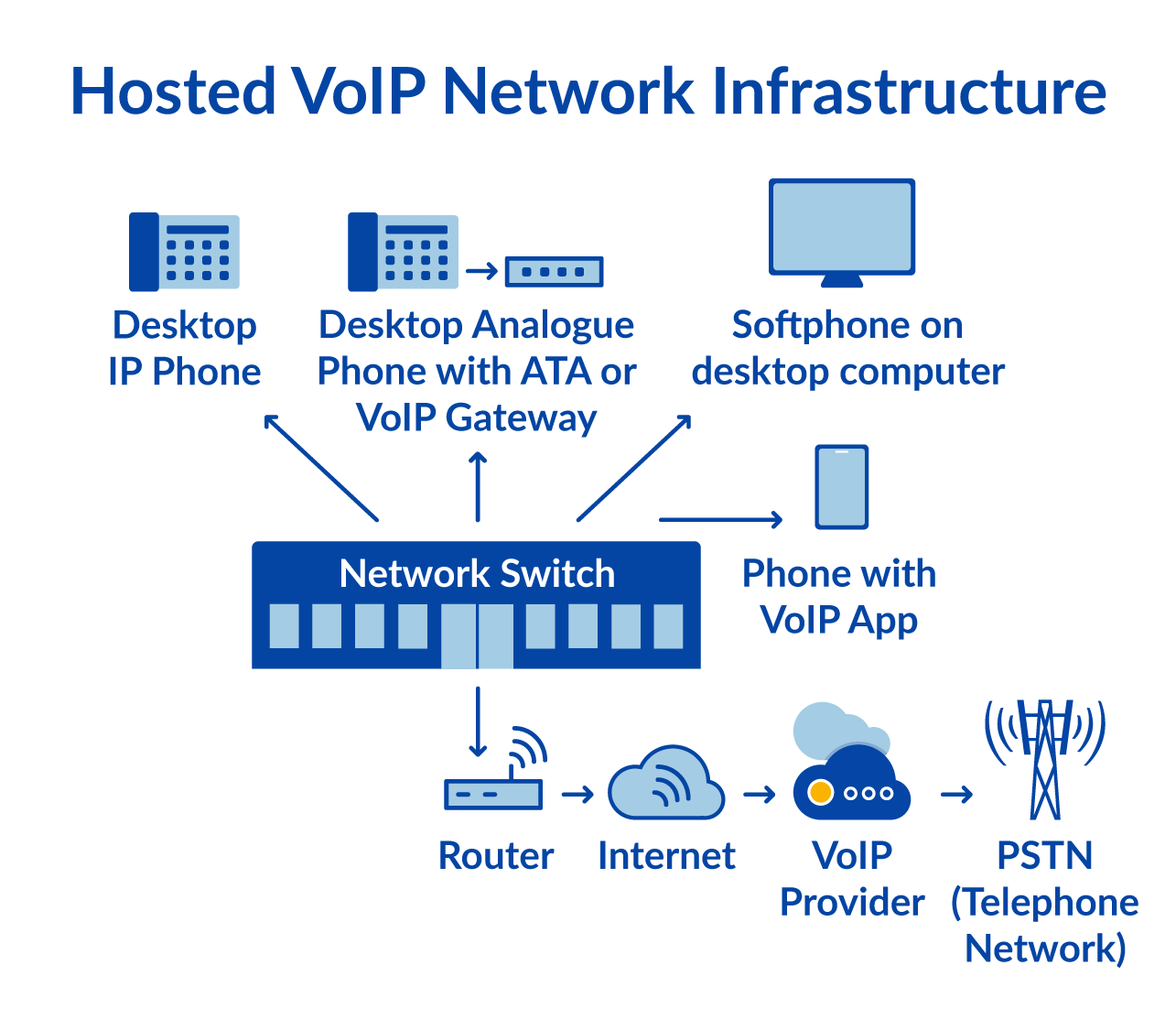 Layered routers can impact VoIP calls and cause technical issues. That's why you should use a switch instead. Your network switch must be able to handle VoIP traffic.
Avoid using a "double NAT," which means two separate networks internally before reaching your ISP. Crucial functions in the SIP protocol require the router to dynamically permit traffic from your VoIP provider. Using multiple routers in a serial fashion interferes with establishing reliable phone calls.
A gigabit Ethernet switch like Ubiquiti's EdgeSwitch is ideal for SMBs. Larger offices should take a look at Cisco's managed network switches.
4) Find the Right VoIP Provider
Most small businesses aren't prepared to spend thousands of dollars just to get started with VoIP. With a Virtual PBX solution, you won't have to.
That doesn't mean that you can choose any company and experience overnight success. Great internet service, the perfect network, and top-of-the-line phones don't necessarily guarantee better call quality. The data centers of your VoIP provider are a vital factor.
Accessing a distributed network of data centers means your phones connect to the fastest, lowest-latency VoIP servers to complete high-quality phone calls. Nextiva has eight of them strategically located across the United States.
At Nextiva, call quality, security, and reliability are things you don't need to worry about anymore. We've got you covered with 99.999% uptime, unsurpassed call quality, HIPAA Compliance, and more.
If you're worried about how much Nextiva costs, don't. Our basic plans start at just $20/user per month. All the benefits of VoIP, award-winning customer support, and less expensive than your traditional phone service plan–what's not to love?
Get a modern phone system loaded with everything
your business needs. Get a free quote today!
5) Take Advantage of Advanced Business Phone Features
Once you've decided on a provider, you should implement essential business phone features. Without these features, your new VoIP phone system might only make or receive phone calls.
Auto Attendant
An auto attendant is the foundation of the modern contact center. Customers that call your business are always guided to the right department by using numbers on their phone's dial pad. Now, smaller businesses get this functionality built into their company's phone service.
Think about the ideal experience you want callers to have with your company. An auto attendant allows you to maintain a professional appearance and direct callers to the right person or department. Nextiva's Pro plans come with a free professional recorded greeting, too.
IVR (Interactive Voice Response)
IVR, or interactive voice response, is a telephone menu that helps companies to route incoming calls. Caller input is based on speech recognition. Based on this input, the IVR routes them to the appropriate number or representative.
Automatic Call Forwarding When Busy
Sometimes two customers call at the same time. With automatic call forwarding, you ensure that VIP clients never have to wait.
Call Queuing
Customers hate busy signals more than hold music or ringback tones. If they can't reach your customer service, they might give up on trying. Call queuing always keeps your line open, and lets callers wait for their turn.
Conference Bridge
One of the advantages of a VoIP system is the ability to host conference calls for free. This eliminates long-distance calling expenses and improves collaboration. Before you can use conference calling, you have to set up a conference bridge.
Extension Dialing
With extensions, you can create a unique number for every agent or team in your business. Your customers can call the right department directly when they call your main line, or toll-free number.
It's crucial to set up extensions when going live so employees can easily transfer calls. Plus, customers can fast-track their way to the right staff when they call.
Voicemail Forwarding
Voicemails left on VoIP phones are saved on servers hosted in the cloud. You can access them from anywhere. Voicemail forwarding can be set up for email and text messages. This feature is great for staff who are often on the road. If you're busy, you can easily delegate customer needs to more-equipped members of your team.
Keep Your Existing Number with Number Porting
Porting a number means you can keep the same phone number you used with your analog phones. Your customers won't get confused or frustrated by calling the old one. Keep your local number, and keep your customers happy.
At Nextiva, we can handle the porting of all your phone numbers for you.
Nextiva's capabilities go way beyond this list. You can read more about all our VoIP Features here.
6) Choose Your VoIP Hardware
The next step is figuring out which VoIP hardware will be the best option for your office.
To keep the desk phone setup, go with VoIP phones.
If you want the hands-free option, you need VoIP headsets.
To retrofit your current analog phones or PBX setup, use a VoIP adapter.
You can even use apps to handle calls from your computer, smartphone, or any other mobile device.
Nextiva offers monthly payment plans, including leasing, for businesses that want minimal up-front costs.
7) Train Your Staff
Any form of change in the workplace can be stressful for your employees. New technology is at the top of the list of stressful changes.
Before you announce the date and make the switch to VoIP, run a training program. Educate key staff members in the new software and hardware. Your IT managers should learn how the new equipment works with the network. Data analysts and managers need to familiarize themselves with the analytics and CRM.
Enterprises also need to figure out how this impacts their IT team structure. Should you appoint a manager for the VoIP system?
Nextiva has helped thousands of businesses transition to VoIP. Our support technicians help you, and your staff, get ready before the switch.
8) Install Your VoIP Phone System
Once you've got all your ducks in a row, it's time to move on to the installation. The complexity differs from business to business. It also depends on the hardware setup you choose.
For SMBs, it could be as simple as plugging in a few phones at the office. For a larger office with multiple switches, it can be a project for several people.
Connect your VoIP phones to a network switch with Ethernet cables. For non-PoE setups, you also need to plug in the included AC adapters.
9) Save up to 90% on International Calling Costs
Your business phone bill is a significant expense for many small businesses. Phone companies charge high premiums for extra features that companies need. Once you've switched to VoIP, this cost will plummet.
With Nextiva, you can get advanced business phone features and unlimited calling for $20 per user, including domestic long-distance calling.
What if you need to call outside of the U.S.? International calling rates start at $0.01 per minute with Nextiva. Companies with a global presence can save up to 90% on international calls.
Let's say you want to call the United Kingdom (UK) from anywhere in the United States. The local telephone company charges $1.21 per minute. Nextiva charges $0.01 per minute.
A typical 20-minute business phone call using the local phone company would cost you more than $24.
With Nextiva, the same business call costs you $0.20. Wow!
FAQ
As a VoIP service provider, we get a lot of questions about switching to VoIP. We've answered the most frequently asked questions below.
1) What Equipment Do You Need to Switch to VoIP Service?
To switch to VoIP service, you need an IP-enabled phone or VoIP phone adapter, a router, and an internet connection. With hosted VoIP, you can handle calls directly from your computer or smartphone. You don't need any extra equipment at all.
2) Can I Use My Regular Phone with VoIP?
If you have an internet connection and a router, you can use your regular phone with a VoIP adapter. You will, of course, also need a VoIP provider to be able to make and receive calls.
3) What Is a VoIP Phone Number Used For?
VoIP phone numbers work exactly like a regular phone number. You dial the number, and you reach the VoIP phone on the other end.
With hosted VoIP, they work a little bit differently. You can freely redirect numbers to different locations. Let's say a customer called your Texas branch office. If all agents are busy, someone in Colorado can answer the caller.
4) Can VoIP Numbers Receive Texts?
VoIP phone numbers can receive texts, but it depends on the provider. Some don't offer texting capabilities as part of their package.
All Nextiva plans support this feature.
5) How Do I Switch My Landline to VoIP?
You can convert your landline to VoIP by investing in a VoIP phone or adapter. You also need to sign up for a VoIP service for basic and advanced features.
For more detailed instructions, follow the steps in this comprehensive VoIP implementation guide.
6) How Do You Set Up a VoIP Phone?
To set up a VoIP phone, plug it into your router or network switch with an Ethernet cable. If it is not a PoE-enabled setup, plug in the AC adapter as well. You won't need to do any further setup if it's from your VoIP provider.
If you bought the phone from a non-VoIP service provider, you might have to register the phone's MAC address and input the SIP server settings before you can use it.
For more extensive questions and answers about Voice over Internet Protocol technology and features, be sure to read our VoIP FAQs.
Want In-Person Support For Your Switch to VoIP?
In this post, we showed you the process of switching from landlines to VoIP at your office. If you're confused, or if you just want the safety of having access to trained professionals, take a look at our VoIP plans for businesses.
Our award-winning technical support team will be with you every step of the way.
Future-proof your phone system.
With Nextiva, it's easier than you think.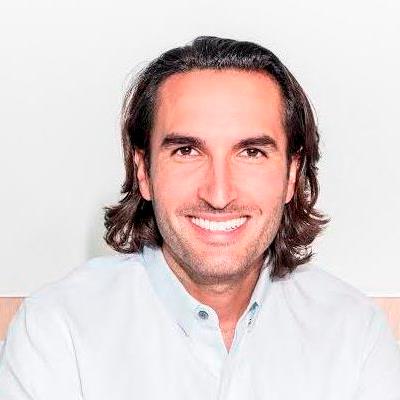 Yaniv Masjedi serves as Nextiva's CMO. An avid reader and lover of all things marketing, leadership, and personal growth, Yaniv is obsessed with creating strategies that drive awareness, strengthen brands, and create customer-centric culture. To get in touch, follow Yaniv on LinkedIn.