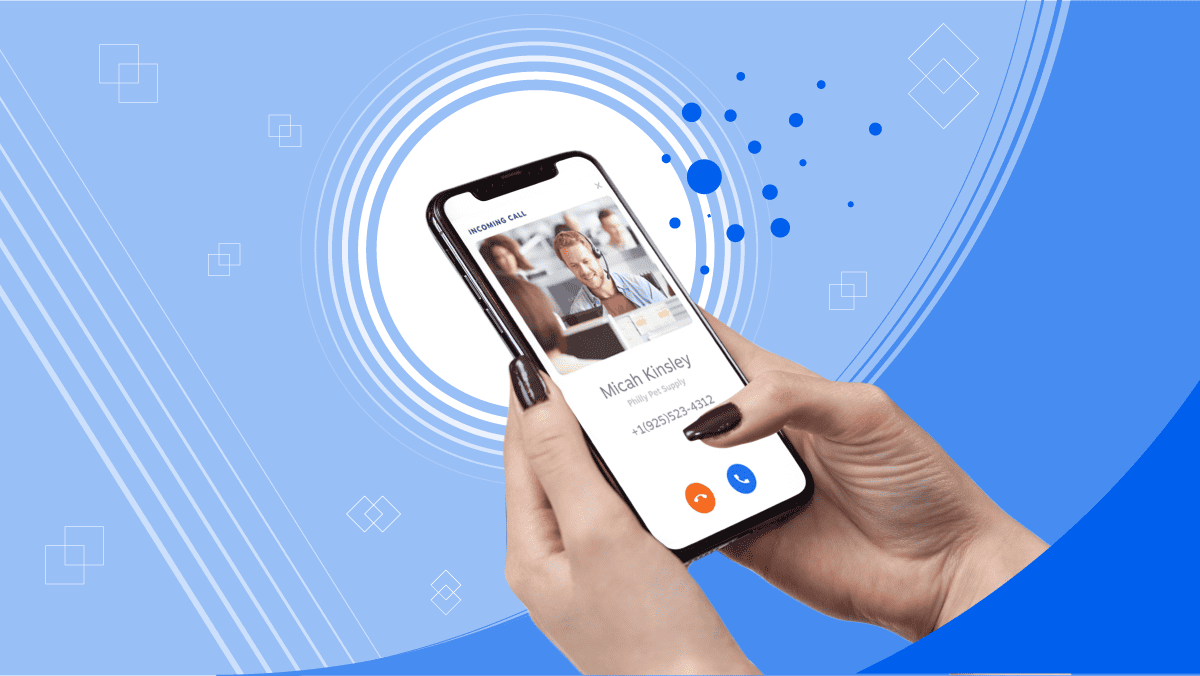 VoIP Phone Definition:
A VoIP phone is any phone that uses an internet connection to make and receive calls instead of traditional landlines. Instead of a traditional "hard-wired" phone that uses direct connect copper wires to provide telephone service, a VoIP phone gives you greater mobility, interoperability, and connectivity. The best part? a VoIP phone isn't bound to a specific desk location. You can use an app to make calls from any desktop computer or mobile device.
Guide to What Is a VoIP Phone: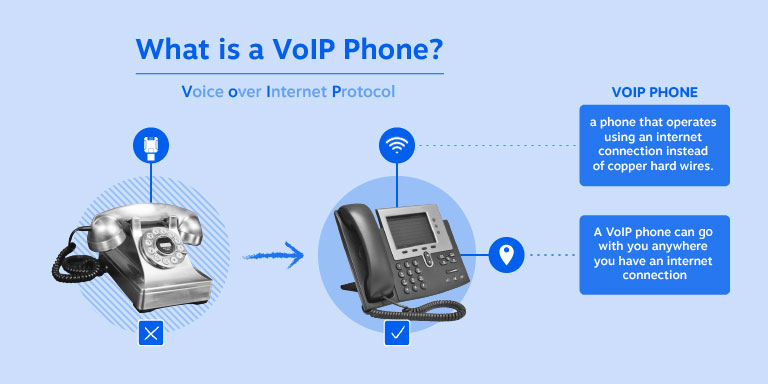 What is the difference between VoIP vs traditional phone systems?
The biggest difference between a VoIP phone and a traditional landline telephone is that a landline phone is hardwired into a physical location using copper wires. A VoIP phone, on the other hand, makes and receives calls over the internet and is not bound to a specific location, i.e. you can use that phone number from anywhere you have internet access.
Because of this, there are two big differences in functionality between VoIP phones and traditional phones. The first is that a VoIP phone will work no matter where you are. As long as you have an internet connection, you'll be able to make and receive calls without being tied to one place.
And the second difference is that you technically don't even need a physical phone to make calls. You can make a call from an app on your computer.
Functionality
VoIP phones
Landline phones
Phone calls (PSTN)
Yes
Yes
Nationwide long-distance
Included
Optional
User-to-user calls
Yes
PBX required
Caller ID
Yes
Yes
Call Waiting
Yes
Yes
Ease of setup
★★★★★
★★★
Requires internet
Yes, 100 Kbps per line
No
Wireless
Wi-Fi, DECT, and Bluetooth headsets available
DECT and Bluetooth headsets available
Reliability during internet/ power outages
Calls can be routed to another number or voicemail.
Calls drop or are routed to voicemail.
Technology
IP telephony (SIP, TLS, and SRTP)
Analog voice signals
Call quality
★★★★★
★★★★
Setup cost
$0
$110 per jack
Monthly cost
$20–35
$35
Advanced features
Auto attendant
Included
PBX required
Phone number privacy
Included
Varies
Phone number changes
Included
$27
Phone extensions & hunt groups
Included
PBX required
Conferencing
Included
Three-Way Calling
Call routing
Included
$9.95/mo
Call queuing
Add-on
Add-on
Remote work capable
Yes, softphone apps
Call forwarding
Call encryption
Yes (TLS & SRTP)
No
International dialing
MX: $0.16/minUK: $0.01/minJP: $0.05/min
MX: $1.97/minUK: $1.21/minJP: $1.62/min
Business voicemail
Included
$13.95/mo
Integrations (CRM, text messaging, surveys)
Yes
No
Sources: VoIP information based on Nextiva's business phone plans. Analog information is based on business rates published in ILEC tariffs for Arizona. Updated on January 20, 2021.
Break tradition and take your phone online.
For free.
Get your business phone, messages, video meetings, contact management and notes–integrated in ONE powerful app. FREE.
How does a VoIP Phone work
In the past, phones were wired to an on-premises Private Branch Exchange (PBX). This bulky machine would handle all routing and ensure each call reached its proper destination. VoIP phone features far exceed those available on old PBX systems.
Since VoIP phones work by processing telephone calls from the internet, or the cloud, the technology employs existing computer network cabling or Wi-Fi to access telephone networks.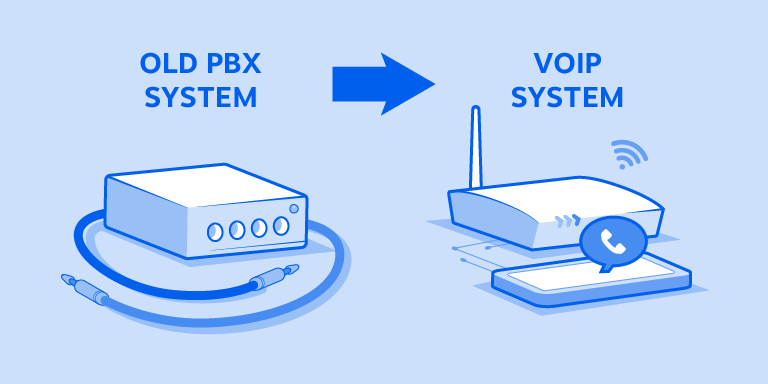 Now, with modern technology, VoIP phones work by converting analog voice signals into digital signals over your broadband internet connection. The easy way to say it? VoIP uses the internet to make and receive calls rather than traditional landlines.
All you need is internet service, a VoIP-compatible phone, and a VoIP service provider to place and connect the calls.
Check out how Tony breaks it down in this video.
VoIP technology uses existing computer network cabling or Wi-Fi to access telephone networks.
No more wires or boxes needed to use your VoIP business phone service! Now you can take a call from anywhere you have internet — even from an app on your computer — and your phone number can stay the same as before, so there is no expense in changing it.
So whichever telephone device your company chooses, you can connect it to the VoIP phone system simply and easily. Just plug the phones in and have your tech team configure the system in a way that best suits your particular needs.
"Many medium and large enterprises already have significant investments in PBX systems and are reluctant to eliminate systems that have worked well for many years to switch entirely to a software-based phone service. The good news is that many cloud phone service providers have a feature called SIP trunks that allows you to connect your PBX system to a VoIP network."
– Cloud Phone Systems for Dummies
Sometimes, instead of entirely switching to a VoIP phone system, businesses prefer to convert an existing PBX system to a cloud-based system. This transition is facilitated by a business phone provider using Session Internet Protocol, also known as SIP trunking to transmit calls over IP networks.
SIP trunking is used to create, modify, and terminate multi-party sessions that contain one or more media streams.
Learn more about whether SIP trunking is right for your business…
What are the benefits of a VoIP phone system?
There are many benefits of VoIP phone service, but the most popular benefit of VoIP is that you can make and receive phone calls from anywhere you have an internet connection. No more being bound to a specific desk at the office – you now have virtual phone numbers that follow you anywhere. Use Nextiva's VoIP phone app to receive calls from your desktop computer or any mobile-compatible device with our mobile app.
Businesses like VoIP because it's easier to scale (vs traditional landlines) and add phone numbers as your team grows. Why? Because you don't need to have a technician come out to install physical phone lines. VoIP has easy installation – all you really need is an existing internet connection and VoIP provider.
Other popular VoIP features for business include integration with existing software applications, like Microsoft Teams integrations. Plus, advanced voicemail features like visual voicemail and voicemail transcriptions are sent to your email.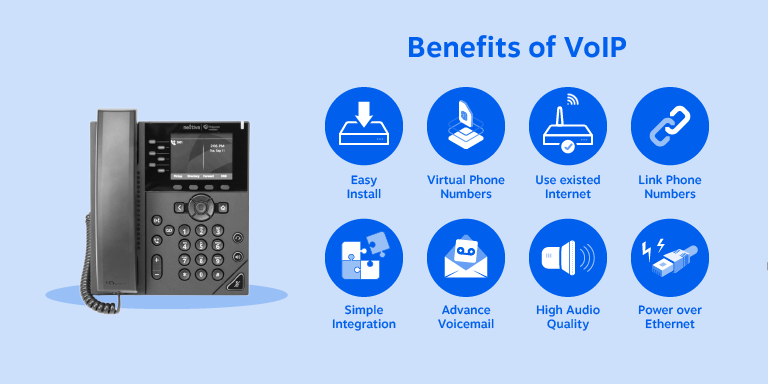 Lots of businesses like the lost-cost approach to maintenance. Not only do you not need your own PBX or server since the data is hosted and managed by your VoIP provider, but you will get automatic software updates so no one needs to be monitoring your phone system.
With VoIP, you can enjoy higher-quality audio range (twice that of traditional landlines). And your VoIP phone system can be set up for PoE. That means they get power over their Ethernet network cable instead of a traditional power adapter. This results in fewer transformers having to be plugged into power strips around the office.
Types of VoIP Phone equipment
There are two main types of VoIP – hard phones and softphones. You may need only one type to suit your needs or your business may operate best when you combine a few different types.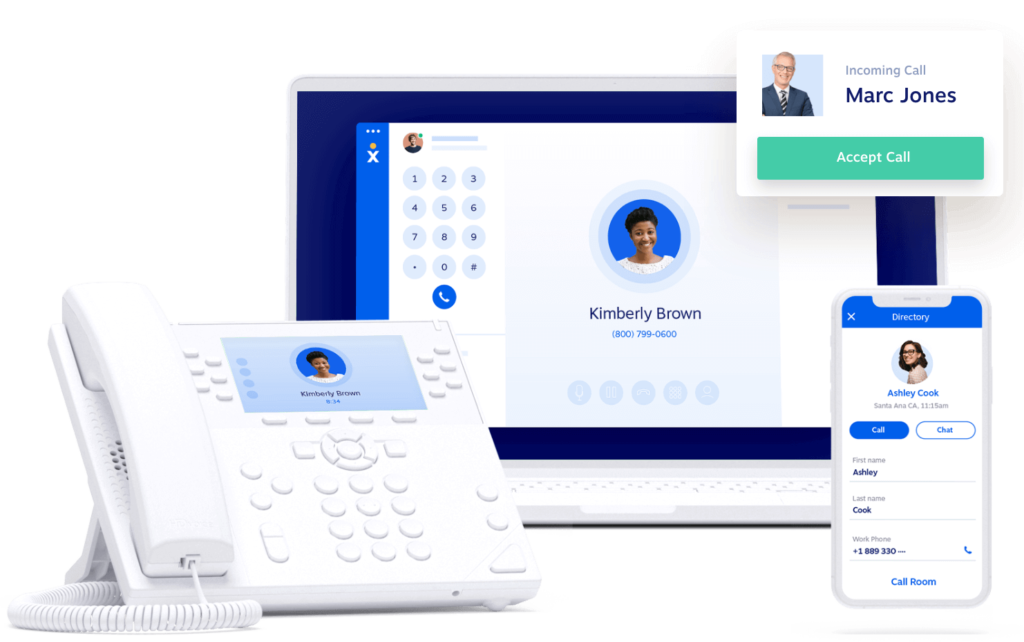 VoIP hard phones are physical phones that you can see, touch, and feel. Softphones, on the other hand, are basically software apps that you use on a computer or mobile device to accept and make calls.
If you choose Nextiva as your VoIP provider, you will get a softphone (also known as our app that you can use to make calls from your computer or a mobile device) included in your package. Nextiva also offers a variety of hard phone types to choose from.
To make the decision process easy, Nextiva has assembled a chart showing the most popular phones on the market. All of these models have been tested and reviewed, and each has been benchmarked to the highest industry standards.
Remember, though, that there are countless other models available (some with either more advanced features or additional lines). Here's a more comprehensive list of the best business VoIP phones.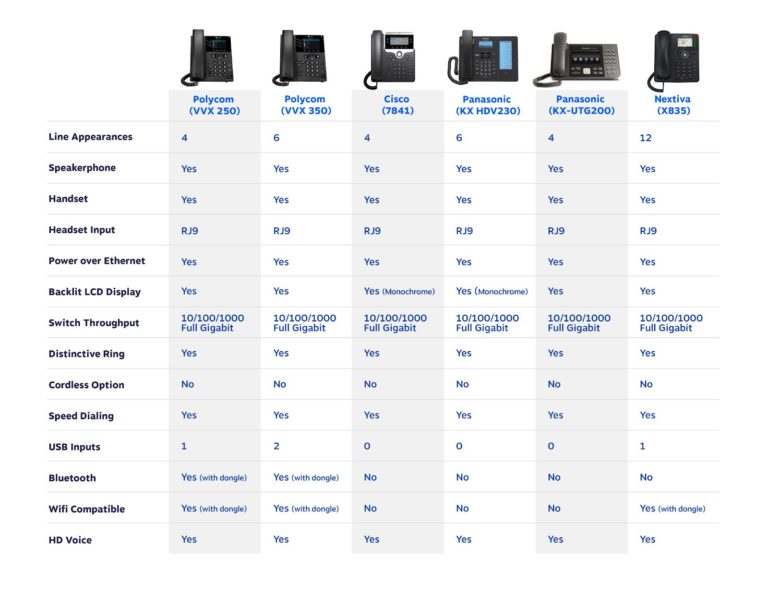 A conference phone differs from a desktop phone in that it is optimized for both hearing and sending the best quality audio in a group setting (like a conference room table) because it has Omni-directional microphone configuration.
However, there isn't a big functional difference between a desktop phone and a conference phone. If you learn how to use one, you can easily use the other.
The models shown below are among the most popular in the market. Each comes with standard features like speakerphones and speed dialing. For information on additional features and capabilities, refer to the chart below.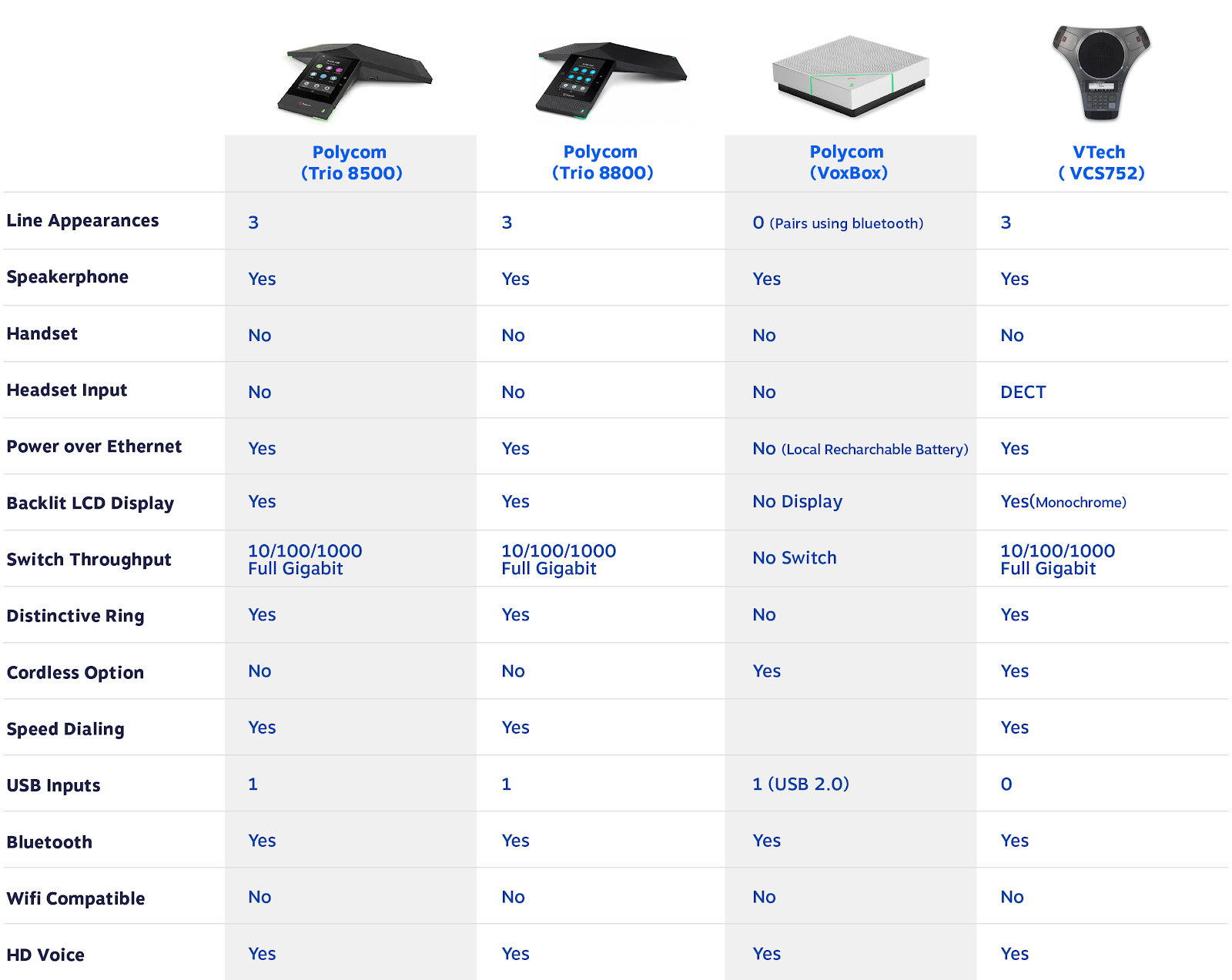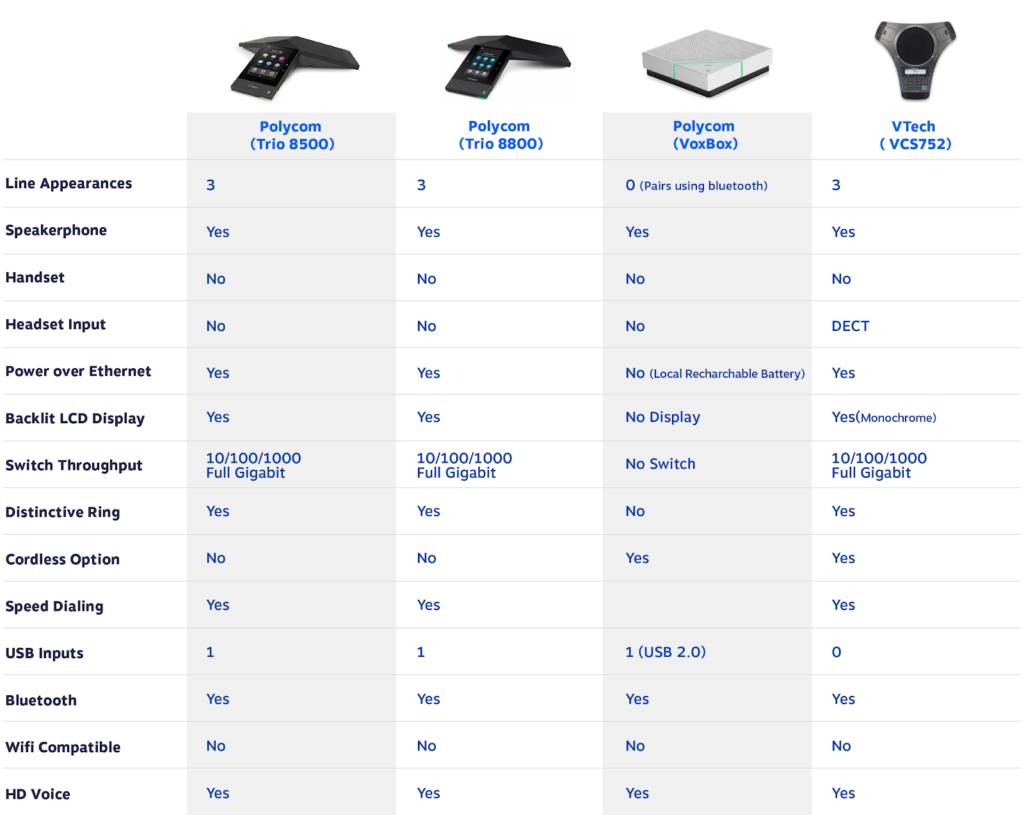 What type of VoIP phones does my business need?
In the end, you cannot go wrong with any of these popular devices. You'll notice that each of these offers the features that you would expect from a phone system.
Here are the primary requirements to consider before choosing a device:
Look at the brands. Are there names you trust more than others? Think about longevity and past performance.

Poly is the global leader when it comes to productive and effective engagement with colleagues, partners, customers, and prospects. You can't look at a serious VoIP solution without including its product line in your decision-making process.
Cisco is a big name in business networks and internet infrastructure and another lead player in the VoIP hardware realm.
Panasonic is one of the world's leading innovators in VoIP phone business systems. Their reputation for making quality electronic devices goes back decades.
VTech is the world's largest manufacturer of cordless phones and well known for its electronic educational toys.

Look for the number of line appearances. How many lines does each device in your business need to be able to handle? Some team members will need many more than two lines.
Do use headsets? What type of connector do they have? An RJ-9 is a familiar type of connector for telephones, but is less popular. Today's headsets use USB for connectivity. If you need Bluetooth, then make sure your device supports it. Some devices require a USB-to-Bluetooth dongle that might not be included.
Ready for Power over Ethernet (PoE)? Most devices now support PoE but ensure that you have the power adapters since most employees that work from home do not have PoE-capable network equipment.
Don't forget about reliability. Does the phone receive regular security updates? VoIP phones that receive these updates tend to provide much more reliable VoIP phone service than devices that need firmware delivered by hand. (Hint: Many, many internet-connected devices never get updated.)
What are other frequently asked questions about VoIP phones?
Got questions about VoIP? Don't worry. You're not alone. Here are some of our most frequently asked questions about VoIP phones.
Conclusion
There are many choices when buying and configuring your business VoIP service. Making sure you have the best VoIP provider, phones, and features, gives you more confidence to run your business.
It doesn't have to be hard. In fact, setting up a virtual phone system is so easy, you can set it up yourself.
The good news is that you are not alone in this journey, and there are professionals to guide you along the way. Talk to a Nextiva VoIP specialist who can help you select the perfect phone system for your company.
Also, check out customer reviews about our VoIP phone service.
Break tradition and take your phone online.
For free.
Get your business phone, messages, video meetings, contact management and notes–integrated in ONE powerful app. FREE.