A VoIP app is more common today than it has ever been before. Chances are even if you don't know what a VoIP app is you've already used one.
From enterprise corporations to small businesses, many have adopted SIP (Session Initiation Protocol)-based VoIP capabilities that give employees a feature-rich communications solution manageable from one central location — a VoIP application.
Instead of a desk phone, businesses can enable their teams to work remotely with nothing more than an app.
With that in mind, let's talk about what VoIP means for your small business. Firstly, we'll cover what a VoIP app is and how it can improve your business communications. Secondly, we'll take a look at some of the most popular VoIP applications and what they have to offer.
Moreover, we'll give you all the information you need to set your business up for success and help you choose the best VoIP app for your needs.
We know you like to skim:
What is a VoIP App?
VoIP (Voice over Internet Protocol) is a way to make telephony calls over an existing internet connection via the cloud. A VoIP app lets you make calls, send texts and more with VoIP technology.
With a VoIP solution users no longer need to rely on a hard phone line or their mobile data plans to make calls, conduct video conferences, or access collaboration tools. To put it simply, VoIP is video, text, or voice communication conducted over the internet.
In fact, experts believe that VoIP solutions will eventually replace all forms of traditional phone services. This is thanks to VoIP's flexibility, low-cost options, and the ability to help improve productivity and customer-facing communication.
For instance, if you've ever used an application like Skype or WhatsApp, you've already experienced the power of VoIP apps and their ability to allow you to administer a conference call or send a text message over WiFi.
The simplicity of VoIP apps and their wide availability are what make them so attractive to businesses all over the world. While employees are continuing to move to a work-from-home format and remote offices are popping up everywhere, it's no surprise that VoIP solutions are growing in popularity.
Benefits of a VoIP App: Why You Need Them in the First Place
1) Ease of Use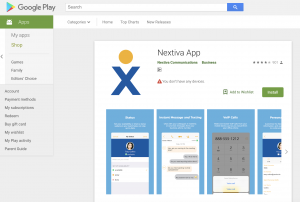 Implementing a new unified communication solution office-wide is a huge responsibility, both financially and on your technology team. As a result, VoIP apps have become popular due to their simple set-up and ease of use.
All you have to do is download an app to your Android or iOS device, go through the sign-up process, and begin using it. These days WiFi and mobile signals are widely available everywhere, so as long as you have access to one of those you're good to go.
2) Cost Effective
Another reason businesses are looking to VoIP as their next great unified communication solution is because of the cost savings. VoIP apps for individual use are often completely free to users. However, companies can subscribe to an all-in-one solution and utilize the app as part of their VoIP service.
For businesses, these VoIP plans tend to be much less costly both in implementation and monthly fees than communication solutions have been in the past.
Related: The best place to look up Nextiva pricing is on Nextiva >> How much does Nextiva cost anyway?
3) Flexibility
VoIP apps can go anywhere with you, hence why they've grown more popular with the rise of the remote worker. From your laptop, tablet, or mobile device, you can easily access your business line and use it whenever and wherever you need. VoIP simplifies features like call forwarding, voicemail, and presence to bring your office right to the palm of your hand.
For employees, this means they no longer have to use their personal numbers or mobile data to do business while away from the office.
For many businesses, VoIP apps have helped them take their communication strategy into the modern age and offer employees more options.
Related: What Is a VoIP Number, How Does It Work and How Do I Get One?
VoIP App for Android
It's important to note that many Android devices already come set-up with SIP support and offer the capability to make calls over WiFi.
If all you're looking for is a VoIP solution to use on an individual basis, an android might have what you need already built in. If you need something more robust for your business requirements, there are plenty of VoIP apps for android users to consider.
Nextiva App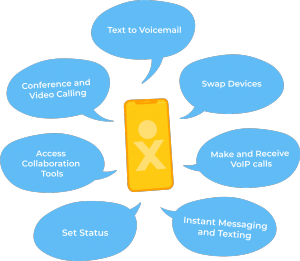 The Nextiva App is one of the top VoIP apps for Android. More like a call center in the palm of your hand, any current Nextiva subscribers can download the app and instantly have access to its feature-rich capabilities.
Perfect for businesses of every size, the Nextiva app comes equipped with a surplus of features every employee needs to stay productive while out of the office.
Nextiva App Features:
Set Status
Instant Messaging and Texting
Make and Receive VoIP calls
Swap Devices
Access Collaboration Tools
Conference and Video Calling
Text to Voicemail
Nextiva App Pros and Cons:
Pros:
Feature-rich options
Cloud-based
Access to the Nextiva Amazing Service team
Cons:
For businesses only
Nextiva subscription necessary
Nextiva Android App Reviews
Nextiva's VoIP app for Android is one of the best solutions for businesses. Here are some real user reviews from Google Play Store.


2) Aircall
When it comes to VoIP apps for Android, Aircall is another business-based communication solution. The Aircall app functions well as a call center on-the-go and offers integrations with some of the most common business applications out there.
However, compared to Nextiva, it still lacks a great deal of functionality and collaboration options. Let's take a look at the features.
Aircall Features:
Unlimited Concurrent Calls
Custom Messaging
Call Queuing
Call Routing
Shared Inbox
Call Transfers, Call Forwarding, and more
Desktop and Tablet options
Pros and Cons of Aircall
Pros:
Great Call Center Functionality
Business Integration
Cost effective for Business
Cons:
Newer Company
Lack of collaboration tools
Here are some of the recent reviews from Aircall users on GetApp.
"Aircall gives me the freedom to take calls away from my desk. Using the forward to a mobile feature I need not worry that I'll miss something important." — Bill, GetApp
"Aircall used to be a solid product with fair pricing and good support. I don't know what's changed inside their company, but something has gone wrong and now their product and customer service are suffering." — Allen, GetApp
3) Zoiper Softphone
Zoiper is a VoIP and SIP android app that focuses on providing outstanding softphone services. The reason Zoiper is successful is due to its excellent call quality even when done over a shoddy internet connection.
While it's a much older technology than both Aircall and Nextiva, the app is still updated often and provides an exceptional UI and caller experience.
Zoiper Softphone Features:
Bluetooth Support
Exceptional Audio Quality
Multi-tasking Support
Calling over 3G and WiFi
Call Transfer
Video Support
Call Waiting
Pros and Cons of Zoiper Softphone:
Pros:
Great Call Quality
Multiprotocol with SIP and IAX Support
Lowest latency of all android softphones
Cons:
Older technology
Not Feature-rich
Lack of conferencing options
Here are a few of the most recent reviews for Zoiper in the Google Play store.
"Very good quality calls. It's what you expect from a paid service. Unfortunately, the caller ID is altered. So the receiver doesn't know who's calling." — Frank, Google Play
"Works well with my SIP and Cell provider. What more can I say? Calls go through without issue, voice quality is as good as, if not better than, my Cell service." —  John, Google Play
VoIP App for iOS
1) Nextiva App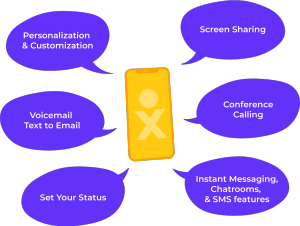 When it comes to iOS devices, there are a few small differences in the VoIP apps that are available, but Nextiva still stands out as one of the best options for businesses on the iOS platform.
From conference calls to call forwarding and text-to-voicemail, the Nextiva app is feature-rich and ready to go as soon as you download it. So, businesses that want to provide support for remote workers, call center employees, or remote offices, can find what they need with this app.
Nextiva App Features:
Personalization and Customization
Voicemail Text to Email
Set Your Status
Instant Messaging, Chatrooms, and SMS features
Conference Calling
Screen Sharing
Pros and Cons of the Nextiva App
Pros:
Cost-effective for any size business
Easily Scalable
Access to Nextiva's Amazing Service Team
Telecommuting flexibility
Cons:
Nextiva Service Necessary
Business Use Only
But don't take our word for it, check out some of the user reviews from the App Store.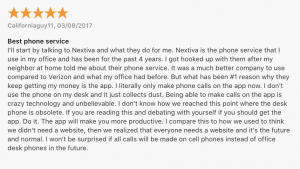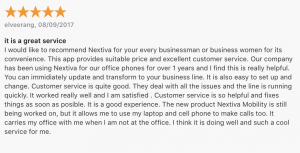 2) Skype
Skype is a well-known application for both business and individual use. This Microsoft owned program has been widely available for some time, which means that it's likely any of your business partners will have an account.
Skype is attractive to businesses because it's free to use if you don't want all the features and it has a simple, user-friendly interface.
Skype Features:
Personal Phone Number
SMS
Missed Call Notifications
Video Calls
Voice Calls
Voicemail
Pros and Cons of Skype
Pros:
Widely Available
Direct Support via Facebook and Microsoft
Cons:
Not User-Friendly compared to other competitors
Constantly Under Construction
Here's a recent user review from Consumer Affairs.
"Microsoft has taken a product that worked well and has made it so complex it is unusable for normal humans." — Russel, Consumer Affairs
"It gives me the knowledge on the conditions of my microphone and the speaker on my headset, which helps me to decide whether I use video call or not. It also has very good quality of audio." — Myric, Consumer Affairs
3) WhatsApp
Initially a favorite VoIP app outside of the United States, WhatsApp has recently started to grow a presence as a text and video call solution for travelers.
Its lack of options for group and conference calling has prevented it from catching on with enterprise and business accounts, but it still continues to grow thanks to its user-base.
Additional concerns users have with WhatsApp is that it's a Facebook-owned platform which raises the question of privacy concerns.
WhatsApp Features:
Group Chats
SMS/ MMS
Missed Call Notifications
Contact Syncing
Location Adding
Pros and Cons of WhatsApp
Pros:
Easy to Use
Free
Available Everywhere
Cons:
Limited Functionality
No Group Conferencing
Privacy Concerns
Here are some of WhatsApp's recent reviews from users on ___
"The mobile app works really well but the web client has a lot of bugs and glitches, please fix them!" – Daniel, TrustPilot
"WhatsApp – great when it works, which it does very well most of the time, but if you get stuck! Good luck!" — Clare, TrustPilot
Stop Thinking. Give the Nextiva VoIP App a Go
Are you ready to implement your own VoIP solution? Nextiva can help you get started quickly. The Nextiva App is a great resource when it comes to managing unified communication solutions through one cohesive VoIP platform.
Our all-in-one application makes it possible to access voice, video, instant messaging, and even team presence, from multiple devices anywhere in the world.
From the moment you set up your account with Nextiva, you'll have the Amazing Service team to help guide the way and ensure your solution is everything you need it to be.
So, what are you waiting for? Reach out now to ask about our Nextiva Business VoIP apps and get started today!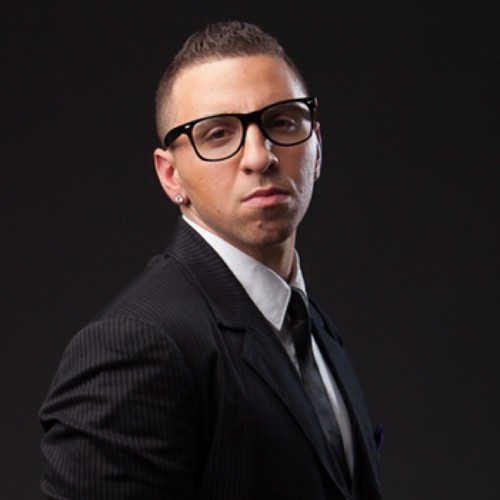 Gaetano DiNardi is the Director of Demand Generation at Nextiva and has a track record of success working with brands like Major League Baseball, Pipedrive, Sales Hacker and Outreach.io. Outside of marketing, Gaetano is an accomplished music producer and songwriter – he's worked with major artists like Fat Joe, Shaggy and loves making music to stay turbocharged. To get in touch, follow him on LinkedIn.