More businesses are now switching to VoIP, replacing traditional phone lines and desk phones.
VoIP provides low-cost voice and video calls globally through the internet. As VoIP apps improve, they're quickly changing how modern businesses communicate.
But with several apps flooding the market, it gets tricky to know the right one for your business and how you choose it.
In this article, we'll talk about the benefits of VoIP apps, the best VoIP apps to consider, and the features to look for in a VoIP phone service — whether switching to VoIP or using an existing solution.
What Is a VoIP App?
VoIP apps, also known as softphones, are software applications that transmit voice and video data over the internet, instead of traditional phone networks.
A VoIP app runs on the Voice over Internet Protocol technology, transmitting voice packets over the Internet for clear calls. VoIP apps cater to enterprises and small businesses alike for low-cost communications.
Chances are you've already used one before. Popular personal VoIP apps include Skype, Viber, and WhatsApp.
It's easy to install a VoIP app on a computer or smartphone and can be used from anywhere in the world with a stable internet connection.
Businesses use VoIP apps to get phone service at a lower cost, with dozens of premium features, like video conferencing, instant messaging, and even faxing, built into the platform.
Benefits of Using VoIP Apps
VoIP apps offer a variety of benefits that attract many companies, from startups to large enterprises for business communication.
1) Ease of use
Traditional phone systems require complex installation and extensive technical expertise. In contrast, VoIP apps are straightforward to set up. Even non-technical users can quickly get up and running. They work on both mobile and desktop (installed as a desktop app or through web browsers).
Simply download the application, provide your SIP credentials, and you're ready to make calls. No hardware installation, tangled wires, or lengthy configurations. Wi-Fi and high-speed cellular networks further allow you to seamlessly connect and make calls from virtually anywhere.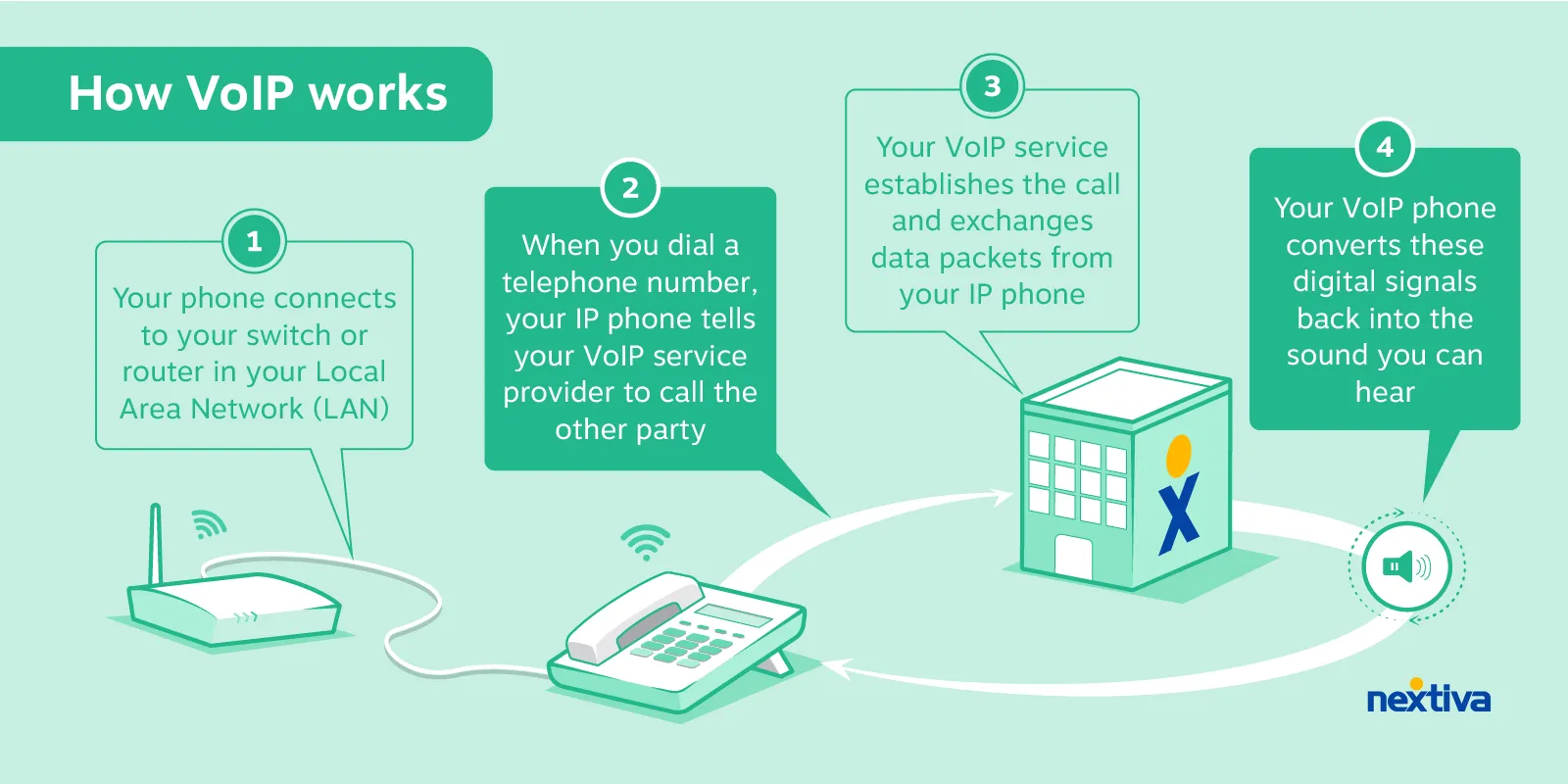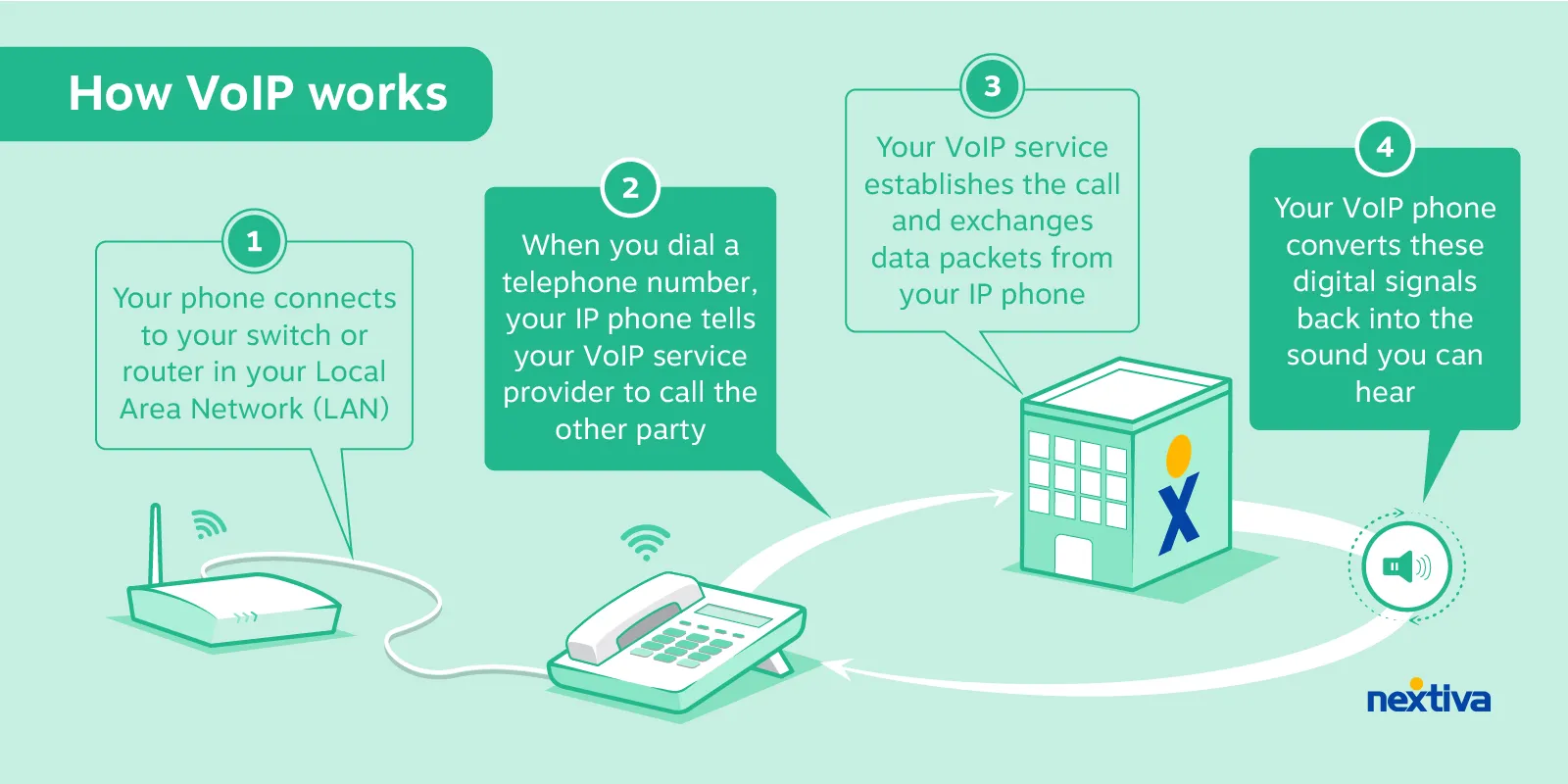 For power users seeking advanced features or compatibility with third-party applications, VoIP apps like Nextiva provide a user-friendly experience that eliminates the complexities associated with traditional phone systems.
2) Mobility and accessibility
VoIP apps can go anywhere with you. They've grown more popular with the rise of remote workers.
From your laptop, tablet, or cell phone, you can instantly access your business line and use it whenever and wherever you need. Even simple features like ringing multiple devices at once let employees take business calls anywhere.
Rather than changing your workflow for a VoIP app, administrators can fine-tune them to fit your business needs. VoIP apps complement your virtual phone service. It's a perfect tool to bring your remote teams closer.
3) Unified communications
VoIP apps easily integrate with other communication channels (SMS, video conferencing, and file sharing), creating a unified communication hub. This lets you scale VoIP to meet your business needs accommodating new users and additional features without costly hardware upgrades.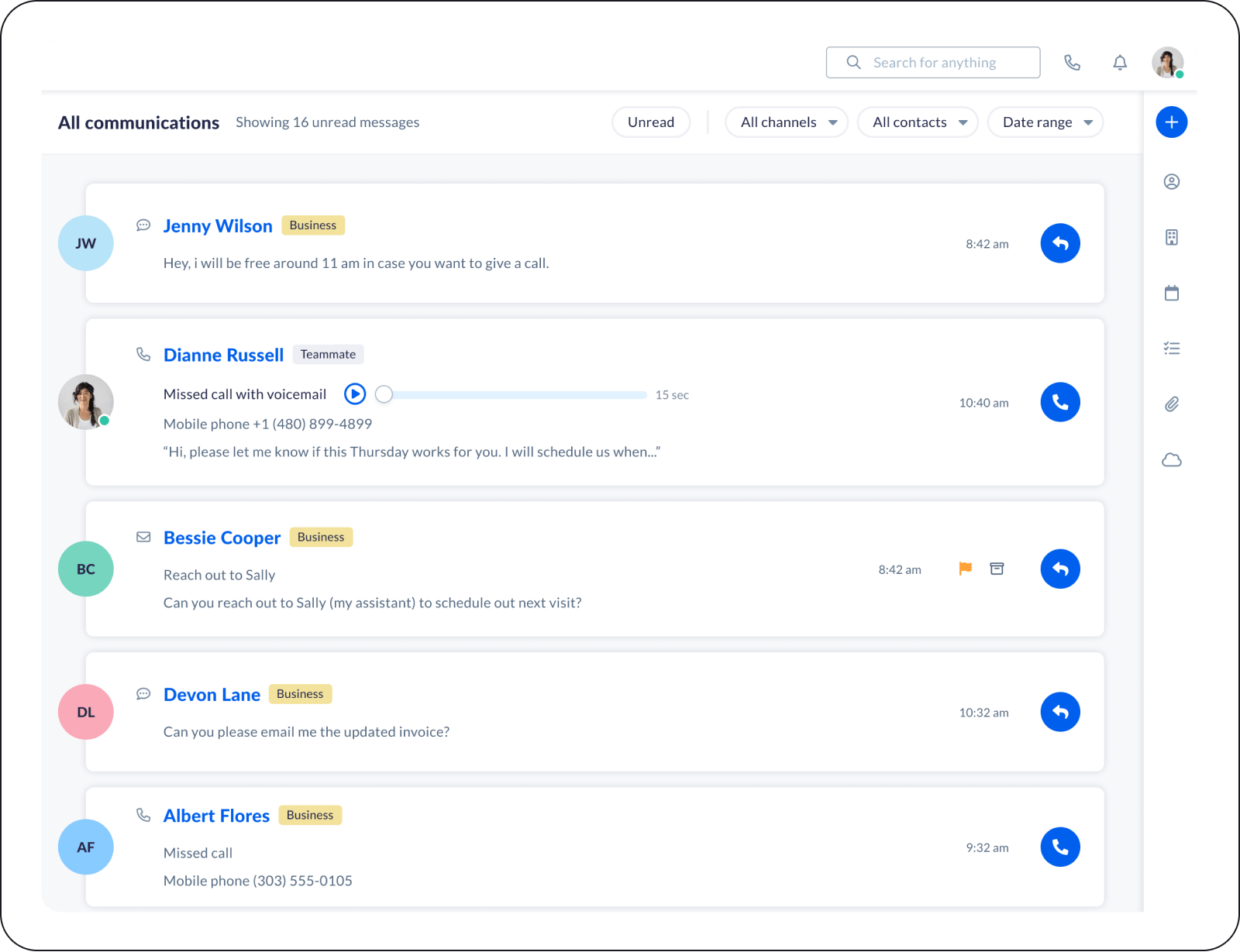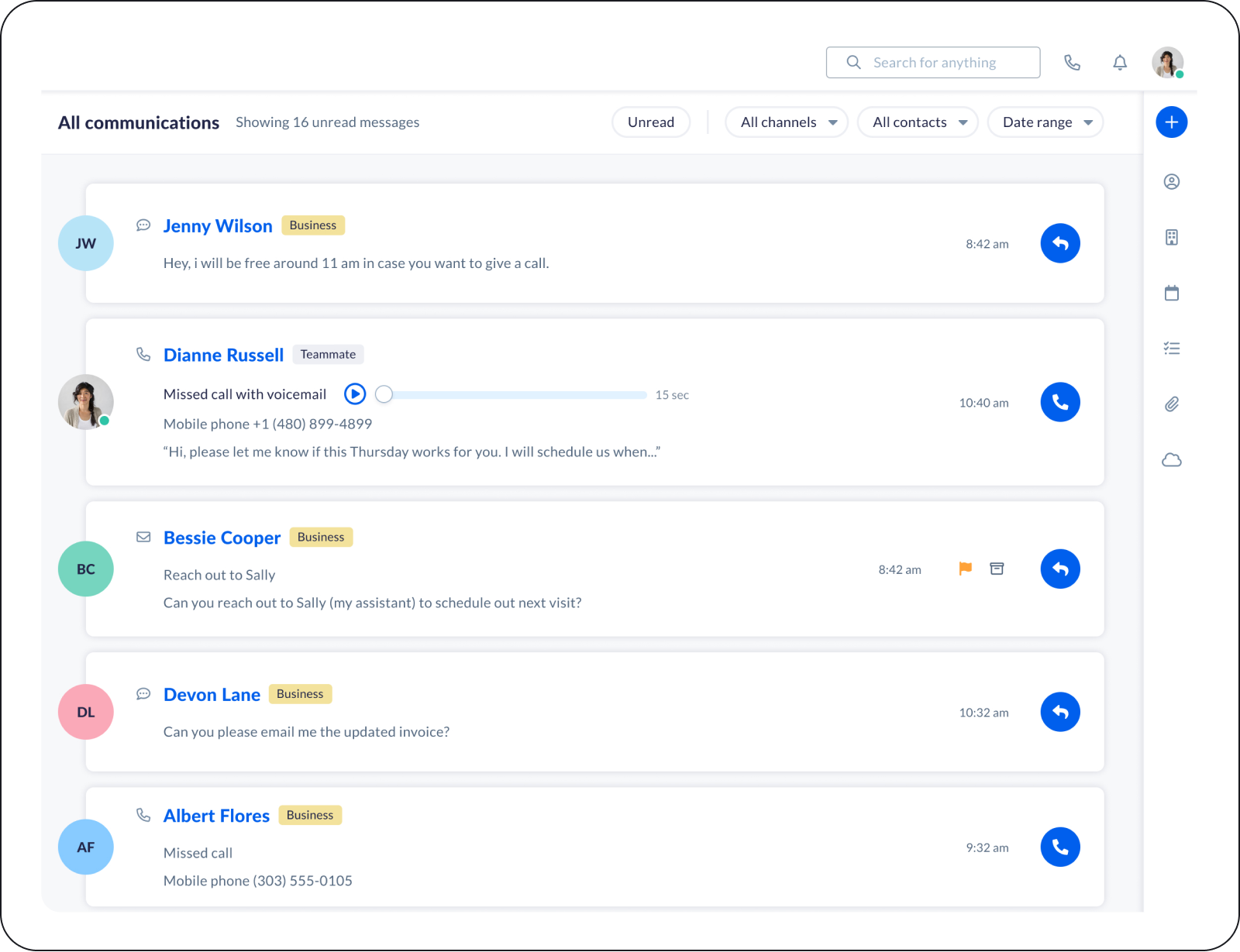 Centralized management capabilities allow business owners and IT managers to monitor all communication channels and settings through a single interface. This streamlines management, ensures consistent configurations, and simplifies troubleshooting.
You initiate and manage calls from one interface. No more juggling between different communication channels means simplified workflows and lower costs for managing different systems.
7 Best VoIP Apps To Use in 2023 (Ranked)
At a glance
| Rank | VoIP App | Overview |
| --- | --- | --- |
| 1 | Nextiva | Offers a complete set of enterprise-grade calling, contact center, and collaboration capabilities for small, midsize, and large businesses alike. Reliable with a 99.999% uptime, secure, and easy to scale. |
| 2 | Mitel | Robust on-premise and cloud phone systems tailored for larger enterprises. Great UC tools but pricey. |
| 3 | Zoom Phone | Great business phone fully integrated with popular Zoom video conferences. Easy to manage with competitive pricing. |
| 4 | Aircall | Well-rounded, affordable cloud-based phone service perfect for startups and smaller teams. Intuitive to use. |
| 5 | CloudTalk | Specialized offering focused heavily on native CRM and marketing tools alongside telephony. Pricier for what you get. |
| 6 | Grasshopper | Affordable basic virtual phone system for solopreneurs and micro businesses needing a simple solution. |
| 7 | Zoiper | Not a full system but a useful softphone to integrate with existing VoIP providers. Enables mobility at a great free price point. |
Nextiva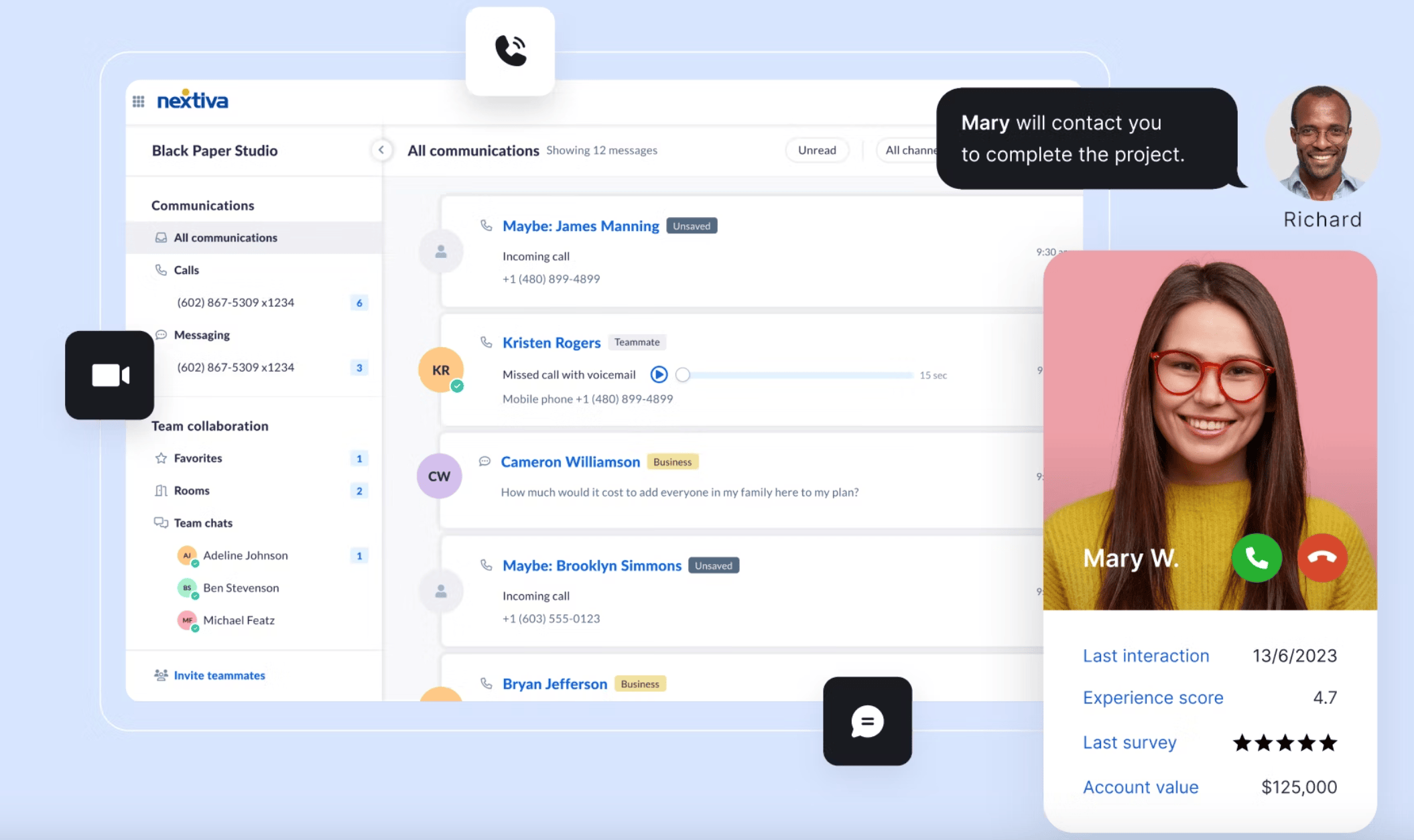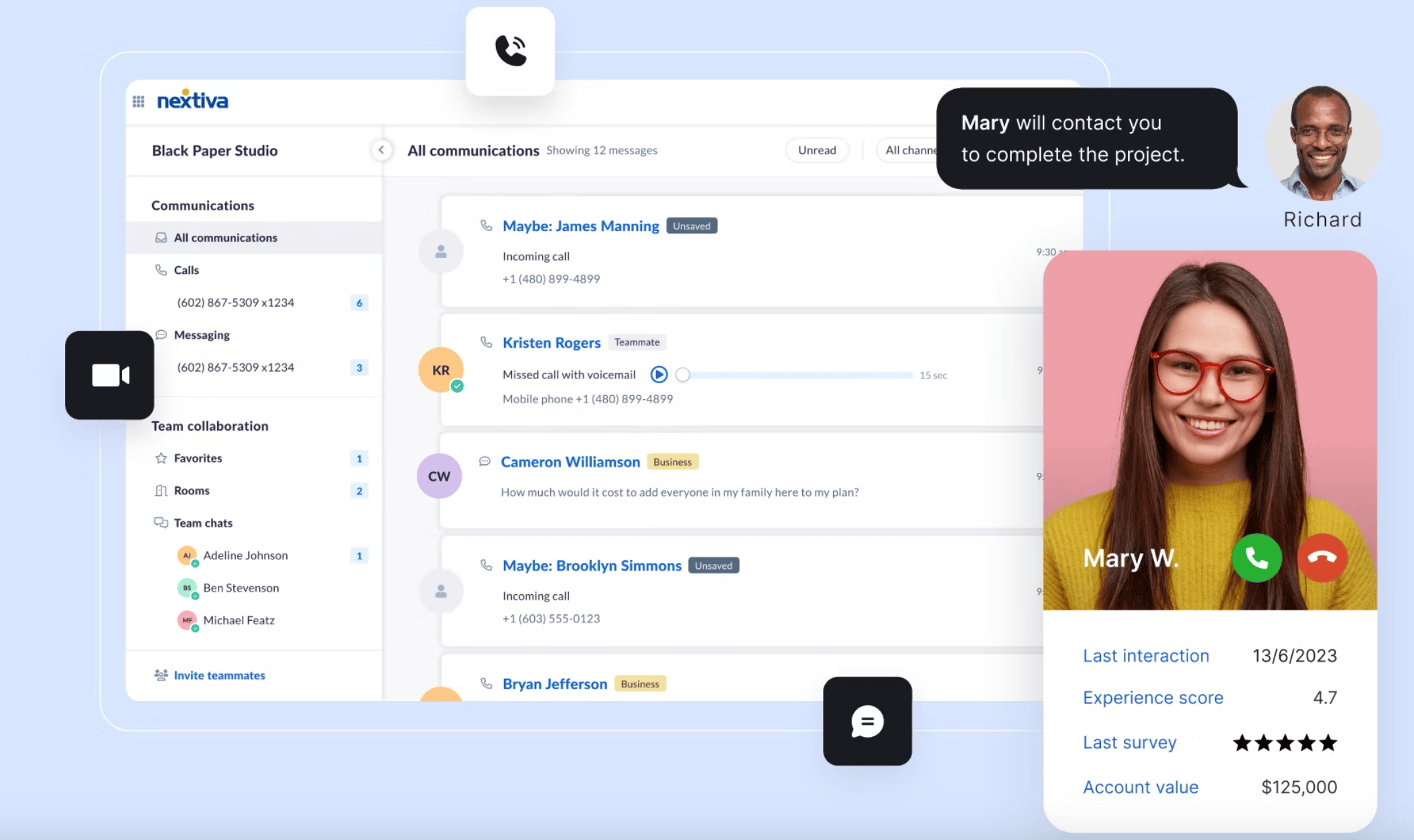 Nextiva provides a highly-rated VoIP app on Android and iOS. It truly functions as a call center in the palm of your hand. Nextiva subscribers can download the mobile app and immediately enjoy its feature-rich capabilities.
Offering much more than VoIP phone service, the NextivaONE App drives team collaboration with group chats, video calling, and one-click conference calls. Together, these features provide users with a versatile communications platform in their hands.
Users will also appreciate the ability to manage their availability and call routing directly within the application. For example, you can adjust call forwarding, call rejection, and manage voicemails in an instant.
The Nextiva App is available free on the App Store and Google Play.
Get Nextiva VoIP service. Simple. Affordable.
Get your business phone, messages, video meetings, contact management and notes–integrated in ONE powerful app.
Key features
Unlimited calling and text messages to the US and Canada
Video conferencing
Call recording
Call analytics
Screen Pops
Visual voicemail
Integrations with CRM systems
Best for: Small businesses looking for a no-frills VoIP solution. Enterprises looking for advanced VoIP features, easy administration, and unified communications capabilities available in one app.
Mitel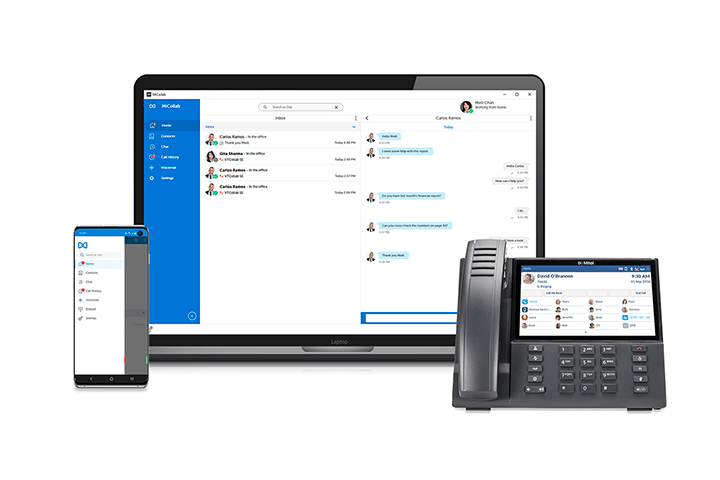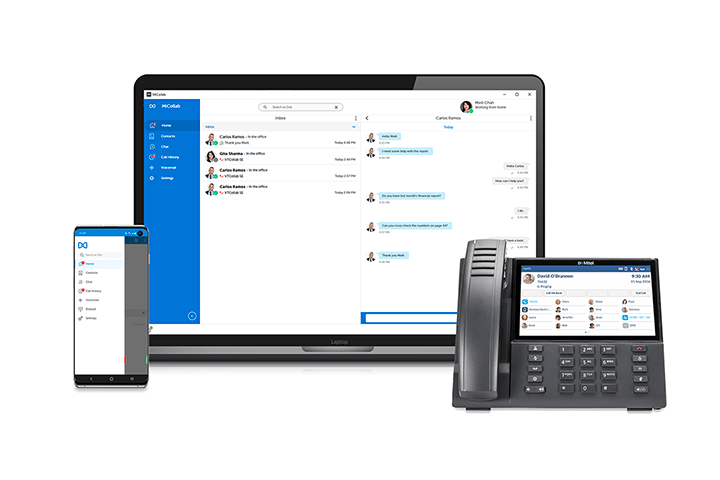 Mitel offers customizable VoIP systems tailored for the unique needs of large enterprises. Mitel's VoIP apps are bundled within the Mitel Connect Applications ecosystem. The platform offers various apps for video conferencing and basic VoIP calling.
Key features:
Audio, video, and web conferencing
Call routing, auto-attendants, and IVRs
CRM and business app integrations
Pricing: Users need to reach out to Mitel's sales team for a quote.
| Pros | Cons |
| --- | --- |
| Excellent call quality | More complex to manage |
| Full-featured platform and UC tools | Lack of pricing transparency |
| Scales to support large enterprises | Lack of a unified VoIP app |
Best for: Large businesses that need enterprise-grade voice, video, contact center features, and reliability.
Zoom Phone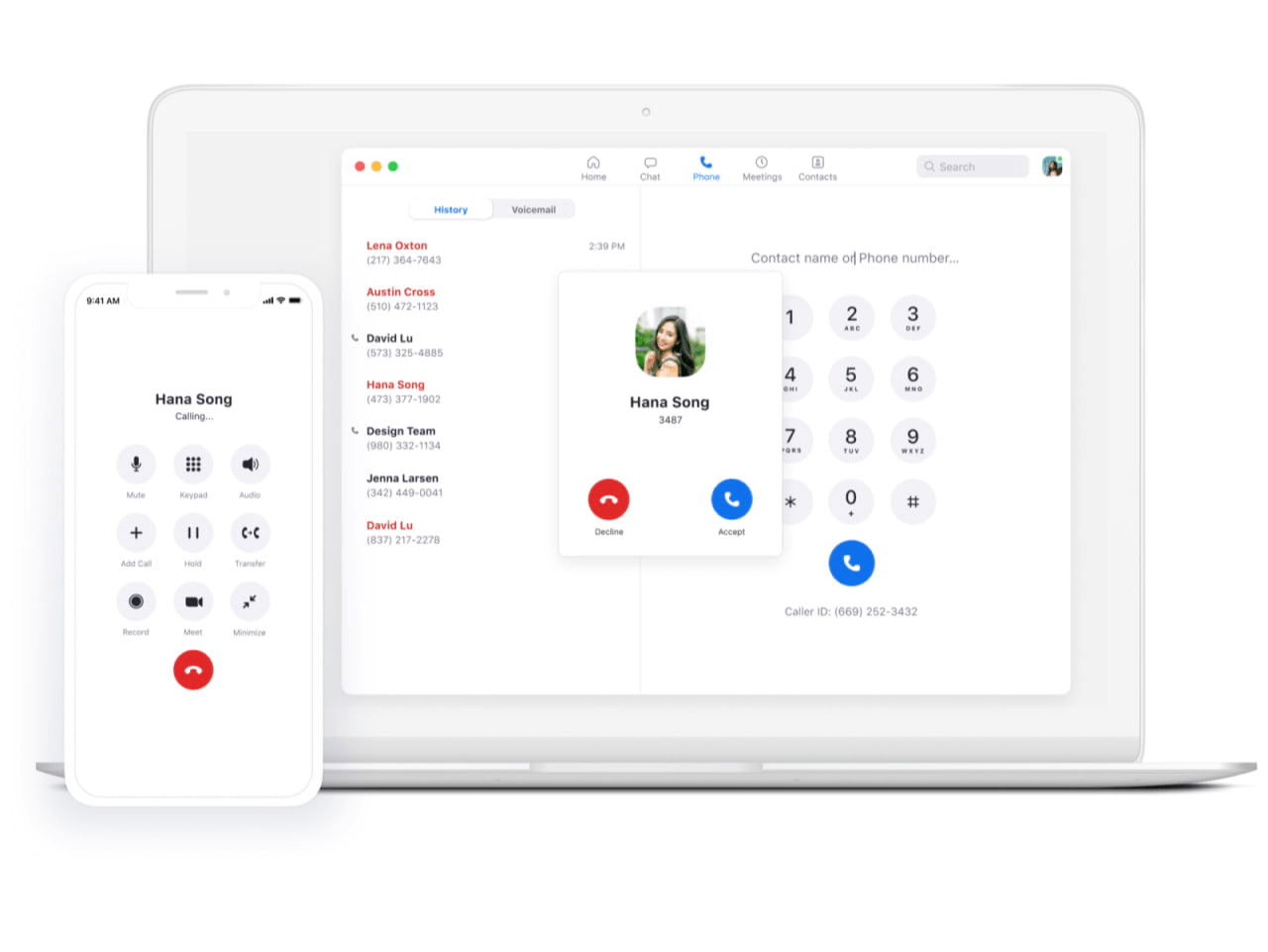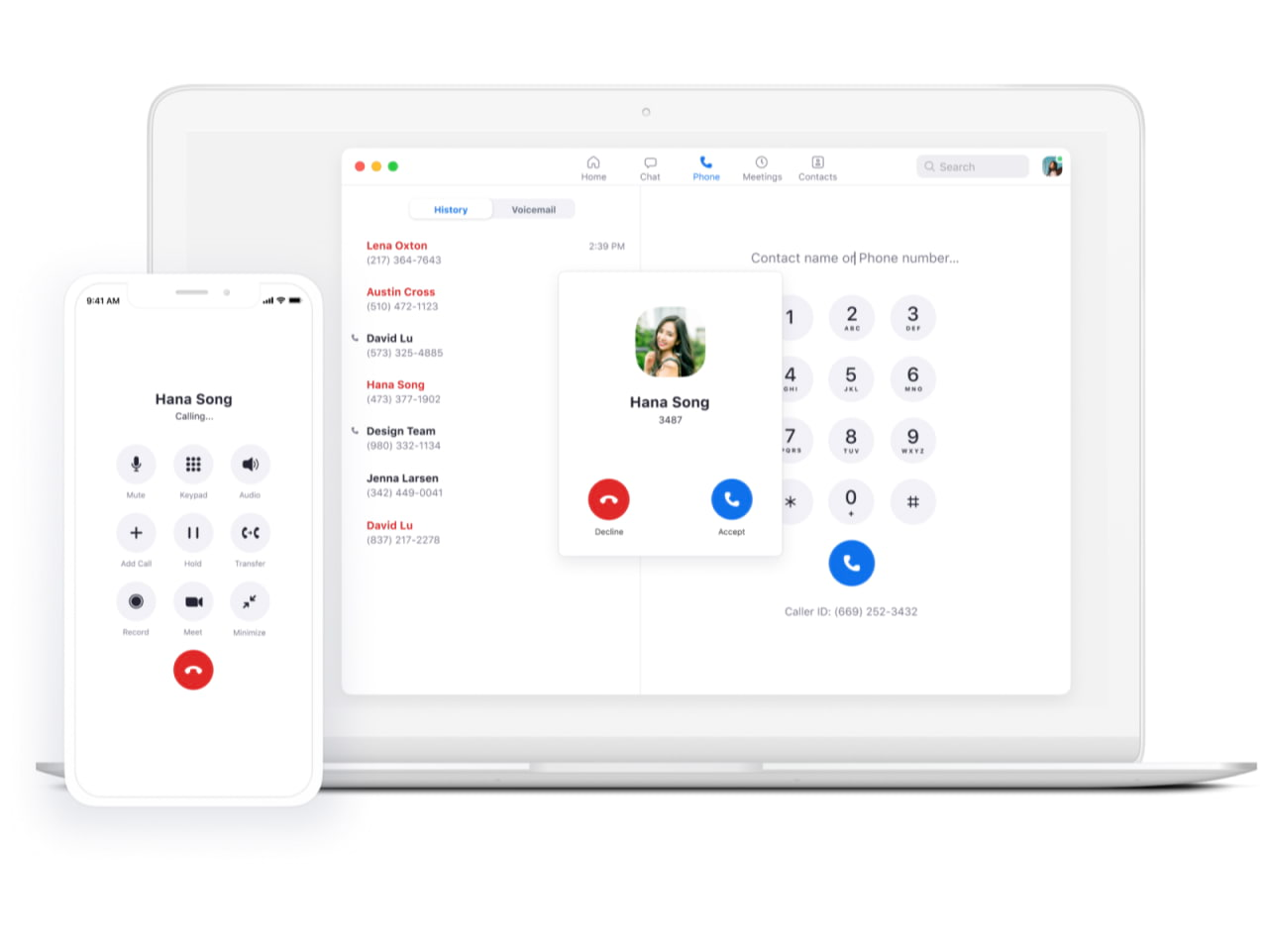 Zoom Phone is a business cloud phone system that integrates seamlessly with Zoom's video conferencing solutions.
Key features:
Unlimited calling in some plans
Integrates with Zoom Meetings for video conferencing
Voicemail transcriptions and recording options
Developer platform and API for custom apps
Pricing: The base plan costs $120/month per user.
| Pros | Cons |
| --- | --- |
| BYOD model helps contains costs | Can have audio quality issues |
| Deep integration with popular Zoom meetings application | Limited customizable features/IVR options |
Best for: Small and medium-sized businesses that want an integrated, cloud-based phone system that works with other Zoom services.
Aircall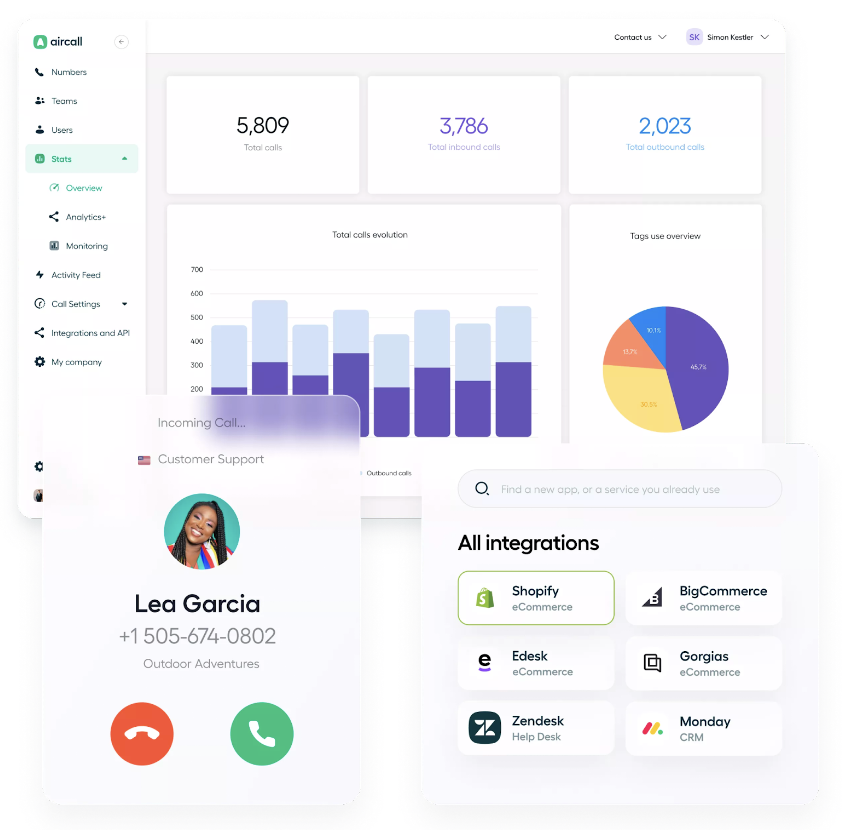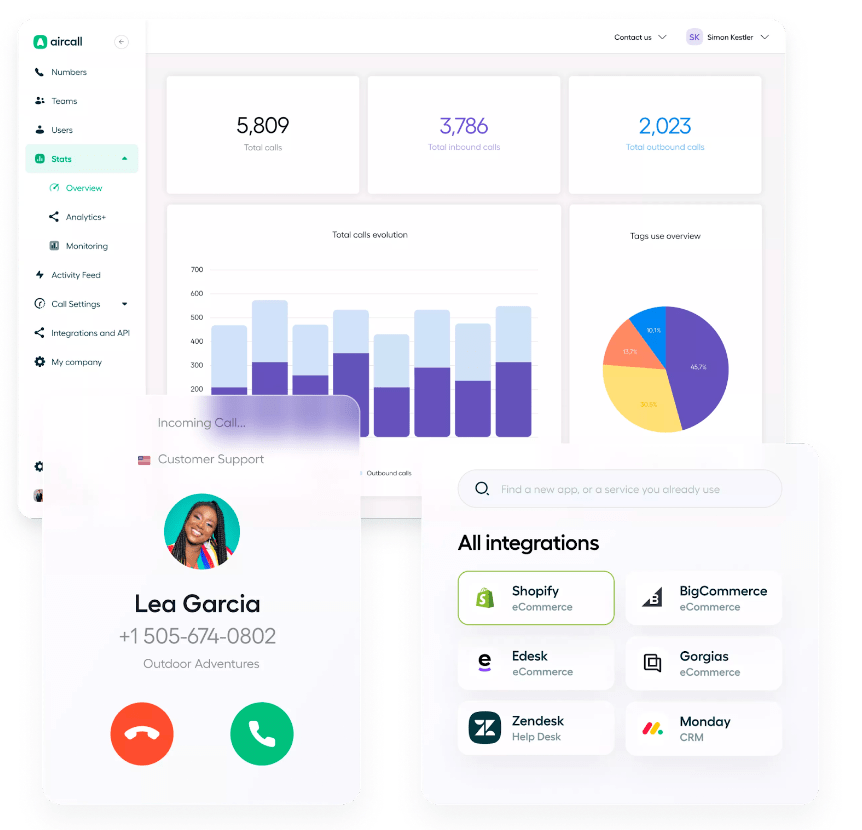 Aircall provides a user-friendly, cloud-based business phone service designed for startups & small teams.
Key features:
Auto attendants & interactive voice menus
Advanced call routing rules
Integrations with CRM systems like Salesforce
Call recording, analytics, and reporting
Pricing: Starts at $30 per user per month for the Basic plan. Individual pricing plans are also available for larger companies.
| Pros | Cons |
| --- | --- |
| Flexible call routing features | Occasional minor bug issues |
| Simple to setup | Light on complex call center functionality |
Best for: Startups and small businesses that need an affordable and easy-to-use cloud telephony solution.
CloudTalk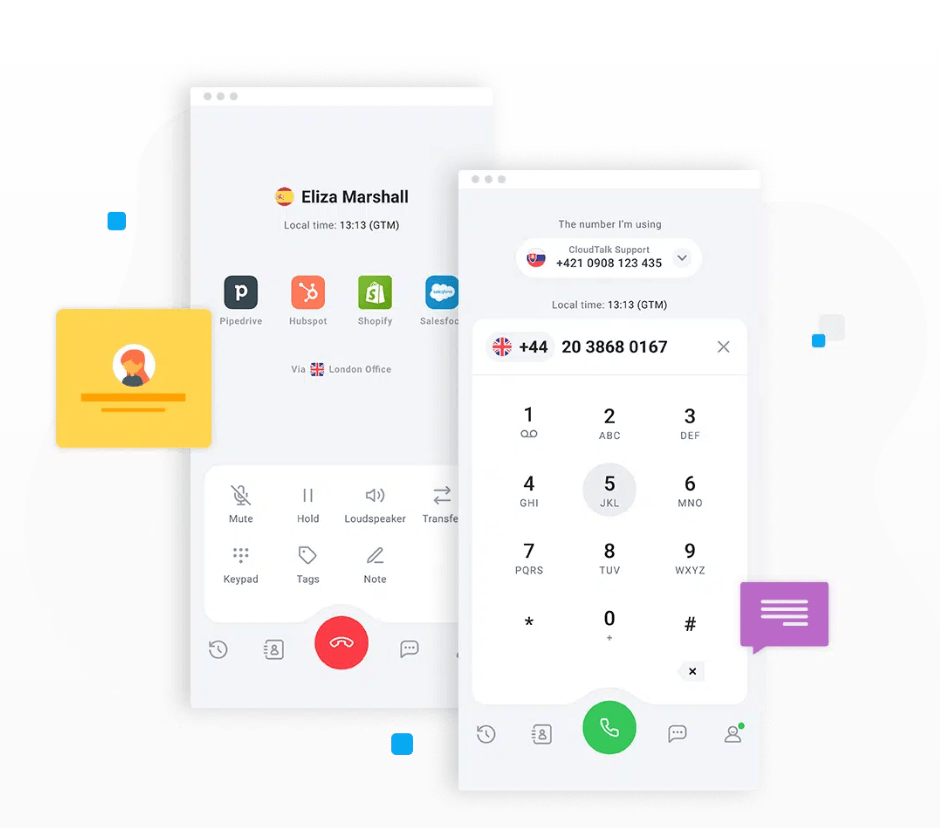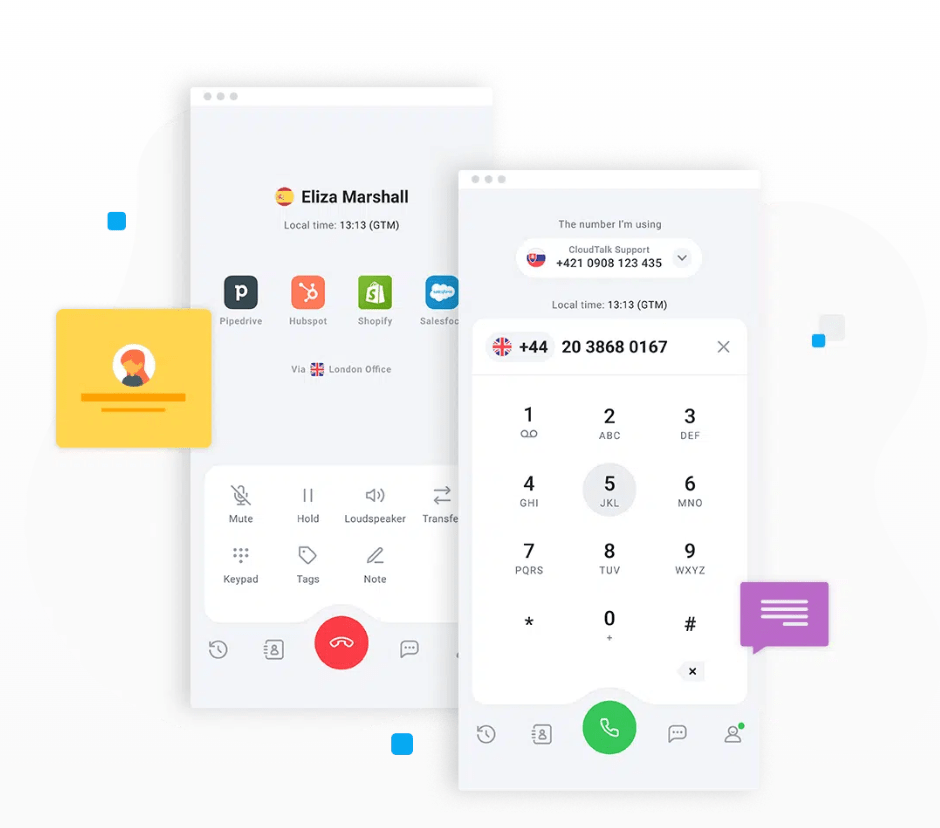 CloudTalk is a cloud-based business phone system with built-in CRM tools. It provides an all-in-one communication and contact management platform.
Key features:
CRM, email marketing, live chat
Audio/video calls, screen sharing
Call analytics, tracking
Pricing: The starter pack costs $25/user/month.
| Pros | Cons |
| --- | --- |
| Native CRM integration | More limited telephony vs. other VoIP systems |
| Highly customizable | Steep learning curve |
Best for: Small businesses wanting deep CRM integration.
Grasshopper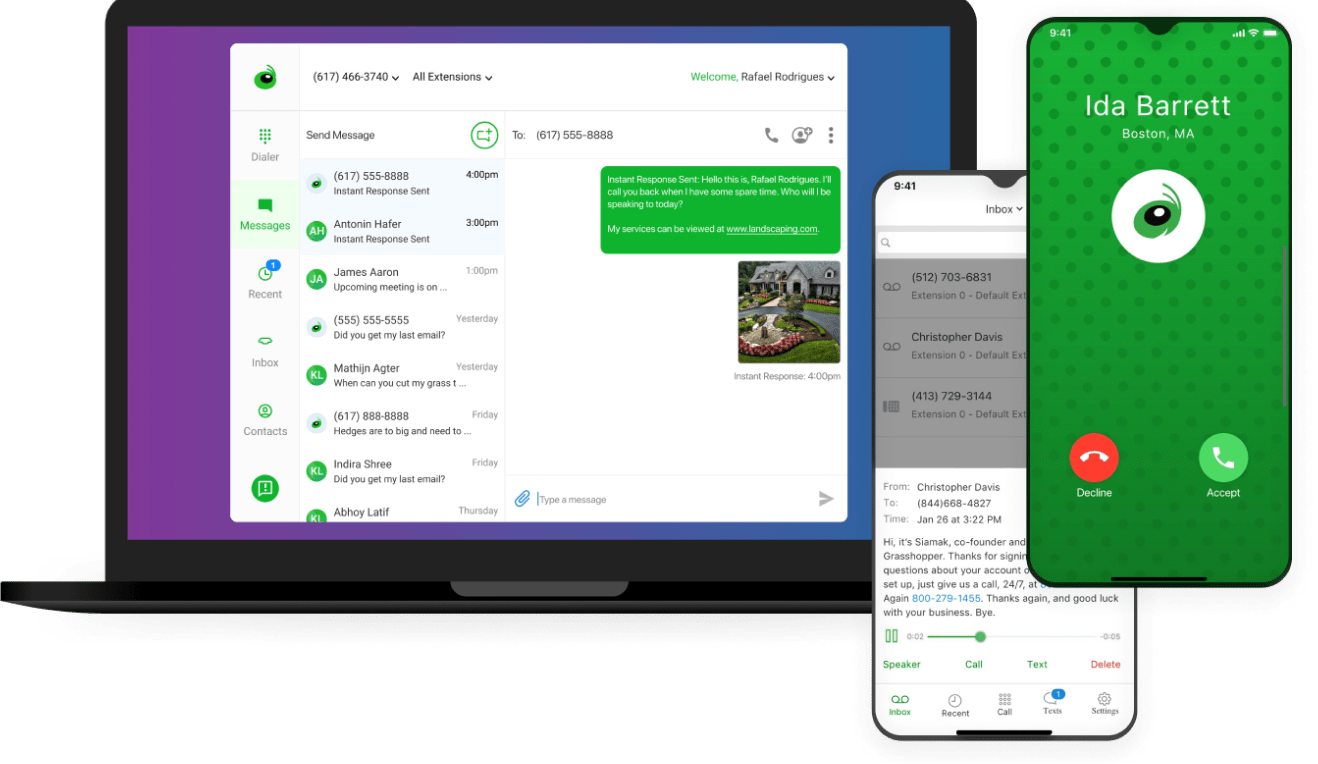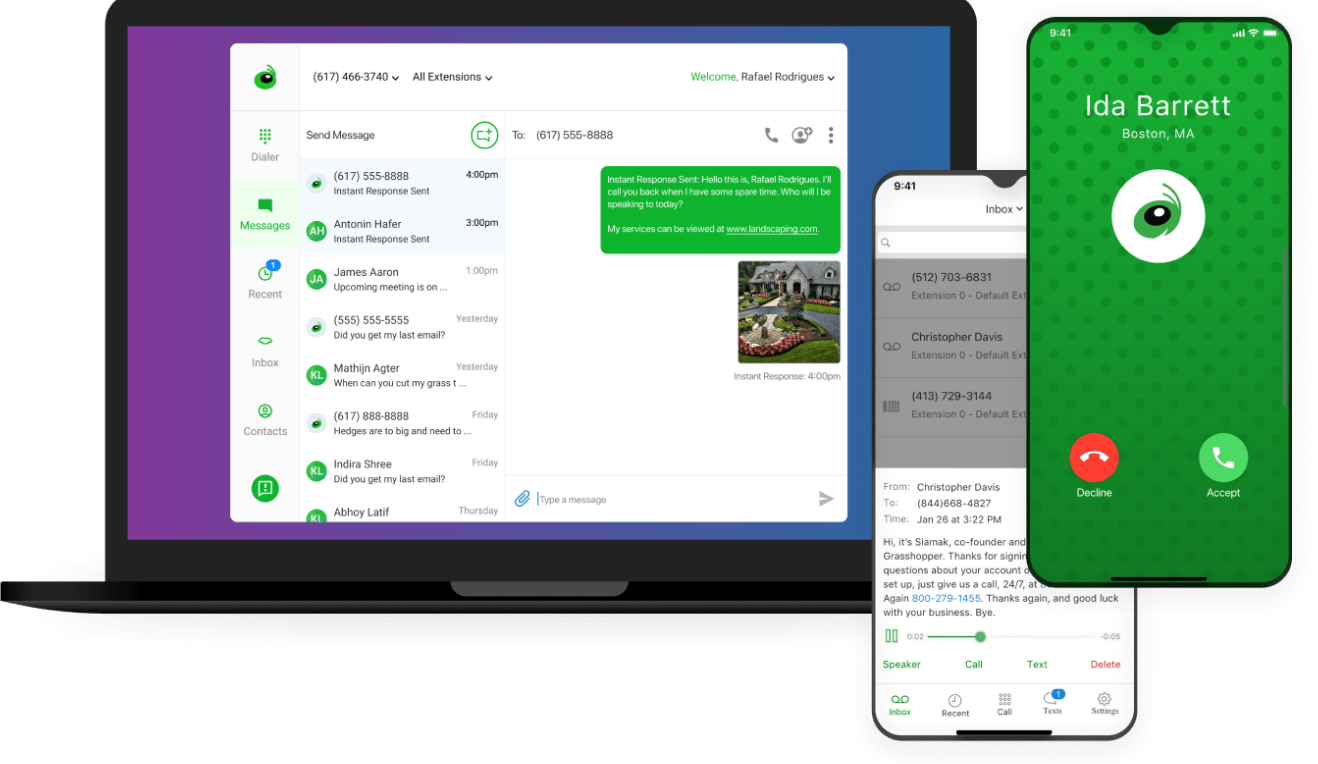 Grasshopper offers a simple virtual phone system for entrepreneurs and small businesses.
Key features:
Auto attendant, extensions, IVR menus
Call forwarding, routing, waiting
Voicemail transcriptions
Mobile app integration
Pricing: Starts at $28/month per extension
| Pros | Cons |
| --- | --- |
| Suits smaller teams on a budget | Minimal advanced call routing or contact center capabilities |
| Supports BYOD model | Limited telephony feature set |
Best for: Solopreneurs, microbusinesses, and freelancers needing an entry-level virtual phone system.
Zoiper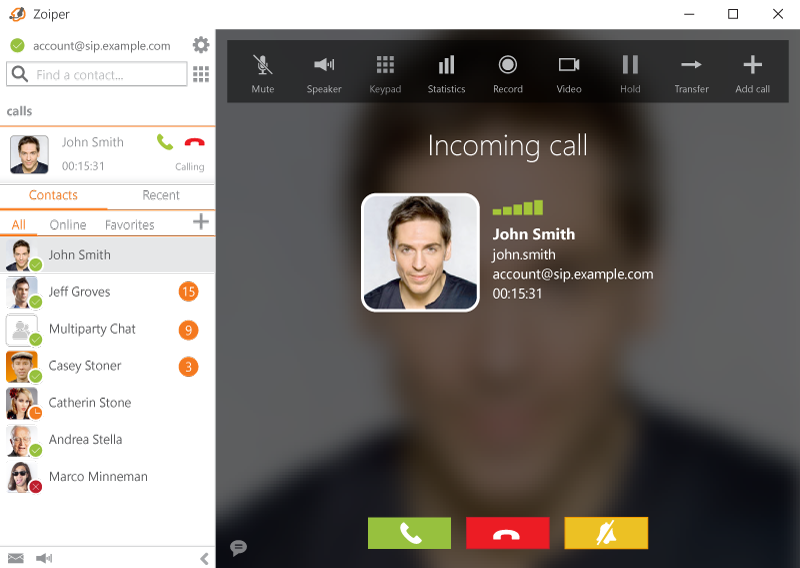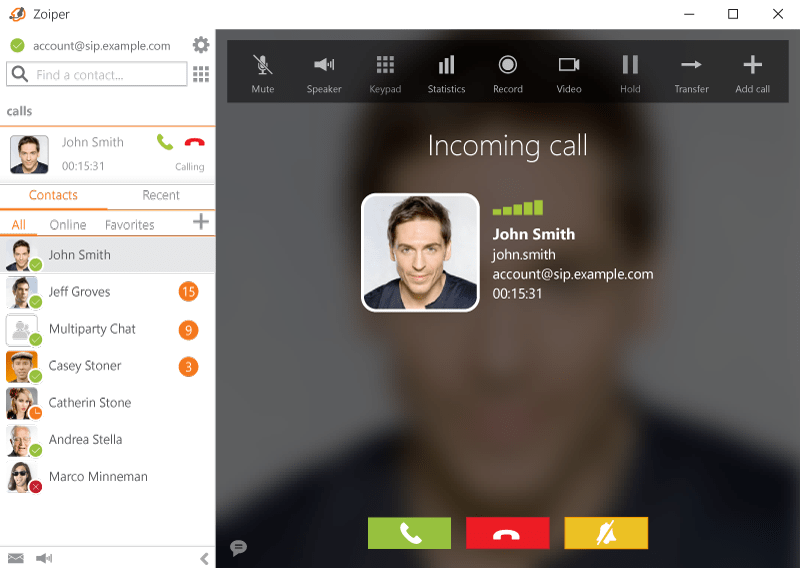 Zoiper is a softphone app that lets you make VoIP calls directly from your desktop or mobile device. It easily integrates with common VoIP providers.
Key features:
Call management from any internet-connected device
Video calling capabilities
Voice encryption options
Call recording
Pricing: Zopier charges a one-time fee of €49.95 for its Zoiper 5 app available for Windows, Mac, and Linux.
| Pros | Cons |
| --- | --- |
| Use your own device as a business phone | Not a full business phone system |
| Cost-effective way to enable mobility | Fewer business phone features |
Best for: Mobile professionals, remote teams, and users already with a VoIP provider.
Free VoIP Apps To Try
Several free VoIP apps allow free video and voice calls over the internet. They offer businesses and consumers a cost-effective way to communicate without traditional telephone charges.
Skype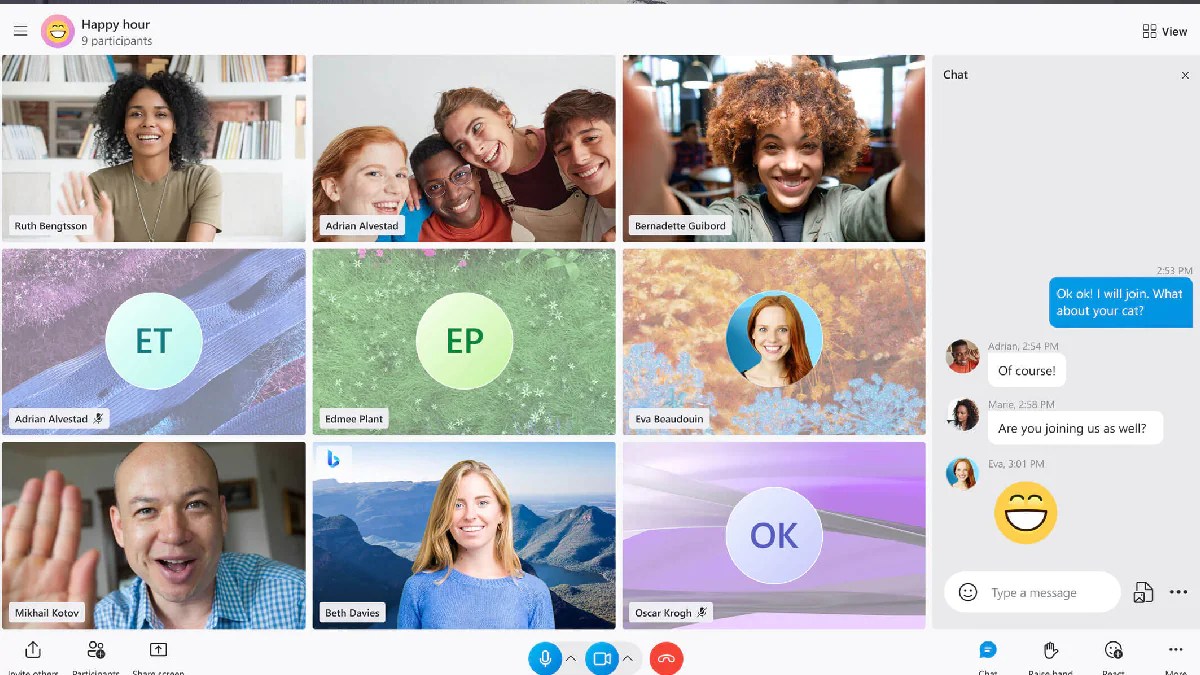 Skype by Microsoft is one of the most popular free VoIP platforms, best known for Skype-to-Skype video and audio calling.
Key features:
Free Skype-to-Skype calls
Video calling & screen sharing
Instant messaging
Call phones for a per-minute fee
Pricing: Free desktop and mobile client
| Pros | Cons |
| --- | --- |
| No cost for Skype calls | Call quality can vary |
| Works across devices/operating systems | Limited business phone system features |
Best for: Cost-conscious users already using Skype routinely for free calls.
WhatsApp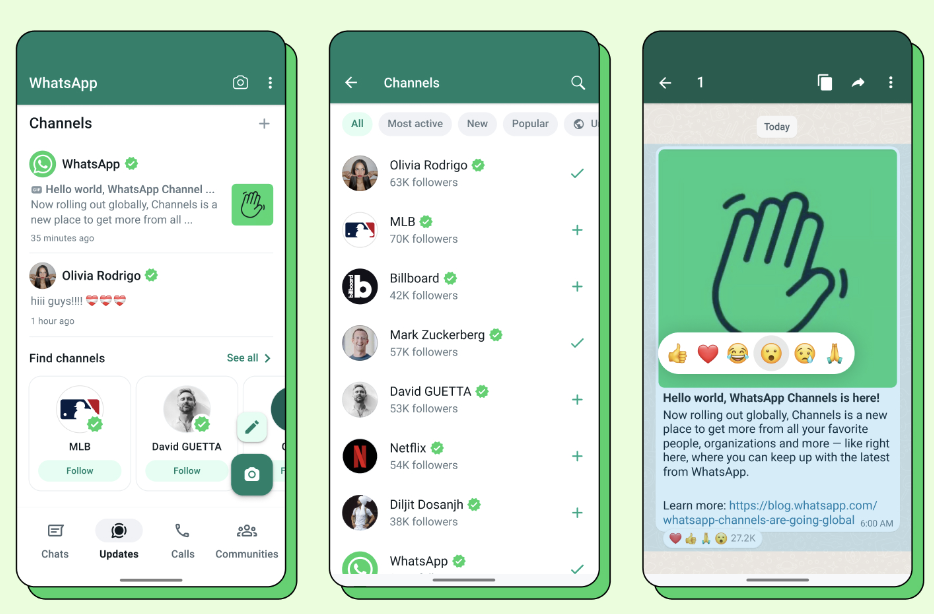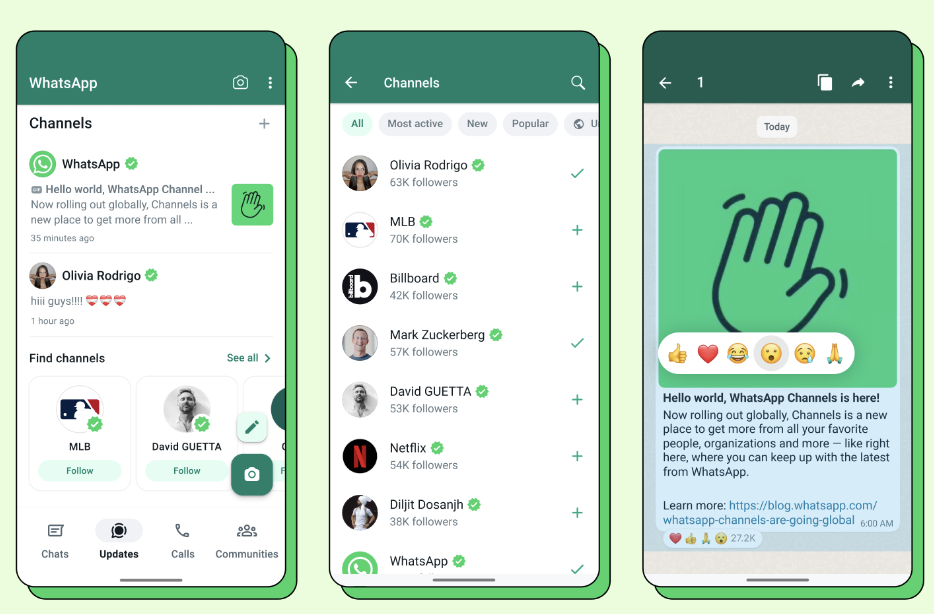 WhatsApp Messenger by Meta supports free VoIP calls to other WhatsApp users.
Key features:
Encrypted messaging, voice, and video calls
Location and document sharing
Works on Android, iOS, Mac, and Windows
Pricing: Free
| Pros | Cons |
| --- | --- |
| Make international calls over the internet | Only works between WhatsApp accounts |
| Easy to use | Very basic business telephony features |
Best for: Basic business communications.
Viber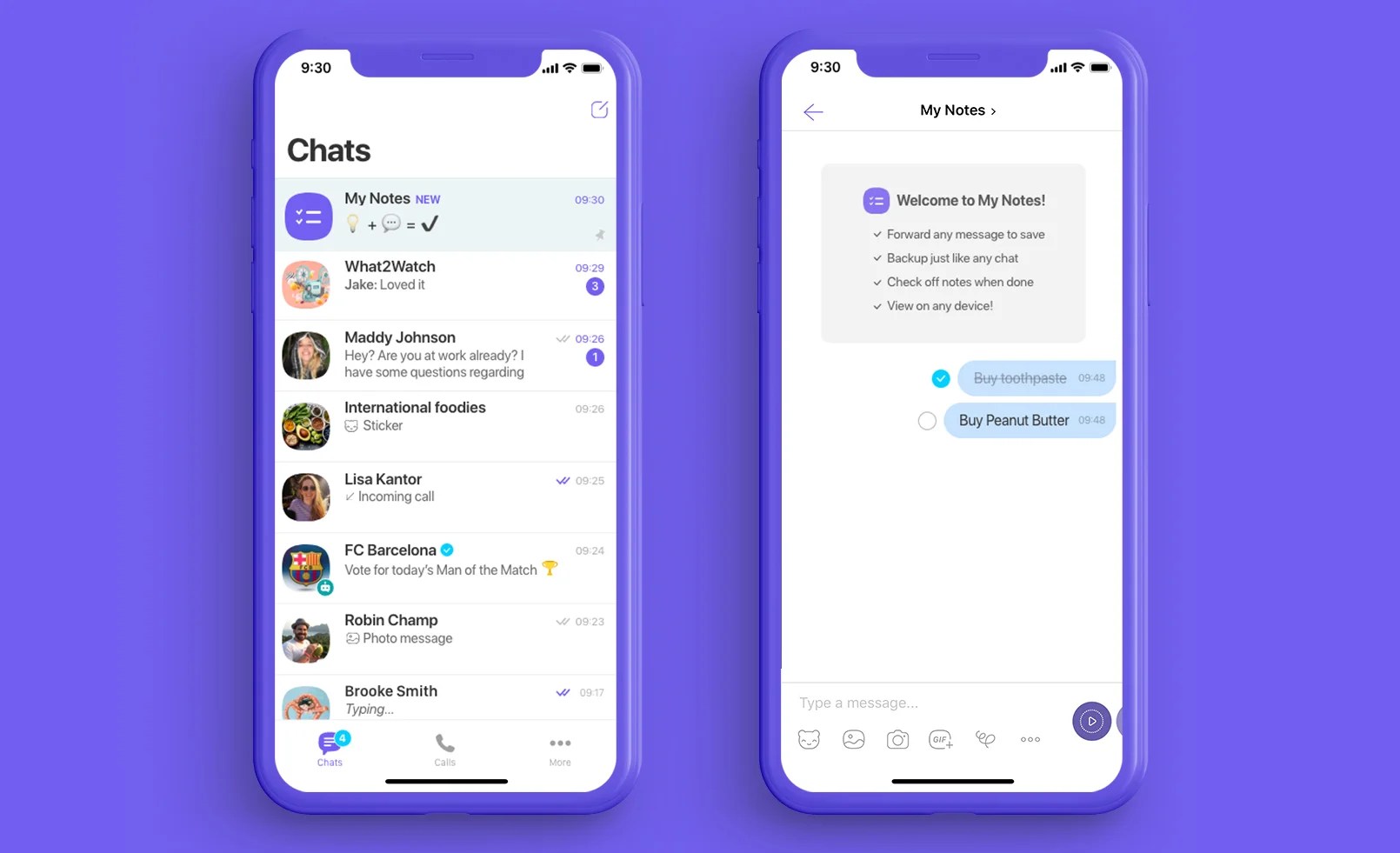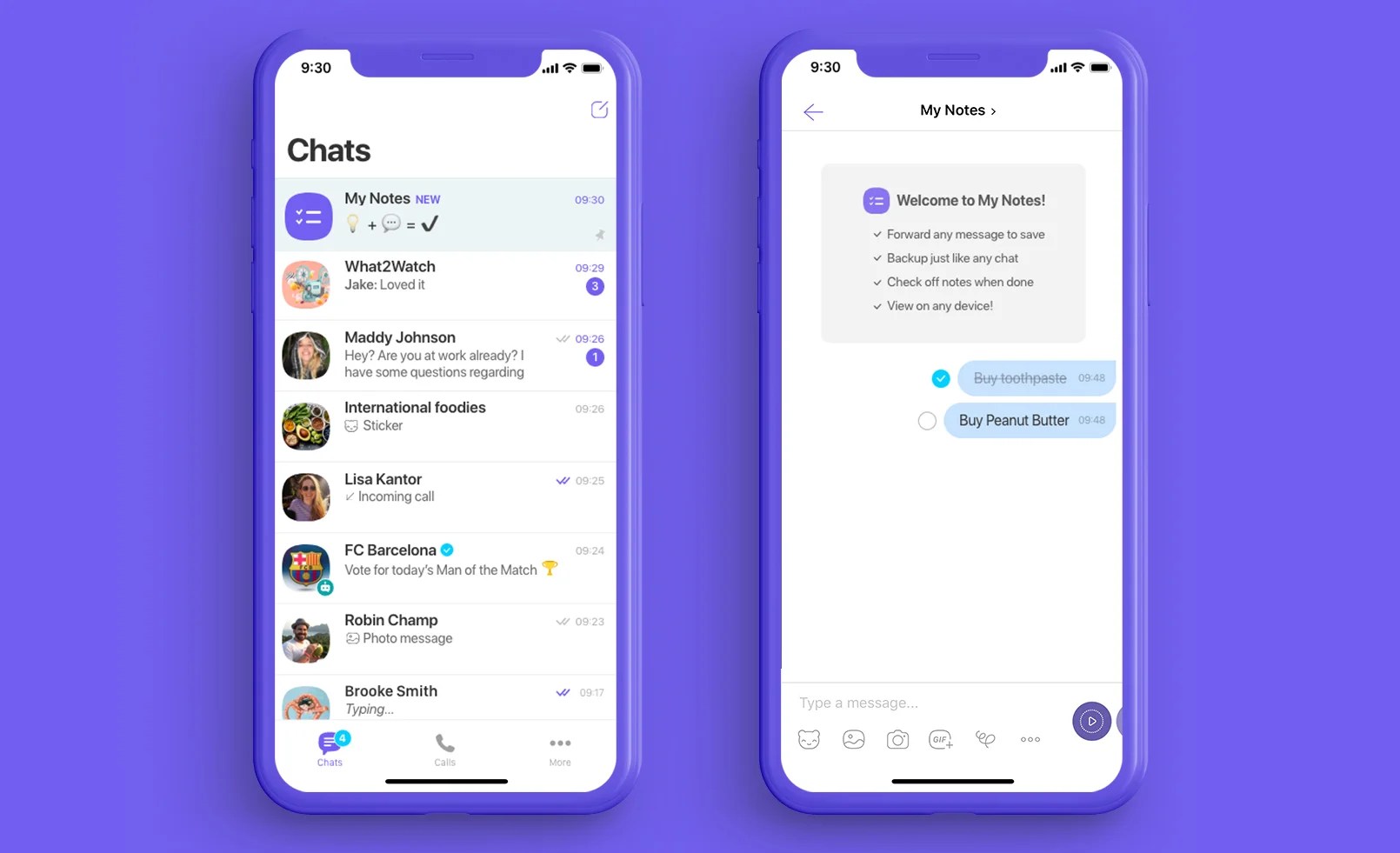 Viber is a popular free messenger and VoIP app for consumer and business communications. It's available across mobile and desktop devices.
Key features:
Free HD video and voice calls
Chat, share photos, video messages
Connects with contacts based on phone number
Pricing: Free
| Pros | Cons |
| --- | --- |
| Good quality video calls | Limited business features beyond basic VoIP |
| Easy to use on multiple devices | Smaller user base than apps like WhatsApp |
Best for: Video calling individuals and groups.
Google Voice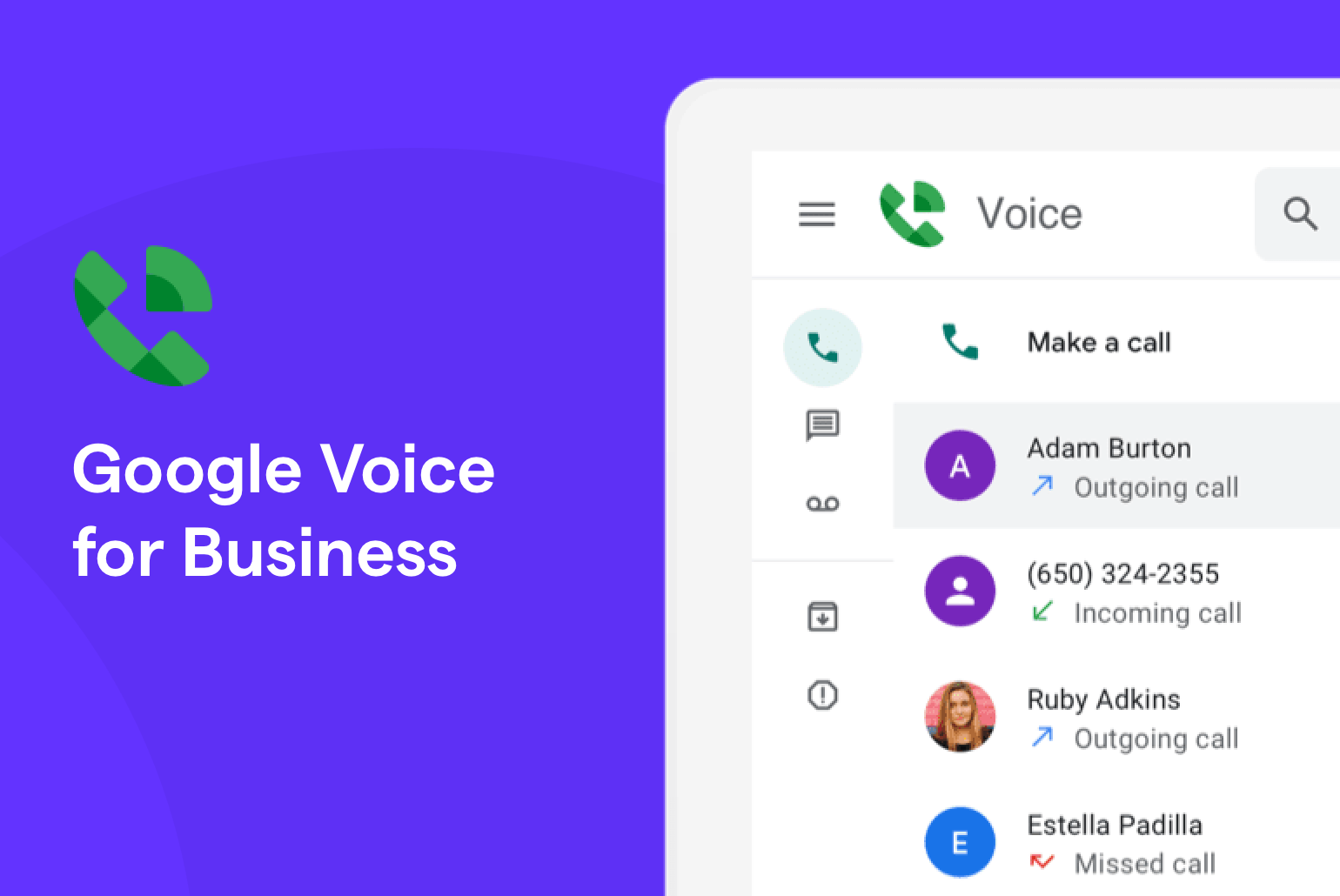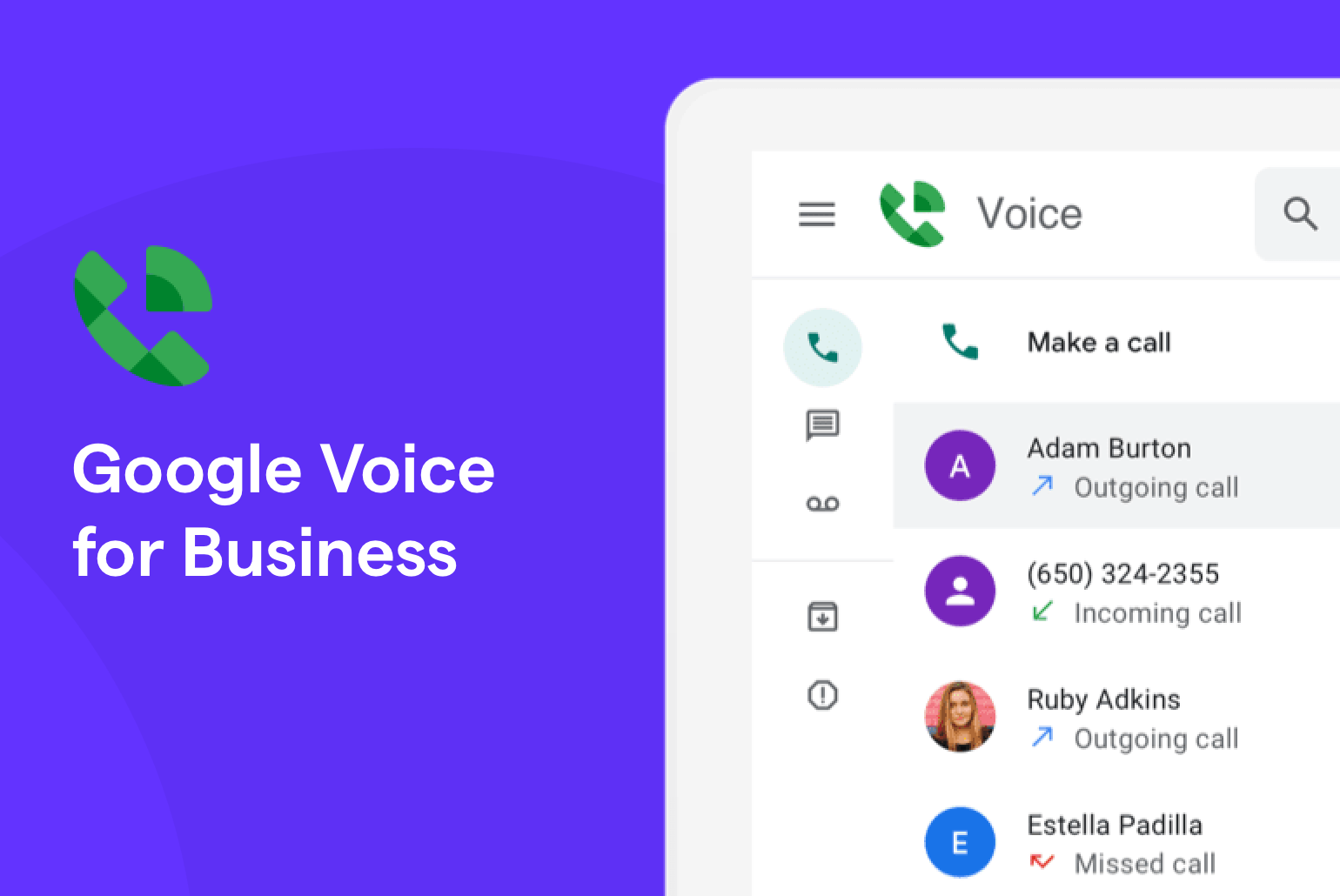 Google Voice offers HD video meetings for up to 100 participants. It integrates with other Google services like Calendar and Gmail. Google Voice is also a good starting option for those who need basic calling functionality.
Key features:
HD meetings
Screen sharing capabilities
Virtual backgrounds, captions, attendance tracking
Calendar integration, phone dial-in options
Pricing: Free
| Pros | Cons |
| --- | --- |
| Easy group meetings | Few traditional phone system features |
| Good video quality | Not ideal for large webinars or events |
Best for: Small video conference meetings.
Features to Look for in a VoIP App
Call quality
When choosing a VoIP app, call quality is a top priority.
Voice and video quality varies significantly depending on both the app itself and the speed or stability of your internet connection.
Dropped calls, video delays, and poor audio quality negatively impact the user experience. Test call quality under different network conditions to determine whether an app's performance meets your standards. Nextiva's VoIP speed test is a good place to start testing your connection's capacity.
It's important to assess whether call quality issues are related to the application or just the network environment before moving on to another option.
Nextiva, for instance, has a highly reliable network with 8 points of presence and carrier-grade data centers. We strive for 99.999% uptime, so you'll never miss a beat with your customers.
Cost
VoIP cost depends on your usage. While the basic versions of most VoIP apps are free, some have paid premium versions with additional features.
Evaluate whether the free app's features meet your needs or whether upgrading to paid versions is worth it for you.
Compare pricing models across different apps to determine the most economical options. Also, look into ways to reduce any broadband data overage charges due to increased calls over internet data.
Cross-platform availability
Cross-platform availability makes a VoIP app infinitely more useful.
VoIP apps such as Nextiva can be accessed via the iOS and Android mobile operating systems as well as directly via desktop browsers. This enables flexible calling from smartphones, tablets, laptops, and computers using the same account.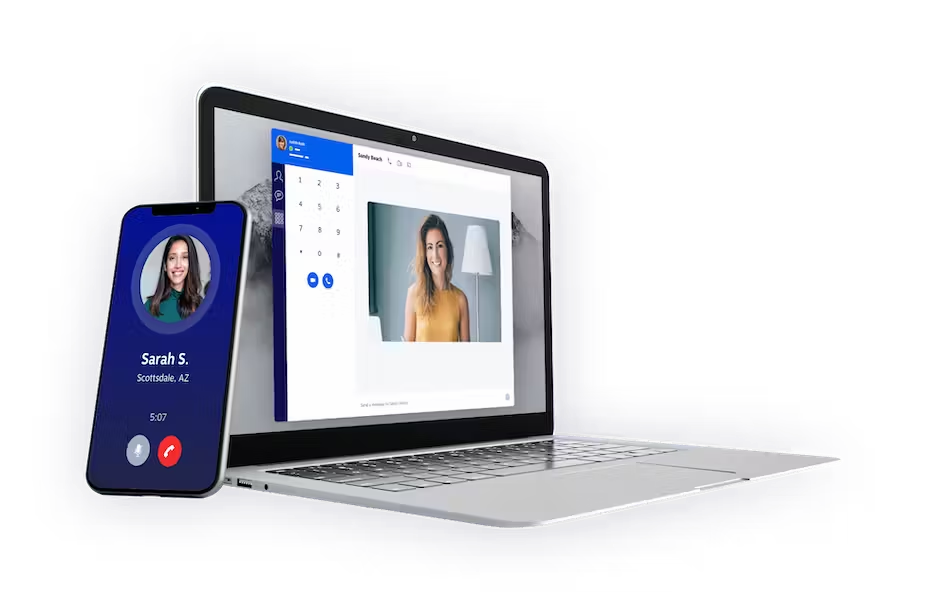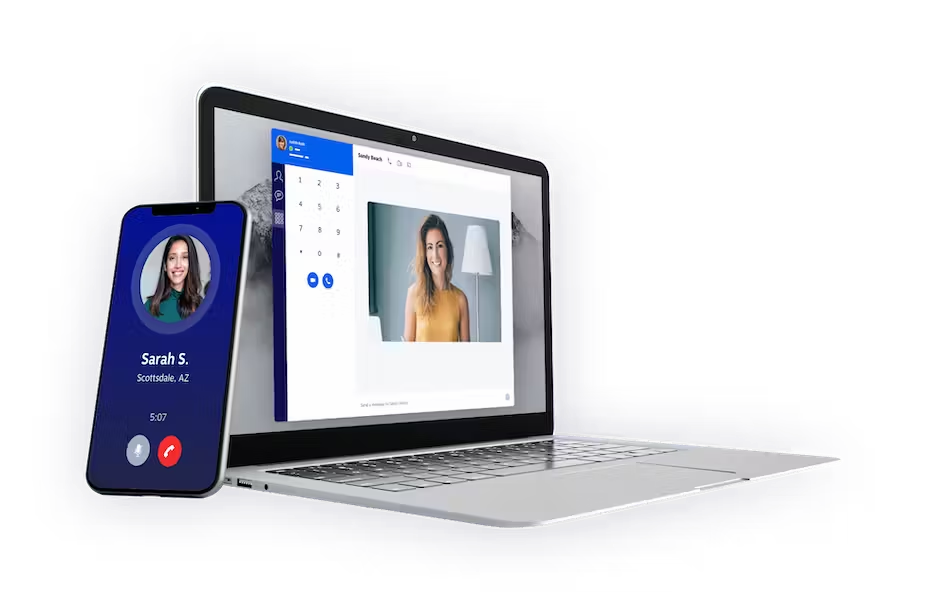 Consider compatibility requirements before choosing a VoIP provider.
Encryption & security
Encryption and adherence to security best practices impact VoIP app evaluations. End-to-end encryption prevents third parties from accessing call streams, ensuring maximum privacy.
Before transmitting sensitive communications, check the providers' encryption specifications and security standards. Verify that privacy practices meet expectations.
Advanced features & add-ons
Explore what extra features each VoIP app offers.
Capacity for group video calls, chat tools, call recording permissions, virtual backgrounds, and integrations with other productivity suites vary widely. Weigh which VoIP features are essential versus unnecessary for your use cases.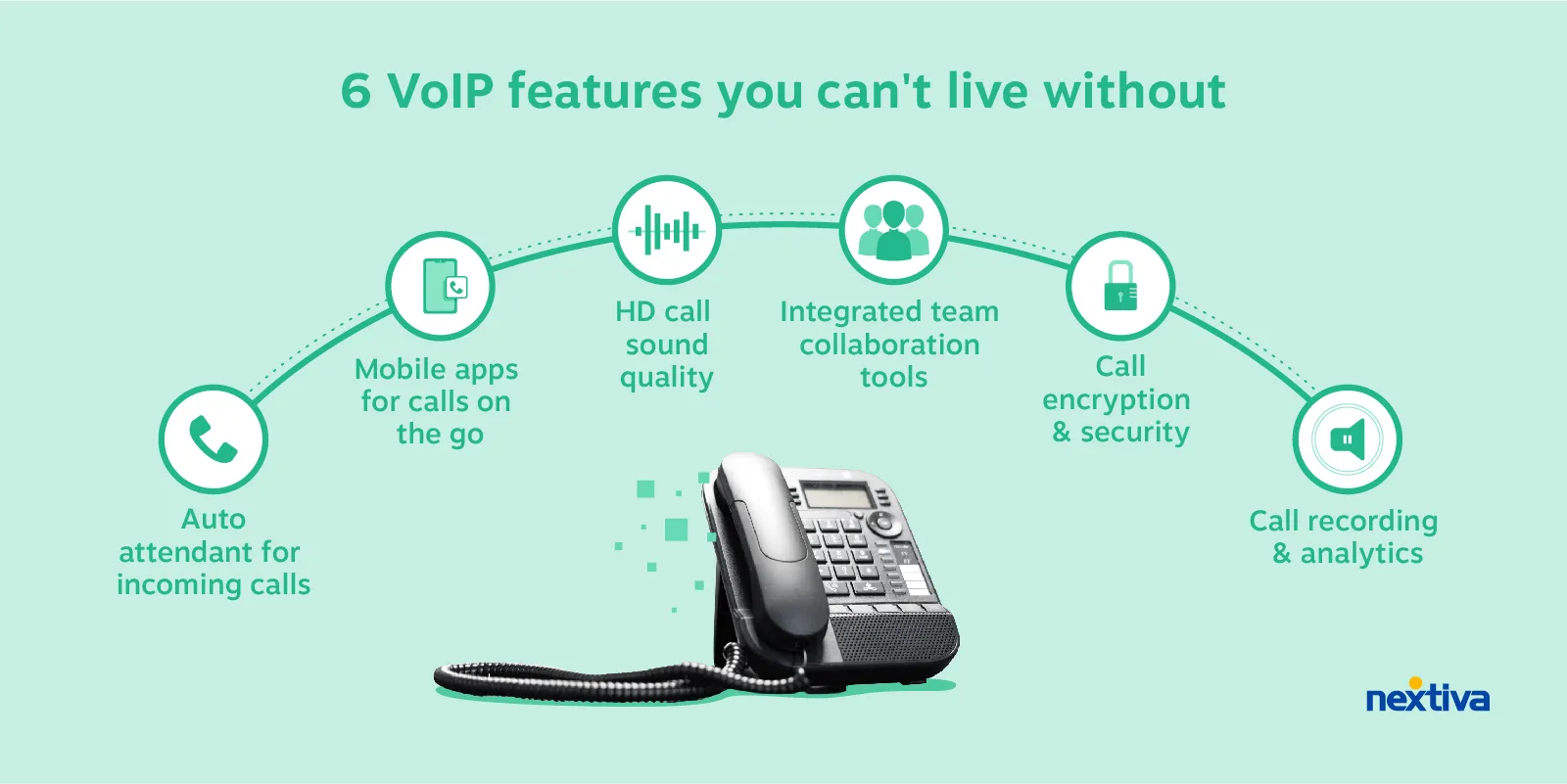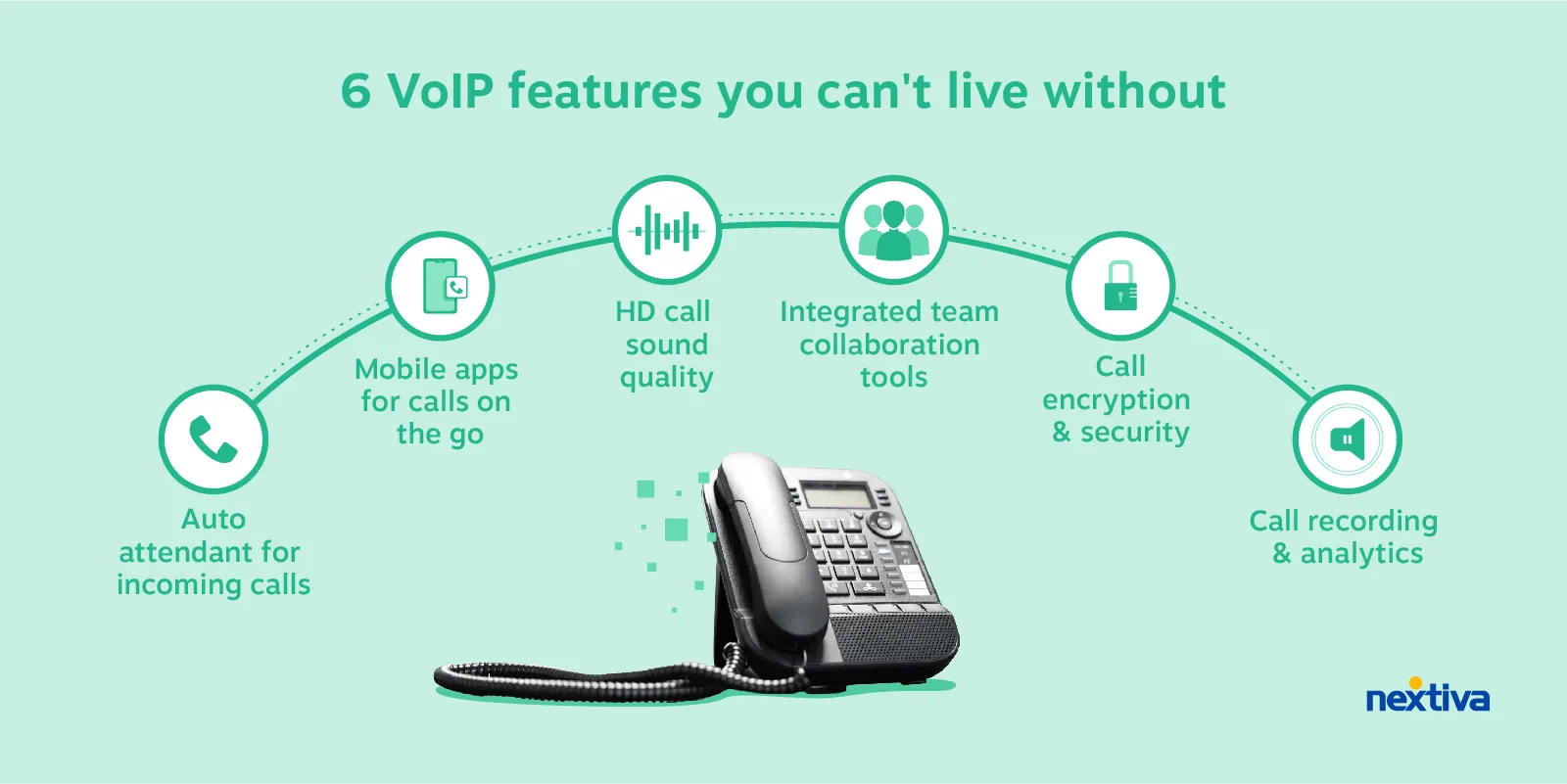 Compare apps holistically to choose a provider tailored to your needs.
Nextiva — One App to Manage All Your Communications
The hassle-free setup that requires no technical knowledge to use makes Nextiva a top pick for cloud phone service.
Nextiva puts users in control of their calling experience with intuitive controls to manage call transfer, call forwarding, voicemail, and more.
NextivaONE is available on Windows, Mac, Android, and iPhone, making it ideal in the modern workplace. The built-in team collaboration features are a useful, time-saving feature as well.
NextivaONE streamlines business communications for voice, video, and messaging from your mobile phone, laptop, or desktop computer.
Countless businesses trust Nextiva for new ways to work remotely. Its VoIP application just makes it even better.
Ready to give Nextiva a try? Speak with a Nextiva expert.