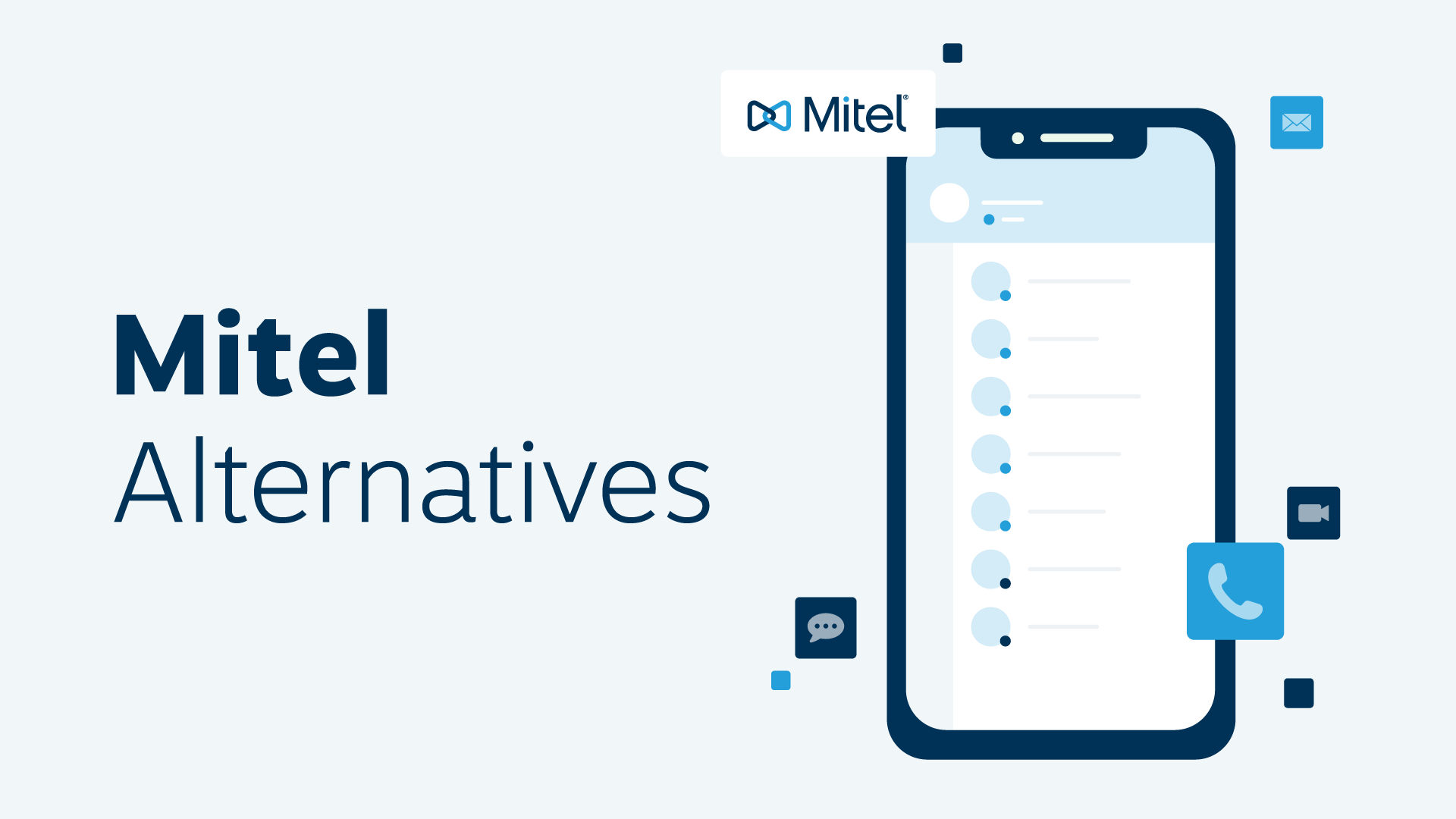 Looking for a phone service solution that supports your flexible workforce? Whether you're growing fast or moving to a remote work model, going with a VoIP phone service is a great option.
But there are dozens of options to choose from. One of them you might be considering is Mitel, a cloud-based phone provider with packages tailored to different company sizes. It offers collaboration and conferencing tools to allow easy information sharing within the company.
If you're looking for alternative options to Mitel, we analyzed them and listed our top 10 below, with details like features, pricing, and reliability for each. Here are our top Mitel alternatives:
1. Nextiva
Nextiva is a VoIP phone service made for modern work. Its features and pricing meet the needs of small businesses and large enterprises alike. It's more than just a phone system. It lets you unify your communication with VoIP, video, team chat, CRM integrations, and collaboration features. You can easily work and connect with customers and colleagues, no matter where you are.

It's no surprise why third-party review sites rate Nextiva at the top, and U.S. News named Nextiva the best business phone service for businesses two years in a row. If you're interested in learning more about Nextiva, Prince Rich of Rich Technology Group gives his transparent review in the video below:
What are some of its top features?
Nextiva offers rich communication features that stand out compared to Mitel, including:
Reliability, support, and security
Nextiva has eight points of presence and carrier-grade data centers, ensuring a 99.999% uptime so you never miss a beat or worry about customers who can't reach you. Nextiva's network is monitored 24/7 and meets ISO/IEC 27001 security standards.
Nextiva's award-winning support team will support you 24/7 over the phone, email, and chat if you ever get stuck.
Your conversations and data are safe with Nextiva. They're SOC 2, PCI, HIPAA, and GDPR compliant.
Nextiva pricing options
Nextiva has simple pricing plans with powerful features, with a free trial and demo options available. You can choose from these plans based on your needs:
Essential: Starts at $17.95 per user per month and includes unlimited voice and video calling, auto-attendant and toll-free numbers, Outlook and Google integrations, voicemail to email, internet fax, softphone apps, and 24/7 support.
Professional: Starts at $21.95 per user per month and adds unlimited conference calls (40 participants) and video conferencing (250 participants) to the mix. There's also Call Pop, unlimited business SMS, extended integrations, and a pro setup.
Enterprise: Starts at $31.95 per user per month and includes unlimited participants on voice and video conferencing, recording, call pop, voice analytics, voicemail transcription, more integrations, and single sign-on (SSO).
Ultimate: Starts at $52.95 per user per month, with sales productivity, pipeline management, service productivity, ticket management, automated surveys, and customer journey analytics.
2. Grasshopper
Grasshopper is a virtual phone system with a business line on your personal phone. It's made for small business owners who want to look more professional and separate work from their personal number.
What are some of its top features?
Grasshopper offers a range of features that support busy small business owners, including:
Custom greetings: Use automatic greetings to answer every call professionally. These are recordings you can use as an away message or as a voicemail greeting.
Business SMS: Confirm appointments and update your customers by text message using the same number as you would for calls.
Call hold and transfer: Transfer inbound calls to another extension or phone number. Engage your customers with hold music while they wait to be transferred to the right person.
Reliability, support, and security
Grasshopper serves more than 135,000 businesses that run 290 million minutes of phone calls per year. If you're a small business, chances are Grasshopper can reliably handle your call needs.
Their support team is available 24/7. There are also resources and FAQs customers can always reference for easy self-service support.
Grasshopper is not HIPAA compliant. The reason: solving technical issues requires the support team to access account settings and information, which means your patient data can't be kept safe.
Grasshopper pricing options
Grasshopper offers three pricing plans based on the number of phone numbers and extensions you need. Each plan comes with a 7-day free trial.
If you choose annual billing, you'll save around 10% on these plans:
Solo: Priced at $29 per month and includes one phone number and three extensions. This plan is best for entrepreneurs with a side gig.
Partner: Costs $49 per month for three phone numbers and six extensions. It suits growing businesses with up to three employees.
Small Business: Costs $89 per month with five phone numbers and unlimited extensions. This plan gives more call routing flexibility than lower plans.
3. GoToConnect (formerly Jive)
GoToConnect is a cloud phone system and a virtual meeting platform, formerly known as Jive. It's now part of the product family-owned by LogMeIn, which also includes GoToMeeting, GoToWebinar, and LastPass.
What are some of its top features?
GoToConnect offers phone, meetings, messaging, and support center features, including:
Call flows: A visual dial plan editor you can use to build different patterns for after-hour calls, weekends, and holidays.
Audio conferencing: Run audio conference calls with numbers from over 30 countries, either over VoIP or by dialing into meetings.
Call analytics: Analyze call patterns by time, length, issue, day of the week, and location to maximize agent availability and productivity.
Reliability, support, and security
GoToConnect uses robust call encryption, including IETF-standard TLS protocols to protect outbound connections and AES-128 in CTR and CBC mode for audio and video security.
GoToConnect guarantees a 99.999% uptime. It's GDPR, CCPA, and PRP compliant. It's not HIPAA compliant, although other products from the same suite (GoToMeeting, GoToWebinar) are.
GoToConnect pricing options
GoToConnect offers three pricing plans:
Basic: Starts at $24 per user per month and gives you a simplified business phone system with essential meeting features.
Standard: Starts at $29 per user per month and gives an integrated phone, chat, and video conferencing system, including features like call recording and real-time analytics.
Premium: Starts at $39 per user per month and adds the support center solution to the mix, with features like call analytics, queue call barge, supervisor real-time view, and agent effectiveness reporting.
4. Dialpad
Dialpad is an AI-powered cloud communication platform. It unifies calling, conferencing, and contact center in a central business communication hub.
Dialpad is made for flexible, remote teams who want to stay connected while working on any device and location.
What are some of its top features?
Dialpad offers advanced communication features across voice, video, messages, and online meetings. Some of these features include:
Automatic call distributor: Use routing rules and the interactive voice response (IVR) to answer calls efficiently and help your agents do their best work.
Business phone app: Work from anywhere with a softphone you can use on smartphones to make and receive calls, check voicemail, and more.
Voice intelligence: Automate note-taking and detect customer sentiments with built-in machine learning, voice recognition, and natural language processing.
Reliability, support, and security
Dialpad offers a 100% uptime Service Level Agreement for their Enterprise users. Check StatusGator to see uptime and any outages over the recent months.
If you need customer support, Dialpad services customers 24/7 over live chat and 24 hours a day, Monday to Friday, over the phone.
Dialpad encrypts all communications across their apps using TLS. It's also compliant with SOC 2 and GDPR. Most Dialpad products offer HIPAA compliance.
Dialpad pricing options
Dialpad's business phone system suite comes in two plans, plus a custom enterprise plan. Annual billing reduces rates below by $5 per month per user. You can get a free 14-day trial.
These plans are:
Standard: Costs $20 per month per user, with unlimited calling, SMS, and MMS in the U.S. and Canada, call controls, voicemail transcription, and custom after-hour routing.
Pro: Costs $30 per month per user and requires a minimum of three licenses. This plan also includes local number support in 50+ countries, 24/7 phone support, APIs, and webhooks.
Enterprise: Get all Dialpad's features, as well as Okta integration and Service Level Agreements (SLA). You need to ask for a quote, and there's a 100 license minimum.
5. Phone.com
Phone.com is a VoIP business phone system with voice, video, SMS, MMS, and fax functionalities. It's a modern solution for agile, remote small businesses across the United States.
What are some of its top features?
Phone.com offers 50+ features to streamline communications. These features include:
Audio conferencing: Connect up to 300 participants from anywhere in the world in high definition voice quality.
Fax from phone: Upload documents from your computer and fax them anywhere with the click of a button.
Voice tagging: Know which menu options your callers selected before reaching an agent, so agents always greet customers according to their reason for calling.
Reliability, support, and security
Phone.com offers 24/7 live human support to their customers over the phone, email, or online chat.
Phone.com is HIPAA and HITECH compliant and meets the Payment Card Industry (PCI) security standards. It uses high-grade SSL encryption and triple DES encryption for video meetings.
Phone.com pricing options
Phone.com comes in three pricing options. They all include a 30-day money-back guarantee and volume discounts.
Annual billing will save you 20%. Monthly plans are:
Basic: Priced at $12.99 per month per user with 300 pooled minutes, one phone number per account, video conferencing with 10 participants, mobile and web apps, and standard 50 features.
Plus: Costs $19.99 per month per user and includes unlimited minutes, HIPAA-compliant video conferencing for up to 25 participants, and IP desk phone compatibility.
Pro: Costs $29.99 per month per user with additional features like call recording, analytics, CRM integration, video conferencing for up to 100 participants, and voicemail transcription.
6. Aircall
Aircall is a call center software for teams. It's a solution made for sales and support in e-commerce and non-profit organizations.
Aircall is a formidable Avaya alternative that serves 10,000 customers across 104 countries.
What are some of its top features?
Aircall offers advanced phone, collaboration, call center, productivity, and analytics features, including:
Queue callback: Let your callers opt-out of waiting in a call queue and receive a call from you at a later time.
Shared contacts: Build and share contacts with the team so every agent can follow the conversation and jump in to help when needed.
CRM integrations: Integrate with your CRM and helpdesk tools to keep all conversations throughout the customer journey connected.
Reliability, support, and security
Aircall has seven distributed data centers worldwide, which allows them to offer 99.99% uptime. They also work with multiple carriers to ensure redundancy and avoid disruptions.
Medium and large teams can work with a dedicated onboarding manager to get the right network setup, IP prioritization, and port setup.
Your data is encrypted using TLS 1.2 and AES 256 methods, both in transit and at rest. Aircall uses AWS as a hosting provider, which holds certifications like ISO 27001, SOC 2, PCI DSS, and FedRAMP for a secure setup.
Aircall pricing options
Aircall offers two standard pricing plans and an option to get a customized package. Standard packages come with a free 7-day trial and are billed annually. Plans include:
Essentials: Costs $30 per user per month, with unlimited inbound calls (toll-free excluded), 50+ integrations, call recording, IVR, voicemail, and phone support
Professional: Costs $50 per user per month, with the addition of Salesforce integration, advanced analytics, live call monitoring, call tagging, advanced support and sales features, and a dedicated account manager
Custom: Includes features like unlimited outbound calls, custom analytics, custom onboarding, access to API developer support, and SLA. You need to request a custom quote.
7. 8×8
8×8 is a platform for cloud-native contact center, voice, team chat, meetings, and embeddable communications. It aims to bring employee and customer experience together, no matter the location or device they communicate from.
What are some of its top features?
8×8 offers a range of call management, productivity, and admin features in their cloud PBX solution. These include:
Multi-level auto attendant: Personalize every caller's experience with self-service options, and shorten the time required for issue resolution. Customize based on location, priority, customer size, and more.
Visual voicemail: Transcribe your voicemails automatically for easy retrieval and storage. You can easily access voicemails on desktop and return calls directly from a voicemail message.
Work apps: Access your phone system in the office or on the go, including voice, video, chat, and fax on your desktop and mobile devices.
Reliability, support, and security
8×8 runs on fully redundant data centers, so your phone system will stay up and running even in case of a technical failure. There's a platform-wide 99.99% uptime SLA so you never have to worry about downtime.
8×8 is HIPAA, GDPR, and ISO 27001 compliant, and meets NIST/FIPS encryption standards, as well as FCC and CSA standards.
8×8 pricing options
As with most cloud phone system providers, 8×8 offers three pricing plans based on different features and billing cycles (annual billing reduces rates up to 25%):
Small business phone system: Starts at $12 per user per month, with voice, video, and messaging in one app. This plan includes unlimited calling in the US and Canada plus features like auto-attendant, call routing, music on hold, and voicemail. There's a one-month free trial available.
All-in-one voice, video, and chat: Starts at $32 per user per month, with unlimited voice calling to 14 countries, video and audio conferencing, SMS, MMS, and team chat. You can also add integrations and fax.
Analytics for administrators and supervisors: Costs $57 per user per month and includes unlimited voice calls to 47 countries, call quality reporting, supervisor analytics, and other supervisor features like monitor, whisper, and barge.
8. OnSIP
OnSIP is a hosted VoIP solution made for remote teams. It's a complete phone system replacement with traditional phone system features like conference bridges, voicemail management, and HD voice calls—both on your desktop and smartphone.
What are some of its top features?
OnSIP's features are lean and straightforward, including:
sayso website chat: Great for encouraging website visitors to voice or video chat with your sales team through the site. It integrates with HubSpot for a streamlined experience.
Softphone app: OnSIP app allows you to take calls on your mobile phone or computer with HD voice experience, voicemail management, caller ID, and more.
Video conferencing: Run one-on-one meetings or host company-wide conference calls with up to five people regardless of their location. No downloads or plugins required.
Reliability, support, and security
OnSIP runs on multiple, geographically distributed data centers—in case of a service outage, you won't be affected.
Given it's a Nextiva alternative, OnSIP aims to support its customers quickly and efficiently. During off-hours, customers can ask for support through voicemail or the ticketing portal, and an on-call support engineer will triage it as quickly as possible.
Calls you make through OnSIP are encrypted end-to-end. OnSIP is HIPAA and PCI compliant.
OnSIP pricing options
OnSIP offers three distinct pricing plans:
Basic plan: Costs $49.95 per month per account, plus 2.9 cents per minute. This plan gives you five voicemail boxes, three ring groups and auto attendants, and one call recording user.
Unlimited plan: Costs $18.95 per month per user, with a five user minimum. You get unlimited features like call parking, announcements, call recording, and more, as well as desk phones or headsets.
sayso voice and video chat: From free to $49.95 per month, this plan allows you to receive voice or video calls directly through your website.
9. Ooma Office
Ooma Office is a business phone service made for small businesses who need a reliable, flexible phone system.
Its plans and features are tailored to businesses working remotely so you can keep a separate business line, hear clear audio, and work efficiently.
What are some of its top features?
Ooma Office provides more than 35 features, including:
Multi ring: Get your inbound calls to trigger multiple devices, like an analog phone, an IP phone, and a smartphone. Ideal for when you're on the go.
Virtual receptionist: Direct incoming calls through call routing to extensions and ring groups. Share important information about your business through custom messages.
Voicemail options: Get voicemails sent to your email as audio files. The higher plan also allows you to automatically transcribe voicemails to save time.
Reliability, support, and security
Ooma uses seven global data centers and multiple levels of redundancy, which ensures uptime and reliability. You won't have to worry about your phones going down.
There's a support page with dozens of self-service articles, as well as a live chat option to get instant help if you need it.
Ooma encrypts voice data using SRTP protocol, but the only way calls are encrypted end-to-end is if both sides are using Ooma. Ooma isn't HIPAA compliant, so keep that in mind if you're a healthcare provider looking for a business phone system.
Ooma pricing options
Ooma is available in two service plans:
Ooma Office: Costs $19.95 per month per user and includes the 35 essential calling and messaging features. Features like call park, audio conferencing, and extension monitoring have lower usage limits.
Ooma Office Pro: Costs $24.95 per month per user. It adds video conferencing, desktop app, call recording, enhanced call blocking, and voicemail transcription to the mix, as well as higher usage limits for essential features.
10. Zoom
Zoom is well-known as the go-to video meeting and conferencing tool, but it's also a cloud phone service provider. It's an enterprise-class solution built natively for the Zoom platform, managed in the familiar Zoom admin portal.
What are some of its top features?
Zoom Phone offers more than 30 calling and phone administration features, including:
Elevate to meeting: Go from a phone call to a full feature Zoom meeting with video and/or screen sharing without making participants manually join.
Call logs: View caller name, number, and call duration with timestamps so you can keep detailed track of inbound and outbound calls.
Call queues: Define automatic call distribution and call queue overflow rules to streamline how your calls are taken care of, even during busiest times.
Reliability, support, and security
Zoom uses nine geographically distributed data centers, so you can rely on a stable service. Zoom experienced quite a few security issues in recent years; they finally rolled out end-to-end call encryption using AES 256 in late 2020.
When it comes to compliance, Zoom is SOC 2, CCPA, and GDPR compliant. It also enables HIPAA compliance.
Zoom pricing options
Zoom Phone offers three pricing plans. You can also add paid add-ons like toll-free numbers, additional phone numbers, hardware leasing, premier developer support, and more.
You can choose from these plans:
US & Canada: Costs $10 per month per user for metered outbound calls, as well as domestic SMS and MMS. For unlimited regional calling, the plan costs $15 per month per user. Both plans include a U.S. and Canadian phone number.
Pro Global Select: For $20 per month per user, get a direct dial number, unlimited domestic calling in 40+ countries and territories, and advanced phone features.
Zoom United: Get a unified solution for calling, meetings, and chat starting at $25 per month per user (minimum number of licenses required for higher plans).
Why is Nextiva the top alternative to Mitel?

Mitel is a solid phone service option, especially if you're looking for more flexibility as a remote workforce. However, we believe Nextiva takes the top spot in this comparison.
Customers love Nextiva—93% of Nextiva customers would recommend its business phone service. On GetVoIP, Nextiva has a 4.7 out of a 5-star rating. Below are more ratings across third-party review websites that show how customers feel about the service:


Nextiva offers world-class reliability and military-grade data centers that handle your business communications. This means you'll never have to worry about your uptime or security, and you can focus on serving your customers.
With more than 40 standard and advanced phone system features, Nextiva users can get the phone service of their dreams, and the Amazing Service at hand for support, implementation, and onboarding.
If you're ready to take your phone system to the next level, check out Nextiva's pricing and plans to find the best solution for your needs.
Mitel, Grasshopper, GoToConnect, Dialpad, Phone.com, Aircall, 8×8, OnSIP, Ooma Office, and Zoom have no relationship with Nextiva, Inc. and are the registered trademarks of their respective owners.