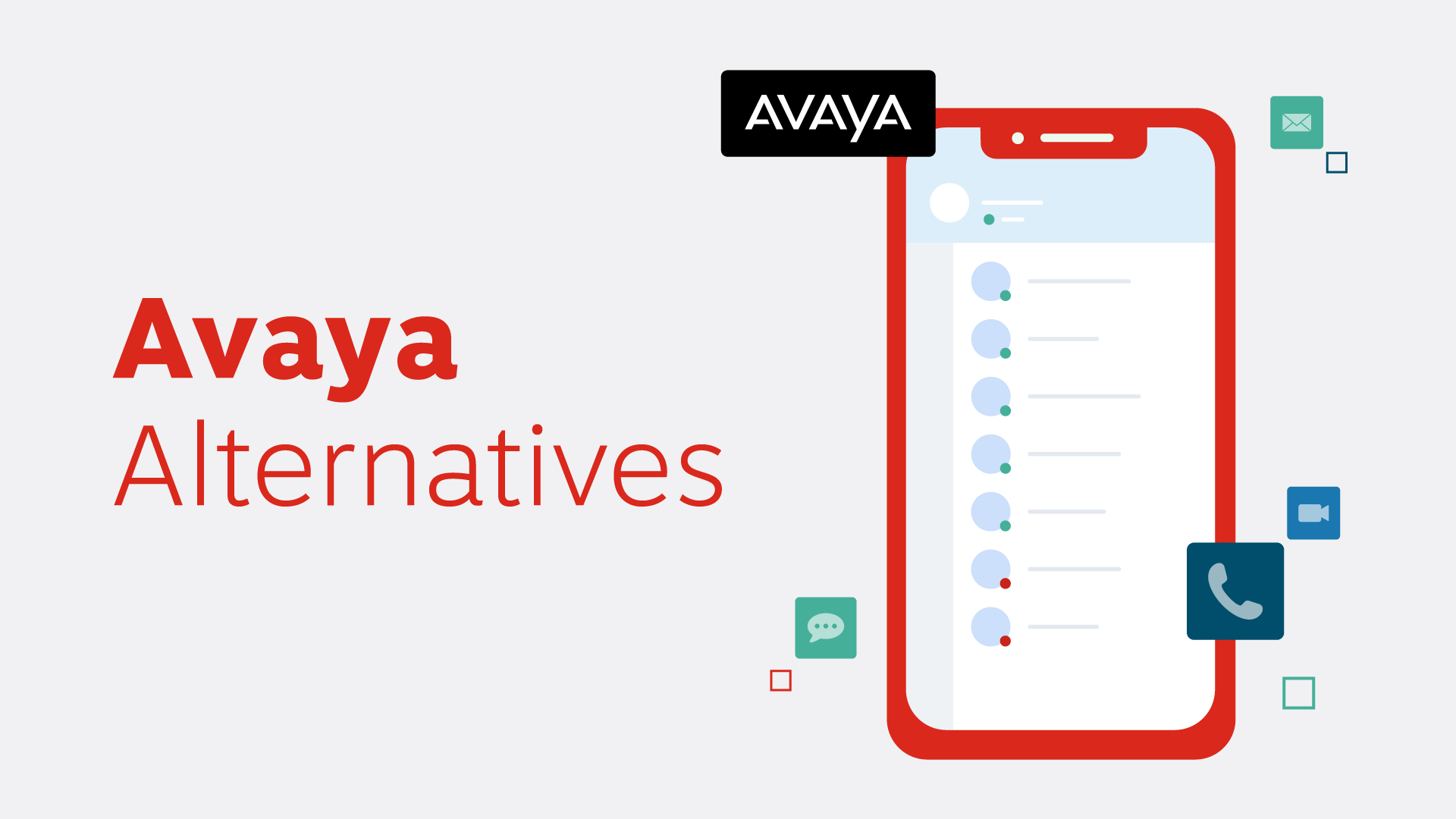 Are you looking for a new business phone system? You likely already discovered the benefits of VoIP and want to know all your options.
Avaya is a well-known cloud telephony provider, offering unified communications, VoIP services, and contact center solutions for companies of all sizes. Avaya helps remote teams collaborate efficiently and set up their office wherever they are.
Although, while Avaya supports remote workforces, you may be looking for a more flexible, scalable cloud phone system. Below is a comprehensive list of the 10 best Avaya alternatives. That includes:
1. Nextiva

Nextiva is a complete cloud-based communication system for companies of all sizes. It brings business phone, video conferencing, collaboration, and customer management services together on a single platform.
Nextiva is the best business phone system of 2022 by U.S. News. Third-party product review sites like G2 and Gartner put Nextiva at the top of the industry.

Nextiva gives small businesses a communication toolkit to win customers and grow without technical headaches. For larger companies, Nextiva makes it easy to move their existing on-premise equipment to the cloud with a reliable and secure business VoIP solution. But don't just take our word for it. Prince Rich of Rich Technology Group gives his transparent review of Nextiva in the video below:
What are some of its top features?
Nextiva's top VoIP features include:
HD audio and video calls and conferencing: Enjoy clear sound and video for better, effortless communication. Run remote meetings with ease.
Auto-attendant: Use an intuitive phone menu system to route calls to the right department or person every time. Auto-attendant is basically a virtual receptionist that saves your time and protects your focus.
Call recording: You can record your calls and store them in the cloud. This helps with quality assurance, documenting essential details from calls, and legal compliance. You can also use your call recordings for training new sales or support reps.
Softphone app: Nextiva Softphone gives users all VoIP benefits without a physical handset. All you need is a computer, a tablet, or your smartphone.
Call forwarding: Direct your inbound calls to any number or device. You can intelligently route calls and avoid missed calls, create custom forwarding schedules (based on business hours, holidays, etc.), and be accessible at the right time—every time.
Reliability, support, and security
Nextiva offers top-notch security and reliability. Thanks to eight points of presence and carrier-grade data centers, Nextiva offers an impressive 99.999% uptime with built-in 24/7 monitoring. Nextiva has you covered so you can focus on serving customers.
When it comes to compliance, Nextiva is ISO/IEC 27001 audited and certified, SOC 2 compliant, as well as PCI and HIPAA compliant. These security requirements protect your business data safe around the clock.
Nextiva's Amazing Service supports customers over phone, email, and chat 24/7.
Nextiva pricing options
Nextiva offers four plans for teams and companies of all sizes and needs. Prices vary based on team size and whether you choose monthly or annual billing.
There's something for everyone—here are your options:
Essential: This plan starts at $17.95 per user per month and includes unlimited calling, unlimited peer-to-peer video calling, free toll-free number and 1,500 toll-free minutes, voice to email notifications, integrations with Outlook and Google, and unlimited internet fax. This plan is ideal if you're starting on a small scale.
Professional: Starting at $21.95 per user per month, this plan also gives you audio and video conference calls, team collaboration, 3,000 toll-free minutes, call pop, additional voicemail features, and extended integrations. Best for small teams.
Enterprise: Starting at $31.95 per user per month, you get unlimited participants for voice and video conferences, call recording, voicemail transcription, and even more integrations. This is ideal for small and medium teams.
Ultimate: From $52.95 per user per month, get every advanced feature you may need as an enterprise company. Features include pipeline management, automated surveys, and customer journey analytics.
2. Mitel
Mitel is a business phone service that offers cloud-based and on-site phone systems. They're focused on making collaboration easy for mobile and remote teams. Mitel serves small businesses, as well as midsize and enterprise businesses.
What are some of its top features?
Mitel's VoIP solution offers features like:
Conferencing: Run audio and video conference calls, share your screen, track your agenda, and join easily with a single-click join button.
Call management: Put calls on hold, join a call, park or unpark a call, answer a call based on the extension or group.
Softphone apps: With softphone apps for PC, Mac, iOS, and Android phones, you can communicate from anywhere with an internet connection.
Reliability, support, and security
Mitel maximizes uptime and scalability with enterprise-class security, applications, and infrastructure.
MiCloud Connect, Mitel's cloud-based business communication service, relies on 14 redundant data centers around the world in case their primary data center fails. It's built on Google Cloud.
Mitel pricing options
Mitel offers three plans starting at $20.99 per user per month. You don't have to commit to a single plan. Instead, you can add users to different plans at the same time, so you only pay for the plans and features you need.
Here are Mitel's three pricing plans:
Essentials: Lowest plan starts at $20.99 per user per month and includes basic PBX features, collaboration, and conferencing.
Premier: This plan starts at $26.59 per user per month and includes all Essentials features, as well as call recording, voicemail transcription, and integration with your CRM.
Elite: Starts at $38.49 per user per month and it includes all features.
3. Aircall
Aircall is a cloud-based call center software for teams. Their goal is to make phone support easy to manage. Aircall integrates with key business tools like CRM platforms and helpdesk solutions (and many others).
What are some of its top features?
Aircall's flexible call solution offers useful features like:
IVR routing: Automate your call filtering with Interactive Voice Response (IVR). It lets callers interact with a computer before reaching a rep and helps you respond efficiently.
International numbers: Get local and international numbers for your business in more than 100 countries, so you can always maintain a local presence.
Extensions: Give your team members a personalized three-digit extension so they can quickly reach each other.
Reliability, support, and security
According to StatusGator, Aircall experiences minor reliability issues on a monthly basis. These are mostly small delays and network issues.
Aircall reports 99.99% uptime thanks to 7 worldwide data centers provided by Amazon Web Services (AWS). They work with multiple carriers to avoid disruptions and provide consistent call quality.
All customer data is encrypted and meets the strongest information security standards.
Aircall pricing options
Aircall offers two predetermined pricing plans, along with a custom quote option if you need a more customized package. Plans come with a free trial.
If you want a ready-to-go plan, these are your options:
Essentials: Starts at $30 per user per month. This plan includes unlimited inbound calls (minus toll-free), integrations, call recording, IVR, voicemail, click-to-dial, and phone support.
Professional: Starts at $50 per user per month. It adds advanced call analytics, call monitoring, call tagging, and advanced sales features to the mix. You also get a dedicated account manager.
4. OnSIP
OnSIP is a hosted PBX phone system for remote teams. It's designed for small and medium businesses. Their VoIP solutions promise a complete phone system replacement in less than an hour, including softphone apps, useful call management features, and video conferencing.
OnSIP was acquired by Intrado in the summer of 2020.
What are some of its top features?
Some of OnSIP's features include:
Website chat: Your website visitors can voice or video chat with your sales team. The Pro version also includes screen sharing and analytics.
Voicemail-to-email: Receive voicemail messages in your email inbox so you can read and re-read them in a place you already check regularly—and respond faster.
Auto-attendant: Give your callers intuitive menu options so you can intelligently route inbound calls to the right person or team.
Reliability, support, and security
OnSIP apps support encrypted communication. They share technical details about encryption in their support hub for different scenarios. OnSIP is also PCI and HIPAA compliant.
OnSIP leases two data centers in the United States and operates its own redundant physical networks and systems with hardware from Dell, Cisco, and Juniper. This means that if one server fails, another one will pick up.
When it comes to customer support, OnSIP has a page for real-time assistance that lists team members you can connect with over the phone or a video call. You can always get an answer to your issue quickly.
OnSIP pricing options
OnSIP gives you three pricing options:
Basic Plan: $49.95 per month per account, plus 2.9 cents per minute. Many features on this plan have limited capacity and come with additional costs if you want to increase them.
Unlimited Plan: Costs $18.95 per month per user and includes new desk phones or headsets for new accounts, but there's a five-user minimum to use this plan.
sayso Voice & Video Chat: Costs up to $49.95 per month and allows you to receive voice and video calls directly through your website.
5. Phone.com
Phone.com is a VoIP business phone system for US-based customers. They serve entrepreneurs and growing businesses, offering easy implementation and enterprise features at a fraction of the cost.
What are some of its top features?
Phone.com offers dozens of features, some of which include:
Audio conferencing: Connect up to 300 participants from anywhere in the world in high-definition voice quality. Make your meetings password-protected for maximum security.
Queues: Route incoming calls to a specific group of phone numbers and looks for the first available agent.
Custom (vanity) numbers: Easy-to-remember phone numbers, like 800-FLOWERS.
Reliability, support, and security
Phone.com is PCI, HIPAA, and HITECH compliant. Their video meetings use DES encryption. They also offer a Business Associate Agreement (BAA) when needed. Phone.com's reliability is high thanks to their low downtime.
Phone.com offers multilingual 24/7 support over chat, phone, and email.
Phone.com pricing options
Phone.com offers three pricing plans, two of which are metered and one is unlimited. All plans include 40+ features:
Base Account: Priced at $12.99 per user per month. It includes 300 minutes and 2,000 text messages each month, one local or toll-free number, and 40+ standard features. It also comes with a 30-day money-back guarantee.
Plus Account: Costs $19.99 per user per month. Compared to the Base Account, it comes with more minutes (500) and text messages (3,000), as well as with premium hold music and the voicemail-to-text feature.
Unlimited Extension: At $29.99 per user per month, you get unlimited minutes and text messages and video conferencing (along with everything included in metered plans).
6. CallHippo
CallHippo is an on-demand VoIP service provider. They make it easy to get a phone number in 50+ countries around the world. According to CallHippo, you can buy a business phone system and get it up and running in just a few minutes.
What are some of its top features?
CallHippo offers useful features like:
Call barging: Monitor your reps' calls silently.
Call analytics: Track the performance of your phone support. Measure indicators like percentage of missed calls, agent call load, average call duration, and more.
Global Connect: Know the timezone of international contacts so you can always call them at the right time.
Reliability, support, and security
Based on CallHippo's status page, they've only had one major outage in 2020, although their uptime data is limited. There's no information on the data centers they use or their security compliance and certificate.
They offer 24/7 support through their support portal.
CallHippo pricing options
CallHippo's pricing is divided into three plans, plus Enterprise, a tailor-made solution with additional features like custom integrations, reports, and IP whitelisting. You need to contact CallHippo for a quote for the Enterprise option.
CallHippo's standard plans are:
Bronze: Starts at $14 per user per month and includes a free number, forward-to-device, SMS (with additional charges), voicemail, teams, shared inbox, and call quality enhancement. This plan is ideal for startups.
Silver: Costs $24 per user per month and includes unlimited incoming calls (minus toll-free), call recording, IVR, call queueing, working hours, call cascading, reporting, and more. This plan is aimed at small sales teams.
Platinum: Available on an annual subscription only, at $35 per user per month. With this plan, you get power dialer, call transfer, 3-way calling, external call routing, custom caller ID, forwarding to multiple devices, pause-resume recording, and call whisper. It's aimed at SMB sales, support, and marketing teams, and volume discounts are available.
7. 8X8
8×8 is a provider of cloud-based business phone systems. Their services include voice, video, messaging, and contact center solutions. They also offer real-time business analytics and intelligence across channels.
What are some of its top features?
Here are some features of 8×8 you can take advantage of:
All-in-one app: Use a single app for desktop and mobile for collaboration over voice, video, private chat, and team chat.
Analytics: See aggregated analytics for all your cloud communications. See trends, solve issues, and make the best decisions based on accurate data.
Video conferencing: Schedule meetings from Google and Microsoft calendars, create dedicated virtual meeting spaces, and record meetings on the cloud for easy reference.
Reliability, support, and security
8×8 puts security front and center. They're HIPAA compliant, ISO certified, and meet the highest encryption standards.
8×8 also uses multiple redundant hardware and software systems, so if there's an outage, their redundancy and rerouting capabilities will keep your communication going.
They offer 24/7 support over web, live chat, and phone, as well as a rich knowledge database.
8×8 pricing options
8×8 gives you three plans you can choose from based on your needs:
Small business phone system: Starts at $12 per user per month and includes voice, video, and messaging. It comes with essential calling features like auto-attendant, intelligent call routing, hold music, and voicemail. You'll also get unlimited calling in the US and Canada.
All-in-one voice, video, and chat: Priced at $24 per user per month and gives you unlimited voice calls to 14 countries. You get audio and video conferencing, SMS, MMS, team chat, small business and enterprise integrations, and fax (and features from the lower plan, of course).
Analytics for administrators and supervisors: For $44 per user per month you get unlimited voice calling to 47 countries, call quality reporting, supervisor analytics, and call whisper and barging.
8. Zoom
Zoom is a well-known video meeting software solution, but they also offer a cloud phone service called Zoom Phone. It's a cloud phone system with enterprise-class features that lets you streamline voice communications.
What are some of its top features?
Check out some useful Zoom Phone features:
Elevate to meeting: You can turn a phone call into a full-featured Zoom meeting without asking participants to manually join. Great for calls that spontaneously turn into more in-depth meetings.
Voicemail notification and transcription: Get notified of your new voicemail messages and manage them from any device.
Integrations: You can integrate your phone service with a CCaaS solution, your CRM, Google, Slack, and more.
Reliability, support, and security
Zoom's security architecture provides encryption and meeting access controls. They protect and encrypt all audio, video, and screen sharing data.
Zoom has had some security and privacy issues, especially in 2020, but they're actively working on strengthening their system. As always, follow standard online security best practices like two-factor authentication to protect your login information. Be sure to use meeting passwords when you can.
Zoom enables HIPAA, PIPEDA, and PHIPA compliance and advises healthcare organizations to contact their sales team to configure their solution for compliance.
Zoom pricing options
Zoom Phone offers three pricing plans:
Pro: Starting at $96 per year per user. Use this plan for metered calling (outbound and between extensions), advanced phone features, Bring Your Own Carrier (BYOC), and for use on multiple devices and apps.
Pro Global Select: Pricing starts at $240 per year per user and gives you a direct dial number, unlimited domestic calling in 40+ countries, and everything from the Pro plan. You can also add-on calling to 18 more countries.
Zoom United Business: Starts at $350 per year per user. This plan includes all their calling features, as well as meetings for up to 300 participants. There's a minimum of 10 licenses required for $3,500 per year.
9. Vonage
Vonage Business offers a range of business communication features, including unified communications, cloud contact center, and communications API. Their solutions support flexibility, mobility, and collaboration.
What are some of its top features?
Some of the best Vonage's features include:
Call flip: Seamlessly transfer calls from mobile to desk phone or vice versa.
Vonage reach: SMS automation for creating meaningful engagement in every stage of the customer journey.
Call logs: Get detailed call records to see call activity, directions of calls, call duration, and call volume to make sure you add or reduce your agent capacity as needed.
Reliability, support, and security
Vonage prioritizes the protection of Vonage's information and implements the highest privacy and cybersecurity measures, including HIPAA, HITECH, and HITRUST, as well as PCI.
Vonage is powered by Amazon Web Services (AWS) and uses multi-level fail-safes, backups, and disaster recovery procedures. Their average uptime is 99.999%.
Vonage offers technical support 24/7 over the phone. They also let you create a case through their support portal.
Vonage pricing options
Vonage offers three pricing plans. They come with a 14-day free trial for up to 99 lines. Here are their pricing details:
Mobile: Starts at $19.99 per month per line. It's great for use on mobile and with a desktop app. Features include unlimited calls (in the US, Canada, and Mexico), unlimited SMS (in the US and Canada), their app center with 20+ integrations, and unlimited team messaging.
Premium: Starts at $29.99 per month per line. On top of all Mobile features, it adds availability on desk phones, as well as unlimited video conferencing for up to 100 participants, auto-attendant, and CRM integrations.
Advanced: Starts at $39.99 per month per line. This plan adds call recording, call group, visual voicemail, and white-glove setup to the mix.
10. Dialpad
Dialpad is a cloud communication platform. It's powered by artificial intelligence (AI) and it's built for startups, small businesses, and enterprises. Dialpad connects people through voice, video, messaging, and online meetings.
What are some of its top features?
Some of Dialpad's useful functionalities include:
Screen capture: Record agents' entire screens during customer calls so you can better understand agent performance and give valuable feedback.
Voice intelligence (Vi): Automated note-taking, detecting customer sentiments, and other intelligent features that make agents more efficient.
Call blocking: Automatically block spammy inbound calls based on a spam score. You can also send them to voicemail or get the caller to state their name before you answer.
Reliability, support, and security
VoIP calls you make through Dialpad are stored on the Google Cloud Platform and encrypted using TLS. Dialpad gives you granular control over roles and user permissions, meaning you can give or remove access to data for users, teams, and offices.
Dialpad is HIPAA compliant, SOC2 compliant, and follows NIST guidelines for incident response. They use a global network of data centers, which gives them redundancy and protects against downtime.
They offer online support through their customer portal, and their Pro and Enterprise plans include 24/7 phone support.
Dialpad pricing options
Dialpad offers three plans with a range of features and with a minimum number of licenses for the higher tiers. Standard and Pro come with a free 14-day trial. Here's more about their pricing:
Standard: Pricing starts from $15 per user per month. This includes unlimited calling (in your country, the US, and Canada), SMS, and MMS (US and Canada only), basic call controls, voicemail greetings, voicemail transcription, and Google integrations.
Pro: Starts at $25 per user per month and requires a minimum of three licenses. This plan also includes local support in 50+ countries, Salesforce integration, APIs, and off-hours routing.
Enterprise: A minimum of 100 licenses. This plan includes all of Dialpad's features. For pricing, you'll need to contact their sales team.
Why is Nextiva the top alternative to Avaya?
Avaya has been around for a while and has a lot to offer, but falls short when compared to Nextiva.
Nextiva is a top-rated and recommended VoIP service. On GetVoIP, Nextiva has a 4.7 out of 5-star rating with over 93% of customers recommending it.
On Gartner Peer Insights, when the two providers were compared, Nextiva was by far the more recommended choice. You can see the difference below:

Real Nextiva users have said it made their lives easier, helped them increase productivity, and made tough transitions easy. For example, the accelerated shift to remote work in 2020 was made easier with Nextiva.
Nextiva puts security and reliability at the forefront. With 24/7 network monitoring, there's no need to worry if your business phone service is working. And if you need help, Nextiva's Amazing Service is there for live customer support.
Finally, Nextiva has more than 40 VoIP features your team can use to streamline business communications and maximize every opportunity when connecting with customers. If you're looking to make the most out of communication and collaboration over phone, video, and messaging, check out Nextiva's pricing and find a plan that's right for your business needs.
Avaya, Mitel, Aircall, OnSIP, Phone.com, CallHippo, 8×8, Zoom, Vonage, and Dialpad have no relationship with Nextiva, Inc. and are the registered trademarks of their respective owners.