Nextiva and Dialpad are robust Voice over Internet Protocol (VoIP) service providers designed to meet the communication needs of small and big businesses. They have plenty of great features designed to help brands take their communication to the next level.
Still, all the bells and whistles of a phone system don't make up for key things businesses need that may be difficult to assess at first glance, such as reliability, quality, scalability, and excellent customer support.
We'll cover features, usability, price plans, customer support, and other aspects of both VoIP phone systems, so you will have a better idea of which provider is best for you.
Nextiva vs. Dialpad VoIP Phone Systems 
Feature
Nextiva
Dialpad
Monthly Price
Starts at $18.95 per user
Starts at $23.00 per user
Video Conferencing
Up to 250 participants per meeting
Up to 10 participants per meeting on a free plan
Up to 150 participants per meeting on a business plan
Toll-Free Numbers
One toll-free phone number is included in all plans
Charges an extra fee for toll-free, international, and fax numbers
Unlimited Online Fax
Included on all plans
An additional fee for an extra fax line + $0.10 per page after 1,000 pages
Integrations
Google, Microsoft Teams, Microsoft Dynamic, Microsoft Outlook, HubSpot, Salesforce, Zendesk, ServiceNow, ConnectWise, NetSuite, SugarCRM, Oracle, Lotus Notes, GoldMine, Workbooks, Bullhorn, Act!, and more
Salesforce, Google, Zendesk, Slack, HubSpot, Zapier, G Suite, Microsoft Dynamics 365, Azure, Okta, OneLogin, APIs, Copper, Helpwise, and more
24/7 Support
Self-service, online ticketing, chat, email, and phone support on weekdays and Saturdays for all customers
The basic plan includes chat and web support; Pro and Enterprise have 24/7 support
Customer Reviews (G2)
4.5 out of 5
2,716 reviews
4.4 out of 5
1,752 reviews
Nextiva's Essential plan starts at $18.95 per month, making it a great economical VoIP solution compared to Dialpad.
Despite having the lowest cost, Nextiva offers extensive customer support and various integrations. Nextiva offers 24/7 live support, and it has unlimited online fax and one toll-free number for all plans, whereas Dialpad charges you for both.
Dialpad's Pro and Enterprise plans have 24/7 support, but its basic plan only includes chat and web support.
Let's dive deeper into the differences between Nextiva and Dialpad.
Nextiva vs. Dialpad Pricing
Nextiva's monthly costs are lower than Dialpad's. Furthermore, Dialpad charges more additional fees compared to Nextiva.
Dialpad's potential additional fees include:
SMS Cost: Dialpad imposes an extra $0.08/SMS fee beyond the 250-message limit. In contrast, Nextiva's plans encompass higher message limits (up to 1,000 or 2,000) and unlimited business SMS through the Productivity Plugin.
Toll-Free Cost: Dialpad imposes extra fees for a toll-free number ($15–$17/month and $0.02/minute), whereas Nextiva includes toll-free numbers and minutes across all plans.
Fax Cost: Dialpad imposes extra fees of $5 for fax numbers and an additional $0.10/page beyond the 1,000-page limit. In contrast, Nextiva offers inclusive unlimited online faxes.
Number Porting: To port an existing toll-free number to Dialpad will cost you $20. Nextiva provides a toll-free number with all its business phone plans, including toll-free minutes and no additional fee to port.
Pricing Transparency: Nextiva's pricing plans are available to the public, while Dialpad requires you to contact their sales team to learn about Enterprise-level pricing and device pricing. At Nextiva, we believe in transparency and guarantee you'll receive the service you paid for.
Nextiva vs. Dialpad Product Features
Nextiva and Dialpad offer similar VoIP functionality. Beyond that, they differ significantly.
Here's a thorough comparison of the product features and functionality.
VoIP features
Dialpad's starter package includes the following features:
Meetings of up to 45 minutes
Screen sharing
Unlimited calling and call recordings
Unlimited SMS and MMS
Call control
Voicemail transcription
G-Suite & Office 365 integrations
Off-hours routing
Users need to upgrade to the Pro plan for additional integrations, international SMS, hold cues, desk phone support, and unlimited meetings of up to five hours. They also need to pay more for toll-free numbers.
Nextiva's Essential package offers the following benefits and features:
Unlimited voice and video calling
Toll-free numbers
99.999% uptime
Auto attendant
Outlook and Google Contacts integrations
Voicemail-to-email
User-friendly mobile app and desktop app for both iOS and Android
Unlimited internet fax
24/7 dedicated support
Nextiva's Enterprise plan includes the additional following features:
Screen sharing
Unlimited voice and video conferencing participants
Multi-level auto attendant
Three professionally recorded greetings
Unlimited video and conference recording
Call recording
Voicemail transcription
Custom integrations
SMS/MMS
Single sign-on
Unified Communications as a Service
Unified Communications as a Service (UCaaS) blends internet-based phone and messaging into a robust communications platform. In many cases, UCaaS solutions work across desktop apps, mobile apps, and desk phones, integrating phone, chat, and video conferencing.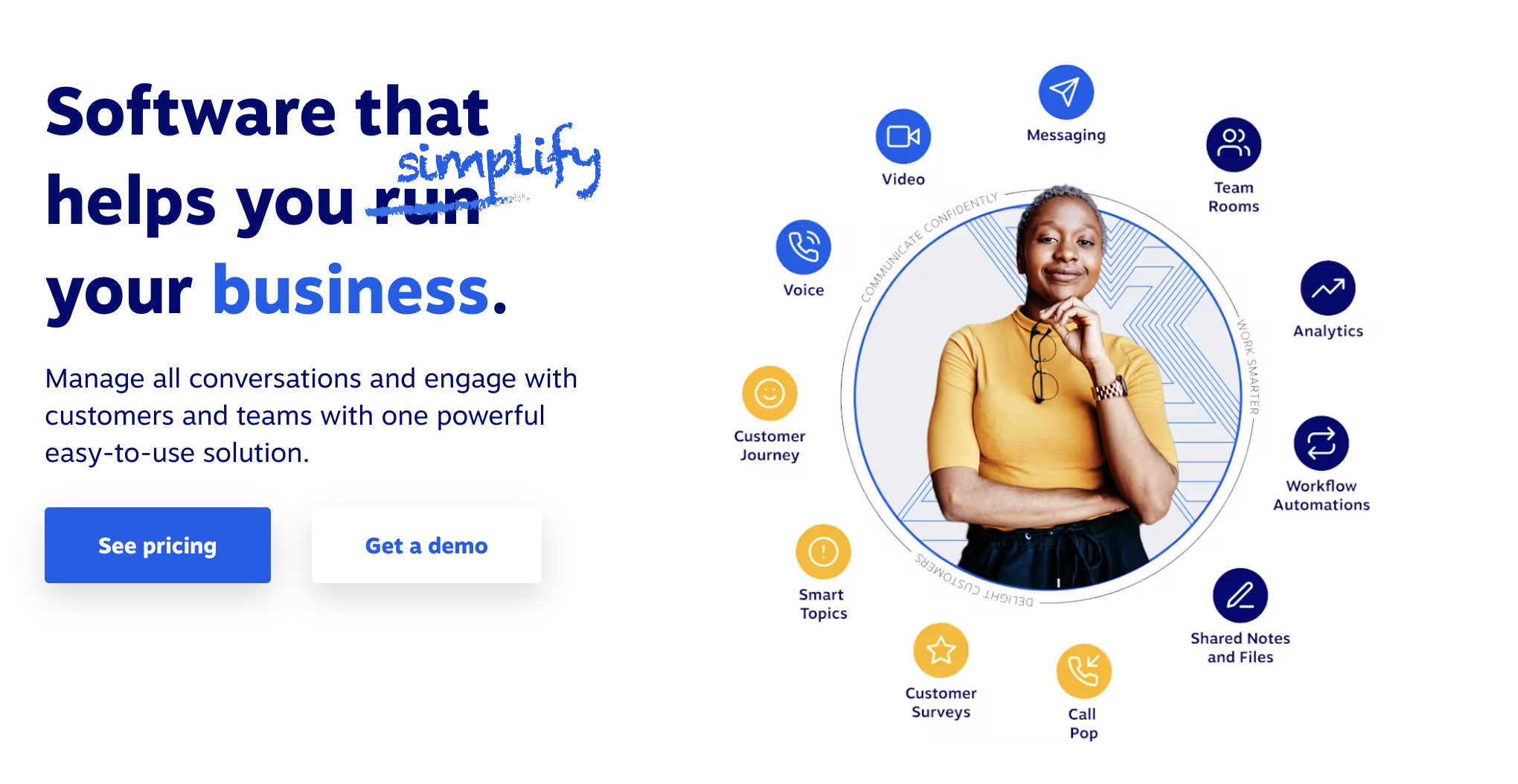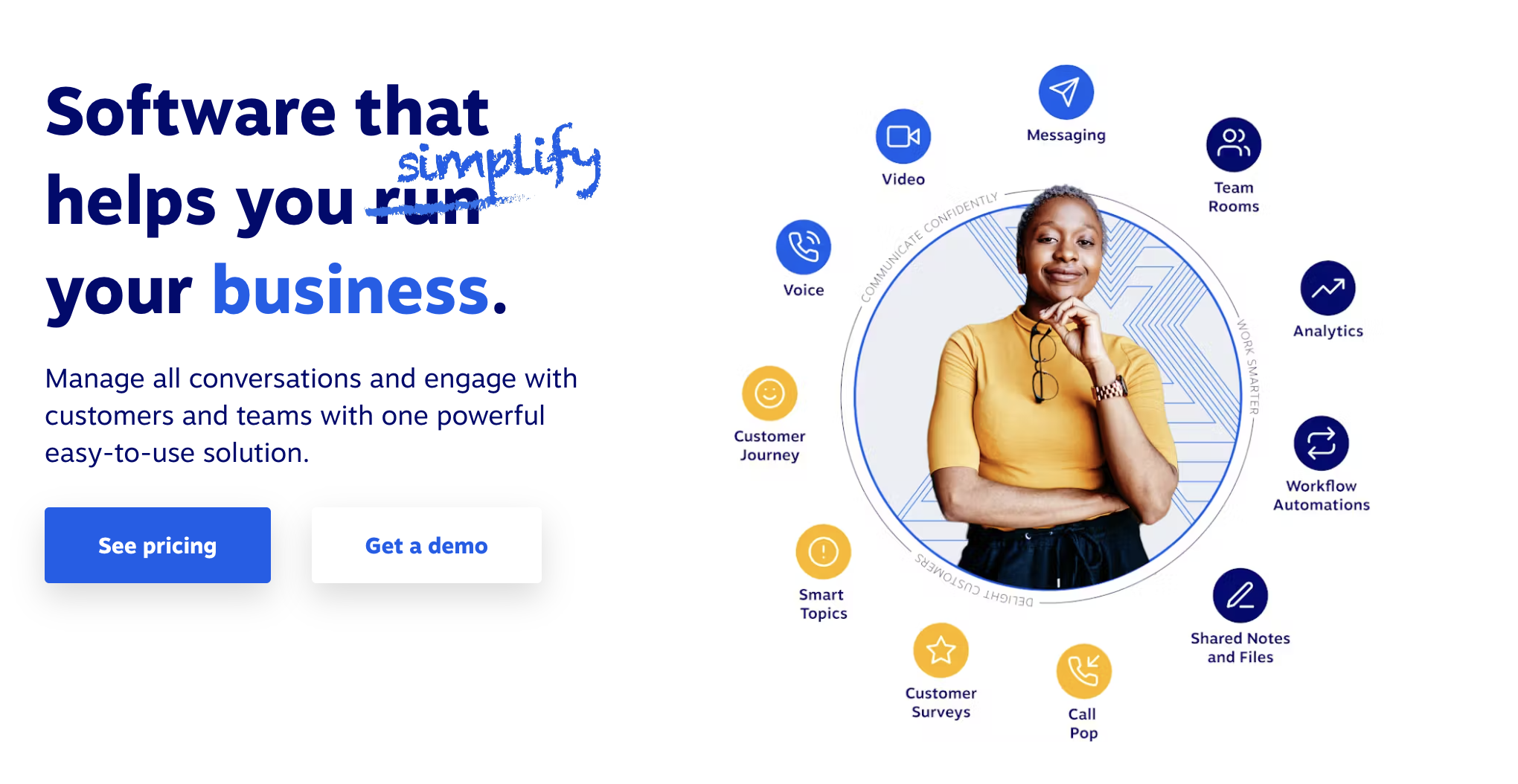 Dialpad and Nextiva both offer UCaaS features, including video conferencing, SMS/MMS, and voice-to-email features. Unlike Nextiva, Dialpad does not offer voicemail-to-SMS.
It's worth noting that some of Dialpad's UCaaS features are only available under separate plans. Its VoIP services are under the Dialpad Voice product line, for example, and video conferencing is available under its AI Meetings product. The Business plan for AI meetings costs $15 per month.


Nextiva prioritizes UCaaS features, many of which are included under a single plan.
NextivaONE is an all-in-one communications app that allows you to effectively manage all communication, team collaboration, and customer engagement in a single place.
Nextiva vs. Dialpad Analytics
Dialpad's phone system comes with native analytics. The analytics menu intuitively arranges data, enabling supervisors to get clear insight into their team's performance.
Users can customize call routing and IVR menu options using their web dashboard with relative ease.
Both platforms let you measure metrics, including:
Active calls
Average response time
Abandoned calls
Agent availability
Inbound vs. outbound calls
Total call time
Text volume
The most substantial difference between the two platforms' analytics is that Nextiva Analytics benefits those inside and outside contact centers. You can gain insight into trends impacting your business, call center performance, management, and scheduling.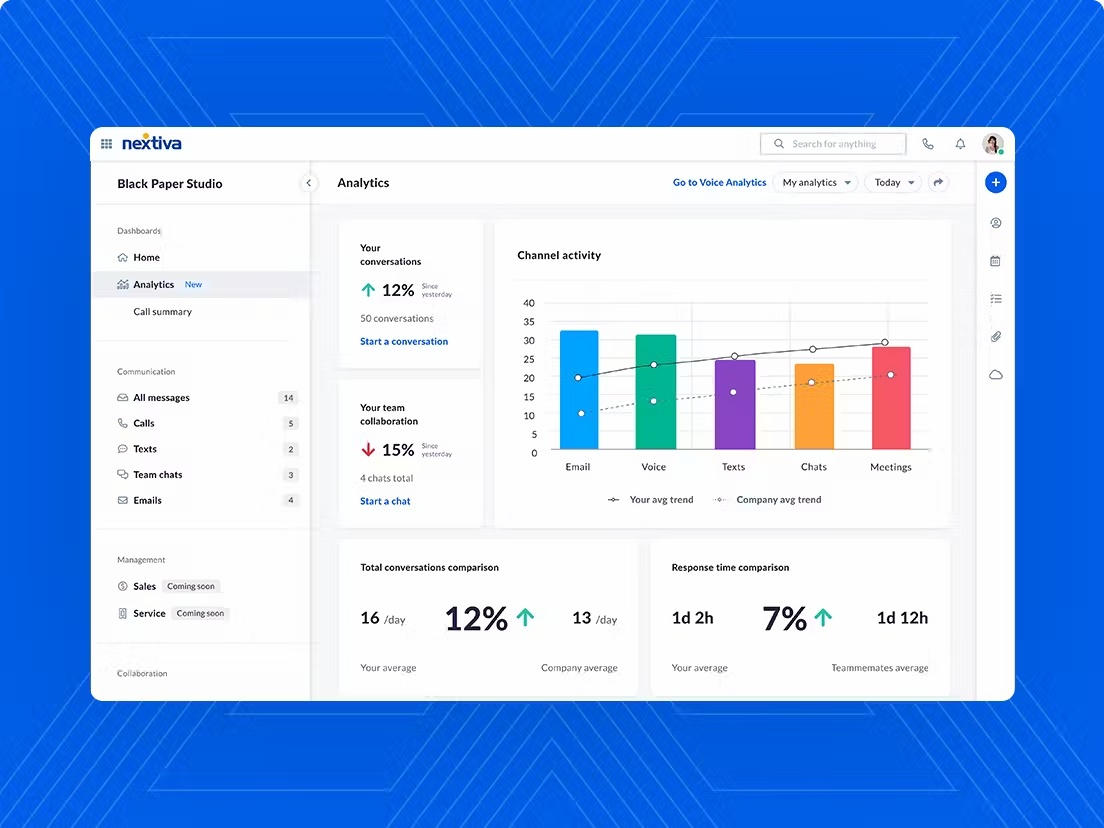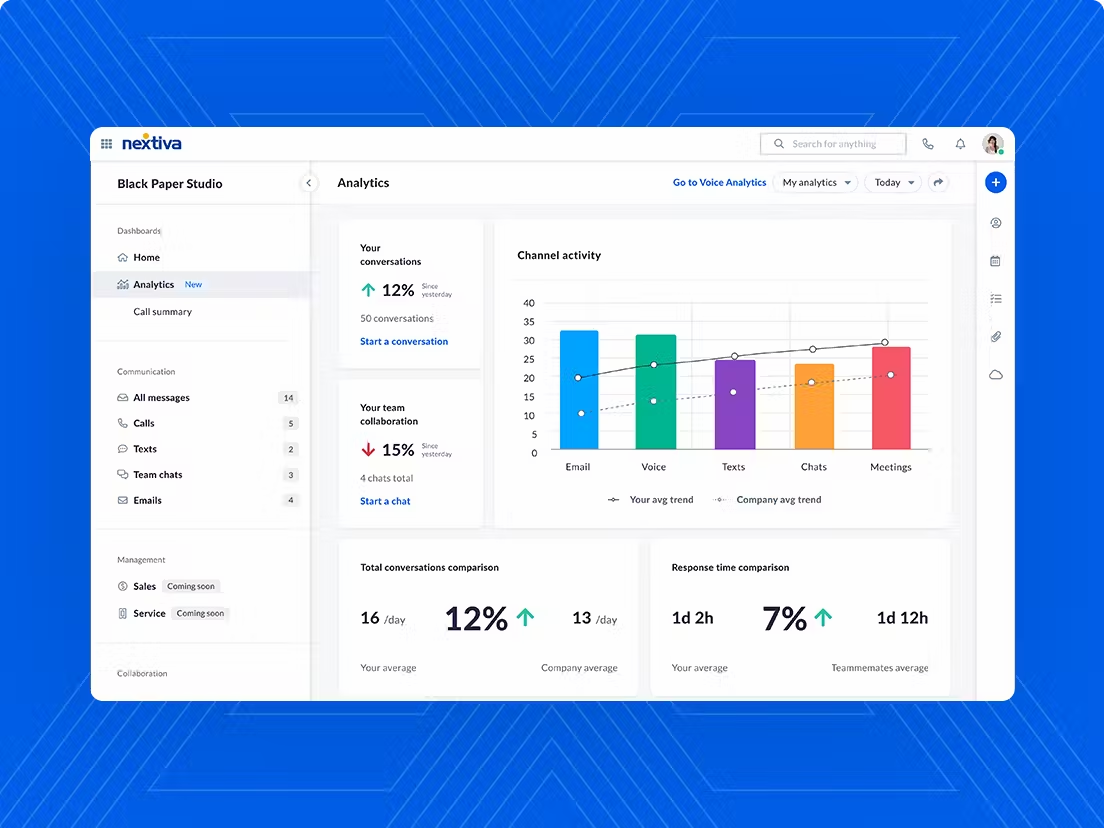 Dialpad's analytics tends to be geared more toward call center data, specifically focusing on the call center's logistics and performance.
Nextiva vs. Dialpad Call Pops
Dialpad can integrate with your CRM tool to pull up customer data with call pops. It uses screen pops to load matching customer records as the phone rings, pulling up dedicated customer information windows.
Operators and agents can then manually open an integrated CRM system and search for the matching customer record. When they ask for the customer's name, they may have the full file on hand.


Nextiva's Call Pop feature displays essential information about the caller on the screen before answering the phone. It stores engagement and interaction data for customers and displays that actionable data in their call pops. The screen will stay up for the duration of the conversation.
When a customer calls, Nextiva's Call Pop feature displays their contact information and data, including their customer experience score, latest survey score, account value, and last interaction sentiment.
All the information your agents may need is readily available to best serve your customers, even before they answer the call.
Dialpad vs. Nextiva Performance
Performance is often a top consideration when choosing between VoIP systems, so it's critical to compare Dialpad vs. Nextiva performance.
Dialpad claims 100% uptime, which is solid.
However, it has reported recent outages and a number of incidents. Still, when you're maintaining a network with multiple users, some outages are normal.
The incident reports indicate that performance issues can occur, with 13 incidents in September 2023 alone.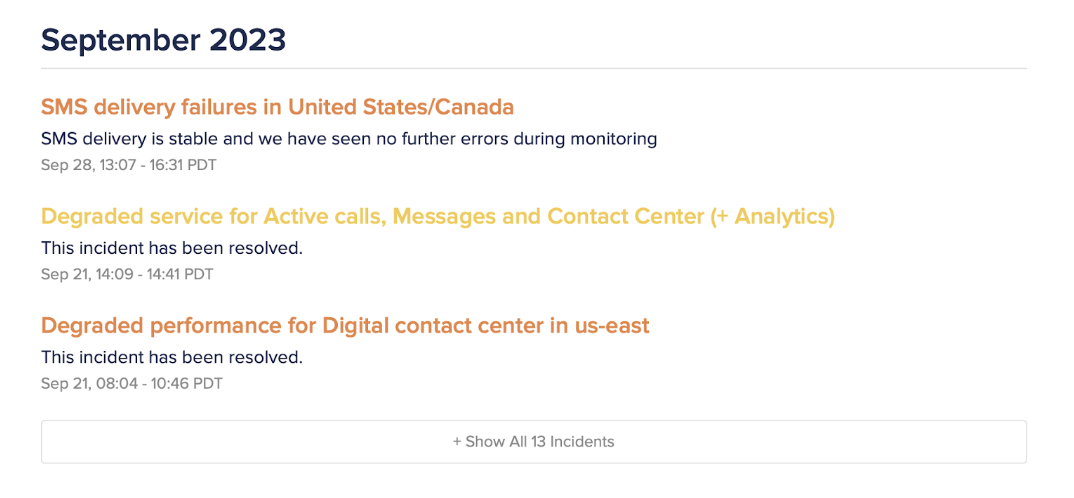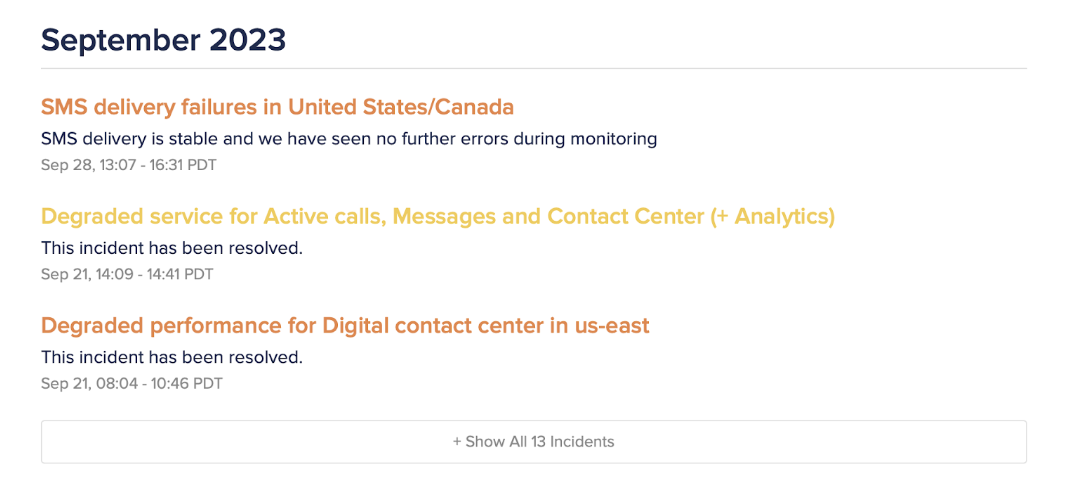 Recent customer reviews for Dialpad also report issues with dropped or "choppy" phone call quality, which can drive customers to consider Dialpad's competitors.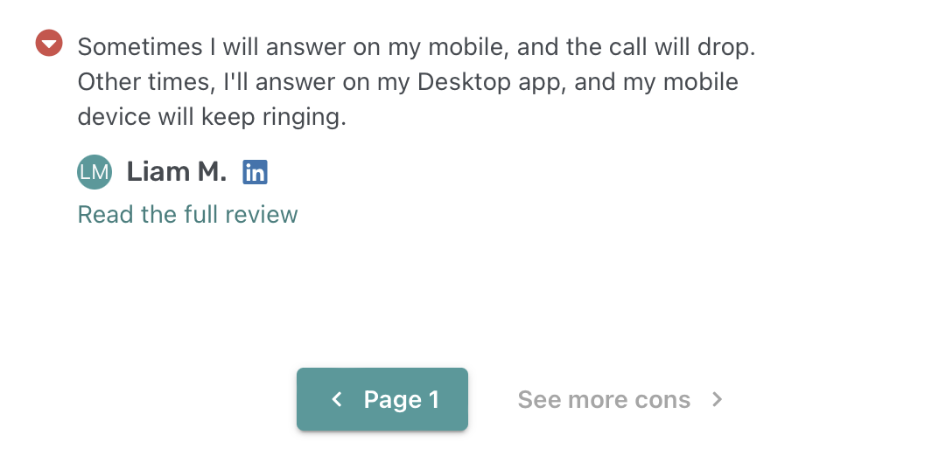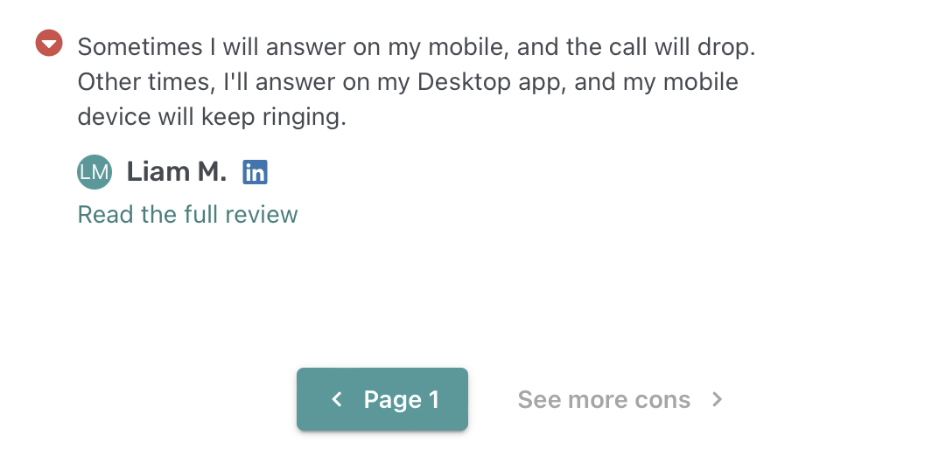 Nextiva's network is one of the most reliable in the world. It has eight points of presence and carrier-grade data centers dedicated to providing 99.999% uptime, ensuring that you can always stay connected with your customers without sacrificing security.
Throughout October, there were only a few incidents to report from Nextiva's service, and there was 100% uptime.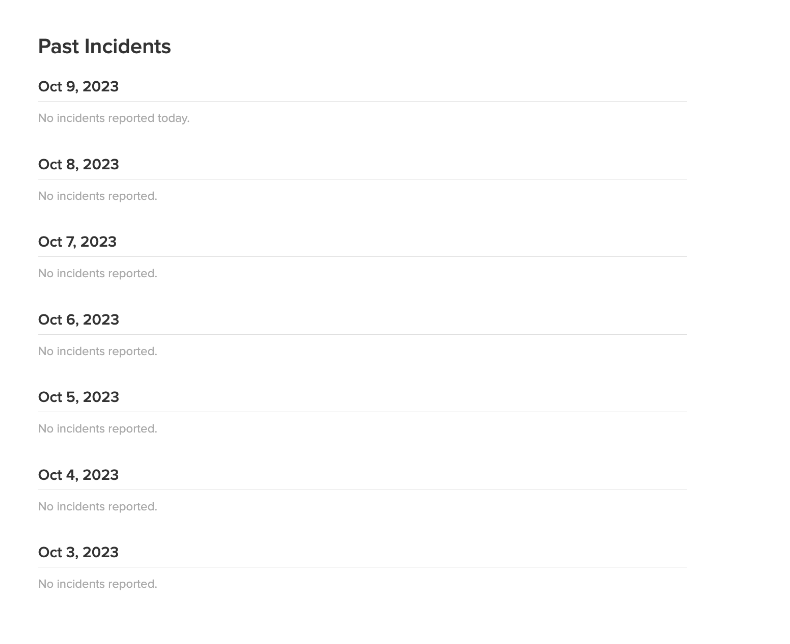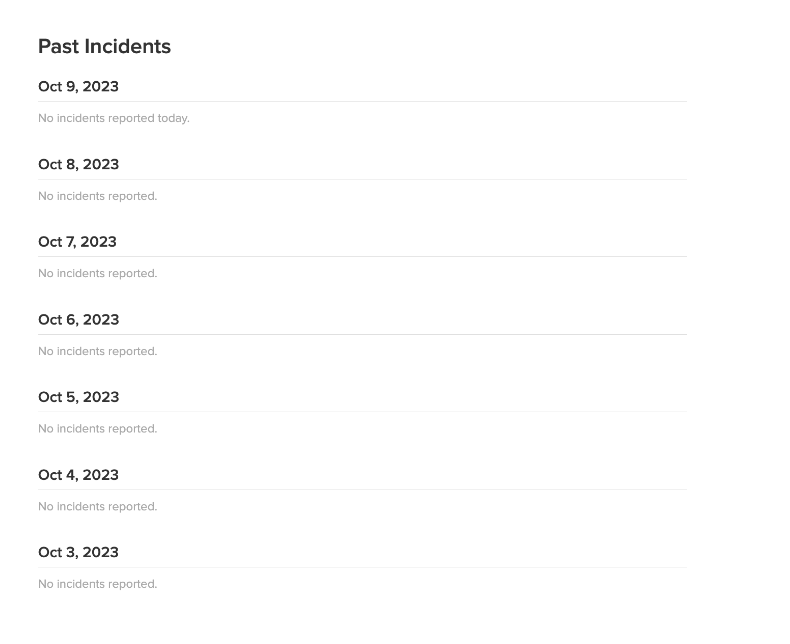 Nextiva vs. Dialpad Customer Support
When it comes to customer service, Nextiva takes the lead with its unique Amazing Service promise.
Nextiva's starter plan provides online ticketing and, if needed, an online chat service. It also offers email and phone support Monday through Friday from 5 a.m. to 6 p.m. MST and on Saturdays from 6 a.m. to 6 p.m. MST.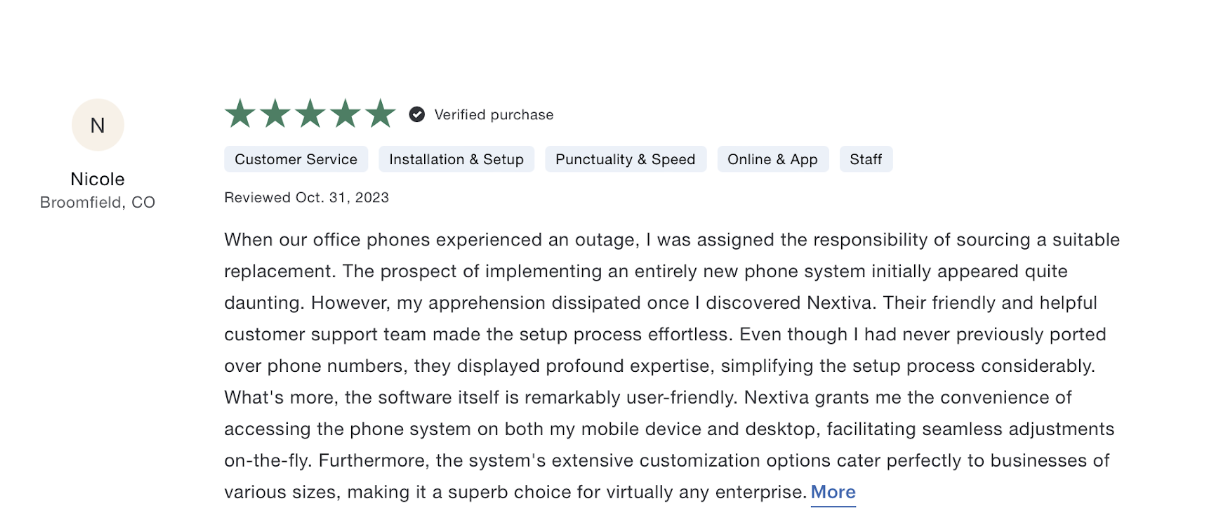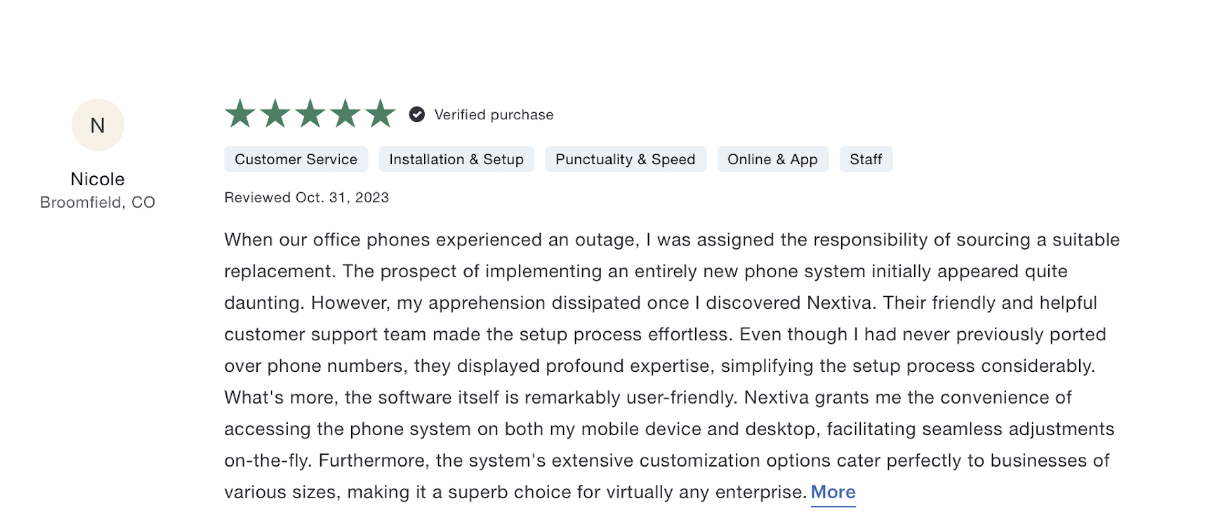 Only Dialpad's higher-priced plans provide access to 24/7 live support. Its basic package includes 24/5 support solely through chat and the web. There's also a comprehensive online Help Center database to get answers.
For a comprehensive breakdown, Gartner Peer Insights compares Nextiva's and Dialpad's respective customer support ratings here:
Nextiva
Dialpad
Overall Support Rating
4.6 / 5
4.5 / 5
Timeliness of Response
How quickly customers connect to a support agent or a support agent reaches out
4.7
4.5
Quality of Technical Support
Technical expertise of the support team and easy resolution of technical issues
4.7
4.2
Quality of Peer User Community
A community forum for people to engage in discussions, ask questions, and find and connect with peers
4.6
4.4
Dialpad includes an old screenshot of GetApp as proof of a 4.3-star score on its site, comparing that score to Nextiva's then-4.2-star score, with only 79% of Nextiva customers saying they'd recommend the app.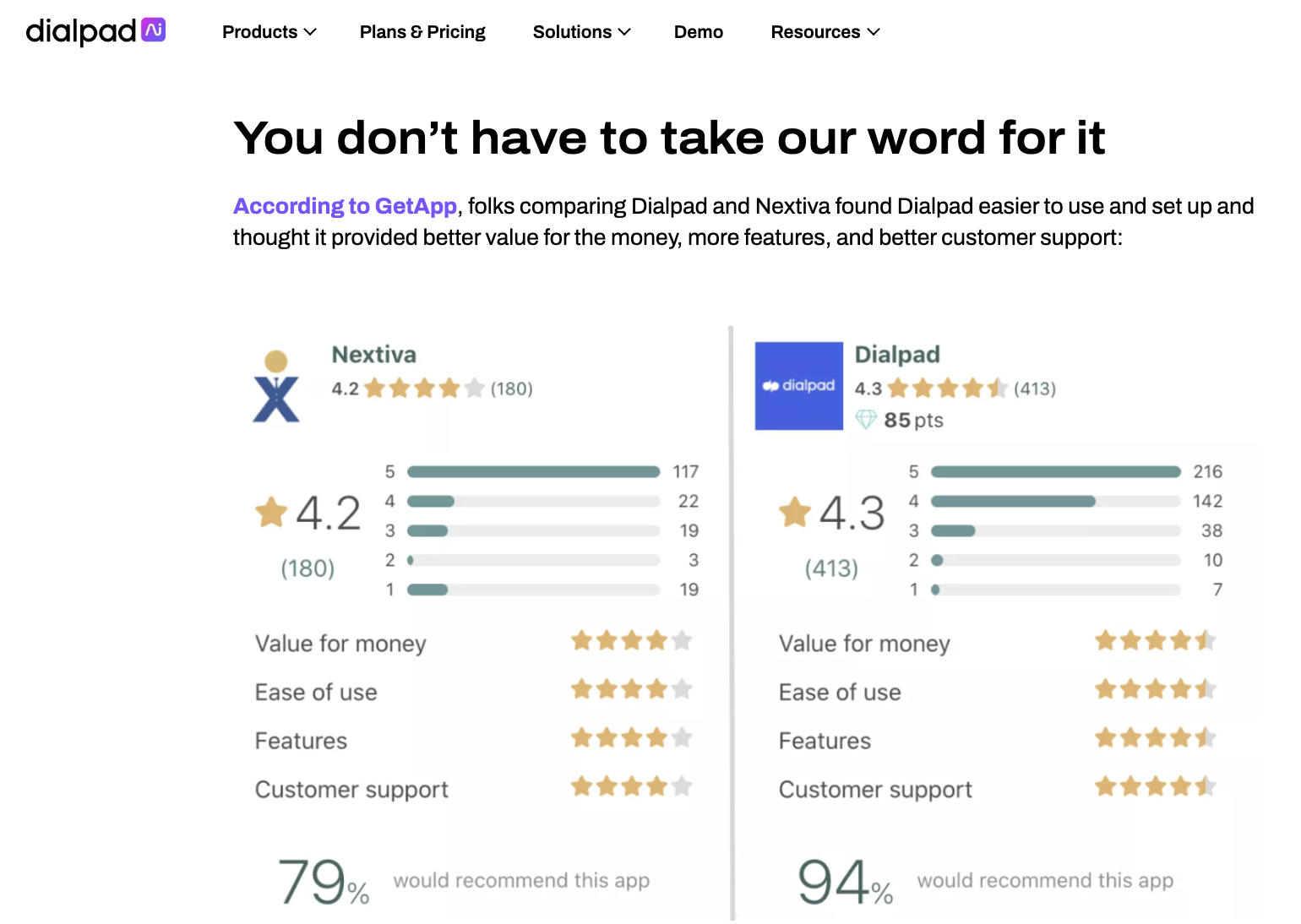 Nextiva has since caught up.
Its GetApp user review rating is 4.4 stars, and 85% of consumers now recommend the service. Since the original date of publishing, Nextiva's recommendation percentage has increased, whereas Dialpad's has decreased.
The difference between the two is marginal, although Nextiva's overall support score outranks Dialpad's by 4.4 to 4.3.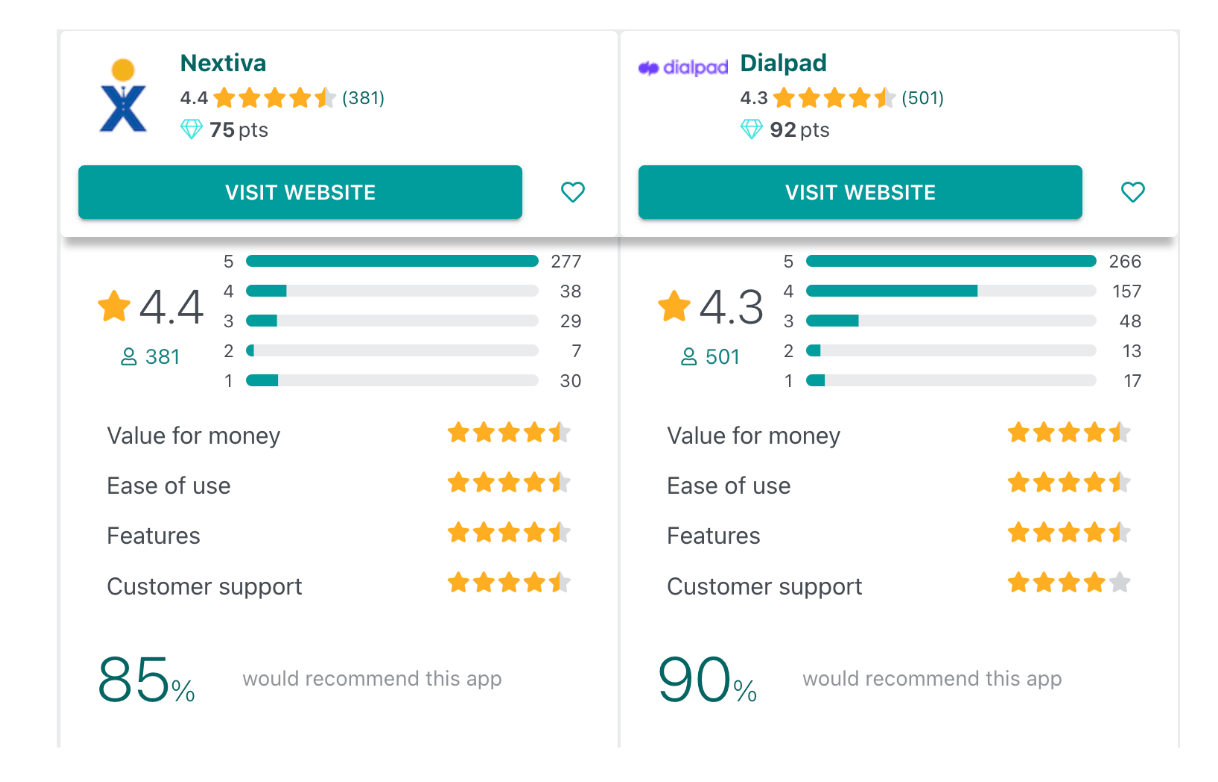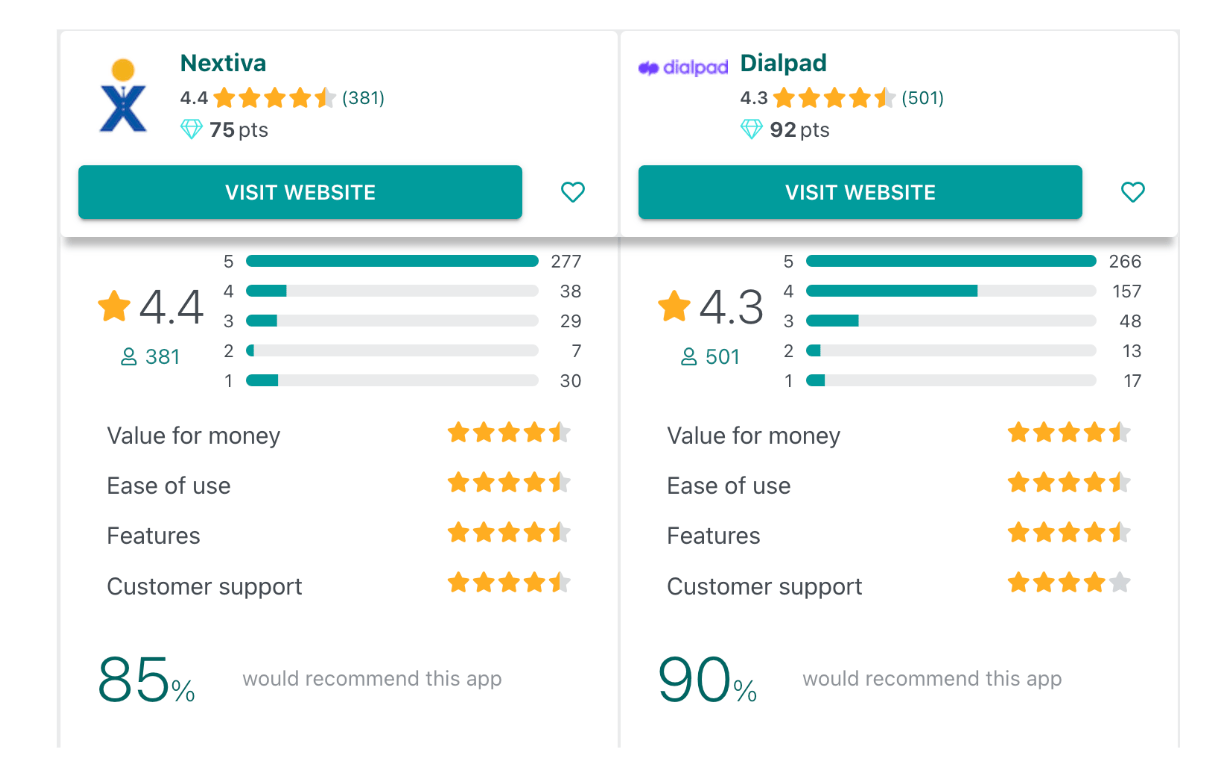 Ask yourself if you want a communications provider that's improving its customer satisfaction score or one whose score is declining.
Dialpad vs. Nextiva Setup and Usability
Setup and user management are easy to do with Dialpad's cloud-native platform — in most situations, on your own. Additionally, Dialpad is particularly web-centric, with a user-friendly user interface and user experience.
Nextiva's user interface was designed to be user-friendly. Its setup is simple, and the overall usability is intuitive. Complex features are simple with the online dashboard, including call flows, user management, and voicemail changes.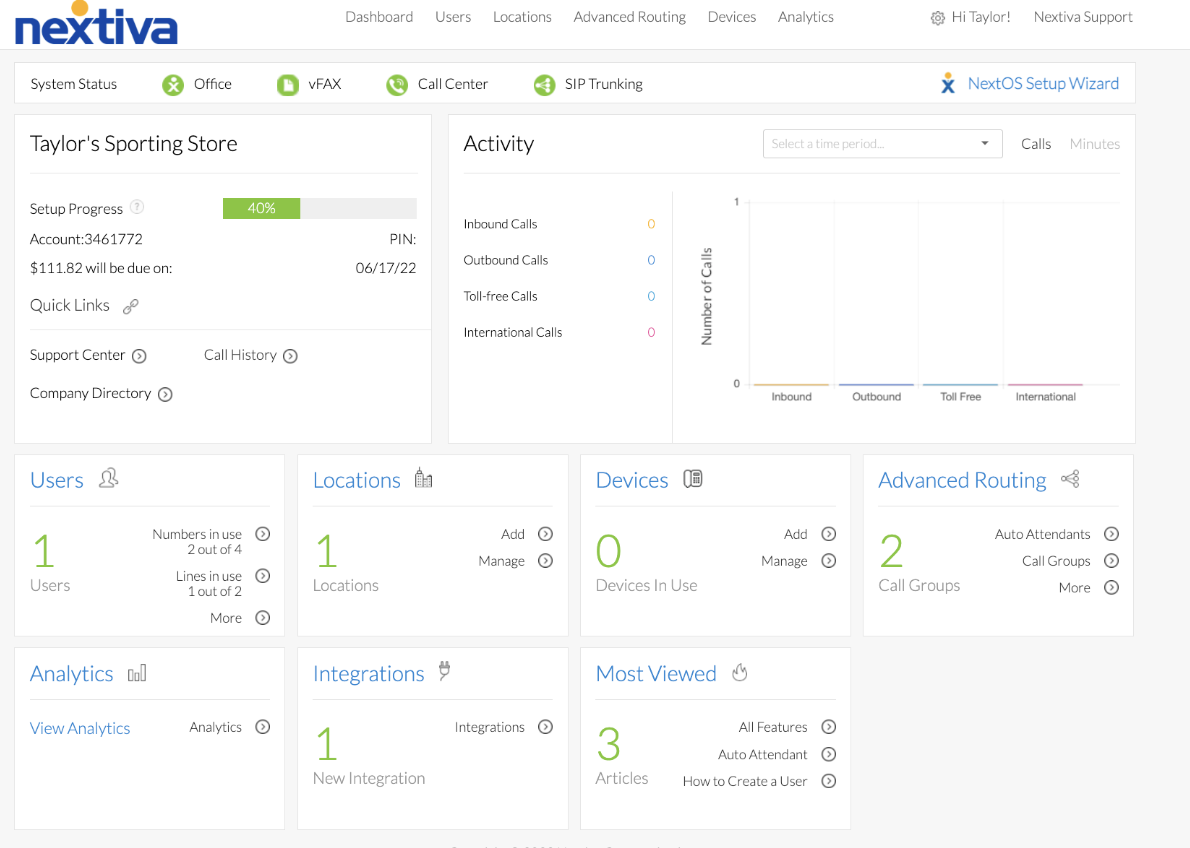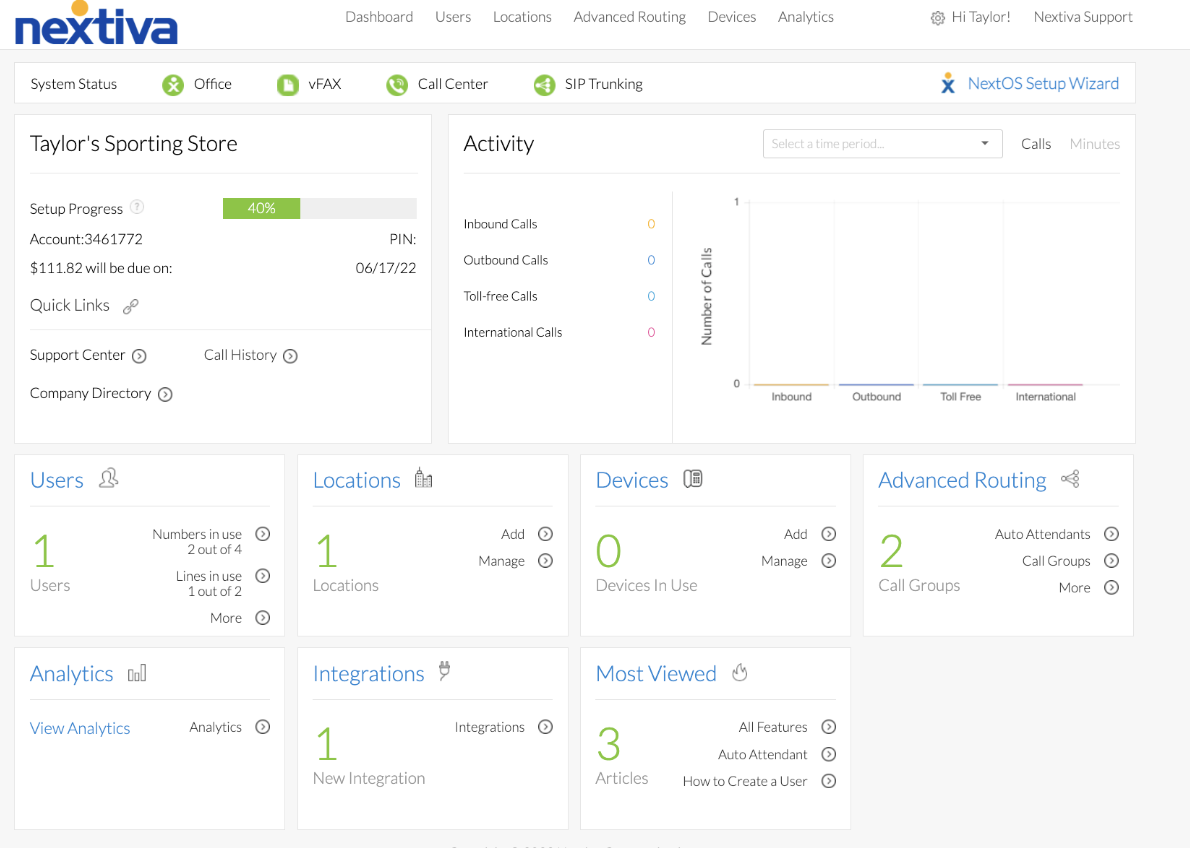 Should You Choose AI over Reliability?
Artificial intelligence is a hot topic in VoIP right now, with some providers going all-in on AI functionality. Dialpad's article called out Nextiva for "missing" AI capabilities, but AI often comes at the expense of a reliable and scalable solution.
While AI is popular, long-term usability and functionality are paramount. While AI features may help you automate tasks and increase efficiency, there are concerns that businesses should consider. In many cases, AI offers complex features that may be unnecessary or don't scale well over time.
It's key to balance AI features (and the efficiency they bring) and the reliability you need to scale.
Consider the following:
Your business size and industry: If you have a small business, you may not need many flashy AI features.
Your budget: Some AI features can be expensive, so you must consider the cost when deciding which service to use. There's no point in paying for features you don't actually need.
Your future growth plans: If you expect your business to grow, choose scalability over AI-heavy features, which may not scale well and aren't as important as reliability.
You need a phone system with features that allow you to run your business efficiently, but you also need a system that can grow with you.
This is where Nextiva can help, providing a business phone system with the right balance of AI features and scalability.
The cloud-based phone system prioritizes ease of use when it comes to setup. Nextiva has a global network of data centers, meaning it can easily scale to meet the needs of any business, regardless of size.
It also has flexible pricing plans, so you can find a plan that fits your needs and your budget.
At Nextiva, one of the most reliable VoIP service providers, we know that consistency in service quality matters more than a few extra flashy features.
Nextiva Is Future-Ready, Are You?
Nextiva delivers a truly connected communications experience through NextivaONE, combining business productivity and communications. Whether you're a small business or a call center, Nextiva's got your team covered. 
It brings conversations into a single stream from voice, text, video, and email to facilitate better collaboration all in one tool.
You can streamline customer engagement and support, creating a positive and seamless customer experience no matter how they get in touch.
You can communicate confidently, work smarter, impress customers, and scale faster with Nextiva. Are you ready? Get your personalized quote today.