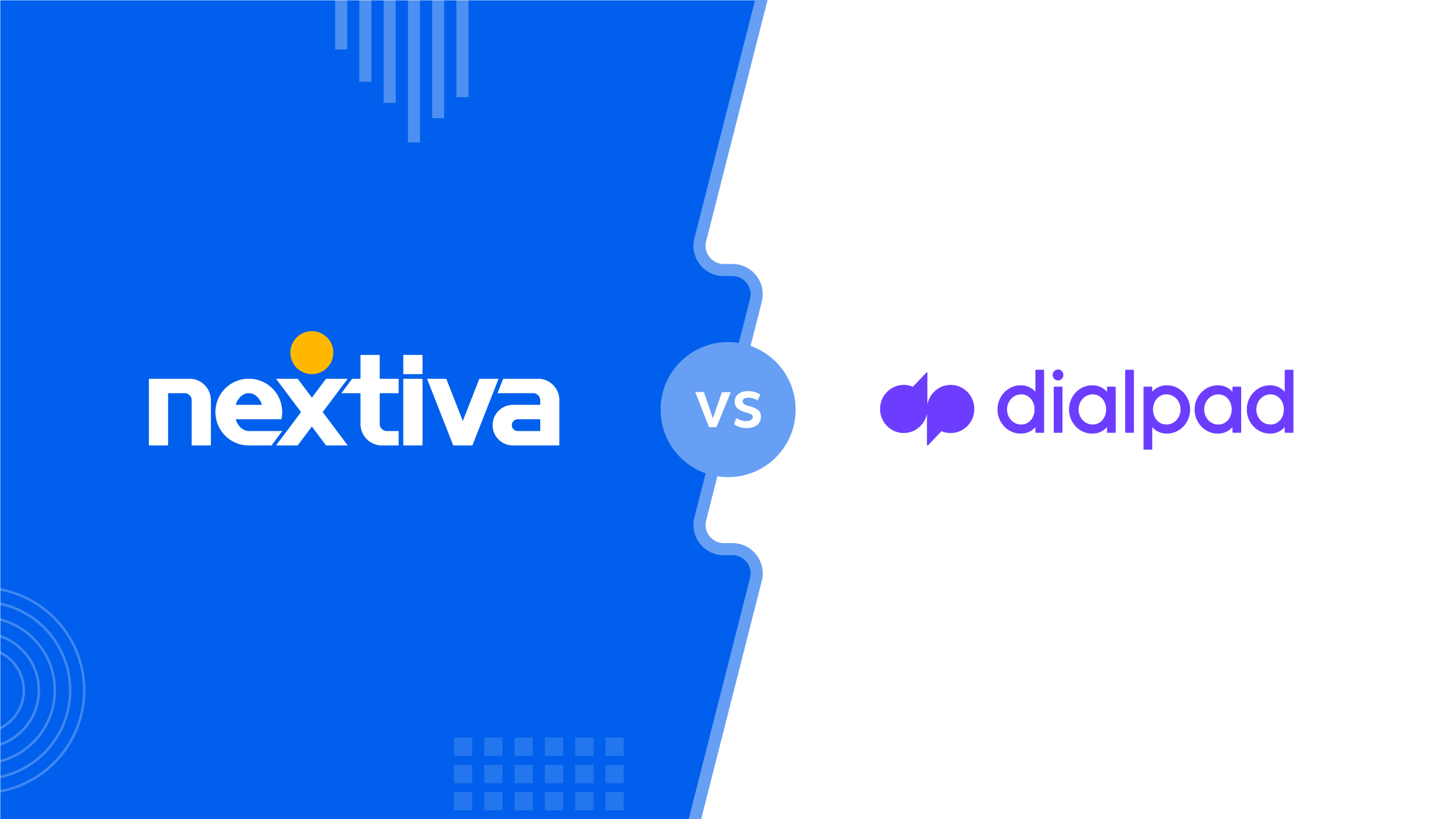 Nextiva and Dialpad are robust VoIP service providers designed to meet the communications needs of both small and big businesses. The post below covers the primary features, usability, price plans, customer support, and other aspects of both of these VoIP service providers.
Just go through the various sections to better grasp what both VoIP providers can do for your company. You'll have a better idea of which service provider is best for you by the end.
Dialpad vs. Nextiva VoIP Comparison Table
| | Nextiva | Dialpad |
| --- | --- | --- |
| Pricing (monthly) | Starts at $18.95 per user. | Starts at $15 per user |
| Ease of Use | User-friendly | User-friendly |
| Video Conferencing | Up to 250 participants per meeting | Up to 150 participants per meeting |
| Communication Channels | Voice, text messaging (SMS), video conferencing, team messaging, internet fax, voicemail | Voice, text messaging (SMS), video conferencing, team messaging, internet fax, voicemail |
| Free Trial | Available | Available |
| Annual Subscription Discount | Yes | Yes |
| Reliability | 99.999% uptime | 100% uptime |
| Advanced Call Management Features | Available | Available |
| Integrations | Google, Contacts, MicrosoftTeams, Microsoft Dynamic, Microsoft Outlook, HubSpot, Salesforce, Zendesk, ServiceNowConnectWise, NetSuite, SugarCRM, Oracle, Lotus, Notes, Goldmine, Workbooks, Bullhorn, Act!, and more | Salesforce, Zendesk, Slack, Hubspot, Zapier, G Suit, Office 365, Azure, Okta, OneLogin, ServiceNow, APIs & Webhooks, Outreach |
| Customer support | Phone support and Live Chat | Phone Support and Live Chat |
Pricing and features as advertised on www.dialpad.com/pricing/ in October 2022.
Nextiva vs. Dialpad Pricing and Plans
Nextiva offers three subscription options: Essential, Professional, and Enterprise. Their base package includes unlimited video and audio calls as well as unlimited faxing—starting at $18.95 per user per month when paid annually.
Whatever plan you choose, you'll get a free local and toll-free number, unlimited calling within the United States and Canada, and a reasonable monthly allocation of toll-free minutes. Fortunately, there's a 30-day no-strings-attached free trial to try things out.
Dialpad also comes in three different pricing plans: Standard, Pro, and Enterprise – starting at $15/user/month. Customers who pay their bills annually can get the Standard package, which is Dialpad's entry-level plan, for $15 per month. This plan will cost you $20 per month if you pay monthly. The package provides unlimited calling, group texting, SMS, and MMS in the United States and Canada.
Nextiva vs. Dialpad VoIP Products & Features
Dialpad and Nextiva have similar functionality that most small and large companies need. However, there are a few instances where one VoIP service performs better than the other.
Dialpad
Dialpad starter package offers some robust features like meet for up to 45 minutes, screen sharing, unlimited call recordings, unlimited calling, unlimited SMS & MMS, call controls, custom voicemail greeting, voicemail transcription, G Suite & Office 365 integrations, Fax (add-on), custom off-hours routing.
In addition, an upgrade to their Pro plan offers features like unlimited meetings, 5-hour meeting duration, hold queues, international SMS, Zapier, Zendesk, Slack, Salesforce, Hubspot integrations and more, desk phone support, API & webhooks, 10 offices, and more.
Nextiva
Nextiva's Essential package, starting at $18.99/user/month, gives you unlimited voice and video calling, toll-free numbers, auto-attendant, Outlook/Google Contacts Integrations voicemail-to-email, mobile and desktop app, unlimited internet fax, and 24/7 support.
However, their Enterprise plan, priced at $32.95/user/month, provides unlimited voice and video conferencing participants, screen sharing, multi-level auto attendant, mobile and desktop app, SMS/MMS, Salesforce/HubSpot Integrations, 3 Professionally Recorded Greeting, unlimited video conference recording, call recording, voicemail transcription, Microsoft Teams/Custom Integrations, and Single Sign-On, in addition to everything included in the Essential plan. See more information on Nextiva's business phone service.
Nextiva vs. Dialpad Analytics
Dialpad's phone system essentially comes with analytics built-in. The analytics menu arranges data into an easy-to-grasp layout, enabling the supervisor to get a clear insight into how the team is doing at all times. You can view metrics such as active calls, average response time, abandoned calls, agent availability, and more. You may also customize your call routing and IVR menu options in minutes using your web dashboard, among other things.
On the other hand, Nextiva has a built-in business intelligence tool to help you make faster, better business decisions, uncover hidden insights, and improve employee performance. No nerd is required. The Nextiva platform, in particular, features a voice analytics tool that gives you a real-time overview of all your contact center's activities. With Nextiva's interactive maps and graphs, you can see the voice analytics data you need.
Nextiva vs. Dialpad Call Pops
Dialpad's CRM platforms, like HubSpot and Salesforce, store customer-related information in records; therefore, they employ screen pop to load a matching customer record as soon as the phone rings. It enables Operators and Agents to quickly obtain customer-related data without having to manually open the CRM system and search for the matching customer record.
The Nextiva's Call Pop feature displays essential information about the caller on the screen before answering the phone and during your conversation. When a customer calls, call Pop displays their contact information as well as necessary account information, including their customer experience score, latest survey score, account value, and last interaction sentiment.
Dialpad vs. Nextiva Performance
Dialpad claims to provide 100% uptime SLA to both UCaaS and CCaaS enterprise subscribers. The company's multi-tenant architecture, geo-located redundancy, and rolling deployments offer Enterprise users actual 100% availability. Dialpad's dedication to client satisfaction and providing an excellent business communication and collaboration platform is reinforced by the 100 percent uptime SLA.
Nextiva provides exceptional security and reliability. Nextiva boasts a 99.999 percent uptime with built-in 24/7 monitoring, courtesy of eight points of presence and carrier-grade data facilities. Nextiva claims to offer the best uptime in the business since its data centers use totally uninterruptible power sources.
Nextiva vs. Dialpad Support
When it comes to customer service, Nextiva takes the lead with its unique Amazing Service promise. For the starter plan, Nextiva provides online ticketing and, if needed, an online chat service. They also offer email and phone support Monday through Friday from 5 a.m. to 6 p.m. MST and on Saturdays from 6 a.m. to 6 p.m. MST.
Dialpad provides phone support and coverage 24 hours a day, 7 days a week, but exclusively to Pro and Enterprise users. Their basic package includes 24/5 support solely through chat and the web. There's also a comprehensive online Help Center database where you can get answers.
Dialpad vs. Nextiva Setup and Usability
Setup and user management are easy to do with Dialpad's cloud-native platform—in most situations, on your own. Also, Dialpad is particularly web-centric, with a user-friendly UI and user experience.
Nextiva's user interface is very user-friendly, making even the most complex rules such as call flows, user management, and voicemail changes simple. In fact, Nextiva offers a more passive solution to users. Their personnel are so familiar with the technology that they can put everything up in minutes for a customer.
Which One is Right For Your Business?
Dialpad makes sense for your business if:
You have a small business or a remote workforce and are looking for a cost-effective virtual business phone system that integrates with other tools. Or, your company needs a platform that uses artificial intelligence (AI) to improve caller outcomes.
Nextiva makes sense for your business if:
You want a provider that puts effective call management ahead of other functionality. For those who are okay with the basics, its Cospace feature makes it a suitable project management solution. Besides, if you want to get the most value for your money, prefer native functionality above third-party compatibility, and want to expand at a rapid pace in the near future. Nextiva could be suitable for a small business that relies significantly on video communication.
So which one should you get?
As a strong Dialpad alternative, Nextiva has a considerable advantage over Dialpad when it comes to calling management features, video conferencing, integrations, and contact center functionalities. For video meetings, Nextiva features more extensive call management capabilities and a larger participant capacity. Meanwhile, Dialpad is a superior choice for companies that require advanced business phone features like automation and AI-powered tools.
Nevertheless, the best VoIP phone service for your business ultimately depends on your budget, your specific business needs, and which platform features are most important to you.