A great customer experience starts and ends with one thing: getting help now. Today's customers expect 24/7 support across channels. No waiting through endless help desk queues or for your 'business hours.'
For many years, companies provided 24/7 customer support from a vast network of call centers. Today, that's hardly the case anymore.
Technologies like VoIP and automation have made it easier for every business to support customers.
In this guide, we'll cover how to offer 24/7 support to your customer base, including the best tools and methods to deliver it.
What is 24/7 support?
In the simplest sense, 24/7 support means providing your customers with live help at all times. Businesses can fulfill this commitment in a handful of ways:
Phone support – Inbound calls are distributed to agents on a service team.
Live chat support – Tech support staff helps customers using a website or social media chat window.
Self-service support – Knowledge base articles, FAQs, and video tutorials help customers without live interaction.
Automated support – People resolve issues using chatbots, interactive voice response (IVR), and other forms of automation.
There's more than one way to provide 24/7 support. Mix support services to achieve the optimal customer experience that fits your budget.

Why every company needs to offer 24/7 support
Providing 24/7 support can feel like a massive undertaking, especially if you have a small team. But, there are a few critical reasons why you need to put it in place.
1) Meet rising customer expectations
It might seem like a luxury to give customers unlimited access to support. According to research from the CMO Council, 75% of customers say response time is the most critical part of a great customer experience.
Unfortunately, response time is one of the metrics that most support teams fail to hit.
Failing to provide 24/7 support means you're rendering a worse experience than competitors. Nine out of 10 people switched to a competitor after a poor customer service experience.
2) Reduce the workload on your support team
Adding more hours to the day doesn't seem like it would reduce stress. Embracing 24/7 support means your team doesn't start each day with upset customers and aged troubleshooting tickets.
Instead, 24/7 support services shift your company culture from reactive to proactive. With fewer fires to put out, agents can focus on providing great customer service.
Plus, by tackling issues as they come up, your team can identify problems before they escalate. Some industries appreciate live support around the clock, such as healthcare and IT services. Also, some vendor or customer contracts stipulate that you provide 24/7 availability.
3) Drive more revenue and retain more customers
The same tools used for 24/7 support can also improve sales and capture abandoned leads.
Prospects browsing your website will likely want to talk with your team outside of regular business hours. Without support available, you might lose potential customers to a rival that staffs their phone number.
Forbes published a study on chatbots that shows they can increase sales by 67% and save hundreds of thousands in tech support costs.
Related: Demanding Customers: The Right Way to Handle Them Like a Pro
How much do 24/7 support services cost?
There's no denying that moving to 24/7 support is an investment. But the payoff is clear.
Depending on your communication channels, around-the-clock support can be cost-effective. However, you should be aware of the costs involved.
The most common customer support costs include:
Technical costs: Knowing the number of user seats will help you forecast your monthly expenses. VoIP phones may be enough, but you might need a cloud call center for a more cohesive customer experience.
$30-60 per user monthly
Staffing costs: Who's going to be providing real-time support? In most cases, you'll need to expand your team, which means extra recruitment and training. Tracking the average handle time helps you keep a short response time.
$15-25 per hour
Opportunity costs: Moving to a 24/7 support model places a need for documentation and a knowledge base. Additionally, agents will need to receive training for new tools and processes.
Varies
While 24-hour answering services are an option for customer support, you could use a couple of helpdesk staffers to field calls overnight. And it wouldn't cost more than the labor itself.
Methods to deliver 24/7 customer support
In the past, around-the-clock support usually meant opening a call center. Today, many tools empower companies to offer cost-effective 24/7 support.
Here's a detailed look at the tools available for providing support to customers at all hours.
Contact centers and call centers
Despite all the new support channels available to your customers, most still want to call and talk to a person. And phone support still holds the highest customer satisfaction rating at 91%.
A 24/7 call center is an office or system dedicated to handling inbound and outbound calls. However, it's more than a way for your customers to get in touch with you.
Call center solutions today offer many features that allow you to provide amazing 24/7 support, such as:
Call centers also make it easier to handle more customer calls with fewer agents, which can help offset the cost of moving to 24/7 support. Speedy on-ramping means you can scale to business needs faster.
Live chat
Given a choice, most customers choose a real-time support option like the phone or chat over email. Yet, more and more people prefer to use live chat.
Live chat on your website or mobile app gives customers instant access to a support agent. In addition, website chat speeds up resolution time by letting customers multitask while getting help.
Live chat doesn't have to be 24/7, either. You can choose to make agents available at all times or only during specific hours of the day. Many companies use a hybrid of live and automated chat, which brings us to chatbots.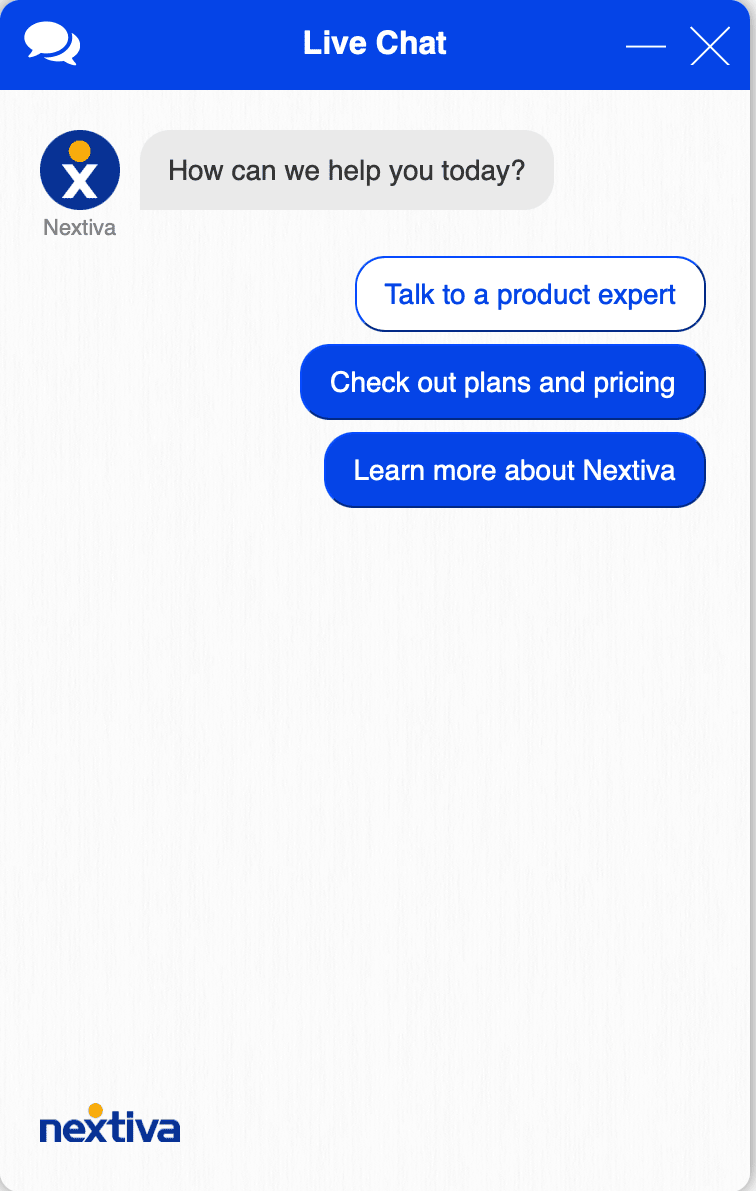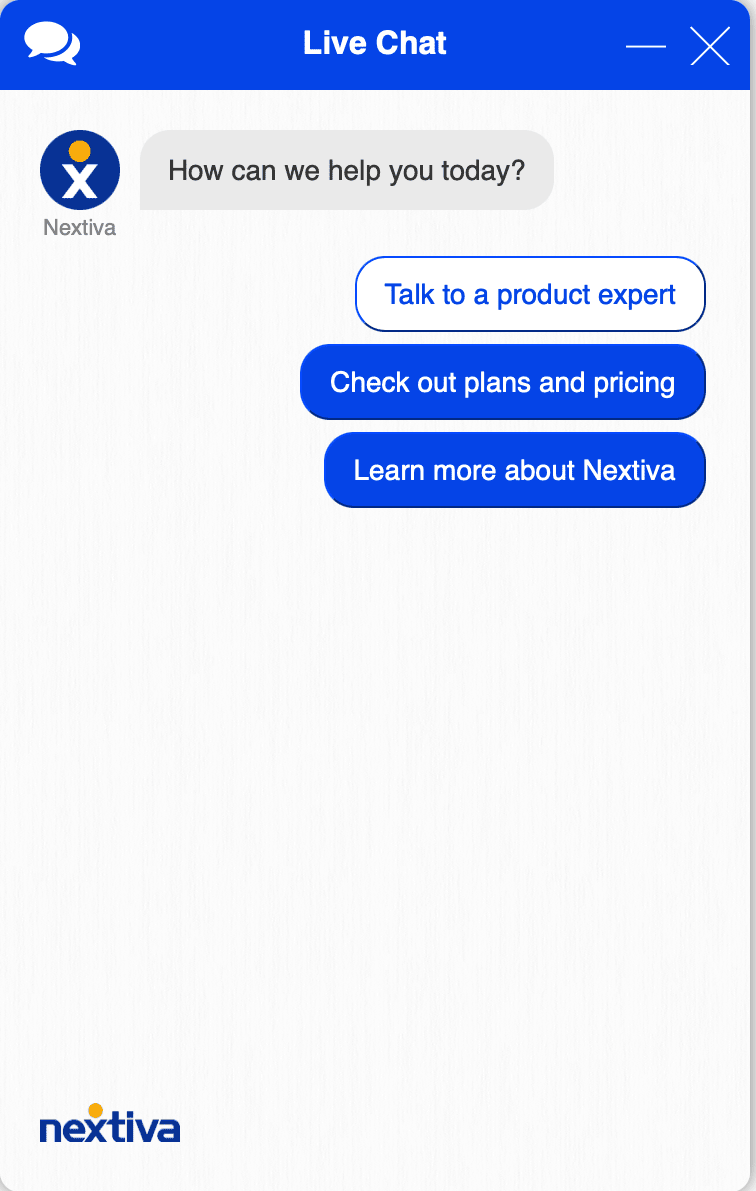 Chatbots
You don't always need an agent standing by to answer live support requests. Automated chatbots have come a long way, and businesses use them in their 24/7 support toolkit:
Answer simple support requests. Every chatbot should answer questions such as pricing and offer basic troubleshooting. At a minimum, they should point customers to relevant resources based on the page they're on.
Collect data to pass along to live support. Chatbots connect customers with agents by gathering their needs and account information first.
Trigger account workflows. Based on the topics customers ask about, use chatbots to trigger automated workflows. For example, if a customer has viewed your pricing page a few times, start a sales campaign.
Social media management
Social media is the first place many customers come looking for support. So, it's essential to be responsive and helpful but also humble. Remember, everyone can see any public responses you make.
Think about how social media fits into your 24/7 support strategy. For example, you may want to shift all support requests to a specific account or even your phone or live chat.
As a best practice, provide social media and support staff a shared view of customers. While social media management tools help, a hosted contact center is best.
Self-service support
Providing 24/7 support also means encouraging your customers to help themselves. A study by Microsoft found that 90% of customers expect businesses to offer self-service options. Examples of these include knowledge bases, product FAQs, and tutorials.
Structure and organization are the pillars of self-serve support. Don't bury resources behind various submenus. Design for the customer experience you want to provide your customer base.
Self-service customer service tools assist customers without adding pressure on your agents. Besides, newer knowledge base solutions make it easy to create and maintain engaging support articles.
However, FAQs and support documentation can get outdated as you improve your offerings. If you're going to include self-serve options, make sure you plan for regular upkeep.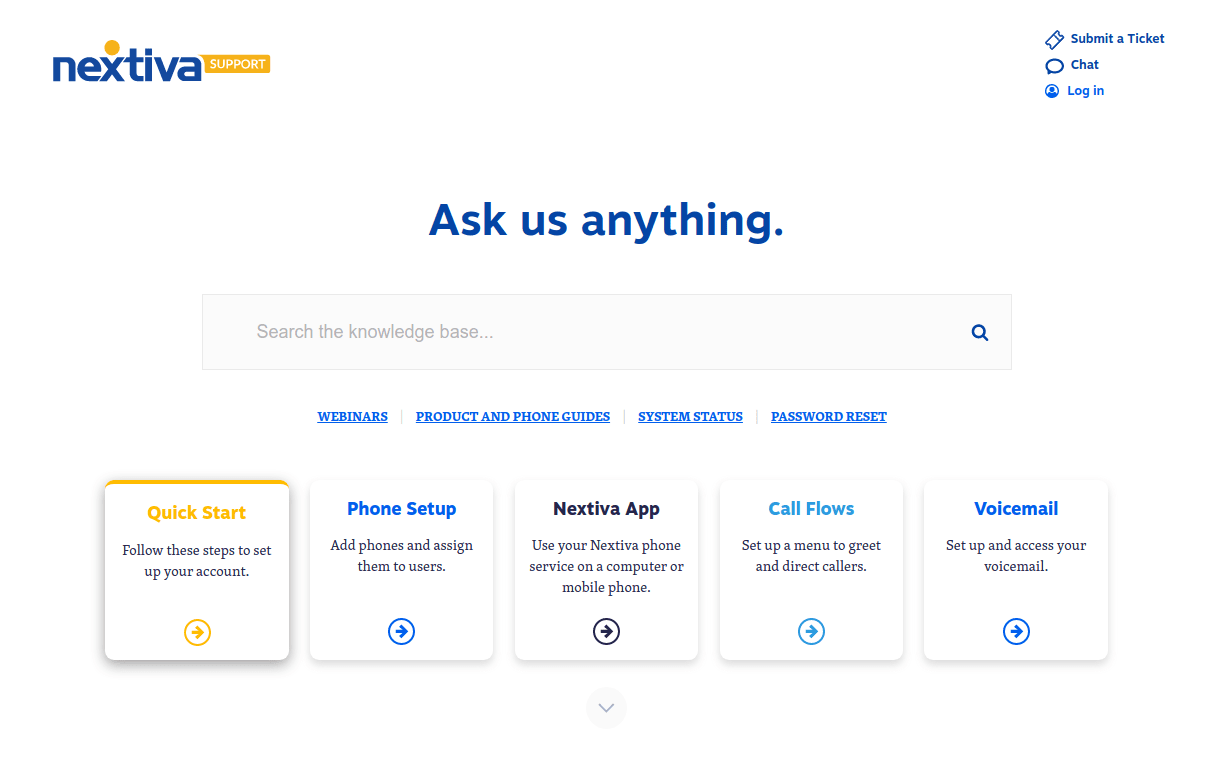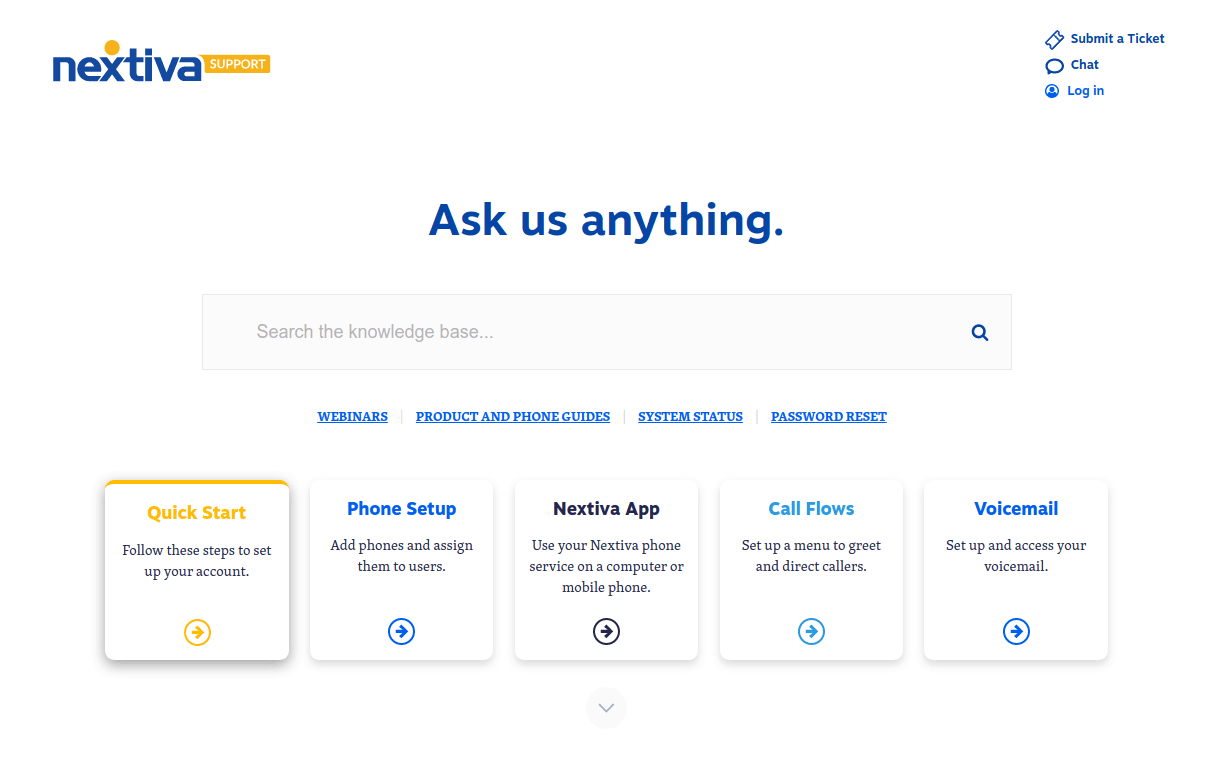 Email ticketing
Email tickets are still one of the most common ways that customers interact with your company. And while email isn't the fastest option for customers, it is available 24/7.
Make sure your contact center has an effective way to respond to emails in a timely manner. Likewise, it should also let your team save time using proven support email templates.
An omnichannel solution like Nextiva brings businesses the best of both worlds. Its helpdesk supports phone, email, and SMS while giving agents a complete view of every customer.
CRM
While not a support tool, a CRM is an essential part of providing an outstanding 24/7 customer support experience.
A CRM collects customer data and past conversations, so your support team is on the same page. It also allows for further analysis and personalized campaigns.
Adjust your CRM strategy, so data is actionable across the team and not just a warehouse.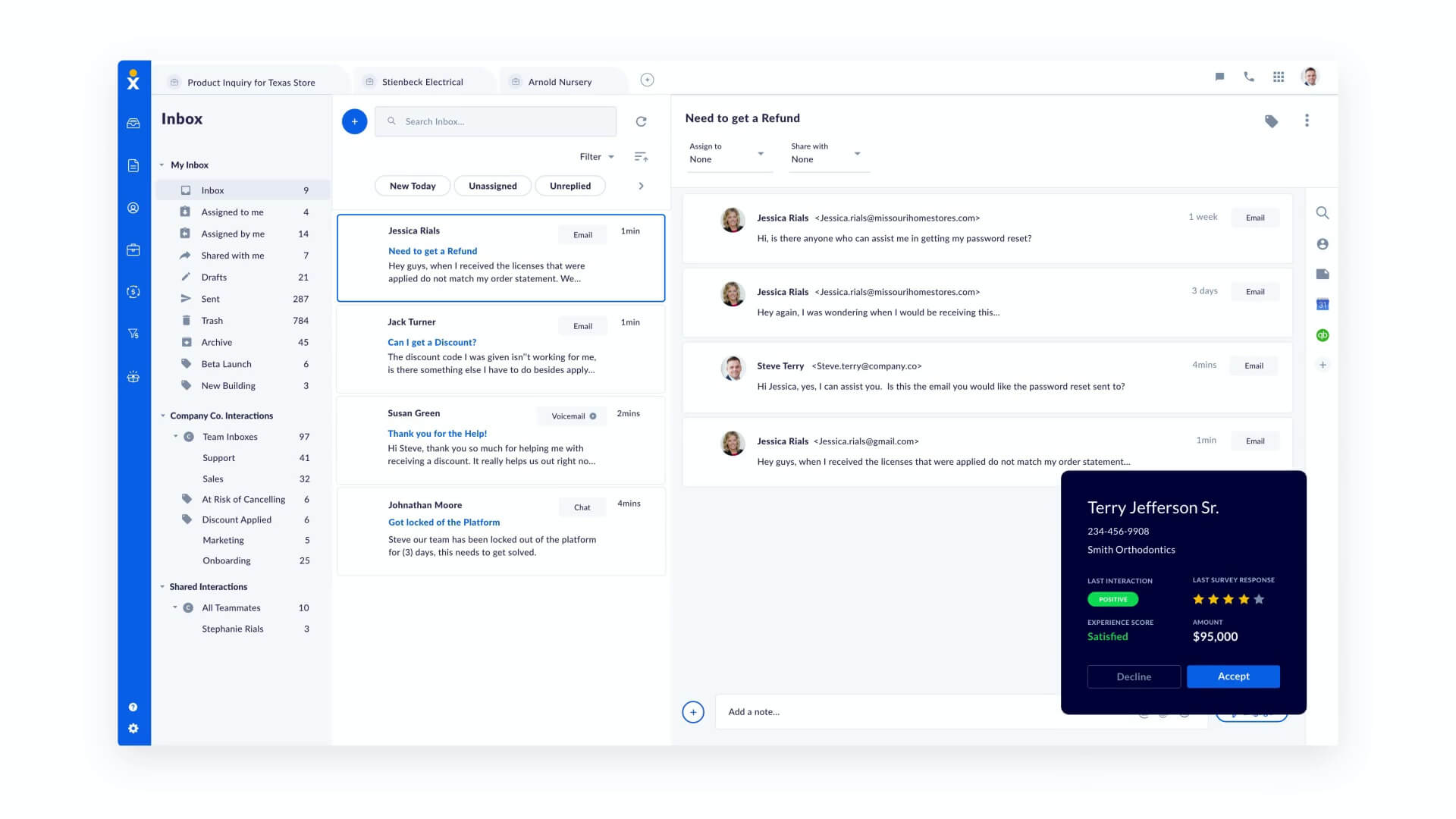 Six steps to achieve 24/7 support
With the tools available, any company can now move to unlimited customer support. Yet providing an excellent 24/7 customer experience comes down to more than software.
The following steps help you provide endless support to your customer base.
1) Adapt to your customer's (actual) needs
Not every company needs 24/7 support. There's no doubt customers appreciate quick response times; scaling any aspect of your business comes with tradeoffs.
Start by examining your customer's needs. Identify whether adding more availability would improve customer satisfaction. Study your phone number's abandonment rates to confirm whether there's a need to scale your support team.
There are two scenarios where you must offer always-available support:
You have a global customer footprint. Customers expect to get help when they're working. Providing support in local time zones is essential. When you field calls outside of your local office, that's a good sign that you're ready for 24/7 support.
You provide an essential service. If customers need access to your service at all times, then you need customer support available around the clock. Your customer contracts might need you to respond to urgent issues, such as downtime.
Besides these two scenarios, 24/7 support can be a competitive advantage. The quicker you can help your customers, the more likely they'll be to stick around.
People might contact you with questions about pricing and product features so that overnight staff can drive revenue.
2) Use time zones and remote support teams to your advantage
Virtual customer support agents are commonplace when building an agile support team. Pew Research suggests there are long-term gains to quality of life for many employees, long after the pandemic, due to flexible working arrangements.
Adding support staff from around the world gives you more ways to assist customers. Even small businesses can achieve 24/7 coverage with as few as three remote support agents covering North America, Europe, and Asia.
The only way this works is if you embrace remote customer service teams. Business VoIP solutions like Nextiva allow your team to work from home and the office.
3) Balance self-service and real-time support
Your customers are unique both as individuals and in how they like to engage with support.
An American Express study indicates that over 60% of U.S. consumers prefer self-serve support for simple tasks. Yet, one-third of customers also state that the most common customer support frustration is the inability to reach a human.
It's unrealistic — and ineffective — to force every customer to talk to live support. It's just as harmful to funnel everyone to an outdated knowledge base.
Instead, try to balance between self-service options and real-time availability. If you can't invest in a 24/7 call center or more live agents, it's worth providing more self-serve options. For routine requests, consider adding a request form online for customers.
4) Develop 'support playbooks' for a consistent customer experience
Transitioning to 24/7 support isn't just a technical hurdle. Providing a consistent experience gets more difficult as you spread your agents across time zones and tools.
Support 'playbooks' outline how your agents should handle common scenarios, such as:
Lifecycle phases like onboarding, feature adoption, or renewals
Events like a drop in usage or a low customer satisfaction rating
Common pain points like setting up features or integrating other tools
Writing playbooks is a lot like building software. Create them once, and they can benefit your growing technical support team forever.
Related: 10 Real Examples of Excellent Customer Service You Can Try Today
5) Take advantage of omnichannel contact centers
Omnichannel contact centers let agents handle requests via phone, email, text, and social media.
As you transition to 24/7 support, a contact center brings all your channels into one interface.
The impact of this is enormous. Customers don't need to repeat themselves no matter how they reach your support team.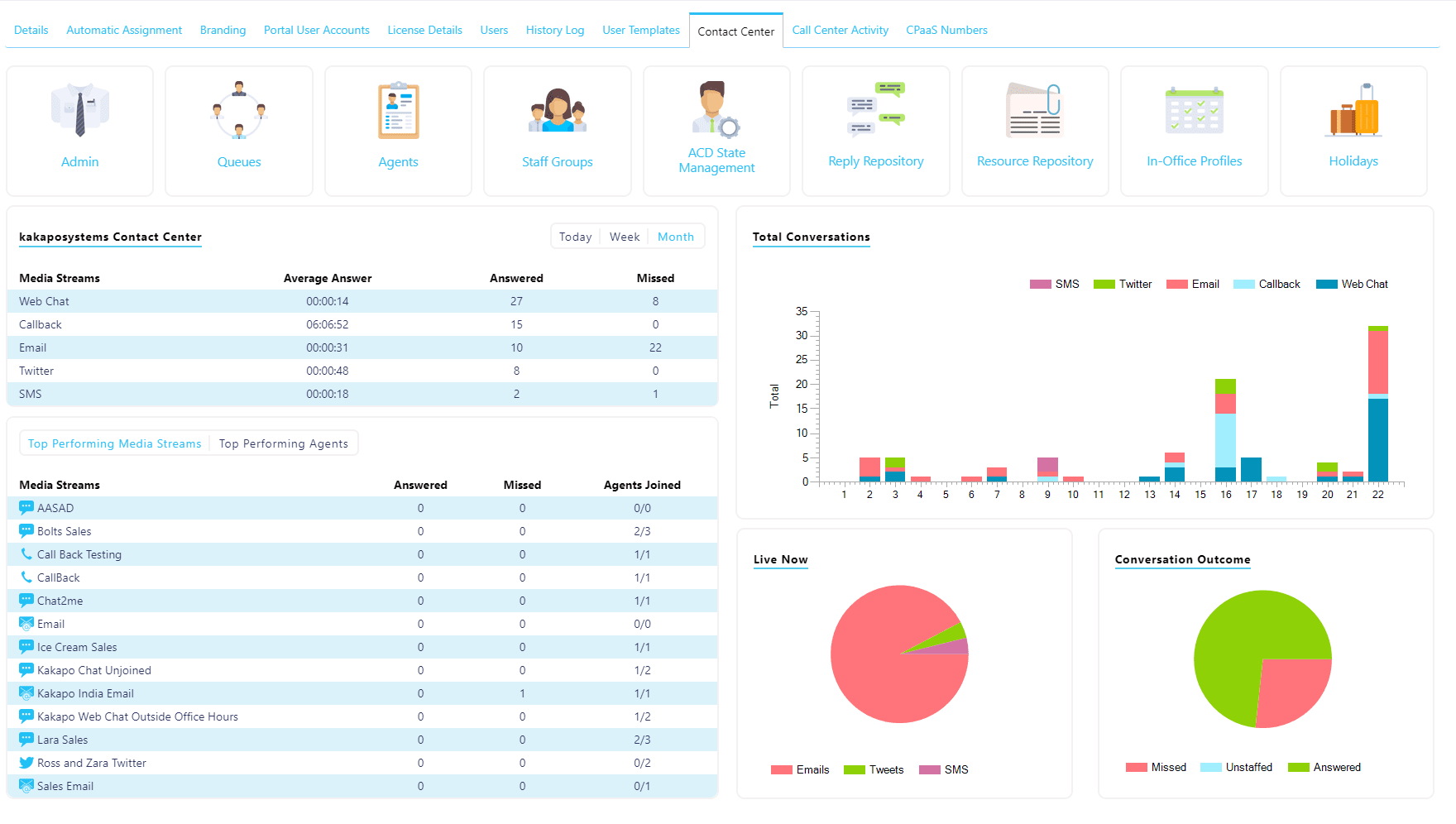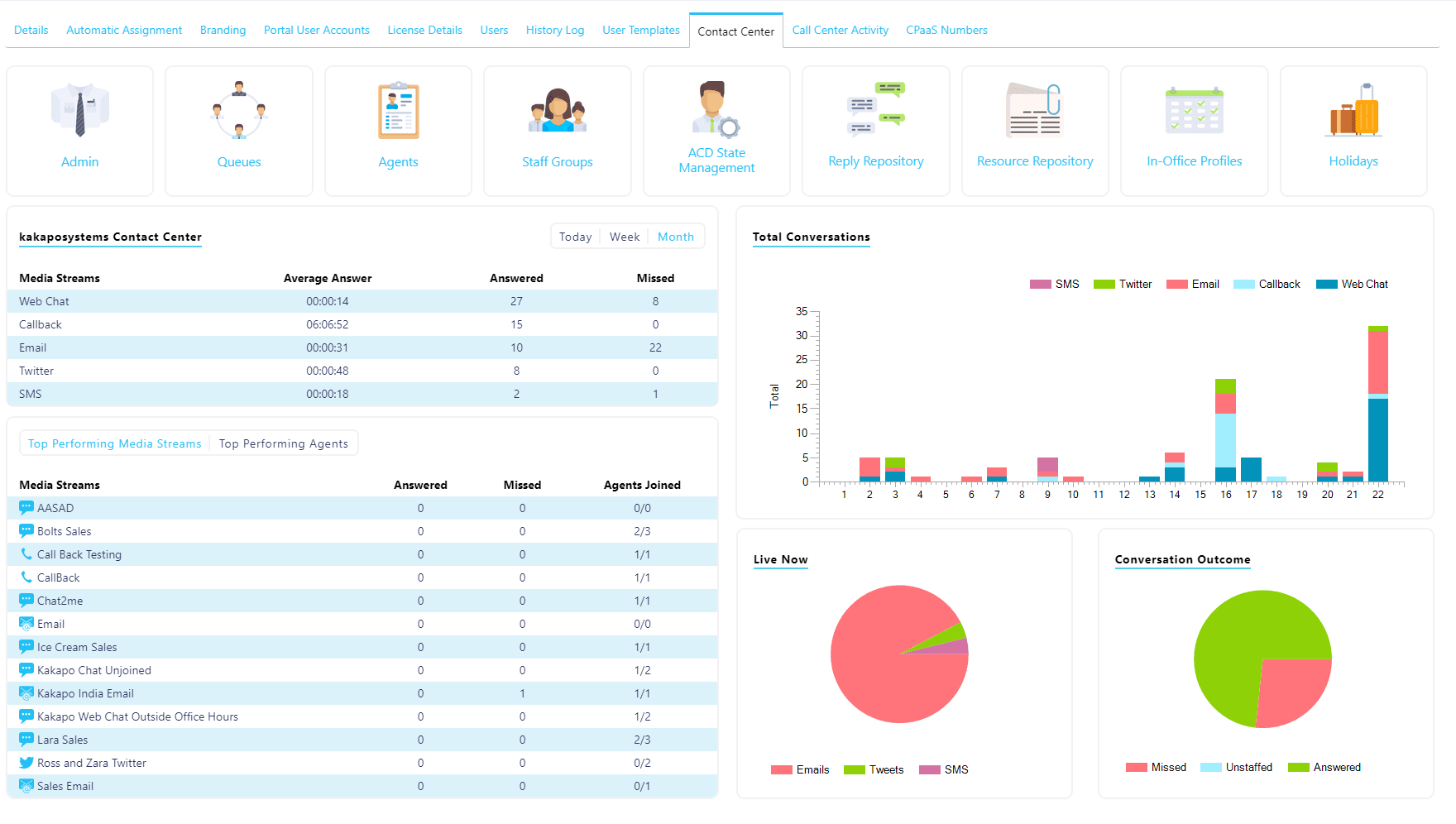 6. Keep an eye on your support metrics
Moving to 24/7 support shouldn't be disruptive. However, there's a chance you won't meet customer expectations, or something else goes wrong.
Measure the key customer support metrics throughout the customer experience, such as:
First Call Resolution Rate
Average Handle Time
Self-Service Adoption
Customer Satisfaction Score
Educate your team to know the 'why' behind the numbers. Doing so will help them deliver a superior customer service experience.

If you don't have 24/7 support, you're already behind.
Business leaders shouldn't contemplate the cost of 24/7 support but rather the cost of not providing it. Simply put, providing customer support around the clock is the cost of doing business.
Customers won't wait for your business hours to get help — they'll simply go to a competitor. You're just one Google search away from losing the next sale, which could be worth thousands.
As CX leaders take on a holistic approach to improve customer experience, the fundamentals still matter. Listen to your customers, follow the data, and provide several ways to get live help.
And don't limit yourself to call centers, either. Unified customer support tools enable you to surpass customer expectations. Plus, you won't need a massive IT support budget to use them.
When you know your customer's needs, you can adopt a 24/7 support operation to help customers, partners, and employees at any hour.