In this guide, you'll learn 30 original customer service tips to step up your customer support.
By the end of this guide, you'll have everything you need to provide exceptional customer service. These are real-life tips to double your customer loyalty and customer retention rates!
Did you know that companies across America lose $75 billion every year due to poor customer service?
So it's fair to assume:
Businesses that don't pay attention to poor customer service are going to struggle.
World-class customer service spikes and sustains customer loyalty and customer retention rates. Thus, improving your customer reviews and ratings.
Exceptional customer service training will be a game-changer for both small business owners/enterprises.
Top-notch customer service skills will be invaluable to customer support managers.
These four reasons are why right now is the perfect time to revisit your customer service strategy.
Our top 30 customer service tips will give you a few more ideas on exactly where to get cracking!
30 Customer Service Tips Backed by World-Class Support Teams:
1. Treat Your Customers like Gold. The Service Issue is Secondary

Successful reps know that shoppers/customers aren't chasing immediate resolution. They love it when:
The customer service representative is kind and empathetic
Reps are transparent and offer genuine steps to resolve the issue vs. actual resolution time
Agents go above and beyond to offer personalized customer service
The WRONG way: Taking things personally

The customer sees you as an extension of your company. Unhappy customers may make abrasive remarks. They aren't attacking you; they're in response to a situation.
The RIGHT way: You don't argue/compete, you smile and help instead
Focus on understanding the customer's problem and creating a positive interaction. Besides, getting defensive isn't the most productive use of your time here.
But, our top 30 tips won't be useful unless you hire the right kind of people for your Customer Support team.
2. Personalization Goes Beyond First Names

"The golden rule for every business — put yourself in your customer's place!" ~ Orison Swett Marden, Founder, Success Magazine
A personal touch is the best way to let your prospects know that they are a priority. In fact, it's one of our top five tips in our recent video about improving customer service:
When you talk to a customer, remember their name and use it throughout the conversation. To show that you're listening, mention something they said earlier. Your regulars will appreciate this personalization and will likely rave about your company.
The WRONG way: Not valuing your customer's time

Your customer has a busy life, just like you do. Keep that in mind, especially when you're initiating contact with unhappy customers. Here's an example.
GOOD: "I'll have this issue fixed for you soon. I can give you a call around noon tomorrow with an update. Or would you prefer an email?"
BAD: "I'll have this issue fixed soon. You'll receive an email update in 1-2 business days."
In the good example, you're inviting the customer to either suggest a different time or opt for an email. This personal touch allows the customer some control over when you intrude on their day.
In the bad example, you're not allowing the customer any control over when or how they receive an update. Worse yet, you're telling them they might have to wait two days.
Related: How to Write 10x Better Customer Service Emails (+Templates)
The RIGHT way: Remember your customer's name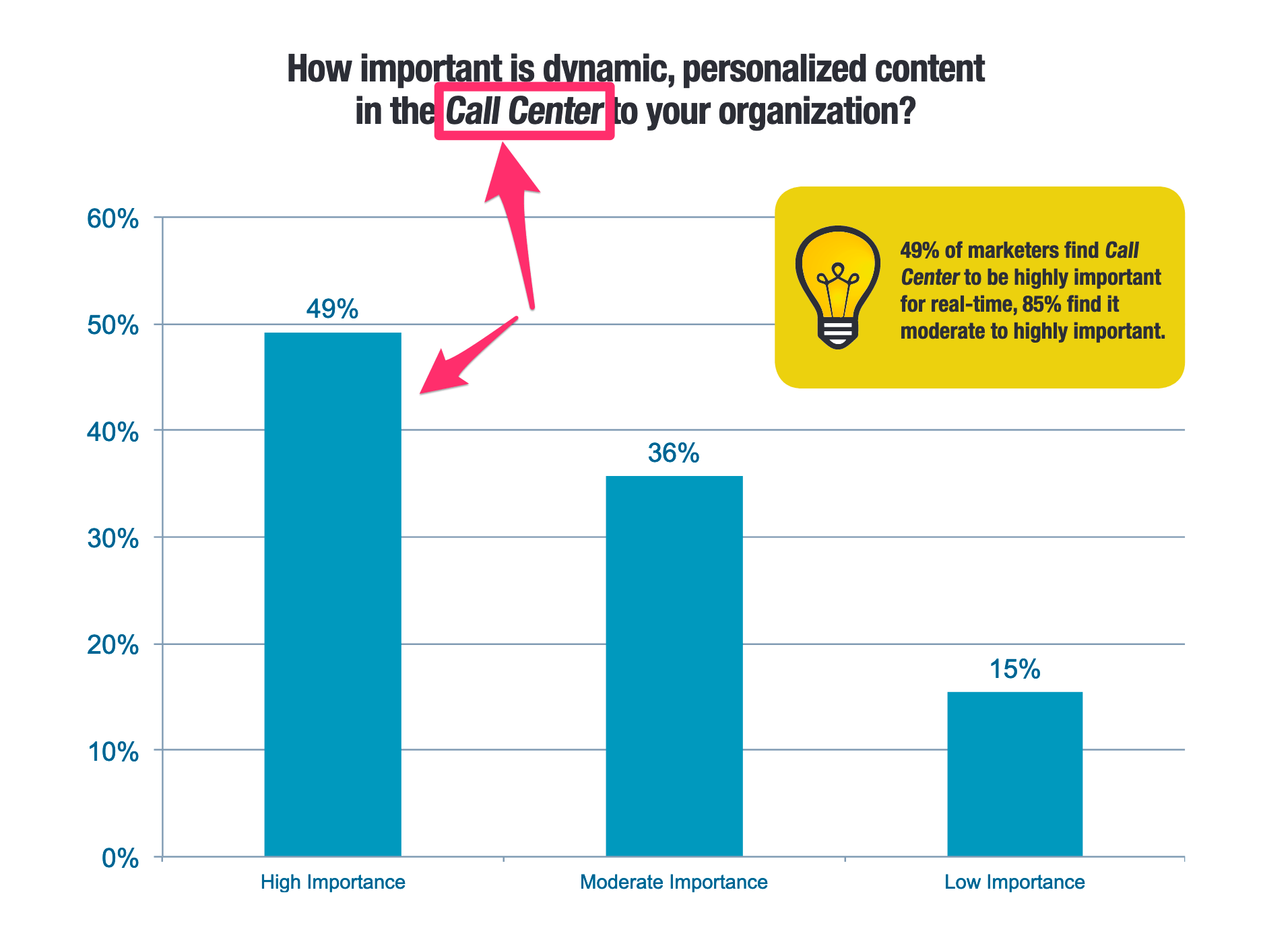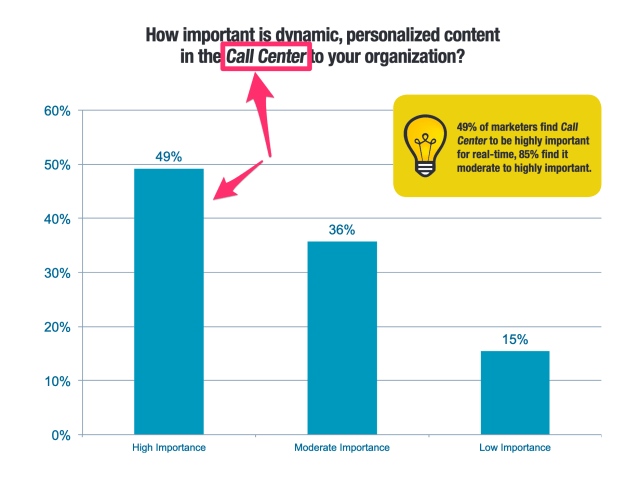 This seems pretty obvious, but it still doesn't happen as often as it should. No one wants to hear "Sir" or "Ma'am" (or worse yet, "Madam").
Being professional and being friendly are not mutually exclusive. So, make it a point to remember and address your customers by their name.
Related: Why Your Customers Aren't Giving You Referrals
3. Lead with Positive Language and Reaction
It's all about how you say things. Even if you're delivering bad news, there is a way to sugar coat it for consumers. If you're levelheaded and serious, they will calm down as well.
Think about when a customer is looking for an out-of-stock item. Sometimes, they become irate when they find out that a store doesn't have what they needed.
Rather than saying, "we don't have that part/product right now," turn it into a productive solution. Instead say: "It will be available next week. What is the best way to contact you once it arrives?"
Do you see the difference? The first response is dismissive and does not offer a solution. But, the second is informative, confident, and proactive.
The WRONG way: Stating facts

The customer wants to change her service package, but you can't make the change until tomorrow. Your initial response is to give the customer the facts: "I can't change this today. I won't be able to do it until tomorrow."
Below is an example of T-Mobile Austria admitting to storing passwords (sort of). They were quick to state facts about password storage, but their delivery doesn't cut it.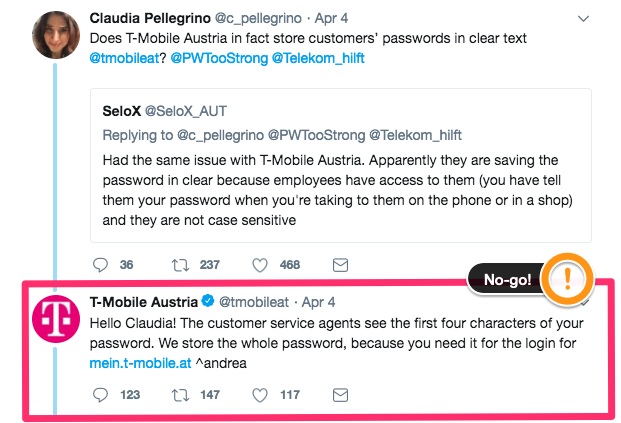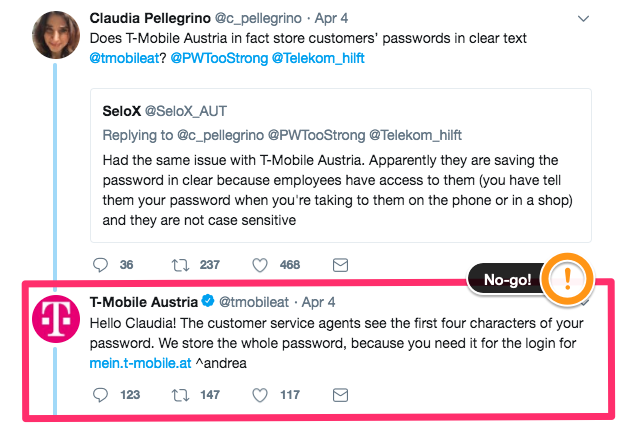 The RIGHT way: Setting expectations

Take a quick moment to get rid of the negative words (can't, won't) and instead, tell the customer what you can do.
"I'm happy to make that change for you first thing tomorrow morning." It only takes a split second to reword your response and use positive language. This is a great opportunity to let your customer service skills shine through!
4. Let Customers "Discover" Solutions
If your product is tactile, make it easier for customers to discover what your product can do. If it's more conceptual, walk them through a demo and pause for questions.
Also, send any extra onboarding material you that may. FAQs, videos or a recording your demo will do!
A help desk or live chat tool are other ways you can keep supporting your customers across channels.
The WRONG way: Ignoring in-product onboarding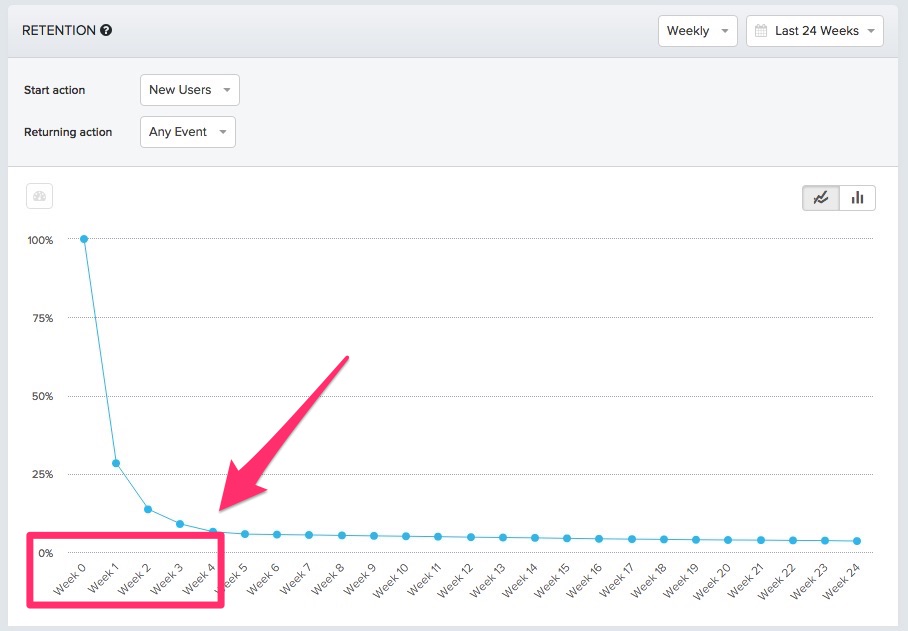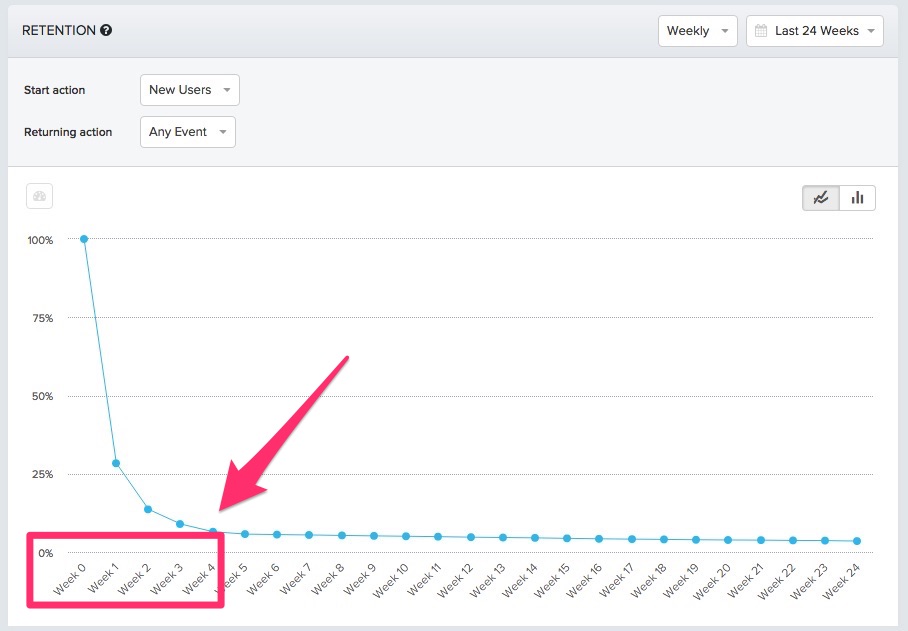 A lot of small business owners tend to ignore the importance of having in-product prompts. While the "build first, then improve" works, you may have a leaky bucket if your product isn't sticky.
Take this example from Appcues. According to them, you lose ~75% of your new users within the first week. Imagine how you could spike your customer retention rates with clear onboarding then!
The RIGHT way: Having a strong knowledge base



Asana does a great job of showing users helpful annotations. They also have a comprehensive knowledge base to guide current and prospective customers.
You'll see upsell opportunities tucked into the product without that "in-your-face" feeling. Users can browse general help topics and search for more in-depth solutions.
Check out these 100+ customer service statistics and trends for 2023!
5. Use Easy Feedback Templates
Most customers dislike surveys, especially those that involve logging into an online portal. As much as customers love to rate your products and services, they won't do any extra work for it.
Yet, you need their feedback to improve your customer insights.
One way to get customer feedback is by sending emails with a link to a survey. Customers are more likely to complete studies when there is a link right in front of them to click. You've also got to make sure you're asking the right questions. Another workaround could be checking off the "Include form in email" option.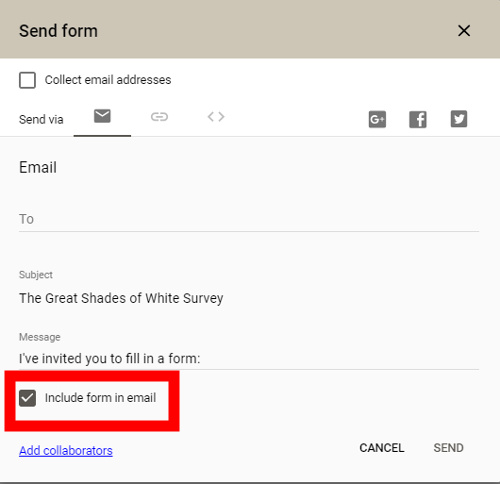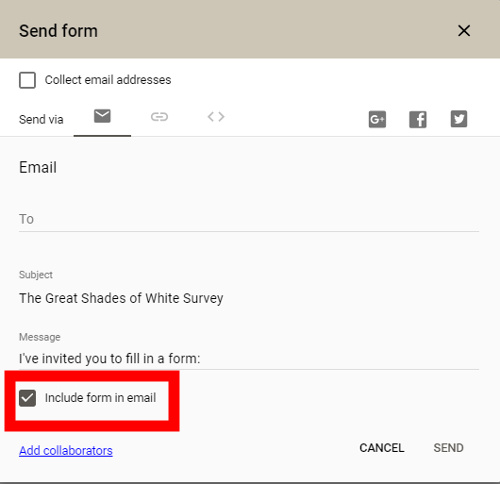 The WRONG way: Using a complex survey/Making it hard to give feedback

Be sure that surveys are also short, sweet, and to the point. These should take less than five minutes for customers to complete. Any longer, and you risk customer disengagement or a lot of incomplete surveys.
The RIGHT way: A short survey + incentives
It's also important to offer incentives to customers who choose to complete a survey. For example, Starbucks offers ten stars as an incentive for customers on completion. Or look at this Taco Bell example below.
They enter you in a sweepstakes in exchange for filling out their survey.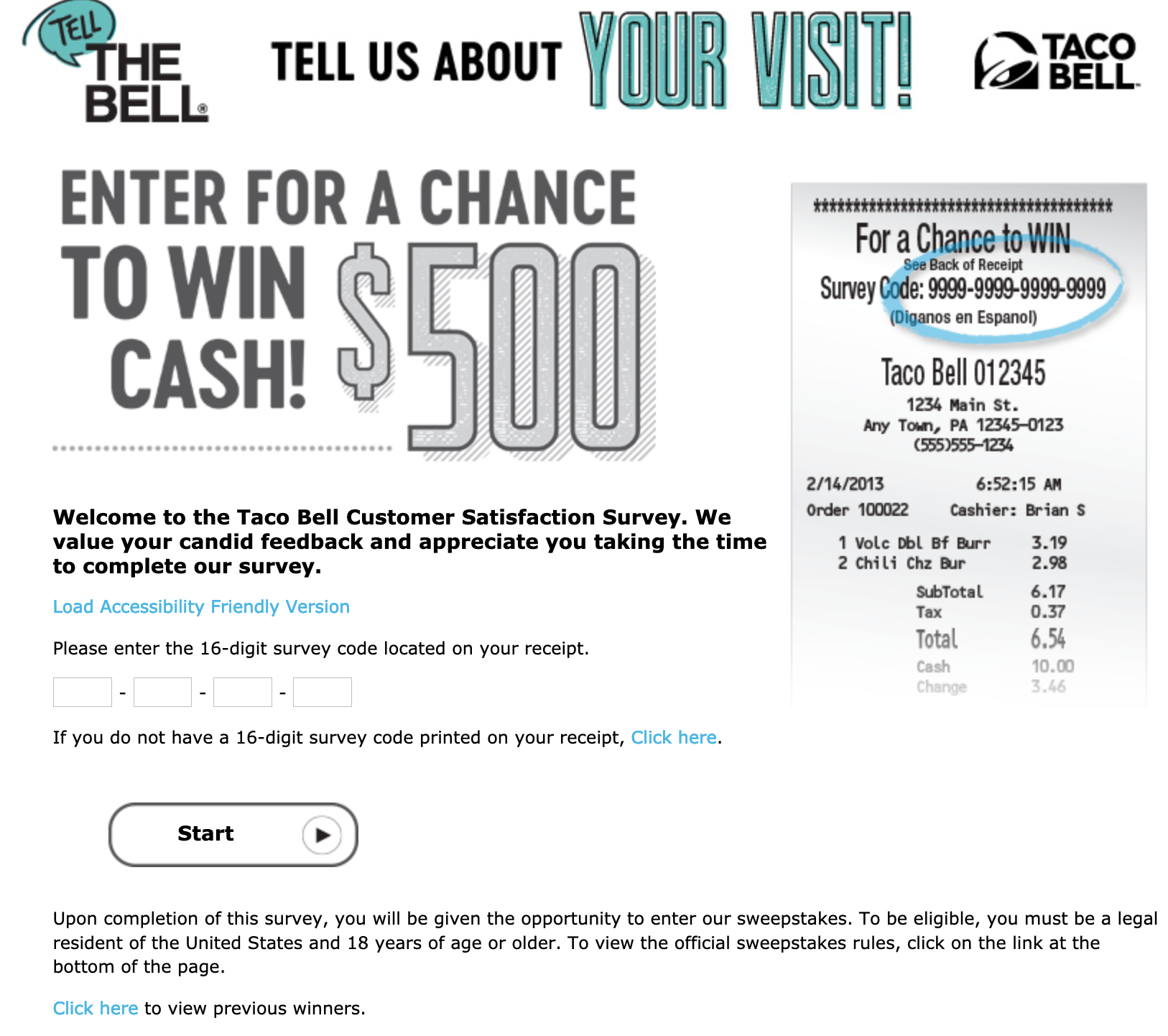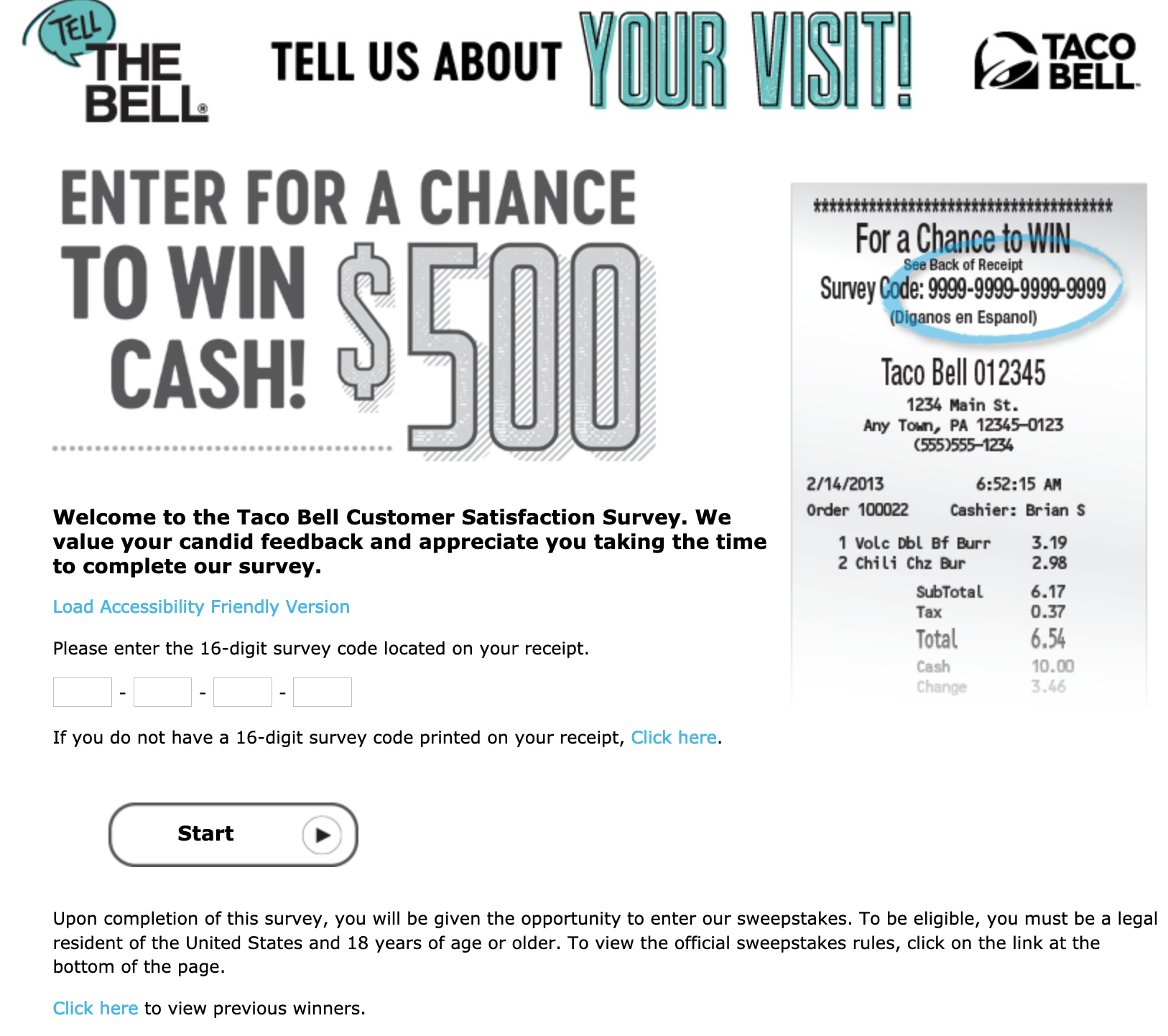 Related: The Top 50 Customer Service Experts of the Decade

Check out the complete guide to kick-ass customer service.
Proven tips your team can use today. Free download!
6. Address Problems Right Away
Addressing a horde of complaints or negative comments seems overwhelming. But the truth is, it doesn't have to be. There are ways of dealing with hold-ups, even if you have to tell your customers you don't know the answer.
The WRONG way: Assuming there are only bad questions
Imagine your customer points out a flaw in your company's process or a problem with a product.
Instead of getting frustrated by how redundant or simple the question may be, offer to solve it. Remember that your customers didn't have the same training you did.
So, in their defense, there are no bad questions. That's the mindset your customer service team should be in before starting their shifts.
The RIGHT way: Put yourself in their shoes
Acknowledge the customer's issue – even if you think the mistake might be on the customer's side. Be sure the customer knows you've heard and understood the issue.
If you can solve the problem right away, do it. The old quote is famous for a reason. "Don't put off until tomorrow what you can do today."
If you can't solve the problem immediately, tell your customer when you can solve it. When they know you're working on a solution, even if it's behind the scenes, it will bump up customer satisfaction.
Related: Why Collaboration Only Happens With A Customer-Centric Culture
7. Give Your People Power
The biggest complaint from customer service agents is their inability to solve problems due to company restrictions or policies. Customer service professionals understand that their primary function is to handle complaints.
But, they also need to be in a position to go above and beyond with their service. If they can't hand out offers or incentives, that's bound to be frustrating.
The WRONG way: Holding back your employees in the name of regulations
Negative experiences daily also lead to high turnover rates. This then increases customer service training costs, decreases productivity, and thus, reduces revenue. If your customer service team can make offers that don't cost you much, then why not give them that power?
The RIGHT way: Letting your people go the extra mile

Ritz-Carlton is a near-perfect example of employee empowerment. Each employee may spend up to $2,000 per guest/per day to solve problems and meet their customers' needs. Read that again – $2,000 per guest per day!
This means the Ritz-Carlton staff don't need to "ask a manager" or "get permission" to make things right. When they see a problem, they can address it on the spot. This is a major reason Ritz-Carlton has such a sterling customer service reputation.
8. The Best Time to Reply was Yesterday

Never underestimate the importance of "showing up early," or quick replies to customers. Again, although a customer's complaint may not be a priority, it's important to understand that it's #1 for them.
The WRONG way: Waiting on resolving the issue before responding
Even if you respond to the customer to saying you've received the message and are working on it, this goes a long way.
Responding within business hours is always the best practice. If the problem is easy to fix, that's even better. Don't put it off. You could miss out on making another sale right then and there.
The RIGHT way: Clear KPIs

Your KPIs should be specific and measurable. "We answer calls as soon as possible," or "Email responses in order of receipt," are a no-go!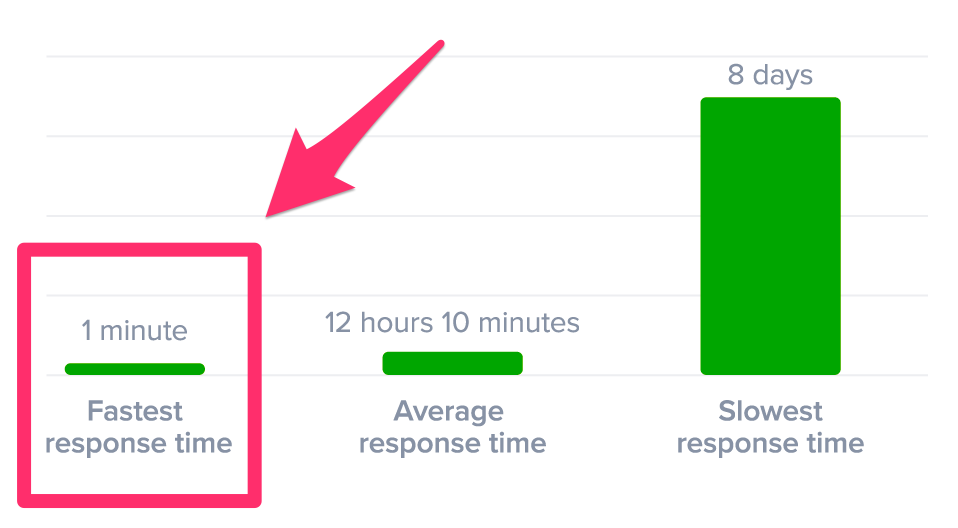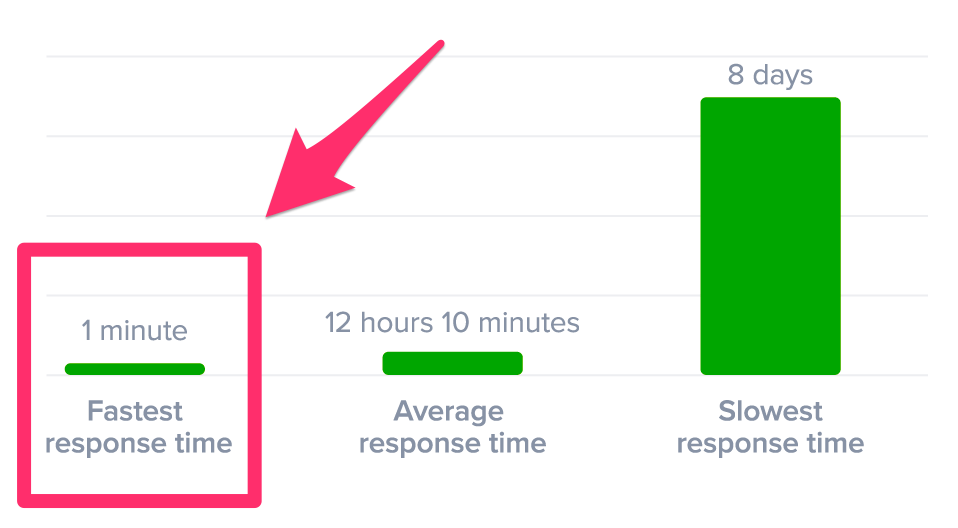 Set goals like "Answer calls within 20 seconds," and "Process emails within 2-hours of receipt."
Publish your customer service KPIs within the company and hold your team accountable. If you really want to wow your customers – share your KPIs with them too. Post them on your website so your customers know what they may expect.
Want a better phone service for your team? Try Nextiva!
9. Pay More Attention to Your Tone

Whether it's to emails or chats, your tone and how you respond are even more important than with an in-person chat.
A good rule of thumb is to craft a written message, reread it, pay attention to tone, and copy twice. Read it at least twice because you can only hit SEND once!
The WRONG way: Dismissing your customers
If a customer service agent has a forceful or dismissive way of speaking, that can escalate fast. Practice active listening and figure out a plan to help customers right then and there.
The RIGHT way: Would I talk to my grandma like this?

Here's an old customer service trick that will you with your tone. And this goes for phone calls, emails, chats or any customer interaction. Before you speak (or write) in a snippy way, ask yourself, "Would I talk to my grandma like this?"
10. Choose the Right Reputation Management Tools

We recently compiled a list of the best customer service examples (good and bad). The #1 thing that stands out here is how powerful your customers are on social.
Those customer posts online can sometimes make or break your reputation. Most reputation management tools help you track online mentions — both social and otherwise. Here's an online reputation management tool to check out.
Related: 15 Reputation Management Examples for Small Businesses To Try
The WRONG way: Being on the defensive
When an unhappy customer reaches out with an issue, the last thing you want to do is provoke them even more. For example, when a Dark Horse Espresso customer tweeted about their electrical outlets.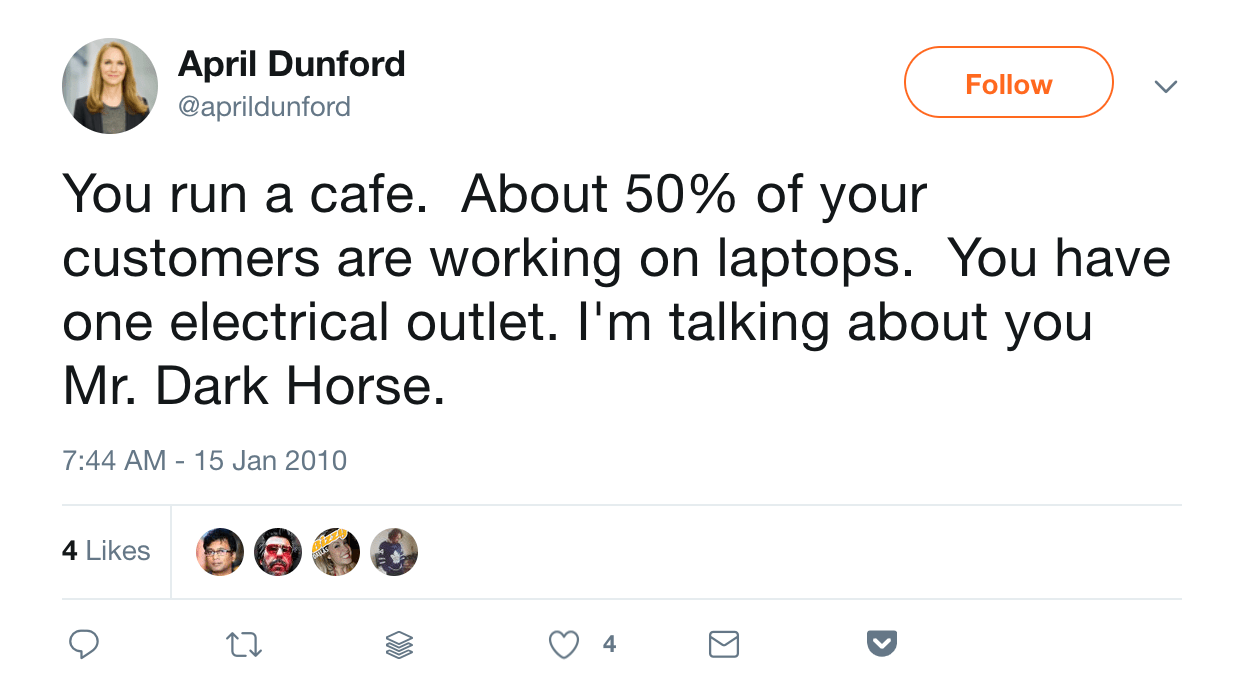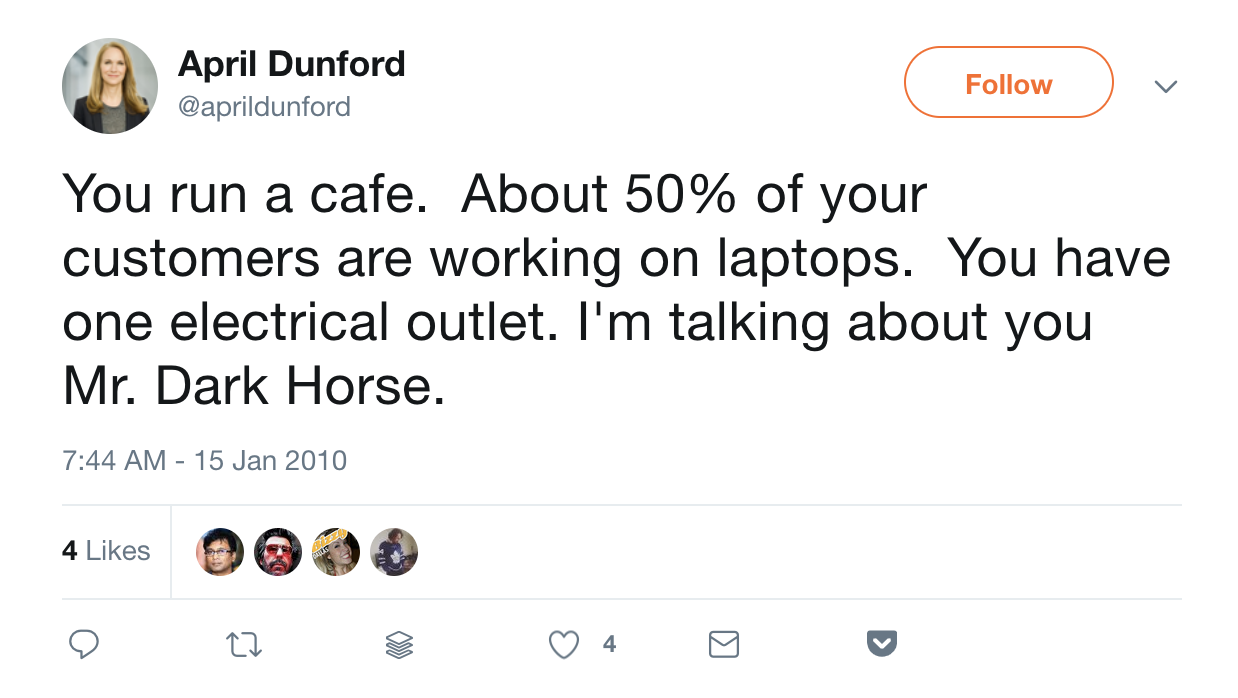 They didn't take it well.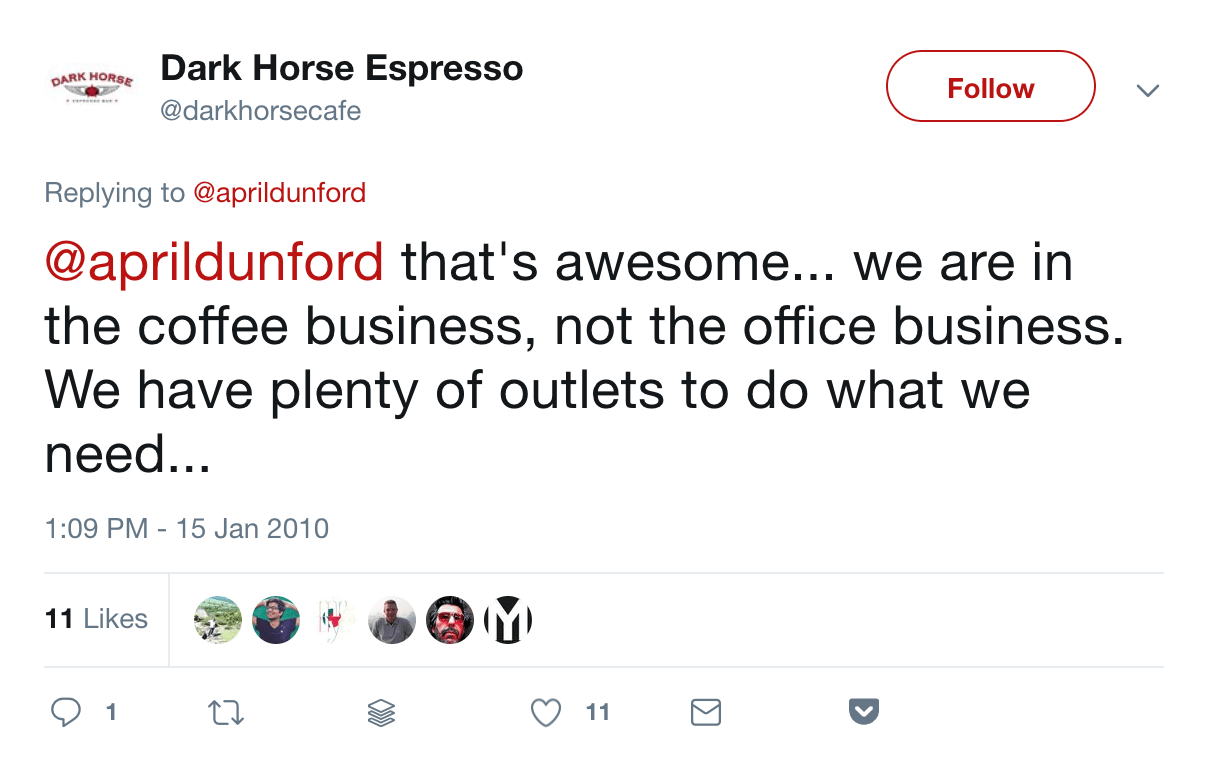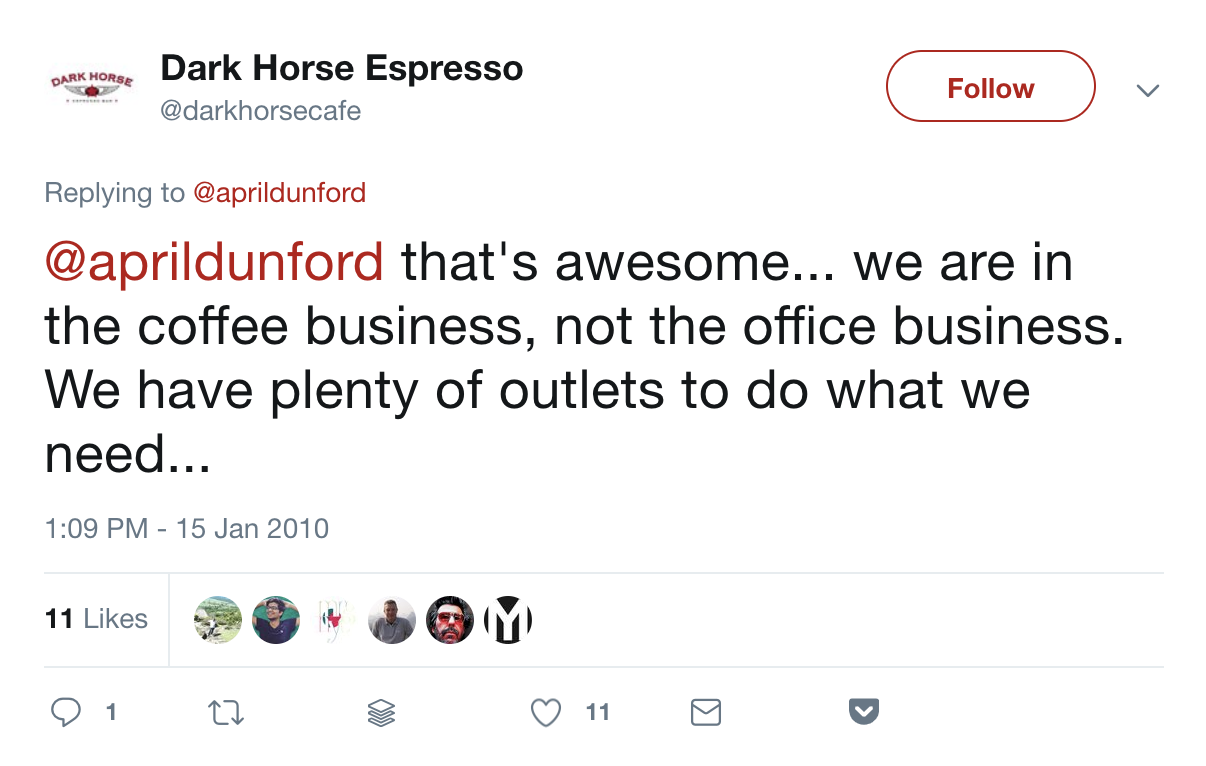 The RIGHT way: Offer help no matter what
If there are persistent, then contact the customer directly and try to find a solution. If you reach out and offer a handful of solutions, and the customer still isn't happy, then you have done all you can.
At the very least, the customer can look upon your attempt as a good faith effort.
11. Take Control of First Impressions

It's easy to lose touch with what customer interactions are like if you're a CEO or manager so, check in often.
Don't wait for these red flags —
Your reps are always blaming customers
You notice your reps ignoring customer requests
The WRONG way: First impressions are for long-term retention

If you ignore first impressions, you're already hurting your retention rates. When that's not clear, your customer service reps may take shortcuts or not be their best selves.
For example, this research from TARP Worldwide shows you what increases customer retention.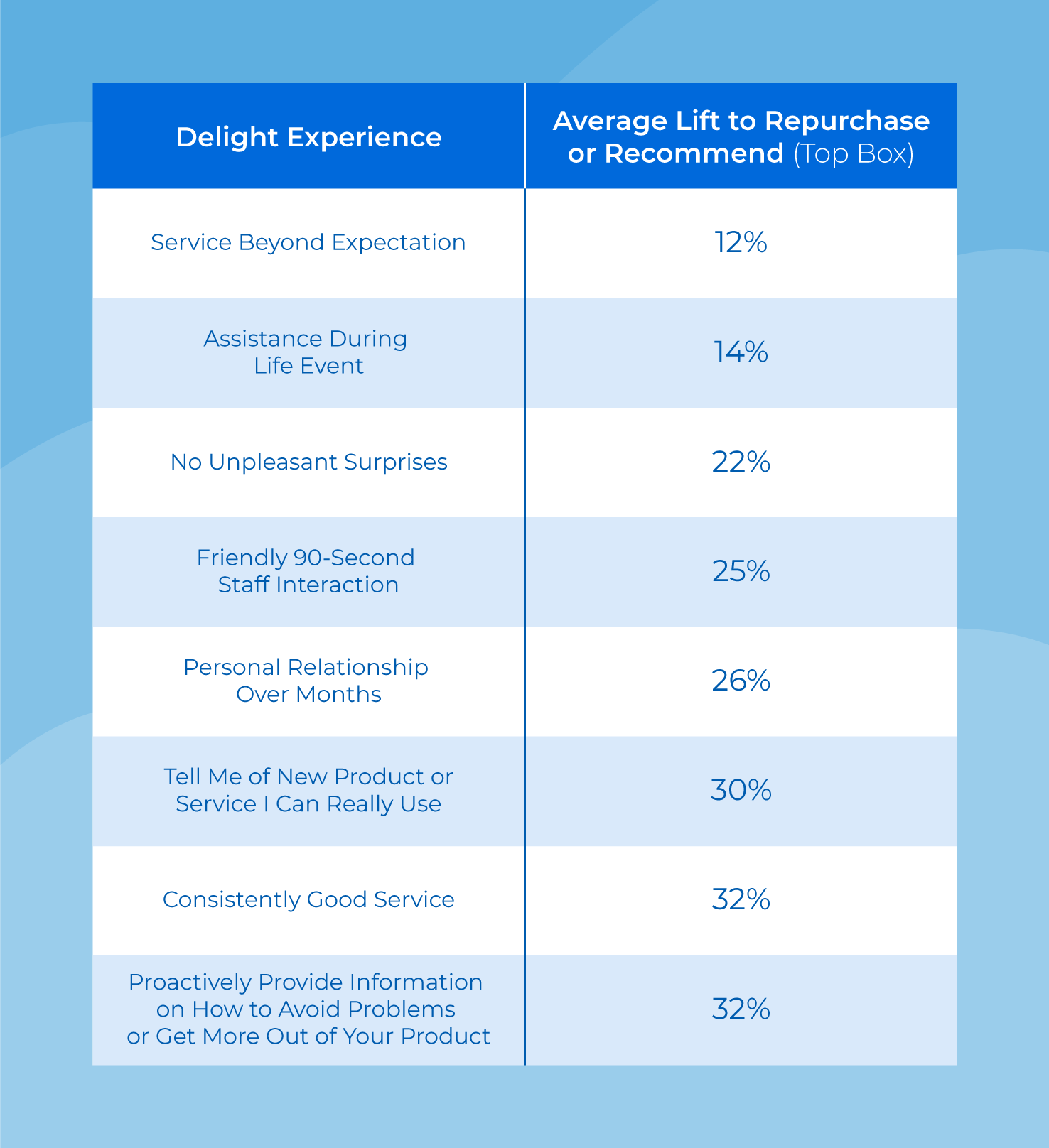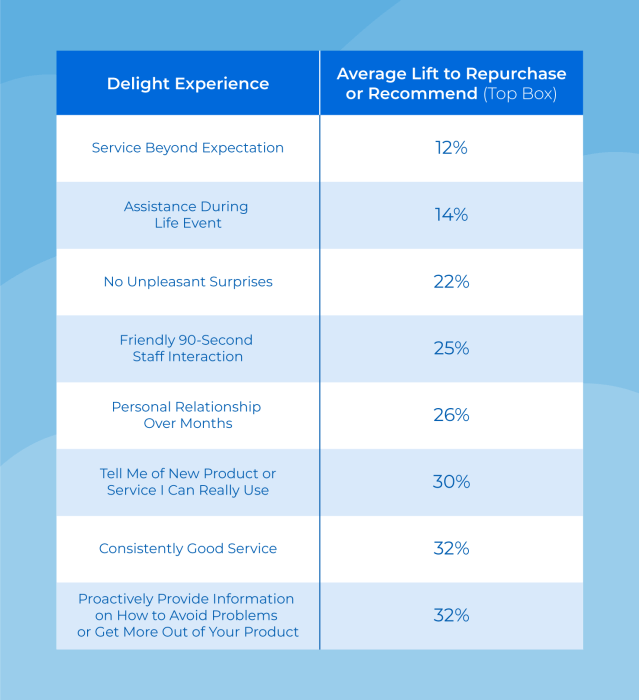 The RIGHT way: Focus on body language and presentation

Body language, smiling (even if you're on the phone,) and a warm greeting are all key. But it doesn't stop there.
12. Build Easy-to-use Help Centers

Redundancy destroys morale, and your customer service team is no different. If they have to solve the same problem day in and day out, they are bound to burn out.
81% of customers attempt to troubleshoot before reaching out to a live representative. So, the most obvious route here is to build in self-service options for your customers.
But, also make it easy for them to get in touch if they hit a roadblock.
The WRONG way: Force customers to do something that will take you less time to do
Imagine you called your Internet Service Provider asking about connectivity issues. Instead of looking up all your details based on your customer ID, what if they asked you to send an email?
You'd have to dig up your ID, plan, current speed/bandwidth, etc. and then expect a resolution.
The RIGHT way: Create a clean and easy-to-find help center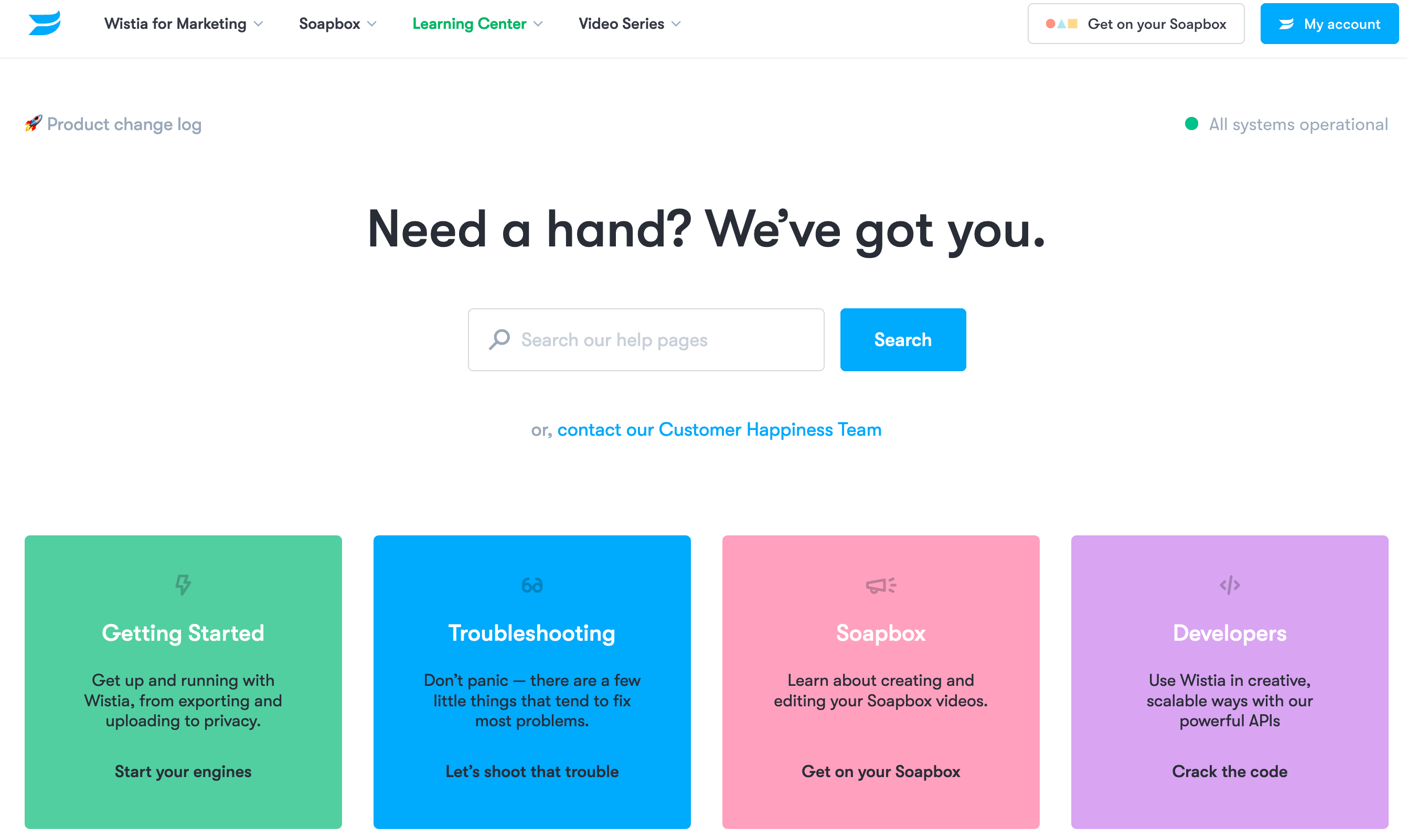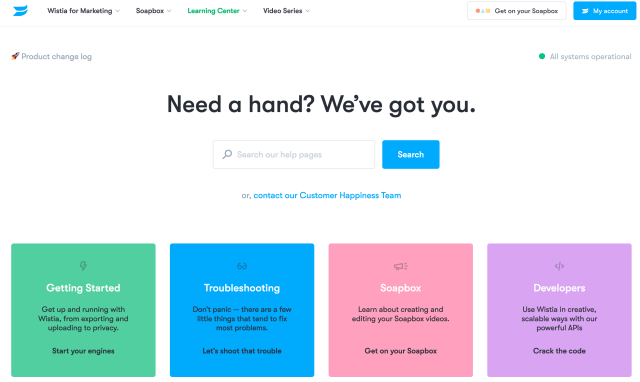 If you take Wistia's help center example, you'll see that they have:
Only the most essential navigation options
A prominent search bar
Visible buckets of help center guides
A Clear CTA to reach Sales or Support
The Wistia application status update
They make it very easy for customers to find exactly what they're looking for with their optimized UI.
13. Drop the Fine Print
This may be an unrealistic task for some businesses. But the last thing you want is for your customers to feel duped.
When your customers nitpick on, say, the legalities of your contracts, don't ask them to read the fine print. You can be sure that they think you're trying to hide something.
The WRONG way: Not being upfront about clauses
Depending on your industry, there are various provisions that you may need to add in a sales contract:
Warranties (Express and Implied)
Breach of Contract
Confidentiality
Severability
Based on your meetings with the customers, point these out if they seem concerned about any one topic. Should they sign the contract and later cancel because you weren't up front, that's on you.
The RIGHT way: Make it easy for customer to review your policies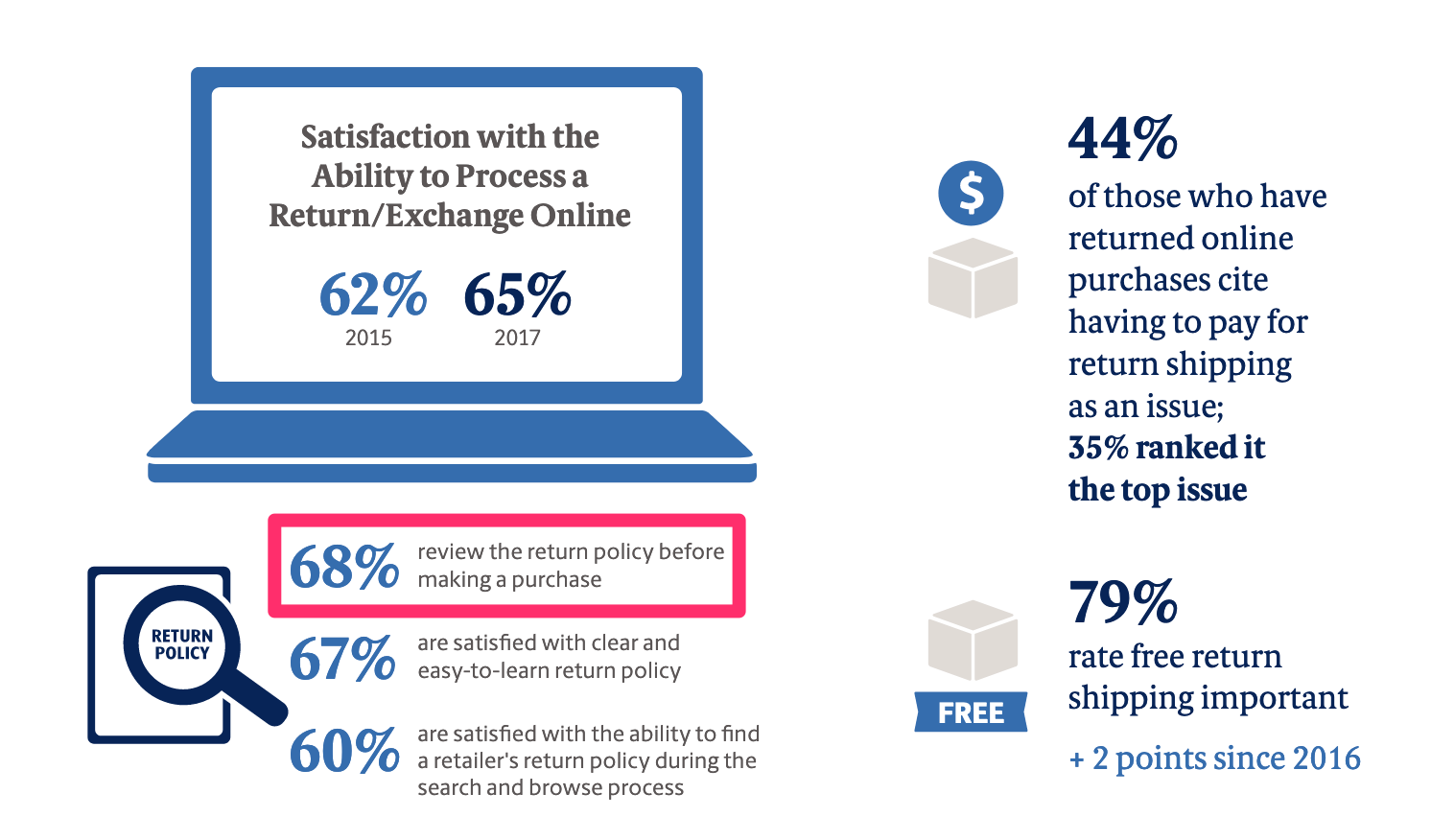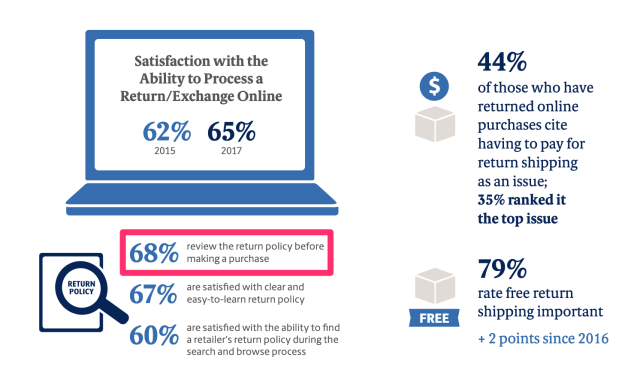 Especially with e-commerce transactions, 68% of customers review the return policy before they buy. Want fewer customer service inquiries?
Make sure shoppers can navigate your policy pages and find relevant information.
14. Use Automation ONLY Where it Makes Sense

Everyone's talking about automation these days. Automated customer service? Maybe. But you can't automate every aspect of it!
The WRONG way: Letting your chatbot do all the work
Here's an excellent example of why your chatbots might not always work. It's cases like these when you need a secondary option for your customers to get in touch.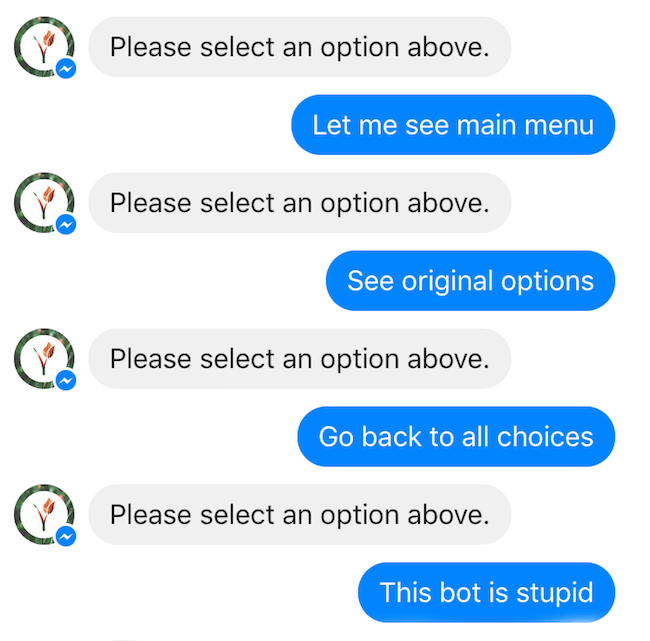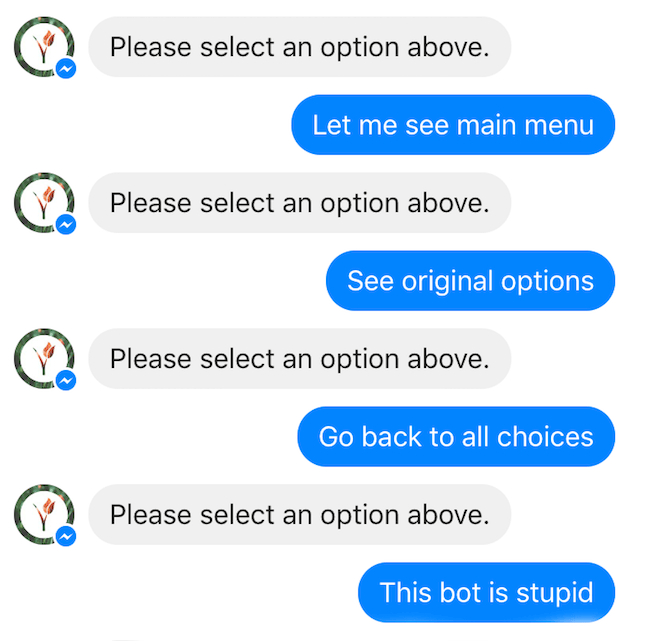 Most chatbots today don't have this escalation protocol, according to UX Collective. This page is hilarious, BTW.
The RIGHT way: Automate the back-end process
Instead of automating customer interactions, try automating how your team collaborates. Most new helpdesks and shared inbox tools let customer service agents:
Work on the same ticket at the same time
Send auto-updates of open and closed cases
See updates within in-product chats
15. Gauge the "Last Impression"
Once you close a customer service ticket or a sale, think about your CSAT surveys for a second.
Do your surveys create more "wow" moments?
Are you sending these surveys segmented by customer responses?
Do you follow up on bad customer reviews/survey responses
The WRONG way: Forgetting about the customer after closing the customer support ticket
This is a missed opportunity! There are plenty of tools in that market that let you nudge your happy customers to leave a review for you. Take Advocately for example.
It connects with your Net Promoter Score tool and sends a note to your customer asking for a review.

The RIGHT way: Use your post-sale/service surveys to introduce new features
In business, people rarely complain about "too much customer service" or follow-up. And NPS and CSAT surveys aren't restricted to online transactions.
Apple, for example, sends a detailed survey after every in-store sale. What's smart about this is that they use it also to introduce new features and offers that they may not have known about: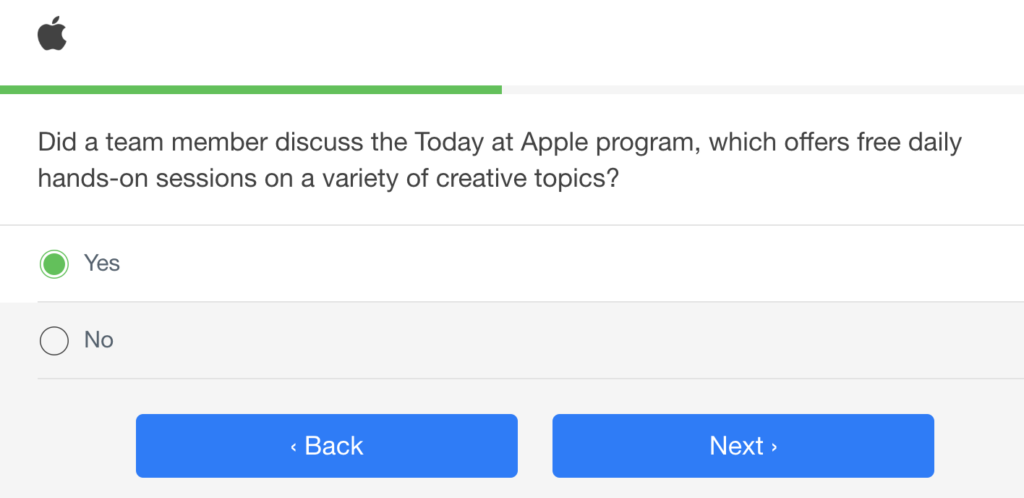 16. Ditch the Production-Line Type Customer Service

People tend to hold onto bad memories more than good ones. Research backs this up too.
That puts customer service agents in a tricky spot, right? Well, it doesn't have to be.
The WRONG way: Making your customers repeat their issue
Most dated customer service organizations follow a production line type of support. So, once you escalate issues, you'll find yourself repeating things to different reps.
Doing this is only going to reinforce the customer's frustration.
The RIGHT way: Combine forces in customer support
The best way to save time for you and your customer? Adopt customer service software that lets you collaborate on the same ticket. No more one-ticket, one-rep.
Nextiva's Customer Service CRM is a good example of this type of internal chat between agents.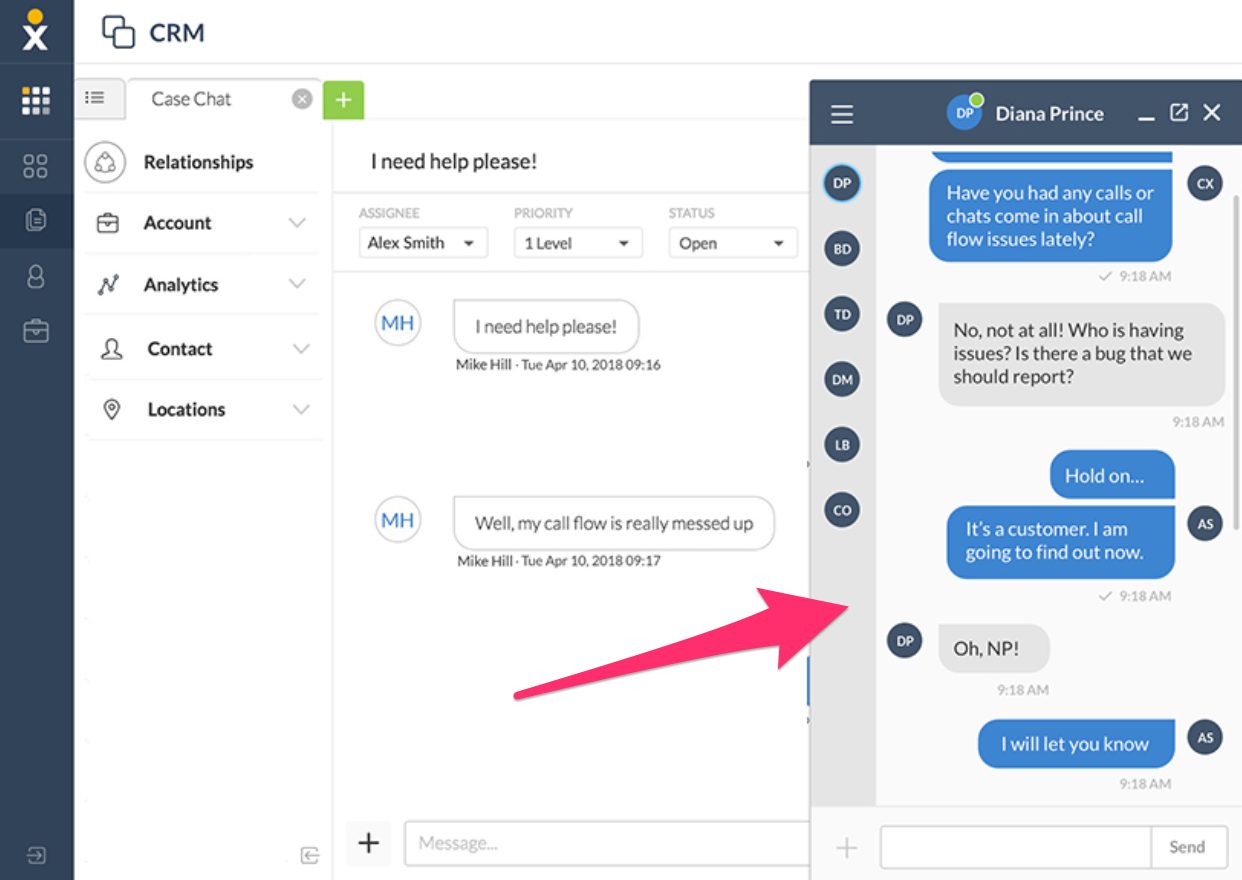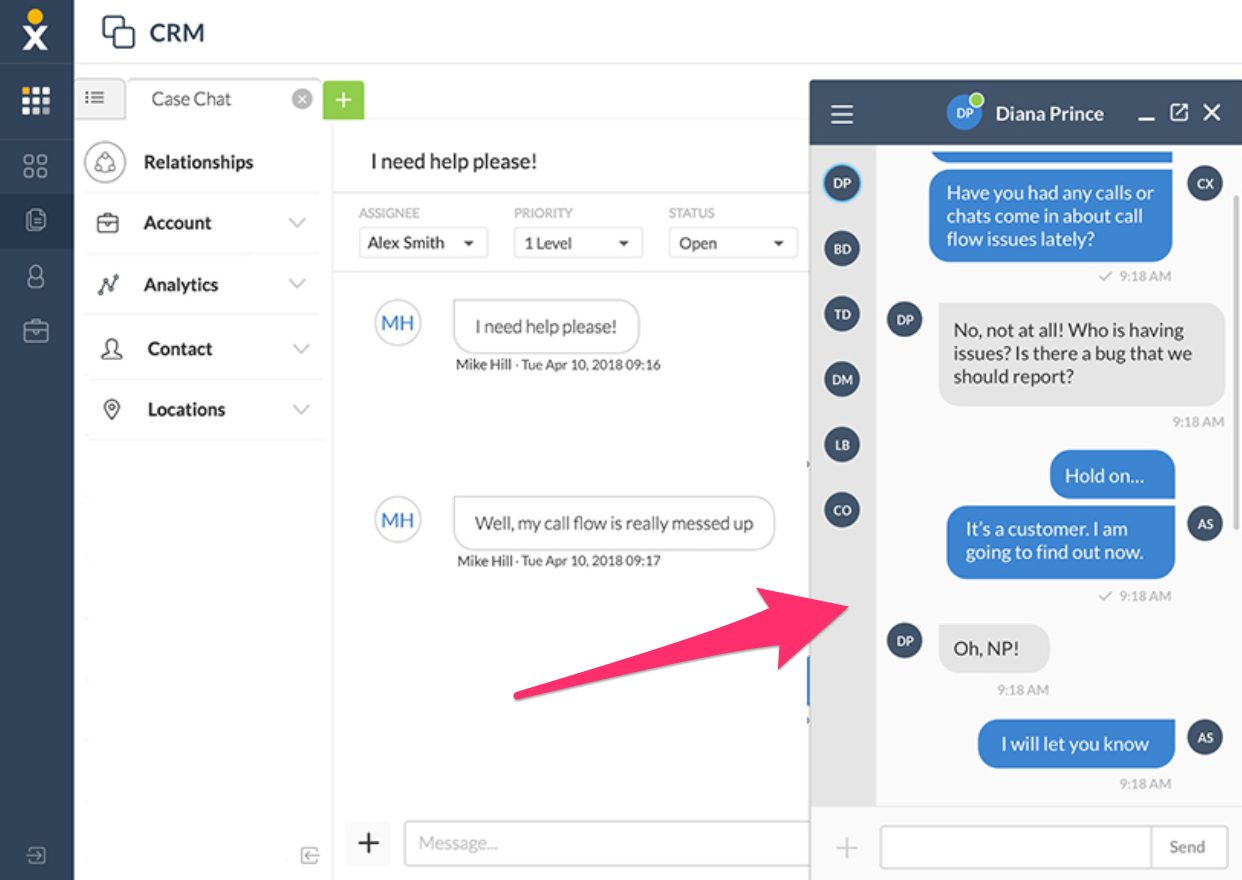 17. Create a User Community to Drive Adoption
Most businesses believe community management ends with social media. We've all seen Twitter handles with one-sided Q&As and AMAs. What are they doing wrong here?
The WRONG way: Having no focus with your social media community
CMX recently released a report, Community Value and Metrics, where they answer these questions:
What should your community do?
How do you know your community is working?
Is your community driving the top line?
Most online user communities start without this kind of focus. Thus, you get little customer engagement whatsoever.
The RIGHT way: Combine support, advocacy, and product feedback

26% of the companies use their community for customer support/success, based on the report. Advocacy and acquisition are second to this.
For example, OptinMonster's onboarding nudges new users to join their Facebook user community. They've identified that their top priority here is conversations around conversions.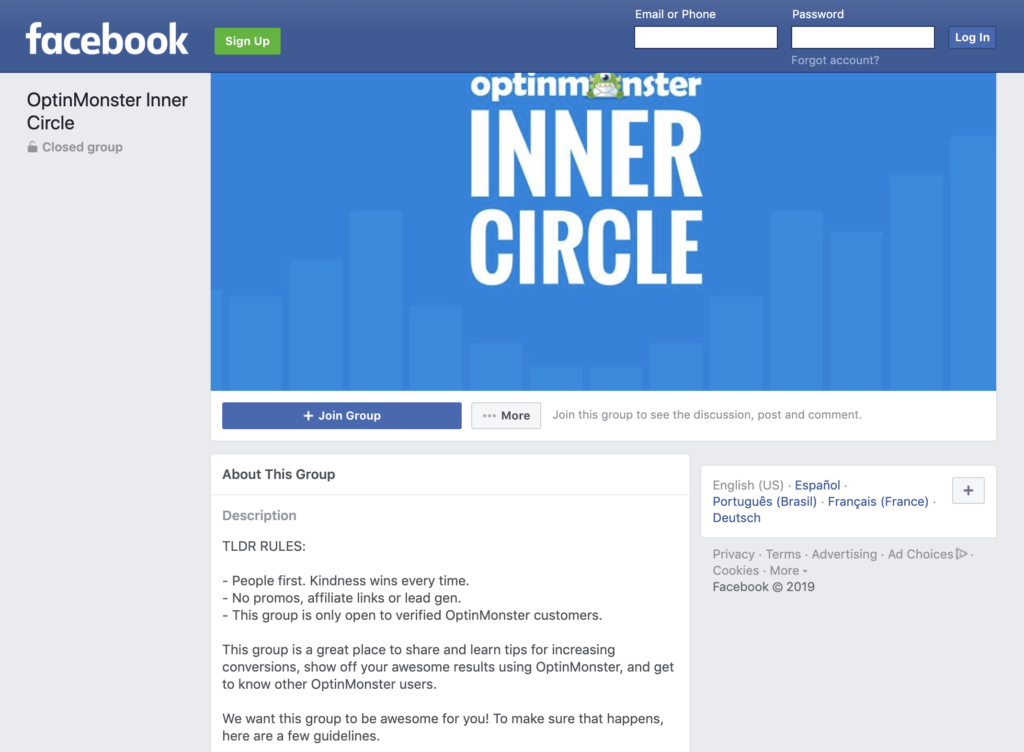 This kind of laser-sharp focus drove almost 2000 active members to their user community.
18. Want to Work on Your Empathy? Read More Fiction

You read it right. Reading fiction makes you a nicer person, according to studies.
Heck! Even Barack Obama explained that reading fiction made him a better leader.
The WRONG way: Not teaching empathy in your customer service training
We've all been there with a customer service representative. They:
Run through a script with no emotion whatsoever
Bounce you around to other reps
Ask you to repeat everything. Over and over again
Don't take responsibility or offer an apology
The RIGHT way: You can't teach empathy, but you can try!
"We want our customers to feel like they we have their back. That's in our philosophy." ~ Oscar Tobar, Lead, Global Customer Support at Culture Amp.
"We want to be there for them in the platform and meet them where they are before they come to us." Watch this video below to learn more about Culture Amp's approach to empathy in support.

19. Don't be Frugal with Your Thank Yous

How often do you send personalized notes to customers? Do you remember their birthdays? How about when they first bought your product and have been a repeat customer since?
The easiest way to get your shoppers to buy more and refer you is making time to say thank you. It's that simple! The how is what makes all the difference.
The WRONG way: Saying thank you with strings attached
Saying thank you is not complicated. But, you can complicate things when you push for that "social share" or referral in return for your gesture.
The RIGHT way: Get creative! Find little moments to say thank you
There are several fun ways to say thank you:
Personalized videos
Discounts
Hand-written notes
Meeting customers in person
Giving them a shout-out on social media
John's Crazy Socks, for example, sends a thank you note with every sock order!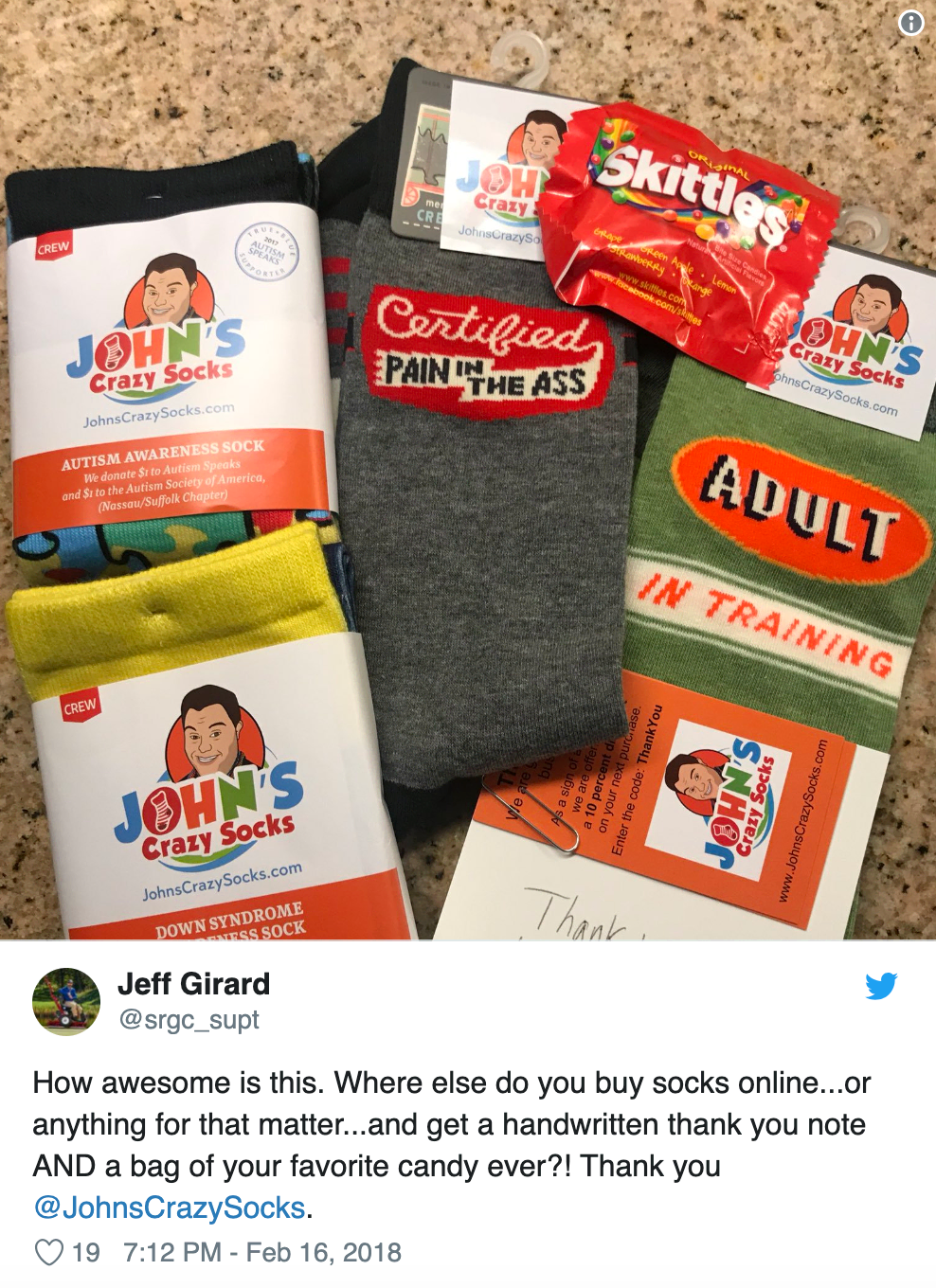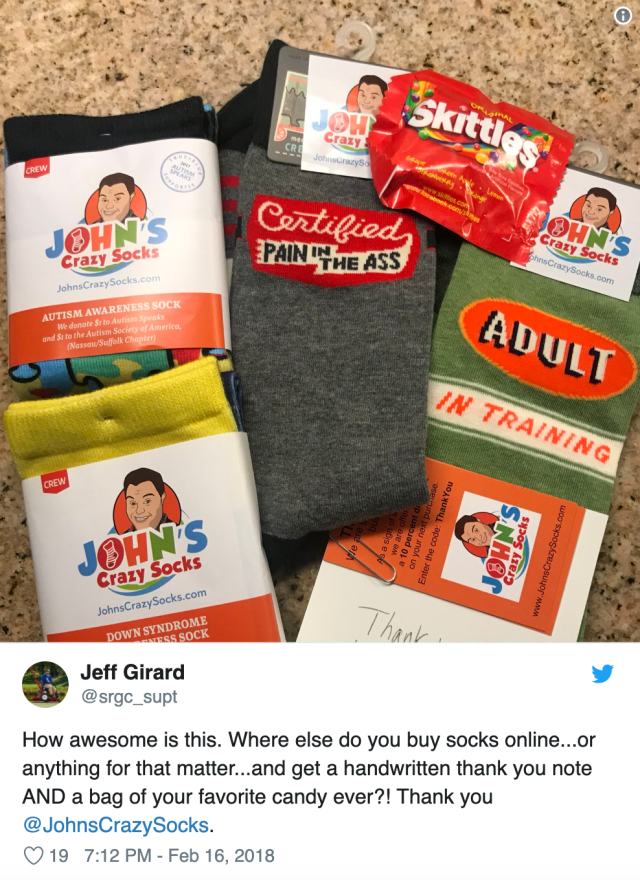 20. Have a Separate Social Media Customer Service Process
Throughout this post, we've emphasized using social media to drive new sales. So, if you're still stuck doing only post-sale customer support on social, you're missing out.
The WRONG way: Trying to cram both support and brand on your official company handle
If that is the case, your support reps, PR manager, community manager, and QA all need access to your Twitter.
You're also going to get all kinds of tweets — refunds, billing, shipping, brand mentions. Phew! Imagine the chaos.
The RIGHT way: Steal Spotify's social media support strategy
Here are the top five customer service tips you can borrow from Spotify:
Create a dedicated Twitter handle for all customer support questions and help.
Offer specific instructions to your customers. For example, "For tech queries, let us know your device/operating system. And for payment queries, drop us a DM!" says Spotify.
Weave in your product/service (in a cheeky way!). Spotify does this when they reply with a playlist.
Only let trained customer service agents reply on social media. Even consider having writing tests like Spotify does!
Document this process, so all your social media support reps know exactly what to do and when.
21. Ramp Up Your Customer Loyalty Programs
Customer loyalty programs or rewards programs are quite common in e-commerce businesses. In simple terms, these programs offer incentives to repeat/loyal customers.
They bump up your bottom line in many ways:
Spike customer retention rates
Improve referrals
Decrease payback period
Prolong customer lifetime value
Drive product/service adoption
The WRONG way: Your point-based loyalty program is confusing
Point-based programs have been around for a while, but if you see engagement dropping, this is why:
You've added new rules and conditions that are hard to understand
It takes a long while to rack up points and hence, rewards
You don't have smaller milestones and incentives to keep users engaged
The RIGHT way: Create a dedicated page explaining the loyalty program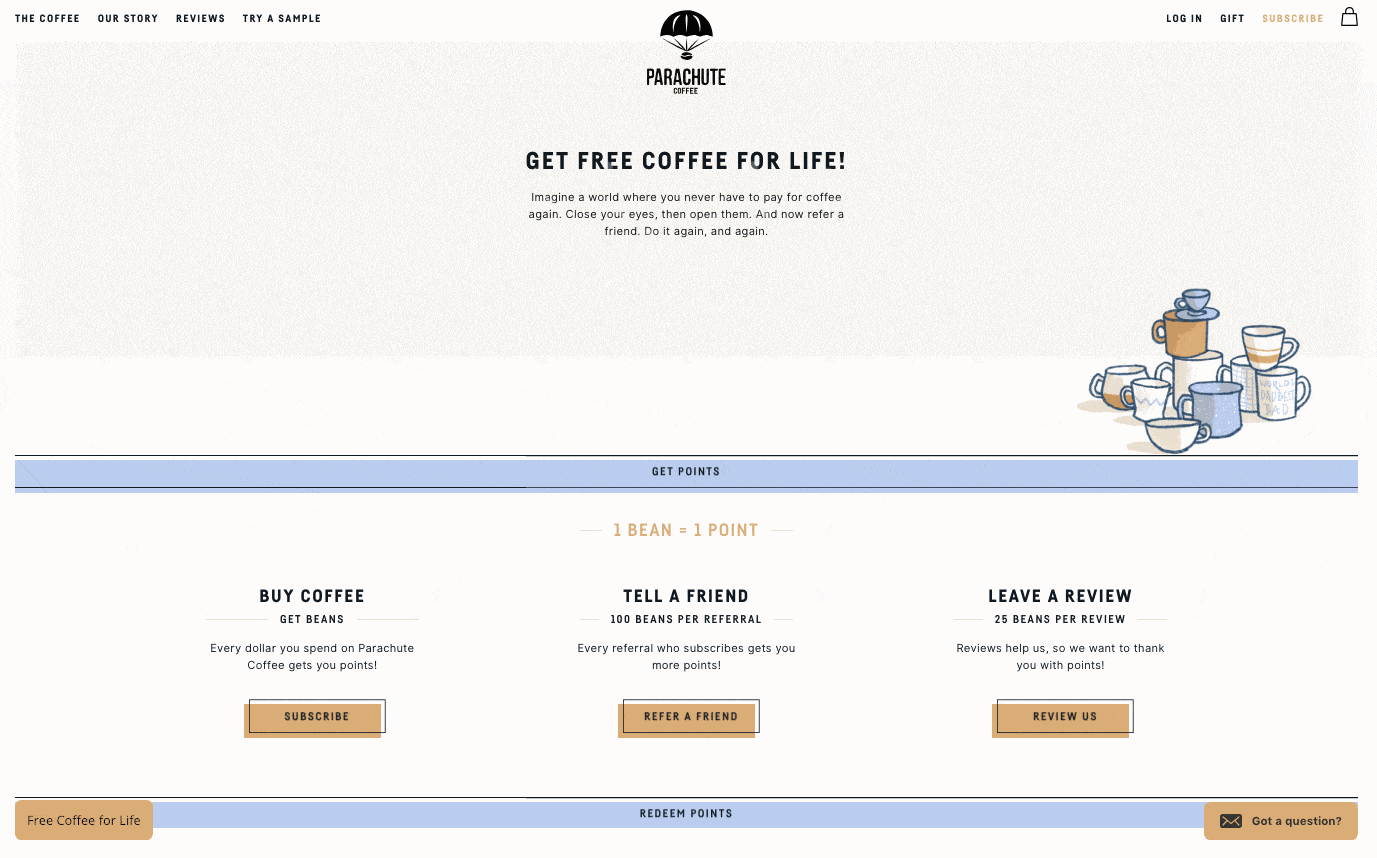 For example, Parachute Coffee has this dedicated page. They've described all the reward programs in a step-by-step manner.
Their navigation is simple and doesn't distract. You'll also see CTAs spread out through the page. The home page banner, too, has relevant information on shipping details in this case
22. Fast Service May Not Always Be Ideal

It's true we keep touting how much speed and fast replies matter in customer service. But..if that's your only focus, you're compromising on other customer service metrics.
The WRONG way: Measuring speed because it's easy
Seth Godin calls this the False Proxy Trap. Seth explains this is why TV advertisers measure how many people saw an ad as opposed to how it affected them.
It's the same within customer service too. Measuring the speed of service is easier than measuring customer satisfaction.
The RIGHT way: Define your goal and focus on measuring that
Say, your goal is to measure customer engagement, then tracking these might be helpful:
Activity time (on the app/service)
Visit frequency (daily/monthly etc.)
Core user actions
23. Decide What Metrics Matter More: Operational vs. Organizational

It's important to try and measure metrics that matter most to your team. Or it'll be data galore with little time make adjustments based on all the data you've tracked.
The WRONG way: Letting operational customer service metrics outweigh the organizational metrics
In this scenario, you're obsessed with:
Ticket count
First response time
Resolution time
Tickets closed
Touchpoints per ticket
The RIGHT way: Let your organizational metrics guide everything else


So, here your primary focus is on:
Customer Satisfaction
New upsells and cross-sells
Customer churn
Related: Digital Transformation Is Over: The Digital Normal Is Already Here!
24. Move From Reactive to Proactive Customer Service

The best customer service tips show you how to identify issues and preempt them.
The WRONG way: Covering up service issues
Uber's data breach is the perfect example here. Instead of offering security measures to customers, Uber chose to be discreet.
Until..
Just closed my Uber account. Uber sent me an email asking me why.

THREE WORDS:
Data. Breach. Cover-Up.
The RIGHT way: Take control of all your customer service issues
Slack's example here, speaks for itself. They took the initiative to clarify what's going on, when they'll resolve it, and that they're working on it.
We are working on an issue where private channels and direct messages are missing from the quick-switcher, and the channel sidebar. Sorry for the trouble! We'll keep you posted on the situation here: https://t.co/hlhV4ZiG7E. Thanks for sticking with us ?

— Slack (@SlackHQ) December 1, 2017
25. Keep Improving Your Customer Service Skills

Most managers actively look for customer service skills before they hire. But ongoing customer service training falls on the rep as much as it does on the company.
The WRONG way: Ignoring ongoing customer service training
This is pretty self-explanatory this far into our top customer service tips. Most aspects of customer service are people-oriented. So, not honing these skills are going to hold you back from building a good rapport.
The RIGHT way: Have company-wide/personal upskilling sessions
This is easier if your customer service department enables ongoing training. If not, take it yourself to check your:
Communication
Attentiveness
Patience
Product knowledge
Time management and more
26. Gamify Customer Service (OR Incentivize Good Performance)

Gamification in customer service improves:
End-to-end employee engagement
Transparency
Feedback
Training best practices
Peer recognition and more
The WRONG way: Making it too competitive
It's in cases like these that you can imagine reps robotically check off tasks for incentives. This goes against the core goal of such programs.
You'll start finding your reps gaming the system vs. benefiting from these programs.
The RIGHT way: Nail your gamification metrics and incentive/recognition
The metrics you track can be anything from CSAT and upsells to first response times or close times.
Another aspect to cover is how/what your incentives here are. The usual suspects are features in company newsletters or redeemable karma points. You can get creative here!
27. It's Okay to Say You Don't Know (But Offer Alternatives)
If you were to give an outright "No" to a customer's question, that diminishes the value of your service. Of course, you won't always know the answers, but, it's a 100% about how you manage the "No."
The WRONG way: Offering a bland "I'm sorry, I don't know."
Imagine saying this, and you have the customer give you a blank stare. If you don't offer to be helpful to a customer in need, that only frustrates them more. Thus, making your job harder.
"That's a great question. I want to be sure I give you the right answer, so I need to double-check with someone. Can I call you back?"
"Before I answer your question, I need to check a few things on my side. Can I follow-up with you later today?"
"My colleague is an expert in that area. Could you hold just a moment while I check with him?"
28. Re-engage Your Old Customers

By now you know that the cost of retaining current customers is lesser than acquiring new ones.
But, why do we then do such a poor job of engaging with the current customer base?
The WRONG way: Trying to upsell without context
You can mess this up a number ways:
Upselling when they haven't been an active user
Pushing them to buy a product they don't need
Offering discounts on a service you know they will churn from
Expecting them to reply just because you've reached out X number of times
The RIGHT way: Combine your upsells with tip #19
Remember how we spoke about not being frugal with your thank yous? Well, imagine you were good at maintaining a personal relationship with a customer.
How easy would it be for you also to track their activity within your product and then offer to unlock a new feature?
This way, they know:
You care about their success
They can get more from your product but without strings attached
You have earned their trust with the rapport you built
There is data to show that the upgrade will add value and has context
A good example here is Amazon and how they show you other accessories that you could get with your current buy. Here, when you search for a Drybar hair dryer, they show that other buyers also bought these items with it.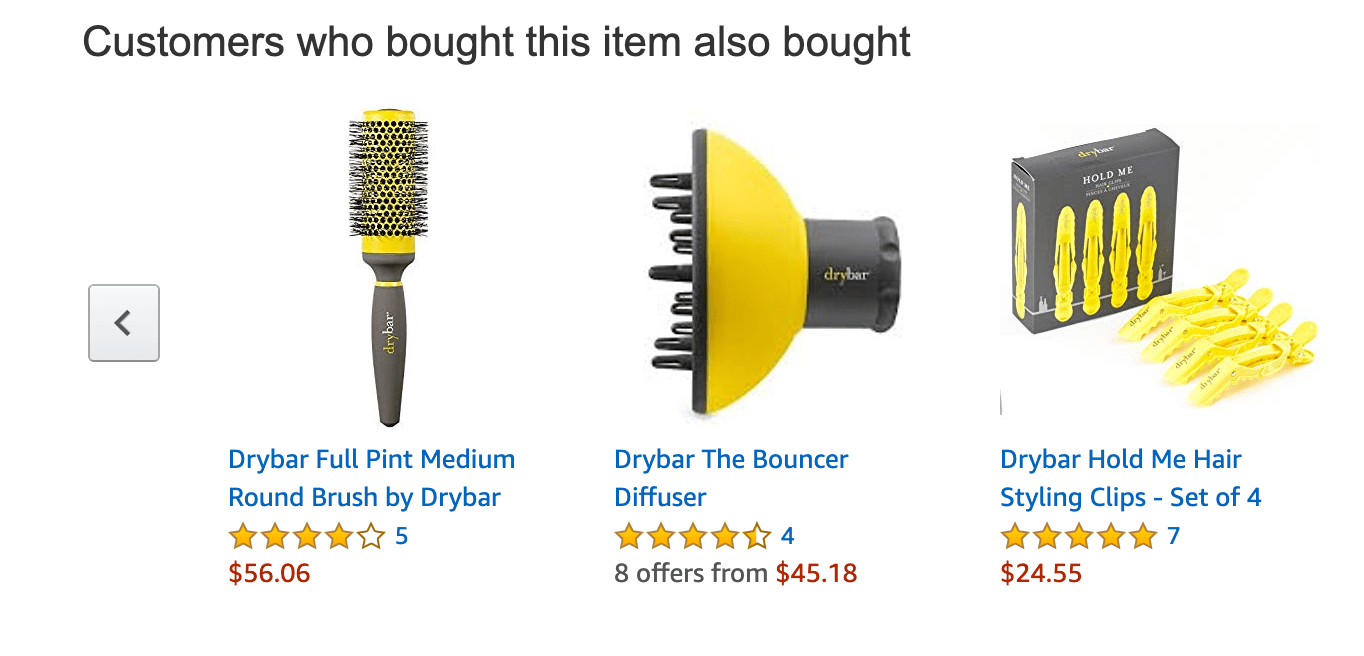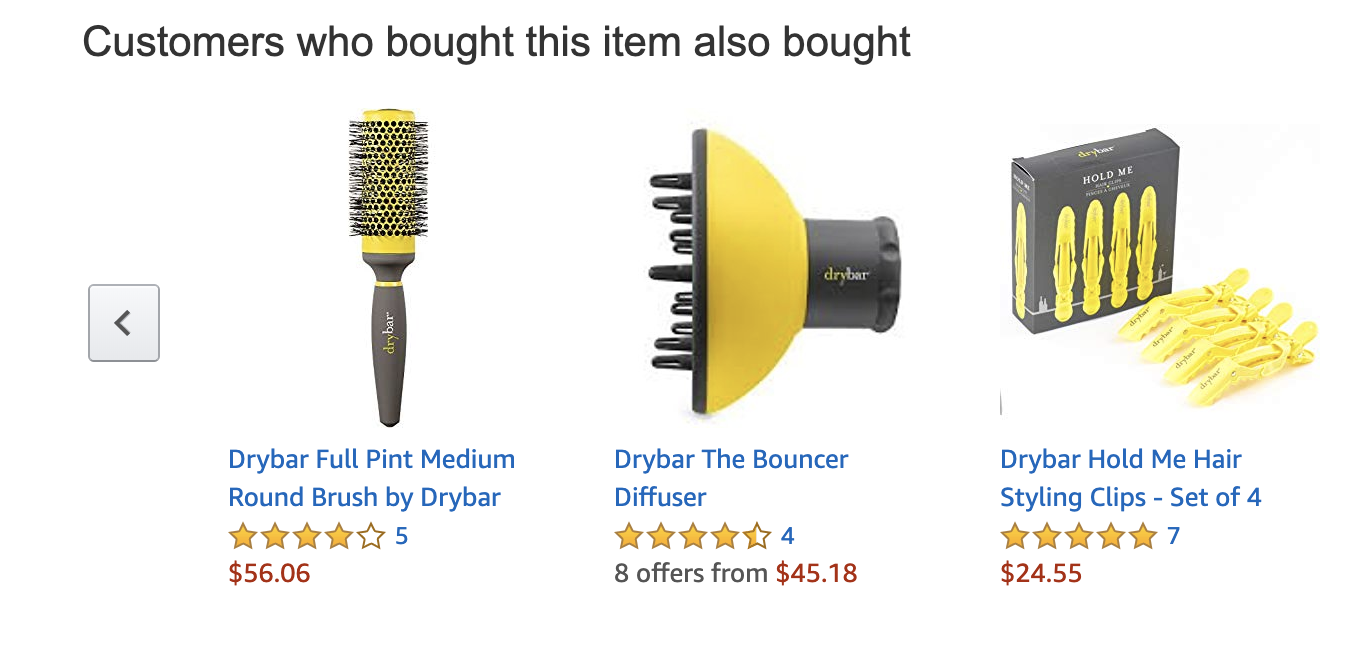 This is a good way to get buyers to consider adding these options before they check out. Because if you got a hair dryer, chances are you need a round brush, too, right?
29. Arguing Never Led to Anything Good

The example we have is a good one! So let's jump right to it.
The WRONG way: Arguing. Period.
The last thing you want to do is argue with an already frustrated customer. And if you do end up unleashing the rage (please don't!), Twitter's definitely not the right place.
Look at this example below. This customer service rep/community manager is asking for trouble with that tweet.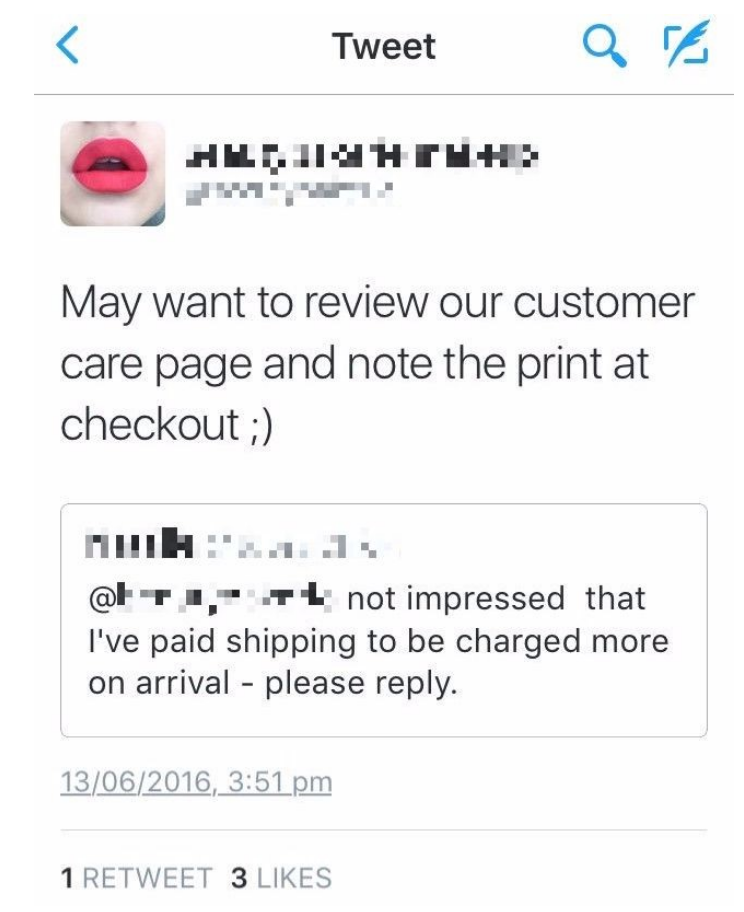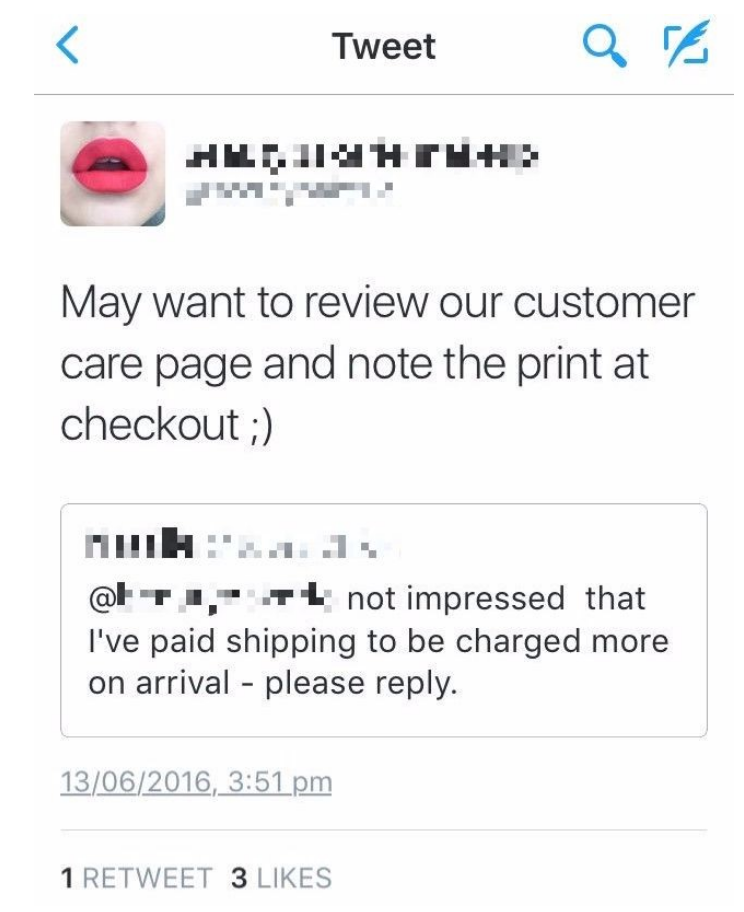 The RIGHT way: Diffuse tension with humor
So, smartUSA got this tweet: "Saw a bird had crapped on a Smart Car. Totaled it."
To which they replied:
Couldn't have been one bird, @adtothebone. Sounds more like 4.5 million. (Seriously, we did the math.) pic.twitter.com/aLYScFR3

— Official smart USA (@smartcarusa) June 19, 2012
Well, you can't beat science, now, can ya?
30. Try Event-triggered Customer Service Tips

Ever thought of combining those cart abandonment emails to actual customer service touchpoints?
You have plenty of opportunities to touch base with customers along a buyer's journey. Here are a few common examples:
Series of follow-up emails about how to use a product after a new sale
Cross-sell emails/follow-ups like the Amazon example above
A time-based email pushing to replenish a product they may have bought earlier
Countdown messages, say, for a delivery
The WRONG way: Overwhelming your customers with overlapping communications
This is where unifying your marketing and customer service comes in handy. These scenarios we described above could be marketing messages too.
Unify your communication not to have overlapping pushes to customers from both departments. If you do, that's a shortcut to an unsubscribe.
The RIGHT way: Start by mapping your customer journey
Once you map this out, you then have more clarity on where you can reach out to customers and how. For example, how about you replace your cancellation survey with other options too?



This way, you're getting churn and more data to improve your product. You might even win multiple customer service awards like Nextiva for its business phone system.