Customer service is a business' bedrock. Customer service strategy reinforces this bedrock through superior customer relationships, satisfaction, and trust.
When you take the time to assess customers' needs and wants, plan their journey, and develop a customer-centric strategy, you win 91% of repeat customers! But it's easier said than done.
Customers often feel unappreciated and unheard in their journey. Poor support hurts more than a poor product because companies lack or have a disorganized customer service strategy.
How do you organize it better?
We'll walk you through eight steps to creating (or updating) a stellar customer service strategy that earns customer loyalty and wins hearts.
What Is a Customer Service Strategy?
A customer service strategy is a thorough plan to handle customer interactions and provide a consistent customer experience using set methods and processes.
It's a carefully crafted roadmap to help businesses navigate "what they want to achieve," "what their customers want to achieve," and "what their teams can achieve."
A customer service strategy outlines steps and actions for providing better customer service.
How to Create an Effective Customer Service Strategy
Creating a customer service strategy isn't a day's job, but delivering exceptional customer service is. Your customer support teams handle multiple requests from sunrise to sunset and sunset to sunrise – the clock never stops. You need to fuel the engine with the right resources and plan them well to keep it running.
How? Let's find out.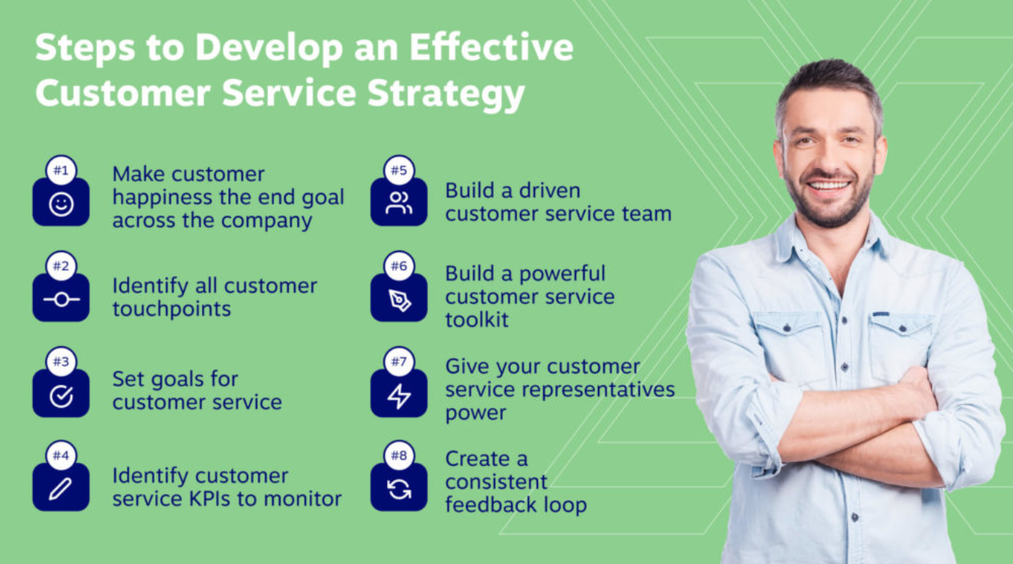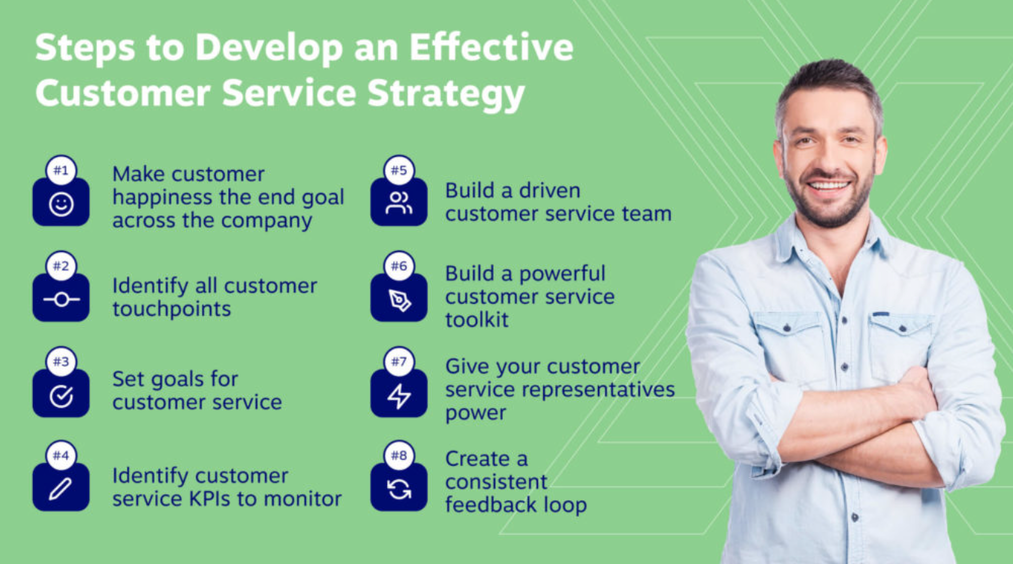 Step #1: Make customer happiness the end goal
A successful customer service strategy focuses primarily on customer happiness and starts with ingraining that vision deep into your teams.
At first thought, keeping customers happy is up to the frontline staff. But what about those who never face a customer? Operations, engineers, and product designers are just a few examples.
Why would they focus on customers they never speak to instead of just doing their jobs? Jeff Bezos sums it up quite well:
"We see our customers as invited guests to a party, and we are the hosts. It's our job every day to make every important aspect of the customer experience a little bit better."
The customer-first mindset across the board makes support teams better at their jobs. When everyone works with the end customer in mind, your customer service team doesn't have to make solutions look better. It simply delivers.
Another benefit of a customer-centric approach is that you'll remove organizational silos.
Let's say a customer complains about how your product was packaged and delivered. It arrived broken.
Your fulfillment team may be bogged down with orders and packing products like that for faster delivery without focusing on packaging quality. Result: some products get damaged during delivery.
Once you discover the pain point and create a company-wide vision to offer customers exceptional product quality and keep their happiness in mind, your fulfillment team will also take a cue. At the same time, your customer service team can communicate how you prioritize quality and tackle any delivery-delay concerns.
Both teams communicate well. The reduced back-and-forth and value alignment make customer care extra efficient and thorough.
Step #2: Identify all customer touchpoints
Analyze customer interactions across all touchpoints to decode a customer's journey and create a customer journey map. Customize it specifically for customer service requests from the beginning to the end of a purchase and beyond.
Some key points could be the contact frequency, channels used, FAQs or common requests, and post-purchasing concerns or feedback. Collect the relevant data using customer feedback forms, interviews, and follow-up calls.
Your customer journey should reflect trends, recurring issues, customer behaviors, experiences, sentiments, and pain points. With a first-hand view of customer issues and needs, you serve them better, improve your products or services, reduce churn, and increase customer lifetime value (CLT).
Don't forget to monitor social media as a key touchpoint in your customer journey.
Social media platforms are a go-to for many customers, openly voicing their opinions, asking questions, and raising concerns. So, monitor these social media trends carefully. Every mention and every comment can be a touchpoint and significantly impact the customer experience.
By keeping an eye on customer interactions, you meet and exceed customer expectations.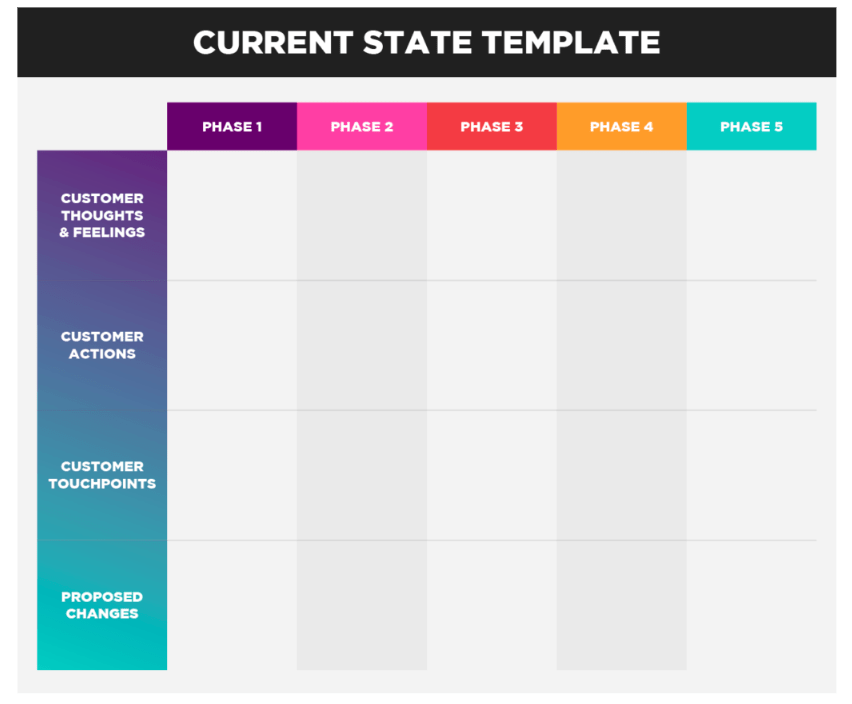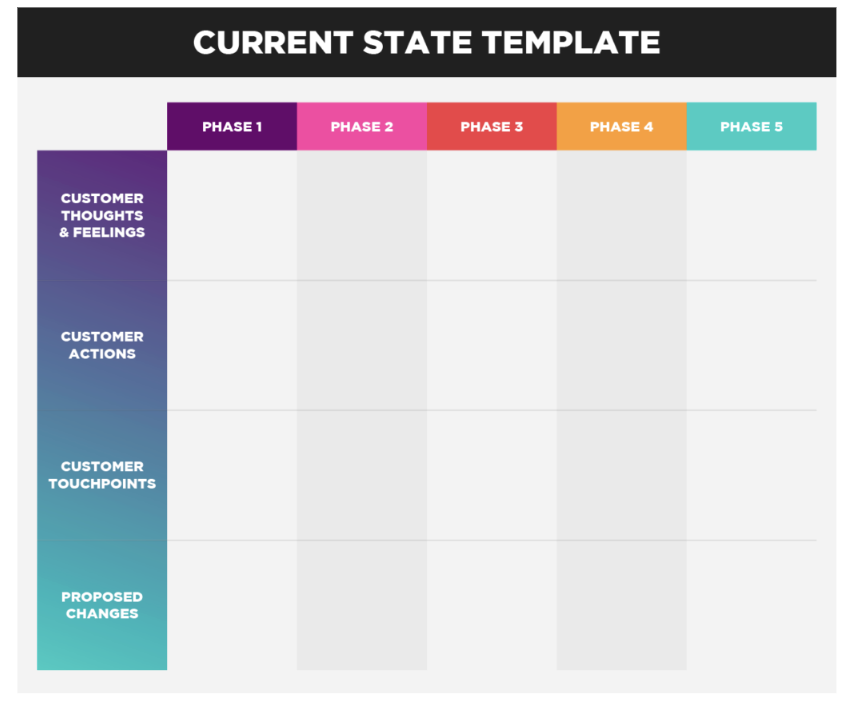 Step #3: Set goals for customer service
A customer support strategy typically begins with setting SMART customer service goals. Specific, Measurable, Achievable, Relevant, and Time-bound (SMART) goals keep you on track as to whether you can achieve your objectives within a given timeframe.
Setting SMART goals lets you identify bottlenecks and tweak your processes to perform better. You start by defining specific goals instead of vague aspirations. Each goal focuses on one area at a time.
Then, make your goals challenging enough that you can keep growing but achievable with work and targeted effort. These objectives should directly impact your business's bottom line, too.
Some good customer service goals include increasing customer retention, lifetime value, and customer satisfaction. But these big-picture goals result in action when broken down into specific areas. Define them with numbers and deadlines, for example:
Improve service level to 90% by Q3
Increase customer reviews by 25% by year-end
Increase employee engagement by 50% by Q4, etc.
See Also: Contact Center Management: 6 Milestones To Work Towards
Step #4: Identify customer service KPIs to monitor
With your goals in place, define key performance indicators (KPIs) to track and improve your performance and take specific action. KPIs help benchmark how your customer service performs.
Some customer service KPIs you'll want to choose from include:
Customer satisfaction score (CSAT): Measures customer satisfaction across all touchpoints, typically through a post-interaction survey where customers rate their experience on a scale. CSAT provides valuable feedback on how well you meet customer expectations and identifies room for improvement.
Net promoter score (NPS): Measures customer loyalty and the likelihood that your customers will recommend you to friends and family on a scale of 0 to 10. It's a good metric to analyze customer sentiment and see the impact of referrals.
Customer effort score (CES): Another scale-based service metric that measures how much effort was put into using your product or service or how easy it was for customers to resolve an issue with your service reps.
Don't look at these KPIs in a vacuum but alongside different business metrics. For example, you improve your NPS but see customer lifetime value worsening. Figure out the correlation between the two.
Step #5: Build a driven customer service team
It's time to identify the right people working on your goals and KPIs. Successful customer support teams don't just drive these goals but are also customer care champions.
In other words, they're committed to the highest customer service standards. They regularly share their insights and communicate the value of quality customer service across the board.
Here are some soft skills to look out for when building your customer service team:
Internal motivation: Are your reps driven to do great work beyond money and status?
Self-awareness: Do they recognize their impulses, judgment, and moods? Their impact on others?
Positive attitude: Do they display friendliness, enthusiasm around challenging tasks, and focus on teamwork?
Adaptability: Are they willing to learn new processes and technologies?
Empathy and social skills: Do they genuinely care about others? Can they read social cues to identify needs and concerns as they arise?
All customer service reps should possess the above skills to succeed. However, some may need a different set of soft skills than others.
For example, reps in direct contact with your customers should be great listeners, negotiators, and critical thinkers. They should adapt quickly and solve problems easily. Customer support managers should be more proficient in mentoring, project management, conflict resolution, and supervision. They should also efficiently provide feedback and inspire their team regularly.
List all the skills you want for each customer support role. Don't forget to label all listed skills as "must have" or "good to have" and include hard and soft skills.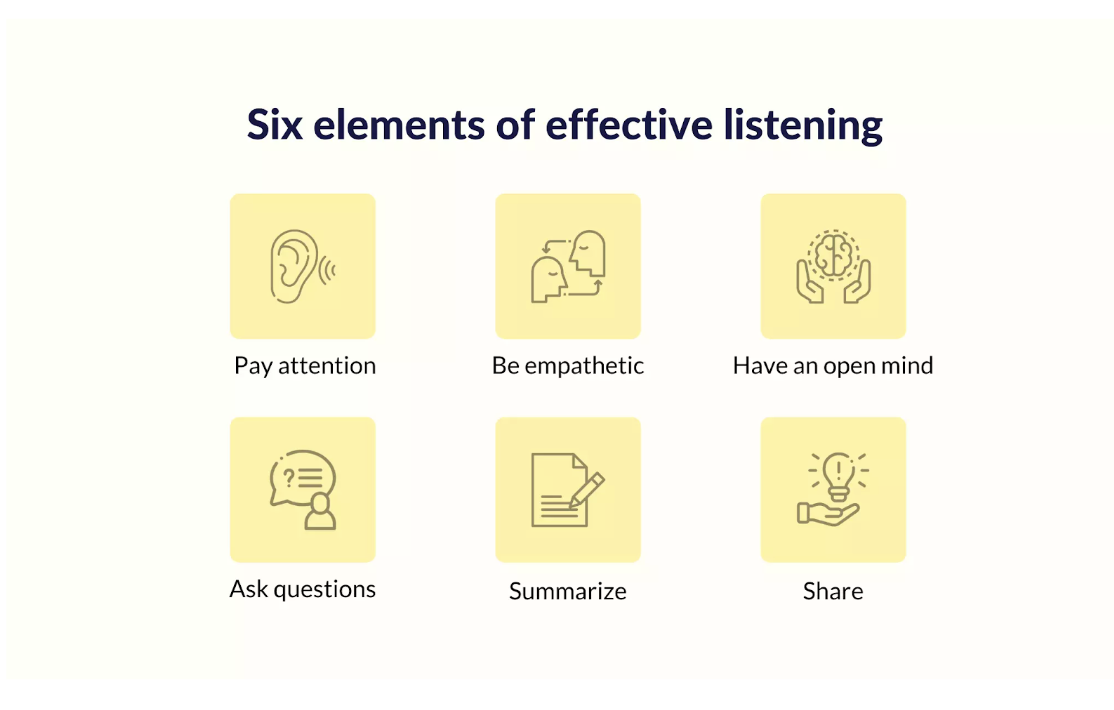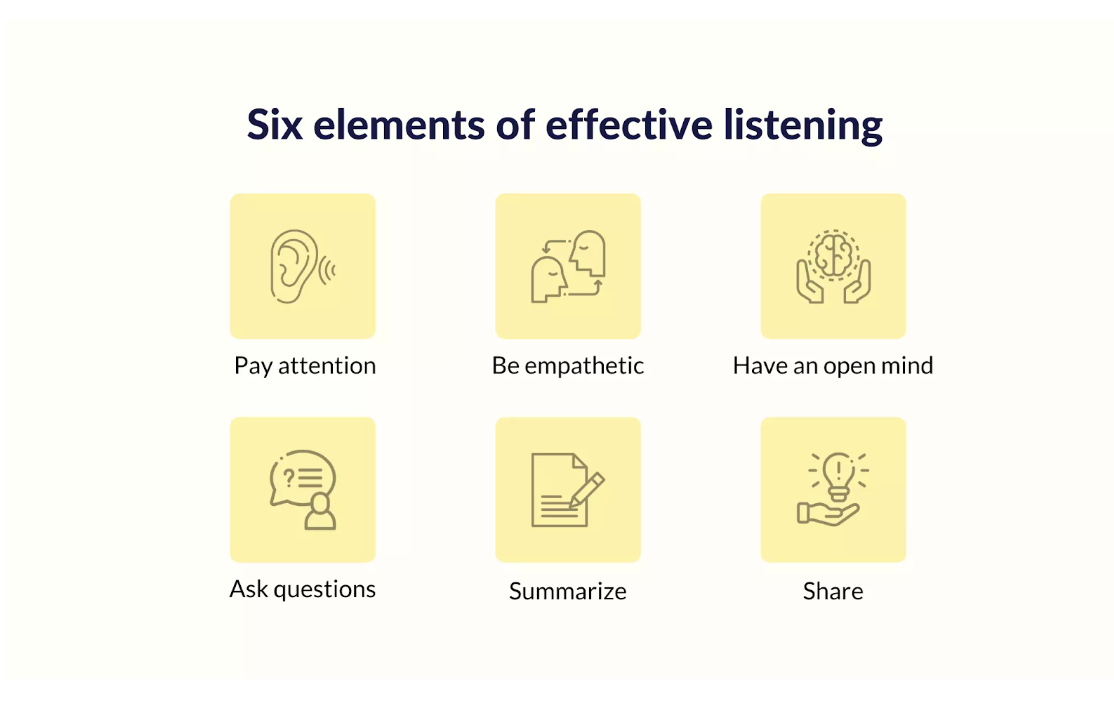 Step #6: Build a powerful customer service toolkit
Your reps must think quickly, make decisions on the fly, and coordinate multiple channels and conversations at once. More than 75% of customers prefer a consistent experience, regardless of the channels they use to engage with a company (social media, in person, by phone, etc.). Using the right tools and building a robust customer service toolkit is a given in today's omnichannel environment.
Customers use multiple channels to communicate, and so should you. However, it's inefficient to monitor each channel individually. A Voice over Internet Protocol (VoIP) phone system or unified communication as a service (UCaaS) tool can help you efficiently manage all customer interactions from a single platform.
You get live chat, email, and phone support – all in one place, so your support agents don't have to switch between tools all day.
The video below shows how Phat Rides used Nextiva to uphold its customer service strategy and a part of why they're so successful. It's a great example of using unified communications to power up your customer service teams.
A self-service chatbot enabling customers to find answers independently is another feature to try. Simply plug it with a knowledge base catering to common customer service queries and automate part of the customer service process.
Another tool that's nice to have is service CRM software. Choosing a CRM that integrates with your phone system and customer service tools consolidates customer data for anyone to access, especially new customer service team members and backfills.
Step #7: Give your customer service representatives power
Empowered reps respond more promptly to customer issues and offer champion-level customer experience. They're 18.3 times more likely to "generally exceed" customer satisfaction goals.
Why?
Because they make decisions independently, they don't have to jump over approval hurdles to assist a customer.
Empowering support teams isn't a herculean task businesses often think, and Ritz-Carlton proved it.
Here's an example of a customer service strategy in action.
Ritz-Carlton hotels have one of the most outstanding employee empowerment policies. They allow their employees to spend up to $2,000 to solve customer issues. The spend could be in the form of discounts, refunds, or bonuses and rewards. Reps don't need to ask for a manager or wait for a green light. Customers usually get an immediate solution every time.
However, $2,000 per incident can sound extreme for small businesses. Ritz-Carlton calculated this number based on a customer lifetime value of $250,000. Because every company's CLT is different, so is the flexibility they can offer their support teams.
A good practice is not to aim for the sky but to find firm ground. You can offer your support teams options as simple as refund flexibility or ownership. Let them handle the refund and return process without waiting for approvals.
This will speed up resolution time, establish accountability, and prevent customers from moving their business elsewhere. It'll also generate positive word of mouth and save managers and senior staff time.
Step #8: Create a consistent feedback loop
It's easy to launch or update your customer service strategy and call it a day. It's more rewarding to stay in touch with your customers, continually take their feedback, and improve your strategy and processes.
Listen to your customers with an open heart and an unbiased mind. Their journey doesn't end with the purchase but continues beyond.


Simultaneously, take feedback and suggestions from your customer service agents. They work with customers daily and know their problems and needs best.
Besides customer surveys, polls, and focus groups, review websites and social media platforms are a great way to gather online feedback. They simplify monitoring negative, positive, or even neutral feedback. You get a more accurate picture of what's working and not for your customers and what could be made better.
Almost 64% of Twitter users would rather tweet about a brand than call them. Imagine a large chunk of your customers using Twitter to raise concerns, send direct messages, applaud, or complain about your brand. You wouldn't want to miss out on such important conversations.
Here's a cool example illustrating how customers use social media to share feedback.
Tara shares her positive feedback on Culver's fries, and Culver's complements her experience with a thank you note and prompt response. Something interesting to keep an eye on and try, right?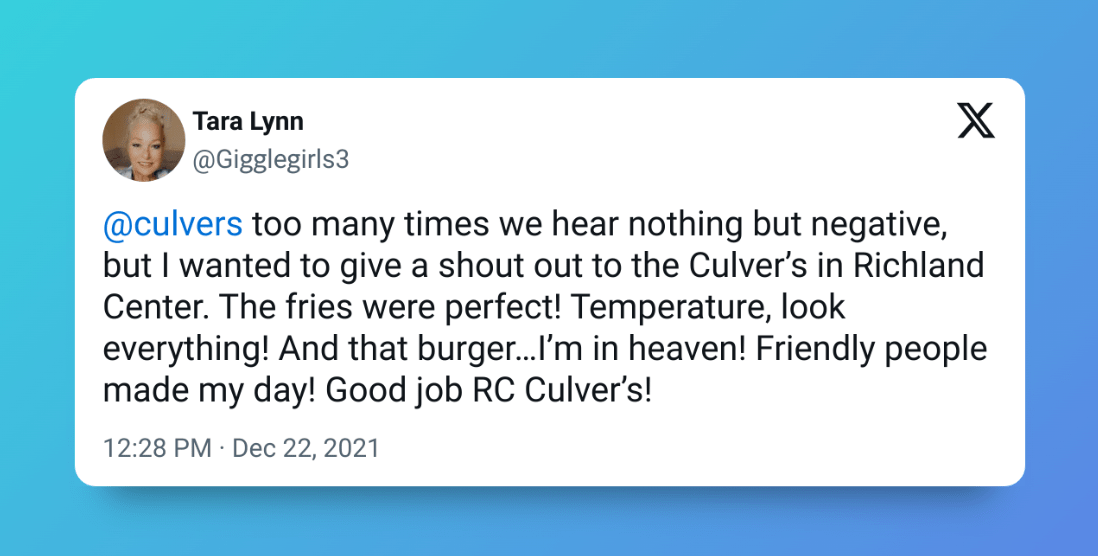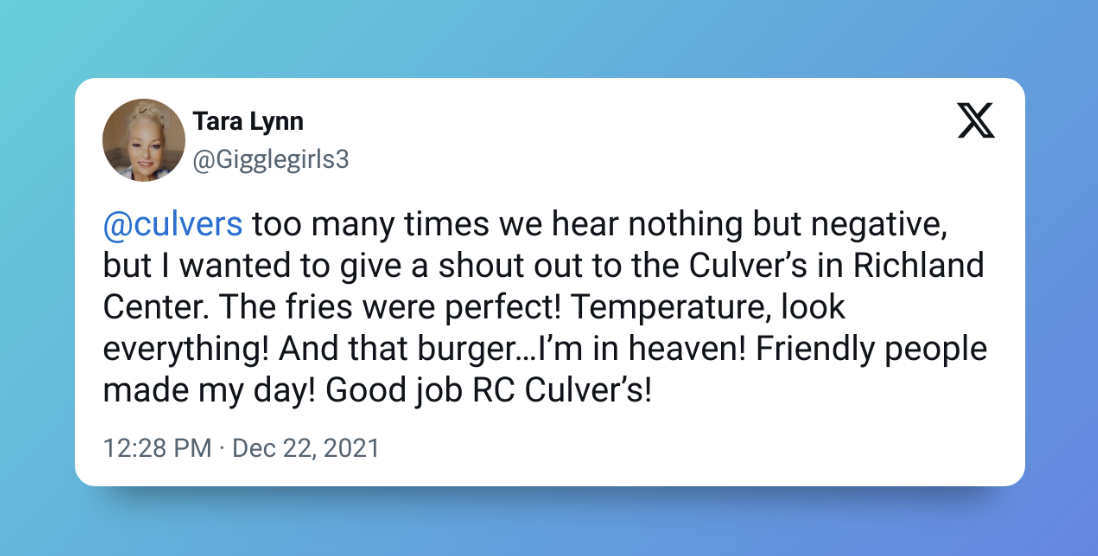 So, How Do You Offer the Best Customer Service Experience?
No one-size-fits-all customer service strategy works for everyone or delivers extraordinary customer service.
There are many ways to bump up the customer service process and have your customer's back.
Make the customer experience a core value for your organization
Map out the full customer journey to level up every touchpoint.
Set meaningful goals and KPIs for your customer service team.
Optimize your customer service tools to fully understand and act on customer needs.
Hire the right people and give them the tools and authority to serve your customers well.
Collect feedback continuously and act on it promptly so no conversation is lost.
Think of a customer service strategy as a guided meditation that helps you slowly build the core muscles to keep your customers conscious and calm.
And just like that, customer service is no longer a burden or an afterthought. Instead, it becomes the fuel to drive a loyal customer base and the bedrock to grow your business.
Here's a quick look at how simple it is to delight customers every time they interact with you via apps specifically built for customer service – like Nextiva.