Short on time? Skip right to the top customer service trends below!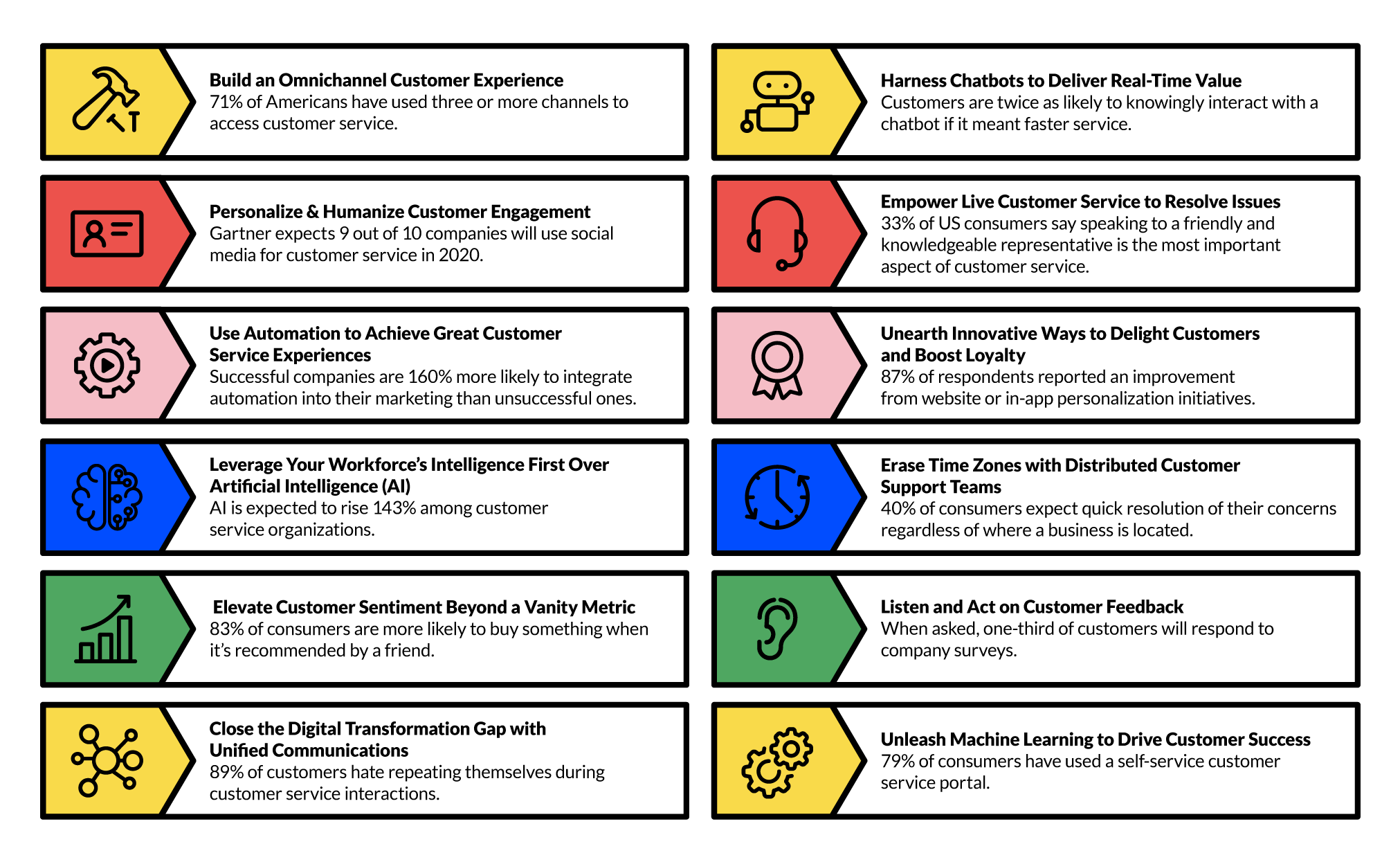 Customers will no longer tolerate poor service.
After all, all a customer has to do is run a quick Google search and they'll find ten other companies willing to provide the same value you do. Plus, reviews influence product purchases now more than ever.
Superior customer service is not limited to industry leaders like Zappos, Amazon, or USAA. Businesses today can deliver a remarkable customer experience to boost revenue, retention, and brand awareness.
In 2020, customers expect a seamless experience. From the moment they discover your brand to getting help, customers expect companies to be responsive. In 2020, businesses can leverage modern CRM platforms to give their customers the best possible experience.
These trends help you transform your customer experience. By applying these trends, you will increase customer loyalty, lower acquisition costs, and maximize your team's resources.

Top Customer Service Trends to Watch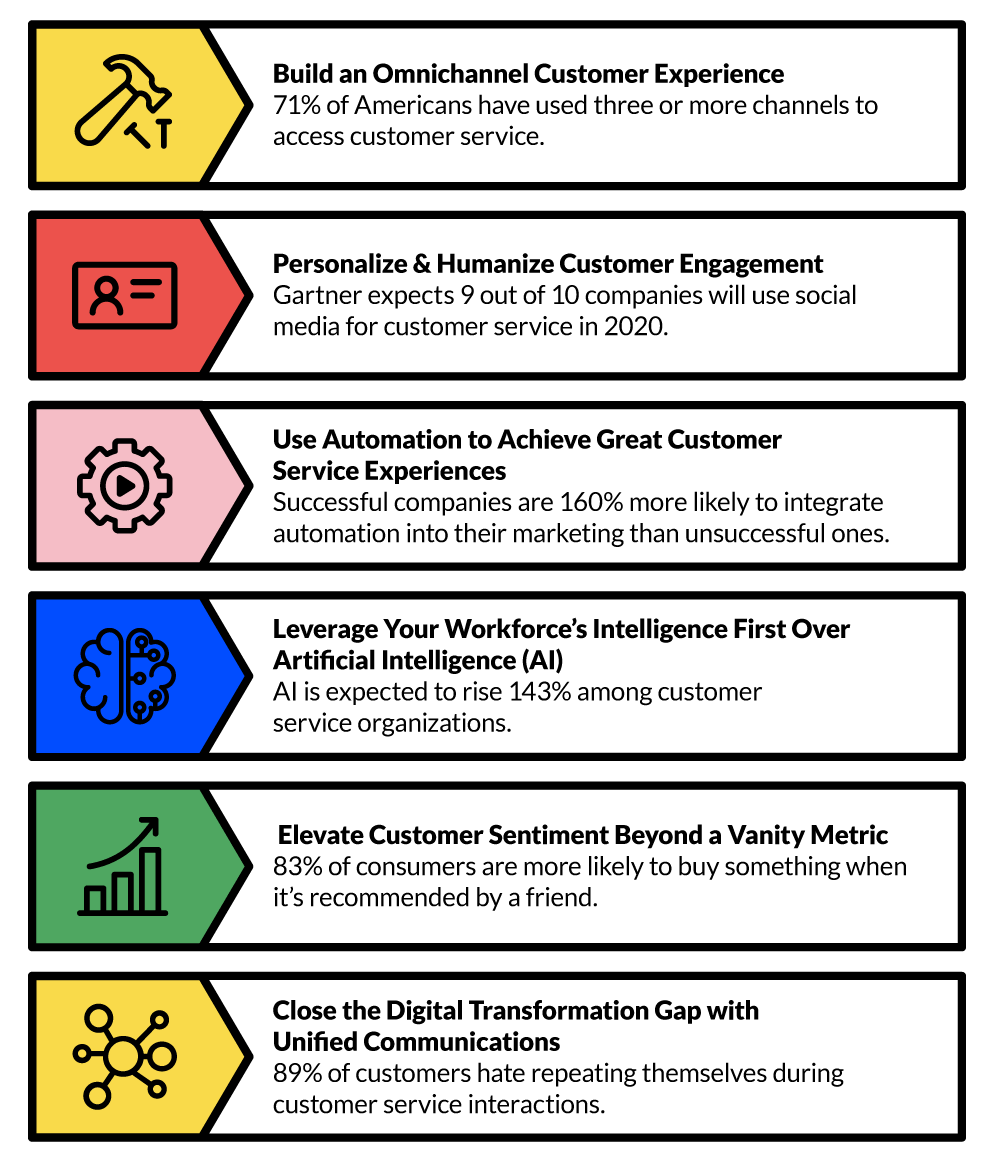 1) Build an Omnichannel Customer Experience
An omnichannel approach provides a first-class experience to all customers no matter how they interact with your business.
This strategy puts the customer and their experience at the center of every interaction. The customer should experience seamless service online, on the phone, or in the store. It's why we listed omnichannel in our top five customer service trends in the video below:
Omnichannel approaches go beyond a simple multichannel approach that merely provides access to various channels. Without a way to unify the channels, you can end up with reps online that don't know what the customer purchased yesterday. Everyone must be on the same page.
To do that, you need technology that empowers every customer support agent access to the same view of the customer journey. That's why a single robust CRM is vital to a seamless customer experience.
Related: Omnichannel Contact Center: Core Features (+5 Insider Tips)
2) Harness Chatbots to Deliver Real-Time Value
Chatbots give you a huge opportunity to wow people in the moment. Your customer service queue could be 25 deep but that chatbot is there to provide customer care for everyone right away.
Be selective about where you employ chatbots. Chatbots make great information delivery systems. They're awesome at scheduling. But they can't answer high-level questions. At least not yet!
Customer trust is easy to lose, so don't let your chatbot get in the way. A clumsy chatbot can turn off a customer quickly. Let chatbots be helpful and let your customer service team serve. And definitely let your sales team sell.
The spirit behind this customer service trend is to be available for your customers whenever they need you online.
3) Personalize & Humanize Customer Engagement
Every customer interaction is an opportunity to impress. Make sure you're giving your all.
Engagement certainly happens when customers contact support and open a ticket. What about other interactions such as social media? You need to jump on those, too. When a customer tags your company on Instagram, reply to them.
What about when a customer complains through social media? Top customer service experts consider this an opportunity.
Reach out to customers directly on the platform. Answer their questions. Offer a solution. Make it right for all of their audience to see. And if you messed up, own it and focus on the correct solution.
Resist the customer service trend to automate your customer outreach on social media. Do it from a member of your team. Preferably, a senior member of your customer service team. Automated social media outreach is clunky at best and embarrassing at worst.
Social media adoption grew in 2018 and remained strong in 2019 with no signs of slowing down in 2020. Businesses that ignore social media channels do so at their own risk.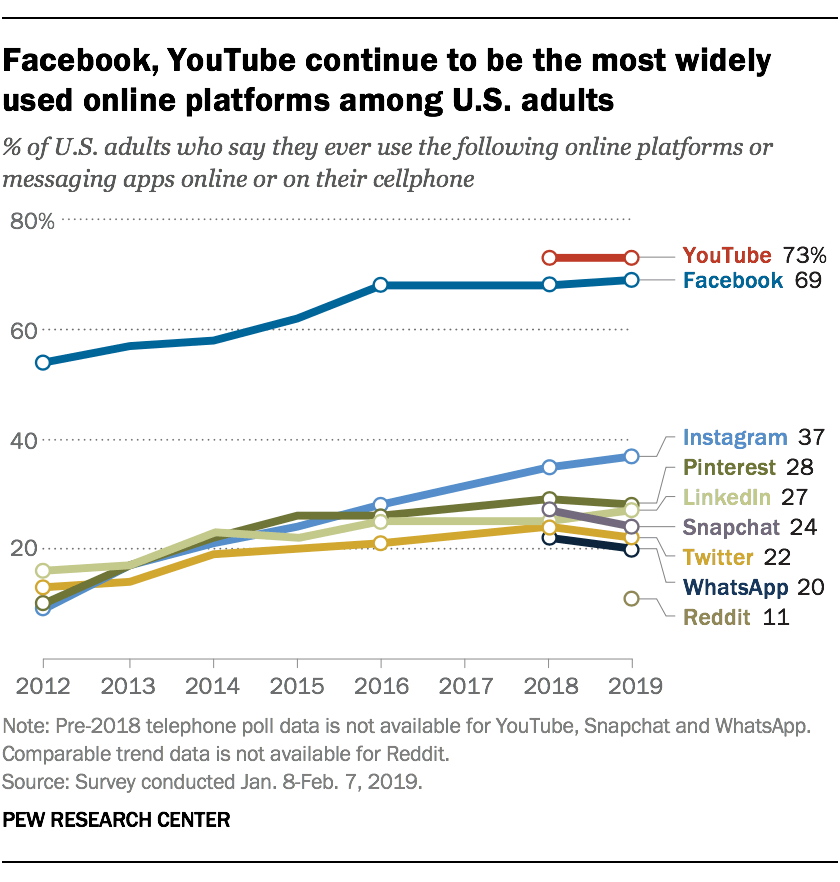 4) Empower Live Customer Service to Resolve Issues
It's great when you can reach a live agent quickly and easily. That's why so many businesses spend millions on call center features and communications systems. However, if the agent can't solve the customer's problem, it doesn't matter how fast they answer.
The inability to fix the customer's problem tops the list of customer service frustrations. And your agents agree. Smart businesses give their agents the right tools to fix problems.
On a basic level, you must adequately train your staff. They must know the product inside and out, whether it's organic socks or a music app. Then they must have information at their fingertips. Knowledgeable customer service isn't a trend; it's a staple of doing it right.
Finally, they must be empowered to help the customer. According to HBR, "Employees at every level need to understand the customer service strategy. They also need simple problem-solving frameworks that are used throughout the organization to promote cross-hierarchical dialogue."
Related: 5 Proven Digital Marketing Tips You Need to Know in 2020
5) Use Automation to Deliver Great Customer Experiences
Customer service automation can truly transform your support game. And many companies can avoid human errors by allowing automation to facilitate great customer experiences.
Automation can do things like gather data, send tracking numbers, and manage email sequences in their simplest form. Consumers have grown used to that by now. It's time to level up.
Consider automation to push NPS outreach to detractors. That automated survey that you send at the end of your trial period? Why not push that automation one step further and give detractors prioritized service so they can experience a smoother customer service experience.
Data is your friend here. Customer experience marketing helps you identify who is happy, willing to leave reviews or even forecast future customer actions. Use this data to help the right people at the right time.
Don't be creepy. We all love personalization, but we don't want to feel like that chatbot is listening to our every word! By being helpful, you are living up to your customer's expectations.
6) Unearth Innovative Ways to Boost Loyalty
Never underestimate the value of wowing your customers. Don't forget that loyalty is the key to today's marketplace. Your customers have so many options at so many price points. You need to stand out with your unique brand of awesome.
Earlier customer service trends once urged social sign-on technology. Nowadays, consumers are much more cognizant of their privacy.
Instead, offer customers solutions to drive long-term growth and retention. Consider deploying 24-36-month commitments for your solutions if it makes sense.
Identify profitable segments to drive loyalty and retention. You should be collecting data to show you who your best customers are. The next step is to figure out what you can do to make them even better customers.
Awesome varies by industry, so take some time to identify yours. Consider using different channels for customer interaction: phone, chat, text, video, and email can all be part of an omnichannel approach.
According to Mary Meeker's Internet Trends 2019, the market is ripe with the opportunity to deliver a superior customer experience.
"Context-rich data can help businesses provide consumers with increasingly personalized products & services that can often be obtained at lower prices & delivered more efficiently.
This, in turn, can drive higher customer satisfaction. Better data-driven tools can improve the ability of consumers to communicate directly & indirectly with businesses."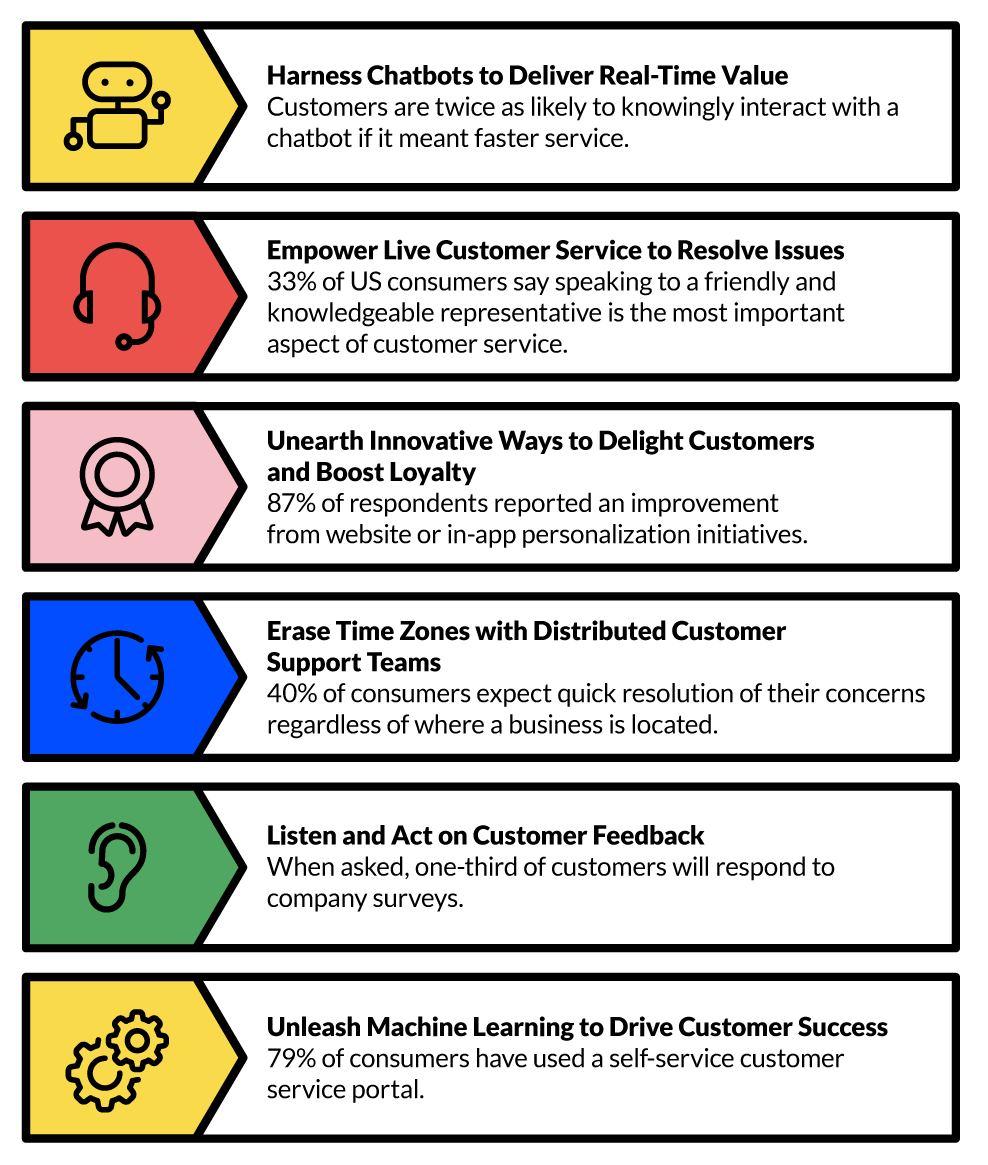 Get creative by listening to your customers however they tell you — customer service emails, surveys, recorded phone calls, or in-person — and put those plans into action.

7) Leverage Your Intelligence Over Artificial Intelligence (AI)
Artificial intelligence is quite new, even in 2020. It can't be your only solution to rising customer service needs. However, the adoption of AI solutions is expected to rise 143% among service organizations.
However, AI doesn't come without problems.
Quality AI is built on quality, actionable data. So, if your company doesn't have that data, your AI will feel those limits. As humans, we have to figure out what data to provide. After all, the machine won't learn if the data is wrong.
Also, although the possibilities of AI are impressive, it might not be the right choice for every business right now. You need to know your 'why' behind your customer service strategy.
You must nail human intelligence first before scaling it with bots. Create compelling, customer-centric content first. Give your AI something to work with. Get ahead of this customer service trend by using a mature CRM product with extensive capabilities.
Wow your customers and slash your expenses.
Conversational AI takes your IVR to the next level.
8) Erase Time Zones with Distributed Customer Support Teams
In today's world, there's no such thing as "after hours." Your customers can be anywhere at any time. And in today's on-demand world, they're used to getting what they want right now.
Of course, we all know how hard it can be to staff customer service around the clock. The best talent probably doesn't want to be answering questions at three in the morning. Absolve time zones by establishing a remote workforce at the contact center everywhere and equip them with tools to serve.
Your remote teams will need to see what your local teams see. They'll need technology that keeps them in the loop. Then top-tier support is always available and doesn't put a strain on your team. Of all the customer service trends, being available to your customers is timeless.
Beyond lower operational costs, you also insulate your company from common business threats that impair your ability to serve customers.
9) Elevate Customer Sentiment Beyond a Vanity Metric
Net Promoter Scores (NPS) and customer feedback reveal vital insights into the health of your business. Most companies are looking for a high NPS, of course. These scores indicate your levels of a customer's willingness to recommend, but that might not be the complete picture. In a world where 83% of consumers are more likely to buy something when it's recommended by a friend, customer loyalty is good news.
It's common for some companies to compare their NPS to other firms within their industry. While this posturing feels good, it doesn't lend itself to anything meaningful for your employees.
It's what you do with NPS that matters.
That's why so many businesses leverage technology to collect customer sentiment data. Use customer sentiment in every customer interaction and coordinate laser-focused outreach campaigns. Gather data wherever possible to give yourself every advantage for success.
From a tactical standpoint, you should consider targeting your outreach toward the middle of your NPS cohorts to get customers to become passionate brand supporters.
Once a customer is a detractor, it's almost a lost-cause to resolve their concerns well enough to recommend your business to others.
Related: 23+ Call Center Best Practices to Wow Customers in 2020
10) Listen & Act on Customer Feedback
Let's be honest. We all love a good five-star review. Successful companies go beyond reading their reviews to making use of them.
If you're already using surveys and other methods to gather customer service data, you can do even more. One easy tactic is to add a space for customers to explain why they gave you a particular score. Then detractors can tell you why they are dissatisfied. You can use that knowledge to fix problems and offer solutions.
For example, maybe a customer is dissatisfied because the product didn't live up to its value proposition. You might consider making your marketing more clear. After all, sometimes a bad customer is just the wrong client. Or, maybe they were confused about something and you can create resources to better educate them.
By mining your customer reviews for trends and insights, you will uncover simple action items that can delight your customers. Often the simpler solution is the better solution in these cases. Don't get caught up on the details, focus on the impactful 70% of the trending customer ailments.
You can also leverage automation to close the loop, providing customers precisely what they need right in the moment.
11) Close the Digital Transformation Gap with Unified Communications
Our business ecosystems are increasingly complex. It's easy for communication to fall by the wayside with so many systems and layers of an organization. So business communication is more important than ever.
Poor communication can absolutely destroy customer service interactions. Your teams cannot operate in silos. Your staff needs to know what's happening to your customers across many channels and locations.
In a single customer service interaction, an agent may need to see sales data, complaint history, order history, as well as onboarding status. And all of that information needs to be visible in one place at one time to agents at call centers or on the floor of your store.
Team communication is critical. Instant office communication and platforms, powerful CRMs, and other tools can put you ahead of competitors.
Digital transformation isn't a buzzword. Tomorrow's buyers are all digital. Does your customer service match this emerging trend?
Related: 27+ UCaaS Features That Benefit Your Business
12) Unleash Machine Learning to Drive Customer Success
With the right technology, you can track every move a customer makes. And you can turn that information into valuable insights to help your customers succeed more often and more quickly.
For example, your customer has a question about your SaaS, so they access self-service support and search your knowledge base. The next steps are critical. Do they find what they're looking for? If they find it, does it solve their problem? If not, why not?
A robust CRM will improve customer success by collecting all of that data. You'll learn what content drives customers to stay loyal. Use the data to drive content creation. You can even take it one step further and put that resource right in front of them.
Machine learning can be intimidating by itself. However, if you reverse-engineer your most successful customers, you'll be halfway there to completing this top customer service trend. Accomplish this through phone interviews, account research, and in-depth analysis of their social media platforms.
This data can also accelerate product development to improve the customer experience. Sometimes the best customer service is effortless!
Related: What is Conversational AI? Get Started with Fundamentals

The 2020 Outlook on Customer Service Trends
We have so many self-service options around us. We have instant gratification everywhere we go. Brands that serve customers via high-touch services and do it at scale will win more share of wallet.
In a time when service and product quality diminishes at scale, there's so much opportunity to do better. Not just for your customers, but for yourself.
Technology is not an obstacle. It's implementation. Now is the perfect time to act on these customer service trends and reap the rewards.
How will you implement these 2020 customer service trends to position your customers for long-term success?
Read the 50 best customer service articles of all time.
You'll be glad you found them.