Have you ever wondered if the benefits of telecommuting are worth the effort of switching to this style of work?
Essentially, telecommuting is allowing your full-time or part-time employees to work from home, or anywhere else they prefer, instead of a traditional office environment.
More than 38% of companies already have a remote office phone system setup, as we learned in our business communication report.
Using video conferencing software and project management tools, you can run your large or small business from afar, and without having your team in-house.
For many business owners, this out of sight out of mind style of work conjures up concerns like, "How will I know if the work is actually getting done? And what does it take technically-speaking to work remotely?"
While those questions are certainly valid, you'll soon see that these issues can be remedied without much effort or added expense.
We'll be taking a deep dive into all the telecommuting advantages and disadvantages in today's guide. And you'll be able to decide whether this work style is right for your business.
7 advantages of telecommuting
There are plenty of perks when it comes to switching to telecommuting. And the benefits extend to both employees and employers alike, so there's something in it for everyone.
Here are the top seven advantages of telecommuting, and why you may want to consider testing out this work style in your business:
1) Higher employee satisfaction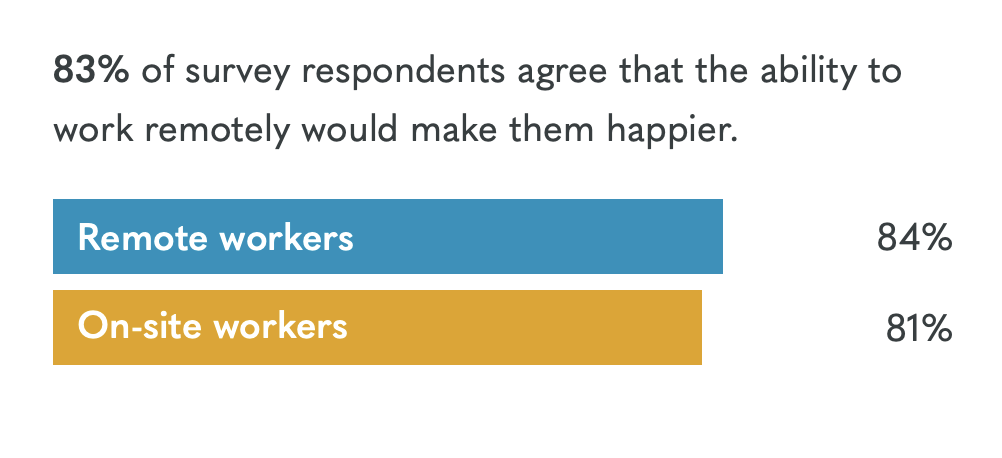 You may be surprised to learn that 83% of people surveyed reported that being able to work remotely makes them happier.
And that's because telecommuting can increase employee job satisfaction for a few different reasons.
First, since there's no one distracting employees from getting their jobs done, they have a better chance of being fully immersed and hyper-focused.
When employees go "all-in" with work, they're much more invested in how it turns out. As a result, they're often more proud of their accomplishment once it's all done.
There's nothing more satisfying than a job well done, and that's precisely what telecommuting can help employees achieve.
And to no surprise, with higher employee satisfaction comes higher employee retention. Telecommuters can enjoy more flexible work arrangements, which makes them stick around longer.
2) Better work-life balance
Since telecommuting employees can focus on the task at hand instead of minor distractions in an office setting, they're able to accomplish more in less time.
Rather than being pulled in a few directions, they can spend their workday in focused blocks of time, which may help them get done sooner.
This leaves extra time in their day to spend on tasks in their personal life, something they may not have had time to do otherwise.
All this extra time on their hands makes for a better work-life balance, which creates happier and more productive employees.
3) Increased flexibility
Flexible work hours are the biggest benefit of telecommuting jobs, according to remote workers surveyed by Buffer.
Employees get to create a work schedule that's most conducive to their style of productivity.
So if some of your team prefers to sleep in and work later in the day, they can. And if they like getting up before the sun to knock out tasks, they may be done with their day before most night owls even wake up.
This schedule control may be why teleworkers are 77% more productive and 52% less likely to take time off.
A flexible schedule also makes it easier to weave in appointments, school drop-offs and pick-ups, and other personal tasks that usually get in the way of a typical 9 to 5 job.
Rather than missing time from work, employees can get their job done as needed, and whenever it's most convenient.
4) Reduced operational costs
Telecommuting programs keep more employees out of the office. So you may be able to downsize to a smaller office space.
This is excellent news if your corporate headquarters is located in an expensive area, and it also works well if you're not.
As your team grows, you won't have to worry about needing to upgrade your office square footage. And you won't need to spend so much stocking office supplies.
Instead, you can reinvest this money into your business.
Since most office leases increase on a regular basis, your cost savings will only continue to grow over time. So say goodbye to pricey office real estate and hello to more money in your business account.
5) Reduced expenses for employees
Telecommuting cost savings aren't just good news for you; your employees benefit immensely too.
Data shows the average employee saves up to $4,000 per year just by teleworking part-time.
Teleworkers save money on gas and public transportation when they're not commuting to an office. Work-at-home jobs also help employees save money on lunches, work attire, and child care.
Plus, if your office is located in an expensive locale, your employees can move outside the area and pay less in real estate.
Fewer expenses also mean their salary stretches further without needing higher compensation, which is just another perk.
6) Easier to focus
As mentioned earlier, without having employees around to distract, your team can better focus on the tasks at hand.
So instead of catching up on this week's latest TV shows at the water cooler, they can stay put at their desks, knocking out their tasks for the day.
Without these distractions, they're also more likely to do a better job since all of their attention is where it should be.
You also don't have to worry about the domino distraction effect where one employee distracts another, who then pulls in a few more.
If everyone is busy telecommuting, no one has a chance to distract anyone.
Read more: Remote Workforce: Why It Matters & How To Manage One in 2020
7) There's zero commuting necessary
Without commuting in stressful rush-hour traffic, teleworkers bank an extra hour or two every day. Over a week, that's anywhere from five to ten additional hours.
Employees can spend these hours working or doing chores that would have normally cut into their workday. Either way, you and your employees win.
Plus, not commuting lets teleworkers start working right away. All they have to do is get ready, make a fresh coffee, and get to their task list.
Additionally, removing your workforce from the road means your company will shrink its carbon footprint and get to boast a greener, more environmentally image.
Now, it may seem like the benefits of telecommuting are worth the immediate switch from a traditional office environment.
But as with most things, there are a few negative impacts worth mentioning and considering.
Telecommuting is easier than you think.
See why remote teams ? Nextiva.
7 disadvantages of telecommuting
1) You need the right technology to be effective
In a traditional office setting, you may be able to communicate with your team by merely walking over to their desks.
But teleworking changes everything.
You'll have to invest in a virtual phone service to make sure everyone on your team is on the same page and keeping you in the loop.
Managing projects is also slightly different than writing on your office's whiteboard.
Similar to having communication tools, you'll also need to invest in project management software to keep your team organized and on track, which is another expense to consider.
2) There's a different set of distractions
While your team may not be distracted by other employees, there may be a whole new set of distractions near their home office.
From TVs and social media to noisy roommates and pets who demand a constant stream of attention, the distractions for telecommuting employees are definitely still there, albeit different.
Plus, with no one in management lurking over their shoulder, it could be a bit harder to say no when a Playstation controller or this week's latest TV episode starts calling their name.

3) Security concerns
Another big issue to consider is where your team actually spends their time working.
Are they at a home office on their personal secured WiFi? Or are they working on a shared and insecure connection at a coffee shop or library?
While these may not seem like a big deal, they can pose a security concern if you're not careful.
If they happen to be sitting next to someone who knows how to hack into their computer via a shared WiFi connection, they may unknowingly put your company and its intel at risk. This is the last thing you want.
4) Lack of face-to-face communication
Telecommuting is also notorious for making people feel isolated and as if they're not part of the team.
That lack of face-to-face communication can make it harder for your team to feel like one cohesive unit and more like they're working in separate silos.
For some employees, less facetime may not be a problem.
But for those on your team who lean more extroverted, this isolation may slowly chisel away at their personality and could become quite a challenge.
Not seeing each other face-to-face also takes the human connection and chance to bond out of the equation, which you don't want when it comes to employee morale.
5) Risk of favoritism
Another challenge that comes with telecommuting is figuring out how to give each of your employees enough attention. You must also be aware of potentially favoring the in-house employees you see and brushing off those who aren't there.
In-person kudos are usually much easier since you can see each team member and who's left to congratulate.
But behind a screen, it may be harder to remember who received your praises recently and who didn't.
If you're not careful, you may accidentally come across as favoring some employees over others, which, once again, is the opposite of what you want here.
6) Potential of feeling disconnected
If your team lacks human interaction, they may start to feel like they're working alone.
After a while, your employees may not see the point of the work they're doing. They may not feel as if they're truly contributing to the greater good of your company.
Without fostering a team environment, it's almost as if everyone works for their own individual company, which can be demotivating for some people.
Employees may also feel disconnected if all they're doing is knocking out tasks and nothing else.
This can quickly feel robotic, drain energy, and may leave people feeling like they're on a hamster wheel or stuck in the movie Groundhog Day.
Eventually, this will lead to an unproductive and unmotivated team.
7) Difficult to supervise without the right protocols
As a team leader, you may also find it challenging to know what your employees are up to, especially since you can't physically see them or stop by their desks.
This "out of sight, out of mind" mentality might make it seem like you'll have to do even more work micromanaging just to figure out what's going on and to keep your team on schedule.
If you don't have the right check-in procedures in place, it will be hard to know the status of your projects.
But that doesn't mean it's impossible.
The good news is that all these disadvantages of telecommuting can be overcome with the right plan.
7 ways to unlock telecommuting benefits
1) Adopt the right technology
Teleworking technology allows your team to stay abreast of projects and deadlines. It also helps make collaboration easier.
Choosing communication tools like a cloud phone system can ensure your team stays on track and on deadline. They also prevent communication breakdowns.
Fortunately, these programs are affordable and don't require much technical knowledge to get started, which means they're easy to implement and use. However, if you're still on the fence about this remote technology, check out our three-minute video below weighing its pros and cons:
Have these tools available, and it will feel like your team is right next to each other despite being miles apart.
2) Create clear communication channels
Within your team chat, you can and should create separate channels that are focused on a few things only.
For example, you can have one chat dedicated to client deadlines or open projects and one for general company-wide updates. Another could be reserved for non-work related banter similar to water cooler conversations.
In separating these chats, you'll ensure your most important messages aren't buried underneath a mountain of communications. So everyone knows where to go should they need help with something.
Having non-work related channels also helps foster a team-building relationship, which can help make telecommuting feel less isolating.
3) Provide visibility and oversight
Project management tools easily give everyone on the team a high-level overview of what's going on, including open projects and upcoming deadlines. It ensures that important items don't slip through the cracks.
Your entire team will see what still needs to be done and when, which is great for managing projects and staying on track.
It's also a centralized location where everyone can post their updates. Having everything in one place will help you manage a large team effectively from afar.
4) Use tools to stay organized and productive
Project management tools also help to ensure that your projects are just as organized as they would be if you were all working under one roof.
Think of them like your digital whiteboard where everyone can quickly see what's up next in the pipeline. This is also helpful for keeping your team focused and productive.
Since there are no gray areas of what needs to be done, your team can simply pick up their next task and get to work on it right away.
This is excellent for boosting productivity and ensuring that milestones are reached on time.
5) Encourage a daily routine
Despite the help these tools provide, it's still up to your team members to actually do the work and stay on track. Easier said than done, right?
To help out with this, it's a smart idea for your employees to create a daily work routine, much like what they'd do in-person at the office.
So this could mean starting with a daily check-in to see what's most urgent for the day, ending with a mid-day or evening check-in, and leaving a few hours in between for focused work.
Having a schedule like this without set times allows your team to work when it's best for them while still delivering the updates you need to stay on schedule.
6) Set frequent check-Ins
Because your team is working remotely, it can be tempting to want to check in often to see if the work is actually getting done. But doing so could become more of a distraction and a hindrance than a help.
Instead of micromanaging, give your team clear guidelines to check in at designated points in their day. As mentioned in the previous section, this could be when they start or end their day, or some point in the middle.
By designating specific check-ins, you'll have a better chance of staying in the loop without having to spend countless hours popping in their inbox.
It's also a good idea to set weekly check-ins — one at the beginning of the week and one at the end — to make sure everything is on track before a deadline is missed.
7) Solicit feedback
Check-ins are also the perfect place to touch base with your team and provide feedback or insight to help them successfully finish projects.
But this feedback shouldn't go one way.
Getting input from your team is also a vital piece of the puzzle.
This crucial intel can tell you whether they've hit a roadblock or they're experiencing a hiccup that may delay the project.
Without checking in, you may not receive this helpful information, which is why soliciting feedback is so necessary.
Spend a few extra seconds asking for their feedback, and you may be surprised by what comes up.
Try the #1 cloud PBX built for remote teams.