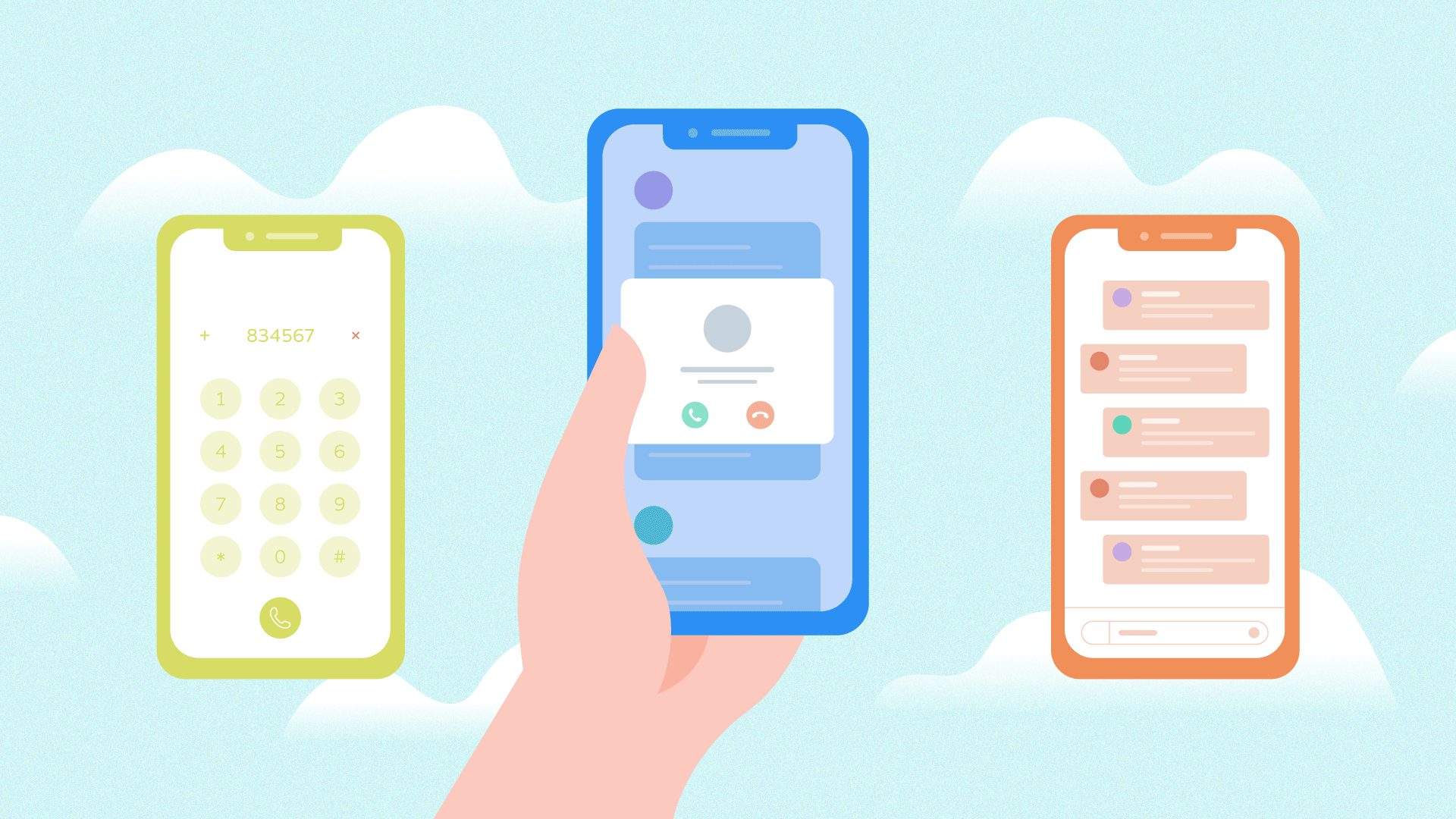 When it comes to choosing VoIP and contact center software, the market is vast. Making a choice is far from easy due to the number of vendors available.
But it's so big for a good reason. According to Cavell Group, the cloud communications market is set to grow to $23 billion by 2026.
So, where to start?
Obviously, you've landed on our blog, so our list is going to include Nextiva, as well as a bunch of great alternatives to Nextiva that stand their ground.
Nextiva is a great choice for a ton of use cases, but we appreciate there are times when other business phone solutions make sense, too.
In this post, we discuss when Nextiva is the best business phone service and introduce some Nextiva alternatives for you to consider.
Nextiva might be right for you if…
Nextiva provides a VoIP phone system, productivity app, and customer experience platform. And what's more, it brings them together through internal integrations.
Packed with all your essential features like call recording, collaboration features, and self-service, Nextiva has a one-up on competitors as you can get started in clicks rather than months.
Let's take a look at the three use cases where Nextiva's business phone system comes into its own.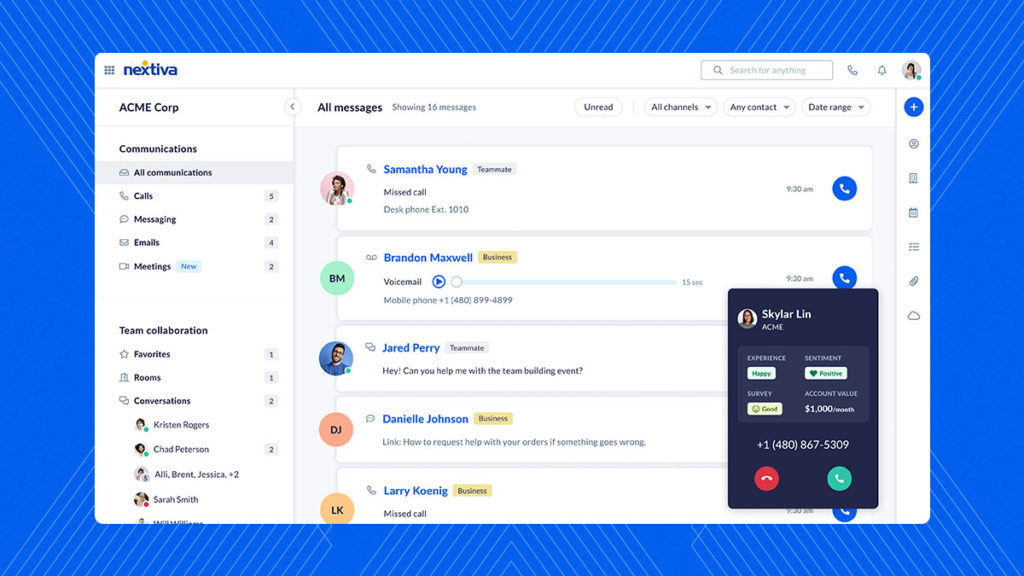 1) You're an agile team that needs to get set up quickly
There's no need to hire an external consultant and spend months planning your deployment.
If you're ready and raring to go, you can set up your phone system from Nextiva in days rather than months. The same applies to creating a new call center.
Designed for small to medium businesses that are ready to self-setup, Nextiva's quick setup model benefits from:
Drag and drop setup tools
Simple pricing and buying processes
Comprehensive support documentation
2) Integration of front and back office is crucial
What happens when your call center agents receive a call, and they need expert help?
You know, the really technical stuff that needs a product specialist or project manager.
Your current process might be to put the customer on hold, walk around the office panicking, not find anyone, and offer to call the customer back since you have no way to escalate the call.
Instead, Nextiva integrates your cloud-based phone system with your staff. With a click of a button, agents can check the presence of subject matter experts, send them a team message, and transfer the call if needed.
There are no dropped calls since everything happens from Nextiva's communications platform. There's no chance of infuriating your customer when they need help the most.
3) You need a contact center that scales with you
During peak periods, like Black Friday and Christmas, what does your current process look like?
Yes, you probably need more staff. And you need to hire them for a set period of time.
Shouldn't the same be true for the software they need to do their job?
With Nextiva, you can scale your VoIP and contact center licenses as and when you need them. That's the beauty of Contact Center as a Service (CCaaS).
Top 10 Nextiva alternatives to try in 2023
1) Five9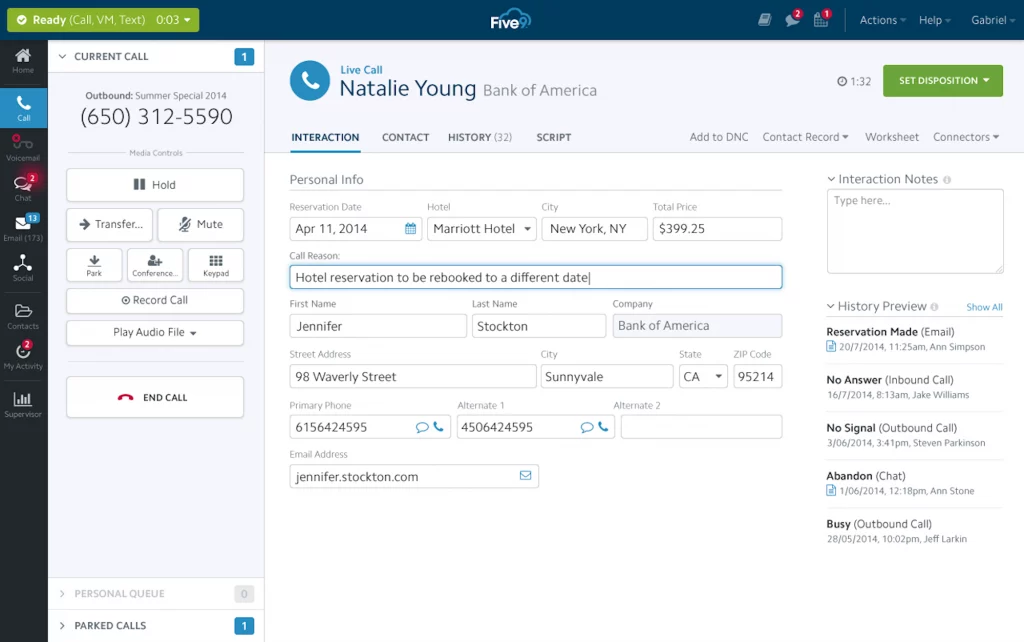 Nextiva is perfect for call center functionality like call recording, auto attendants, and analytics.
If what you need is omnichannel access across channels like email, web chat, and social media, with the potential to introduce chatbots and artificial intelligence (AI), then Five9 is a contact center vendor making strides in this area.
Five9 is an official Nextiva partner, meaning you can integrate your Nextiva phone system with your Five9 contact center and CRM software.
To find out more about blending business VoIP service with a contact center, download this whitepaper.
Pros:
Integration with Nextiva One UCaaS
Omnichannel functionality and reporting
Predictive analytics based on customer trends
Robust workflow automation capabilities
Cons:
May be overwhelming for small businesses
No proprietary phone system
Monthly Pricing:
Core: $149 per user
Premium: $169 per user
Optimum: $199 per user
Ultimate: $229 per user
2) Ooma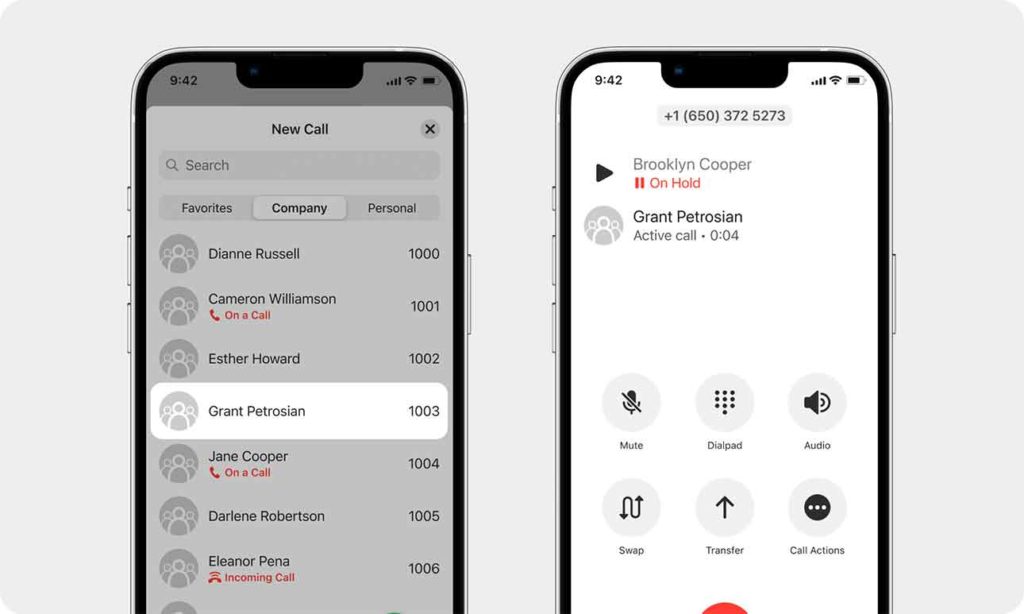 Nextiva is the perfect VoIP solution for getting started over the top of your existing internet.
If what you need is a supplier who provides both the connectivity and phone system, someone like Ooma is a solid option.
Ooma is a good alternative to Nextiva if what you're looking for is the same VoIP provider for connectivity, calls, and hardware.
Pros:
Same provider for phone calls and connectivity
Compatible with home alarms and satellite boxes
Provides both home and business communications
Cons:
No multichannel contact center option
Proprietary desk phones may be incompatible with other service providers
Monthly Pricing:
Premier: $9.99
Enhanced calling: $4.99
Enhanced voicemail: $4.99
Standard voicemail transcription: $4.99
Premium voicemail transcription: $9.99
3) 8×8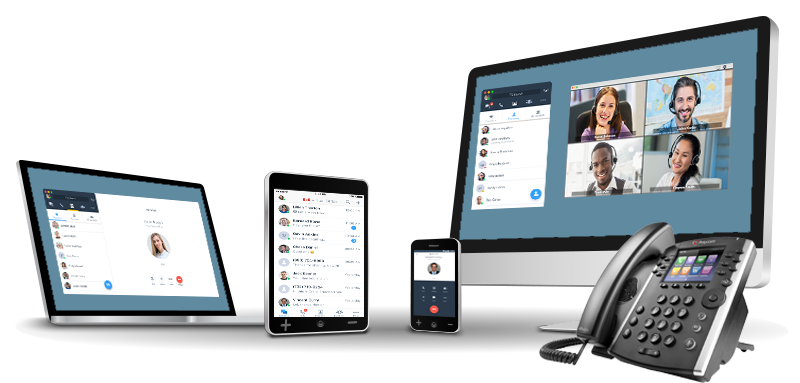 Nextiva is a scalable platform that's among the top unified communications (UCaaS) providers for businesses.
When you want a different approach, 8×8 offers a composable "experience communications as a service" option called XaaS.
8×8 is an alternative to Nextiva when you have prescriptive needs for contact center, voice, video, and chat.
Pros:
Single platform for voice, video, chat, and contact center
Integration in different apps like Salesforce and Microsoft Teams
Discount for annual billing
Cons:
Frequently changed model
Some basic features only available in higher pricing tiers
Users often mention customer support issues in reviews
Monthly Pricing:
Express: $15 per user
X2: $24 per user
X4: $44 per user
X6: 85 per user
X7: $110 per user
X8: $140 per user
4) RingCentral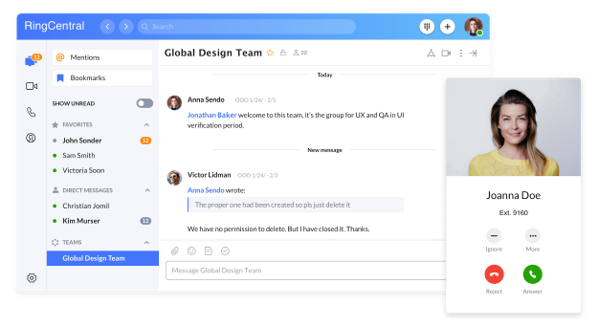 Nextiva does a great job of catering to medium-sized businesses that need both VoIP and contact center functionality when you need a new service.
But, if you have an existing on-premises Avaya or Mitel deployment, you might be looking for a tailored path to business phone service.
RingCentral is a Nextiva alternative when you have an Avaya or Mitel legacy PBX, thanks to its partnerships aimed to speed up cloud transformation for legacy PBX customers. The company's more expensive plans (premium and ultimate) also provide API access if you're coding up a telephony solution.
Pros:
SD-WAN connectivity partners
Partnerships with Avaya and Mitel
Specialist packages for verticals like healthcare and manufacturing
Cons:
Planning for contact center needs sales engagement
Frequent pricing changes make it hard to develop a business case
Essentials plan does not include virtual faxing
Monthly Pricing:
Essentials: $19.99 per user
Standard: $27.99 per user
Premium: $34.99 per user
Ultimate: $49.99 per user
Contact center: needs custom quote
5) Dialpad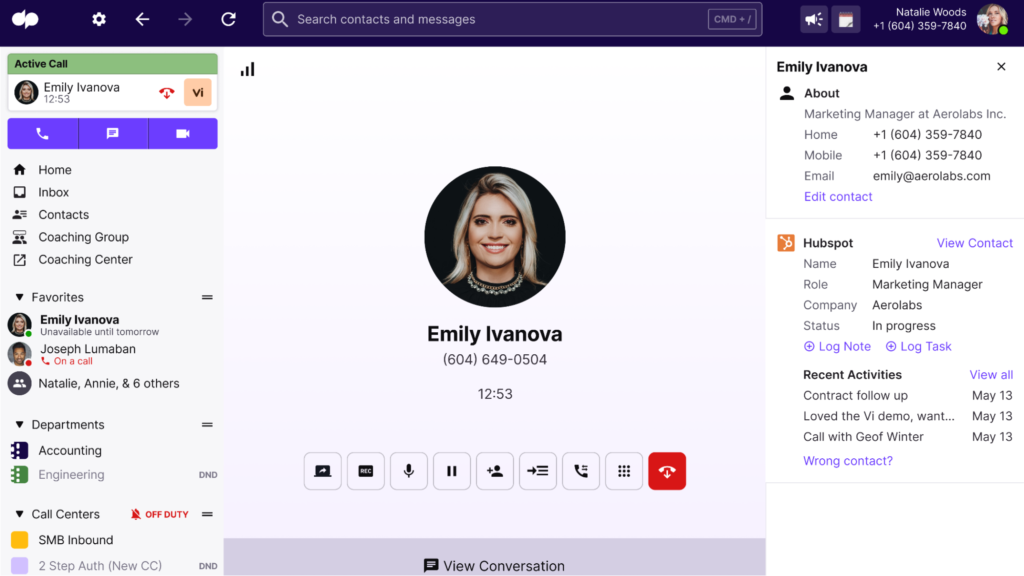 Nextiva's best for smaller companies that know their business needs inside out. If you have a good grasp of what you need, getting set up is straightforward.

If you decide your business is ready for more complex AI or is tempted to try out new self-service and proactive technologies, Dialpad has several alternatives at its disposal.
Dialpad is a good Nextiva competitor if you're savvy when it comes to AI or open to experimentation.
Pros:
Range of AI service built into call center module
Maturing in-market presence
Discount for annual billing
Cons:
May be overwhelming for small businesses
Contact center planning needs sales engagement
Monthly Pricing:
Standard: $15 per user
Pro: $25 per user
Enterprise: custom
Contact center: custom
6) Zoom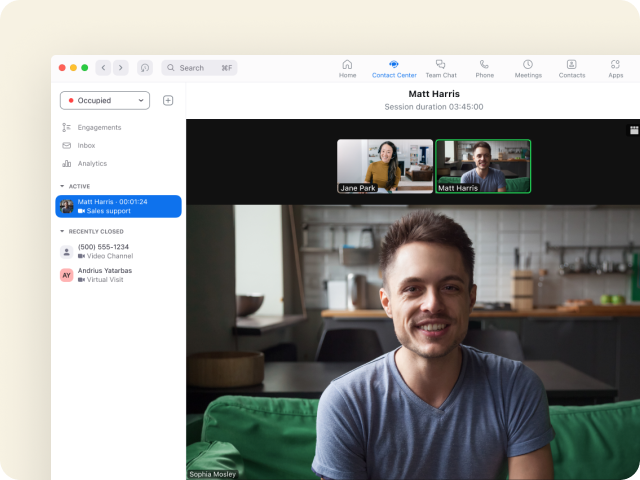 As a business tool, Nextiva has a clear focus on streamlining internal and external business communications.
If you might prefer a consumer-style interface, it's likely your users have used Zoom at home.
Zoom is a neat Nextiva alternative that comes with the benefit of the majority of your team already having used it before. It's probable that its business communications software is installed on your computer.
Pros:
Integration with other platforms like Microsoft Teams
Free access to 40-minute video conferencing and screensharing
Familiar interface
Cons:
New to the contact center market
Regular new products can be overwhelming for small businesses
Monthly Pricing:
Basic: Free
Pro: $14.99 per user
Business: $19.99 per user
Business Plus: $25 per user
Enterprise: custom
Contact Center: custom
7) Webex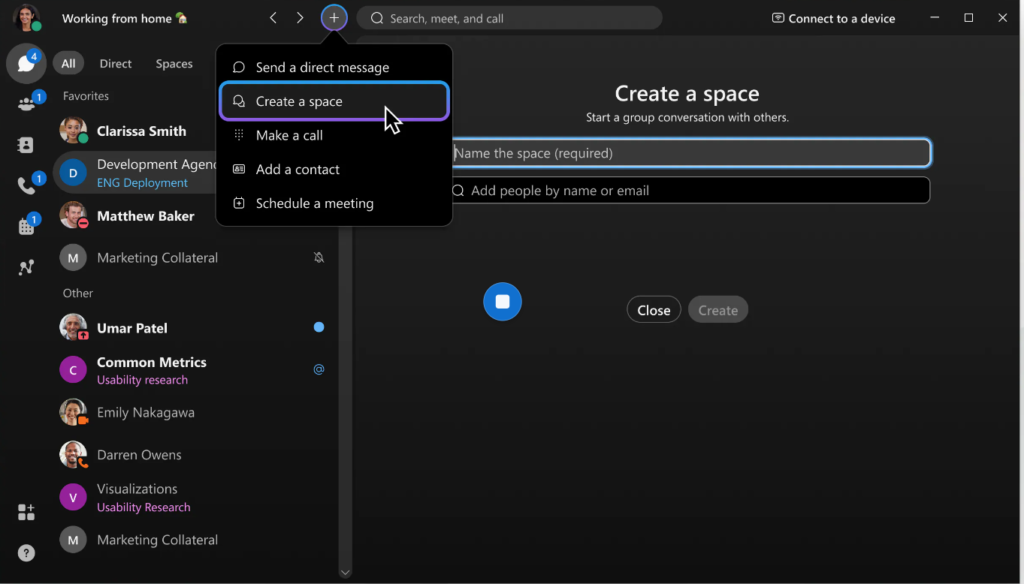 While it's quick and easy to set up Nextiva, some deployments need large-scale planning.
If you've already got Webex phones, meeting room devices, or need professional services from your VoIP provider, Webex is a good corporate Nextiva alternative for those looking to integrate phone and call center services with existing meeting room infrastructure.
Pros:
Experience in enterprise deployments
Large pool of professional services resources
Native integration with Webex meeting room setups
Cons:
Less than ideal for small teams
New to cloud contact center
Monthly Pricing:
Basic: Free
Starter: $15 per user
Business: $20 per user
Calling: custom
Webinars: custom
Events: custom
Contact center: custom
8) Microsoft Teams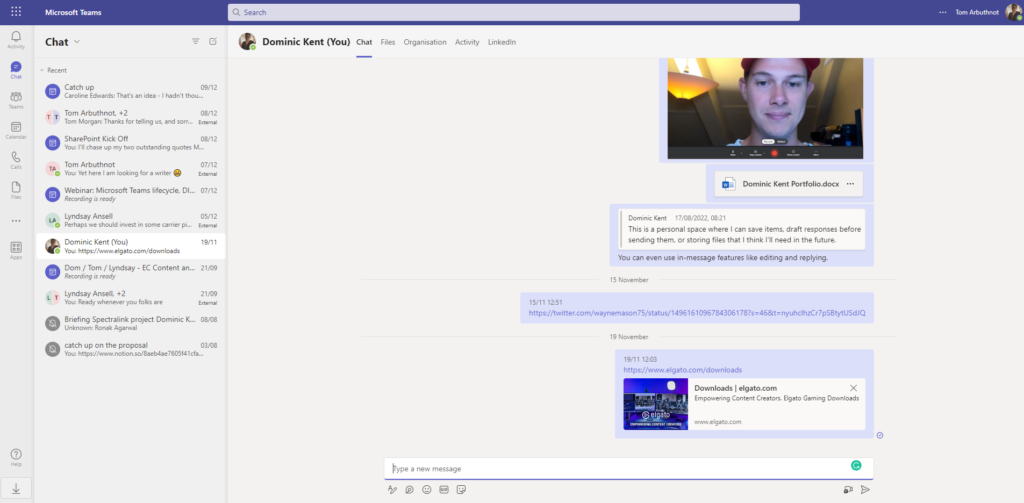 Nextiva offers a business VoIP phone system that also integrates with Microsoft Teams.
If you're already in the Microsoft ecosystem for tools like SharePoint, Office 365, and other Microsoft apps, it makes sense to use Teams as your collaboration app.
You can use Teams with Nextiva underpinning your phone capabilities behind the scenes. In fact, 85% of Teams users pick another business phone service. Using Nextiva for call management and Teams for collaboration features is a wise choice.
Pros:
Integrates with Nextiva's unified communication solutions
Global leader for meetings and collaboration
Native integration with Microsoft ecosystem
Cons:
Complex deployment for small to medium businesses
Often need specialist internal resources
Business phone numbers need a calling plan
Monthly Pricing:
Free
Essentials: $4 per user
Business Basic: $6 per user
Business Standard: $12.50 per user
Business Premium: $22 per user
9) Google Workspace
While Nextiva is a standalone app specializing in business communications, Google provides a range of document-sharing tools with a similar look and feel.
If you use productivity apps like Google Docs, Slides, or Drive, it might make sense to keep everything under the Google umbrella.
Google Voice provides a lightweight alternative that provides VoIP service within the Google ecosystem. However, it's not the best Nextiva alternative since it's not as customizable as businesses often want.
Pros:
Native integration within the Google ecosystem
Consistent interface throughout the product suite
Available via web apps, so no need for desk phones
Cons:
Frequent changes to core video calling apps (Chat, Hangouts, Meet)
Doesn't integrate with competing suites
Starter plan lacks advanced features (auto attendant, call recording, ring groups, etc.)
Monthly Pricing:
Free
Starter: $6 per user
Standard: $12 per user
Plus: $18 per user
Enterprise: custom
10) Zendesk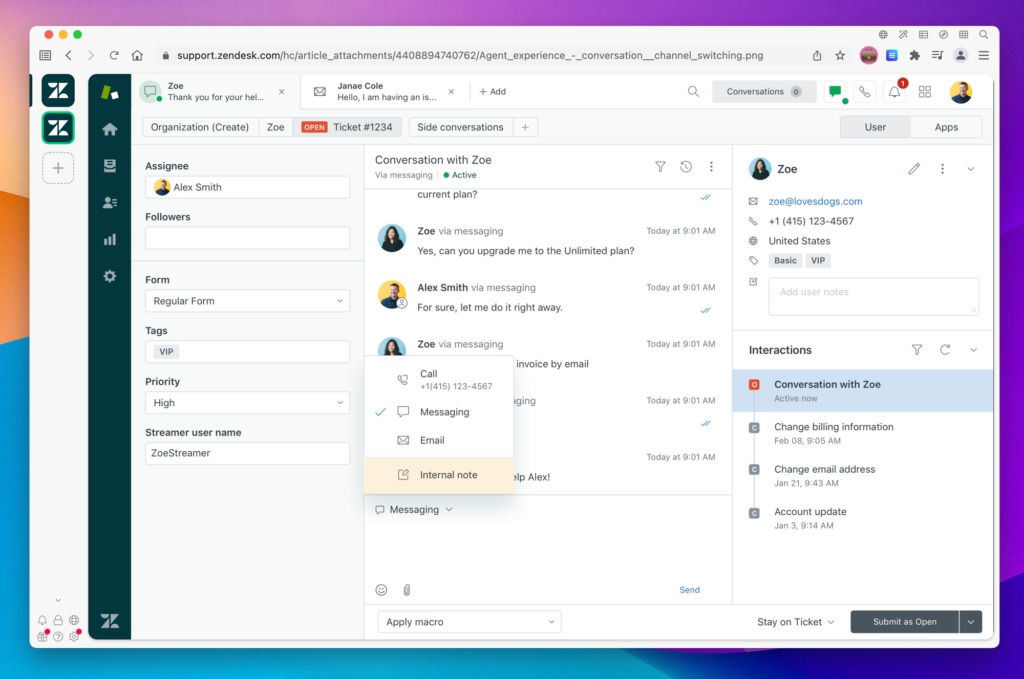 Nextiva call center is used by many companies as their first line of support. But it doesn't pretend to be a fully-fledged customer support ticketing system.
If your sole focus is customer support, Zendesk is a Nextiva alternative that does a great job of providing a single place for your customer's support questions to live.
Pros:
Full suite for ticketing and customer experience
Tailored solutions for support and sales
Consistent market leader
Cons:
No calling features or collaboration features
No desktop app
Monthly Pricing:
Team: $49 per user
Growth: $80 per user
Professional: $99 per user
Suite Enterprise: $150 per user
Custom plans available
How to make the best choice for your team
There are plenty of use cases for all the Nextiva alternatives mentioned in this post.
But there's also a strong case for choosing Nextiva if you're a small to medium business ready to move quickly or one that prioritizes back and front office integration.
Nextiva's cloud-based phone system offers a wide array of advanced features:
Unlimited calling across the U.S., Canada, and Mexico
A free Toll-free phone number is included with every plan
Multi-level auto attendants guide callers to the right team
Update call flows in real time with plenty of ease of use
Business text messaging (SMS) to exchange messages with customers
Powerful Interactive Voice Response (IVR) functionality available
Products range from VoIP service to a full-featured contact center
Stay connected with desktop apps and mobile apps (macOS, Windows, iOS, Android)
Team messaging and 1:1 video calls from one business phone app
99.999% uptime and reliability with automatic failover
Access to a 24/7 live support team with friendly phone system experts
See if you can match your needs to the business phone providers highlighted in this post.
Still need help? Chat with a Nextiva specialist here.