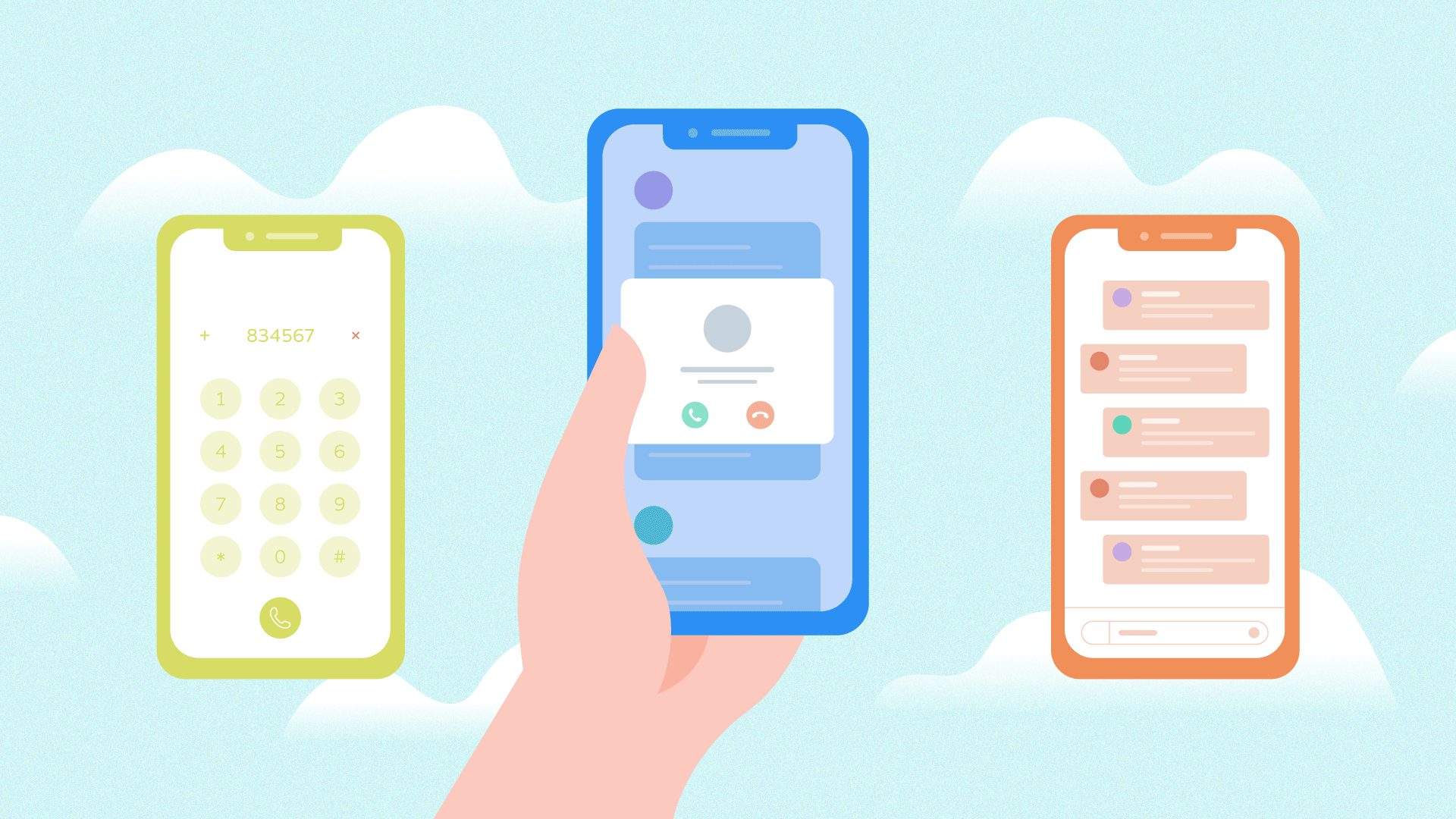 Nextiva is one of the most popular cloud phone companies in the market, and with good reason.
We were recently recognized as the best business phone service for two consecutive years. Added to that, over 100,000 businesses use Nextiva to power their business phones.
Now, we know it's only natural to consider Nextiva alternatives if you're on the lookout for a new cloud phone system. Thorough research is needed to choose a solution that makes sense for you. In fact, we encourage you to watch Prince Rich of Rich Technology Group's transparent review of Nextiva in the video below:
Our goal with this guide is to give you a peek into some Nextiva alternatives and top business VoIP features. We're hoping this makes your decision-making process easier. Let's go!
14 Nextiva alternatives in the market
1) Ooma
Ooma, just like any VoIP system, relies on high-speed internet. The company offers Voice over IP (VoIP) calling for business customers. They range from small businesses to large enterprises.
Their business phone service plans start at $19.95 per user per month for essential business features and a mobile app. From here, pricing increases with added features. These include a desktop app, call recording, instant messaging, and video conferencing.
Also looking for a business internet service? Ooma provides it along with the hardware you need with their phone service.
Best for: Small businesses with a single office (consultancies, professional services).
2) Mitel
Mitel is an all-in-one business phone service for companies of all sizes. Their services include cloud-based and on-site phone systems. Back in 2017, Mitel acquired Shoretel and added Shoretel's products to theirs.
There are three plans, starting at $20.99 per user per month. This plan supports collaboration and conferencing, making it suitable for remote teams.
If you need additional features to power your sales and support teams, such as voicemail transcription and call recording, you'll need one of the higher plans.
Best for: Small businesses with a stable number of employees; remote teams.
3) GoToConnect (formerly Jive)
GoToConnect is a virtual phone system focused on collaboration features. These include voice, call management, call center, and video conferencing features. GoToConnect combines the GoToMeeting virtual meeting software with the Jive business phone system.
GoToConnect doesn't offer multiple plans with different features. Instead, they alter their pricing based on the number of users.
For small teams of one to four users, you'll pay $29.95 per user per month. The more users you add, the lower the price, so 50+ users are in the $19.95 per user per month tier.
Best for: Large teams, including remote teams.
4) Fusion Connect (formerly Megapath)
Fusion Connect provides VoIP solutions to simplify communication and collaboration between employees. This includes cloud PBX, contact center solutions, faxing, SIP trunking, and phones.
Fusion Connect's VoIP phone system — FusionWorks Suite — starts at $19.95 per user per month. It has advanced calling features such as audio conferencing, visual voicemail, and call forwarding. All said features are available from an admin portal.
Additional features, such as advanced call routing and auto-attendant are available on larger plans (FusionWorks Pro).
Best for: Healthcare and legal industries.
5) OnSip
OnSIP is a hosted PBX phone system. It's focused on the simplicity and ease of use of VoIP. Thanks to features like softphone apps, video conferencing, and call forwarding, you can replace your traditional equipment and support a remote-working environment.
OnSIP's unlimited plan costs $18.95 per user per month and includes desk phones or headsets for new 5+ user accounts. This also includes features like auto attendants, voicemail-to-email, and call recording. You can also choose other features such as reporting and video chat for an additional monthly fee.
Best for: Lean teams and companies that need easy access to collaboration tools on the go.
6) Five9
Five9 is a cloud contact center solution. It includes inbound, outbound, blended, and omnichannel sales and marketing solutions. With it, you can support your customers on the phone, web, chat, email, mobile, and social.
Five9 pricing is based on seats, usage, and features. You can easily change it month to month. The quote is available on request. According to Capterra, pricing starts at $150 per user per month.
Best for: Large companies that need a heavy-duty, secure, and customizable contact center solution.
7) Phone.com
Phone.com is a cloud-based communication solution for businesses in the US. It's a complete mobile office experience without the hardware.
You can choose between pay-per-minute plans and an unlimited plan. They start at $12.99 and $29.99 per user per month respectively. Starting plans for both options offer around 40 standard calling features. Want other features, like voicemail-to-text or call analytics? You'll need one of the higher-priced plans.
Best for: Smaller teams, including remote teams, that need to get their phone system set up quickly. Teams that only use a very small amount of phone call minutes per month.
8) Grasshopper
Grasshopper is a virtual phone system that helps small business owners look and sound professional. It doesn't replace your service provider. It gives you a second phone number so you can separate your work and personal communications. You still need a service provider and a main phone number where your Grasshopper calls will be forwarded.
Grasshopper Connect gives you a single inbox. This is a place for all your business calls, voicemails, texts, and emails. Use it to bring your conversations together.
Pricing for Grasshopper starts at $29 per month for one number and three extensions. It goes up if you need more numbers and extensions. Grasshopper Connect costs $39 per month for one phone, number, email, and text integration. You can save on your subscription if you choose yearly billing.
Best for: Very small businesses and virtual offices.
9) 8×8
8×8 offers VoIP business phone service and hosted contact centers. You can use it as a single platform for your communications. It combines cloud-based phone calls, video and chat collaboration, contact center, and analytics.
Pricing for small businesses starts at $12 per user per month with basic features. More advanced features are included in larger plans ($25 or $45 per user per month). Adding contact center tools starts at $115 per user per month. You can mix and match more than one pricing tier based on the different access levels you need.
Best for: Companies with multiple offices and remote workers.
Get the insight: 8×8 vs. Nextiva — Which One Is Right for Your Business?
10) Vonage
Vonage offers a unified communications solution. They also offer a cloud contact center solution. These solutions support mobility, collaboration, flexibility, and a positive customer experience. The platform can be implemented quickly.
Pricing starts at $19.99 per line per month for a mobile-only option using a mobile app or a desktop app. For video conferencing, auto-attendants, and call recording, you'll need a higher-priced plan. Plans drop in price as you add more users.
Best for: Companies looking to scale.
11) Dialpad
Dialpad is a suite of business communication products. It includes a business phone system, contact center, video conferencing, and sales software. Its calling and admin features help you improve employee productivity and streamline communication.
Dialpad's pricing starts at $15 per user per month when billed annually. It's $20 per user per month when billed monthly. Higher tiers are billed annually. Features like queues, extensions, advanced reporting, and most integrations come with higher tiers.
Best for: Companies looking for a software-based communication system and integrations.
12) Aircall
Aircall is a cloud-based call center software. It allows you to get phone numbers in 30 countries and forward calls to your employees. They integrate with dozens of tools and workflows that support your communication needs.
Aircall's pricing starts at $30 per user per month billed annually, with a minimum of three users. This plan includes collaboration features, IVR, voicemail, and 50+ integrations. For more advanced features such as queue call back and advanced analytics, you'll need a $50 per month per user plan.
Best for: Small businesses that use their phone system for sales and customer support daily.
13) Zoom
Zoom is a business communication platform that rose to prominence for its video conferencing solution. It features an enterprise cloud phone system built natively for its platform. Zoom allows for flexible collaboration, even for distributed and large workforces.
Zoom's pricing starts at $14.99 per user per month for up to nine hosts. A host is essentially a Zoom admin. This starting plan gives you video conferencing, extended meeting options, video recording stored on the cloud, and Skype for Business interoperability. For larger teams, you'll need a larger plan. These plans have added features like admin dashboards, cloud recording transcripts, options for on-premise deployment, and more.
Best for: Companies of all sizes, including 1,000+ employees.
14) Zendesk
Zendesk is a help desk software. Zendesk Talk is the VoIP call center solution. It's embedded into the Zendesk Support ticketing system. It's made to help support agents provide personalized, efficient phone support.
Zendesk Talk has variable pricing. Your price depends on the feature plan you're subscribed to and your usage. Feature plans start at $0 for one phone number and basic features only. They go up to $89 for multiple phone numbers and advanced call features. per agent per month. Usage includes your phone numbers, minutes, text messages, and optional voicemail transcription.
Best for: Companies of all sizes looking for more efficient phone support.
Top 10 VoIP features to consider
One thing to keep in mind when searching for a VoIP provider is the type of features they offer. Below, we provided some of the top VoIP features to consider in your research.
1) Unified Communications (UCaaS)
Unified communications stand for all the typical communication channels we use at work: phone and video calls, audio and video conferencing, chat, email, voicemail, and instant messaging.
Unified Communications as a Service (UCaaS) brings these channels to a single platform. This gives you a unique insight into every person you talk to, no matter which channel you're using. VoIP gives you a single source of information about your leads and customers.
In other words, you can better support your customers and sell more successfully. There's no more digging through a dozen tools or outdated notes. Every touchpoint is stored, regardless of the channel where it happened.
Everything you need to know about your customers is at your fingertips thanks to VoIP.
2) Auto attendant
An auto-attendant is a virtual receptionist that handles your business calls for you. It's a time and money saver. Here's how it works.
The simplest way to use an auto-attendant? Have a voicemail recording with specific prompts for the customers that call you. It can provide them with opening hours, directions, and extensions for specific departments.
If you're not sure you need an auto-attendant, consider these benefits:
Use it to convey an established image when you're unable to answer calls
Avoid distractions by filtering spam calls
Address most common issues and questions so you avoid answering repetitive questions
Save money with an answering service instead of adding another employee
Professional service offices, consultants, call centers, and sales teams are just some of many use cases for an auto attendant.
Related: Auto Attendant Scripts With Real-World Examples
3) Interactive Voice Response (IVR)
Interactive Voice Response (IVR) is an automated phone system with call routing capabilities. It takes the benefit of auto attendants to the next level.
It lets your customers navigate your real-time voice menu before they reach an agent. IVR first gathers information about the reason for the call. Then, it transfers the call to the right department or person.
IVR solution saves time and money. It cuts down hold times and requires less workforce.
For your agents, this means they can understand the type of issue they'll be dealing with before they even answer. The menu options your caller selected before reaching the agent make this happen.
For your caller, it means they'll get their issue solved quickly. They'll spend less time on hold, and they won't have to explain their issue over and over.
4) Call Monitoring
Call monitoring is a feature that allows you to listen in on an ongoing call. This is an ideal feature for supervisors that are supporting new agents through training and onboarding.
Call monitoring also lets you monitor the status of your agents and their current status. This way, you always have an insight into the workload your call center has to be able to handle.
Thanks to call monitoring, you can:
Get insights into customer needs
Make decisions about sales materials or product changes
Train your sales and customer support agents
Finally, make sure you're using an approved call center software designed for supervisors. This will ensure there are no unexpected noises and beeps as you monitor calls.
5) Call recording
Thanks to VoIP, you can record, track, analyze, and rate calls. The data you get from call recording is useful for quality assurance, business growth, and customer satisfaction.
Call recording needs to be easy to switch on. Ideally, you'll access your recorded calls directly from your reports. The best VoIP provider will give you unlimited call recording in the cloud.
Call recording is reliable and secure. It helps your employees maintain accountability for their verbal commitments and makes it easy to recall details that came up in a fast-paced conversation.
Check out some of the top reasons to use VoIP to record your calls:
Respond to customers with confidence
Document essential conversations and get access to details you may need later
Minimize legal risks when completing deals verbally
Ongoing coaching of sales, support, and service teams
6) Virtual voicemail
Virtual voicemail lets you access your voicemails from other lines, as well as online. Voicemails help you make your callers feel heard instead of feeling like they've wasted their time calling you. Here are some ways virtual voicemail works.
Voicemail forwarding lets you get notified of new voicemail messages on a different device. It also lets you send it to a group of people.
Voicemail to email automatically sends voicemail messages to your inbox. This way, you don't need to interrupt your workflow just to get back to the customer—it's all in the same inbox, just like your regular email.
Voicemail to text is a service that transcribes your voicemail messages. This way, you can read the message from your inbox, which makes it easier to take the right action and help the caller quickly.
Virtual voicemail helps you spend less time in your voicemail inbox and more time helping your customers.
7) HD video conferencing
With video, you can take your business communication and relationships to the next level. Video calls let meeting attendees fully express themselves. It makes collaboration easier and helps you build rapport with attendees.
However, this is only possible if everything works smoothly. If webcam videos are patchy, the audio is delayed, or the screen sharing fails, video conferencing will rapidly turn into a frustrating experience.
This is why you need a reliable VoIP service that will provide you with high-quality video, built-in chat, and seamless screen sharing. Best options will work without expensive equipment or time limits on your meetings.
Finally, with HD conferencing, you can have attendees join through their browser or call into the meeting from their phone and still have a great experience.
8) Mobile app for Android & iOS devices
VoIP apps help you turn your mobile device into a virtual office. All you need is an internet connection.
This way, you can manage your unified communications solution wherever you are. You can keep your relationships going through voice, video, instant messaging, and file sharing.
Your VoIP app should work on either Android or iOS and make every team member more productive. It makes everything they need only a tap away. As you move between desktop and mobile, switching should be easy and seamless.
It's simple: a VoIP mobile app lets you take the benefits of your business phone system with you in your pocket.
9) SIP Trunking
A SIP trunk is a phone line that uses the Session Initiation Protocol (SIP). A VoIP service provider can connect one or more channels to your in-house Private Branch Exchange (PBX) system.
With SIP trunking, you no longer need traditional phone lines. This way, you can get all the benefits of the cloud without the hardware costs. If you have PBX equipment, you can save up to 70% of your current PBX bill with SIP trunking.
This cost reduction is possible because you:
Get unlimited inbound and outbound calls
Use local phone numbers
Keep your existing hardware and avoid new equipment costs
Streamline your technology stack
Reap all the benefits of unified communications
SIP trunking also adds another layer of reliability and lets your business smoothly, even if phone failures or bad weather disrupt traditional lines.
10) Instant messaging
Instant messaging gives your entire company a single platform to send text, audio, and video messages. The best VoIP providers let you use instant messaging both on desktops and smartphones.
Remember that modern customers may not want to make a phone call just to talk to you. Many prefer using Messenger or WhatsApp. When they do, you'll want to have their chat logs in the same place where you log their customer information, phone call notes, and more.
Messaging also does wonders for employees. Team messaging needs to be secure and designed for getting more done. It removes the need for other personal messaging tools inside your company like Slack, Google, or WhatsApp.
Adding instant messaging to your workflow will also:
Provide insights into real-time presence of teammates and coworkers
Support collaboration in group chats
Make it easy to get answers quickly through individual chat
Keep message logs organized and clean
Simplify file sharing
This is what makes Nextiva the best
Nextiva gives you the best business phone solution and a great customer experience. We might be biased, but it's true.
Nextiva is secure. We've made security and reliability our top priorities, including:
No downtime for your business
Monitoring and security 24/7
Real-time network status updates for you
Get help right when you need it
Our customers love Nextiva.

Genuine Nextiva reviews say we make our customers' lives easier, help them increase productivity, and make tough transitions easy.
We like to 'blame' our Amazing Service for that. We make sure our technology just works, and we aim to make our service so easy to use, you never even have to call us. But if you do, we'll take care of you.
We'll also train your employees and managers so you can quickly start seeing results.
No other Nextiva alternative was named the best business phone service by U.S. News & World Report. Why? Because Nextiva provides an "out-of-the-box" solution for small and midsize companies, as well as offices and mobile workplaces. Nextiva is the highest-performing business phone service provider in the nation, beating 20 other VoIP competitors.
And last, but not least: the industry recognizes Nextiva as a leader. We were named one of the top 500 fastest growing companies by Deloitte for the fifth time thanks to our innovation and customer experience.
If you're looking for a leading VoIP service provider and a business phone service you never have to worry about, look no further.