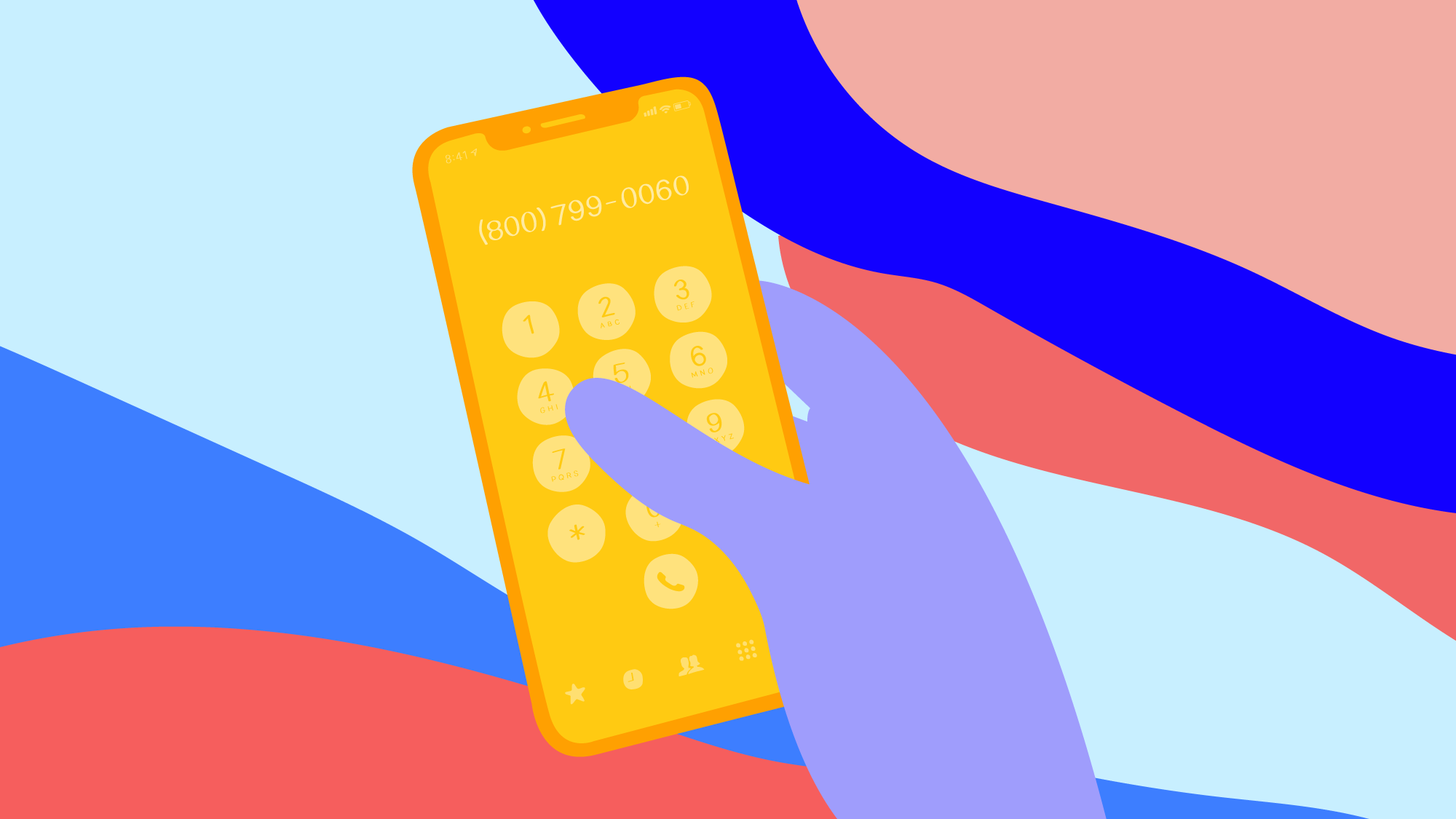 If you've just started a small business or plan to expand yours, one of the first topics you'll think about is this — how do I get a business phone number?
To stand out from the crowd, you must have a personalized business phone number. There are so many options out there when it comes to cloud phone services that it can be overwhelming to get started.
Let's break down how to get a phone number for your business in three simple steps:
1) Choose The Right Business Phone System
Before you can receive incoming calls from customers, you need to select a phone service designed for businesses. Companies often have more significant needs beyond what freebie options like Google Voice can provide.
The service behind your phone number makes all the difference to the bottom line. It's a very competitive business environment out there.
Features to look for include auto attendants, call forwarding, call recording, and conference calls. These features give entrepreneurs the tools they need to grow their business.
Entrepreneurs need to make every dollar count. Traditional phone plans can cost more than $50 per line. Modern businesses can't pay this premium for a classic phone system.
So, what should you choose instead?
A cloud phone system powered by Voice over Internet Protocol (VoIP) is a much better option. It's faster and easier to set up for small businesses.
Why VoIP Is The Right Choice
If you use a VoIP provider like Nextiva, you can get a new telephone number without any hassles. You don't have to install a new phone line or even have a desk phone at all.
Set up a business number and handle calls from your personal cell phone. You can even receive calls on your laptop or desktop computer.
VoIP offers many advantages over traditional phone lines or landlines. Lower cost, greater mobility, and better audio quality top the list.
Nextiva's basic plan starts at $20/month per line and includes unlimited calling in the United States and Canada.
Related: What are the Advantages and Disadvantages of VoIP?
2) Choose Your Business Phone Number
Before you choose a VoIP number, you need to understand the number of options available to you. Many providers, including Nextiva, offer you the choice between local numbers, toll-free or vanity numbers. The video below will help explain the differences between these numbers:
If you already have a phone number for your business, you do not have to change it! Through a process known as porting, you can authorize that it moves to your new VoIP provider without interruption. The FCC mandates that old phone providers cannot refuse to port numbers even if you have an outstanding balance.
To help you with your options, let's look at what each type of business phone number has to offer and how it can help your business succeed.
Types of Business Phone Numbers
There are four different business phone numbers you can choose. Below we break it down by type and give you insight into what each one might end up costing you.
Local Phone Number
Pretty much anyone can secure a local phone number whether or not it's for a business. You can get your number from a local phone company, or via Google Voice. The setup is fast, tied to a location via area code of your choice, and you can be up and running the very same day.
Typical cost: $0-10/month
Toll-Free Phone Number
A toll-free number is an 800 number that is location-agnostic. The benefit of a toll-free number is that it can appear more professional to your consumer. You sign up via your phone provider, setup is fast, and you can even have it forwarded to an existing line.
Typical cost: $10/month
Vanity Phone Numbers
A vanity number takes a toll-free experience one step to the next level by providing a memorable string of words or numbers.
For instance, the 1-800-GOT-JUNK phone number is a critical element of the company's brand.
The reality is that many desired vanity phone numbers have been claimed. However, they may still be available. You may want to use a trustworthy vanity phone number distributor online to acquire the rights to the number first.
Since Nextiva provides free porting, your best bet is to acquire the phone number then port it over to your business phone service.
Typical cost: $10-50/month
Virtual Phone Numbers
The last option available is a virtual number, but it's not right for everyone. Rather than receiving reliable phone service, they primarily function exclusively as a call forwarding or voicemail service.
A virtual phone number is an option if you only want calls to forward to another number without the ability to place calls to another party.
For a business that wants to establish a local presence in a market but not make calls from it would use a virtual phone number with their VoIP phone service.
Typical cost: $0-10/month
What option is best for your business?
No matter what you choose, Nextiva has you covered.
Nextiva provides business phone numbers in every state in the U.S. You can use this to set up local phone numbers, even without offices in those locations. Nextiva also includes toll-free, local, and virtual phone numbers, too.
3) Select Phones for Your Business Phone System
Once you've obtained a phone number for your business, you're ready to place phone calls via VoIP. However, to use it, you need an IP-based phone that works with VoIP.
The SIP protocol means your desk phone or softphone works consistently and reliably with your business phone system.
Comfortable with placing calls with an app on your computer, laptop, or cell phone? Download the business phone app from Nextiva and start making calls today.
Level up your office and choose a professional business VoIP phone. Opt for a quality brand with a track record for reliable performance. Poly, Nextiva, Cisco, and Panasonic are IP phone brands you can trust.
Consult with your cloud phone service provider to explore the cost of buying or leasing VoIP hardware. These providers negotiate special pricing and pass the savings onto you.
Optimize Your Business Calls with Extensions
Now that you've set up your phone number, you can begin adding extensions. Extensions work well for a small business like a salon or repair shop.
Instead of separate phone numbers, a business uses one central phone number for all its staff. Callers can then dial the extension of individual employees or departments from within the phone system. An example of this would be so a customer could contact the hairstylist of their choice to schedule an appointment.
Many providers make it easy to assign these extensions. You can also forward the extension to a personal number to handle VIP calls.
Companies use phone extensions to trim the costs of their phone bill and increase the appearance of a larger business, even if it has only two employees.
With a business phone number and extensions in place, your customers can easily reach who they want.
Phone extensions are one of many features that business owners appreciate, but there are more VoIP features you'll be excited to use.
Additional Business Phone Features to Think About
The best part of using a business phone service is the number of features that come with it. Nextiva offers solutions for small businesses to take customer conversations to the next level.
Here are the top phone features Nextiva customers enjoy using to grow their businesses.
Custom Greetings
Create your personalized greeting or ask Nextiva to set you up with a pre-recorded message. No need to hire additional voiceover talent—Nextiva has it.
Call Forwarding
Not in the office? No problem. Nextiva's Call Forwarding makes it possible for you to receive your calls from the comfort of your home or right on your cell phone. This feature for owners that might be in and out throughout the day and still need to answer those important calls.
Auto Attendants
Let your customers choose who they want to speak to with the Auto Attendant feature. They press a button, and the business phone system instantly directs them to the right contact.
This feature is a killer way to level up your customer experience from the moment they call. Plus, you'll get to know why someone is calling before you even answer.
Related: Nextiva Named Best Business Phone Service of 2020 by U.S. News
Scale Your Business with a VoIP Phone System
Behind every business phone number is the phone service that moves the needle for business owners.
If you need to increase your company's appearance or could benefit from an array of new calling and collaboration features, you should invest in phone service to increase your capabilities.
Ready to talk to someone about your company phone service needs? We're ready to answer your questions to help you select the right tools to grow your business.
Get the #1 cloud PBX
made for the way work gets done.