Heard about VoIP and want to see if it's the right solution for your business?
This popular business phone service is the modern way to make phone calls, especially for small to medium businesses wanting to communicate more efficiently.
If you're exploring making calls without a physical landline, this blog post details what VoIP is, how it works, and how you can find the best VoIP provider.
Making VoIP calls with Nextiva is easy. And free.
Get your business phone, messages, video meetings, contact management and notes–integrated in ONE powerful app. FREE.
What Is VoIP?
VoIP is a communications technology that enables you to make phone calls using your broadband connection instead of landline service. VoIP stands for Voice over Internet Protocol, which is an open standard for establishing calls through the Internet. Some may also refer to VoIP as Voice over IP.
A typical setup involves a router for the internet with a handset connected. The handset or business phone system uses the internet to transmit your speech like a physical landline would. The only difference is that the underlying technology isn't a landline but the Internet.
Phone providers use VoIP to power their telephone services for customers instead of having them install and maintain physical phone lines and equipment. VoIP helps make and receive high-quality calls and offers advanced features not usually available on landline service.
How Does VoIP Work?
VoIP converts your voice into a digital format, compresses it, and sends it over the internet. The VoIP service provider (like your internet service provider) sets up the call.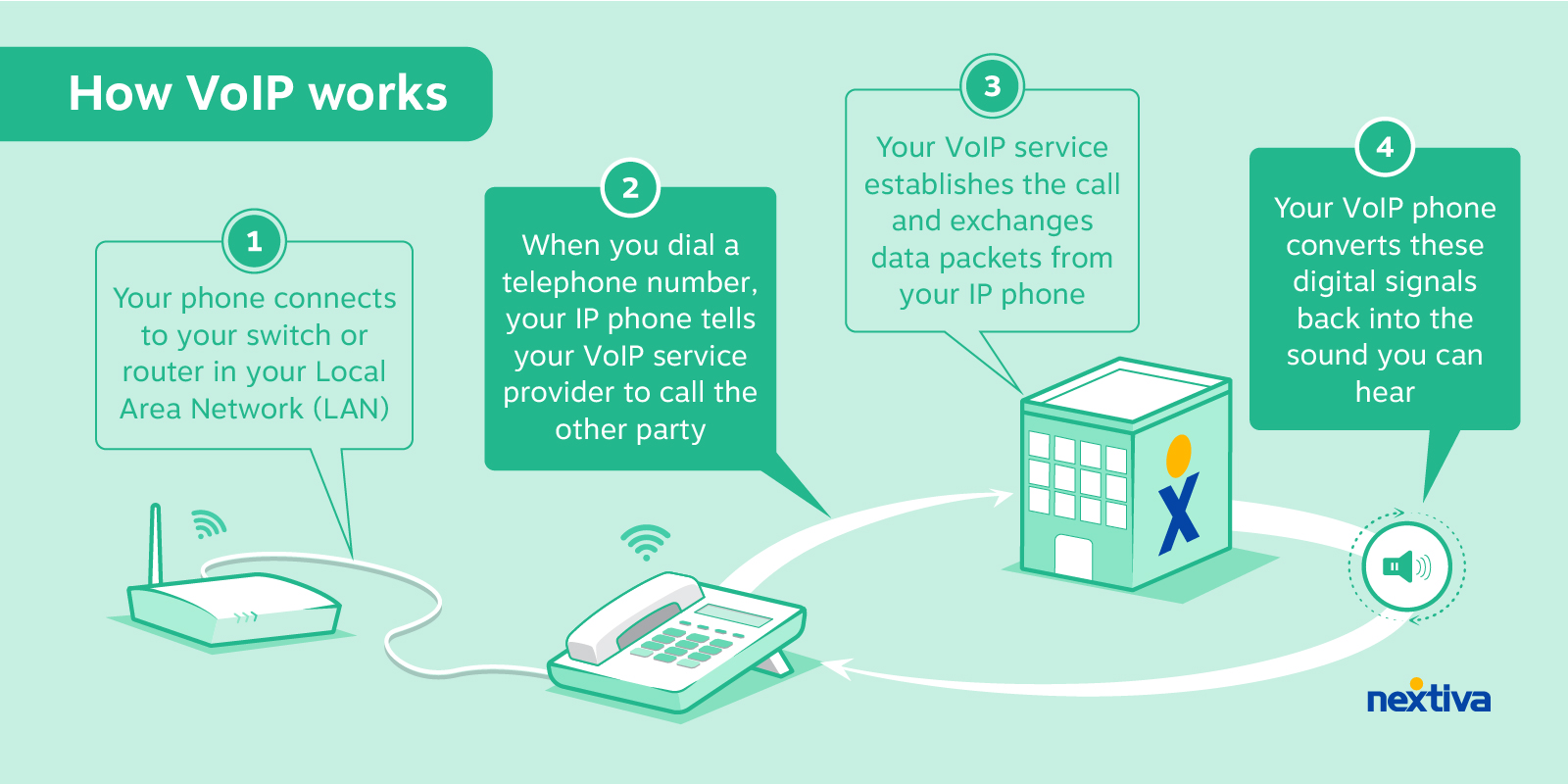 For phone calls, the conversation is exchanged using small data packets. The internet can send these data packets around the world in less than a second. For internet telephony, these packets travel between your phone and a VoIP provider.
Voice over Internet Protocol bypasses the telephone company entirely. Wherever you have a broadband internet connection like DSL, cable, or fiber, you can use VoIP. It's a major upgrade from an analog phone system.
Here are some basic steps involved:
Your phone connects to your switch or router in your Local Area Network (LAN).
When you dial a telephone number, your IP phone tells your VoIP service provider to call the other party.
Your VoIP service establishes the call and exchanges data packets from your IP phone.
Your VoIP phone converts these digital signals into the sound you can hear.
More than two decades ago, you used to need expensive, proprietary equipment to use VoIP. Today, VoIP is built upon open standards such as Session Initiation Protocol (SIP). SIP provides complete interoperability between desk phones, conference phones, and VoIP apps.
What Is the Difference Between VoIP and Landline Phones?
VoIP technology enables high-quality voice calls over the Internet, whereas landline phones rely on a copper telephone network to make outbound calls and receive incoming calls.
When you deploy VoIP, it gets managed via the cloud, so there's no need for on-site installation or management. When you need to add or change users, it's a software change rather than the need to call an engineer.
Businesses prefer VoIP because of its better calling standard and wider range of features without the need for setting up an expensive on-premises private branch exchange (PBX).
Here are some key differences when comparing VoIP vs. landline:
Functionality
VoIP
Landlines
Phone calls (PSTN)
Yes
Yes
Nationwide long-distance
Included
Optional
User-to-user calls
Yes
PBX required
Caller ID
Yes
Yes
Call Waiting
Yes
Yes
Ease of setup
★★★★★
★★★
Requires internet
Yes, 100 Kbps per line
No
Wireless
Wi-Fi, DECT, and Bluetooth headsets are available
DECT and Bluetooth headsets are available
Reliability during internet/ power outages
Calls can be routed to another number or voicemail.
Calls drop or are routed to voicemail.
Technology
IP telephony (SIP, TLS, and SRTP)
Analog voice signals
Call quality
★★★★★
★★★★
Setup cost
$0
$110 per jack
Monthly cost
$20–35
$35
Advanced features
Auto attendant
Included
PBX required
Phone number privacy
Included
Varies
Phone number changes
Included
$27
Phone extensions & hunt groups
Included
PBX required
Conferencing
Included
Three-Way Calling
Call routing
Included
$9.95/mo
Call queuing
Add-on
Add-on
Remote work capable
Yes, softphone apps
Call forwarding
Call encryption
Yes (TLS & SRTP)
No
International dialing
MX: $0.16/min
UK: $0.01/min
JP: $0.05/min
MX: $1.97/min
UK: $1.21/min
JP: $1.62/min
Business voicemail
Included
$13.95/mo
Integrations (CRM, text messaging, surveys)
Yes
No
Sources: VoIP information based on Nextiva's business phone plans. Analog information is based on business rates published in ILEC tariffs for Arizona.
Consider switching from traditional phones to VoIP if:
Your country plans to discontinue landline phones
Your sound quality is poor
You need advanced features
Your on-site PBX contract is expiring
You're moving to remote or hybrid work
You're paying too much for external calls
You're paying too much for long-distance international calls
What equipment do you need to set up VoIP?
For a small setup, you only need a subscription to your business VoIP provider and a device to make calls to get set up for the first time. This device could be a desk phone, a softphone on your laptop, or a VoIP app on your mobile phone.
Assuming you already have a broadband connection and a router, you don't need any other VoIP equipment.
If you manage VoIP for your enterprise, you may opt to use a separate firewall or switch from your router. If you have analog phones or other devices you wish to retain, use an analog telephone adapter (ATA). These small adapters connect your VoIP solution to traditional telephone services and devices, such as old fax machines and alarm systems.
Advantages of VoIP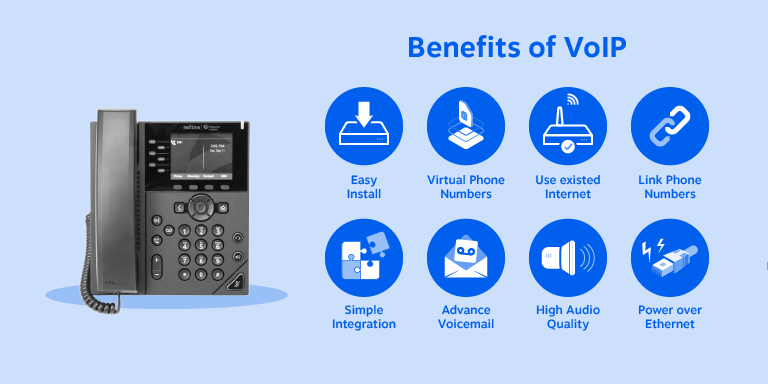 Lower pricing – Reduces call costs with internal and internet calling by up to 50%; reduces on-site maintenance and repair costs, too.
High-quality sound – Internet connectivity enables HD call quality; management tools check for potential network issues.
Advanced features – Offers premium features like auto attendants, call recording, and call queues – without having businesses install expensive add-ons.
Cheap international calls – International long-distance rates are as low as $0.04 per minute to call Mexico or $0.01 to reach the United Kingdom.
Fast deployment – Only takes an internet connection and a softphone or handset to set up.
Remote-friendly – Use your phone service wherever you work. No technical setup is necessary if you work from home.
VoIP desk phones aren't expensive; you can even get them free from your phone service provider. Plus, they often include a mobile app you can use on your desktop or mobile device to make calls instead of using a traditional handset.
Disadvantages of VoIP
The only real downside of using VoIP instead of a traditional phone system is that you rely on your internet connection for call quality. Make sure to audit your internet connection before you move to VoIP.
If you have a high-speed broadband connection, you should be fine. But it's always best to check.
The best way to check your network speed and stability is to perform a VoIP quality test. It's a reliable and accurate way of testing your network's capacity and expected call quality. It checks for potential issues with:
Latency
Bandwidth
SIP ALG issues
Packet Loss
Jitter
Any of these could impact voice quality, so it's best to check and troubleshoot your network early on in the VoIP setup process.
When you weigh the pros and cons, it's a clear win for VoIP. As long as your internet connection is stable, you open the door to cost savings and a wealth of new features.
Best VoIP Phone System Features
What are the attractive features available with a cloud-based business phone system? Here are the most popular VoIP features that businesses will enjoy using.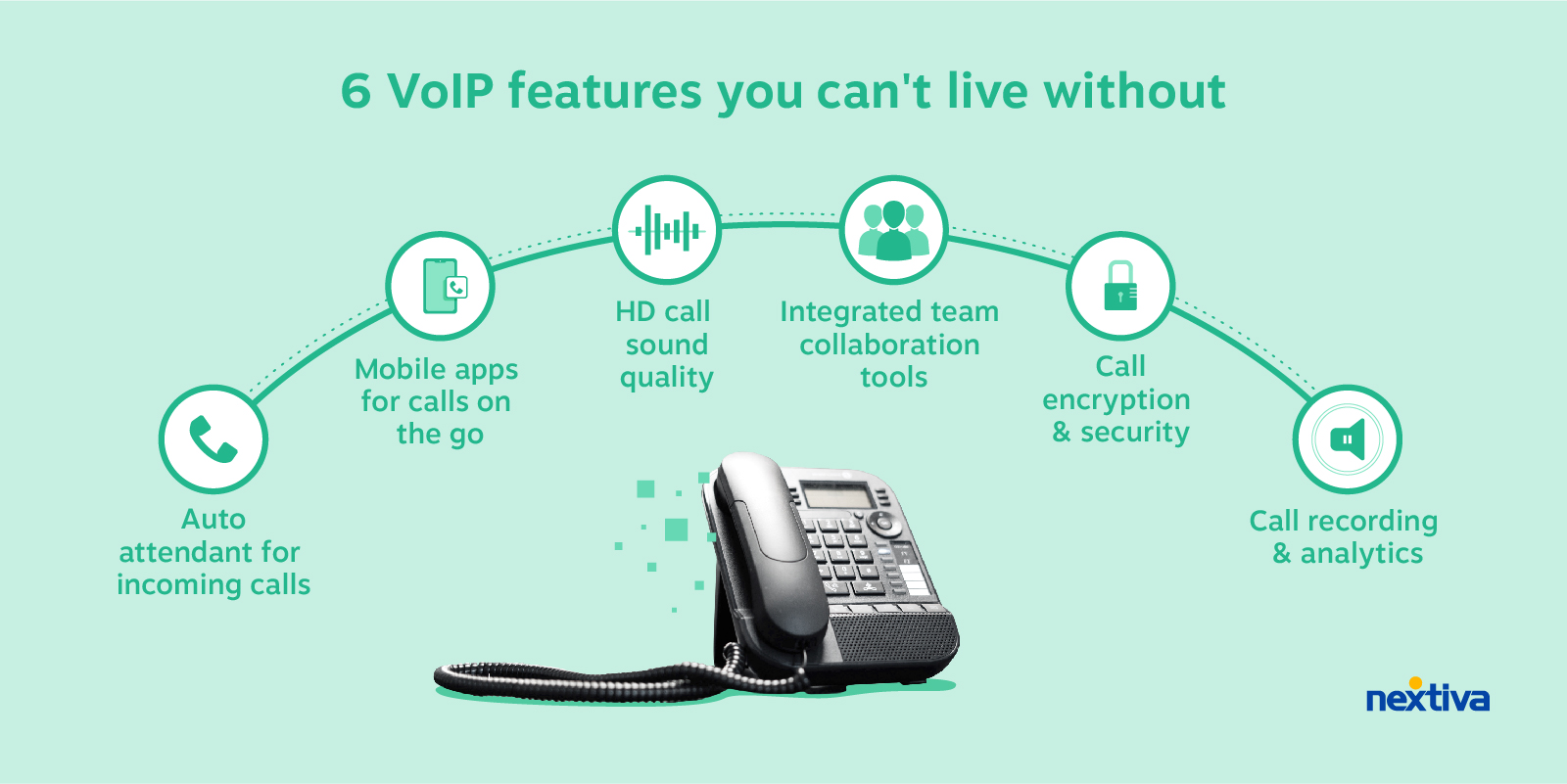 1) Auto attendant
An auto attendant allows you to configure the options callers hear when they dial your business.
For example:
Press option 1 for sales
Press 2 for support
For anything else, press 3
You can choose to route calls to specific departments or people best suited for a specific type of query. Because you can configure all VoIP components via a web browser, you can change them as often as you like, and no site visits are required.
2) Mobile and desktop apps
Mobile and desktop apps enable you to use your VoIP phone service without a VoIP handset.
VoIP apps are ideal for salespeople and technicians who work on the go, as well as remote workers who frequent coffee shops and co-working spaces. These apps ensure everyone in your company is reachable, no matter where they are.
Some also prefer headsets or mobile devices, so a handset is rarely used. When rolling out VoIP, check who needs a physical handset to see if you can save money upfront.
3) HD call quality
Thanks to codecs designed for high quality, every VoIP call over a stable internet connection benefits from HD call quality. You have crystal-clear conversations with colleagues and customers. At the same time, you're seen as a reputable business that focuses on offering quality customer communication experience.
4) Unified communications
Unified Communications as a Service (UCaaS) combines various communication methods, such as instant messaging, calls, and video conferencing, into a single platform. With features like call recording, reporting, and voicemail, Unified Communications is the next step up from VoIP.
Switching to VoIP opens up doors to improving your internal collaboration. If you plan on making video calls instead of regular phone calls in the future or like the idea of ​​instant messages, VoIP is a great first step.
5) Call encryption and VoIP security
The internet is prone to security flaws. Any call made over the internet needs to be secure. Using VoIP means everything is encrypted in transit and at rest. No one has access to your conversations, only the metadata.
For example, you call a colleague in your office in Arizona. Call logs show the timestamp and duration of the call, but the content isn't visible.
6) Call recording
VoIP goes a step further and lets you record calls in case you want your content monitored for quality or regulatory purposes. It offers basic call recording options, where calls are saved in a cloud-based portal, ready for download later.
You can also opt for advanced call recording, including features like sentiment analysis to flag unhappy customers or create upselling opportunities.
See also: Provide a Better Experience with Customer Journey and Sentiment
How Much Does VoIP Cost?
VoIP is surprisingly inexpensive when you consider all its capabilities. Arguably, it's one of the biggest advantages over traditional phone lines.
The short answer is that you can expect to pay approximately $35 per user per month for VoIP. The cost savings are quite dramatic compared to a traditional phone system or on-premises PBX.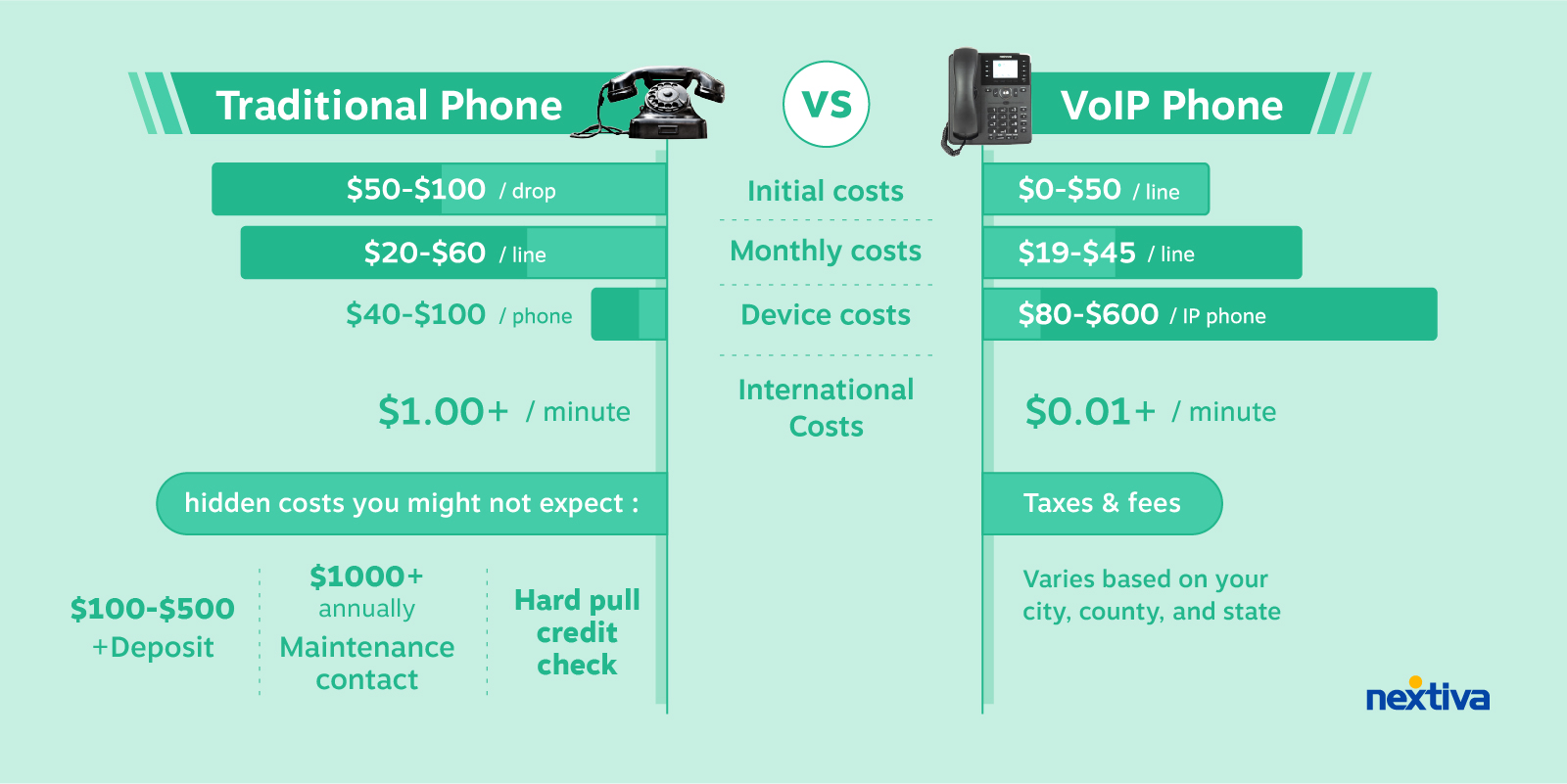 To give you an idea, here's how much VoIP typically costs:
Initial costs: $0-$50 per line
Monthly costs: $19-$45 per line
Device costs: $80-$600 per IP phone
International calls: $0.01+ per minute
Taxes and fees: Varies based on your city, county, and state
Traditional phone systems have hidden costs you might not expect:
Installation fees: $50-100 per drop
Deposit: $100-$500
Maintenance contract: $1000+ annually
International calls: $1.00+ per minute
Credit check: Soft or hard pull
All this is to say that we strongly recommend you obtain a free quote to confirm the exact VoIP pricing.
How to Choose a VoIP provider
While most providers have a good handle on the basics of VoIP, it's worth choosing a VoIP provider that best suits your needs.
If you're a small business that just needs to convert your business phones to VoIP without any special capabilities, you need someone specializing in small business VoIP.
Choose a provider that ticks the right boxes, including:
Implementation experience – Offers comprehensive support needed to configure advanced features like auto attendants and call queues, deploy physical handsets, conduct user training, and guide you on the optional hardware or software you need.
Network compatibility – Compatible with your existing network or customizable to fit your network needs.
Clients in a similar industry – Has helped similar companies like yours and holds proven success stories.
World-class customer support – Provides round-the-clock or at least swift customer service, particularly for number porting, on-site setup, and ongoing support.
High availability and security – Has proven reliability with minimal downtime – like Nextiva, providing 99.999% uptime with 24/7 monitoring. Every Nextiva data center meets the security standards set by the ISO/IEC 27001 certification.
🔒Learn more: Nextiva's redundant network and stringent security standards
Likewise, if you run a contact center, your VoIP provider needs to provide the entire telecommunications package. While you can decouple a VoIP phone system and a contact center, users love the single pane of glass experience. This is reflected in the G2 user rankings, where real people vote on which services they prefer.
For example, Nextiva won the Best Software Award in the annual G2 user rankings for its commitment to improved collaboration and productivity. Nextiva's focus on UCaaS, which helps contact centers and enterprises unify various communications tools on one platform, is something to keep in mind when choosing a connected communications provider.
"The Nextiva team is dedicated to creating software that improves productivity and helps businesses enhance customer service. Our ranking on the Global Top Sellers list is recognition that our most important audience —customers —recognize the value we're bringing daily."

Chris Reaburn
Still Confused About Switching to VoIP?
For high-quality and easy-to-manage business communication, you need VoIP.
And, soon, your hand may be forced.
With landline services being slowly phased out in parts of the US and UK, you need to start planning your switch to VoIP. The Federal Communications Commission (FCC) has announced that traditional landline phone services will be phased out. Due to the expensive maintenance of landline services, VoIP solutions will soon be your only option.
But there's good news, too!
Moving to VoIP is so easy and productive that commercial real estate firm Franklin Street switched its 325-employee company from landline phones to Nextiva and reported 30% annual revenue growth.
Whether your goal is simply to keep up with technology or consciously upgrade to a feature-rich phone system, Nextiva offers the whole package you need to get started.
Don't get caught up switching when it's too late. Make the move to VoIP today.
Making business calls online is easy. And it's free.
Get your business phone, messages, video meetings, contact management and notes–integrated in ONE powerful app. FREE.
FAQs About VoIP
Can VoIP receive text messages?
Yes! You can send and receive SMS and MMS-based messages from your VoIP phone lines. Nextiva includes it at no additional charge with their popular business phone service plans. Why pay extra elsewhere?
Can VoIP numbers send and receive faxes?
Yes! Nextiva allows you to send and receive unlimited faxes using your VoIP phone system. However, phone systems like RingCentral require you to be on the highest-cost phone service to exchange faxes. Read more about online faxing with Nextiva.