VoIP (Voice over Internet Protocol) lets you make and receive phone calls over the internet. In simple terms, it provides phone service over the internet.
VoIP can offer a ton of different features that your current telephone service may not have.
Call forwarding to smartphones or desktops, international calls, and other business communications services are easy with VoIP. Most IP telephony services also offer video conferencing, chat, and file-sharing. Think Skype or Google Hangouts, but even better!

What is VoIP (Voice over IP)?
If a traditional telephone uses analog lines and other hardware, VoIP solutions need almost no hardware at all. Analog phones, or "landlines," are supported by local telephone companies. VoIP providers transmit information digitally through a high-speed internet connection.
Essentially, your phone calls get converted into data that is sent through your high-speed Internet. VoIP phone service has several advantages over traditional phone service, which we'll discuss later on.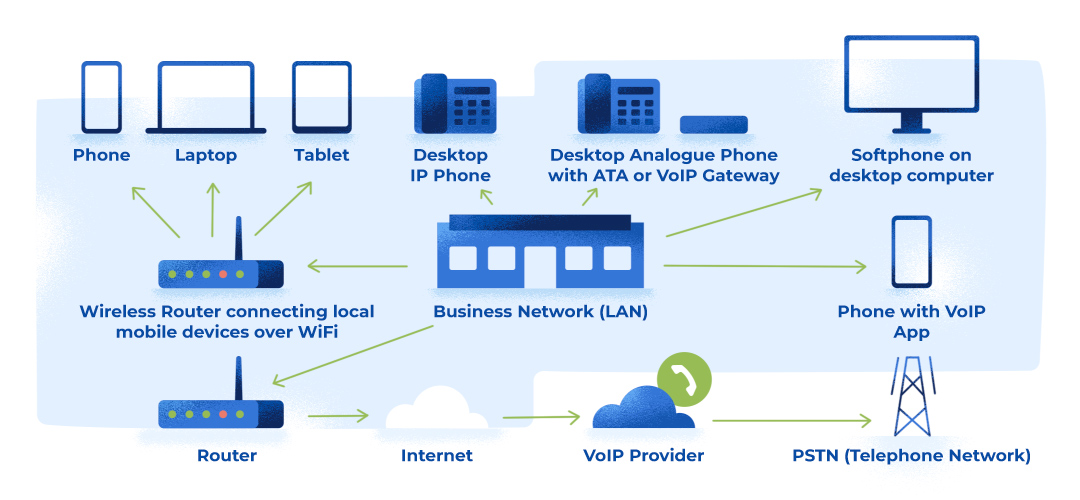 How Does Voice over IP Work?
One of the core principles of VoIP is that it converts your audio signals into digital signals and phone calls can be established bypassing the telephone company entirely. It's a great upgrade from an analog phone system or old-school PBX.
VoIP transmits data over the internet and sends and receives voice calls when in use. Since VoIP can't reach any phone on its own, a cloud-based phone provider needs to complete the call. 
A VoIP system doesn't rely on traditional phone lines — everything is powered and streamlined by a broadband internet connection. With Wi-Fi as the medium, users gain more functionality, reliability, and a diverse line-up of features.
What Are the Benefits of a VoIP Phone System?
Common misconceptions about cloud phones are poor call quality and that you can only make calls from a computer. Both of these are false.
In the early days of VoIP, the technology had not been fully established and took some time to hit mainstream adoption.
However, times have changed, and VoIP has become a proven, reliable, and cost-effective alternative to traditional phone service. VoIP phones now have a higher quality audio range (twice that of traditional phone lines).
1) Advanced features + flexibility

While VoIP is an excellent option for individuals, enterprise sees the most benefits. Companies can use VoIP phones' many features to be more productive in their daily communications.
Traditional analog lines are suitable for small businesses with a handful of employees, but businesses that regularly make long-distance calls or have many contacts are better off using VoIP.
VoIP offers a variety of advanced technology and features that benefit your business. Virtual calling also offers more flexibility and agility in comparison to analog phone systems. Read on to learn about some of a VoIP phone's stand-out features.
Related: VoIP Examples: Who Uses VoIP? (+4 Ways You Can Too)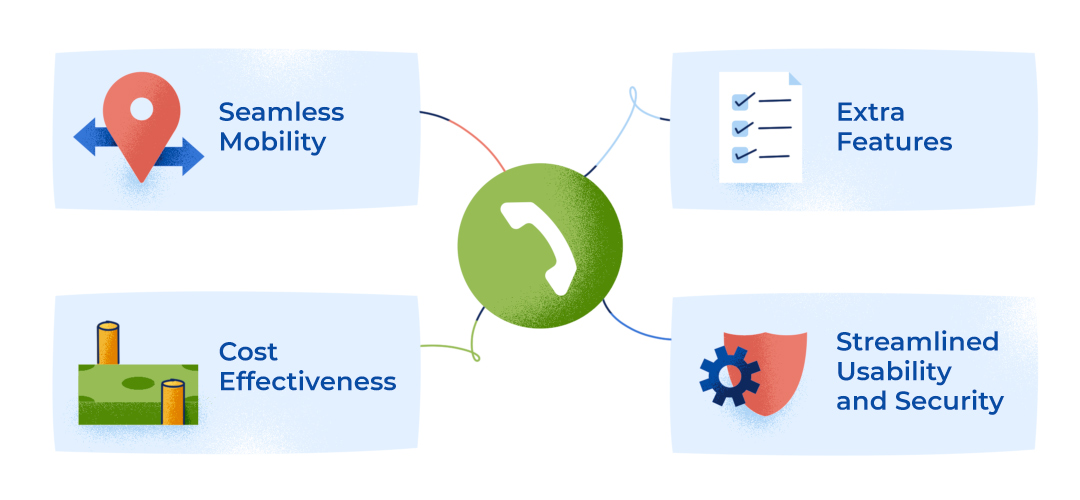 2) Mobility you can't beat

With cloud communications, gone are the frustrating days of missing an urgent business call because you were away from your desk. VoIP phones use your existing internet connection, so there is no need for dedicated copper wiring like with a traditional landline.
You're able to manage your business on the road, tune in to meetings from your mobile device, and never miss a beat. You're also able to seamlessly transfer a call from your cell phone to your office line without interrupting the conversation.  
The ability to take your office anywhere makes it easier to stay in touch with your customers, employees, and potential clients. As if that weren't easy enough, most VoIP phones come with a VoIP app that allows you to make calls, send texts, and more using VoIP technology.
No need for copper wiring

Mobile business management

Call transferring from cell to office

Availability to use VoIP Apps
With a fast broadband internet connection, you'll avoid common VoIP problems that some naysayers complain about.
3) Affordable + add-ons you can buy

One of the biggest perks of using VoIP instead of analog phone services is that it reduces costs. Many features of a typical VoIP package would cost extra on a landline (of course, this can vary from carrier to carrier).
For instance, unlimited calling and faxing can help you bypass data charges and traditional toll charges for international and long-distance phone calls. VoIP phones also use only the necessary amount of data during a call, allowing you to save on data usage.
Included features like auto attendant, IM (instant messaging) and chat, or voicemail to email mean you don't have to purchase such features independently.
Unlimited calling

Unlimited faxing

Auto Attendant

HD Voice Quality

Unified Communications

Video Conferencing

IM & Chat

Related: Who's Named the Best Business Phone Service Provider of 2020? Read on the find out!
4) Chat, video, conference calling — all in one

Digital communications make it easier than ever for employees to smoothly connect with each other, clients, and customers from their desktop. You can even forward calls to mobile devices.
Using a VoIP phone, you can share information, ideas, and thoughts in real-time. You can also expedite projects with instant collaboration tools such as IM, group chats, and video sharing.
VoIP phones link to user accounts, not phone numbers so that you can switch between simultaneous calls on any given account.
With a traditional landline, you need to sign into several accounts to chat via phone, video, and IM. On the contrary, you can chat seamlessly, share screens, and more with a business phone service.

These communications can be sent from any Internet-connected location in the world, allowing you to work on the go.
Instant messaging (IM)

Group chats

Video sharing

Conference calling

Teleconferencing

Switch between simultaneous calls
5) More secure than your landline
Security is one of the biggest worries of business owners — with good reason. Your assets are precious, and switching to new technology can make you feel vulnerable.
Contrary to many beliefs, VoIP is secure and safe. There are several features available with today's cloud phone systems that aid in security.
For example, many VoIP routers come with advanced security features and dashboards. Ensuring that your network is secure is the first step to a robust cloud phone connection.
The second step is ensuring that you partner with a VoIP provider who values security. This is why it's essential to have a checklist when looking for a business phone service provider.  
Good questions to ask include:
Are they accredited?

How many data security centers do they have?

What is their uptime?

Do they offer system status updates?

What software do they use?

Are thy HIPAA compliant?

Do they prioritize user security?
Related: Is VoIP Secure? An In-Depth Look at VoIP Security & Encryption
Do I Need a VoIP Phone?
Even though VoIP is gaining popularity among enterprise clients, many businesses are still sitting on the sidelines wondering if VoIP is right for them. The truth of the matter is, VoIP is not right for everyone. However, it will work for most.
There are several factors to consider when deciding whether to transfer to VoIP service. We'll cover a few of the most important ones below.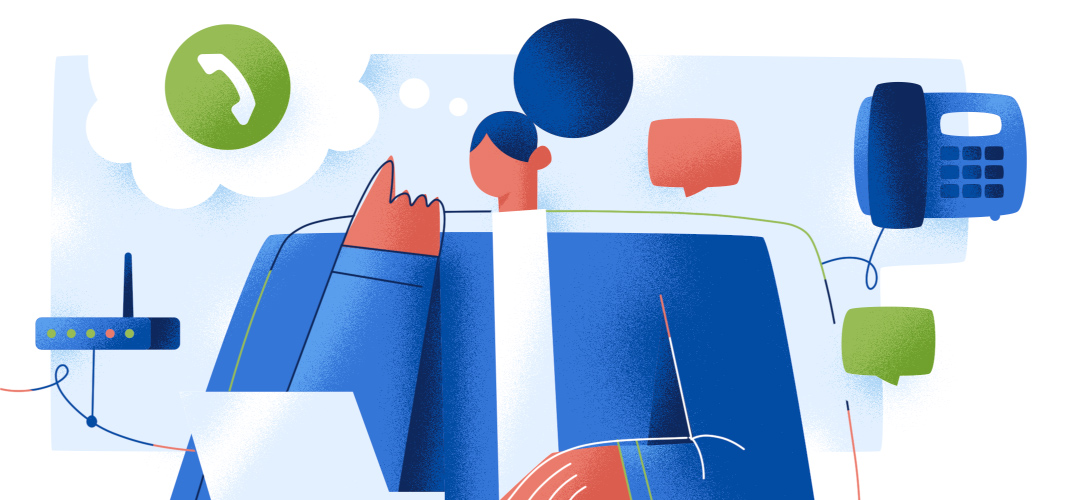 1) Can You Use VoIP at Home?
Individuals can use VoIP, but as we mentioned earlier, businesses will see the most benefit. Companies of all sizes can use VoIP calling — from startups to large enterprises.
The main factor to consider is who you communicate with most. For instance, a small business owner who doesn't make very many long-distance phone calls or video calls may not find that switching to VoIP is necessary.
However, if you make many calls a day, make out-of-city phone calls or would like to make conference or video calls, VoIP is the best option. It also allows businesses to scale their business communications systems. Adding or removing phone lines is a cakewalk!

Related: Find out how many phone lines you need for your business
2) Setting Up VoIP: Hardware + Software

Many people think that VoIP requires expensive and complicated equipment. This isn't necessarily the case!
You'll need some equipment to take advantage of the services and features VoIP offers, but you can choose to scale up equipment-wise or keep it relatively simple.
If a user wants only the most basic of features, all they need is a phone, a fast internet connection and the VoIP service itself. Many providers even offer a virtual number service, which allows the user to take calls from their cellular phone.
While the phone, internet, and service itself are the core essentials, additional hardware means the user can take advantage of more features.
Additional hardware you may need:

ATA (Analog Telephone Adapters)
Headset
Microphone
Webcam (or computer with built-in camera)
Online faxes
For instance, if you would like to use the existing phone system at your office, you will need an ATA or Analog Telephone Adapter. These act as an interface between the landline phone and the softphone.
If your office already has a PBX, you'll want to leverage SIP Trunking to get the best of VoIP and save on equipment costs. (You can also lower your trunking costs, too!)
You may also choose to make calls from your computer using a headset. If you'd like to participate in video calling, a webcam (or computer with a built-in camera) is necessary.
If you'd like to make conference calls, you'll need an IP conference phone.
For those who want to maximize usage (or for large companies), VoIP offers other technology like online faxes, conference phones, and routers.
These features can be extensive and costly, but the option is available for those who wish to use them.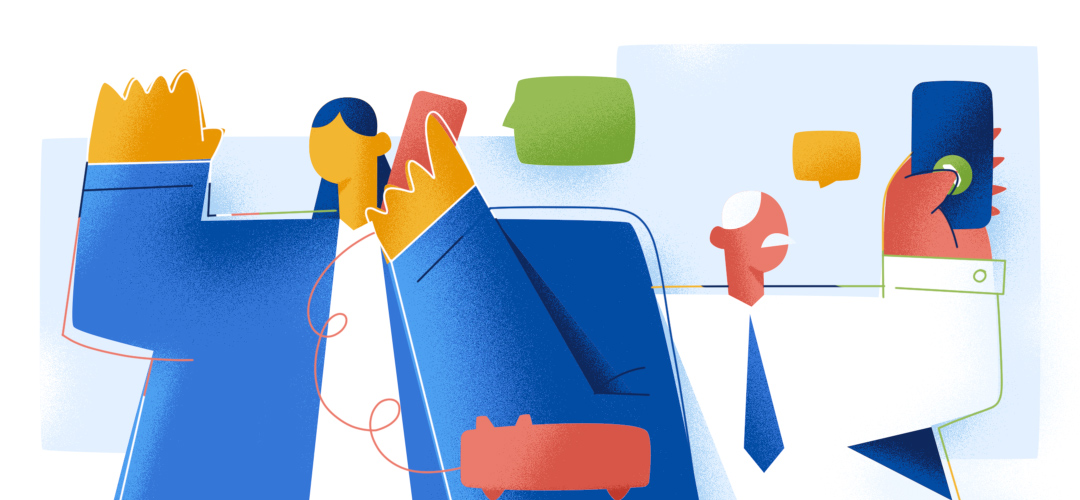 3) Is VoIP Reliable?
When VoIP services first started, the quality was inconsistent. This meant that calls sometimes dropped, jitter and delays were common, and drop-outs in voice could occur. As Internet bandwidth and service has improved, VoIP call quality has become much more consistent.
Today's technology allows VoIP calls to sound as crisp and clear as a landline phone. However, this will depend on your Internet service provider's network. The SIP protocol itself allows for error-correction based on establish IP transport protocols like TCP or UDP. It's your choice.

You can ensure your network has enough bandwidth using our speed test tool. Once you've determined your network is sufficient, you shouldn't have any problems with reliability.
Emergency calling
Emergency calling can be a bit of a challenge with VoIP. For instance, if the Internet connection is down, there is no way to make a call using a softphone. For example, during a natural disaster, a cell phone or landline would be necessary to make an emergency call.
Another issue with emergency calling is that — because VoIP uses virtual phone numbers with IP addresses — there is no way to associate a geographic location with the number.
This means that when you call 911, the operator can't automatically see your location. In the event of an emergency, you'll need to be able to tell the operator where to send help.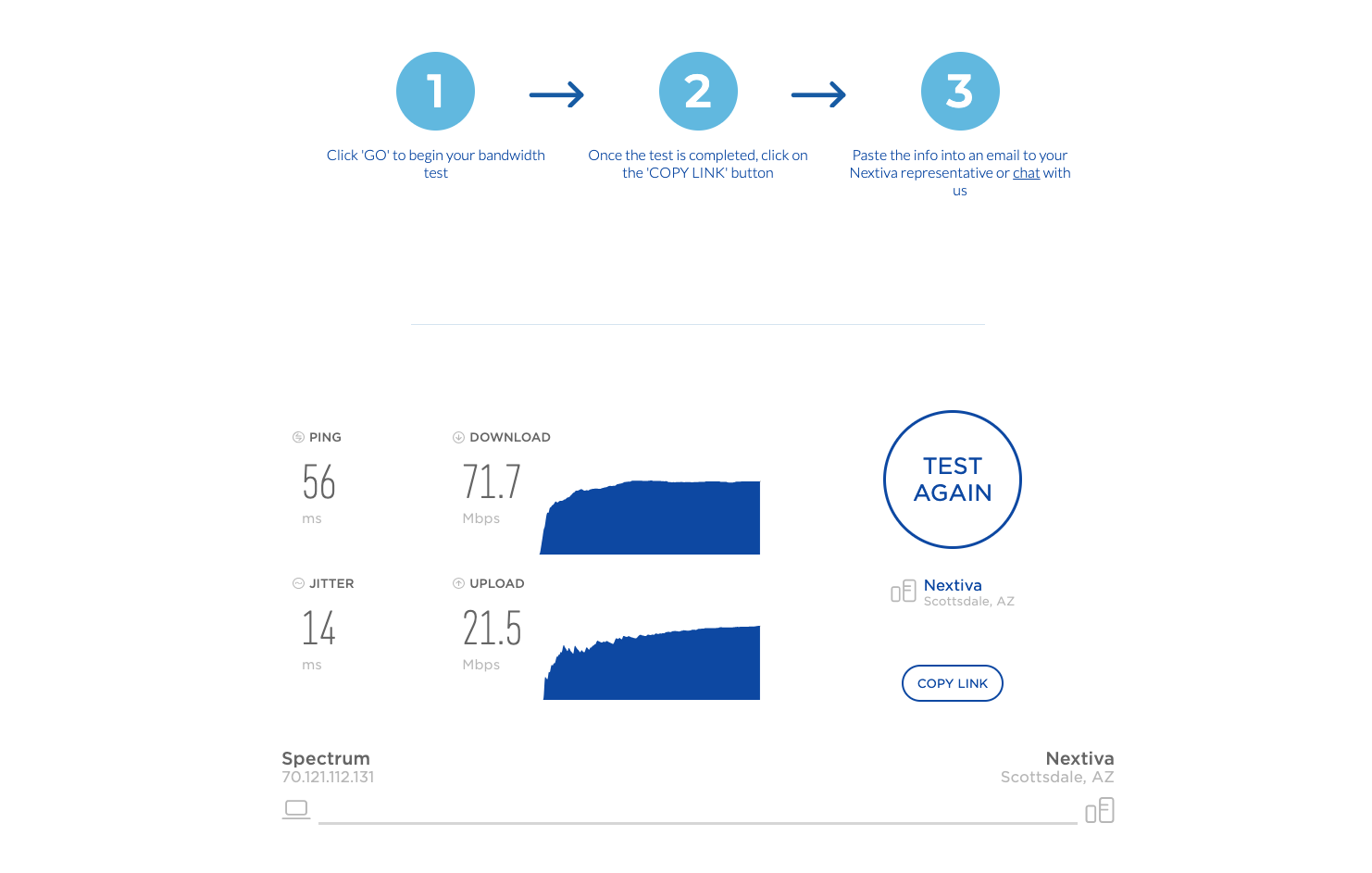 What Is the Best VoIP Service?
Having a cloud phone system adds an element of credibility and reliability to your business. However, not all providers are the same. To decide which business phone service works best for you, you will need to consider your specific business needs.
When choosing a business phone service you will need to decide what goals you have — do you hope to use your same phone system? Will you get hosted in-house VoIP service or go for full cloud-based service?
Assess your current and future needs
Call volume
Current resources and personnel
Voice over IP functionality
You will need to look at your current and future call volume for yourself and your employees to determine which VoIP plan you will need. Consider scalability options so that you can grow seamlessly.
Make an audit of your current resources and decide which you will want to integrate with your phone service.
For Goldberg HedgeFunds, a small business financial services firm, experienced 227% revenue growth since they switched to Nextiva.
Find a reliable VoIP provider
Once you have an idea of what you are looking for functionality-wise, you can look for a service provider that matches your budget and operational needs. Find a VoIP provider with great reviews, a good reputation, and excellent customer support. You can even look around to see which industry leaders or competitors are using which services in your area.
Now that you know what a VoIP phone is and how it works, you can determine if it's right for you. For most people, it's the best option if you want cost savings, clear communications, and useful features.
While there are several factors to consider, such as the speed of your Internet connection and equipment, the choice should be an easy one.
If you decide to switch to business VoIP service, remember to do your research and find an accredited company that offers top-of-the-line security and equipment.
For an idea of VoIP features and pricing, you can compare plans for small to medium and large businesses from Nextiva.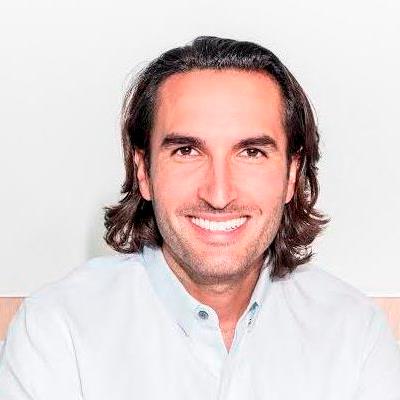 Yaniv Masjedi serves as Nextiva's CMO. An avid reader and lover of all things marketing, leadership, and personal growth, Yaniv is obsessed with creating strategies that drive awareness, strengthen brands, and create customer-centric culture. To get in touch, follow Yaniv on LinkedIn.