Telecommunications has drastically changed over the past few decades.
Not long ago, landline phones were in many businesses and households. However, landline usage has declined every year since 2004, and more people have turned to mobile phones and VoIP for personal and business use.
VoIP, short for Voice over Internet Protocol, simply requires a high-speed internet connection to make and receive phone calls. You can use VoIP on your mobile phone, desk phone, or computer, which makes VoIP an attractive option for businesses.
Landlines, on the other hand, have expensive setup and maintenance costs. If your business is growing and requires more phone lines, this is an additional cost. Landlines also lack key features for modern workforces, like video conferencing and team chat. VoIP supports these features and many more.
In this article, we'll list more than 30 VoIP statistics that explain why more businesses are making the switch to cloud-based communications, starting with market size and adoption.
VoIP Market Size and Adoption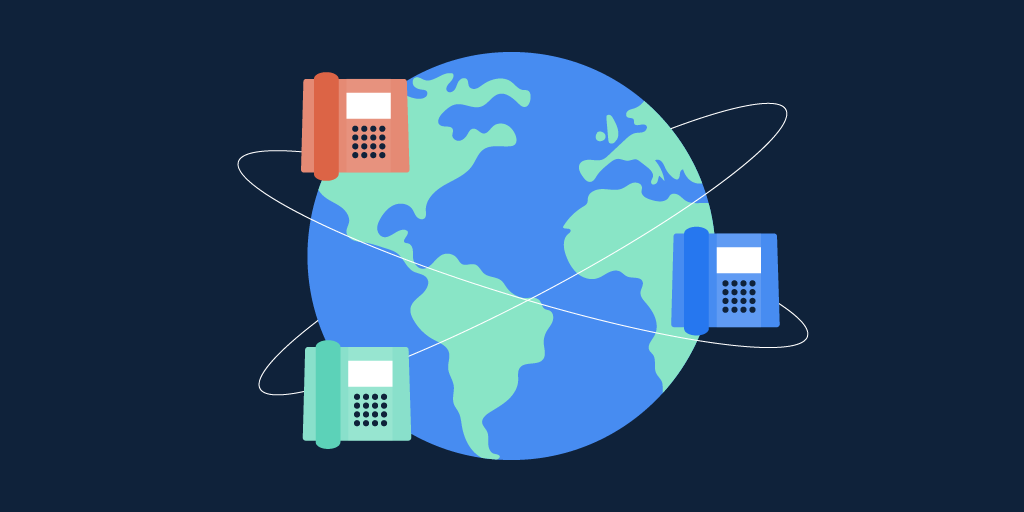 VoIP first gained popularity in the 1990s and began to see impressive growth by 2005. Its market growth shows no signs of slowing down, especially as remote work becomes more commonplace and businesses look for solutions to support their distributed teams. In this section, we'll provide statistics that reveal VoIP's growth since the decline of landline.
Almost 60% of U.S. adults lived without a landline in their home in 2019
As mentioned earlier, homes and businesses have been steadily moving away from traditional landlines since 2004. The rise of mobile phone usage and VoIP technology has made landlines more obsolete by the day. If this trend continues, landlines could face the same fate as CDs, VCRs, and other technological relics.
Source: CDC
The VoIP services market is expected to reach $194.5 billion by 2024
Research shows VoIP's growth is driven by low maintenance and setup costs, requires minimal staff support, better reliability, and has robust features. Businesses are quick to realize that they need more than just phone calls. VoIP supports features like video conferencing, unlimited calling, analytics, and more. All without the price and infrastructure of a PBX service.
Source: Persistence Market Research
The global UC market is expected to register a CAGR of 16.8% from 2019 to 2025
Unified Communications (UC) is the integration of business communication and collaboration tools under a single platform. These tools include a virtual phone system, video and audio conferencing, team chat, team presence, file sharing, and more.
With UC, employees no longer have to use disconnected, fragmented technologies to communicate internally and externally. This leads to cost reduction, improved productivity, support for remote employees, and improved customer experience. It's no wonder why VoIP and UC are seeing such impressive growth.
Source: Grand View Research
More software buyers go with VoIP than any other type of voice service
Software buyers use voice services like Plain Old Telephone Service (POTS) and Primary Rate Interface (PRI) less frequently than VoIP. Below is the breakdown:
VoIP use – 36%
POTS use – 24%
PRI use – 11%
Cellular use – 8%
The same study lists lack of scalability, aging systems, lack of PBX applications, lack of call routing functionality, and cost of current phone systems as the top five reasons that drive software buyers to look for a new solution.
Source: Software Advice
The cloud-based contact center infrastructure market will grow by 24% in 2020
Features like auto-attendant, call queuing, and advanced call routing makes VoIP a natural fit for cloud-based contact centers. These features allow contact centers to reduce overhead costs and resolve inbound calls faster and more efficiently. This also provides a better customer experience for incoming callers.
Source: DMG Consulting
Moving to the Cloud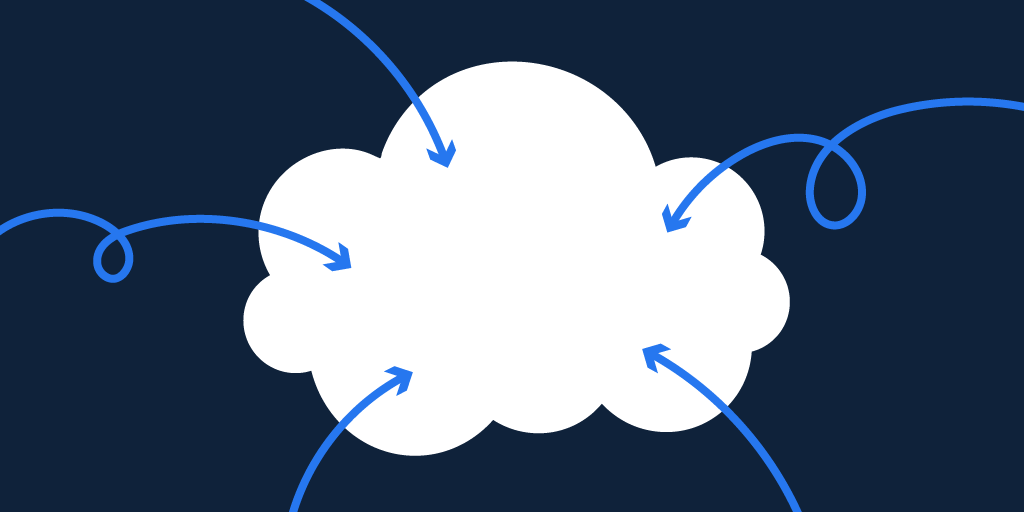 In the previous section, we learned that more businesses are moving their phone systems from on-premise to the cloud. In this section, we'll put into context just how many businesses and organizations are moving to the cloud, along with some of its benefits.
82% of businesses report cost savings when they moved to the cloud
Moving to the cloud could pose a number of benefits, especially to small businesses. Some of these benefits include lower setup, maintenance, and operating costs, more flexible payment options, increased mobility for remote workforces, and improved collaboration. It's no surprise that cloud telephony is rising in popularity.
Source: Microsoft
83% of enterprise workloads will be in the cloud by the end of 2020
Enterprise businesses are adopting cloud solutions for more than just cost savings. Digital transformation (63%) and artificial intelligence and machine learning capabilities (50%) are amongst the top reasons why enterprises move to the cloud. Although, 2 out of 3 IT professionals have expressed security concerns for cloud adoption.
Source: Forbes
Almost 50% of government organizations use cloud services
SMEs aren't the only ones moving to the cloud. Nearly half of the government organizations today are realizing the major benefits of cloud-based services. In most cases, cost-savings and increased efficiency are the two main drivers behind the shift. Although, data sovereignty remains a top concern with governments, as they don't want to store data outside their borders.
Source: Gartner
Rise of Remote Work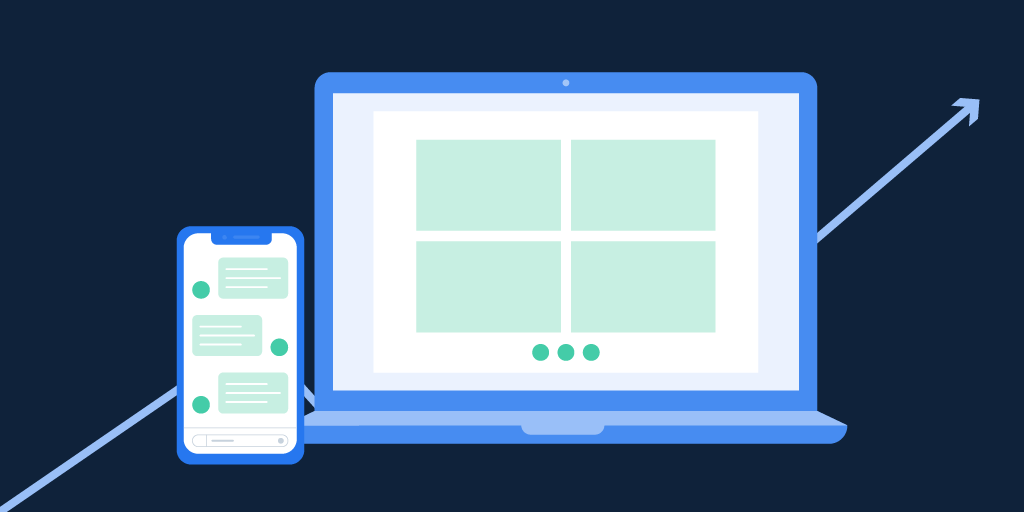 Remote work, or telecommuting, had seen a consistent rise before COVID-19. In 2020, more businesses adopted work from home policies for the first time, and are seeing the productivity and cost benefits of having a remote workforce. Technologies like VoIP, video conferencing, and team presence have made remote work more manageable.
In this section, we'll provide statistics that show the rise of remote work and how businesses and their employees can benefit from it.
Remote employees top 40 hours/week 43% more than on-site workers
Managers that are new to telecommuting may be worried that their remote employees could be working less. However, a recent report by Owl Labs found that remote employees often stay on the clock longer than their on-site counterparts. One of the driving reasons for this is because remote employees find it harder to unplug after work hours.
Employees working too long of hours could face potential burnout, one of the most common remote work challenges today. As a manager, you should be proactive in capping hours and so burnout doesn't set in.
Source: Owl Labs
77% of remote employees report greater productivity
Remote employees aren't just working for longer, they're working with greater productivity levels, too. With more time on their hands, remote employees are more likely to spread their work throughout the day – leading to a more flexible schedule.
The report from CoSo also found that 36% of remote employees rely on video conferencing and 32% rely on VoIP for work. These are among the most used virtual communication and collaboration technologies.
Source: CoSo
38% of companies have employees that work remotely
The data is out there. Remote employees work longer hours, take less time off, and are often more productive throughout their workday. It's no surprise that remote work policies are becoming more popular in businesses of all sizes.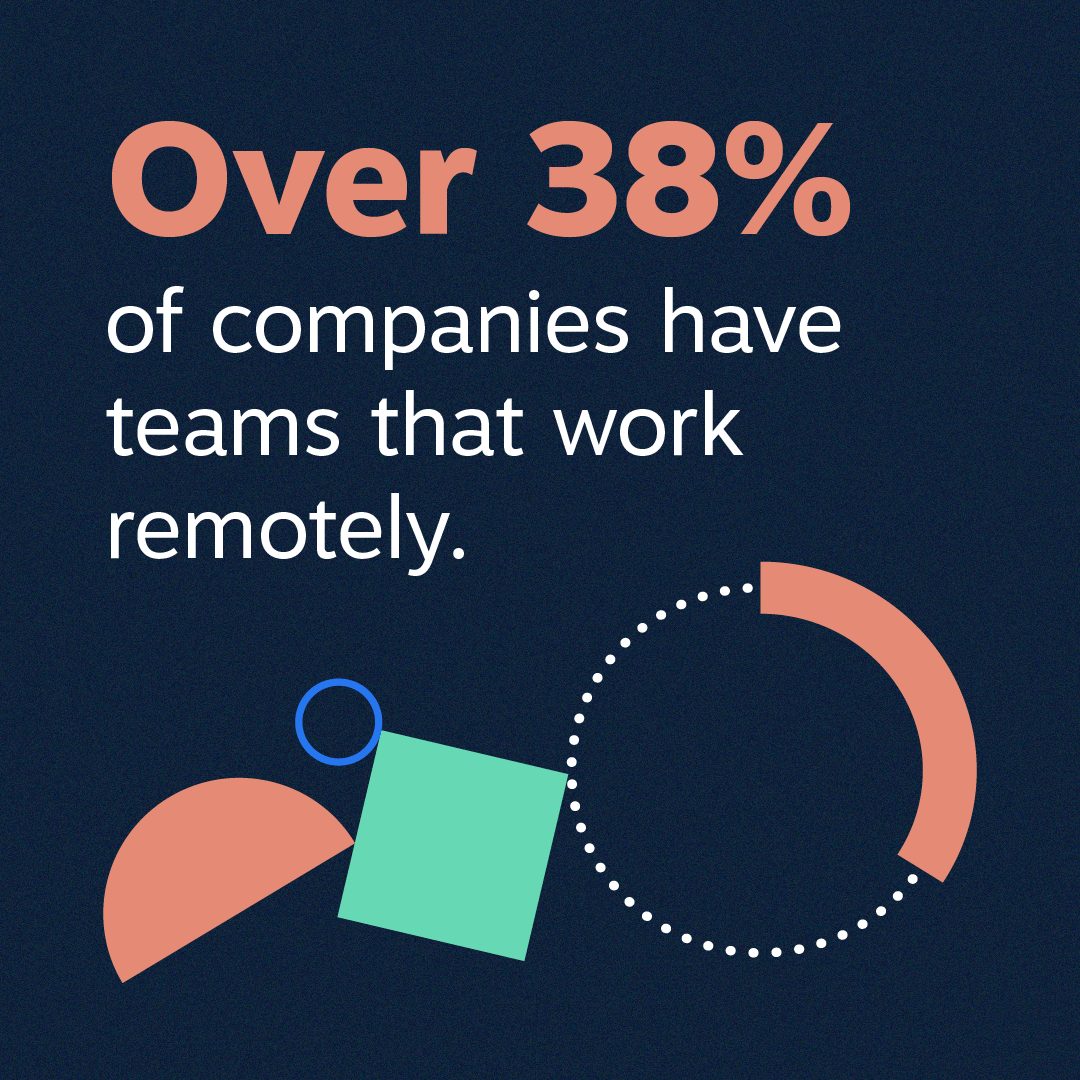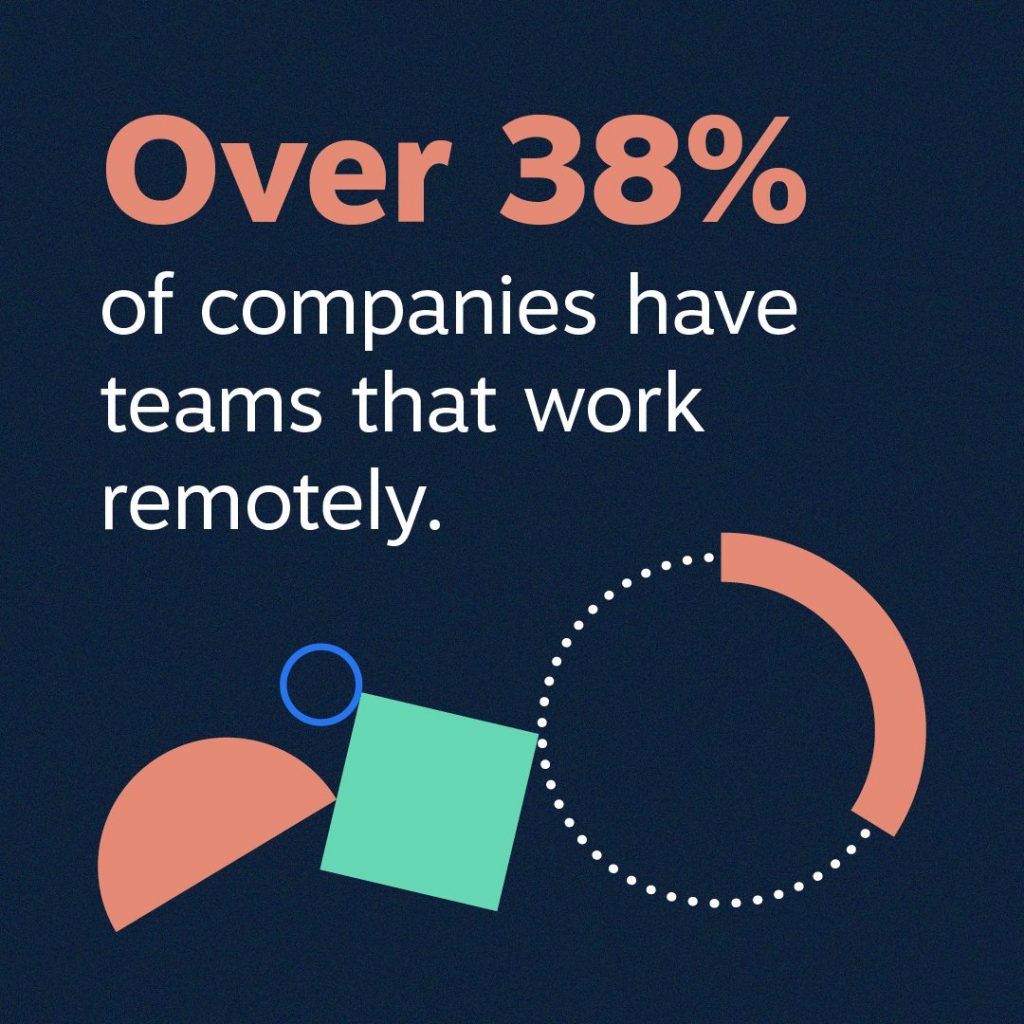 In our recent State of Business Communications Report, we found that more than 1 in 3 businesses have remote employees. This number will surely rise post-COVID-19, which is why your business could benefit from tools that enable remote workforces.
Source: Nextiva
Cost of VoIP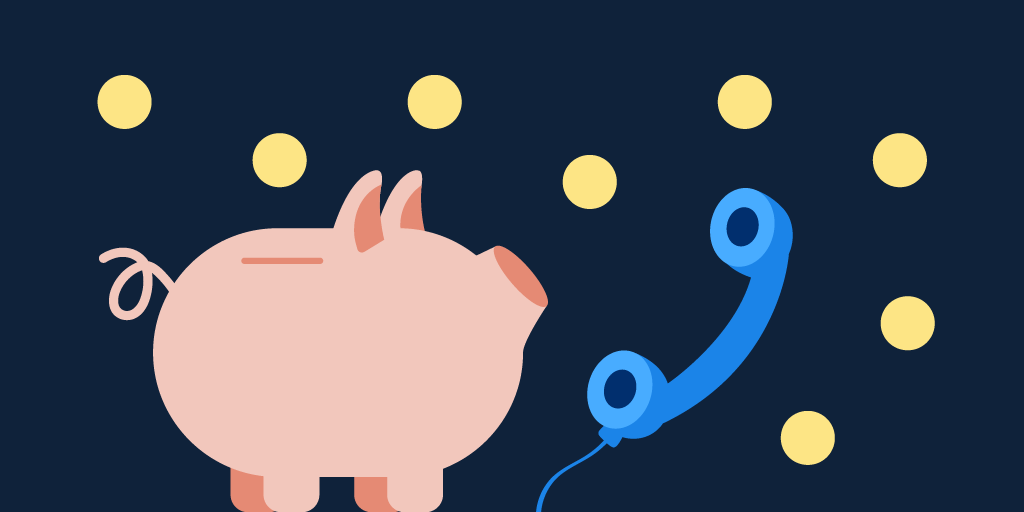 Going with a VoIP solution can help you reduce your business phone bill, improve call quality and reliability, streamline customer service, and unlock robust features that aren't available with legacy phone systems. In this section, we'll provide statistics on why the cost of VoIP may be worth it for your business.
Companies can reduce phone costs by up to 50% with VoIP
While the percentage of savings can differ from business to business, VoIP is able to reduce monthly phone costs for a number of reasons.
One of the main reasons is because VoIP uses the internet to make and receive phone calls, as opposed to landlines, which require on-premise wiring. Setting up and maintaining a landline can be expensive. With VoIP, the setup and operating costs are much lower.
Another reason is that all calls are charged with landlines. With Nextiva, you'll get unlimited VoIP calls in the U.S., Canada, and Puerto Rico. This makes VoIP a great option for small businesses trying to expand their reach.
Source: TelZio
The price of VoIP services may go up by 3% over the next five years
Compared to the cost-savings and value VoIP can provide to your business, this small price increase isn't too significant. One way businesses can manage their VoIP spend is by finding a pricing model that works best for them. These models most often include tiered pricing, pay-per-user, and fixed pricing.
Source: Spend Edge
Cloud-based contact centers resulted in a 15% reduction in IT personnel costs
Moving your contact center to the cloud can reduce the amount of IT support needed to manage on-premise hardware and other components. Cloud service providers deliver and maintain their solutions, which means your IT staff can spend less time focusing on the infrastructure of the contact center and more time on other tasks.
Source: TeleTech
Companies with UC saved time and money through efficiency
With everyone working under a single platform, communication moves faster and more efficiently throughout a business. Businesses that have made the move to UC spend less on their technology stacks, have improved internal collaboration, and streamlined business processes. In addition, businesses that use integrated voice and video conferencing with UC reported a 30% cost reduction in conferencing tools.
Source: Ziff Davis
Customer Service and Call Centers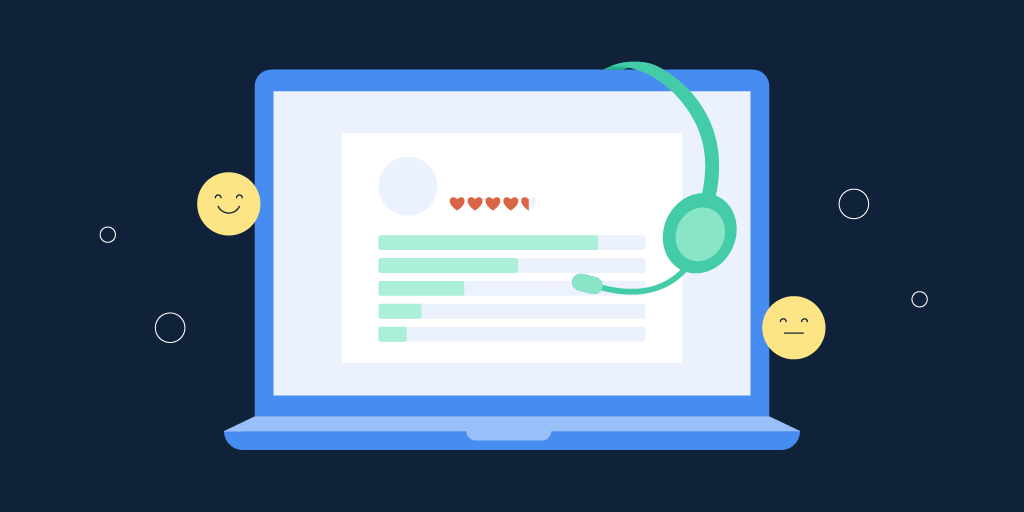 When a customer calls your business, they don't want to be stuck on hold, bounced around to the wrong departments, or have their calls dropped. Call centers looking for better reliability, tracking, and more robust features are upgrading their business phone systems. In this section, we'll provide statistics that reveal why more call centers are considering VoIP.
83% of companies lost a customer, missed a major deadline, or terminated an employee due to a communication issue in 2019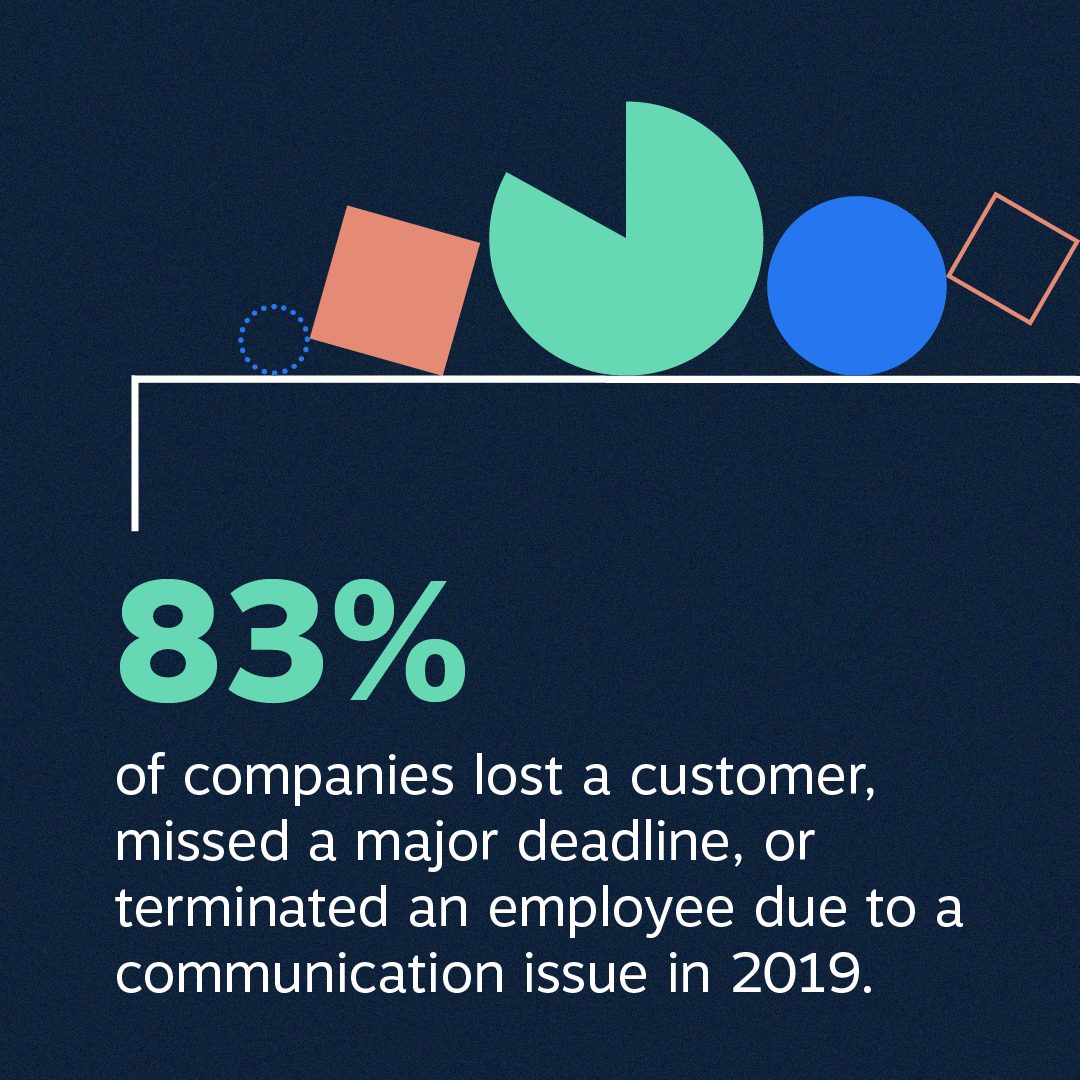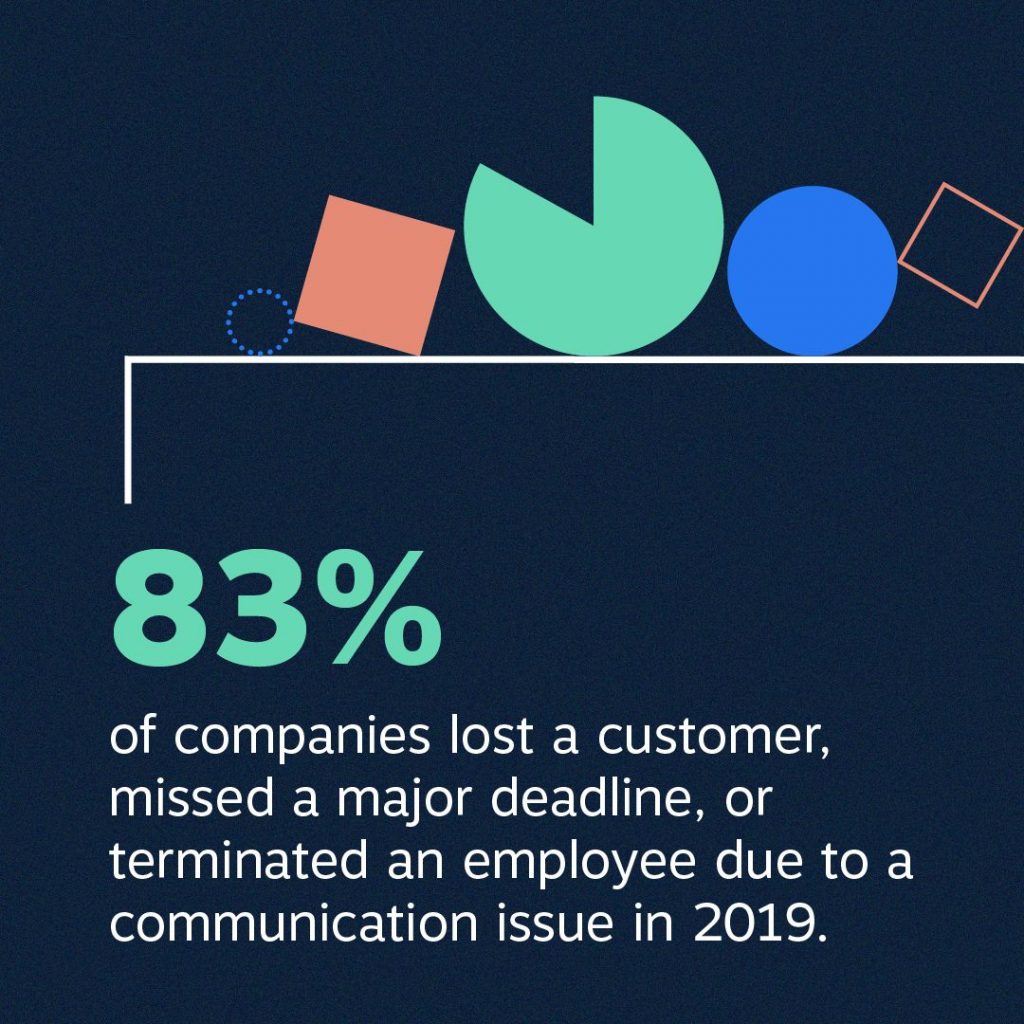 All three of these events are significant for a business. Poor communication can upset or confuse a customer, cause roadblocks in work productivity, and affect employee performance. With the right tools, communication and collaboration don't have to be fragmented.
Source: Nextiva
60% of customers prefer to contact businesses by phone
After finding a local business online, 6 in 10 customers prefer to pick up the phone and contact them directly rather than deal with live chat, email, or online contact forms.
For small businesses, these inbound calls can add up, especially around busier seasons. Having a commercial phone service in place can allow businesses to streamline their call routing and have customers reach the right departments faster.
Source: BrightLocal
61% of customers have stopped doing business with a brand due to poor customer service
It pays to have poor customer service. If your phone service is unreliable and hinders how quickly a customer can connect with the right departments, you run the risk of losing customers.
In the same survey by Microsoft, 59% of respondents said they had higher expectations of customer service than they did in the previous year. So, if you're not actively improving your customer service systems, then you're falling behind.
Source: Microsoft
By 2025, AI will power 95% of all customer interactions
AI is playing an increasingly important role in customer service, and its role will continue to grow over the coming years. Technologies like AI-enabled chatbots, voice assistants, and Advanced Interactive Voice Response (IVR) will make up a bulk of the interactions with customers.
Source: Gartner
Try the #1 business VoIP phone system today.
Get advanced calling features for less.
Important VoIP Features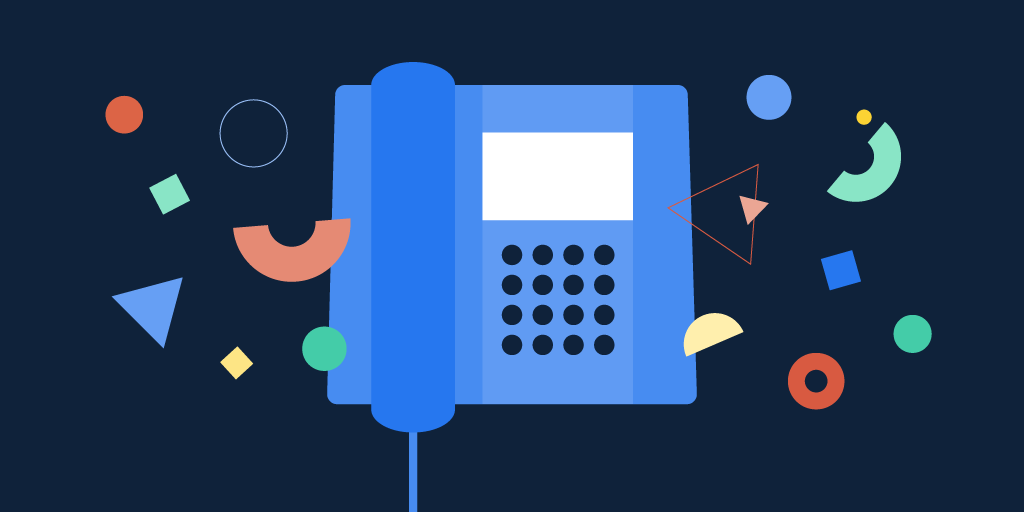 By now, it's clear that VoIP can lead to cost savings and reduce monthly phone bills, but it's the variety of VoIP features that add value to your business. In this section, we'll provide statistics on some of the top VoIP features today.
Companies that use contact center analytics have reduced Average Handle Time by 40%
Average Handle Time (AHT) is a common call center metric which measures the average length of time it takes for reps to resolve customer service inquiries. High AHT may point to an issue in customer service scripts, or it could signal that reps need more training.
Contact center analytics have helped businesses reduce their AHT by sifting through call logs and pinpointing call incidents. Managers can apply analytics by reworking customer service scripts and identifying common customer complaints.
Source: McKinsey
87% of people use a mobile phone to communicate at work at least once per week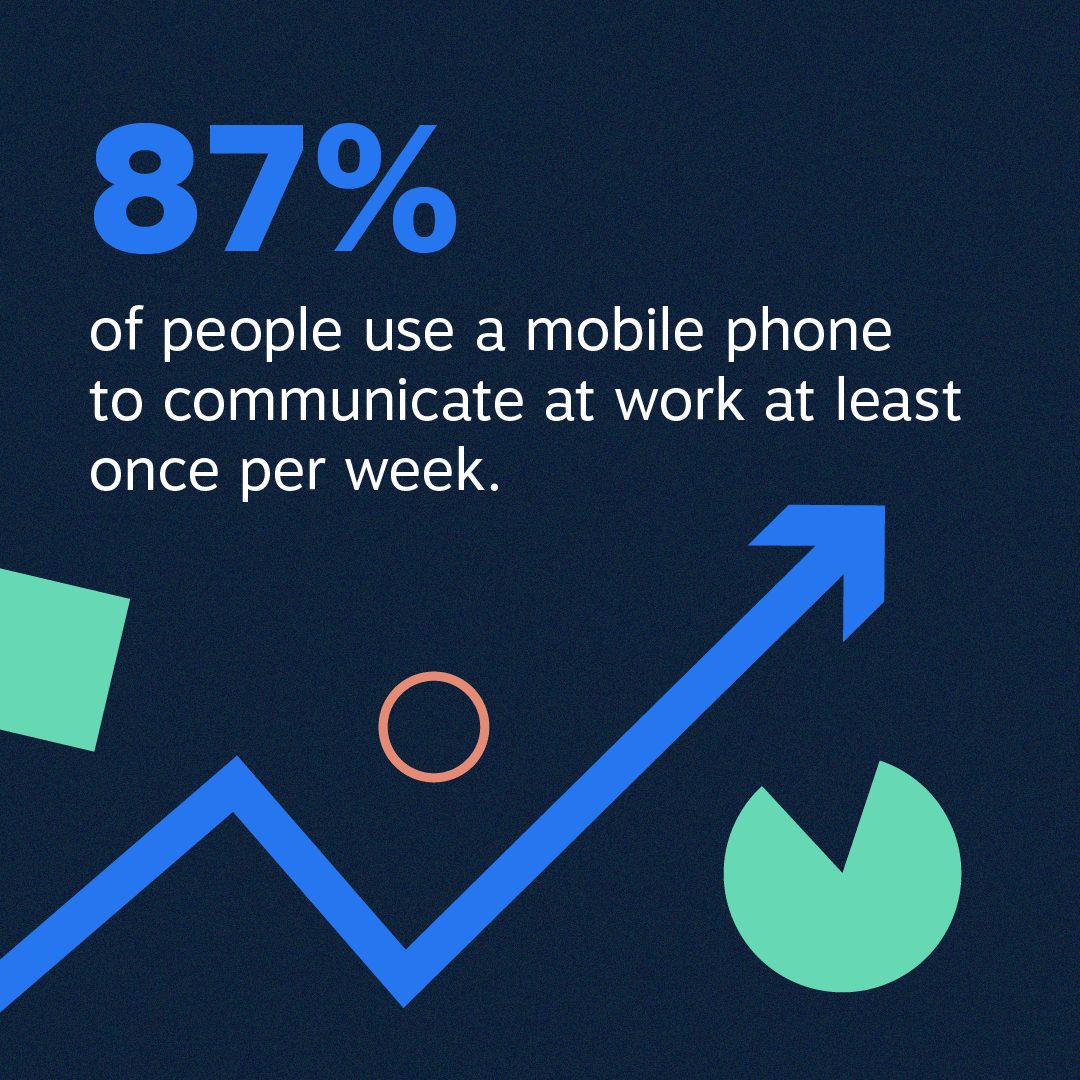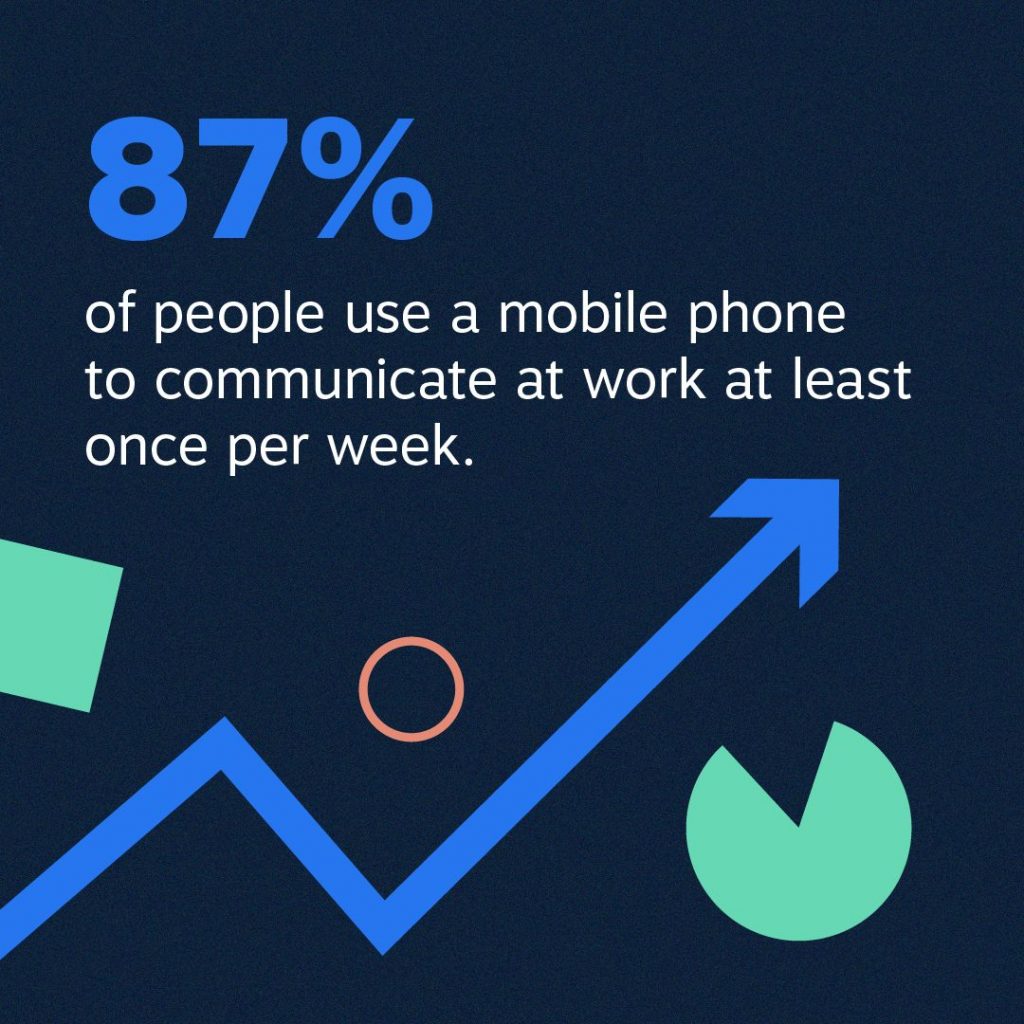 With more people away from the office, it makes sense that they would use their mobile phones to take work calls. With a VoIP mobile and desktop app, employees can move calls from their smartphones, laptops, and desk phones without any interruptions or hiccups. For employees that are often on the go, this functionality is key.
Source: Nextiva
62% of contact centers use IVR or self-service speech platforms for customer service
IVR, short for Interactive Voice Response, is an automated phone system with call routing capabilities. While auto-attendants use a phone's dial pad to route callers to the right departments, IVR does this through voice recognition. For example, a caller could say "I'm trying to reach the support team" and IVR would use this vocal cue to route the caller.
More contact centers are using IVR because of its self-service convenience for callers. It's also a way for contact centers to gather important information ahead of each call.
Source: Forrester
76% of calls go unanswered if they're from unidentified or unfamiliar phone numbers
People everywhere are receiving more robocalls and spam calls. As a matter of fact, Hiya saw an 850% jump in scam calls during COVID-19, the calls were related to stimulus checks. In a time where people have diminishing trust in picking up their phones, it's important for your business to use caller ID, one of the more basic but important VoIP features.
Caller ID further legitimizes your business when it comes to external outreach, and prospects will have added confidence when picking up their phones. Hiya also found that 65% of calls with a business' name on the caller ID were answered.
Source: Hiya
48% of business professionals use video conferencing more frequently than two years ago
Real-time communication like video conferencing and live chat have surged over the past few years as more businesses adopt remote work policies. These technologies support a collaborative work environment, even when teams are distributed.
In this report from Lifesize, employees also believe that businesses that use video conferencing are more innovative than those who don't.
Source: Lifesize
60% of smartphone users have called a business directly from a Google search
Google visitors looking to connect quickly with a business are likely to tap the business phone number that shows up in search results. Knowing this, your business should go in and add a number for customers to reach.
With VoIP, you can get access to toll-free numbers featuring a special area code that doesn't charge callers, like 800, 888, 877, and so on. Toll-free numbers can increase the credibility of your brand, give you a national presence, and have call routing capabilities. You can also track incoming calls from different marketing campaigns with toll-free numbers.
Source: Google
VoIP Security and Compliance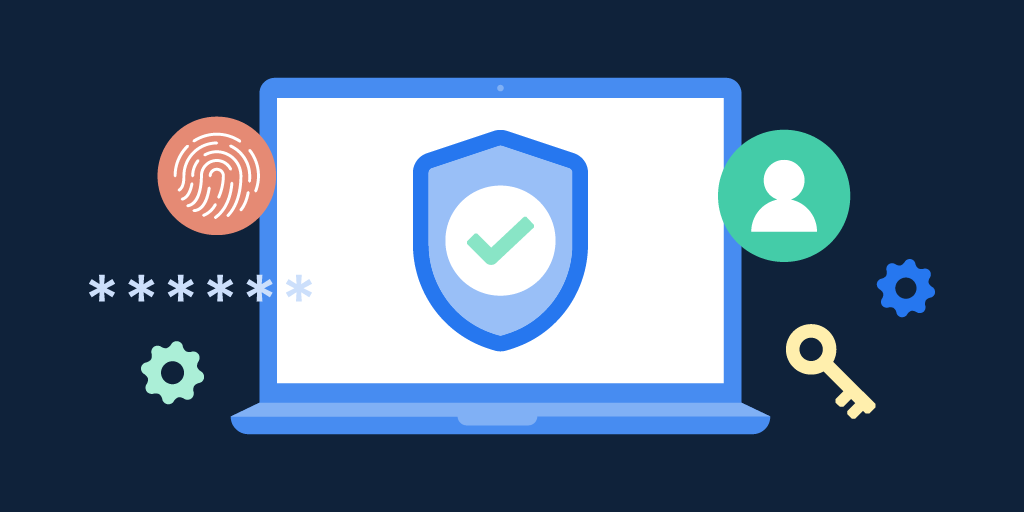 Security is important for any business, especially when it comes to internal and external business communications. In this section, we'll provide statistics on the current landscape of cyber threats and how it relates to your VoIP phone system.
The average cost of a data breach in the U.S. is $8.64 million
It's worth noting that the U.S. has the highest average cost of a data breach, and healthcare has the highest industry average cost at $7.13 million.
Data breaches are surefire ways to lose customers, consumer trust, brand reputation, and face potential legal issues depending on the type of data that was exposed. When it comes to industries with compliance requirements, like healthcare, you need solutions that are capable of protecting sensitive data.
When researching a VoIP or UCaaS solution, look at reliability, compliance, security, and accreditations. Service providers, like Nextiva, work diligently to protect business communications data.
Source: IBM
Nearly 1 in every 6 adults in the U.S. fall victim to scam calls
This translated to $10.5 billion lost in 2018, and the U.S. continues to be on the list of top scammed countries.
Scam calls are getting more intricate and more frequent by the year. They are a type of social engineering attack, where the scammer builds relationships with their victims so they think it's a genuine call. The victim is then more susceptible to handing over sensitive information. Research shows that 62% of businesses experienced a social engineering attack in 2018.
Source: TrueCaller
SIP accounted for over 51% of the security event activity analyzed in 2016
SIP, short for Session Initiation Protocol, is one of the foundations of real-time communication tools today. It is commonly used for VoIP phone calls, video conferencing, and team messaging. Because of this, SIP is also the most commonly targeted VoIP protocol.
Security Intelligence found an upward trend in attacks targeting SIP. If your business is thinking of upgrading to VoIP, you need to ensure that a service provider follows security best practices. Encrypting Wi-Fi connections, enforcing strong password policies, and deactivating inactive accounts are among these best practices to consider.
Source: Security Intelligence
25% of Wi-Fi hotspots in the world do not use any encryption
A reported 1 in every 4 Wi-Fi hotspots in the world is insecure. If you're using your VoIP phone over an unencrypted Wi-Fi network, you run the risk of eavesdropping. This is essentially when hackers are able to listen in on business phone calls either in real-time or via call recordings, like voicemail.
Through eavesdropping, hackers can collect information on both your business and your customers, which is why your employees should use their VoIP phones on encrypted networks. Your business should also enforce VoIP security best practices.
Source: Kaspersky
VoIP Service Providers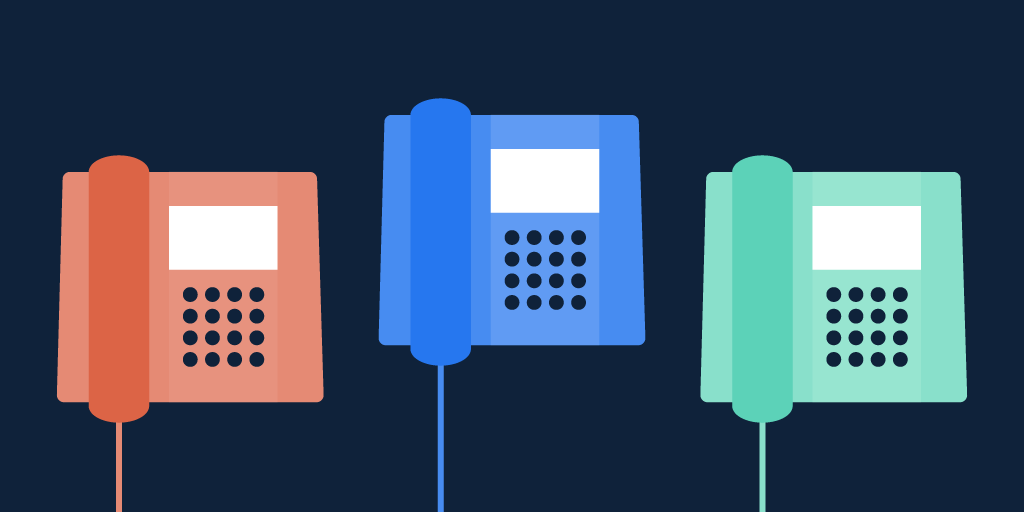 If you're looking to upgrade your business phone system with VoIP, you'll likely compare service providers and weigh their differences, asking questions like: How are their customer reviews and ratings? How expensive is their service? What kind of support can you get? Do they offer a free trial? These are all great questions to answer during your research.
In this section, we provided statistics from U.S. News on the best business phone systems to provide more clarity to the questions above.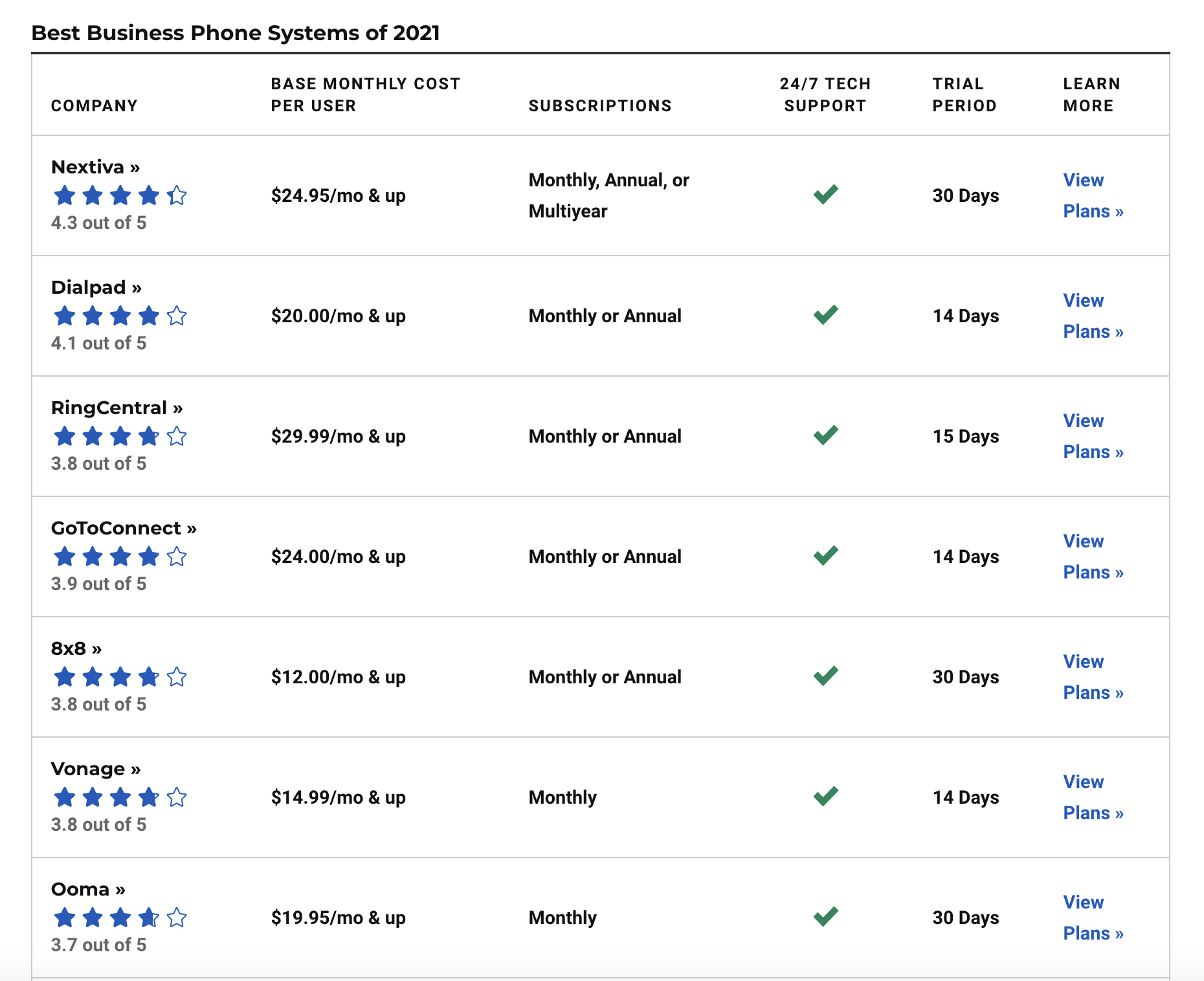 As you can see, there are a lot of choices on VoIP service providers, which is why you should also compare features, reliability, and security in addition to the data above.
Upgrading your phone system with VoIP
In this long layout of VoIP statistics, we learned that the VoIP market is growing rapidly. We learned that more businesses are realizing the cost and security benefits of moving to the cloud. By moving your business communications to the cloud with VoIP, you become better equipped to support a remote workforce.
We also learned how VoIP can bolster your call center and improve customer service. We discussed some of the top VoIP features right now, like auto-attendant, video conferencing, IVR, and mobile and desktop apps.
In this article, we shed light on the importance of securing business communications data, especially if you're in an industry with compliance requirements. Finally, we provided data on the top VoIP service providers today based on metrics like customer reviews, ratings, pricing, tech support, and more.
It's no surprise to us that Nextiva is atop the list of VoIP service providers.
We've saved businesses up to 60% on their phone bills. We provide world-class network and physical security. We have a 99.999% service uptime. Our customer reviews and ratings speak for themselves. So, if you're ready to upgrade your business phone system with VoIP, let Nextiva help you along the way. Check our pricing to get started.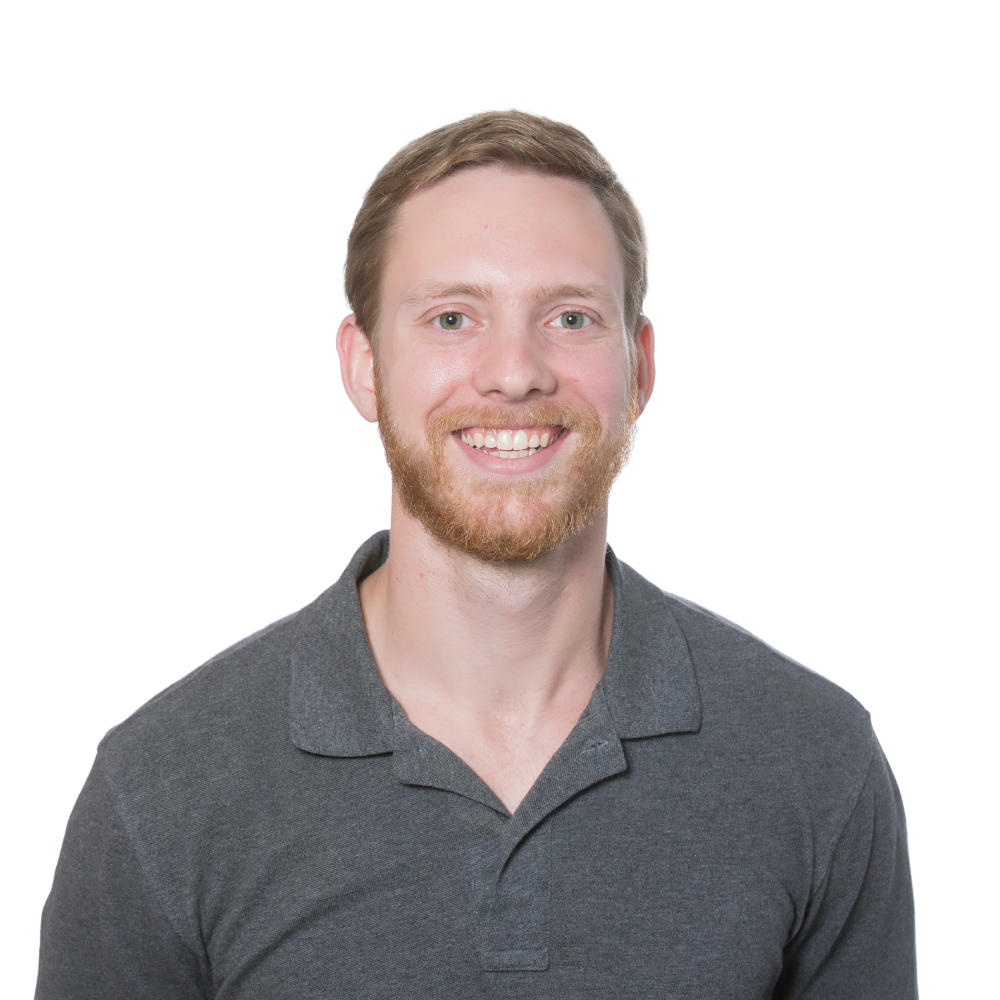 Devin Pickell is a Growth Marketer at Nextiva. He combines his skills in content marketing, SEO, data analysis, and marketing strategy to meet audiences at the right moment in their journey. He has helped scale SaaS brands like G2 and Sphere Software, and contributed to G2's traffic growth of more than 1 million visitors-per-month. You can find him working on his project The Side Mission or Tweeting about sports, gaming, and business.