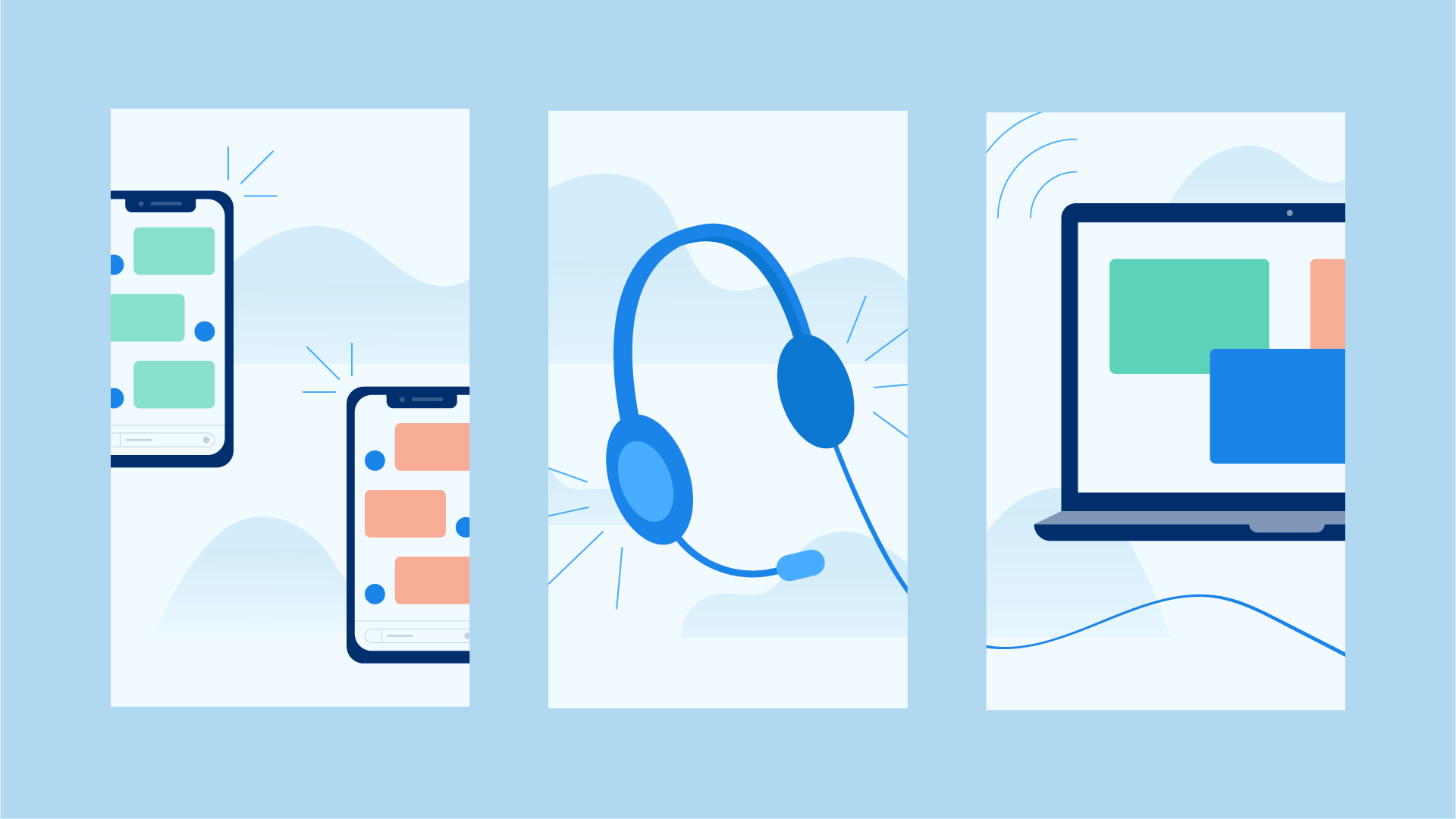 Want to make your phone system cost less and do more? You've likely come across cloud telephony, and you want to know whether it can help your specific use case.
If you're debating the switch from your existing business phone service to cloud telephony, you're in the right place. In this guide, we're covering everything you need to know, including the essentials of cloud telephony, how it works, how it benefits your business, and how to choose your cloud telephony provider.
Let's jump right in:
What is Cloud Telephony?
Cloud telephony is a phone system that runs through your internet connection. It's also known as a VoIP-based hosted PBX solution. It helps you move your business phone service to the cloud.
Cloud telephony streamlines your business communications and grows with your business. Whether you're opening new offices, hiring remote workers, or expanding your in-house teams, cloud telephony will make the expansion effortless and cost-effective.
Cloud telephony is a type of Unified Communications as a Service (UCaaS). UCaaS is a unified communications model, meaning it brings various communication systems and collaboration tools together. With cloud telephony, you won't just move your phone calls to the cloud, but also connect them with your video meetings, instant messaging, CRM, and business processes across the board.
As part of your UCaaS platform, cloud telephony will better connect your teams and make your employees more focused, engaged, and satisfied in their roles. As a matter of fact, a study conducted by CMBR for Cisco concluded that nearly 8 in 10 employees experience improved productivity levels due to remote work capabilities, like team chat and video conferencing.
How Does Cloud Telephony Work?

Cloud telephony works through a VoIP service provider. When you dial the phone number you want to call, your service provider handles the routing. It converts analog voice signals into data packets and transmits them over your internet connection. That's how it connects your phone to the person you're calling.

On your end, you would replace individual phone extensions with a VoIP desk phone. Rather than connecting to a landline, you plug your phones into your existing network. You can also use a softphone, an app installed on your computer, tablet, or smartphone. In both cases, you're calling from a modern, easy-to-use interface and establish a call in a split second.
Because cloud telephony runs in the cloud, you can manage your business phone system through an online dashboard for full control over phone numbers, call forwarding, adding new users, and more.
Cloud telephony vs. traditional PBX: What's the difference?
For your employee, the end-users of your telephone system, things might not look much different between cloud telephone and traditional PBX. When we look under the hood, we'll find quite a different story.
As you'll see in the next section, cloud telephony removes your need for physical equipment. Your staff can communicate with each other and with your customers using any internet-connected device. They can do so wherever they can use Wi-Fi or 4G internet connection.
From your company's perspective, getting started with cloud telephony is simple. Instead of a complex, expensive process to connect to the Public Switched Telephone Network (PSTN), all you need is a VoIP service provider and a reliable broadband connection.
Ready for Cloud Telephony?
Take our free Network Speed Test and get your diagnostics.
Traditional PBX presents a much steeper challenge, both in starting up and maintaining your phone service. Here's why:
First, there's the setup cost and effort. A telephone provider needs to visit your location and install stationary equipment, and you'll end up paying both for both the work and the gear.
You also have to maintain the technical setup of the Private Branch Exchange (PBX) equipment on your location. If something overheats, breaks, or becomes outdated, you have to fix or replace it. It's not only costly, but it robs your team of their productivity and focus.
A traditional PBX makes your phone calls, especially long-distance calls, more expensive. It offers basic calling features, which can be a hassle if you want to use advanced features like HD audio, voicemail-to-email, or call analytics.
If your company is growing, you'll want to open new locations, add more phone lines, or introduce remote working options. Traditional PBX systems don't scale easily because they add more equipment, maintenance, and costs. They also aren't a convenient option for employees who travel for work and want to stay productive because their phone number is tied to a physical desk phone.
A traditional PBX system can be a good option for small companies whose business needs rarely change and don't plan on expanding. But if you want to grow and make sure that your phone setup doesn't slow you down, you'll love a cloud phone system.
Read more: What is a Cloud Contact Center? How It Works & Top Benefits [New!]
Benefits of Cloud Telephony
What does a problem with your phone system mean for your company? Based on our State of Business Communication Report, a lot, and it can get worse. 83% of companies lost a customer, missed an important deadline, or terminated an employee due to a communication issue in 2019.
It's no surprise. The way we work has become dynamic and diverse, and we need technology to keep up. If you want to make sure you never lose a customer, an employee, or your peace of mind because of communication problems, here are cloud telephony benefits you'll want to know.
1) Quick and easy implementation
Cloud telephony implementation requires no on-site infrastructure. This advantage means you can get up and running within a few days, potentially even within a day.
There's no waiting for a technician, no installation of phone lines, no delays, and no lengthy process of hiring a full-time employee to configure your new telephony system. Your cloud telephony provider takes care of everything. You'll instantly get virtual phone numbers and access to a dashboard that allows you to manage the entire phone service.
2) Lower cost of running your business phone system
There are many ways cloud telephony services will save you money. You can save up to 65% of your traditional phone bill. Cloud telephony saves your business from maintenance contracts, limited calling minutes, restrictive local and toll-free phone numbers, and paying for separate business SMS services.
With cloud telephony, there are no unexpected maintenance costs or bills. And if you're bootstrapped and want to get started as low cost as possible, you can skip buying VoIP phones and use laptops with headsets through a softphone app.
3) Robust, powerful calling features
We're not talking just about features that look good on paper. Advanced calling features that come with cloud telephony allow you to work smart, be effective, and focus on the right tasks at the right time. You can avoid manual, repetitive tasks and step up your team collaboration and customer support.
Here are some of the most valuable call management features of cloud telephony:
Auto-attendant, which allows your caller to reach the right team.
Call forwarding, which directs inbound calls based on predefined criteria.
Advanced Interactive Voice Response (IVR), a more conversational approach to automated customer service.
Call forwarding, so that you can forward calls to any desk phone or mobile phone.
Video conferencing and screen sharing for productive remote meetings.
Toll-free numbers, which lets customers reach you from landlines without extra toll charges.
Local numbers, so you can establish a local presence wherever you want.
Call recording securely and reliably, so you can maintain quality service.
Contact center, which lets your customer support team resolve questions faster.
Even better, you'll get these features along with HD audio and video call quality. This is a massive benefit for remote teams. There's nothing worse in life than a poor-sounding conference call.
4) Flexibility and scalability of your phone system
Cloud telephony will make growth seamless. More specifically, a VoIP solution will allow you to add more users in just a few clicks.
With traditional PBX, you'd have to pay extra every time you hire a new employee and want to assign them a phone line. Their desk phone needs wiring, which can take a while to set up. Your growth will always bring delays and extra costs if you rely on an on-site phone system.
A cloud-based PBX isn't just scalable, but it's effortless to manage. You don't have to be an IT expert. For example, if your call volume rapidly increases during the year's busier times, you can easily add and remove lines. This will help you maintain your customer experience thanks to a flexible system you can easily customize as your business needs shift.
Read more: What Is VoIP? How Does VoIP Work? Learn Everything About VoIP
5) Increased mobility

Companies are increasingly switching to remote working options over the long haul. Hosted phone systems are the perfect answer to this trend.
Your employees can access their company phone lines wherever they are, as long as they have an internet connection. It's not just about answering phone calls; they can access their voicemail, set up or change call routing on the go.

Cloud telephony is the ideal solution for companies that embrace remote work, have satellite offices, or multiple office locations.
6) Simplify work with integrated communications
Cloud communications help you store and access every piece of information on one platform.
When you use separate systems for your calls and meetings, you have notes and important details in too many places. Computer notes, spreadsheets, Post-It notes, notebooks, and the list goes on. Finding past interactions can take ages and throw everyone out of their flow.
Cloud telephony consolidates everything into a single user interface. You can use it to collaborate with colleagues, manage customers, analyze real-time data, collect feedback, and move important projects forward.
You'll bring your business communication workflow to a single source of truth and move efficiently through your day. No more frustrating interruptions or time wasted on hunting down crucial information.
7) Superior reliability and resilience
Can you afford to be unavailable to your customers? In case something happens to the power grid, what are the consequences for your business? A wiring issue, overheating, or a small storm can wreak havoc to your communication and reputation.
Reputable cloud telephony solutions provide 99.999% uptime so you can keep working unaffected no matter what happens. It also has built-in redundancy, in case of jitter or similar issues, your calls stay online, and you always have a backup you can use.
Related: Disaster Preparedness Plan for Business — The CIO's Action Strategy
How to Choose a Cloud Telephony Provider
If you're looking to move to a cloud telephony solution, here's what you need to consider when evaluating your options.
Service quality and proven reliability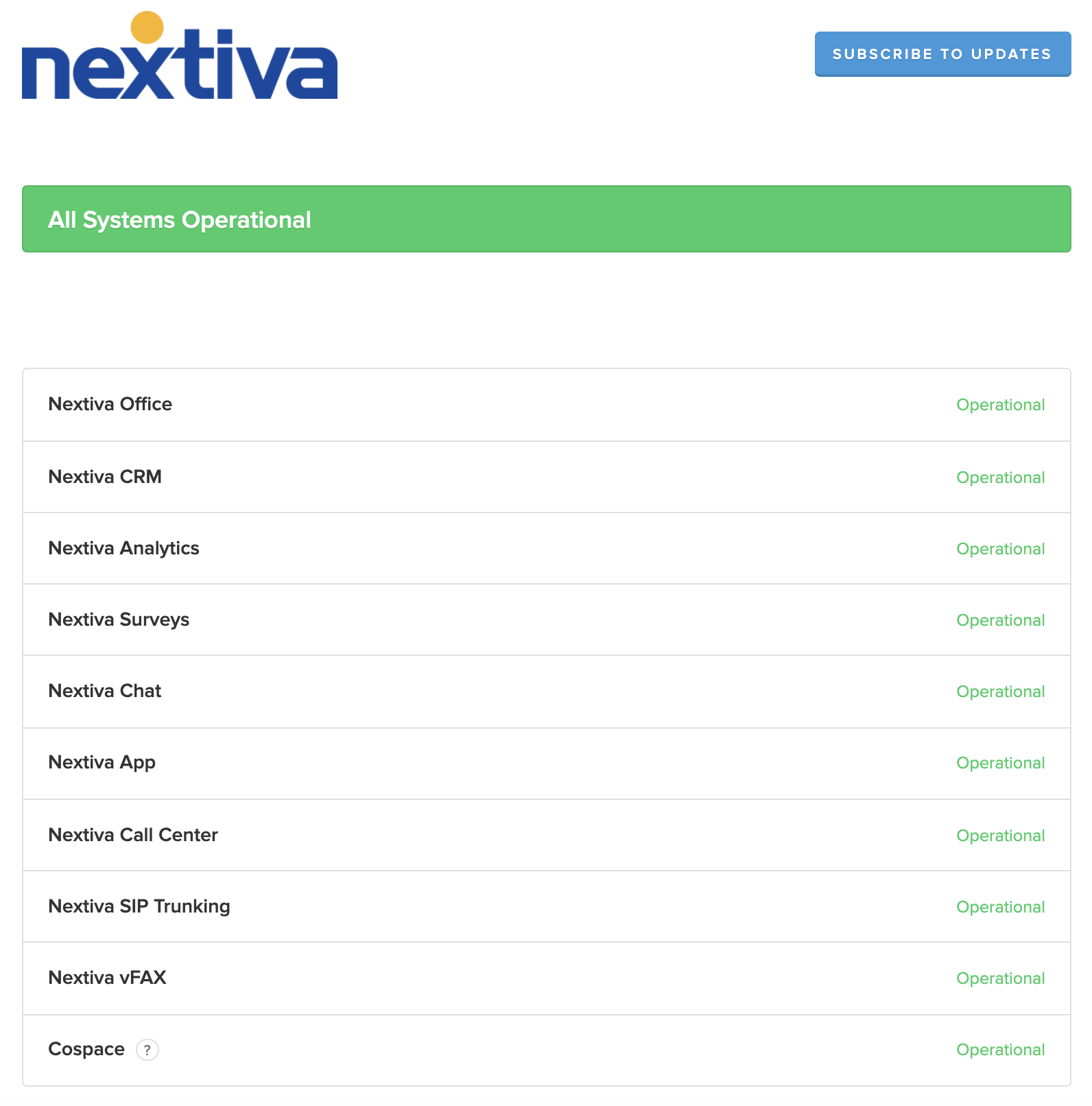 High uptime and reliability is a must. Your cloud telephony provider must provide redundant service with redundant data centers. Features and attractive pricing are nothing if your phones won't work.
What uptime does the provider deliver? Can they ensure you'll have availability of phone service? Check out your provider's status page. For Nextiva, you can check status.nextiva.com.

High availability is possible using data centers located strategically across the United States. All of which are equipped with uninterruptible power and have gigabit fiber-optic network connections.
You can also check social media sources like Twitter and Facebook to get an unbiased picture of each provider's reliability. Searching for the brand on Twitter with the "@" before their name helps you wade through all brand mentions.
On top of that, you'll want to make sure your provider offers 24/7 network monitoring so that issues can be flagged and solved before they affect your business.
Security and industry compliance
The next step is making sure the cloud telephony provider meets industry standards. Here are some certifications to look for:
HIPAA compliance: Vital voice and fax services for healthcare service providers.
ISO/IEC 20071: The global standard for security threat responses.
PCI compliance: Securely handle credit card payments with confidence.
SOC 2 compliance: Incident response plans to protect your privacy and data integrity.
Another thing to check is whether your provider of choice ensures call encryption. Encrypted calls mean you can use Transport Layer Security (TLS) and Secure Real-time Transport Protocol (SRTP) to establish high-grade security in every call.
Features and integrations
What are the business needs you'll fulfill by adding cloud telephony to your toolkit? This is where phone system features and integrations come in.
Do you make lots of outbound calls or receive many inbound calls? Do you have multiple business locations? Are your customers in the U.S. or international? These are a few of the many questions to consider when looking at cloud telephony features. Talk to prospective service providers and learn how they can accommodate your business needs.
You'll also need to consider how a new phone system will work into your employees' existing routines and workflows.
Do you need your phone system to integrate with your project management software? What about your CRM? How easy is it to implement and maintain your phone system configuration? Again, these are the questions to think about when looking for prospective service providers.
The true cost of ownership
Pricing often looks great on paper. Then, when you start using the service, you get an unexpected, uncomfortable bill that doesn't look anything like you saw when signing up.
Look for transparent pricing that outlines everything that's included in rates and anything you'll need to pay extra for. Confirm pricing specifics such as:
The number of users you'll have on your plan.
Monthly or annual payment plans (and discounts), if available.
Is there any required equipment for the service to work properly?
Flexibility to change plans as your needs change.
Costs for inbound and outbound calls (on local and toll-free numbers).
Optional features added à la carte.
Mandatory taxes, surcharges, and other fees.
Make sure that the pricing you review leaves no stone unturned. Our pricing page provides full transparency on what is and isn't included in each phone service option.
Fast and efficient customer support
Finally, make sure your provider's customer service team can help you when you need them.
Look into their support options. Are they available on live chat? Can you call them? Do you need to wait for 24 hours or more until you get an email reply?
Then, consider the answers you get to your questions. Do they take into account your specific situation, or are they generic? Is the support rep taking their time to understand the problem? Is it easy to ask follow-up questions?
You can test a provider's customer support by taking on a free trial, but you can also get a solid idea by reaching out as a prospect, too. This will give you a solid idea of how your provider can help you grow and improve your entire communication system for many months and years to come.
Move Your Phone System to Cloud Telephony
Cloud telephony will lower your communication costs, enhance productivity, and increase your resilience. It also acts as a single source of truth for business communications.
You'll gain the most benefits if you choose a reliable, battle-tested cloud telephony provider. Nextiva's cloud telephony service costs as low as $19.95 per user per month for features that will enhance your entire business.
Don't take our word for it; Nextiva reviews speak for themselves! If you've been on the lookout for a new phone system, look no further.
"