You've made up your mind: you're replacing the landline solution in your business with VoIP. Your next step is finding the best VoIP conference phone on the market.
Sounds simple enough, right?
You've worked out the ongoing cost of a VoIP phone system, you've worked out which conference rooms in your office are a priority, and you have a rough idea of features you need the most.
However, two roadblocks come hitting you in the face quite fast:
Conference phone options come with hidden prices and features
More often than not, vendors want you to contact them for prices and demonstrations instead of allowing you to buy directly
You don't want to spend your budget on solutions packed with features you don't need, or waste hours sitting through vaguely relevant demos.
This is why we created this guide: to help you find the best VoIP conference phone for your business.
We focused on your budget, conference room size, potential future upgrades, and exact features your business requires.
Before we go any further, let's talk about your conference room size:
If you want to jump right to the best VoIP conference phones, below is the table of contents divided into conference room sizes so you can quickly find what suits you best.
The focus on your conference room size is crucial because if you only focus on features, you might end up with a conference phone that covers a wider radius than you need, which will likely cost you more.
It also goes the other way around: if you have a large space, but don't need all the bells and whistles, you can avoid overpaying for enterprise-focused features.
Huddle Rooms and Offices (7-10 foot range)
Small and Medium Size Rooms (10-12 foot range)
Large Rooms (20-foot range)
DECT Connection Conference Phone (flexible range)
Bluetooth Connection VoIP Conference Phones
VoIP Conference Phone Accessories: Expansion Microphones
Which Features Matter the Most to You?
This list of the best VoIP conference room phones below is already based on the best ones on the market.
They all offer high-definition audio, they're loved by many businesses across the world, and they allow you to easily run professional calls and remote team meetings.
However, there are some refined features that could make a world of difference in your unique situation. That's why we've added a features table to each of the conference phones we included.
Here are some of the key features and advantages you might be looking for that we scored each phone against:
Call recording
Display/touchscreen
Wireless accessories (e.g. headsets, microphones)
Wired connection (e.g. microphones, additional units)
Video conferencing available
Related: How Many Phone Lines Do I Need for My Business?
What Budget Are You Working With?
Finally, you'll notice that some VoIP conference phones hover around $300, while others go over $600, with some full collaboration kits ranging over $1,000.
We didn't shy away from listing available prices from suppliers that offer these VoIP conference phones. You shouldn't have to waste time looking for these prices yourself; you should invest it into finding the best conference phone for your business.
Related: How Much is A Business Phone Line?
Best VoIP Conference Phones: Huddle Rooms and Offices (7-10 foot range)
Small spaces like huddle rooms and offices present a range of obstacles to a good conference call; echo, feedback, and background noise are only a few.
Whether you run remote team meetings or frequently speak on the phone with external partners in such spaces, things can get messy and unclear.
This category lists powerful VoIP conference phones for small conference rooms and executive offices.
Related: Your 3-Step Guide to Getting a Business Phone Number
1. Poly SoundStation IP 5000 Conference Phone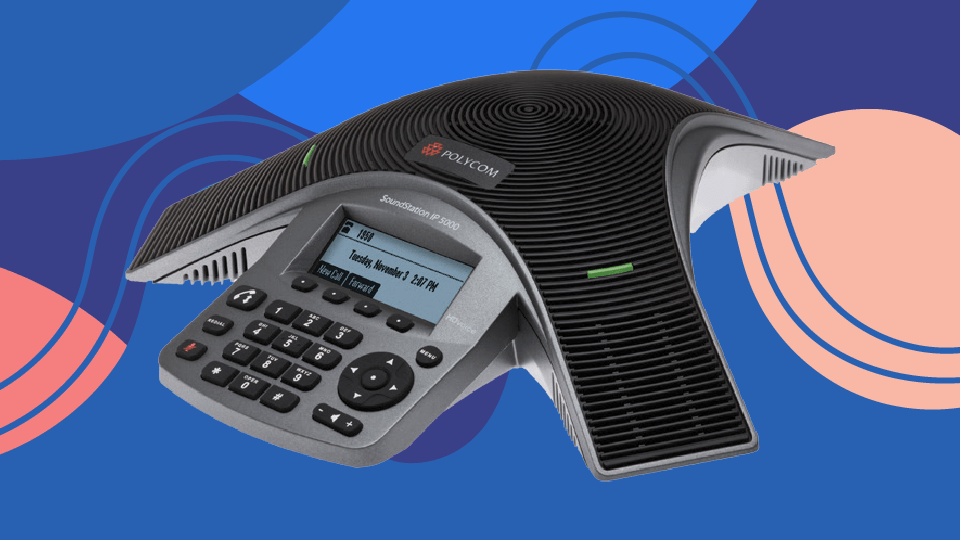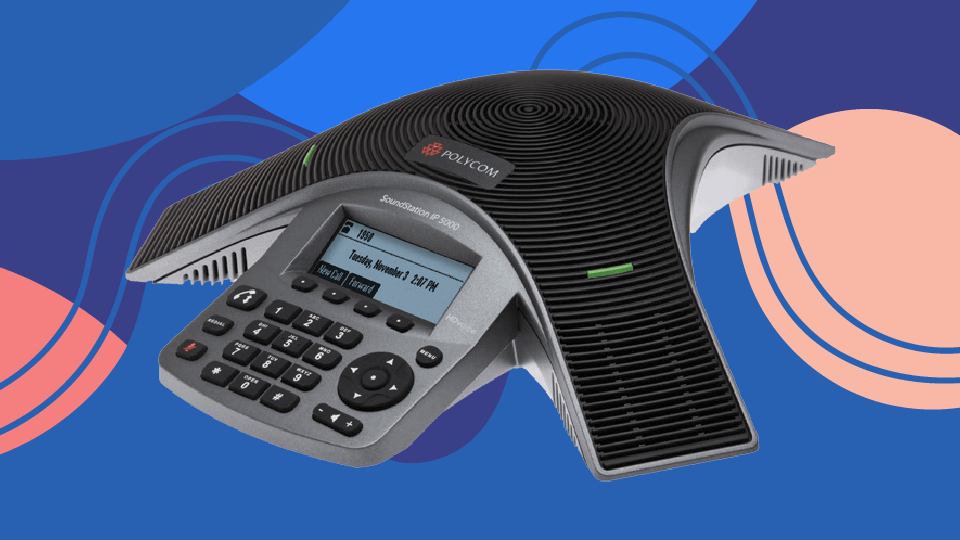 The IP 5000 solution from Poly brings advance audio performance to calls in executive offices and smaller conference rooms with up to 6 participants.
It provides a 360º coverage and allows participants to speak in a normal voice from up to 7 feet away—and still be heard clearly. Important call information is easy to access thanks to a high-resolution backlit display.

Poly SoundStation IP 5000 Conference Phone: price
The Poly SoundStation IP 5000 is available from the following retailers at the listed prices:
$238, Amazon
$366, VoIP Supply
£270, VoIPon
Poly SoundStation IP 5000 Conference Phone: top features
The Soundstation IP 5000 makes a great solution for conference calls in smaller spaces thanks to these features:
Advanced echo cancellation technology: removes distracting background noise and echo
Advanced local three-way conferencing: use advanced functions to handle your calls including conference, join, split, hold, and resume
Less cables: the IP 5000 uses PoE connection, meaning it doesn't need a separate power cable and can reduce the clutter around the phone
Poly SoundStation IP 5000 Conference Phone: drawbacks
Among the main drawbacks that users mention is the time and effort it takes for configuration and firmware update.
Some users spent several hours to download data, restart, and st up, while others said that having an auto provisioning system made things a lot easier.
Nonetheless, they still claimed that they'd choose the IP 5000 again even with the time it took to configure them the first time around!
Poly SoundStation IP 5000 Conference Phone: real-life experience
Tales from the real world experiences with the Poly IP 5000 show that it truly serves its purpose in a smaller room setting.
Even though it appears that the clear audio pickup depends on certain elements such as leaning back or turning away, it's still a reliable solution nonetheless.
This is confirmed by a verified buyer review on Amazon:
"We have this phone in the middle of a 3.5′ x 8′ rectangular table in a 14′ x 18′ conference room. The sound quality from the speaker is great and the volume goes plenty high enough to hear over a room full of noisy people. The phone picks up normal-volume voices very clearly from every position at the table, although the people at the head of the table need to be sure to speak at the phone and not lean too far back or turn away when talking.
Mic pickup of people standing away from the table, particularly at the long end of the room, can be spotty- especially if the speaker is soft of voice. However, a loud/projecting talker can be picked up from basically every part of the room as long as there isn't a lot of other noise."
2. Poly Soundstation IP 6000 Conference Phone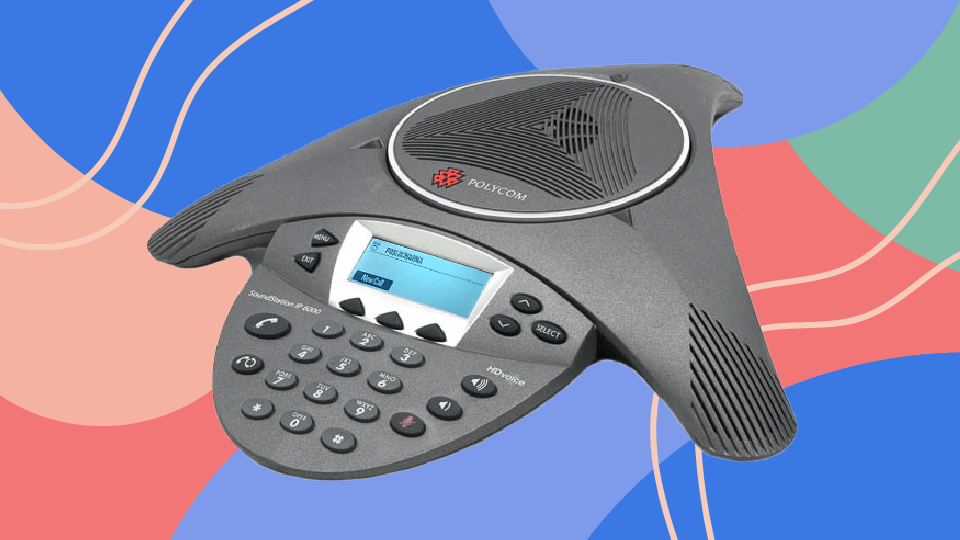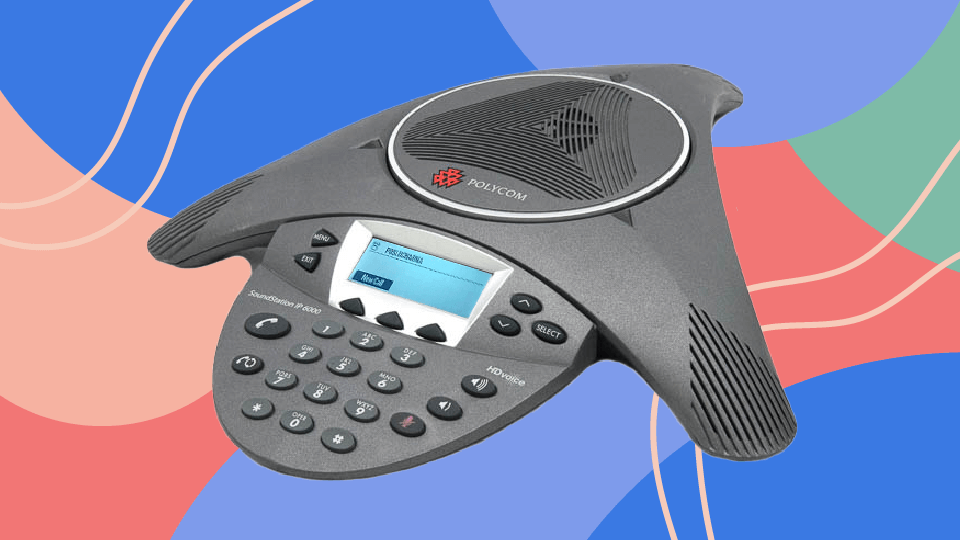 If there was a conference phone selling point we'd choose over most others, it's this one: 'It sounds like the person on the phone is in the room with you.'
That's what users say about the Poly 6000. Poly's HD voice technology along with a high-resolution display for easy, advanced call handling makes it a reliable solution for mid-sized conference rooms.

Poly Soundstation IP 6000 Conference Phone: price
Poly 6000's price point varies between retailers significantly. Here's where you can buy it directly online:
$377, Amazon
$567, VoIP Supply
£526, VoIP Talk
Poly Soundstation IP 6000 Conference Phone: top features
Poly's features are always aiming to place their phones a level above others. Here's what makes the Soundstation IP 6000 stand out:
Expansion microphones available: you can easily extend the microphone coverage with up to two compatible microphones
Unmatched voice clarity for mid-sized rooms: up to 12 people can be on your side of the conversation without interruptions and voice distortions
Advanced call handling: robust call information on the screen, along with easy call transfer, hold, divert, waiting, timer, and more
Poly Soundstation IP 6000 Conference Phone: drawbacks
The core drawback of the Poly Soundstation IP 6000 appears to be the setup and configuration process. Even with experienced IT professionals, it might take a couple of days to put the entire system in place.
However, once it's there, you'll enjoy a new level of conference call quality.
Poly Soundstation IP 6000 Conference Phone: real-life experience
If you peak at the Spiceworks' review page for the SoundStation IP 6000, you'll quickly notice the overwhelmingly positive experiences from users. Here's one that stands out:
"We've been using Poly gear for many years now, and this conferencing station is spot on excellent. Clear and with the additional speakers you can cover a fairly large conference room without an issue. I'm using PoE to power this unit so I can easily move to our small conference room when it's needed. Simply put you cannot go wrong if you're on the market for a new conferencing phone."
Like what you see here? There's more! Let's get you started.
3. Cisco 7832 IP Conference Phone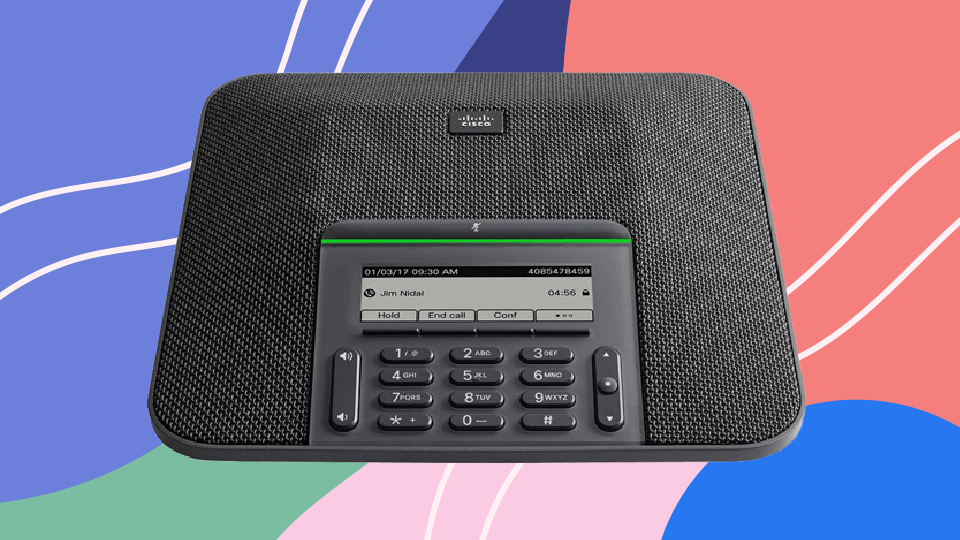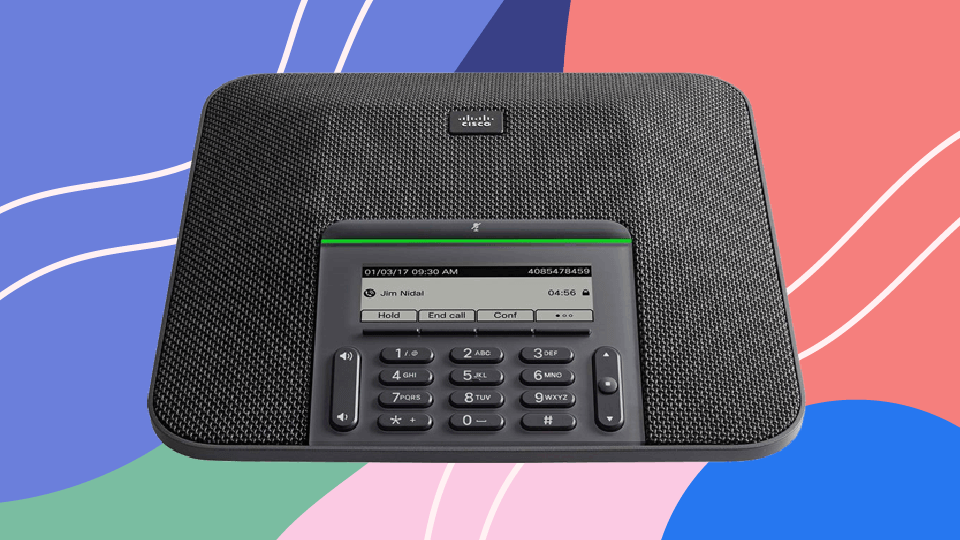 Cisco 7832 is a sleek, easy-to-use conference phone with 360-degree coverage of small conference rooms.
This conference phone makes the most out of Cisco's advanced technology and ensures a perfect audio experience for voices of all frequencies with up to six participants. Users can speak in a normal voice and be perfectly heard from up to 7 feet (2.1 meters) away.

Cisco 7832 IP Conference Phone: price
The price of Cisco 7832 differs quite a lot between various retailers, so look for the one that suits you best based on your budget, as well as available shipping options:
$513, Insight
$624, VoIP Supply
$672, CDW
Cisco 7832 IP Conference Phone: top features
If you're attracted to the reliable conference calling solution that Cisco provides, here are more of its key advantages:
Incoming messages categorization: the phone identifies and categorizes incoming messages for users on the screen, which makes it fast and easy to return calls
Large mute button: it's accessible from all sides of the device for all participants to easily mute the call
No interference from mobile phones and other wireless devices: unlike many solutions, Cisco 7832 resists this interference to remove distractions from your calls
Best VoIP Conference Phones: Small and Medium Size Rooms (10-12 foot range)
Small and medium-sized conference rooms are probably the most frequent of them all.
Their challenge comes from the diverse shapes, varying number of participants, and outstanding audio requirements in order to not lose an important part of the conversation.
Your requirements might seem unique, but the solutions below were made to work for many scenarios and are quite customizable.
Related: Ready for VoIP? Advantages and Disadvantages to Make the Right Choice
4. Poly Trio 8500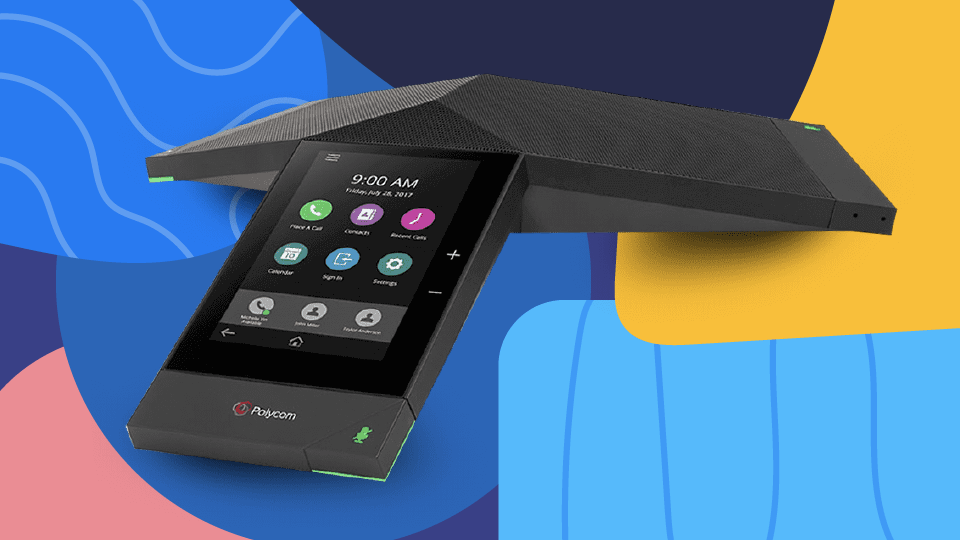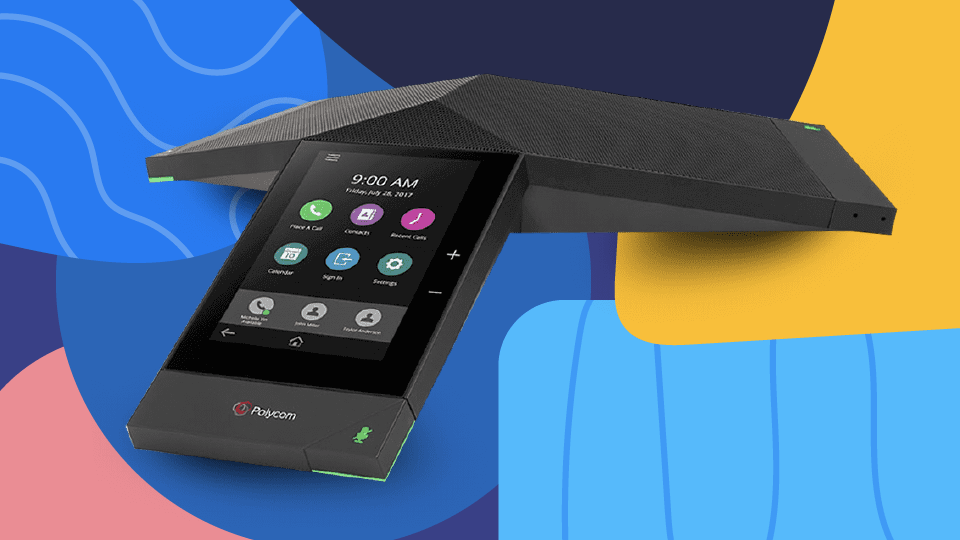 The Poly Trio 8500 takes the conference call experiences a notch up. With it, you can start and run your meetings easily and quickly with simple navigation. It encourages user engagement with an intuitive interface and a one-touch-join calendar integration.
It's ideal for a midsize conference room with its 14-foot pickup. With the legendary voice quality from Poly, it cancels out echo and mutes non-speech noise.


Poly Trio 8500: price
You can purchase the Trio 8500 at a broad price range from the following sellers:
$685, Amazon
£672, Best4Systems
$1,099, VoIP Supply
£899, Amazon UK
Poly Trio 8500: top features
The Trio 8500 is perfectly adaptable to your conference calling needs thanks to features such as:
Skype for Business/Office 356 certified distinction: extend the simplicity of Skype for Business from the desktop to the conference room with a consistent experience
Video and content sharing: you can add the Poly Trio Visual+ and a qualified USB camera for a business-class video conferencing and content sharing solution
Personal device connection: use a wired or wireless connection to use your personal devices for a full, rich sound when using cloud conferencing solutions
Poly Trio 8500: drawbacks
A drawback that seems to be present in several Poly models happens when minor changes in the Poly admin portal can render the phone inactive.
Users agree that it doesn't reduce the value they receive from the phone or their rating of it. It is a fault that is simply solved by resetting to default — it's simply something to be aware of (that will hopefully be remedied in the future by Poly).
Related: 11 Best Wireless VoIP Phone Options (Wi-Fi & DECT)
5. VTech ErisStation VCS752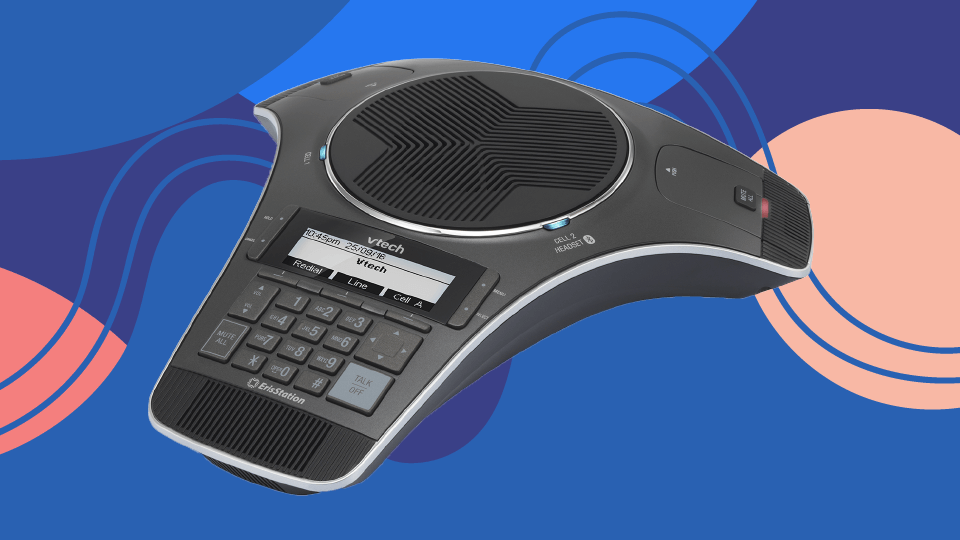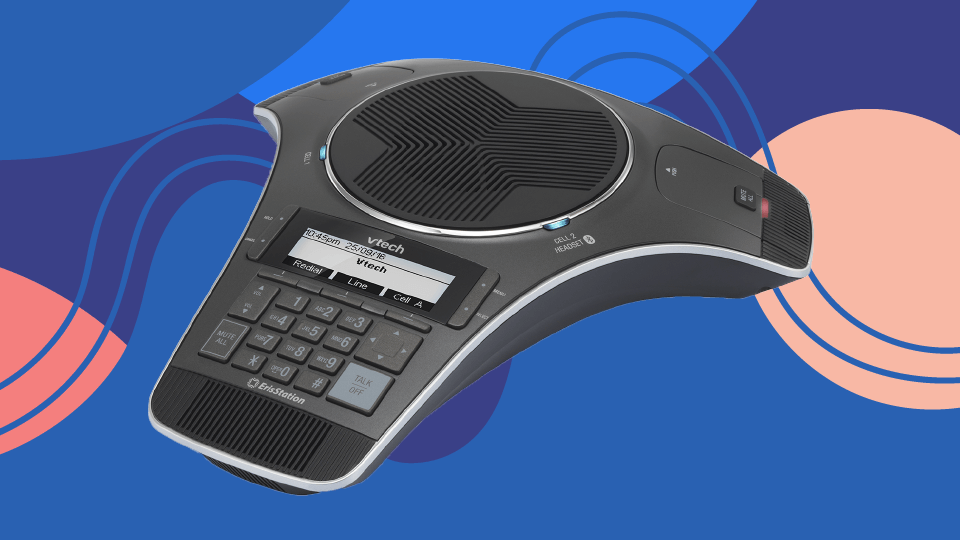 The VTech VCS752 is designed as a reliable, expandable option for your medium-sized conference rooms.
With a base unit and two wireless microphones, everyone can be heard over the phone just like in real life. You can connect a total of four Bluetooth devices like smartphones and headsets and create a range of opportunities to start, run, and end your meetings over the phone.
The VCS752 is equally perfect as a personal workspace device and a full-powered VoIP conference phone.

VTech ErisStation VCS752: price
You can purchase the VCS752 around the $300 mark—an incredible value-for-money price range—from the following retailers:
$299, The Telecom Spot
$299, VoIP Supply
$313, Insight.com
VTech ErisStation VCS752: top features
The VCS752 conference phone is flexible and customizable to your needs thanks to these features:
Wireless expansion: when you move to a larger room, so can your phone, thanks to the VCS850 expansion wireless speakerphones that increase the volume and the number of participants
Bluetooth connectivity for headsets and mobile devices: make and receive cellular calls, talk hands-free with a headset, and run private conversations with ease
Dynamic noise reduction: automatic elimination of distracting ambient noise with full room coverage
VTech ErisStation VCS752: drawbacks
One drawback that comes up is the poor audio quality when connected to a Mac Mini (MacBook Pro works fine, according to users). These users recommend a USB version, the VCS754, in this case, which has worked perfectly in their case.
VTech ErisStation VCS752: real-life experience
The VCS752 is praised by its users as the simple yet powerful VoIP conference phone that simply works, without the bells and whistles that most companies don't require anyway.
The wireless microphone quality and the lack of cable clutter seem to be features that users appreciate, too, as verified Amazon reviews suggest:
"Set up in conference room as generic IP phone (using POE) on Allworx Connect 731 PBX. Works great as a full duplex regular conference phone.
Wireless remote mics (great feature, eliminates wire clutter) are very sensitive. The best part was connecting it to my conference room PC (Intel NUC mounted behind 60″ flat screen TV).
Easy to connect as bluetooth headset in Windows 10. After connecting bluetooth, it worked beautifully in a crowded conference room for our sales team to all sit in the same room and video conference using Skype."
Best VoIP Conference Phones: Large Rooms (20-foot range)
We can assume that large conference rooms, executive offices, and similar spaces often involve 15 or more participants and imply meetings of high importance.
These can often be high-pressure situations, which makes the risk of lousy experiences and unclear dialogues even worse.
VoIP conference phones for large rooms listed below suit almost any situations and a broad spectrum of budgets!
6. Poly Trio 8800 Collaboration Kit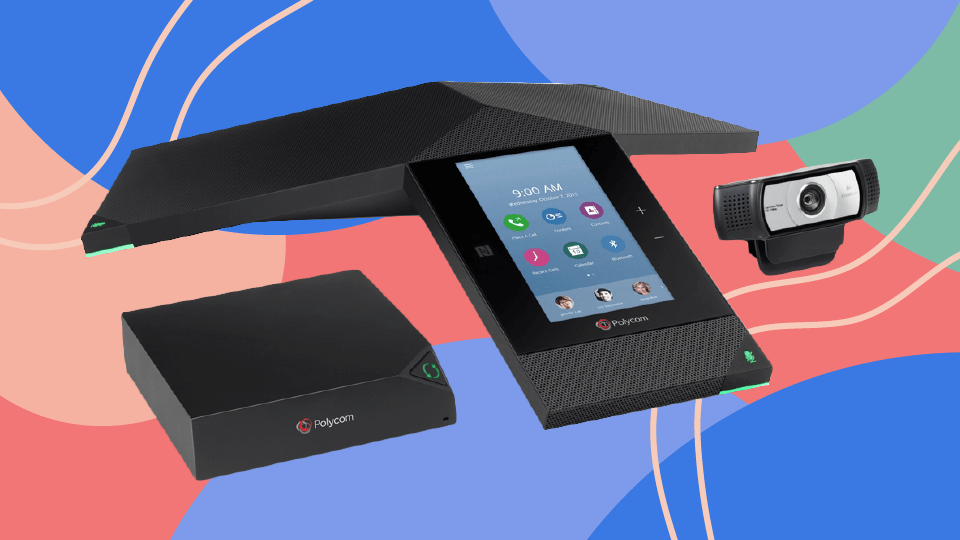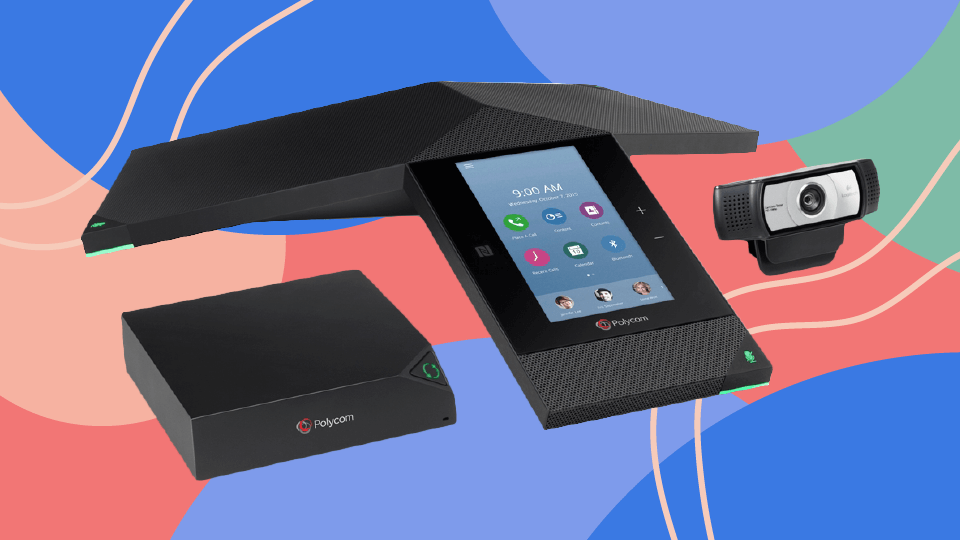 This kit is nothing like any other option and it genuinely provides a full remote collaboration solution. This is possible thanks to its ability to not only flawlessly transfer voice, but also video and content sharing.
The Poly Trio 8800 Collaboration Kit is a smart hub that will make sure you never need another conferencing solution. If you need great tech to lead highly productive remote meetings that require content and video sharing, this is it.


Poly Trio 8800 Collaboration Kit: price
Keep in mind that the Poly Trio 8800 on its own ranges between $800 and $1,000. To get the full kit, remember to check out the following retailers:
$1,553, IP Phone Warehouse
£1,499, Amazon UK
£1,552, Best4Systems
Poly Trio 8800 Collaboration Kit: top features
Not only is the Trio 8800 Collaboration Kit a perfect solution to collaborate on important projects whenever required, but it's also made to be extremely intuitive and simple to use:
Easy to deploy video calling: facilitate face-to-face communication without being in the same room or going through a complicated setup
Sharing from your device, wired or wirelessly: avoid awkward silence while emailing files on a call and manage it all through the Trio 8800
Intuitive call handling features from a large touchscreen display: manage all your calls and lines easily with an on-screen virtual keyboard, configurable dial plan, and more
Poly Trio 8800 Collaboration Kit: drawbacks
An obvious drawback to such a robust conference phone is its price. The advanced features listed above make this far from a surprise. It's not just a phone, but a complete hub to run the most efficient remote collaborations you ever have.
Poly Trio 8800 Collaboration Kit: real-life experience
The team from IT Pro tested out the Trio 8800 Collaboration Kit and praised its slickness and unmatched quality:
"The Trio runs Poly's People + Content IP (PPCIP) server component. Using the free PPCIP app on a networked Windows 10 laptop, we entered the Trio's IP address in the app's interface, provided the password we'd configured from the Trio's web UI and watched our desktop appear on the monitor where we could also use the app's zoom function to zero-in on an area of interest.
The price may seem high but Poly is delivering a slick video conferencing solution that has every angle covered. The Visual+ and HD webcam components makes it even more flexible and the Trio 8800 hub won't be beaten for features or audio quality."
7. VTech VCS754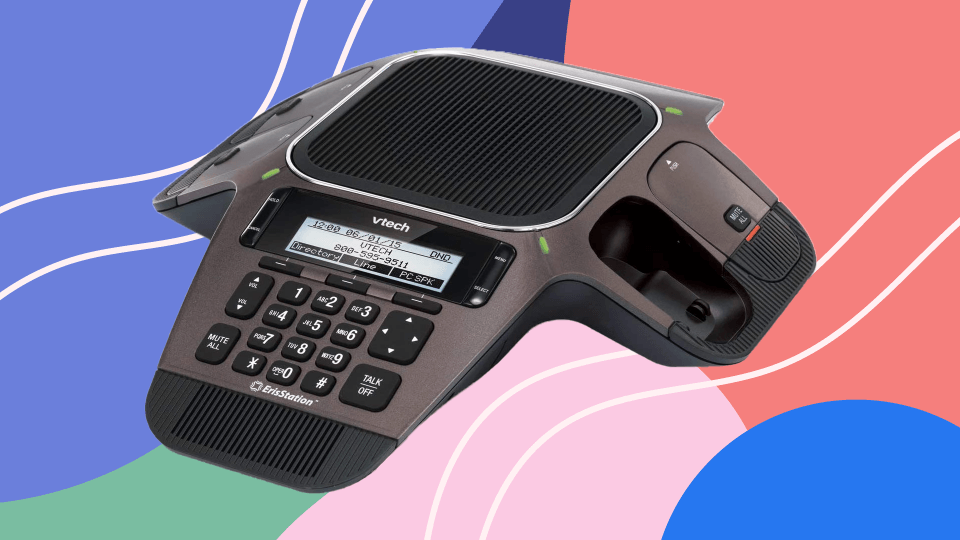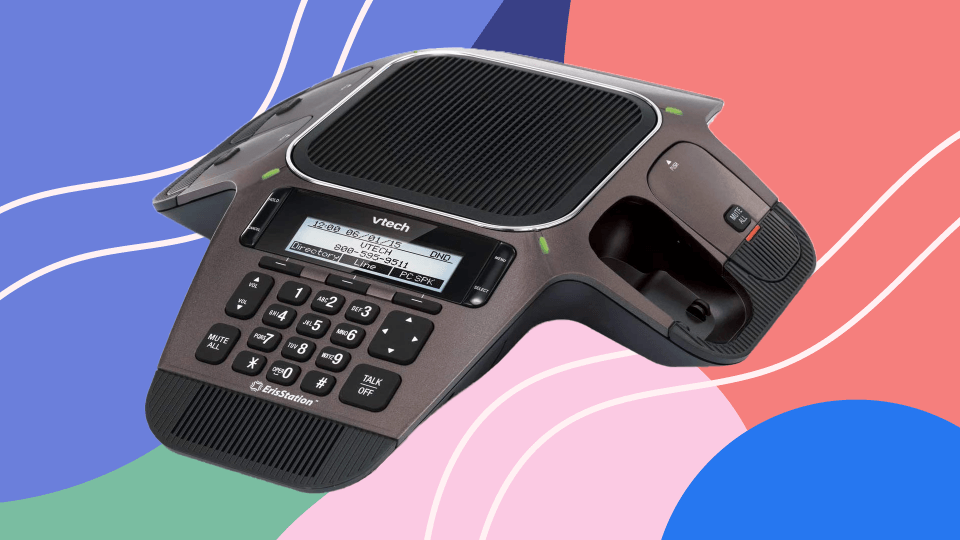 VTech VCS754 is among the most adjustable conference phones we've seen.
Not only does it come with HD voice quality with built-in microphones—it also comes with four wireless microphones you can detach from the base and position throughout your space.
This turns rooms of all sizes into a conference call experience that feels like everyone is in the room and not on the other side of the call.


VTech VCS754: price
Among the best benefits of the VCS754 might be its combination of powerful features and budget-friendly price, available with these retailers:
$329, Amazon
$329, Newegg
$359, VoIP Supply
VTech VCS754: top features
What makes the VTech VCS754 a conference phone that might become your best conference room upgrade? Here are key things to consider:
Highly flexible external microphones: the four detachable microphones charge while they're on the base and last up to 8 hours of talk time when detached
Adjustable to any conference room size: you'll never have to change your conference phone if you have to switch to a larger or smaller conference room
Supports up to 3 SIP lines: manage multiple calls if you need to
Call history and phone book: up to 200 entries for each
VTech VCS754: drawbacks
Some VTech VCS754 users reported they believed this conference phone was wireless. Others labeled the setup process as tedious and certainly not 'plug-and-play'.
In both cases, however, the outcome was a genuinely high-quality conference calling experience, which made it all worth it despite the initial drawbacks.
VTech VCS754: real-life experience
A thorough UC Today review of the VTech VCS754 praised the sound quality and flexibility of the wireless speakerphone system:
"As well as delivering excellent sound quality to ensure that absolutely audio clarity remains consistent throughout the call, the long battery life ensures that users can reap the benefits for an entire working day on a single charge, thus massively reducing call disruption times and ensuring that conference calls can be made whenever it is necessary to do so."
Best VoIP Conference Phones: DECT Connection (Flexible Range)
Devices that leverage the digital enhanced cordless telecommunications, or a DECT connection, function through a base station, as opposed to directly to the computer (or phone for headsets) themselves.
This adds a layer of hardware, but one base station can power multiple devices, and create a usable range far superior to anything a simple Bluetooth connection could manage.
In other words, devices with a DECT connection are the most powerful setup you can create in your workspace.
8. Yealink CP930W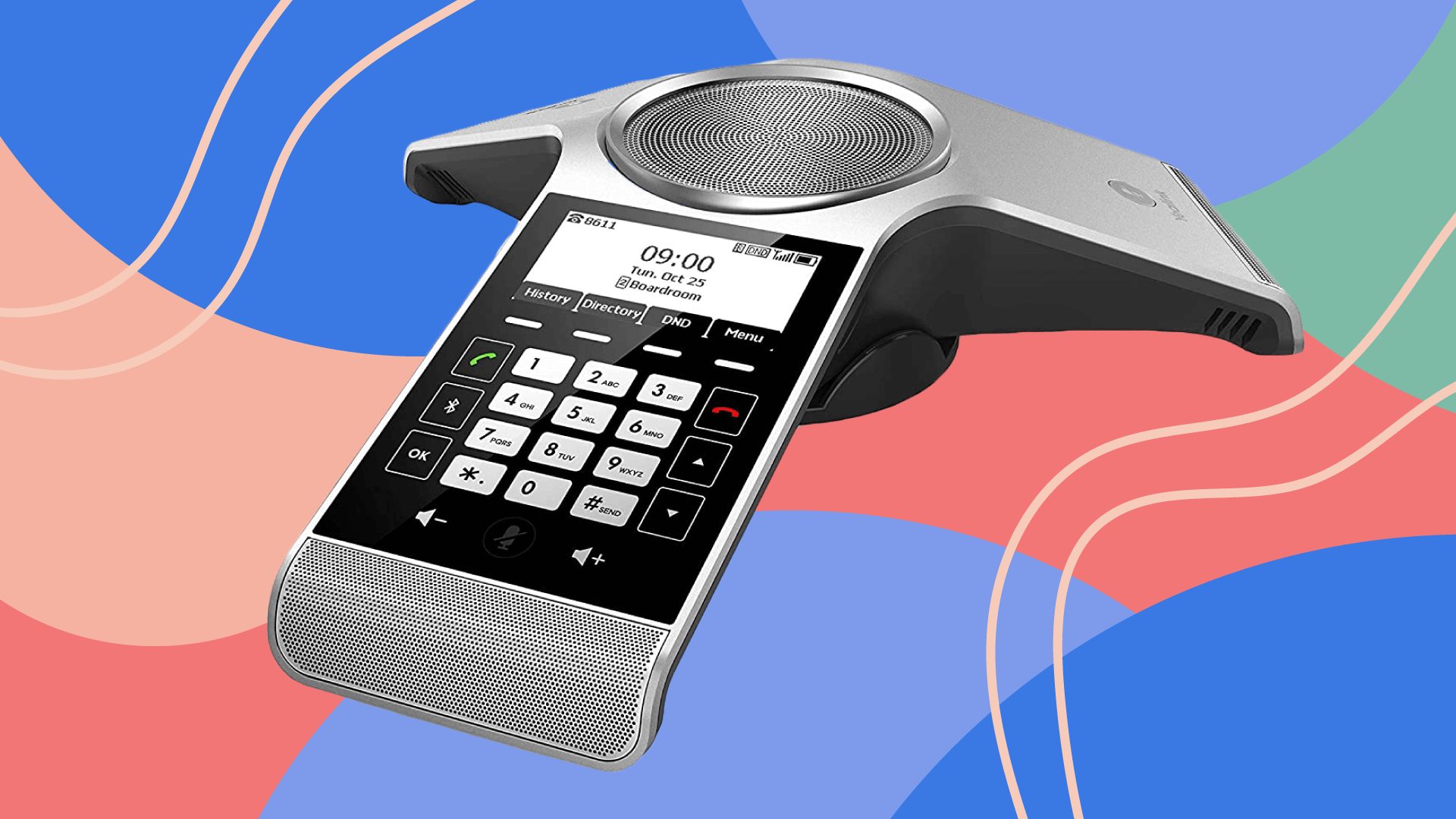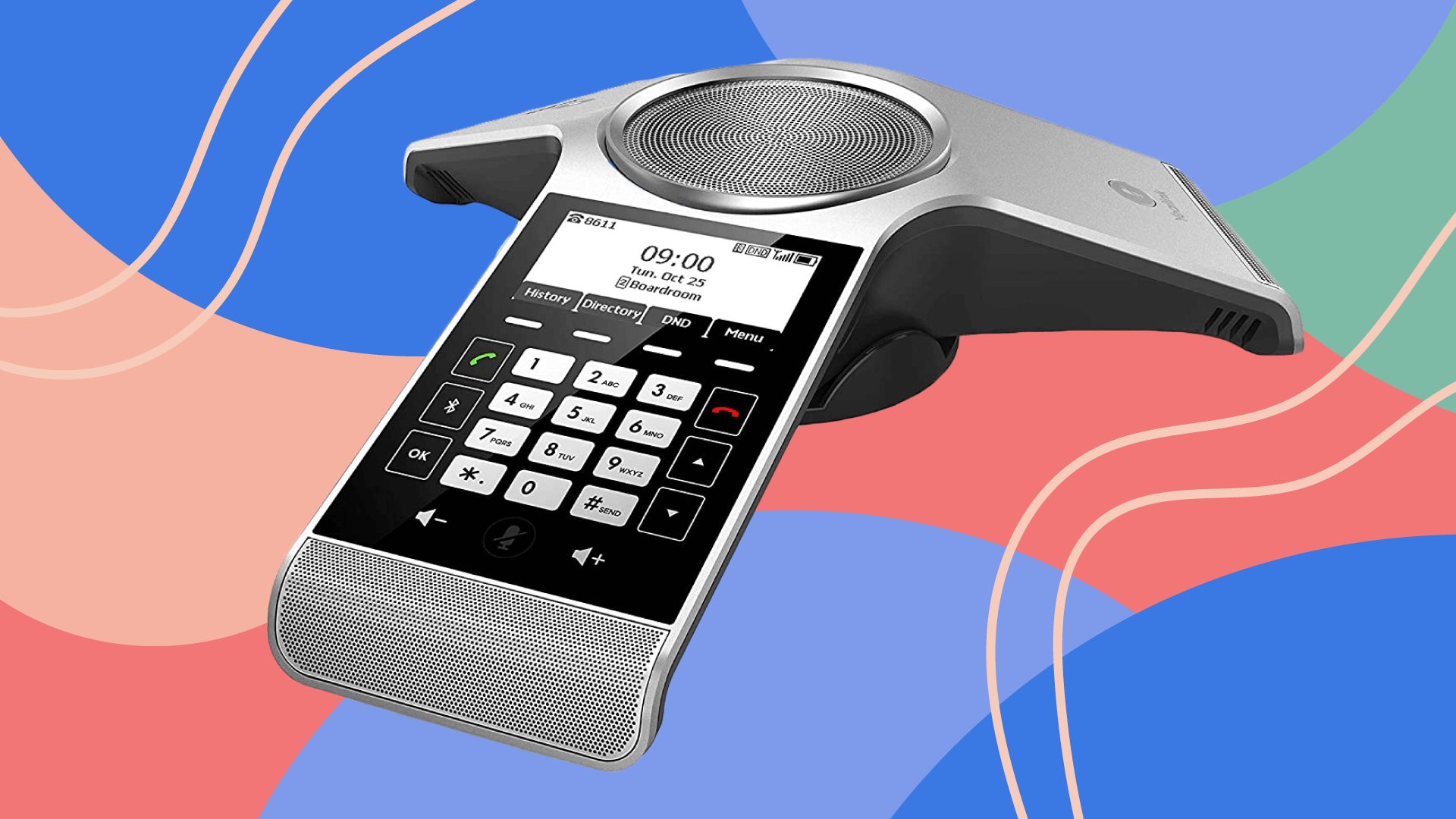 For those that crave a wireless option, the Yealink CP930W is the best VoIP conference phone. It uses a base station that provides network connectivity, and the conference phone itself can be placed anywhere. It's ideal when you can't run Ethernet wiring in a meeting room.

The Yealink CP930W is compatible with HD audio codecs, so everyone in the room sounds clear and crisp. The microphone pickup is 20 feet, so it covers a wide range of conference room configurations.
Its lithium-ion battery provides 360 hours of standby time and 24 hours of continuous talk time. This conference phone offers total freedom without sacrificing essential VoIP features.
Yealink CP930W: price
It's certainly not the cheapest conference phone, but the pricing is palatable to those leasing an office with a large conference room and can't run wires. Given its powerful capabilities, it's a great value for a growing business.
$629, CDW
$420, Newegg
$529, VoIP Supply
Yealink CP930W: top features
What makes the CP930W one of the top VoIP conference phone options?
Truly wireless: Paired with its base station, you can use the conference phone without running Ethernet to a meeting room.
Built-in battery: Charge the phone in four hours and enjoy 24 hours of talk time and up to 15 days of standby time.
DECT 6.0 wireless technology: Attach up to eight DECT cordless handsets to take calls anywhere around the office.
TLS & SRTP encryption: Increase the security of your conference calls with enterprise-grade security protocols.
Bluetooth Connection VoIP Conference Phones
If all you need are Bluetooth-powered conference phones that are easy to travel with, the suggestions below are for you.
These solutions are easy to set up anywhere, at any time, and are ready to use in seconds.
9. Poly VoxBox Bluetooth/USB Speakerphone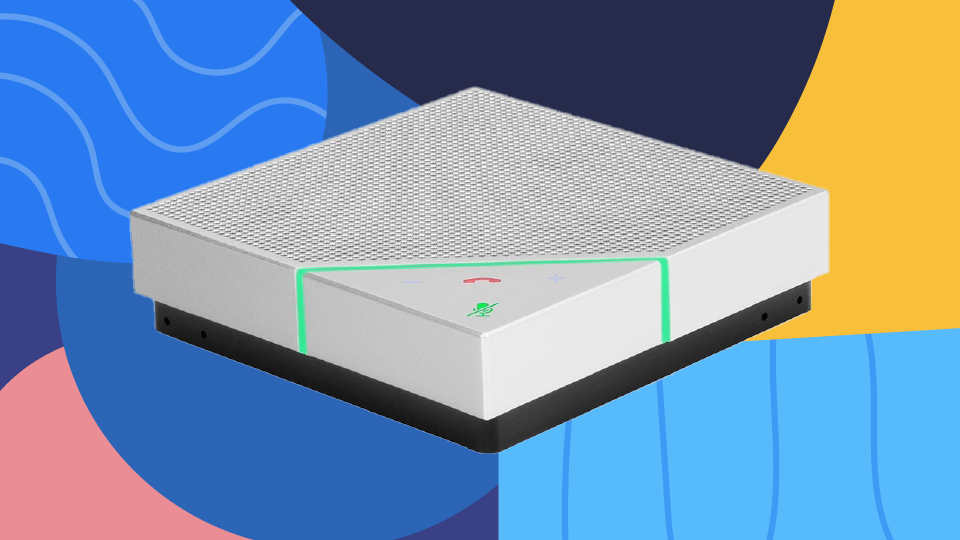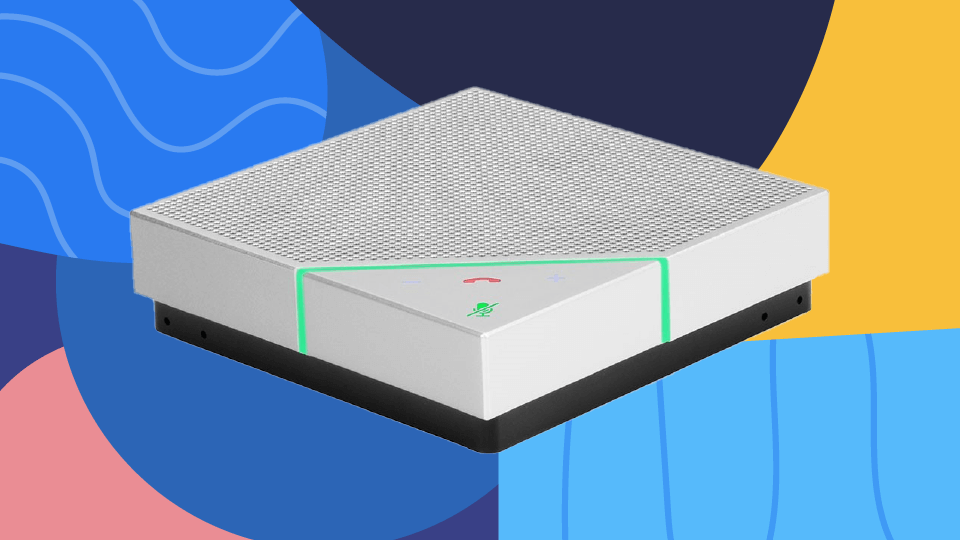 Poly VoxBox stands out as a compact speakerphone that provides a genuine, high-quality conference call experience despite its size.
It's perfect for remote workers, as well as for group calls in small offices with lots of background noise. Due to wireless pairing, it allows for easy switching between conference rooms.
To top that off, it's the perfect choice for employees and teams who travel.


Poly VoxBox Bluetooth/USB Speakerphone: price
Here's the best news: Poly VoxBox is available for less than $300.
You can get it from these retailers at the following prices:
$235, Amazon
$299, VoIP Supply
Poly VoxBox Bluetooth/USB Speakerphone: top features
What makes the Poly VoxBox a strong asset for any dynamic team? Here are its key features and benefits:
Bluetooth and USB pairing: you can quickly connect the Poly VoxBox via USB or Bluetooth without extra software or complicated setup
Four microphones: the speakerphone covers everyone's voice within the 10-foot range and provides a clear, crisp sound
Poly NoiseBlock technology: eliminates distracting background noises like air conditioners, echo, and sounds from outside the microphone range
6.5 hours of battery life: fully charged VoxBox can be carried around for easy room switching without charging cable restriction
Poly VoxBox Bluetooth/USB Speakerphone: drawbacks
While Poly VoxBox is extremely practical, it comes with two main drawbacks.
It can pair with a maximum of 10 devices at once, which means that as more teams start using it, you'll need to clear pairings from earlier.
Another problem is the inability to personalize its device name for Bluetooth connectivity. If you only need one VoxBox, this clearly won't be a problem, but having more than one makes it challenging to pick the correct one.
Poly VoxBox Bluetooth/USB Speakerphone: real-life experience
Folks at Video Conferencing Australia decided to take the VoxBox for a test drive—and they weren't disappointed.
Here's a snippet of their review:
"Testing performed in a boardroom found that the VoxBox clearly picked up voices up to 2.5m from the device and even when speaking away from VoxBox, allowing only reflected sound to be captured. While this scenario is far from an ideal audio setting, the VoxBox proved it was still able to operate in such challenging environments.
The volume level was quite impressive, and while there may be speakerphones available that offer stronger sound output, there are certainly none that can offer anything like this in such a small, compact and tidy form factor."
10. Plantronics Calisto 620 Bluetooth Wireless Speakerphone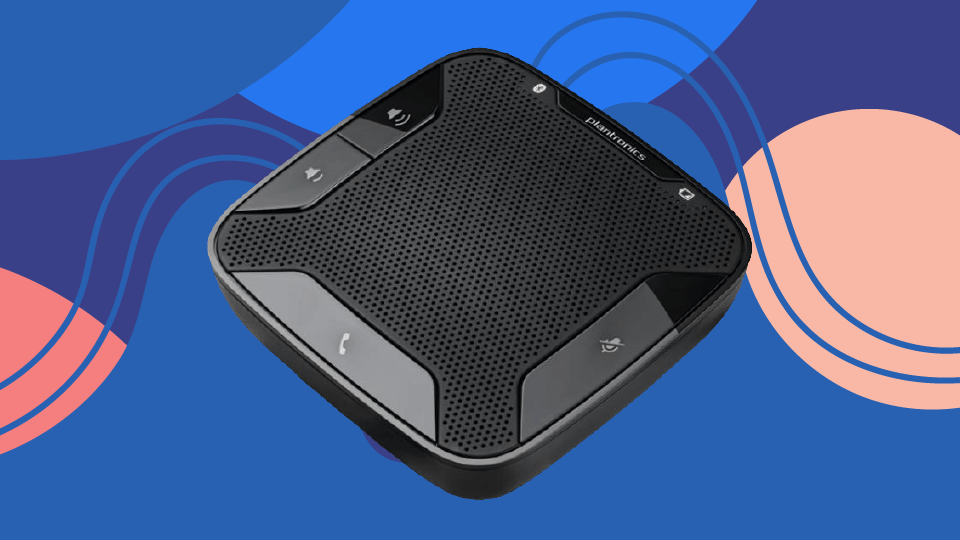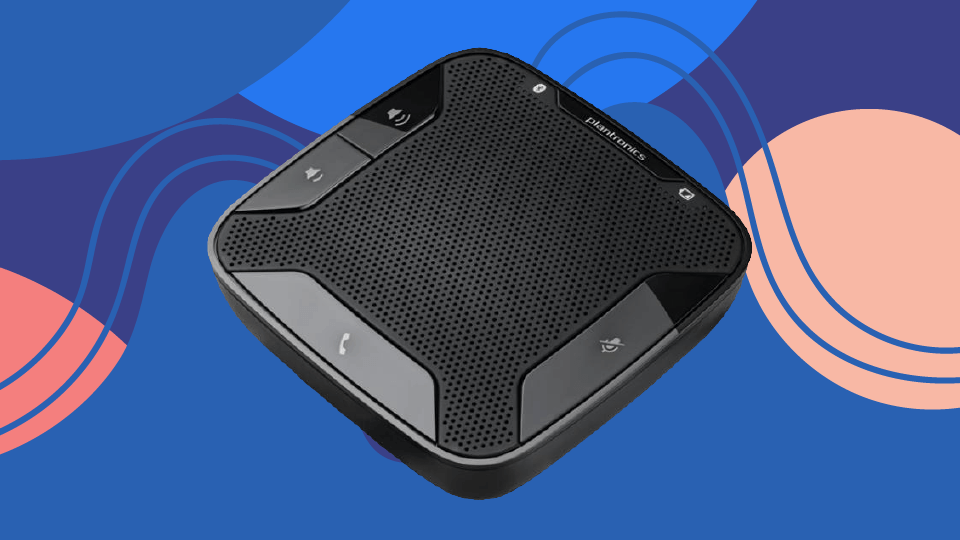 Plantronics Calisto 620 is a perfectly small and lightweight speakerphone that lets you run professional-level meetings wherever you are.
The Calisto 600 series was made for perfect portability, and the 620 provides exactly that with wireless connectivity and a simple interface to answer, end, mute, and volume-control your calls.
It comes with a Bluetooth mini USB adapter so you can connect it to your PC even if it doesn't have an already built-in Bluetooth functionality.


Plantronics Calisto 620 Bluetooth Wireless Speakerphone: price
Get your portable Calisto 620 from one of the below retailers at following, super affordable prices:
$102, Amazon
$149, Plantronics
Plantronics Calisto 620 Bluetooth Wireless Speakerphone: top features
No matter how much you travel or even just move between different conference room, you'll love these features that make switching your surroundings easy:
Up to 7 hours of talk time and 5 days of standby time: never risk running out of battery during the week
Dual auto-switching microphones: bi-directional microphones activate in the direction of the speaker's voice so callers hear you, not your background
High-quality travel case: easily place the lightweight speakerphone in your laptop bag or a carry-on
Plantronics Calisto 620 Bluetooth Wireless Speakerphone: drawbacks
While Calisto 620 receives plenty of feedback that suggests great sound quality and an easily portable speakerphone solution, there are two drawbacks that are coming up alongside them.
Some users shared that using Plantronics Calisto 620 with a VoIP softphone on a Mac computer was flakey.
Others mentioned they have had issues with the device connecting automatically to cell phones with active calls instead of a computer that the dongle is attached to, which can be confusing when it first happens. Otherwise, it's easily solvable.
Plantronics Calisto 620 Bluetooth Wireless Speakerphone: real-life experience
A verified Amazon buyer of the Calisto 620 describes their challenges on sales calls and shows how the wireless speakerphone option worked as a solution:
"I am in sales and always had problems when at a customer site trying to hear using my iPhone as a speakerphone for the group. I purchased this to use in those situations – it works great! There is no cut out when either side talks, it is loud, crisp for both parties."
VoIP Conference Phone Accessories: Expansion Microphones
If you've chosen one of the suggestions from our list, you may want to expand their range with these expansion microphones.
Poly RealPresence Trio Expansion Microphones
If your conference phone of choice is the Poly RealPresence Trio 8500 or 8800, the Trio Expansion Microphones will be a useful addition to it.
They each connect with a 7-feet (2.1 meter) wire and have a 6-meter range with a 360-degree coverage.
Just like the rest of the Poly range, they provide a high-quality, inclusive collaborative conferencing experience.
Poly RealPresence Trio Expansion Microphones: price
Expand the range of your Poly 8500 or 8800 at these prices:
$289, The VideoConference Store
$293, Amazon
£236, Onedirect
VCS850 DECT Expansion Wireless Speakerphone
The VCS850 is the perfect addition to the VCS752 conference phone.
It has a full-duplex speakerphone in the base, so callers can speak and be heard at the same time just like in a face-to-face meeting.
It's a great way to hold a conference call in a large conference room because you can pair up to three VCS850 expansion speakerphones to increase the volume. This also increases the microphone pickup to 27 or more active participants.
Wireless talk time is up to 12 hours on one charge, and standby time is up to 70 hours. You never have to worry about losing a charge in the middle of the meeting.
VCS850 DECT Expansion Wireless Speakerphone: price
You can upgrade the range and sound quality of your VCS752 with the VCS850 wireless speakerphone at these prices:
$199, IP Phone Warehouse
$199, Amazon
Time to Get Your Perfect VoIP Conference Phone
When you've reviewed your feature requirements, conference room size, and your budget, it's time to make a decision on the best VoIP conference phone for your needs.
By now, you know that VoIP conference phones save you time and money by letting you easily run your overall communications.
Here at Nextiva, we aim to be the partner you can trust for your business phone system at the heart of your business.
Like what you see here? There's more! Let's get you started.