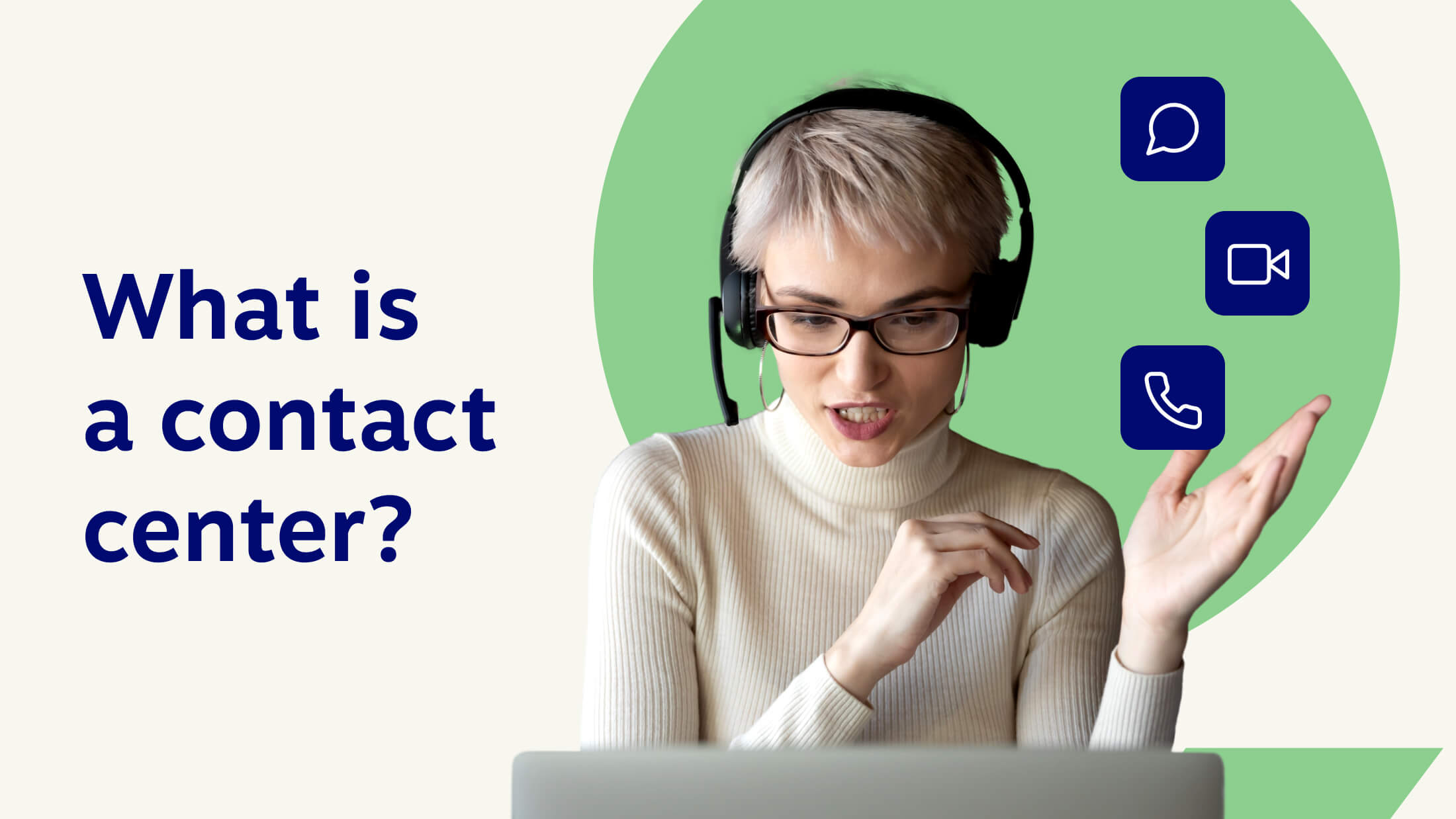 We're all familiar with call centers. You've probably phoned one, seen one on TV, or even worked in one.
A typical setup is a bank of desks and people answering and making phone calls.
Who's on the end of those calls?
Customers.
Existing customers, potential customers, and even internal customers.
But the way customers reach your business has changed over the last decade.
68% of online experiences begin with a search engine. 
81% of customers try a self-service option before calling you.
So the call center, while nowhere near redundant, now handles fewer voice queries than ever before.
That's where the term contact center comes in. When businesses offer other methods of contact, we refer to this as a contact center rather than a call center.
Similar. But different. Better, even.
In this post, we dive into what a contact center is, introduce variations of how the phrase is used, and start to understand the benefits of contact center software.
What does contact center mean?
A contact center is a business function responsible for communicating with customers. This might be via the telephone, SMS, email, social media, or even video.
Traditionally, a contact center is office-based; though the coronavirus pandemic forced some to start working from home. Successful home transitions have stuck and some agents (the common name for staff working in a contact center) continue working away from the office.
We now even see hybrid contact centers, where some people work in the office and others at home.
In a typical contact center setup, you have the following roles:
Agents
Supervisors
Managers
Coaches
Quality assurance analysts
Resource planners
Technical specialists
Some of these roles may fall within one another. For example, experienced supervisors may provide coaching to junior agents. Agents often progress to become supervisors, technical specialists, or resource planners.
Every contact center will have specialist software and/or hardware to help them do their job better.
Tools associated with contact centers include:
While contact centers can mean different things to different people, we mostly associate them with people answering inbound transactions or making outbound calls.
It's not restricted to a place you call or a business function.
We can contact a business anywhere and through any means.
Every part of your business that a customer can communicate with is a contact center.
What is the role of a contact center?
The traditional role of a contact center is to support inbound calls and web interactions.
Contact center channels include:
Voice calls
Emails
Web chat
SMS
Social media
In business, the first line of support is its contact center. Be it formal or informal, when someone has a billing, technical, or sales query, they make first contact via your phone number, web chat, email, or various messaging services.
Self-service options may mean customers resolve their queries without agent interaction. You can provide options for your customers outside your opening hours.
"Customer service is one of our competitive advantages. We want to be able to be available to our customers every day of the week for any questions they may have. This is a type of experience that people are not familiar with. They don't do it every day, so usually they do have a lot of questions and we want to be here for them."
— Lindsay Fattor, General Manager at Rainbow Ryders.
The overall role of an inbound contact center is to retain existing customers by providing a satisfactory (or better) customer experience.
The scope of contact centers also extends to sales and marketing. Outbound call centers use dialer technology to call pre-populated lists of contacts without the need for manual dialing or contact lookups.
In this case, the role of a contact center is to generate new customers.
Both call centers and contact centers can play these roles. So what's the difference between a call center and a contact center?
What is the difference between a call center and a contact center?
The main difference between a call center and a contact center is the number of contact channels available.
In call centers, customers can phone your businesses and either route directly to an agent or get directed after selecting options on an IVR. By choosing options 1, 2, or 3 for a specific department, customers get through to the right people. This increases the chance of first-call resolution.
But call centers are restricted to voice-only contact.
In contact centers, there are multiple channels available for customers to contact you.
We call this multichannel.
Here, we add channels like SMS, web chat, email, and social media so customers can choose their preferred method of communication to contact you. This also reduces call wait times as queues for agents get reduced.
Given the choice, most customers will opt for the path of least resistance. Or, in this case, the contact channel with the shortest wait time.
"This tool allows us to create our own outreach and servicing strategy where we can meet our clients in the channel of their choice."
—Tom Greco, Head of Client Success at Canopy Servicing.
When you add the possibility to join up the customer experience across channels, we call this omnichannel.
Omnichannel contact center software ensures data and information from one channel gets shared across all channels.
Think about the times when you've called a support team to follow up on an email—but they didn't have access to it!
Omnichannel removes that outcome by making all customer information available to agents regardless of their specialized channel.
So when you call a support team using omnichannel, they can recall all your previous interactions across SMS, social media, web chat, or email.
There's no need for your customer to explain themselves all over again. And your agents have access to provide the best customer service possible.
You can deploy both call center and contact centers on-premises, via the cloud, or as a hybrid model. Thanks to the innovation and security advancements in cloud technology over the past decade, cloud deployments have quickly started to replace legacy on-premises contact centers that involved hardware, maintenance, and ongoing management.
When deployed via the cloud, a cloud contact center provides immediate ROI compared to a traditional call center.
Check out the key differences using the example of a 75-seat customer service team.
| | | |
| --- | --- | --- |
| Function | Cloud contact center | Call center PBX |
| Setup Time | 1–4 weeks | 6–12 weeks |
| Equipment | Optional | Mandatory |
| Scalability | Features delivered on-demand | Requires extensive hardware upgrades |
| Integrations | Numerous API-based integrations | Limited middleware integrations |
| Flexibility | Employees can work in the office and remotely | Employees must work within an office |
| Analytics | Real-time customer journey analytics | Limited to agent dispositions |
| Cost | Approx. $100 per agent per month that grows with you. | Approx. $75,000 upfront per agent, plus software licenses, trunks, and maintenance |
| Reliability | Redundant upstream carriers monitored 24/7 | Less susceptible to jitter over the internet |
Read more: Multi Channel vs Omni Channel Contact Center: Which One Do I Need?
What are the benefits of a contact center?
The main benefits of a contact center (over a call center) are the extra channels you make available for customers to reach you.
While there is still a large use case for call centers without extra channels, like in businesses with less technically-advantaged customers or those who offer compassionate support over the phone, most customer service and sales functions realize the benefits of providing many contact channels.
Contact center benefits include:
Higher NPS
Cross-skill agents
Shorter queue times
Cost-effective staffing
Improve brand consistency
Higher customer satisfaction
Improved customer retention
Higher first-call resolution rate
Agents free for specialist support
Cross-channel reporting and analytics
Ultimately, providing a contact center (as opposed to a call center) allows you to service your customers on the channel they prefer. And that's a huge benefit in itself.
Cloud contact centers also benefit from increased uptime, reliability, and flexibility compared to in-office, voice-only call centers.
As cloud innovation and transformation have progressed through the last decade, consumer-style innovation is now provided at enterprise grade.
Where to start?
Nextiva provides both call and contact center services ideal for small and medium businesses just getting started or looking to upgrade their customer service function.
Gartner Peer Insights named Nextiva the Customers' Choice for Midsize Enterprise and North America.
Designed for self-install and easy configuration, Nextiva provides omnichannel functionality and analytics, combined with the flexibility you need to scale during peak periods.