A call comes into your business. Who handles it? It could be anyone.
That is unless you're running a contact center.
You could benefit from call queues, multichannel handling, and automated reporting.
In this guide, we round up what a contact center is, run through the top features you can get stuck into, and dive into how companies use them to scale.
What Is a Contact Center?
A contact center is a team of people responsible for handling inbound customer interactions for your business. Sometimes, this can be inbound or outbound transactions, like returning calls or sales functions.
Contact center business functions are supported by contact center technology. These can be "call centers," where staff (usually called agents) only handle calls. Or they can be multichannel contact centers where agents handle transactions from digital channels such as email, social media, and phone calls.
The technology available varies depending on the vendor, use case, and desired feature set. A constant is the ability to handle customer queries to improve the customer experience.
The term contact center can refer to a variety of different contact center uses. These are outlined below:
Contact center software: The programs used by agents to manage customer transactions. You can expect call handling, reports, and queue visualization, among many other customer management features.
Contact Center as a Service (CCaaS): The deployment model of contact center software is known as CCaaS. It's delivered over the internet like that of Netflix or Spotify, with all features and functionality included. There's no need for on-premises equipment.
Contact center department: The team of people who use contact center software. These people (agents) are responsible for handling calls and other communication methods. Contact center departments include management and specialist roles like quality assurance and resource planning.
Types of Contact Centers
It may sound like there's only one type of contact center: the one that handles your customer service matters.
But we can break down the category of contact centers into dedicated or cross-skilled areas:
Inbound
Outbound
Multichannel
Omnichannel
On-premises
Virtual/Cloud
Let's explore these types of contact centers in more detail.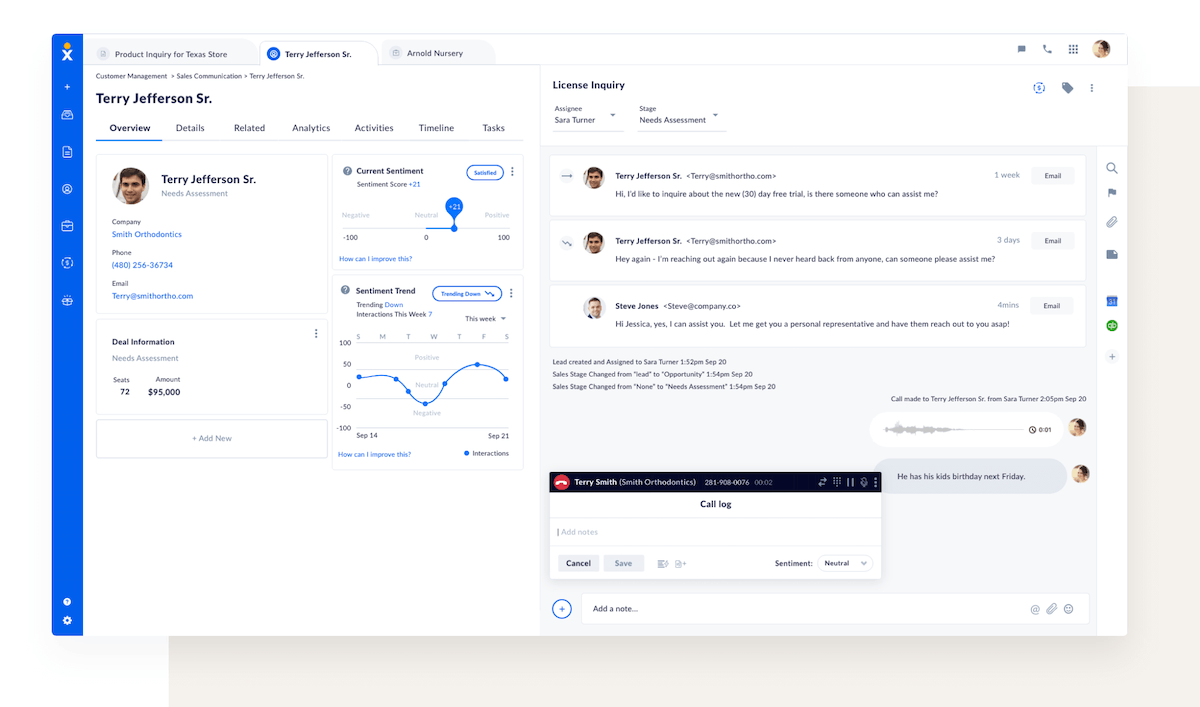 1) Inbound
An inbound contact center only handles inbound transactions.
This might be an inbound call center, where contact center agents (aka call center agents) handle inbound calls only. In this case, staff in other departments will handle other digital channels. For example, your marketing team might handle social media inquiries. Or they might go unmanaged completely.
Within an inbound call center, you have call routing features like auto attendants, interactive voice response (IVR), and call queues. More on these in the features section further down.
Some inbound contact centers manage other digital channels like web chat, email, and social media.
When customers have preferred channels or have the option to use other mediums outside of calling you, it's important to respond in a timely manner. This is called a multichannel contact center, where agents handle both calls and written communications.
An important part of inbound contact center management is the ability to report on all your channels. Most contact center and call center software includes comprehensive reporting and analytics.
2) Outbound
An outbound call center is a team of agents dedicated to calling customers to start a new transaction. Unlike inbound call centers, these teams don't typically handle incoming calls.
Companies use outbound call centers to grow sales, conduct surveys, collect market research, and proactively deliver customer service.
Agents have pre-populated contacts to call from a database and are assisted by automatic dialing technology called a dialer.
Typical use cases for outbound call centers include:
Lead generation
Upselling
Debt collection
Market research
Customer surveys
Appointment setting
Managing renewals
Proactive customer service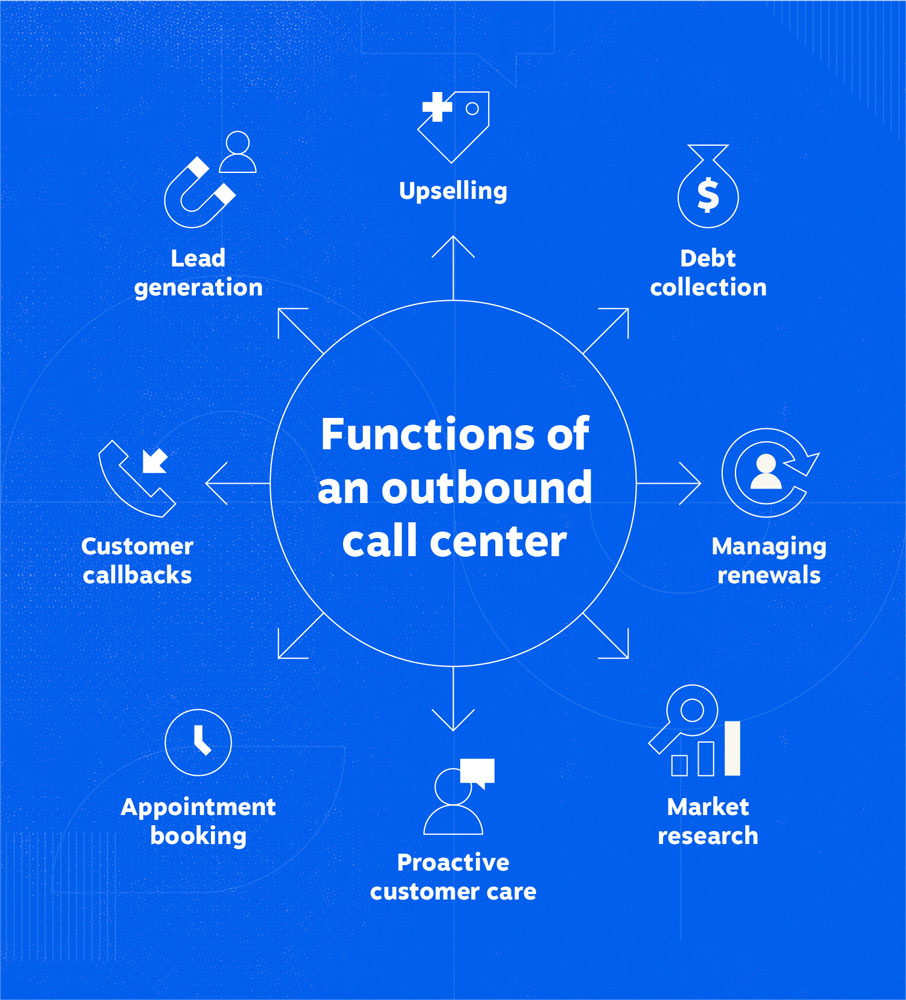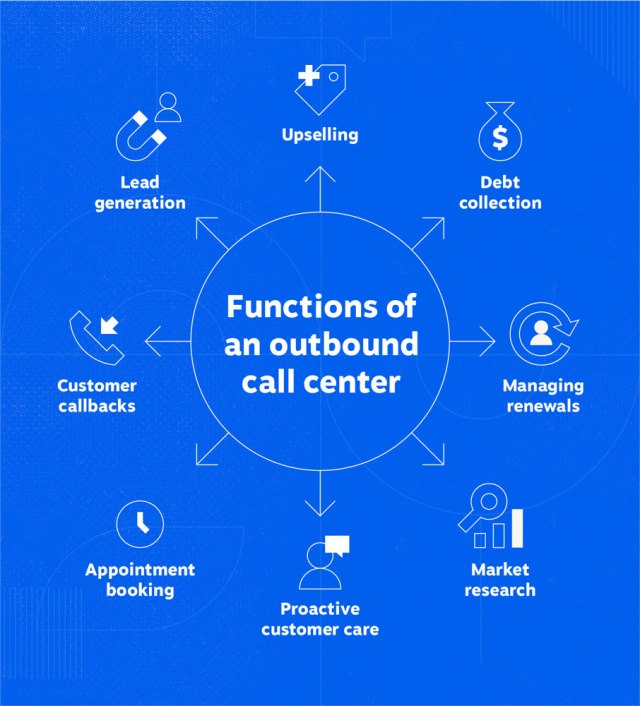 3) Multichannel
Multichannel refers to the ability of contact center agents to handle customer queries via a multitude of contact channels.
As well as handling inbound calls, multichannel contact centers include:
Email
Web chat
Twitter
WhatsApp
Facebook
Instagram
SMS (text messages)
You still get access to call management features, like in a multichannel call center. Multichannel access gets included on top of this functionality. The same applies to reporting on these various channels. You get all your call reports and analytics, as well as the same across other channels.
4) Omnichannel
Omnichannel refers to using a multichannel contact center in a way that connects all the channels. This means that agents have a holistic view of the customer journey when a customer calls in to follow up on their email, web chat, SMS, or social media transaction.
Rather than having to find the agent that dealt with the previous transaction, agents can access the exact email, web chat, etc., and help the caller right away.
Not only does this improve first-call resolution (FCR), but it also makes for a better all-around customer experience. When both your customer and agent have unified communication experiences, everyone benefits.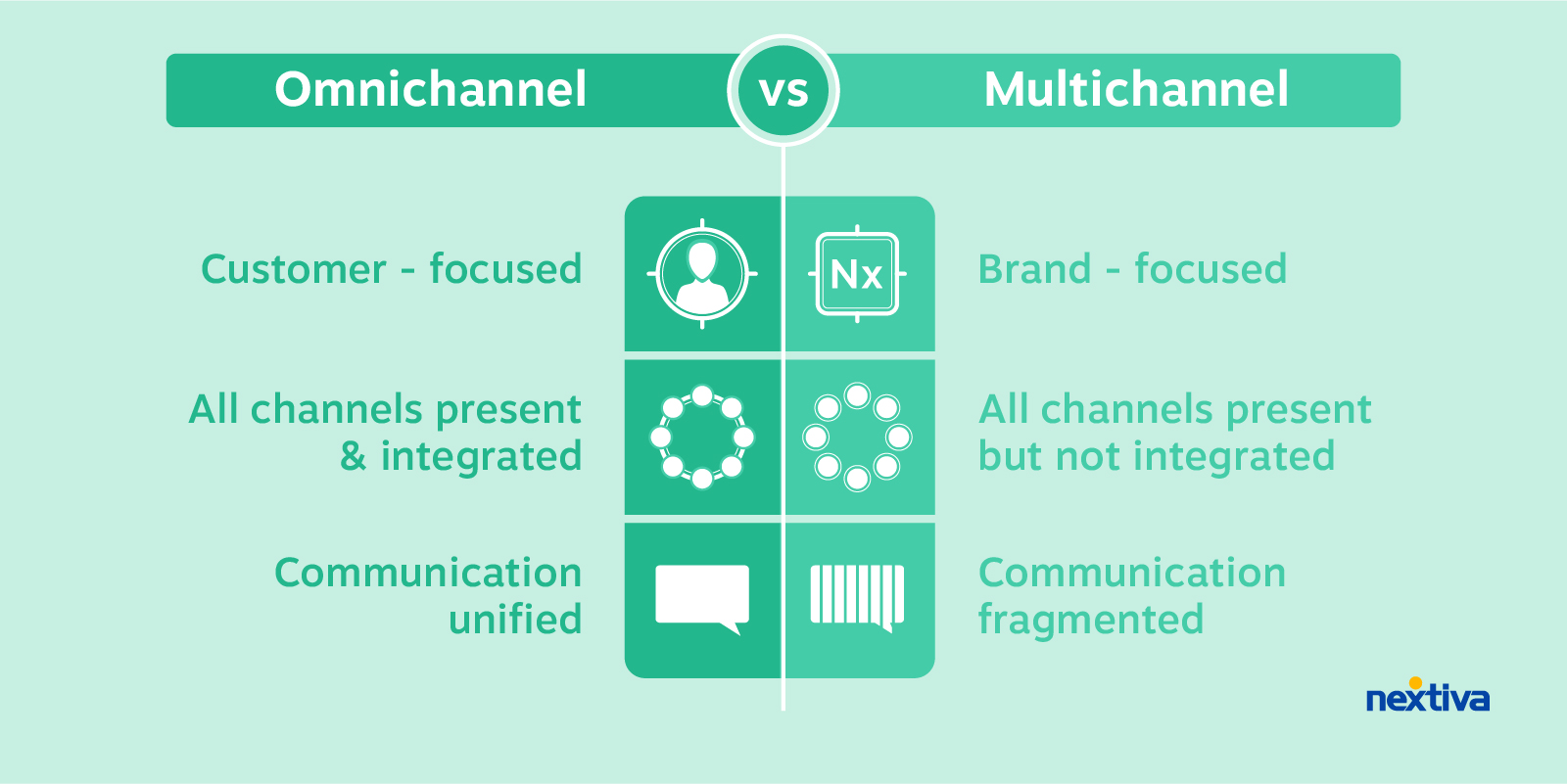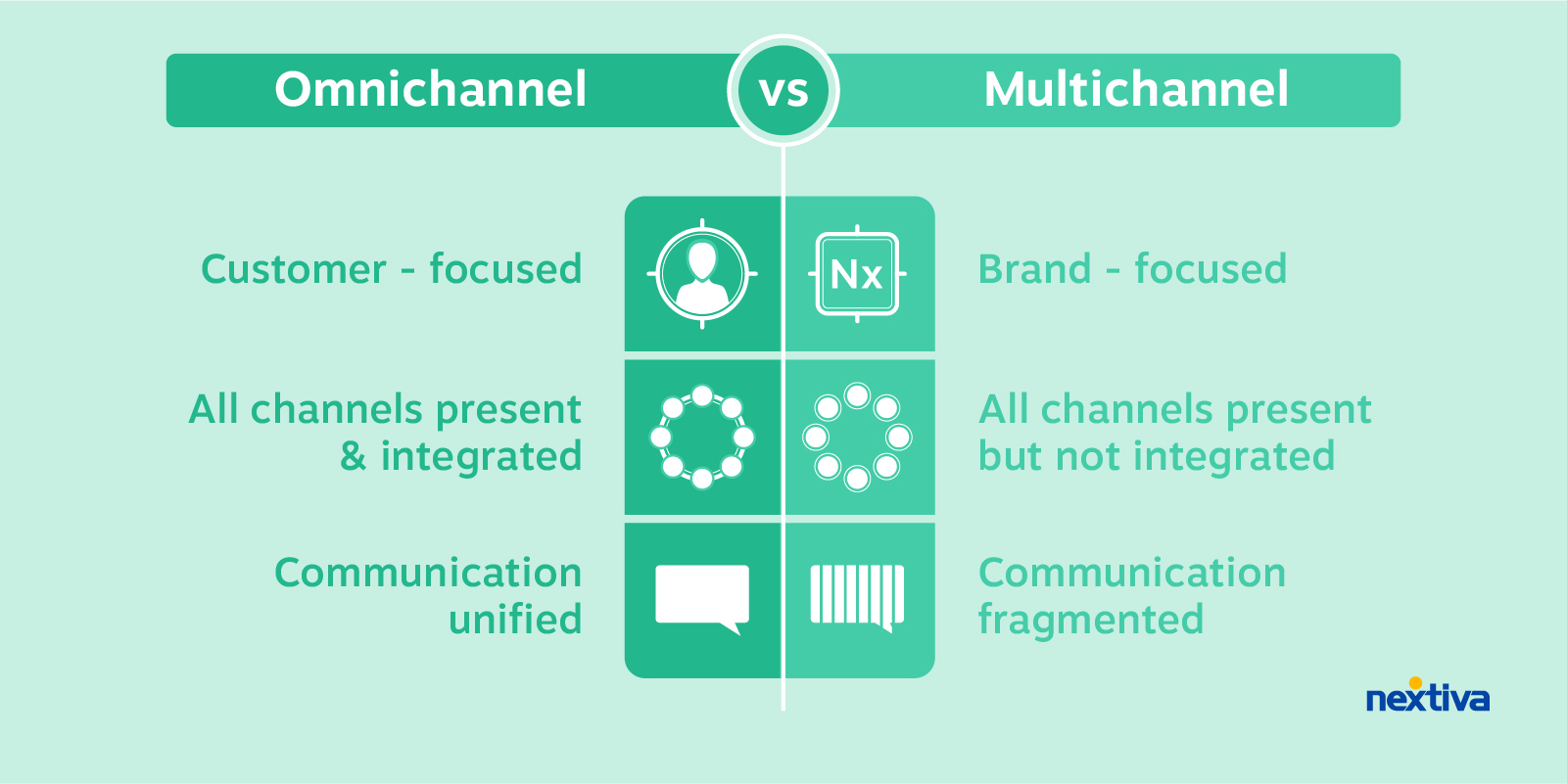 5) On-premises
On-premises contact centers are, for the majority, a thing of the past. Thanks to advancements in cloud technology, the features available on-premises have been replicated and improved by cloud contact centers.
On-premises deployments still exist in niche use cases like financial institutions and data-sensitive industries. When legislation dictates that customer information must not leave a physical location, migration to cloud technology is difficult.
When contact centers are put on-premises, they need physical installation into a server room or comms cabinets. These are usually integrated with on-premises telephony and maintained by a hardware supplier.
When you need new features or to add more users, you must pay for extra hardware installed.
Check out the key differences between an on-premises and cloud-based contact center using the example of a 75-seat customer service team.
| Function | Cloud contact center | On-premises contact center |
| --- | --- | --- |
| Setup Time | 1–4 weeks | 6–12 weeks |
| Equipment | Optional | Mandatory |
| Scalability | Features delivered on-demand | Requires extensive hardware upgrades |
| Integrations | Numerous API-based integrations | Limited middleware integrations |
| Flexibility | Employees can work in the office and remotely | Employees must work within an office |
| Analytics | Real-time customer journey analytics | Limited to agent dispositions |
| Cost | Approx. $100 per agent per month that grows with you | Approx. $75,000 upfront per agent, plus software licenses, trunks, and maintenance |
| Reliability | Redundant upstream carriers monitored 24/7 | Less susceptible to jitter over the Internet |
6) Virtual/Cloud
A virtual contact center, otherwise known as a cloud contact center, refers to software deployed via the Internet.
There is no need for a physical installation in your office. Agents can access a virtual desktop interface via software and log in using a username and password.
Once logged in, everything they need is available in a single pane of glass.
When contact centers are deployed via the cloud, we refer to this as CCaaS.
Choosing from these types of contact centers can look daunting at first. But figuring out what you need is much easier when you dive into your specific use case.
Best Contact Center Use Cases
Proactive Customer Service
The most common contact center use case is servicing your customers in an efficient and proactive way.
By providing your customers with a logical way to contact you, rather than phoning and getting through to random staff, their queries get answered faster and by the right people.
One example of proactivity in contact centers is auto attendants, which provide automated options for callers to choose from.
For example, "press one for sales or press two for support" immediately sends customers into the correct queue for a team that can handle their query.
Here, you can configure logic as simply or complex as you deem necessary. Some businesses opt to provide information, like opening hours or website details, upfront so customers don't need to queue for an agent.
The same applies across other channels too.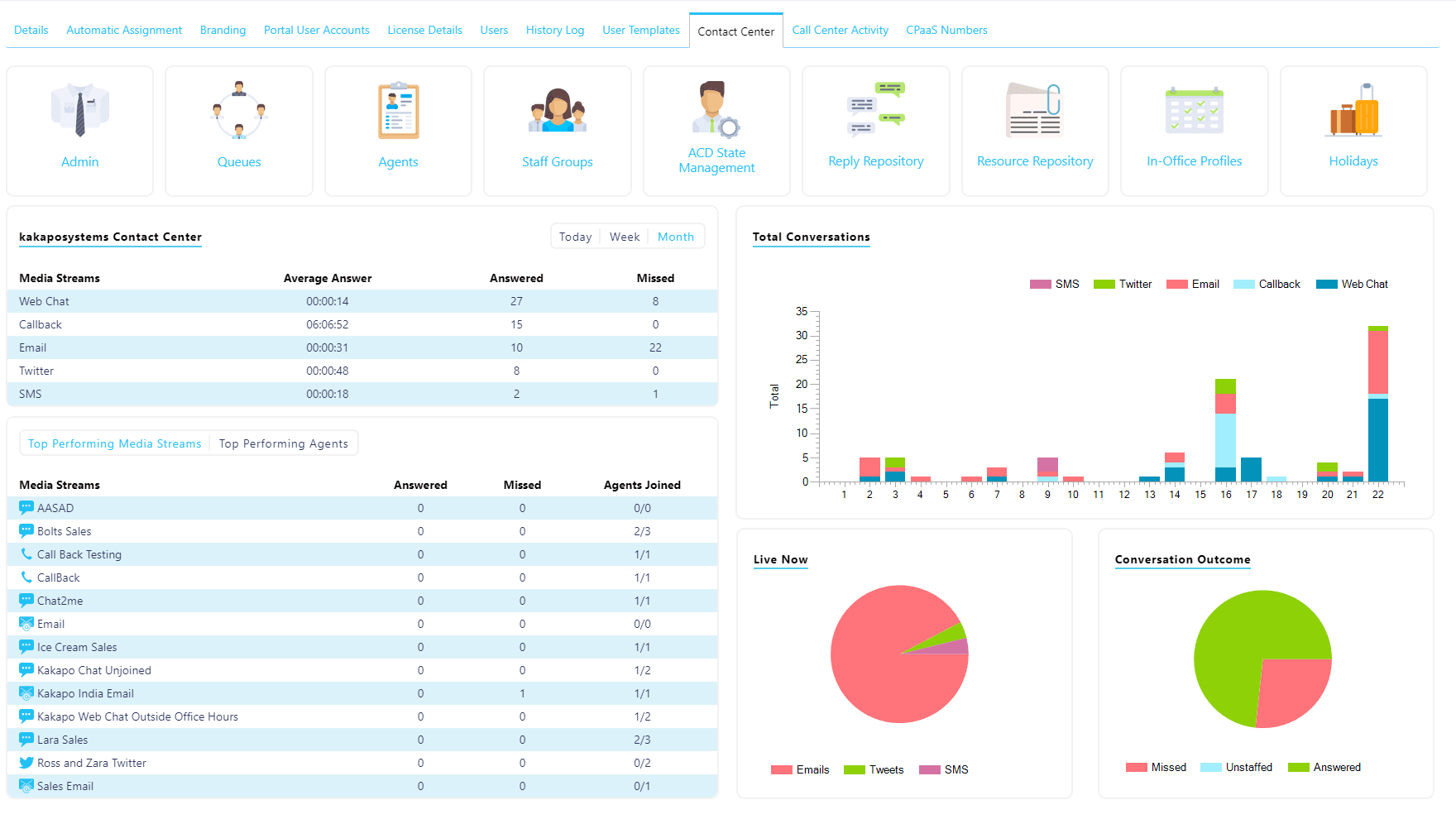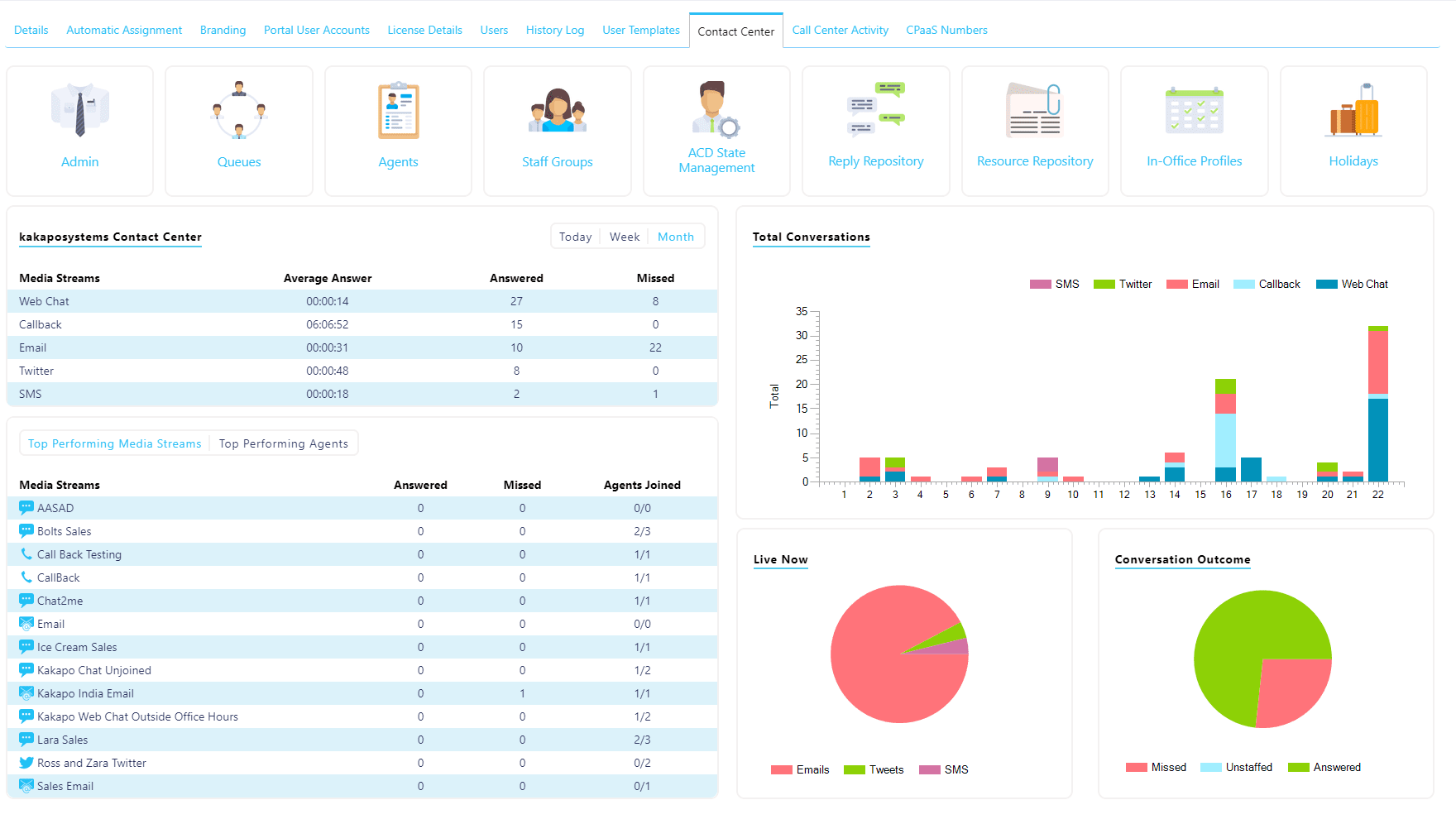 When a customer raises a ticket via email, the best resolution might be to call them instead of playing phone tennis. When you deploy an omnichannel contact center, you can access all contact channels and see all information.
Some businesses use their contact center to regularly check their customers before an issue occurs. By scheduling routine customer calls or emails, you can capture customer queries before they turn into an escalation.
👉 If your business sounds like this use case, consider an omnichannel contact center.
Outbound Sales and Lead Generation
For teams or businesses focused on creating leads and booking appointments, you can use a contact center to speed up and automate your business processes.
Instead of dialing each phone number, getting the occasional wrong one, and losing time due to inefficiencies, an outbound dialer can pull contacts from your database and automatically call each number when an agent is free.
If there is no answer, contacts get added back into the queue. If the caller doesn't wish to be called again, the agent can choose "Do not call."
Success can be viewed thanks to the use of sales analytics, usually included in outbound dialer technologies.
👉 Consider an outbound call center if your business sounds like this use case.
AI-powered Self-Service (Artificial Intelligence)
Making a payment no longer needs human intervention. Instead, when a customer needs to pay a bill, they call you, choose "make a payment," and get directed to a self-service payment line.
Secure and automatic collection of credit card payments is possible thanks to contact center solutions that comply with PCI-DSS standards. Customers can simply enter their card information using their dial pad and make a payment. If they need help, they can opt out of the self-service call and get connected to a live agent.
Other use cases, like knowledge bases, provide your customers with answers to FAQs. Instead of queuing to speak to an agent, you can redirect customers to a comprehensive bank of helpful content.
You can use AI on channels like WhatsApp and web chat, too. By using chatbots to respond to basic-level questions like opening times, how to pay a bill, where to find pricing, etc., you help your customers faster than a human can type.
Again, when human intervention is needed, customers can escape the chatbot and get connected for non-AI help.
👉 Use an automated contact center if your business handles transactions and payments regularly.
IT Helpdesk
Whether internal or external, a contact center license is often used to facilitate helpdesks.
Here, IT managers can manage their incoming tickets while providing a proactive experience to colleagues reporting issues.
Mimicking the inbound call experience of a customer contact center, IT can provide an optimized experience. After all, if you're looking after your clients, why wouldn't you look after your employees?
The use of omnichannel means anyone can log a ticket via email, web chat, or by calling. Helpdesk team members have the option to follow up, track activity, and report on everything, regardless of where the ticket originated.
This "mini contact center" type is a real hit with internal customers and colleagues. Setting customer expectations, even for internal customers, keeps them happy.
👉 Look into an enterprise communications system if your business needs to streamline IT requests.
Essential Contact Center Features
We've touched on the basic contact center features a little. Let's dive into 10 high-quality features that can really transform your customer care or sales operation.
1) CRM Integration
Integrating your contact and customer relationship management (CRM) software is a no-brainer.
When you receive a call from a customer, you need to know who it is—not just the company they're calling from, but their recent and historical activity.
When you empower contact center agents with information, you set them up to provide the best possible customer experience.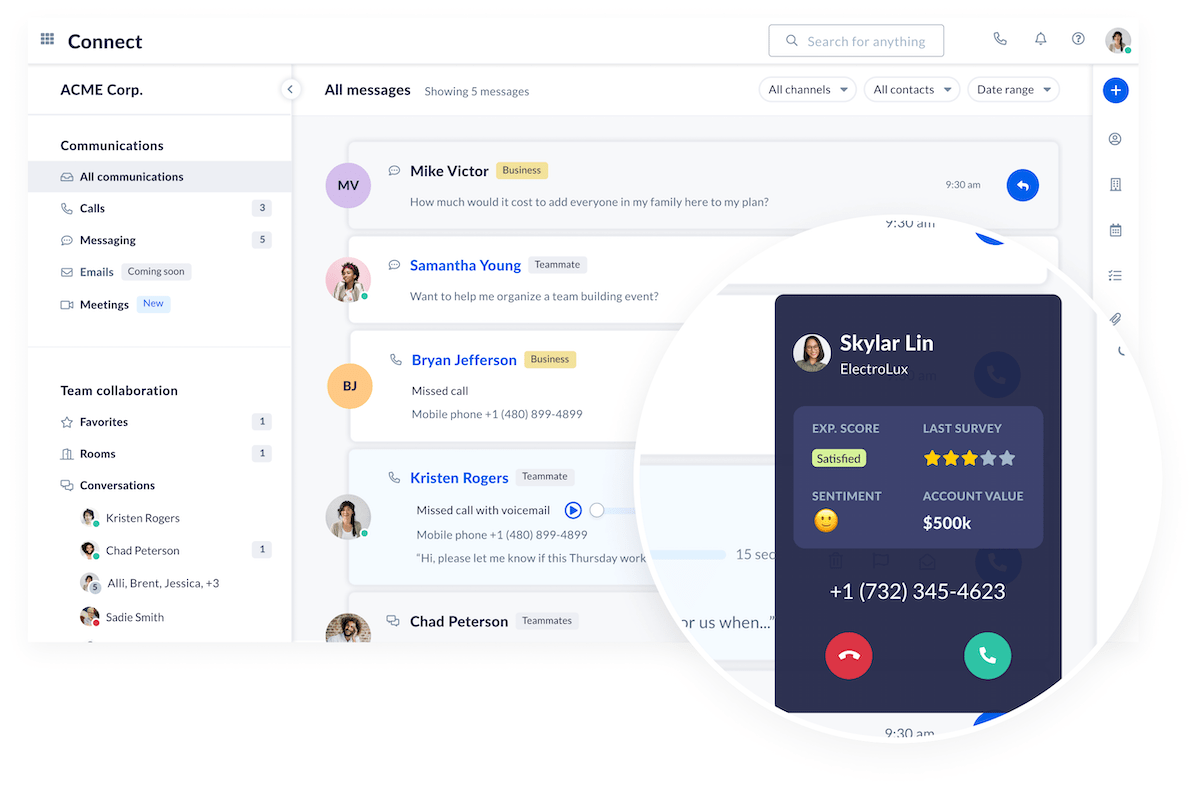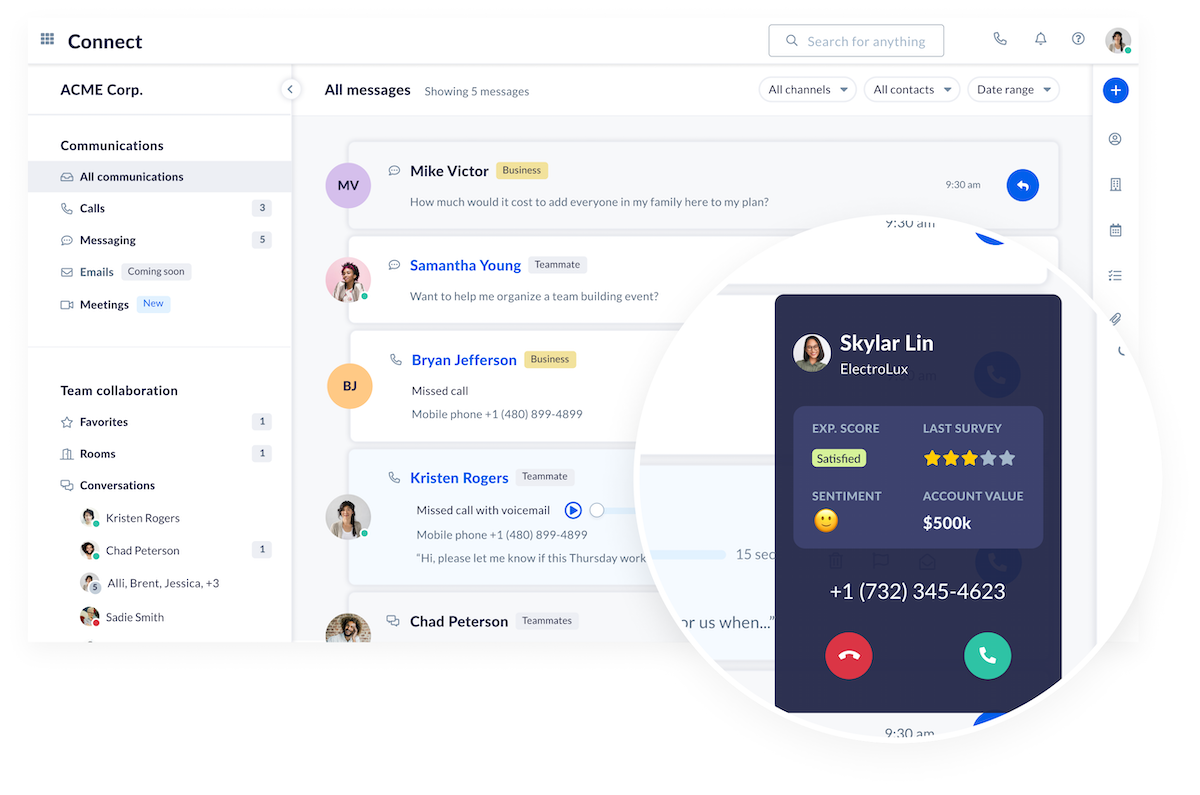 Which sounds better?
Screen pop displays the name of the caller and company while also connecting agents to recent tickets, social media activity, emails, and web chats.
Receive an incoming call without any useful information.
Integrate Your Apps: See Which Ones Integrate With Nextiva
2) Inbound Call Routing
Call routing is the ability to direct inbound phone calls to any person or team in real time, given a set of rules. Call routing rules can be as simple or as powerful as you want.
You can choose round robin-routing, which rings different agents in a circle. Or you could choose to provide the next call to the person who's answered the fewest phone calls this morning.
A better solution is to use the context provided by your caller. When they choose a specific option on your auto attendant, you can route calls to an agent with that specific skill set.
3) Advanced Call Routing
For more advanced capabilities, you can allow customers to say why they are calling and route them to the most qualified agent.
This allows you to add more context to the call and be even more specific with your agent routing.
With this conversational AI approach, you can save customers' time holding for the wrong person and queuing for long periods.
Advanced call routing knows whether there's a long queue—and whether calls to that queue are usually long—so it offers a callback when a specialized agent becomes available.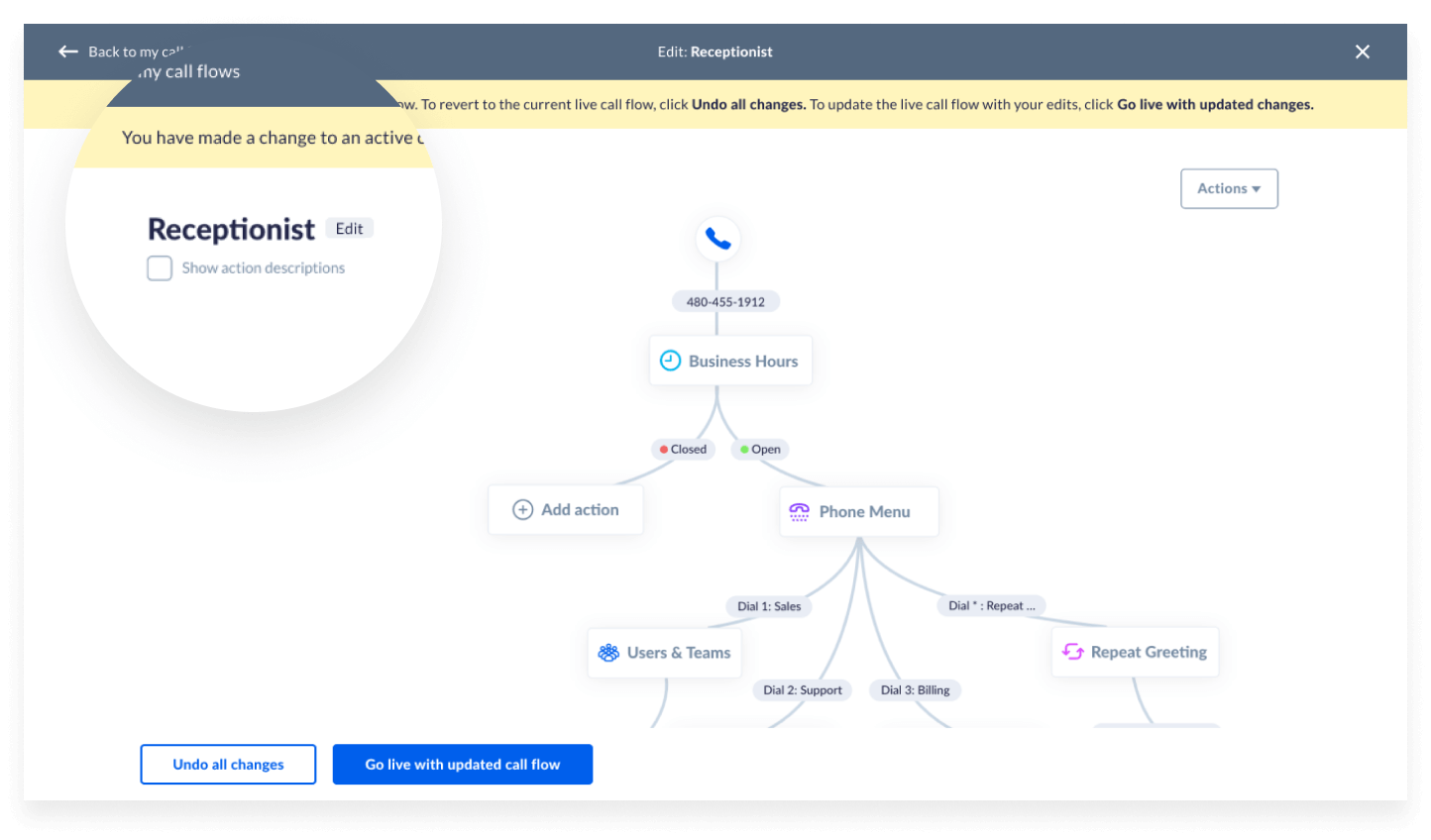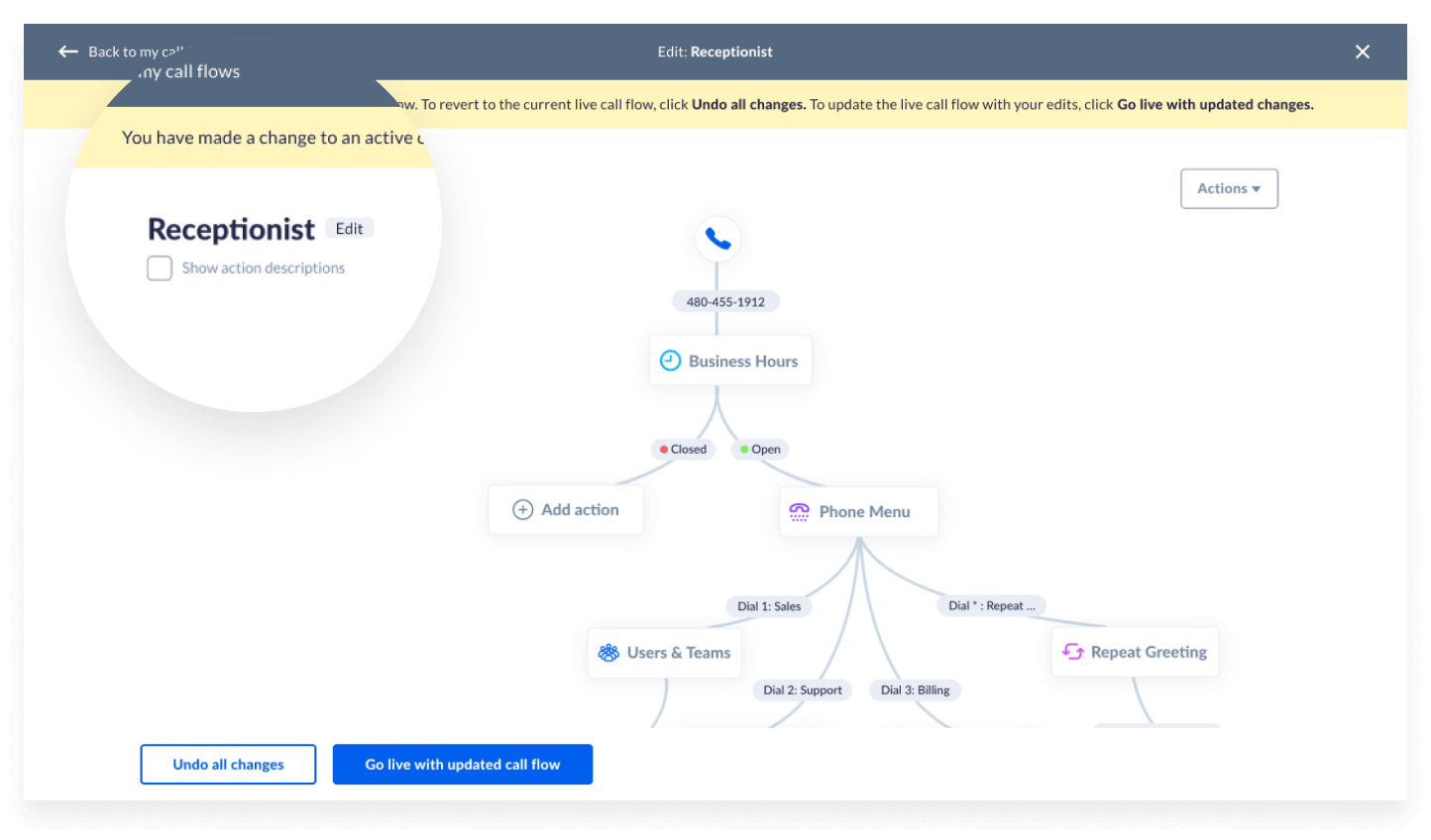 In some cases, like booking appointments and making payments, there's often no need for a human whatsoever.
4) Website Chat
Let's face it, nobody likes waiting on the phone. This is where chatbots come into play.
They can be resourceful when well-executed. New data from Gartner suggests consumers are less enthusiastic about bringing their customer service concerns to a website chatbot.
But it's not all bad, either.
Live chat is an excellent way to quickly provide information to visitors without the burden of calling in, navigating their IVR phone system, and maybe reaching someone in less than five minutes. Answering a prospect's questions accurately and quickly is a worthwhile business investment.
Generally, it's a best practice to include customer support if you're going to also have live chat for sales. When problems happen (and they will), people will spill over into your sales chats.
You can add a live chat widget to your website when you opt for a multichannel or omnichannel contact center.
Here, customers can ask the same questions they'd ask over the phone.
You can staff your website chat or let AI handle the basic requests first. A common use case is providing options like when someone calls you. This way, you can route chatters to the right agent.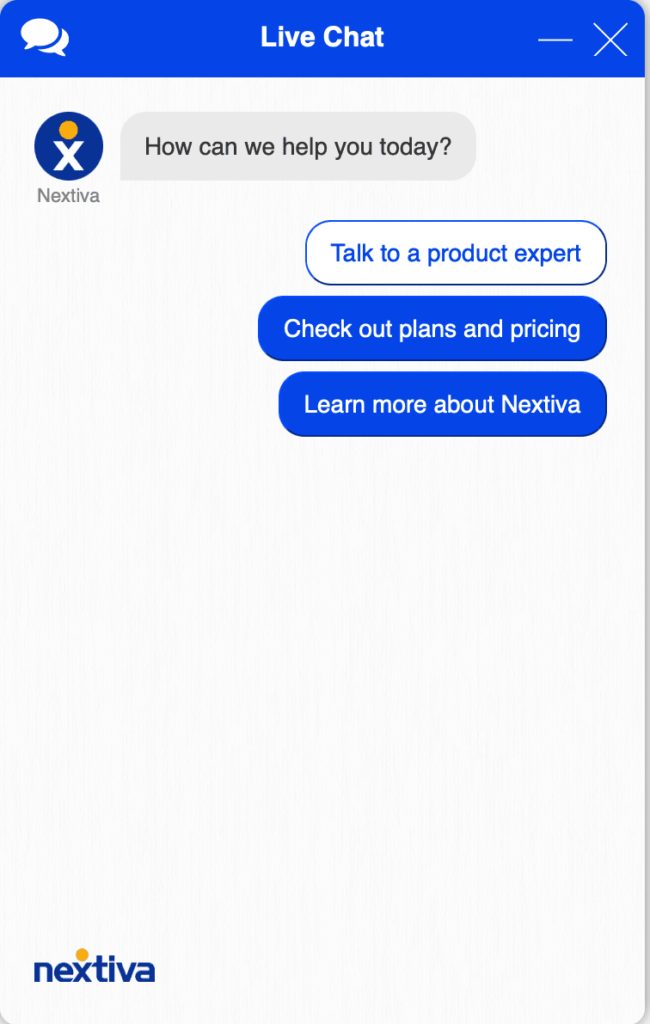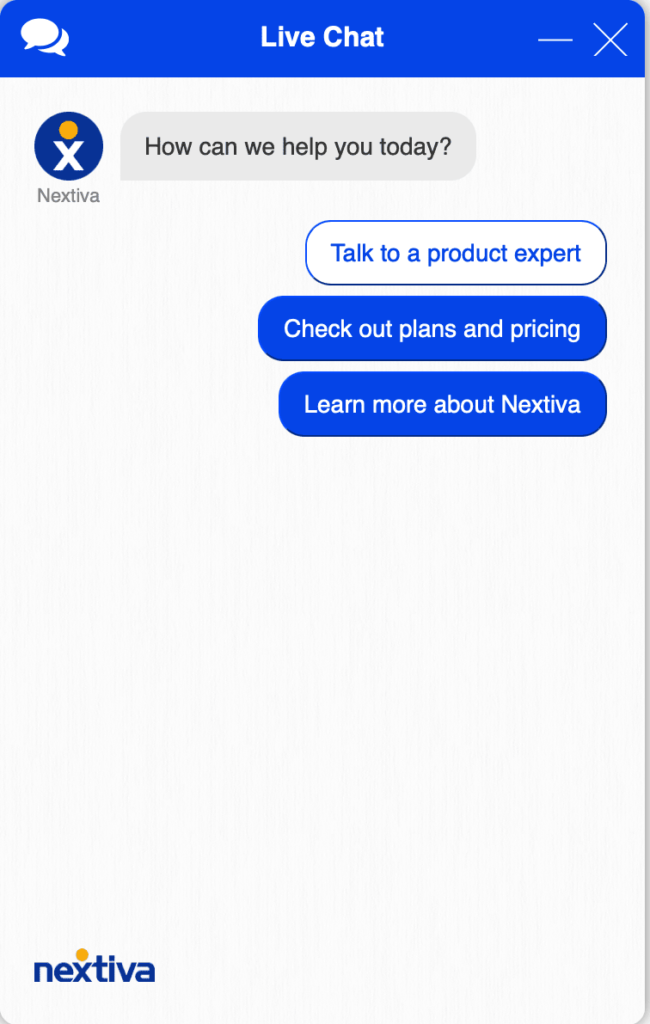 You might even direct callers to your website chat when they call you. If there's a long hold time or specific queries, informing customers that this channel is more efficient is a real win.
5) Social Media Channels
Like your live chat on your website, you can use almost any social media channel to manage customer inquiries.
Platforms like Instagram, Twitter, WhatsApp, and Facebook are commonplace in businesses.
If a customer is on your social media and wants to reach out, offering a way to do so without leaving that channel is a win-win for both the customer and the business.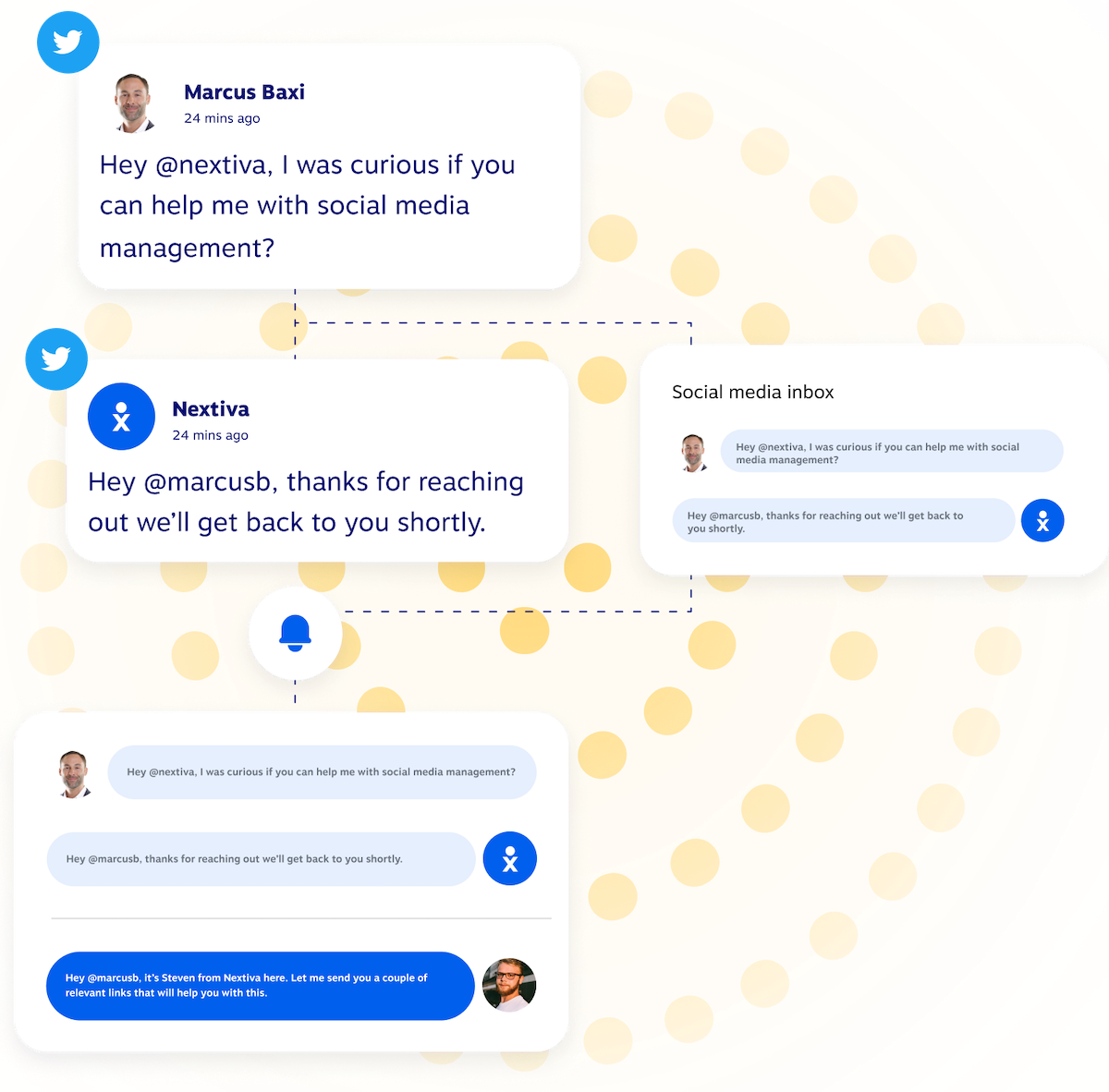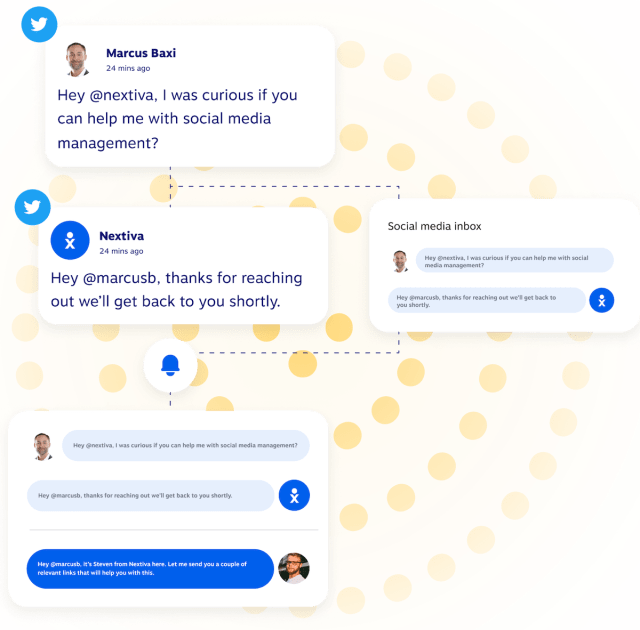 If customers can immediately contact you, there's little friction and minimal wait time.
6) Knowledge Base Integration
The best customer experience is the most integrated. There's no need to keep everything in different places. That just keeps your customers searching.
When customers have access to everything they need without the need to call and ask for it, they become more autonomous and self-sufficient.
The result?
A single environment for support.
Productive and happy customers.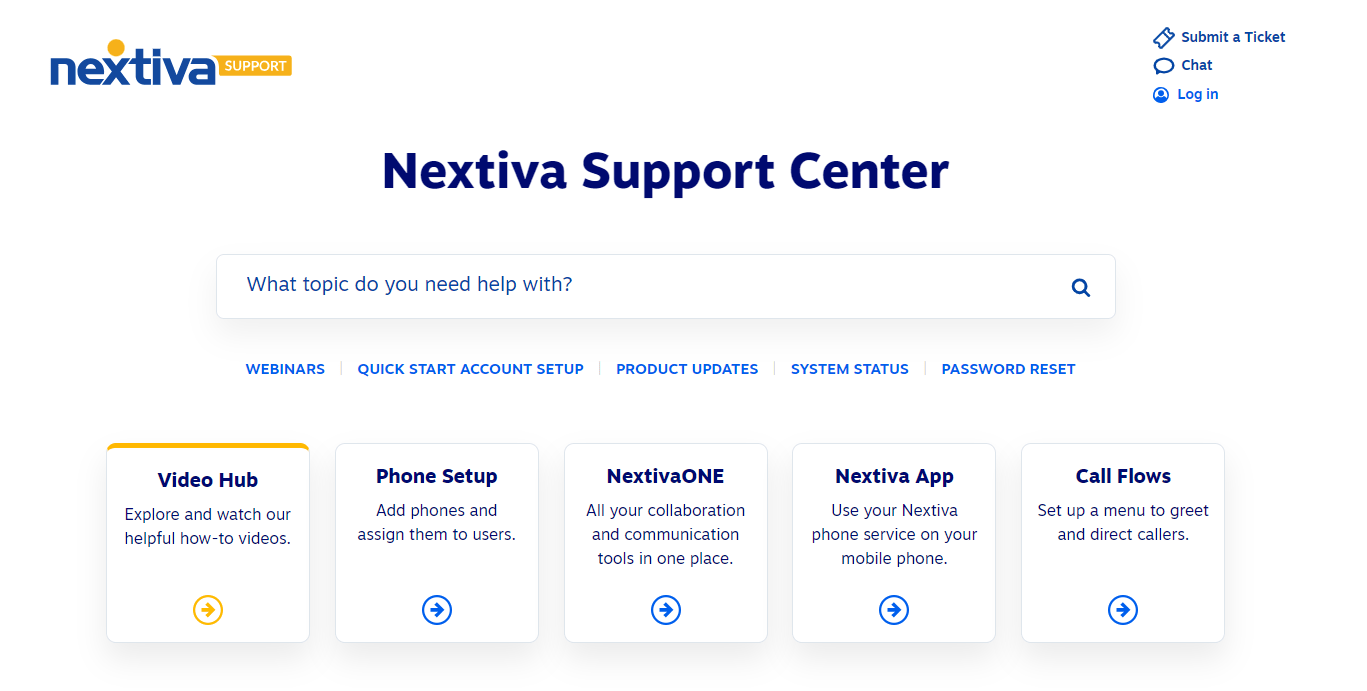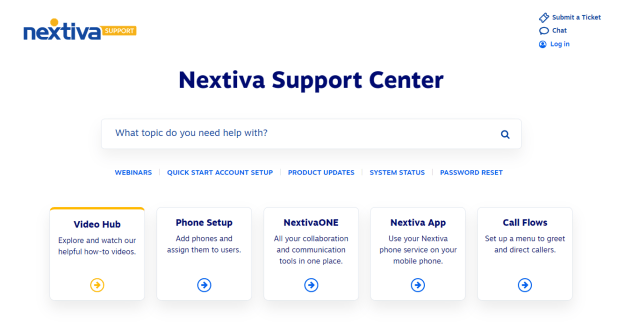 Check out Nextiva's knowledge base as a prime example. You can access support materials for all products, chat with an agent, or submit a ticket, all from the same place.
7) Workforce Management
"Failing To Prepare Is Preparing To Fail" —Benjamin Franklin
The best-performing contact centers are those that embrace workforce management (WFM).
In high-demanding and ever-changing environments, it's important to be accurate with staffing for each area.
WFM is forecasting software that uses data to suggest how many agents are needed to manage customer inquiries at certain times of the day or season.
Staff reallocations must be based on data if your business suffers a major outage. The more data in your WFM software, the more accurate your forecasting is.
8) Customer Experience Analytics
When a customer contacts you, it pays to be aware of their entire journey.
Rather than only knowing their most recent call was three hours ago, viewing their hour-long web chat, email message, and public social media rant adds a lot of context to the next conversation.
Analytics tracking the customer experience also flags this scenario as happening, so it doesn't have to get to this situation anyway.
When looking at historical customer data, you can see where things went wrong in your process and put in place changes where necessary.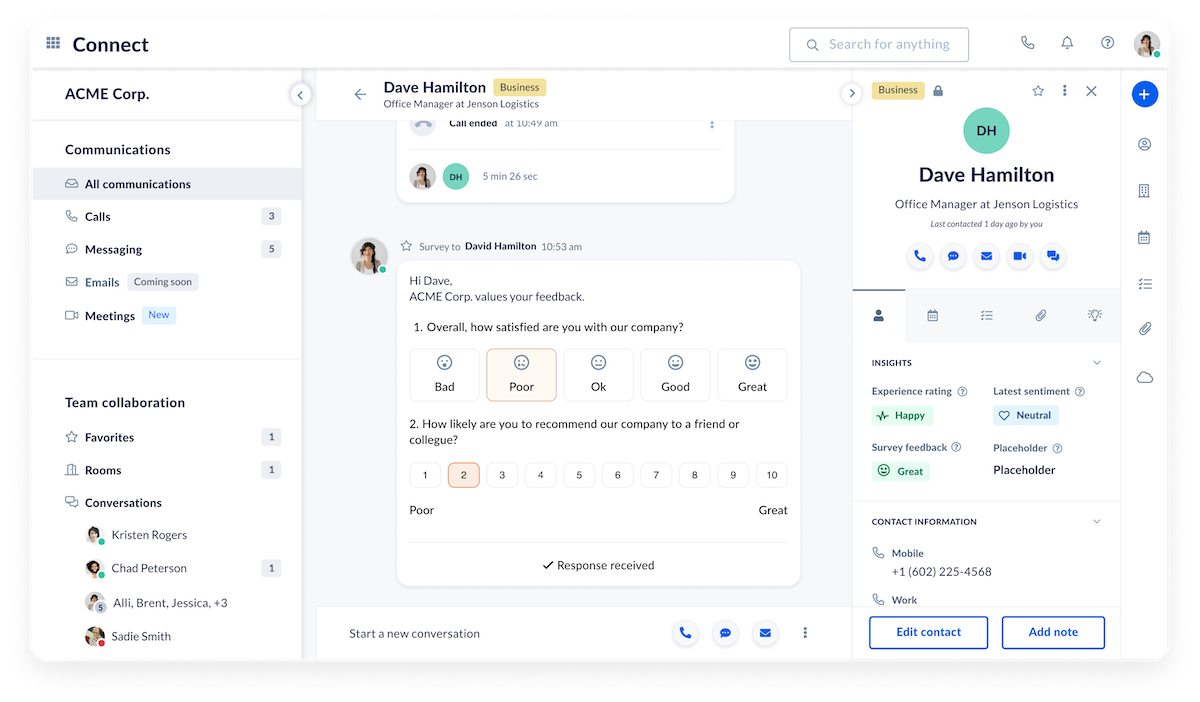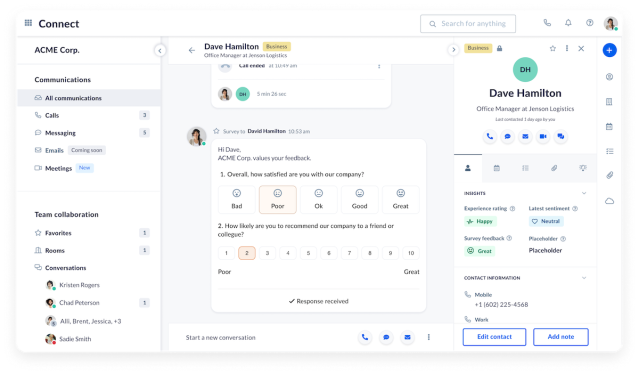 It might be a blockage in one social media channel where an agent doesn't have the right technical training. It could be an increase in average handle times caused by an outage.
Using customer experience analytics, you can learn from this and proactively notify everyone next time around.
9) Conversational Analytics
Customer journey analytics are those applied to the entire call, while conversational analytics are those applied to specific conversations.
These customer analytics can be over the phone or via written channels like email, web chat, and social media.
Reflect on trigger words, emotional responses, and raised voices in a conversation. These all show that something happening in the call could lead to a different outcome.
It might be high praise for an agent, and they should get rewarded.
It might be frustration at a situation, and a supervisor needs to take over, or that agent needs more training to handle that type of query better in the future.
10) Quality Monitoring
If you're not monitoring the quality of your contact center, you're never going to improve.
In fact, you're not going to know if there's an issue at all. And agent performance will never get better.
Quality monitoring is the process of checking in on agents' calls or transactions to ensure they're doing a good job.
This might be the role of a specialized or senior agent or supervisor. Whoever is tasked with quality monitoring will be aided by the use of quality monitoring software, usually included within a modern contact center package.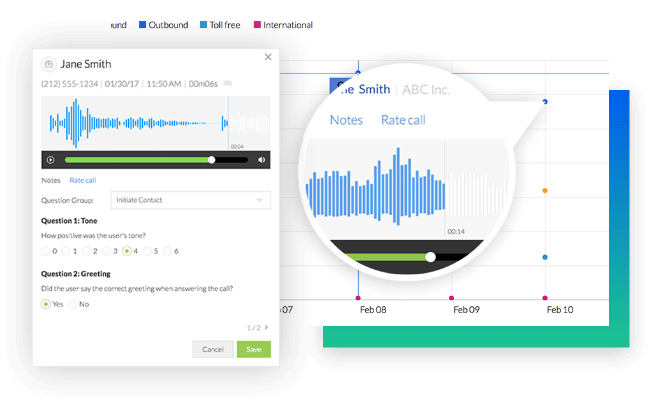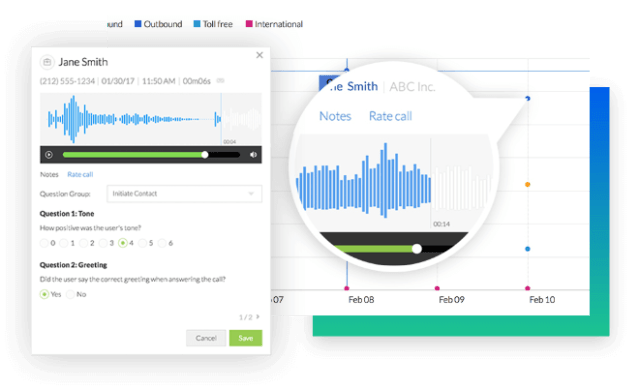 Here, you can select flagged calls or choose randomly, then evaluate how agents performed on that call.
As a result of consistent quality monitoring, you can learn about repeat issues, compile training sessions, and escalate agent or customer issues that need intervention from senior staff.
Contact Centers vs. Call Centers
| Function | Call Centers | Contact Centers |
| --- | --- | --- |
| Definition | Management of inbound voice-based interactions with customers. | Management of multiple communications channels with customers, including voice, SMS, email, web chat, and social media. |
| Channels | Voice-only. | Voice, SMS, email, web chat, social media. |
| Scope | Limited to voice interactions. | Open to all channels needed for optimized customer engagement. |
| Functionality | Call management features like queues, routing, and monitoring. | Advanced features like IVR systems, ACD, omnichannel routing, predictive analytics, and CRM integration. |
| Customer Experience | Emphasis on efficient call handling. | Delivers enhanced customer experiences, personalized support, and comprehensive data management. |
| Omnichannel Approach | Voice-only. | Consistent experience across all channels. |
| Automation and AI | Limited adoption. | Natural language IVR, chatbots, virtual assistants, speech analytics, and predictive routing. |
Choosing the Right Contact Center
The right contact center for you may differ from someone else's.
Just because a manufacturing firm uses one contact center vendor for their inbound call center doesn't mean a technical support function must use the same one.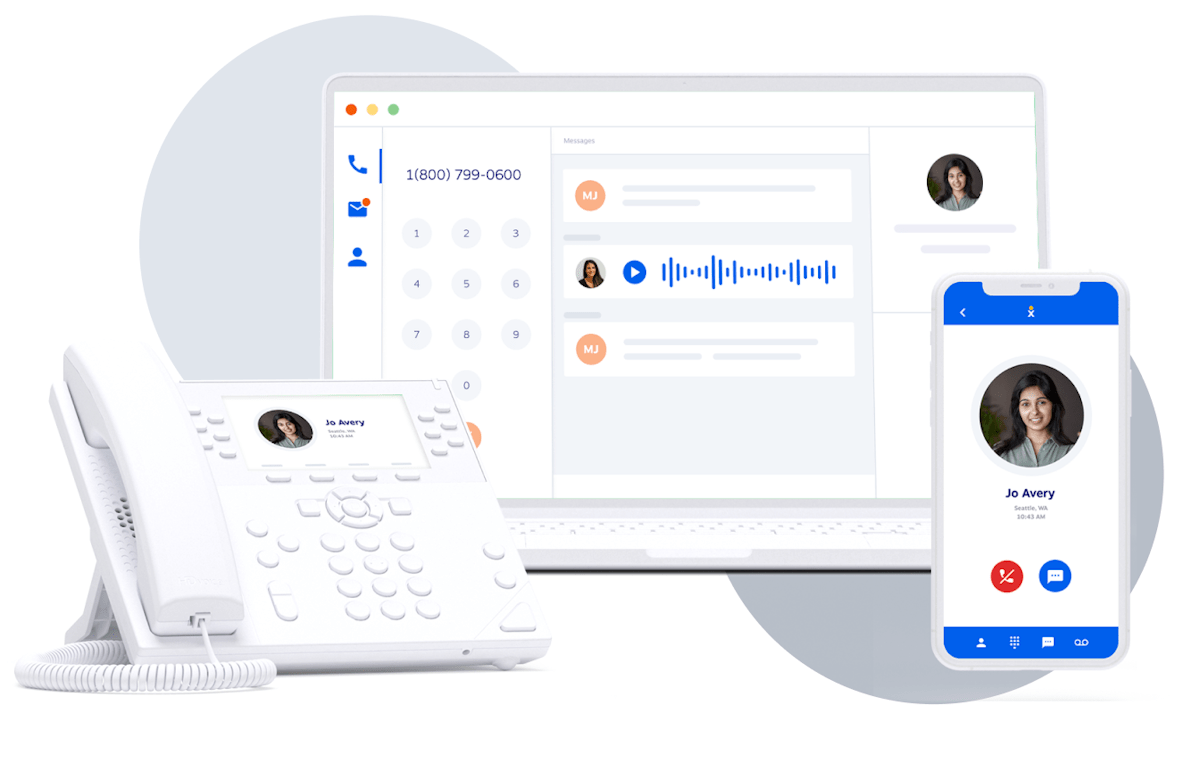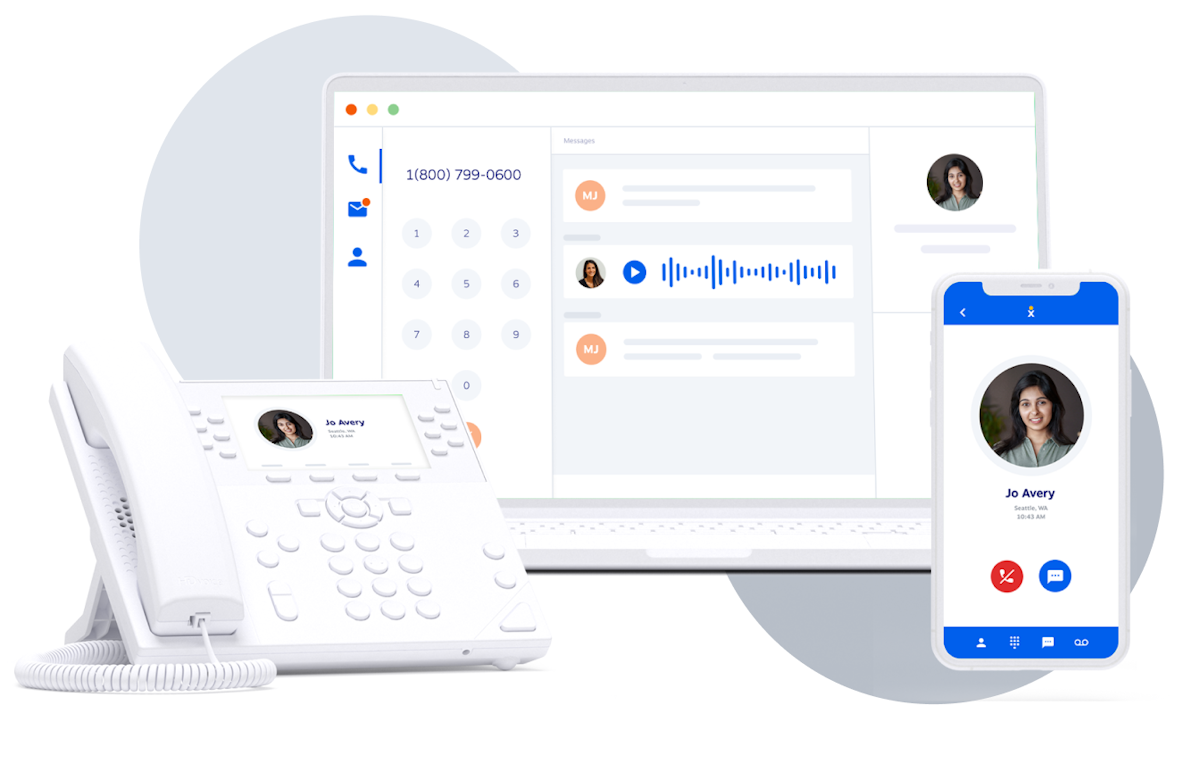 Consider these five key areas when choosing your contact center:
Your business objectives: are your business and contact center purchases aligned?
Your customer communications channels: do your shortlisted vendors support them all?
Your critical integrations: if you use a specific CRM all day long, is it supported?
Reporting and analytics capabilities: can you get comprehensive reports specific to the data you truly need?
Your customers' experience: is there a correlation between contact center purchases and the improvement of your customers' relationships with you?
Then there's the overriding factor: can you afford it?
A more effective perspective is to ask yourself: is there a clear return on my investment? If the answer is yes, move on to onboarding and support options.
If you run a 24/7 support function, does your contact center provider mirror these hours? If you need help setting up 200 agents, can your provider help with this?
These are all crucial factors when considering which contact center provider to choose.
Futureproof Your Contact Center
When looking into a contact center for the first time or renewing your existing one, make sure every element is right for now but as well-prepared as possible for the future.
Think about features you will use immediately versus features you will need in the future.
For example, you might not need web chat or social media today. But if you know your customers try to send you messages via other mediums, it makes sense to factor this into your plan.
The same applies to AI and automation features that may seem like too much of a step into the future.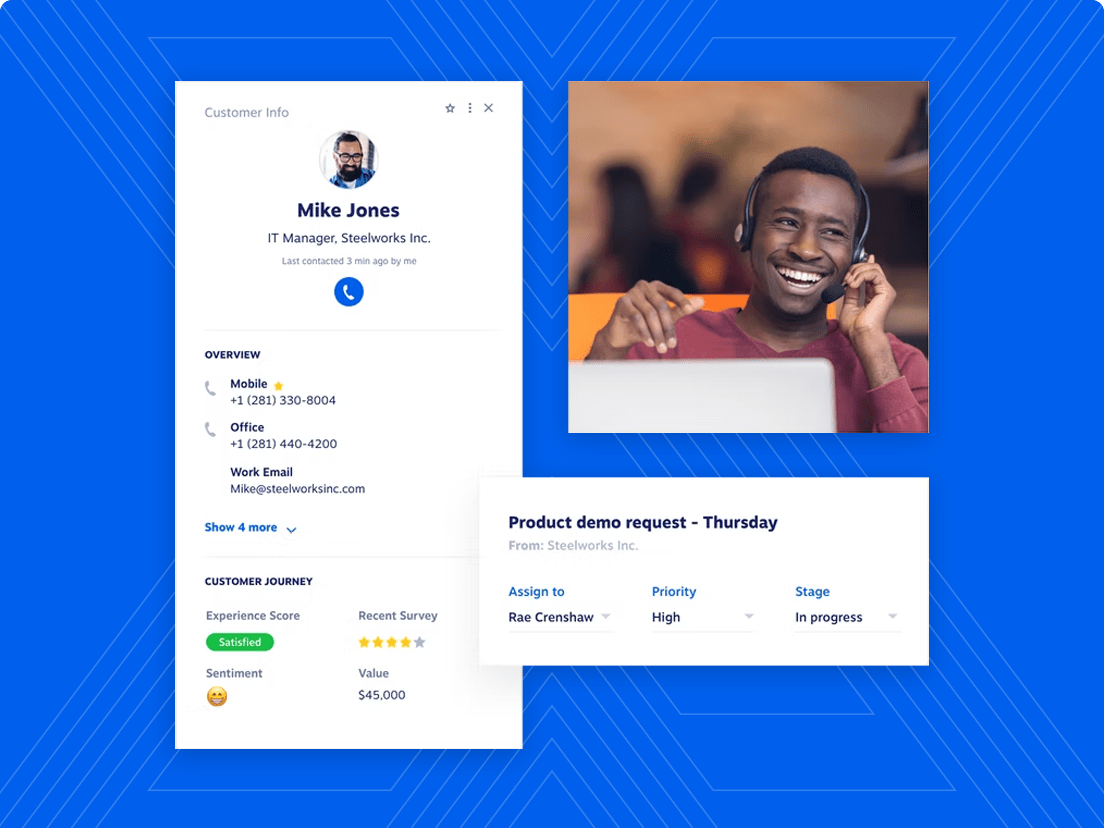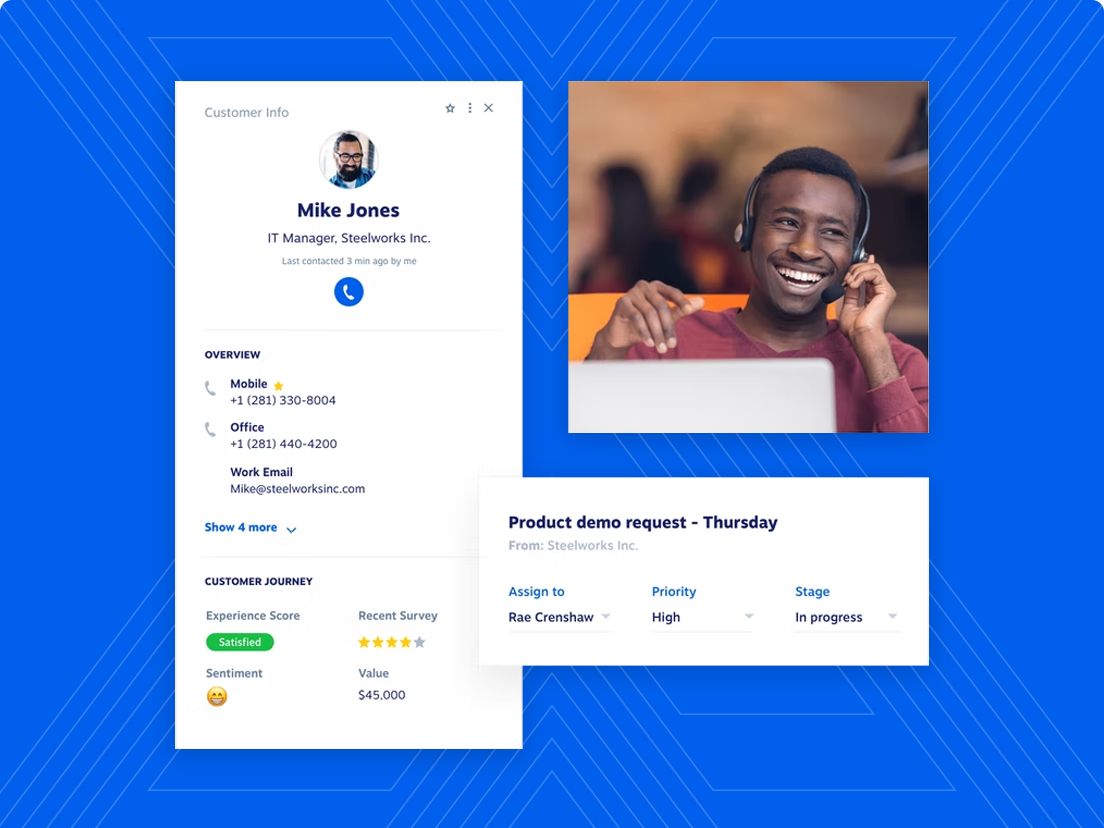 That's where selecting a flexible vendor with proven deployments of traditional and futuristic contact centers pays dividends.
Nextiva was a lifeline to a benefits administrator that was frustrated with its on-prem call center. The company switched to a cloud-based contact center without doing all the work — Nextiva did.
The importance of providing for the now while planning for the future is of the utmost importance. And that's recognized throughout the Nextiva client base.
Nextiva is the 2022 winner of G2's Best Software Award, an award voted for by users, and is recognized by Gartner, the leading provider of research and consulting services for businesses in the IT sector, as being rated the best in the world.
🙌 Case Study: How a FinTech Company Scaled Growth With a Contact Center
Contact Center FAQs
How does a contact center improve the customer experience?
A contact center improves the customer experience by providing a single pane of glass experience for agents to handle inbound customer interactions.

Customers communicate via their channel of choice and experience connected, frictionless customer relationships.
What are the core functions of a contact center?
The four core functions of a contact center are:

1. Support
2. Sales
3. Market research
4. Customer service
What technologies should I look for in a contact center?
When looking into contact center technology, look for the following technologies:

– Omnichannel: the ability to service customers via voice, SMS, email, web chat, and social media.
– AI and automation: self-service options to make a customer's interaction with your business easier.
– Cloud deployment: a flexible rollout method that doesn't need physical installation. 
– Reporting and analytics: graphs, predictions, and trends that trigger business decisions.
– Advanced call routing: management of inbound calls for efficient customer resolutions.
What metrics determine contact center success?
The following metrics determine contact center success:

Net Promoter Score® (NPS®)
Customer Satisfaction (CSAT)
First Response Time (FRT)
First Contact Resolution (FCR)
Customer Effort Score (CES)
Channel Mix
Customer Retention Rate (CRR)
Customer Churn Rate (CCR)
Adherence to Schedule
Agent Utilization Rate
Agent Attrition Rate
Occupancy Rate
Average Speed of Answer (ASA)
Average Handle Time (AHT)
Average After-call Work Time
Cost Per Call (CPC)
Service Level
Call Volume
Peak Hour Traffic
Call Type Mix
Call Abandonment Rate
Average Waiting Time
Call Transfer Rate
Call Arrival Rate
Repeat Calls
Percentage of Calls Blocked
Active Waiting Calls
Average Age of Query
Longest Hold Time Rate
Callback Messaging
Average Time in Queue
Average Call Duration
Call Availability