With your call center handling more inbound calls and with a distributed team, virtual call center software is necessary to deliver a superior customer experience.
Traditional call center technology doesn't cut it anymore. It slows down operations and drives up costs.
With the right virtual contact center, you can reduce costs, scale your team, and go live faster.
We'll cover the fundamentals of virtual call center software, key benefits, functionality, and top tools to enhance agent performance.
What Is Virtual Call Center Software?
Virtual call center software is a cloud-based application that uses Voice over Internet Protocol (VoIP) technology, allowing call centers to make high-quality online calls without the need for bulky and costly physical hardware.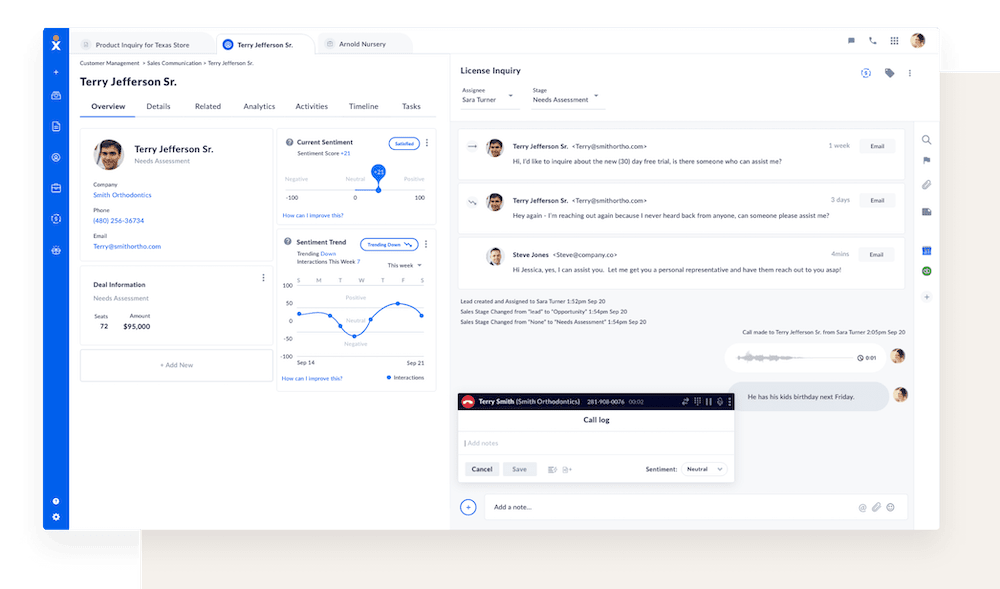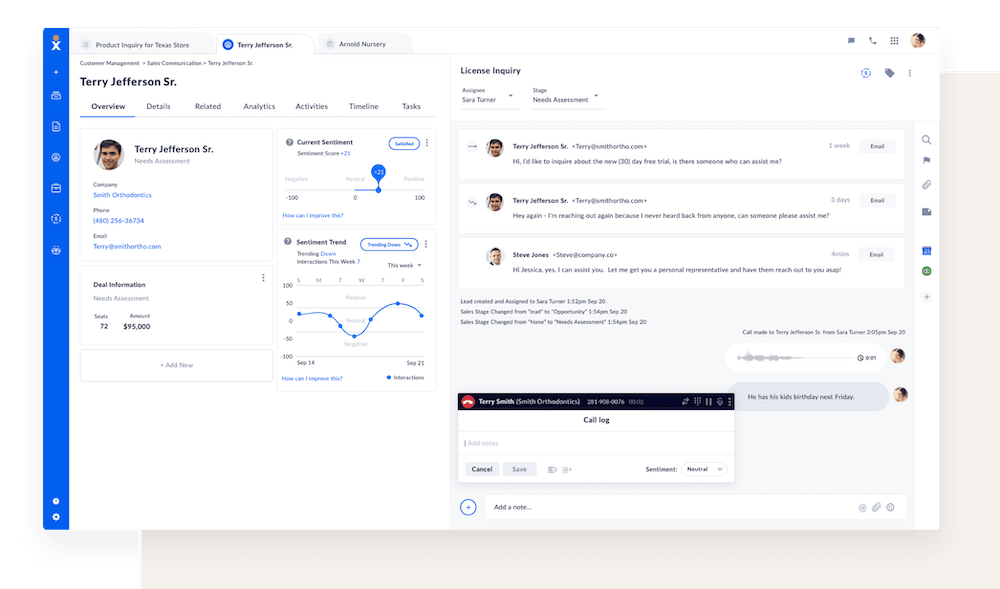 Besides calls, the software offers other communication channels — social media, email, web chat, and SMS, more like a contact center.
Virtual call center software enhances the calling experience and offers customers convenience while intelligently distributing the workload across departments.
The software comes packed with features catering to both individuals and teams. Campaign-specific analytics, automation, and advanced call routing help handle a high volume of inbound or outbound calls from anywhere in the world.
It works perfectly whether working from home or in the office. Agents simply log in to the online software and can answer or make outbound calls on the go.
Get virtual contact center software from Nextiva.
IVR, call recording, VoIP numbers, call routing, advanced reporting–integrated in ONE cloud platform.
How Virtual Call Center Software Works
Virtual call center software uses VoIP to connect calls over an internet connection rather than analog phone lines.
This allows a call center to be configured based on agent availability rather than their location. Anyone with a reliable internet connection can work as a call center agent from anywhere using an internet-connected headset, computer, or smartphone.
Virtual call centers typically use a web-based application hosted in the cloud by a VoIP provider. This application enables call routing between the public switched telephone network (PSTN) and logged-in agents.
An automatic call distributor (ACD) manages the call routing, distributing calls to the appropriate agents based on factors such as the customer's availability, agent skills, and language preferences.
In practice, business leaders and call center managers don't have to worry about the underlying technology of virtual call center software. The call center provider takes care of it.
Businesses can invest the saved-up resources and time to coach and develop their customer service and sales skills.
Virtual vs. traditional call centers
Virtual call center agents can work from anywhere.
Traditional call center agents have to work from a single location, often with on-premises telephony hardware in the building.
Here are some key differences between virtual and traditional call centers.
| Function | On-premises Call Center | Virtual Call Center |
| --- | --- | --- |
| Monitoring | Managers dial into ACD to monitor calls. | Live data in an easily accessible & intuitive dashboard in the cloud. |
| Location | In a physical building. | In the office, on the road, at home, or anywhere. |
| Collaboration | Voice-based or in-person meetings. | Asynchronous communication, team chat, and video conferencing. |
| Real estate costs | High setup and infrastructure costs, including real estate and office equipment.Up to $5,000 per employee. | Pay-as-you-go cloud-based model with minimal upfront costs.$0 if telecommuting. |
| Startup costs | High: PBX, telecom, IT, VoIP phones, headsets, etc. | Low: Web/thin client, mobile or desktop apps, headsets. |
| Ease of scaling | Limited by physical space and telecom hardware. | Easy: Unlimited scalability, features anytime you want them. |
Why You Need to Upgrade to a Virtual Call Center
If you're struggling with any of these challenges, it's time to switch to virtual call center software.
1) Disorganized customer data
Data isn't just king in the digital age; it's currency. It provides actionable insights into your customers' needs, behaviors, previous interactions, and more.
Virtual call center software collects and organizes all the required metrics in a single dashboard. This empowers your team to create actionable, data-driven strategies and your agents to provide the stellar, personalized experiences your customers expect.
To strengthen your data capabilities, ask:
What data can your agents access about your customers? Can they see previous conversations with a customer across channels?
Can your agents connect insights from your sales and support teams by integrating calls with your CRM?
Are your agents equipped to provide personalized experiences for each customer?
Successful call centers use software that collects and integrates data like customer anniversaries or renewals, survey results, previous purchases, website pages viewed, and more. What does your current software do?
2) Limited customer communication methods
Though most customers prefer contacting businesses over the phone, your team must also provide outreach via communication channels such as email, social media, text messages, chatbots, and more.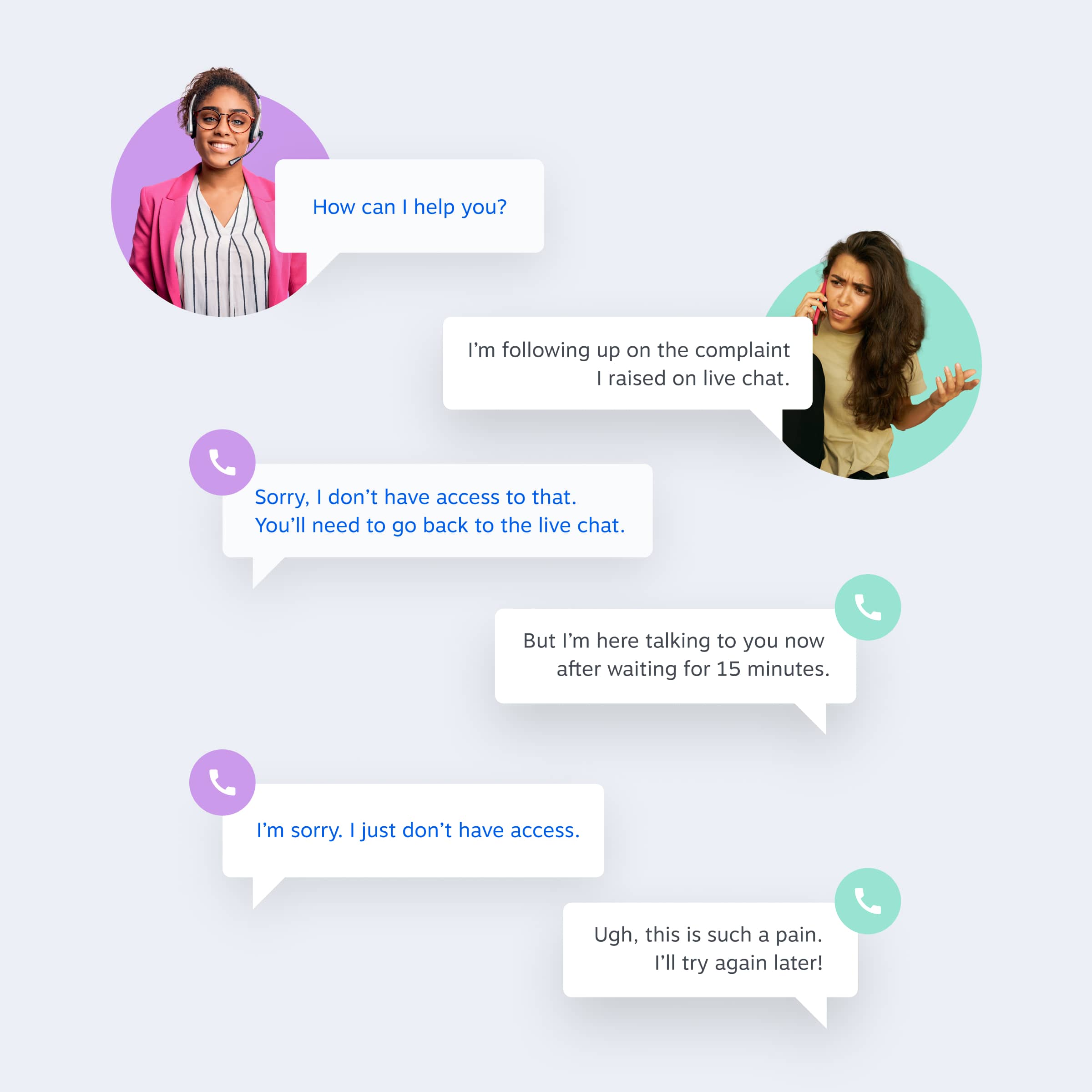 To assess your customer communication methods, answer these questions:
Do your agents need separate apps, tools, or dashboards to help customers on multiple communication channels?
Do your customers have to navigate complicated phone menu trees forever to find the best option that matches their needs?
Do customers routinely get bounced around between departments and transfers before reaching the one person they need?
Must they repeat themselves and explain their situation more than once?
If you answer yes to these questions, you're simultaneously lowering your call center's efficiency and your customer and agent satisfaction.
3) Frustrated, unhappy customers
About 70% of customers say they would switch to a new brand after one bad experience. So how often do your customers deal with long wait times, failures to resolve issues the first time, and other unsatisfactory experiences?
Investing in a solution that leads to positive customer satisfaction scores is worth investing in.
Virtual call center features such as predictive routing connect customers to the right team member quickly, which helps them straighten out issues the first time and makes for excellent experiences.
4) High call center representative turnover rates
Managers struggling with agent inefficiency, employee burnout, and high turnover rates must optimize their call centers for retention.
But the right virtual software can guide customers to help themselves, which eases burdens on your team, improves productivity, and raises satisfaction scores for employees and customers alike.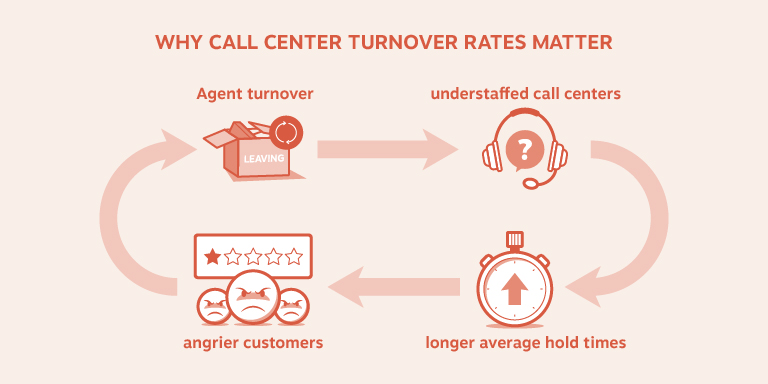 5) Limited reporting
Data collection alone doesn't result in actionable insights. If you're having trouble collecting and making sense of your call center's data, you'll never have the ingredients to craft a successful game plan for the future.
Live analytics and historical data must live in one accessible, understandable, and intuitive dashboard. You should be able to see the big picture and a detailed view of your call center operations. This empowers you to quickly identify problems, like large fluxes of incoming calls, and better forecast potential opportunities.
6) Difficulty integrating with third-party software
Does your call center software seamlessly integrate with third-party apps your business and team use daily? Or do your agents have to manually enter data from their customer calls to your other tools?
Not integrating your call center software with the apps your team uses most isn't just a waste of time and inefficient; it also creates the potential for human error.
A solution like Nextiva offers out-of-the-box business integrations for popular online tools like Microsoft Outlook, Zendesk, Salesforce, Act!, and more. It also provides options for configurable setups with no-code API integrations.
The best call center software alleviates many of these challenges and difficulties your contact center may be experiencing. And if you're thinking of migrating your entire operation to the cloud or starting a virtual call center from scratch, learning the benefits you stand to gain may make your decision easier.
6 Benefits of Virtual Call Center Software
The benefits of a virtual call center far outweigh the headache of running a traditional on-site operation.
Virtual call centers improve everything from your agents' engagement and productivity to your operational costs and overall call center efficiency.
So, let's explore the top benefits of virtual call center software for your business.
1) Increased accessibility
When geographical boundaries don't restrict agents, supervisors, and managers, everyone can stay connected from anywhere. Whether using the app from a home computer, tablet, or smartphone, calls, and messages move seamlessly into the cloud.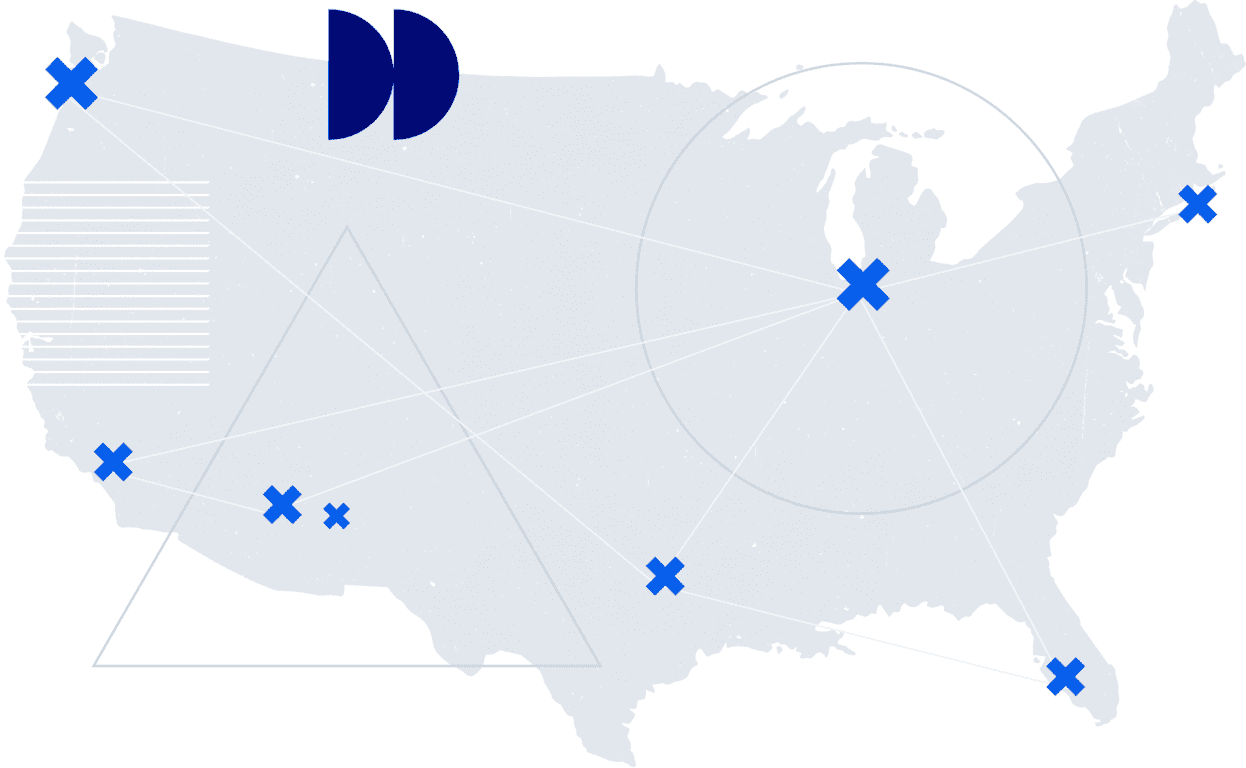 This work-from-anywhere approach means bad weather, traffic delays, and even sick days won't interfere with your ability to provide 24/7 customer service and impeccable support.
Scheduling remote agents in each time zone around the globe always gives your customers someone to connect with fast (and they won't be able to tell the difference between an on-site or virtual call).
2) Better operational efficiency
Running your virtual call center in the cloud empowers your business to increase its efficiency and the ability to handle higher call volumes.
Nextiva's software, for example, handles over 500 calls per line. You can take more customer calls with fewer agents to boost call center efficiency.
Better call scheduling to ensure optimum workforce utilization. Nextiva offers call distribution based on varied daily and weekly schedules without issue. You can easily coordinate schedules to alleviate busy hours across different time zones.
3) Improved customer experience
Higher quality calls contribute to higher customer sentiment. Live monitoring ensures customers struggling to resolve their queries get help from supervisors jumping in on calls.
Supervisors and managers can listen to live calls without interrupting the agent or customer. You can select a call/agent to listen to at random, schedule live listening based on training and feedback, or respond when an agent flags you down for help.
Once listening, supervisors can take over the call or provide coaching to the agent without your customer hearing. This is often preferred as your agents feel supported rather than undermined.
4) Agent productivity gains
Virtual call center software intelligently routes customer queries to the most qualified representative and employs the latest AI and automation to boost productivity and agent uptime. You'll be able to simultaneously streamline and improve your call center operations.
Virtual call centers implementing call analytics can optimize their workforce planning for efficiency. Perhaps average handle time spikes on Monday mornings, or you experience a higher abandoned call rate on Friday afternoons. Now, you'll know how to schedule employees around your customer demands.
5) Lower startup and maintenance costs
You can start a virtual call center with minimal investment or lower your operational costs for an existing one. You also score a risk-free solution to scale as your business grows.
Since agents only need an internet connection and a headset, you can set up and install your virtual call center a few hours after signing up for Nextiva.
When the time comes, simply onboard new virtual agents and scale up when you need the software licenses.
6) Integrates with business apps and tools
Connecting old-school call center software with modern apps and tools your business uses can be challenging. But virtual contact center software includes pre-built integrations for third-party software:
CRMs
Helpdesks
Ticket management
Productivity
Power dialers
Email
Shared team workspaces
Nextiva's integrations work with (most) of your in-house tools and processes. Your agents will be equipped to seamlessly move between resources to better help your customers, enhance customer service, and boost overall efficiency.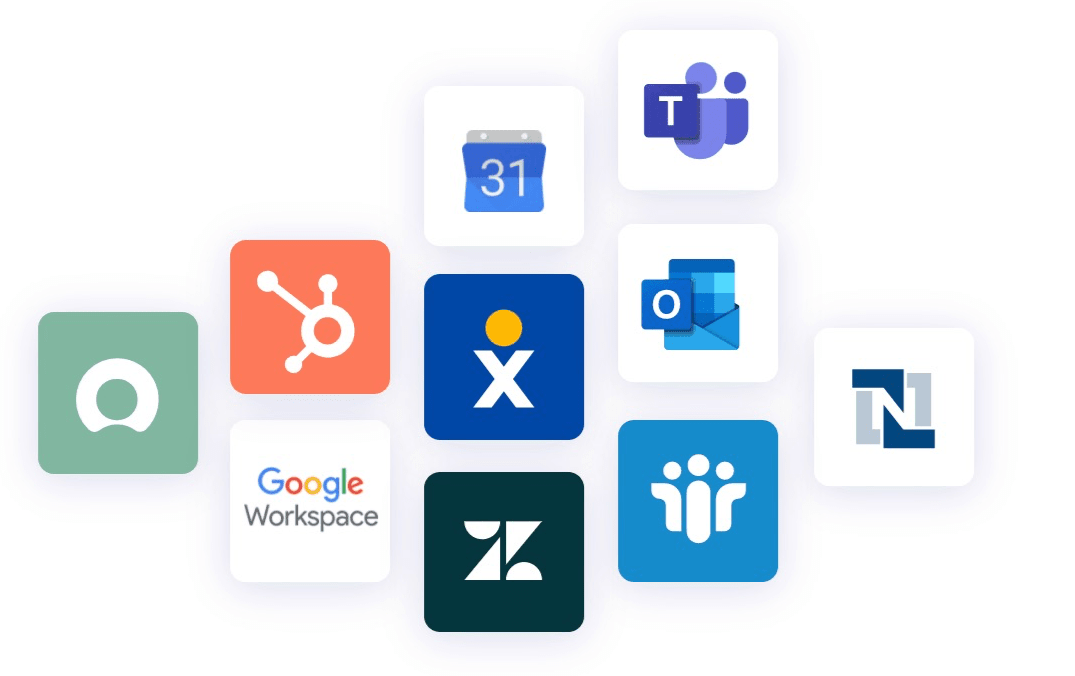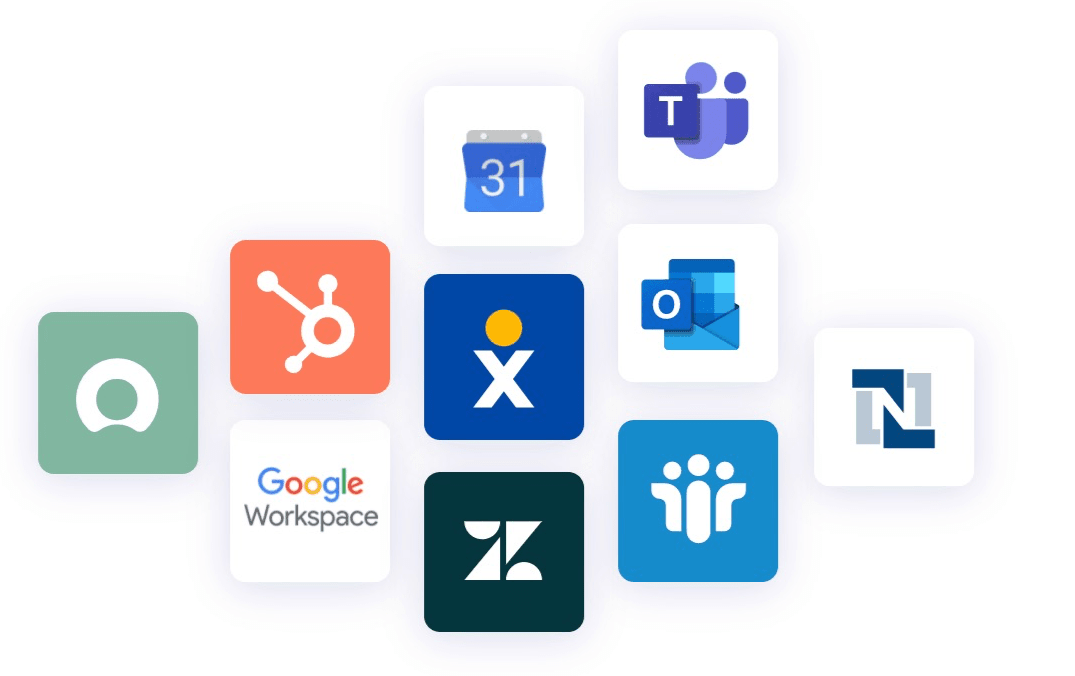 So now that you know all the benefits a virtual call center provides, grab your notebook as we discuss which call center features your business needs.
Move your call center to the cloud with Nextiva.
IVR, call recording, VoIP numbers, call routing, advanced reporting–integrated in ONE cloud platform.
Virtual Call Center Software Features to Look for
Every customer interaction must be the perfect experience. Therefore, finding the right solutions for your business is essential.
Unfortunately, not all call center software is created equally.
So here are the top features you should look for when comparing your options:
1) Omnichannel functionality
The best virtual contact center software allows agents to handle requests and share information across multiple channels, including calls, webchat, email, SMS, and social media.
In this seamless experience, agents have all the customer information and context to provide stellar experiences using a single, easy-to-use interface.


Rather than force customers to repeat themselves, your agents start with a holistic overview and pick up right where their colleagues left off. They'll have access to intel such as:
The customer's history and critical data
A transcript of their previous conversations
A record of relevant touchpoints, such as help docs they read in your knowledge base
Your customers expect you to provide help via the channels they're most comfortable using. They also believe brands should deliver more personalized experiences, using their data to craft hand-tailored solutions.
Read more: Everything You Need To Know About Omnichannel Capabilities
2) Virtual phone numbers
A virtual phone number is a telephone number that isn't bound to a physical location. They're how your remote team makes and receives calls from customers worldwide, whether working in an office or from home.
You can use a virtual number on any desk phone, cell phone, or softphone. These secure lines of communication also provide increased anonymity over traditional landlines, which people can find in online directories.
You can get local and toll-free numbers or port your existing numbers for your virtual call center. Your customers won't be able to distinguish between a virtual number and a standard one.
3) Cloud-based VoIP calls
VoIP is great for making calls over the Internet, but a cloud call center solution takes it to a whole new level with top tools for professional call management.
Cloud calling streamlines business communications and operates with higher security. Virtual agents can make and answer calls on their desktops, mobile devices, or laptops using softphones or physical handsets.

It's also flexible to adapt to the unique needs of a sales team, customer support team, or any other department like IT to handle incoming or outbound calls at scale.
This solution not only replicates the features of a traditional on-premise system but also provides access to collaboration features, such as three-way call conferencing, call recording, and other unified communications features.
Admins can also manage everything from the cloud — from adding new lines to accessing analytics.
5) Advanced calling features
Automatic Call Distribution (ACD): To automatically identify and route incoming calls to the proper team, serve VIP customers with dedicated support agents, and connect customers to the most qualified agents for their needs.
Interactive Voice Response (IVR): An IVR system prompts customers why they are calling so they can resolve their concerns faster. It increases agent productivity and improves customer satisfaction by not needing to be transferred between agents. It also enables personalization with known customer data.
Customizable Call Flow Builder: To design a perfect customer experience with drag-and-drop simplicity, convert text to speech on call flow scripts via your IVR portal, and simplify call routing without on-prem PBX complexity.
Call Queues: To manage a line of callers waiting to speak to an agent, respond to peak demand without sending customers to voicemail, greet customers with estimated wait times, and provide hold music and announcements.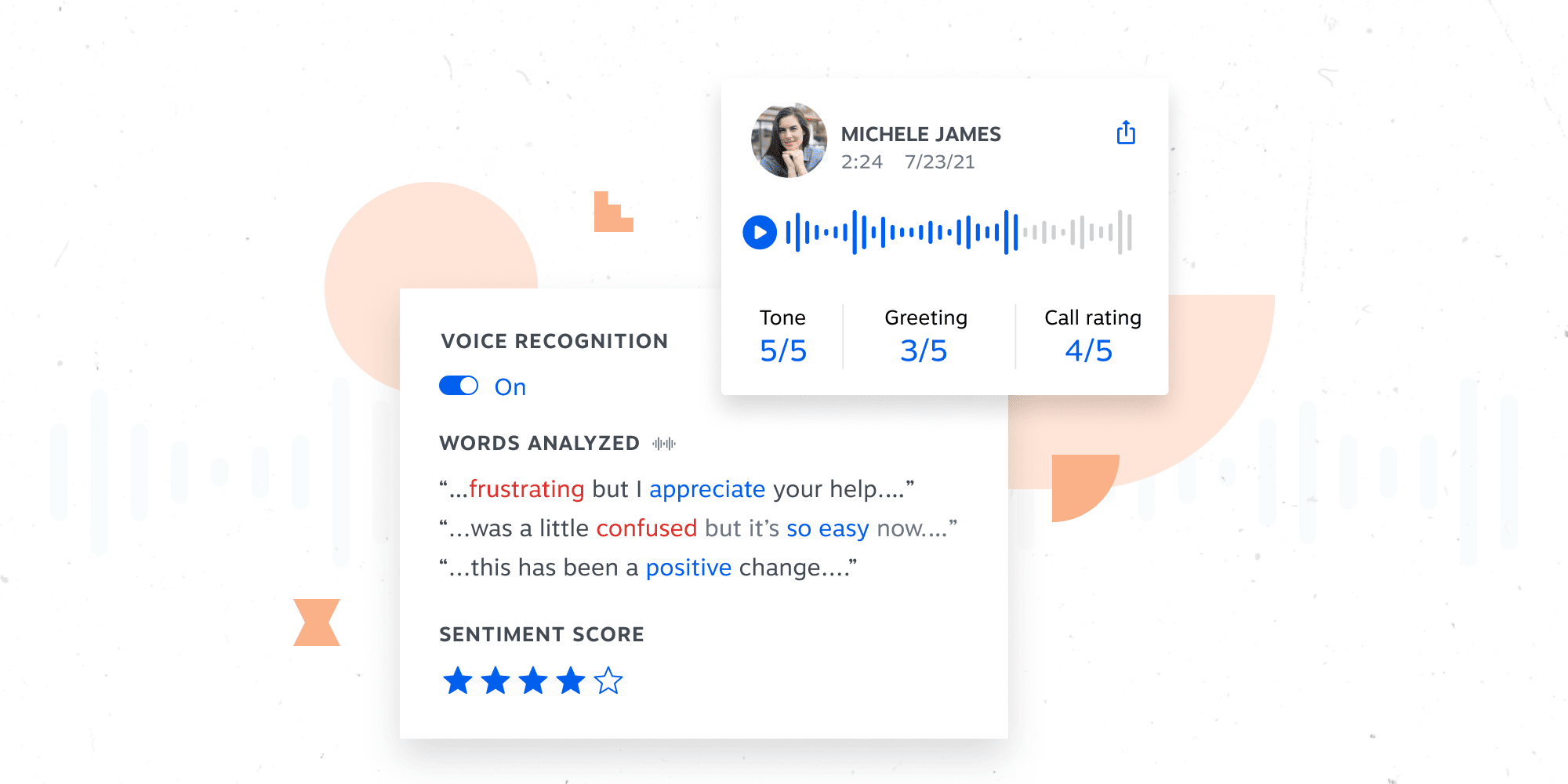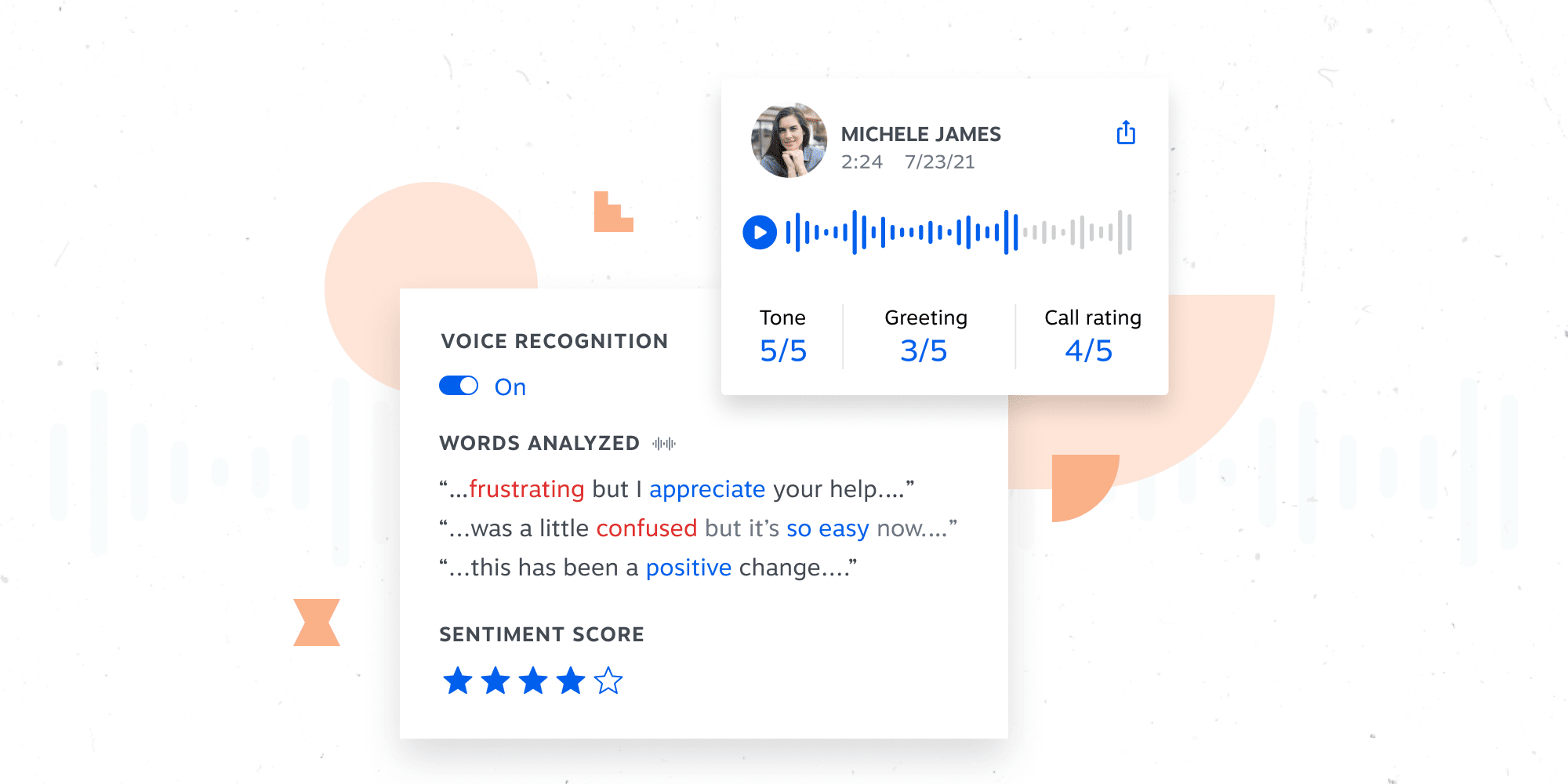 You can also rate and share recordings with authorized staff. Leverage your data for quality assurance, customer satisfaction, and business growth.
6) Call center training and automation
The software should offer a set of tools for virtual call center management. These tools facilitate training and onboarding for agents in various global locations. Key features include:
Remote group training: Managers can conduct remote group training sessions, so agents can listen to live or recorded calls with examples of good and bad quality aspects for learning.
Peer-to-peer listening: New hires can be paired with experienced agents for on-the-job remote training, enabling coaching during live calls.
Live call monitoring: Supervisors can monitor live calls to provide immediate assistance when agents struggle to resolve customer queries without interrupting the call. This approach allows for real-world learning experiences and customer satisfaction.
Conversational AI typically provides a 99% reduction in customer service time and a 10-point improvement in customer satisfaction. Your agents can focus on high-priority cases while the 24/7 AI improves routing, reduces hold times, and saves your business money.
7) Third-party integrations
Whether you wish to stick with the tools you and your team use every day or discover apps your software easily integrates with, Nextiva makes it simple to connect your favorite tools and go.
You gain tremendous value from these cloud-based integrations. When your data is current and accurate, your call center staff spends less time switching apps and hunting for information. And as a result, this means a better customer experience.
Some integrations for contact center software powered by Nextiva include Salesforce, HubSpot, Act!, Google Workspace, Microsoft Outlook, Teams, Microsoft Dynamics, Lotus Notes, and many others.
8) Real-time analytics and reporting
Contact center reporting allows administrators and virtual call center supervisors to view the status and statistics of a call center's activity and its agents' productivity.
Reporting dashboards provide intel on call activity, agent data, and performance indicators.
Longest wait time
Expected wait time
Average handle time
Number of idles
Abandoned calls
Call volumes
Agent availability
Customer sentiment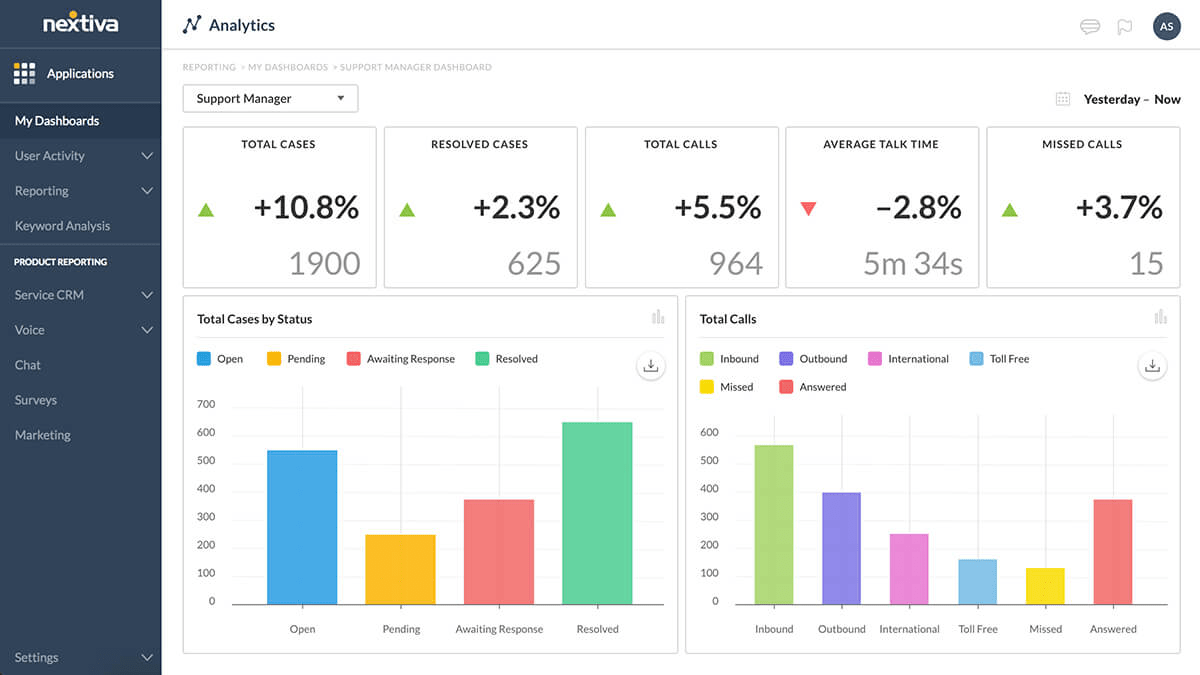 Historical and live visual call center metrics empower leaders to uncover valuable insights and make data-driven decisions. Based on past performance and data, managers can predict future business opportunities and develop accurate forecasts.
In the past, businesses needed a data analyst on staff trained in SQL to pull reports and call analytics.
But Nextiva provides 40+ advanced features and easy-to-understand information to get actionable data and measure your VoIP call center efficiency in real time. You can even create customized reports and dashboards.
Choosing the Best Virtual Call Center Solution
Now that you know more about what the best call center solution should include, it's time to compare your options to find the perfect one for your business.
Use this checklist during your research to know what to look for in call center software.
Understand your business needs
Consider what your business needs now and in the future, as you continue growing.
Look for a flexible solution that meets your team's current needs and provides a cost-effective, straightforward path to scale (and downsize, if needed). Understand what's involved in changing your plan as your business pivots.
Assess the ease of setup
Ask about your virtual call center's initial setup process. Some virtual call center tools are intended to be self-service, while others are more technical.
Consider your team's availability and skillset to onboard a new contact center platform or if you need extra help from professional services.
Consider your potential ROI and cost savings
Your software should provide a higher return than a traditional on-site call center solution. To determine your business' potential ROI, consider the savings associated with reduced agent turnover, a leaner office footprint, and not maintaining obsolete equipment.
Think about how your sales team can close more deals with the right call center software. Or how your account management team can drive up renewals and referrals with a fully integrated contact center platform.
See what training is available
Live training webinars are great, but not everyone can attend them.
Check for learning and support resources from your contact center provider to help your team master the virtual call center software. Specifically, look for supervisor resources, admin guides, and user tutorials.
Look for 24/7 customer support
What happens if you or your team have questions after you're live? How can you reach a knowledgeable rep to discuss issues?
Along with training resources, examine your provider's ease of contacting support. Can you reach them easily via the web, chat, email, and phone? Depending on your needs, you might want to have options always available.
Learn what integrations are available
Virtual call center software should easily integrate with the tools your team is already leveraging for success. You don't want to learn after the fact that your trusty email client doesn't play well with the software you chose based on price.
Understand what features are included
Virtual call center providers often have different plans based on the features and the number of employees or users. Sometimes, the most attractive call center features are only available in the highest-priced plan — but you might not need every agent on that plan.
Nextiva's cloud-based call center starts at $50 per user monthly. For more advanced call center functionality built for the enterprise, you can expect to pay around $100 to $150 monthly.
Ensure it meets regulatory standards
Your call center provider must ensure everything on their network remains secure according to industry standards.
If your company operates under specific requirements like HIPAA, mention them early on so your account is provisioned correctly. Certain features might need to be restricted, so you're in the clear.
💡 Tip: Nextiva meets and exceeds ISO/IEC 27001, SOC 2, PCI, and HIPAA requirements. Read more →
Don't forget about analytics and reporting
You should know what data your software collects and monitors. Ask for examples of analytics and reports you can pull. And make sure the process of finding live and historical data is easy to perform multiple times daily.
Avoid software with complicated dashboards or reports that require a Data Analyst on staff to translate. Look for intuitive solutions that provide the insights you need to improve at a glance.
Top 5 Virtual Call Center Software
Software
Key Features
Pricing (Starts at)
Best for
Nextiva
Cloud-based VoIP calls
Call forwarding
Conference calling
Voicemail to email
Mobile app
$18.95 per user, per month.
Small, medium, and large businesses with a wide range of needs.
Five9
Predictive dialer
Scripting and guided interactions
Customizable APIs
Varies depending on features and usage.
Large enterprises and contact centers.
Aircall
Cloud-based phone system
Helpdesk and CRM integrations
Callback requests
$40 per user, per month.
Sales and customer support teams and small businesses.
Twilio
Voice APIs
Dynamic call routing
Real-time call monitoring
$1 per active user hour or $150 per named user per month.
Developers; requires manual coding.
Freshdesk
VoIP phone integration
Ticketing and case management system
Workflow automations
$15 per month.
Ticketing and helpdesk teams.
1. Nextiva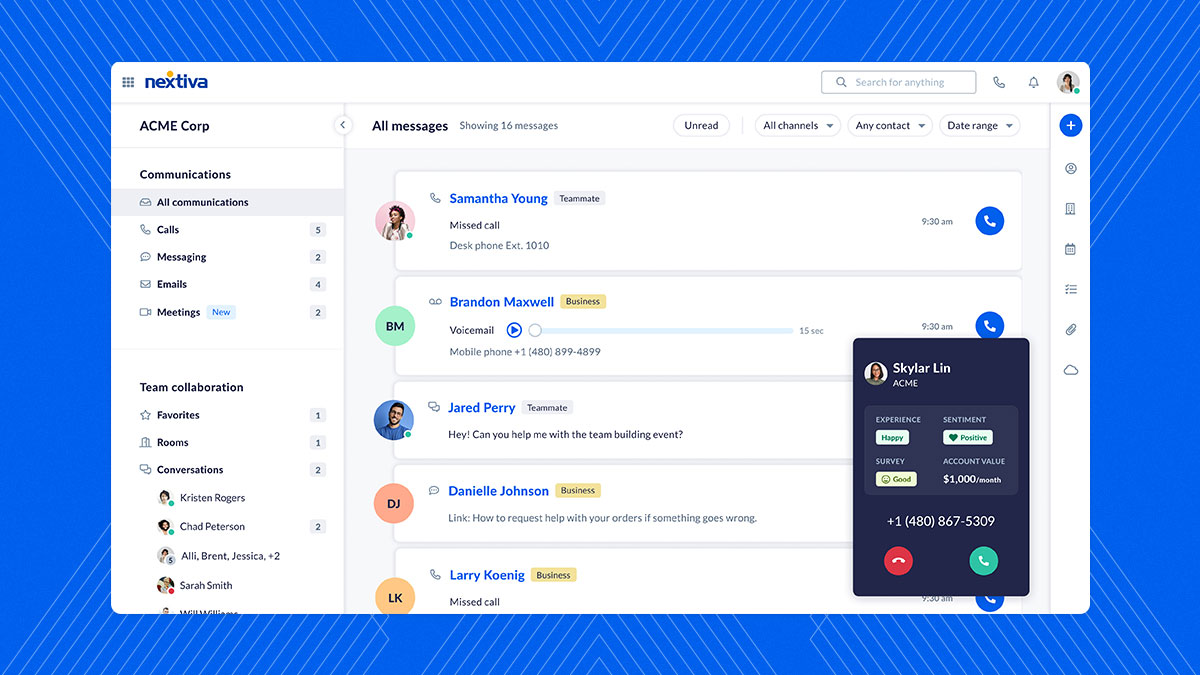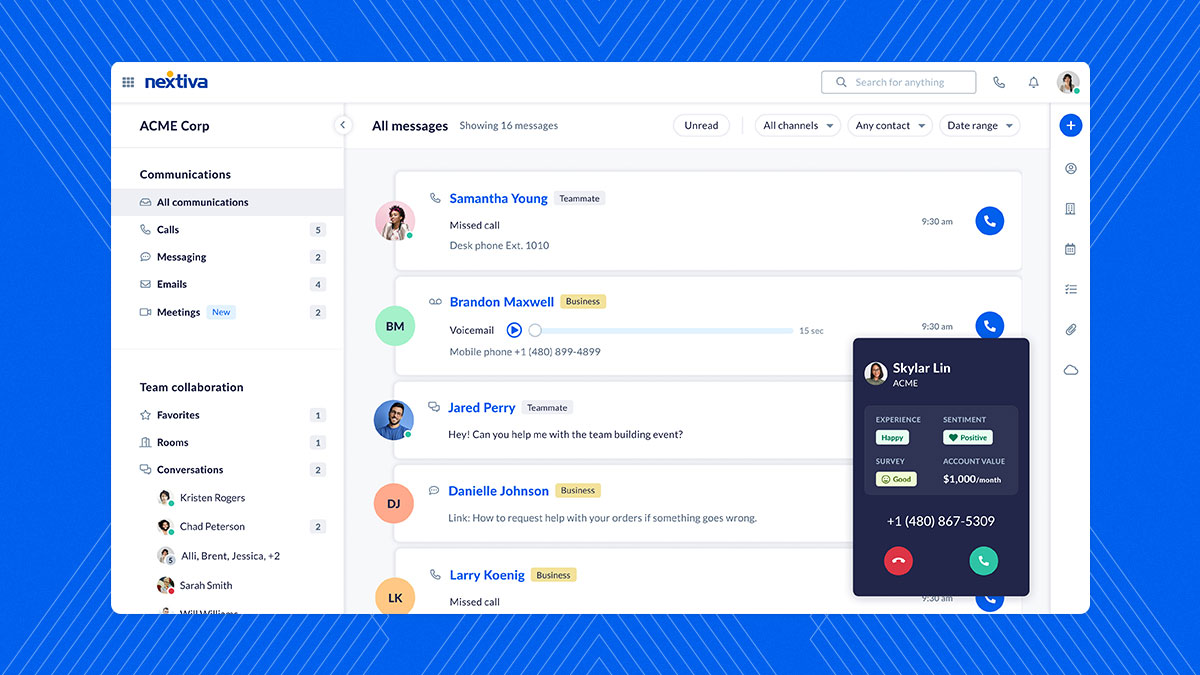 Nextiva provides virtual call center functionality alongside its cloud-based phone system. Running your call center in the cloud empowers you to take more customer calls with fewer agents.
You can also automate multichannel customer support and self-service options with our call center system.
It includes everything your team needs to provide exceptional customer service and skyrocket your business to the next level.
VoIP calls allow call centers to make and receive high-quality calls over the internet.
Call monitoring and whispering let supervisors monitor calls in real-time to assist agents during challenging calls without the caller hearing.
Call forwarding rules redirect calls to alternate numbers or agents, so no call goes unanswered.
Voicemail to email automatically forwards voicemail messages to email, so agents can easily access and respond to messages even when they're away from their desks.
Conference calling with multiple participants helps agents easily collaborate or start group discussions with customers.
Nextiva's mobile app keeps agents connected to handle calls from their smartphones, simplifying remote and on-the-go call center operations.
Call center performance metrics enable call center managers and supervisors to track KPIs and make informed decisions.
For the ultimate contact center software, Nextiva partners with Five9 to deliver a fully integrated contact center solution that works perfectly with your existing cloud phone service. It's the contact center you (and your customers) have always dreamed of, with everything support feature available at your agent's fingertips.
Set up a virtual call center with Nextiva.
IVR, call recording, VoIP numbers, call routing, advanced reporting–integrated in ONE cloud platform.
2. Five9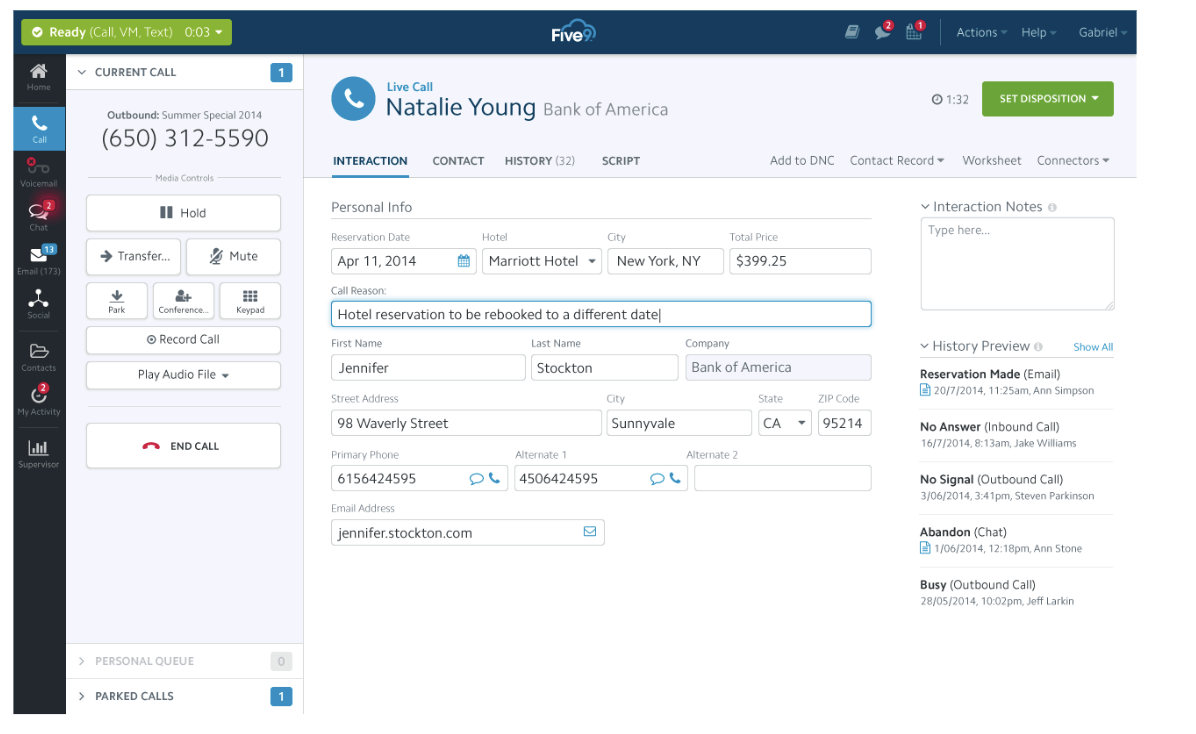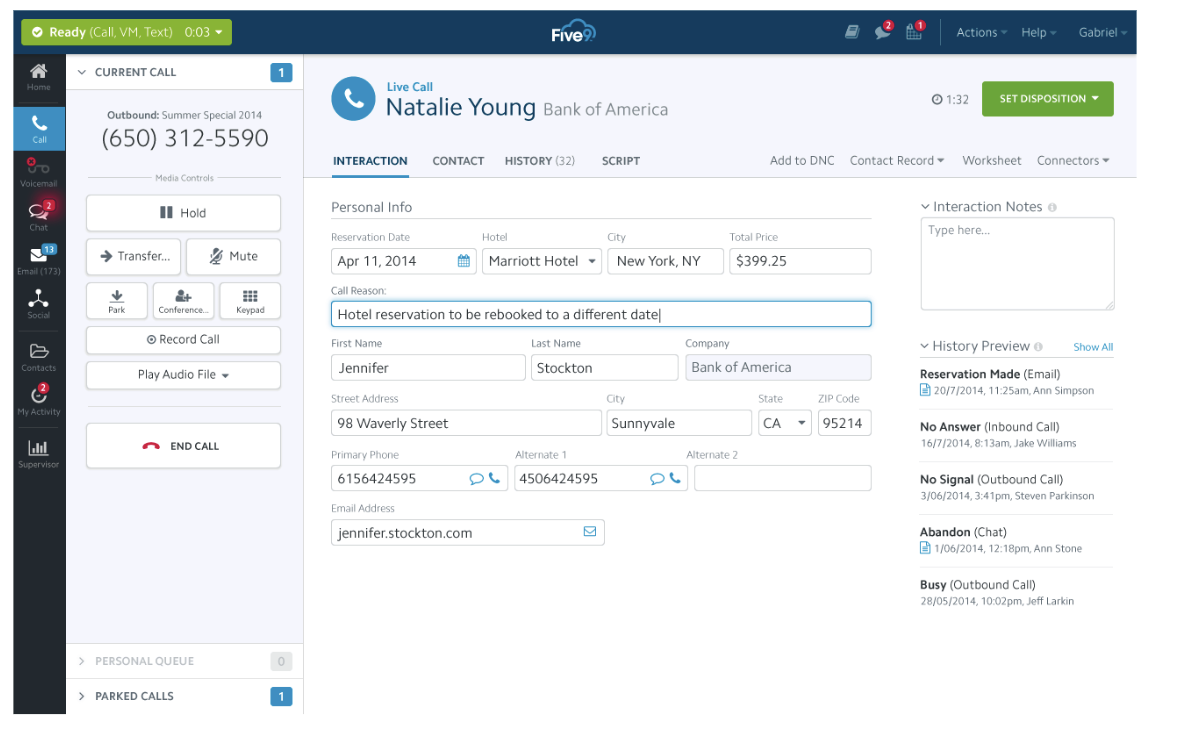 Five9 is a cloud-based call center software and contact center solution with features that improve call center operations and customer service.
Key features
Omnichannel support to manage customer interactions across multiple channels, voice, email, chat, social media, and more.
Predictive dialer for outbound call centers, optimizing the calling process by automatically dialing numbers and connecting agents to live calls.
Workforce management tools optimize staffing levels to meet customer demand while controlling costs.
Scripting and guided interactions allow agents to access pre-built scripts and guided workflows.
Customizable APIs to tailor the call center platform to their needs and integrate with other business applications.
3. Aircall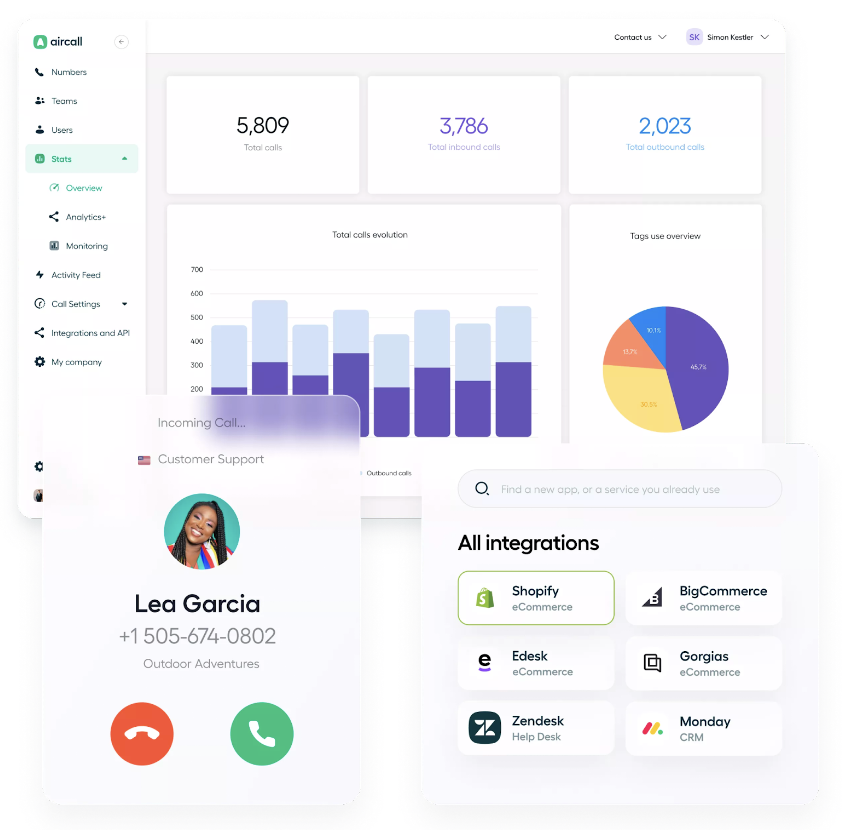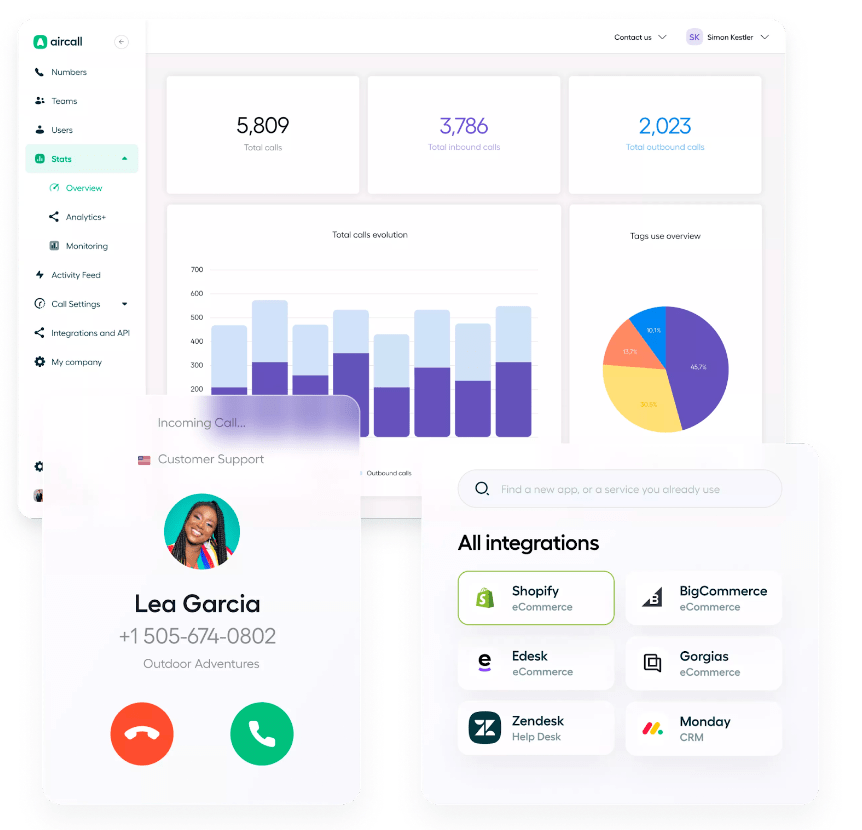 Aircall is a business phone and communication platform specifically designed to handle sales and customer support calls.
Key features
Cloud-based phone system offers flexible and scalable call center operations.
Multichannel communication supports voice calls, SMS, and other communication channels.
Integrations with CRM and other helpdesk systems, such as Salesforce, Zendesk, and HubSpot, allow better access to customer data.
Call-back requests let customers conveniently schedule a return call.
4. Twilio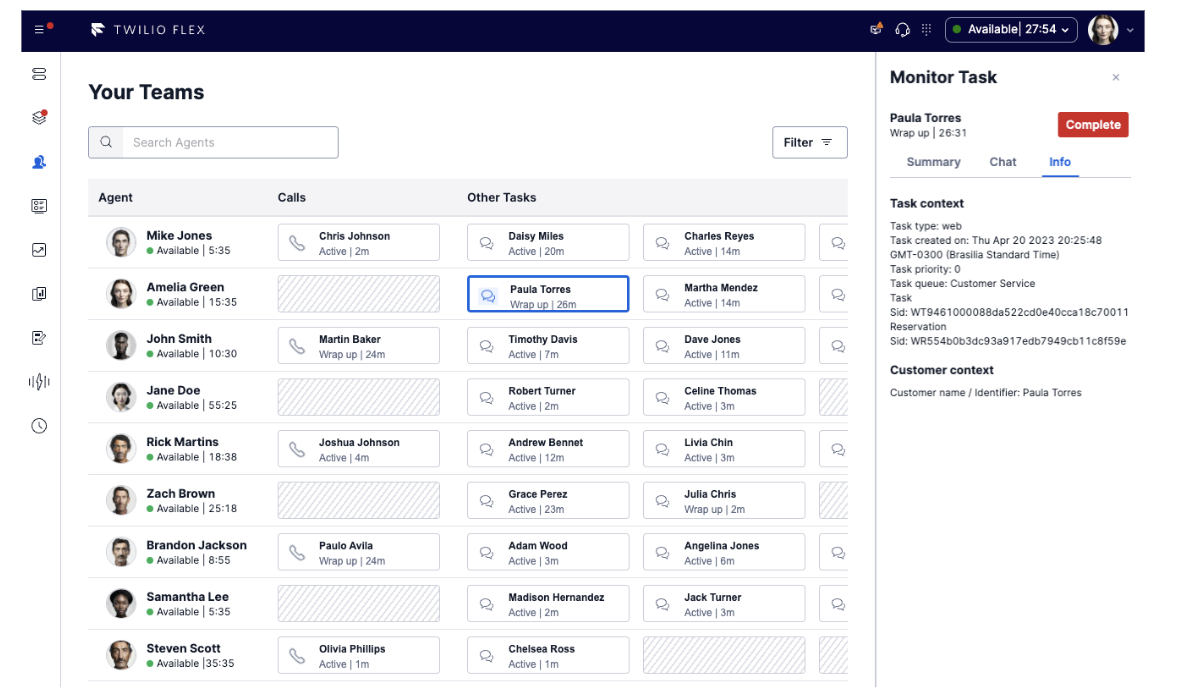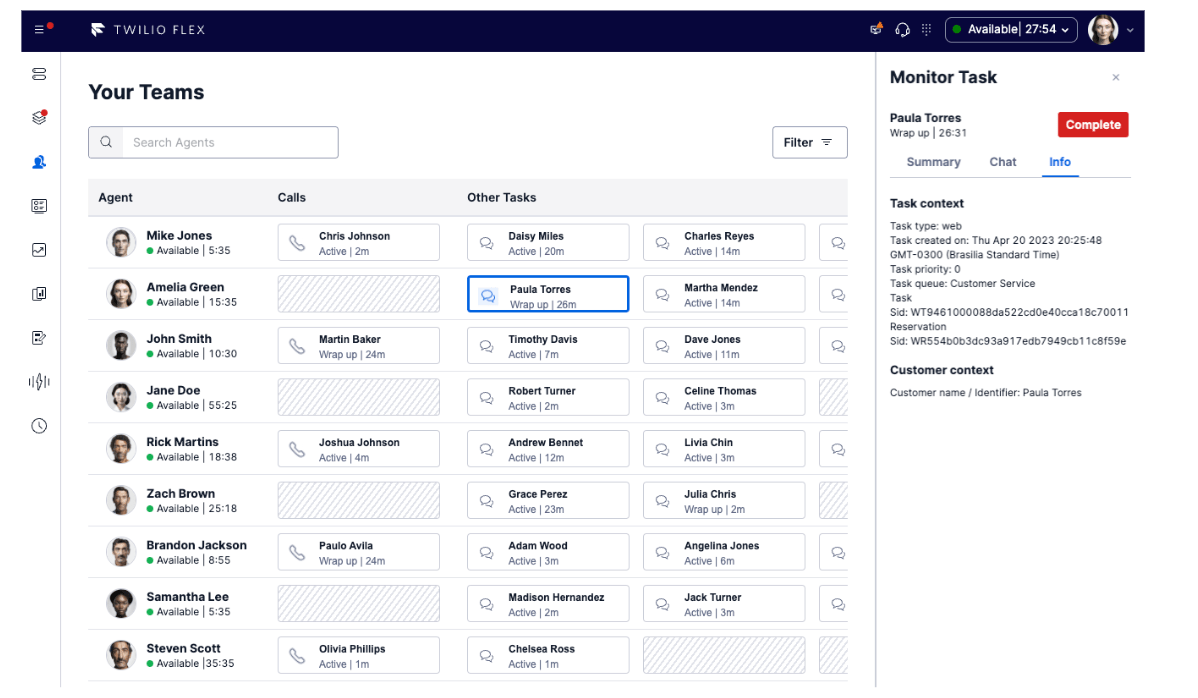 Twilio offers an array of cloud communication APIs and services for developers to build a contact center and integrate it into their tools.
Key features
Voice APIs to build and customize voice-based communication applications, IVR systems, call routing, call recording, etc.
Automated messaging through SMS, chat, and social channels lets call centers send notifications, alerts, and updates to customers.
Dynamic call routing based on customer profiles, call volume, and agent availability.
Highly customizable over every VoIP and messaging interaction.
5. Freshdesk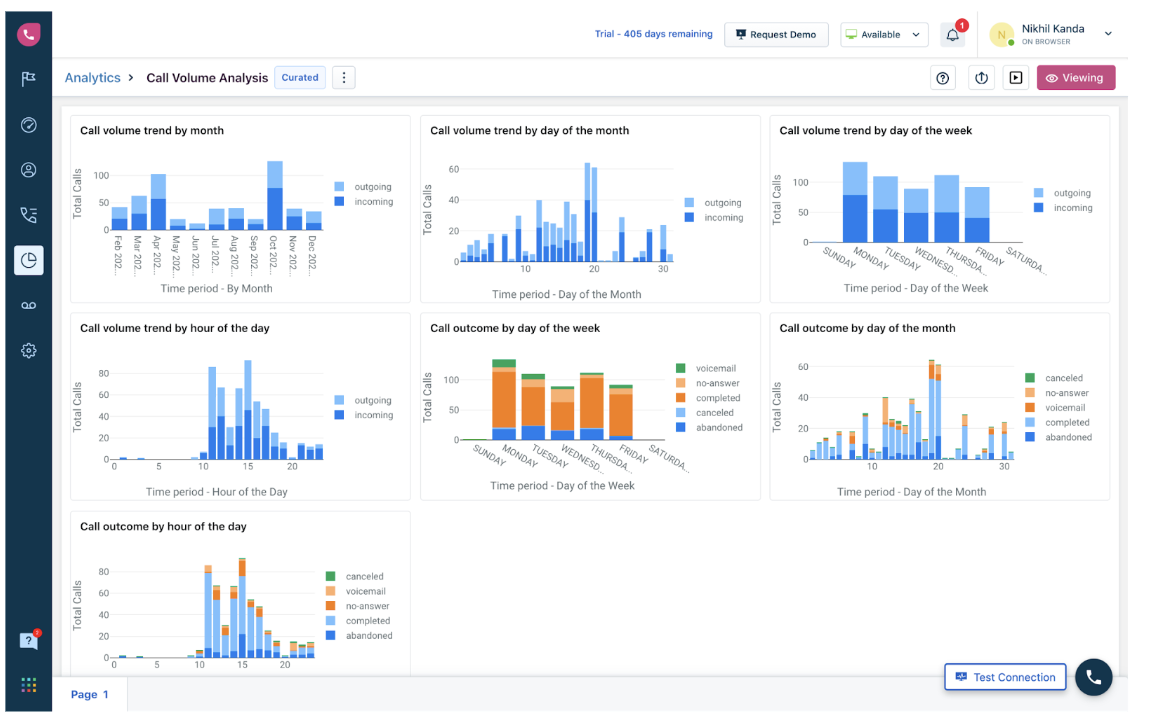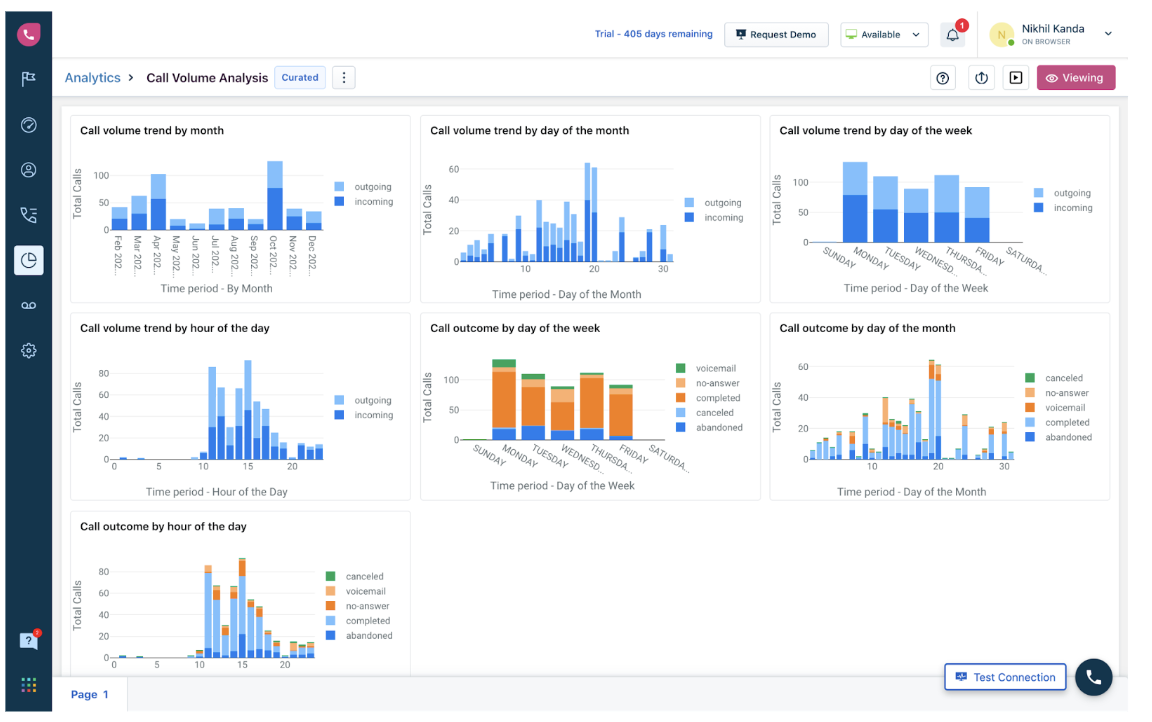 Freshdesk is a customer support and help desk software best known for its email and ticket support. It also offers features for handling phone-based customer support.
Key features
Built-in phone system integrates with popular VoIP providers, enabling call centers to make and receive calls directly within the Freshdesk interface.
Ticketing and case management system helps convert phone call inquiries into support tickets for easy tracking and resolution.
A knowledge base with answers to key customer queries and learning material.
Workflow automation automates sending follow-up emails or updating customer records.
Virtual Call Center FAQs
How much does virtual call center software cost?
Remote call center software with Nextiva starts at $50 per user monthly and does not require any upfront hardware costs, setup fees, or activation fees. For more advanced call center functionality built for the enterprise, you can expect to pay around $150 per user monthly.
How does a virtual call center improve customer experience?
Virtual contact center solutions reduce wait times and dropped calls through greater call efficiency. They support agents in different time zones 24/7, ensuring intelligent call routing for quick problem resolution. Automation and AI provide self-service options and accelerate solutions, while CRM integration enables agents to deliver more personalized customer experiences.
Can a virtual call center improve agent productivity?
A virtual call center facilitates distraction-free work-from-home environments, intelligent call routing with AI, automation of routine tasks, and personalized service through customer data integrations. This leads to higher employee satisfaction, lower call volume, and higher quality customer interactions.
How do I integrate our business apps with a contact center solution?
Virtual contact center solutions allow teams to integrate the tools they use every day with their call center software. This gives agents a holistic overview of each caller's entire customer journey. Integrations may include helpdesk, productivity, CRM, and other tools.

Software in this category may also include capabilities allowing agents to interact with customers via live chat, SMS, social media messaging, and more integrations in their call center dashboard. This enables agents to connect with customers on their preferred contact channel and seamlessly share data between all interactions.