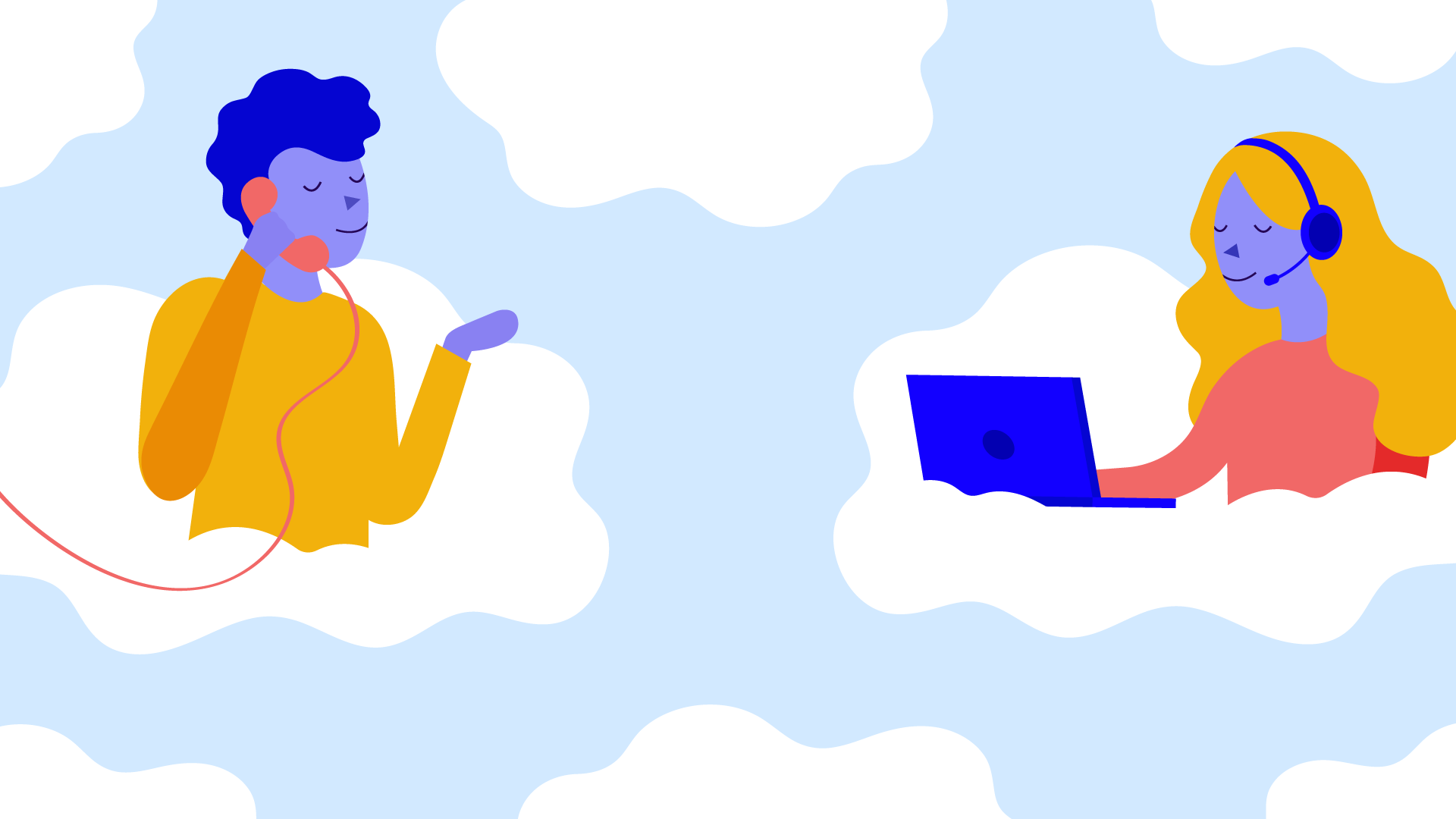 Virtual call center software connects agents across locations. Work-from-home or remote agents become a cohesive team through the internet.
With VoIP (Voice over Internet Protocol) technology, inbound calls are routed through the internet, not phone lines. This allows the software to design a call center around agents and phones regardless of line or location.
Some companies use AI-powered "chatbots" as part of their virtual customer service process. This is done using IVR (Interactive Voice Response) technology that allows a computer to communicate over the phone via voice and the keypad.
But most virtual agents are people working remotely over a VoIP call center.
Why go with virtual call center software?
Running a call center the traditional way involves unnecessary costs. You likely pay as much as 70% of base salaries in running costs.
With a VoIP-based virtual call center like Nextiva, cutting costs is only the first of many benefits.
Read on to learn more benefits, or if you're already convinced, about how to pick and set up your virtual call center software.
1) It's more efficient than an on-premises setup
| Functions | On-premises call center | Virtual call center |
| --- | --- | --- |
| Where agents work | In the office | In the office, on the road, at home, or anywhere |
| Team structure | Physically by location | Logically based on workflow and smart routing |
| Easy of scaling | Rigid | Flexible |
| Real estate costs | Up to $5,000 per employee | None, if telecommuting |
| Turnover | 30 to 45% | As low as 5% |
| Collaboration | In-person meetings | Asynchronous communication, team chat, and video conferencing |
A standard inbound call center has real-estate costs, higher overhead, and higher turnover rates.
It's also more challenging to scale because employees are tied to space. If you want to hire more employees, you need to expand to bigger offices. This process is time-consuming and expensive, and a nightmare for a growing business.
Virtual or cloud contact centers sport lower overhead, more flexibility, and lower turnover rates. We explain this in more detail in our 3-minute video below:
By now, you should understand why many businesses choose to make their call center virtual. Even Amazon uses virtual phone service.
But what do the software and technology costs? Do you have to match Amazon's revenues to afford it? (Spoiler alert: no.)
2) Dramatically cut costs with virtual call centers
On-premises call centers have plenty of overhead. When you factor in the costs of real estate, office renovations, technology, and management, things get expensive.
A virtual contact center drastically changes things. It drastically reduces your need for office space. This change can lead to much lower real estate and center operations costs.
You no longer have to exclude remote employees. There are many best practices to optimize your virtual team communication.
Minimize your office real estate expenses without downsizing
One of the main issues with providing quality, U.S.-based customer support is the real estate prices. On average, office space in a tech hub like Austin, TX costs $481 per square foot. The cheapest major city included in the study, Columbus, OH, was at $61.
Virtual call center software allows you to downsize your office real estate, increase your workforce, and lower your costs while doing so.
Expand your team with work-from-home staff
DirectBuy was able to expand their team without having to expand to more offices by allowing employees to work from home. Their max capacity was no longer tied to the physical space in their office, so all they had to do was hire more people.
An organization can gain tremendous speed and performance by going with a virtual call center. For instance, you can rapidly stand up a call center with agents to handle inbound calls from home with nothing more than an app and an internet connection.
Avoid expensive areas and hire top tech/legal talent cheaper
The difference in real estate prices between cities across the U.S. can be huge.
Legal hotbed Washington D.C, with the highest lawyer per capita rate in the country, has prices of $595/square foot. That makes the office space 975% more expensive than in Columbus.
The smart business move is to have the office in a much cheaper, smaller city.
Lower your starting salaries and remain a desirable employer
40% of U.S. workers polled consider it such a perk that they are more than happy to take a pay cut to get it. Out of those, 74% thought a pay cut of between 2-5% would be worth it. While 20% said they would be willing to part with 10% of their current salary.
There is a rising demand for work-from-home opportunities. By providing them, potential employees get a little less hung up on starting salary.
So you could lower your salaries and get the same quality of, or even better, talent for less money.
The halo effect of a remote work policy is that powerful.
Set up new call centers cost-effectively
A virtual call center and flexible workplace routines can allow you to scale down the real estate for existing call centers. But growing businesses can cash in on even bigger cost savings.
Not only do you have to secure new leases, but you also have to make the property "office-ready".
This process is often prohibitively expensive. Fitting out a new office costs ~$196.49 per square foot in the U.S. In tech centers like San Francisco, it's even worse. The prices average out to $237.13 per square foot.
With cloud contact software, you can expand and utilize existing office space to create new teams across locations.
Let your agents work from anywhere
At 8.2 days of sick leave per year, call center employees are almost a full day above the national average. This rate is expensive for the employer. It can lead to poor customer experiences because of sub-optimal productivity.
With virtual call center software, this is easy to replicate. They just need a phone system for remote teams and an internet connection. Then an agent can just as easily answer phone calls from home as from their desk.
It is the cutting-edge of workforce management. You can meet customer service, employee satisfaction, and business KPIs while cutting costs.
3) Virtual call centers can increase agent satisfaction
A 2018 survey showed that the average U.S. call center turnover rates were 30-45%. That is almost double the national average across industries.
And it is a costly problem to have. The interview process takes on average 22.8 days in the U.S.
And if you outsource recruitment, you might pay between 15-30% of salary per hire.
So even a tiny improvement in employee satisfaction can save you thousands of dollars.
How virtual call centers can improve the customer experience
Customer experience has become one of the hottest topics in the customer service/call center world. And with good reason, a whopping 86% of modern consumers will pay more for a better experience, according to a study by Oracle.
1) Handle calls from anywhere with the same phone number
Charlotte Geek is a small business where the owner still plays a key role in customer support. But as a business owner, he can't sit around in the office and wait for calls all day.
The Nextiva VoIP app lets him handle calls on the go. The same VoIP phone number reaches him whether he is in the office on the cloud phone, or on his way to a meeting.
You can automatically route incoming calls to the rep on-the-go, or warm-transfer calls directly from another rep with no "let us call you back".
When transferred, the specialist can even be brought up to speed over chat inside the Nextiva App itself, to ensure a smooth transition.
2) Rush hour? Automatic call routing can help
If you just make everyone queue up for the same customer support number, chances are you won't be using your call center agents effectively.
With Nextiva's contact center solution, you can sell up and control call queues for specific departments and even agents.
You can easily set up call waiting on agents, and change the max length, escape dials and other settings.
3) Be where your customers are w/ omnichannel support
Wonder how you can provide a consistent experience between calls and other channels? After all, you don't have the budgets of the digital giants, right?
The answer is to use call center software that also integrates with a CRM for every other channel. This helps you avoid a separated "multichannel" approach, by integrating everything into a single, congruent omnichannel.
Nextiva's VoIP phones communicate directly with the Contact Center. So you don't have to rely on expensive 3rd party phone data analysis.
Calls, social media, email marketing, internal communications, analytics… you name it, we have it. All the CRM integrations your business will ever need.
How to choose the right virtual call center solution
1) Secure data centers that meet government standards
If your company is in healthcare or another government-regulated industry, you need secure data centers and transfer protocols that meet those standards.
By simply using a compliant solution (like Nextiva) you avoid all the trouble of having to develop a solution in house.
Lack of compliance can be costly, with HHS fines of up to $1.5 million/violation/year.
And don't even think about taking things into your own hands and putting a team together. Cybersecurity professionals command an average salary of $116,000. (Don't worry we've already hired our fair share of them for you.)
2) Easy to set up and use
Just because the software is complex and handles massive amounts of data, doesn't mean it needs to be hard to use.
The very best call center solutions are designed with agent productivity in mind. At Nextiva we have taken this to the next level.
We have designed a quick set-up process that can have your phone system up in minutes!
3) Historical reporting and an intuitive dashboard
"If you're not data-driven in 2019, you will lose to your competition."
This is the mantra of many business experts, and 88% of companies are feeling the pressure, investing in big data and AI with increased urgency this year.
But data alone does not lead to insights.
At Nextiva we're proud of how easy it is to use and understand the data in our intuitive dashboards.
The data is real-time, so you can quickly identify problems, like large fluxes in incoming or outgoing calls.
4) Powerful enough to handle complex teams & schedules
Trying to automate complex processes and schedules is almost impossible with a traditional call center setup. This difficulty can lead to lower staff-supervisor ratio, higher management fees, or ultimate chaos in the workplace.
The best solutions have call distribution based on varied daily and weekly schedules without issue.
Not to mention, you can easily coordinate schedules to alleviate busy hours across call centers in different time zones.
5) Quality service
At Nextiva, we provide communications solutions to hundreds of customer support teams. Our award-winning team is 100% in-house with customer satisfaction as their main priority.
If a software provider that sells software designed to improve customer service doesn't have excellent service, that should be a clear warning sign.
Set up your virtual call center today
The call center of the past was defined by its high costs (which lead to a wave of outsourcing), unhappy agents, and high turnover rates.
Virtual call center software is the foundation of building the call center of the future.
The call center of the future allows employees to do their best work. Agents are happy and fulfilled as a result of this and their flexible work options.
Companies no longer have to pay sky-high tech or legal hub prices for talent. Key employees remain available when they aren't in the office.
And the customer gets better support, faster as a result.