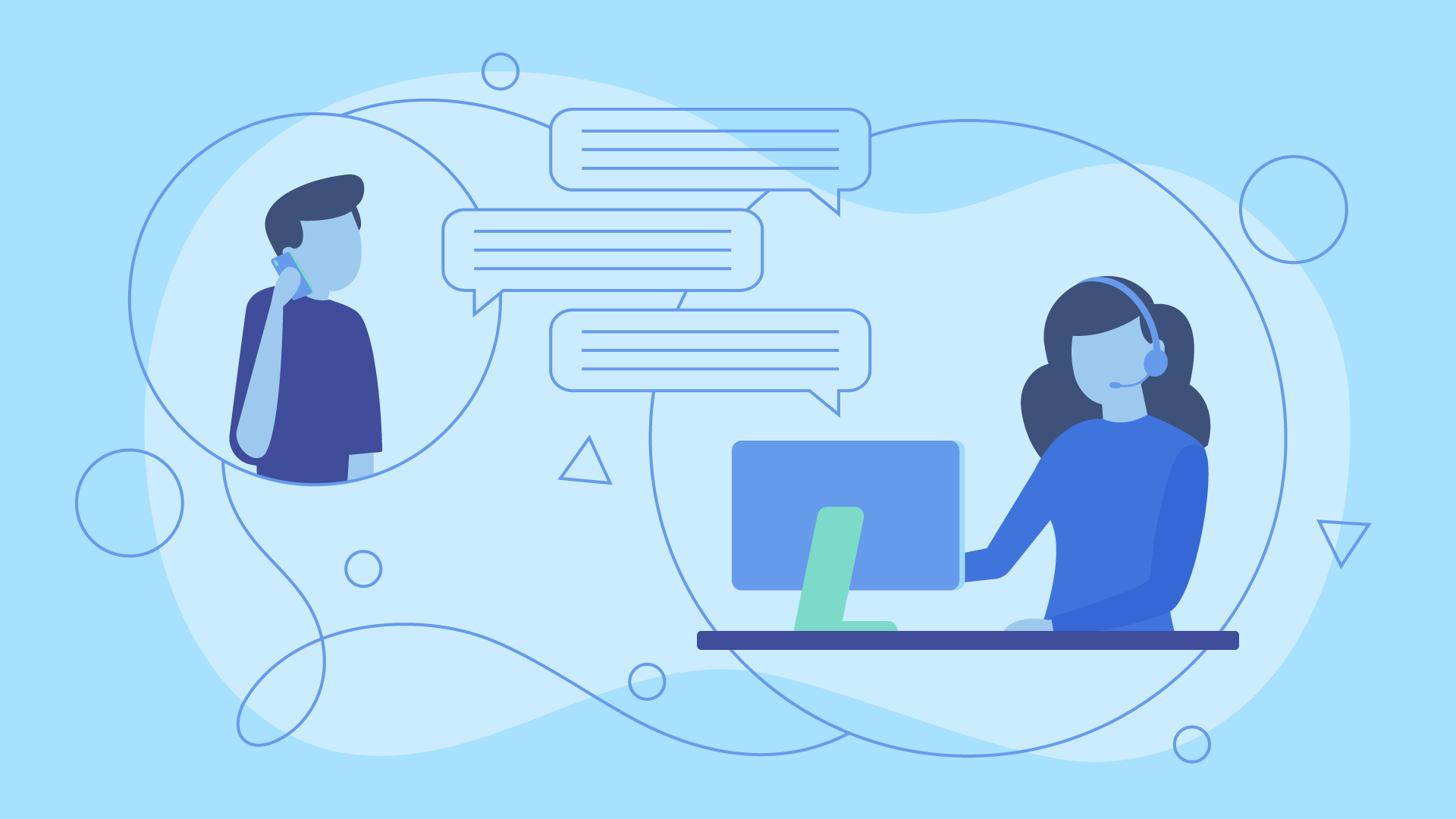 Call center phone system features are what separate business phone plans and PBX solutions from landlines. They go way beyond merely dialing and receiving calls.
These features go from virtual auto attendants (IVR) and advanced call routing to integrations with your CRM. A great call center phone system helps run a contact center smoothly.
In this post, we cover the 33 most important call center features that can make a difference for your business.
33 Call Center Phone System Features to Test
1) Automatic Call Distributor (ACD)
Improve your call center productivity with automatic call distribution. This call feature helps you automatically route incoming calls to call center agents. It does so according to the routing policy you choose.
With a cloud-based call center from Nextiva, you can choose from several advanced call distribution strategies and methods.
Round-Robin
Round-robin assigns calls to open agents in one of two ways: Circular and Regular. You create an order for each agent in the call center for both types. Then, your VoIP system will route calls to open agents by order.
Circular cycles the most recent agent down to the bottom of the list. Regular, on the other hand, always prioritizes the top of your list and works its way down. This way, you can route more calls to experienced agents.
Simultaneous
This policy is a standard brute-force approach that rings the phones of every available agent at the same time. Most useful for smaller businesses that don't have dedicated support staff.
Uniform
With this policy, the agent available for the longest time receives the call. It is the default setting for call centers set up with Nextiva VoIP.
Skills-based Routing
Instantly send agents calls that suit their talents. This setup ensures that your customers get the fastest resolutions to their issues. Depending on your call center software configuration, you can have this hard-coded or dynamic based on an agent's capabilities.
2) Interactive Voice Response (IVR)
Interactive Voice Response is a technology that allows people to communicate with computers. You can use this to help customers reach the right customer service department. IVRs help companies deliver a consistent and efficient experience for customers.
Additionally, IVR features can help customers fix their issues without needing to speak to a person at all. That is why it is a crucial feature of any business phone system.
Let's say you use a smart routing policy like uniform routing. You already reduced the average wait time of concerned customers. But the wait time is not everything.
The biggest frustration of 40% of U.S. consumers is that the agent they reach doesn't have the knowledge/ability to solve their issue.
An IVR system plays important messages and customers to answer simple questions. The system sends them to the right department based on their responses.
You can also offer explanations and self-service support. It will help customers directly solve simple problems.
Related: IVR (Interactive Voice Response): How Are Businesses Using It?
3) Auto-Attendant (Digital Receptionist)
Not every small business needs a solution like IVR. If you just want to lead customers to the right place, an auto-attendant will suffice.
An auto attendant transfers customers to an extension number. It does this with automatic messages and dialing numbers. Route calls more efficiently than with an ACD policy alone.
It is usually a simple automated message, starting with a greeting and ending with a list of prompts. For example, "Press 2 for billing issues." They dial the appropriate number and get forwarded to the right internal line.
You can also use it to offer a call-back service, instead of putting your customers on hold.
It is the simplest way to ensure that each caller ends up talking to a suitable representative.
4) Anonymous Call Rejection
Screen calls from anonymous numbers to any line in your phone system. You can also block calls from specified lists of numbers from known telemarketers automatically.
Inbound call center solutions are expensive to run. It's a lot more costly to handle calls than to process support requests via text-based mediums. A single contact via voice costs $12 on average. That means it's vital to avoid as many non-customer-service calls as possible.
From automated sales calls to pranks, your support team doesn't need to waste their time.
5) Call Recording
Record calls in high quality for later review. A VoIP phone sends voice data over the internet. That means you can store the source voice without any clunky hardware. Recordings are in the cloud, and staff can access them from anywhere with the right credentials.
Managers can troubleshoot and solve problems together with their agents. They avoid playing the "blame game" when figuring out where an interaction went wrong.
Of special note, VoIP technology offers call recording that can be silent and undetected by all parties.
Skip the half-baked call recording software. By recording calls through the cloud, both sides of the call are logged and recorded instantly. Better yet, it requires no downloads or clunky software installations.
Related: 10 Ways to Identify (and Lose) Bad Customers
6) Call Presence (Agent Status)
Call presence lets your managers and agents see the current status of other support reps.
When transferring calls, they see available agents. This overview streamlines customer service experiences.
Despite all the smart solutions in the world, sometimes a customer will end up with the wrong agent. Human error will always be a factor. Your staff needs to transfer these customers, and nobody wants to wait on hold twice for a single issue.
That's where call presence comes in. It enables warm transfers that don't leave a negative impression on callers.
Call presence is also displayed in supported call center software such as the Unity Dashboard or the Nextiva App.
7) Call Analytics (Live & Historical)
Gain real-time insight into the performance of your call center. You can even see detailed reports for individual agents with call analytics.
If you want to improve your service, you need real metrics that show the actual performance. Detailed, real-time analytics are the key to unlocking this.
According to Harvard Business Review, 58% of surveyed companies noticed a significant increase in customer retention and loyalty. All because of installing real-time customer analytics.
VoIP phones and call center software automatically register customer interactions in your CRM.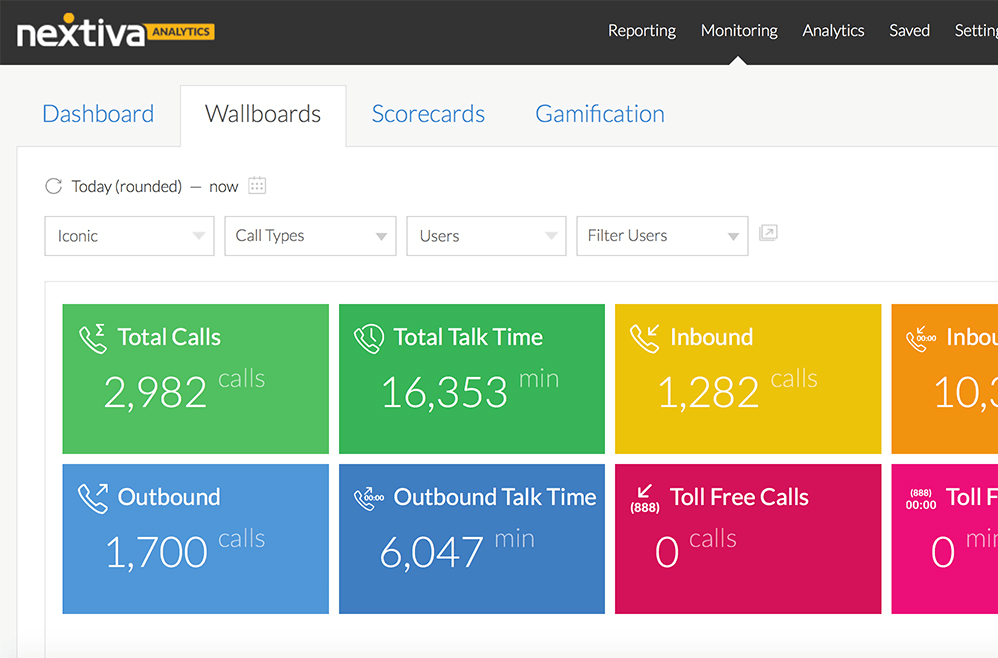 8) Call Pulling
Call pulling lets you transfer calls to another device without the customer noticing.
We already covered that 40% of U.S. consumers dislike when the first agent they reach can't help them. 30% of consumers feel the most important aspect of a positive experience is talking to a knowledgeable and friendly agent.
So cold transferring calls, no matter the reason, shouldn't be the first choice.
With Nextiva, you can effortlessly pull the call from your desk phone to your smartphone. Our cloud-based solution and the Nextiva App enable this feature.
It makes it easy for agents to finish up calls themselves, even if they are heading to an in-person meeting.
9) Transfer Calls with One Click
With a smart, cloud-based VoIP phone service, you can transfer calls with a single click. Computer Telephony Integration (CTI) technology powers this feature.
The system automatically finds an available agent in a relevant team, even if they're not in the same office.
Agents can also check the status of their co-workers before transferring calls directly. (This assures they don't waste time on busy agents.)
10) Internal Chat
Internal chat and call presence enables real-time collaboration between support reps and departments.
That means your customers no longer have to repeat themselves to multiple staff members.
Instead, internal chat tools will bring the receiving agent up to speed. That is why chat is a vital part of modern business communication.
Simply fire up your team chat software, such as the Nextiva App, to chat and even initiate a screen-share. Easy, fast, and reliable. It doesn't get better than that.
11) Three-Way Calling
Three-Way Calling allows more than one agent to handle a call at the same time.
On a technical issue, a support rep might want to bring a technical support member onto a call. Experienced technical support reps are usually in short supply. So after that, the non-technical rep can then finish up the call after they have identified the bug.
The beauty of a built-in call center application is that you can right-click and begin a three-way call without any complexity. It's so easy an executive can do it.
12) Smartphone / App Integration
Use a VoIP app integration to handle customer calls from your Android phone or iPhone. Because a modern cloud-based IP PBX system runs on remote servers, your smartphone doesn't need to be on the business network to handle calls.
3.9 million U.S. employees now work from home at least 50% of the time, according to research from FlexJobs. Sales and customer service rank #4 and #5 in the top seven industries for telecommuting.
Workplace flexibility is a growing priority for job seekers in these industries. Contact center software supports smartphone/app integration, mobility, and flexibility. Agents can work from home with nothing more than their phone, an app, and a quality internet connection.
Related: Contact Center vs. Call Center: What Does My Business Actually Need?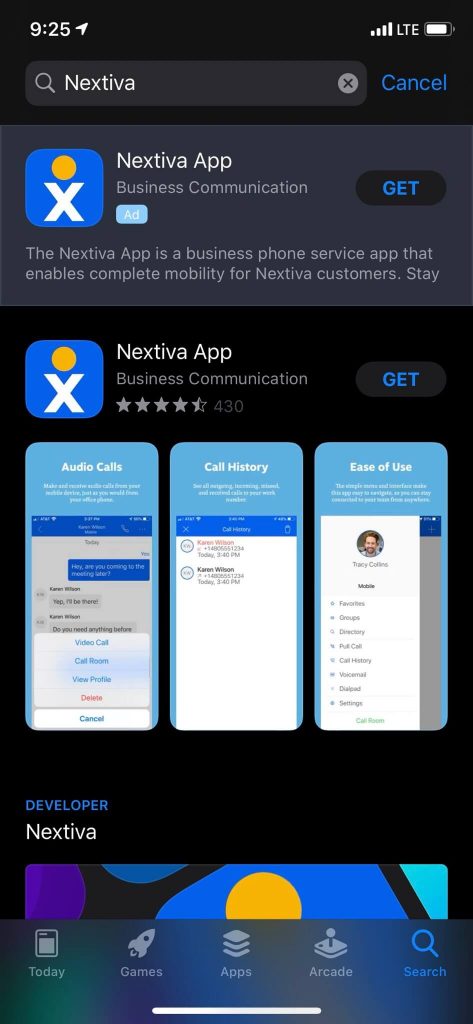 At the heart of a successful call center is a software stack that works perfectly. Avoid slow and buggy middleware and stick to approved native applications. Nextiva offers such functionality with its virtual call center solutions.
13) Voicemail to Email & Text
Forwarding voicemail via email or text is excellent for consistent support. The same experienced agent can handle multiple contacts on one issue, even if busy. The rep can then listen to the recording, and decide the appropriate next step.
Customer service trends show that two out of three consumers use at least three communication channels.
The voicemail-to-text feature centralizes all touchpoints with a consistent customer record.
Launch your call center in hours.
Cut the cord and move to the cloud.
14) Priority Alerts
Set unique ringtones to alert staff that key accounts are calling. This feature is often called priority alerts.
Do you have big clients that make up most of your recurring revenue? Do you have a VIP service program where you've guaranteed a certain level of service? Priority alerts help your staff know when to be at the absolute top of their game or contact managers.
15) Softphones (Computer Telephony Integration)
A softphone connects your computer or smartphone to a virtual phone service. It provides reliable phone service over the internet that helps connect it to the traditional phone network. Any modern cloud phone system supports this feature.
Modern PBX solutions have a lot of available real-time data that benefits the agent. With a desk phone, managing customer accounts and using the telephone can be tricky. With only one hand available, transferring and other actions become unnecessarily complicated.
You have none of these issues with softphones. With a high-quality VoIP headset, there are also no issues with call quality or call volume.
These software applications offer rich functionality not typically available with your dialer. See the live status of calls, pull them on different devices, silently listen on concurrent calls, and more. If a desk phone isn't your style, you won't miss much with a finely tuned VoIP softphone.
16) Extension Dialing Number Change
This is a feature that enables call transfers to separate numbers via extensions.
Customers can call relevant agents directly.
Key accounts expect priority access to a consistent support person. It's possible, without personal cell numbers, with an extension dialing number change.
17) Gamification
Gamification lets you motivate reps to outperform their peers and their personal bests. Instead of boring spreadsheets, agents can view the performance of their work in real-time. This live feedback increases motivation levels. And motivation is vital, especially if your agents do a lot of outbound calls.
Nextiva's sales CRM records vital metrics of their activity. It includes calls handled, solved cases, average response time, and average handle time.
You can choose the most critical metrics for your business. Every agent will have a visual representation of their performance.
18) CRM & Business Tool Integration
Any call center phone system worth its salt needs software integrations. Here are some of our favorites:
Call Pop is a VoIP feature that connects the phone to your CRM. When someone calls, relevant customer information immediately pops up. It allows your agents to know who they are dealing with from the first second.
This extra context speeds up calls and eliminates the need for basic questions.
Automated Surveys & Workflows
With our unified customer service tools, you get instant access to advanced marketing tools. This integration lets you set up automated post-call workflows.
For example, you can send an automated survey or a follow-up to the customer within 24 hours.
Our VoIP systems are also compatible with other tools such as predictive dialers.
19) Call Barging
This feature allows a third-party to enter a call without ending or transferring a call.
It can be useful when training new staff members, as a superior can "barge in" and correct a rookie mistake. You can also use it when an issue is technical, and the original agent isn't qualified enough to resolve the issue.
Call barging is essential for large contact centers with regular customer service upskilling.
20) Call Queue
This feature lets you put many calls on hold while your agents are busy. This way, you'll never lose inbound calls. Queuing is the most effective when combined with another tool like IVR or an auto attendant.
Queuing calls benefit businesses because it allows them to adequately provide call routing to staff without sacrificing availability to callers.
This way, the customer can confirm if self-service will solve their issue. They can also make sure they arrive at the right department after waiting on hold momentarily.
Related: 6 Essential Call Center Campaigns That Will Boost Your Business
21) Call Parking
With call parking, a phone call on hold so any other agent in the call center can pick it up. It is often considered a last resort when an agent is not sure who to transfer the call to. It is also a fast way to ensure that clients calling from new numbers reach familiar agents. Agents can place a call back into the queue safely without dropping the call.
The ability to use this feature depends on your VoIP hardware.
22) Toll-Free Phone Numbers
Toll-free numbers are phone numbers your customers can dial with no charge to the caller. They have distinct three-digit area codes, like 800, 866, or 888.
Getting a toll-free number for a landline can be a costly and challenging process. But most VoIP providers, including Nextiva, offer this service.
Toll-free numbers allow your customers to get the help they need, without incurring long-distance charges (typically on a landline). Toll-free numbers enable a smaller business to appear larger with a trusted presence thanks to the reputation of an 800-number.
With a VoIP number, you can also freely set your location extensions.
23) Ring Groups (Hunt Groups)
Ring Groups or Hunt Groups are groups that help you distribute incoming calls. They help callers reach certain teams or departments efficiently. Ring Groups can use the same policies as the whole call center.
Agents inside individual teams share calls efficiently without much complexity. Ring Groups can be a perfect solution if you have a smaller sales team or fewer calls than the likes of a large call center.
Case Study: Local Chamber of Commerce Launched an Outreach Program Using Nextiva's Virtual Phone System
24) Push-to-Talk
Push-to-Talk functions like an intercom designed for internal business communication. You can quickly reach managers or frequent collaborators among your team.
If you have to put a customer on hold to ask a pressing question, you don't want to spend time dialing. And hitting someone up on chat can take time. With the push-to-talk feature, you can get the answer and switch back to assisting the caller.
25) Call Notifications
Imagine you dial a number or receive a call from a specific phone number. And, you have certain caller qualifications attached to this number. Call notify uses caller ID for email notifications when there are calls to or from this number.
That means you can add rules to categories, like any unavailable phone number or time of day. Priority Alerts, for instance, can be set so that your phone rings differently for family vs. new callers.
26) Direct Inward Dialing (DID)
Direct Inward Dialing is a function where a caller can directly call an extension within a PBX. It is an essential feature for businesses that assign account managers. Companies that assign specific customer success reps to clients also need this.
DID ensures valuable clients can always get a hold of the person that can help them. In short, DIDs mean people can call employees in an office without knowing their extension or navigating a menu.
27) Hold Music
Hold music is simply a service that plays music to the caller when their call is on hold. Calls can be on hold for a few different reasons. An agent could place the call in a queue, or park it so a different department can handle it.
The music helps take the edge off of simply sitting and waiting to get help. It's a great opportunity to insert relevant company announcements and reassure a caller that their call will be answered soon.
28) Omnichannel Support
Cloud-based call centers beat on-prem call centers for their flexibility and overall cost. Calls go through the internet, with data stored and handled in the cloud. That lays the groundwork for integration with CRMs and other communications systems.
Nextiva takes things to the next level and integrates every channel into the same CRM. This integrated approach enables consistent customer service across voice, social media and, website chat.
A consistent omnichannel service is one of the top priorities for the modern consumer. It also makes it easier to integrate machine learning or conversational AI.
You can also offer a click-to-call number in your self-serve support FAQ or forum.
Omnichannel is one of the keys to providing customer support in the future.
29) Voice Bridges (ATAs)
A voice bridge is a device that retrofits an existing telephone to operate over a VoIP network. Often called an ATA or Analog Telephone Adapter, it allows regular connections from a traditional telephone.
The device itself manages the SIP registration and the technical answering and dialing functions.
30) Follow Me
Follow me is a service that routes calls to all your possible phones at once from one call. If you have employees that spend a lot of time in different offices, this can be a great solution.
With follow me, your agents will be able to reach busy sales managers in one call, instead of three subsequent calls. That is essential for vital members of sales teams.
It used to be a staple feature of business phone plans. But you can now replace it with a single business phone app.
31) Cheaper International & Long-Distance Calling
The rates of international calls for landlines can often be nothing short of robbery. With a VoIP solution, you can usually get much cheaper rates for international calls. Especially for calls to international business hubs like Berlin, Dublin, and Sydney.
Since the VoIP transfers the call data over the internet, if it has a server set up in the target country, it is a local call.
That's why Nextiva can offer international calling rates as low as a penny per minute.
32) Call Monitoring
Call monitoring is a feature where a third-party can listen in on an ongoing call. You can use this to supervise new agents in the middle of training.
Call monitoring can also be a great source of insight into the needs of the customer. It could be useful for people in sales or customer support positions.
They can use the insights to make decisions about sales materials or product changes.
Avoid unexpected noises and beeps by using an approved call center software app designed for supervisors.
33) Conference Calling
Conferencing is a feature that enables conference calls through VoIP phones or softphones. A conference calling allows multiple callers to join a single call at the same time.
In a corporate setting, it is most often used for business meetings and discussions. A conference call is set up by dialing a conference number. The first person to call becomes the host.
VoIP phones offer high-definition voice calls thanks to the latest in audio technology. That means the voice quality is better than for traditional landline conference calls. And since they travel through fewer hops, this can often mean the calls are faster as well.
Related: VoIP Basics: A Beginner's Guide to Understanding Voice over IP
Conclusion
Modern call center systems are no longer restricted to basic and expected features. Of course, they still have call forwarding, status monitoring, and recording.
But a modern phone system also plugs into analytics, chat, CRM, and other business tools.
Your team can have meaningful team collaboration across your entire call center. Managers and executives have real-time insights into individual and team performance.
This new data enables you to improve both the call center as a whole and each employee at an unprecedented pace.
If you are ready to take your contact center into the 21st century, check out Nextiva's VoIP call center software.
Teach your inbound call center new tricks.
Wow customers in one complete solution.