Call center quality assurance (QA) separates the high-performing call centers from the bare minimum folks.
By ensuring quality at every stage of your customer processes, you're a step closer to resolving problems and retaining more customers.
This is why a robust quality assurance plan for your call center is essential for businesses dedicated to customer service.
Does Your Call Center Need Quality Assurance?
Quality assurance (QA) is the process call centers follow to ensure all customers receive the best possible customer experience.
By maintaining standards and following set guidelines for how you treat customers and handle tricky customers, you set the bar for other call center agents and gain a competitive edge over rival businesses.
Quality assurance uses a set of processes, such as listening to calls, reviewing scripts, and conducting customer surveys.
We typically see five main areas evaluated, which create a QA scorecard:
Verification: Did the agent ensure the caller authenticated account access?
Call management: Did the agent spot when they had to take urgent action?
Call flow: Did the agent progress as per a predetermined script?
Soft skills: How was the demeanor of the agent?
Resolution: When the call was over, did the agent document the call appropriately?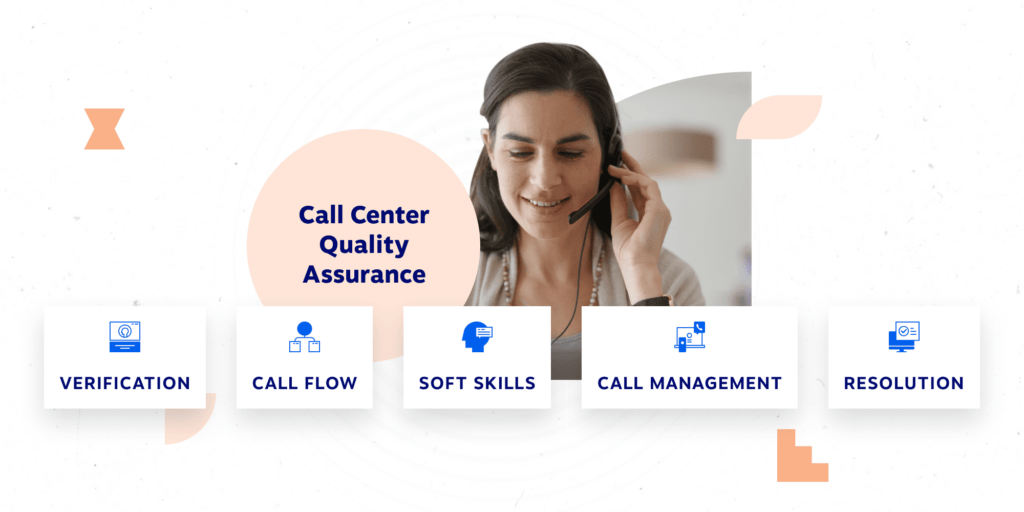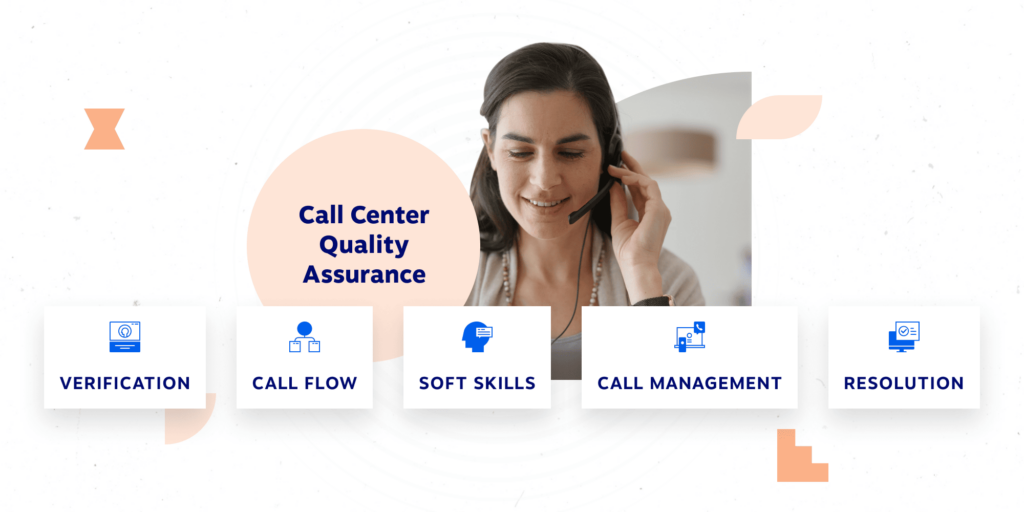 By quality, we're not referring to call quality, which is how well people can hear each other over the phone, how well your tech is performing, and the quality of service.
It's the fidelity that your agents can fulfill the expectations customers and the business have of them.
Why Is Quality Assurance Important in a Call Center?
Quality assurance (QA) is important in call centers as it gives you the knowledge your business is providing a consistent customer experience and dealing with objections and escalations constructively.
Your call flows, scripts, and agent training are designed for a reason.
Deviating from a tried and tested process can lead to a drop in standards. However, there is always room for agents to suggest improvements.
In your quality assurance framework, make room for suggestions and feedback from agents who are on these customer calls all day.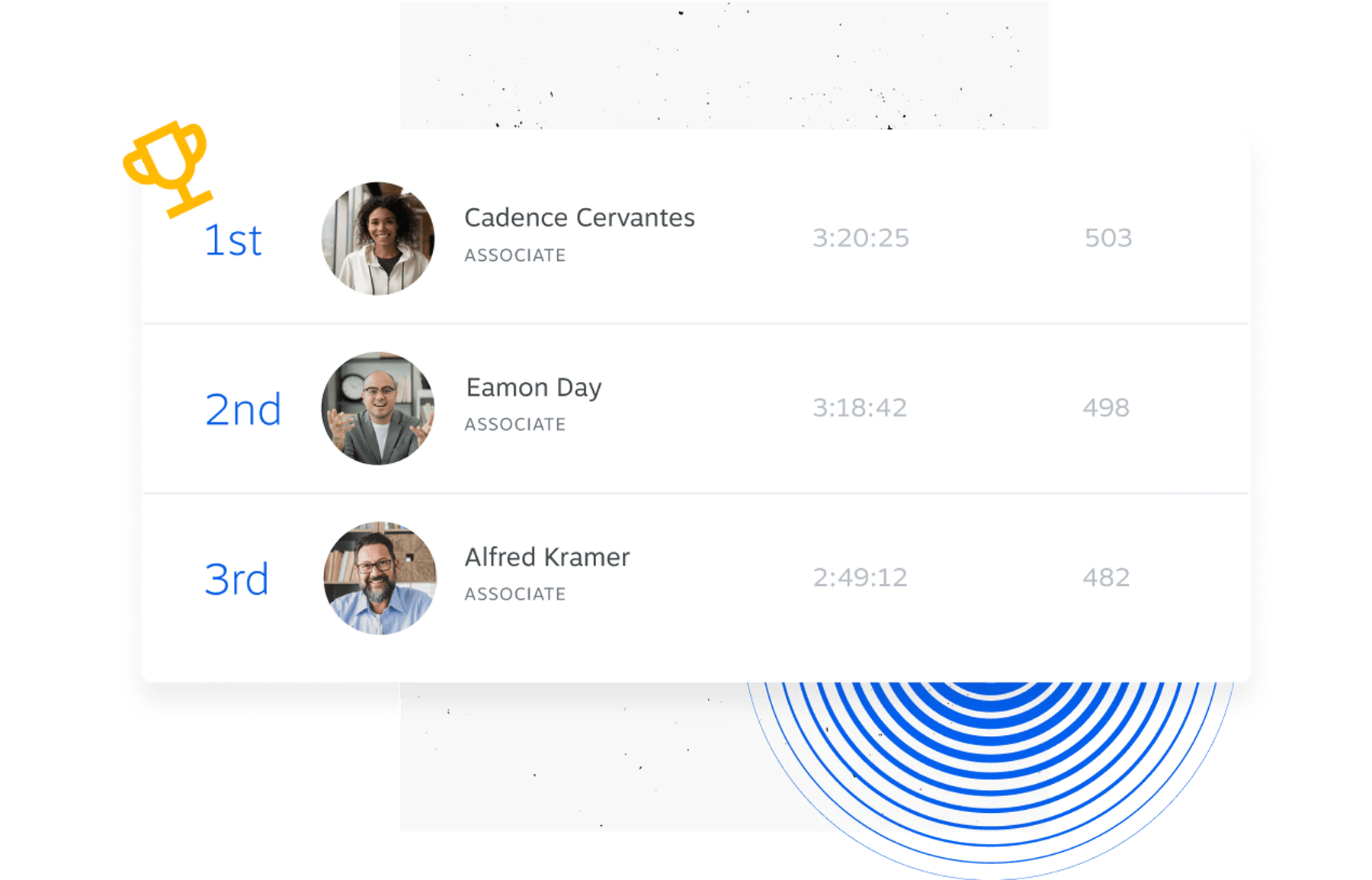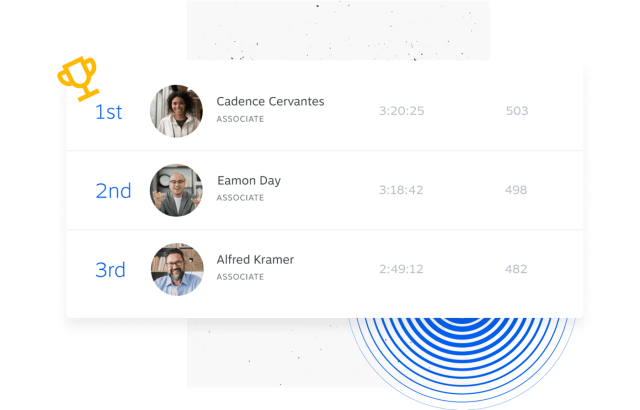 When most of your customer interactions are via the phone, it's hard to know what's going on with every call.
Unlike email or web chat, you can't check keywords and sentiment 24/7. It's impossible to keep an eye on every negative experience.
That's where quality assurance is most important by monitoring agent performance to find room for improvements.
Call Center Quality Control vs. Quality Assurance
Before we dig into how we improve quality assurance, let's clarify an often confused phrase.
👉 Call center quality control is used to ensure operational activities are in good order. These are often things like attendance, punctuality, and after-call work activities.
👉 Call center quality assurance, or call center quality management, is a process to maintain standards in your call center so your customers get the best experience. Examples include call flow, scripts, and soft skills.
While both are important, they measure different aspects of the contact center experience.
Consider separating operational characteristics from conversational elements when evaluating the agent's performance.
| Call center quality control | Call center quality management |
| --- | --- |
| Do agents arrive on time? | Was your call flow followed? |
| Do agents provide clear notes? | Did the agent demonstrate empathy? |
| Do agents main accurate documentation? | Did the agent realize the urgency of the call? |
How to Improve Call Center Quality Assurance
Here are some helpful quality assurance tips you can start implementing right away.
You don't have to do all these immediately. But every minor change you make is a big step toward improving your call center quality assurance.
| Recommendation | Explanation |
| --- | --- |
| Document everything | When something goes wrong, document the how and the why. |
| Encourage agent participation | Often the best process improvements come from people using them. |
| Include other channels | If you're a multichannel contact center, monitor email, web chat, and social media too. |
| Schedule regular training | For new practices and refresher coaching sessions. |
| Use gamification | To inspire and motivate agents to outperform themselves and their peers. |
| Give low-performing agents more attention | High-performing agents don't need as much help as new or underperforming staff. Split your coaching accordingly. |
| Promote from within | Use high performers to become your call center managers. |
| Be open to feedback | Encourage agents to challenge their actions, even if they believe they acted correctly |
| Share metrics and stats | Leverage call center technology to show agents they're making an impact. |
| Create a QA framework | To formalize and plan how and why quality assurance exists in your call center. |
One of the biggest wins when trying to improve your quality assurance is to create a framework.
Create a Call Center Quality Assurance Framework
With thousands of interactions to examine, call center quality assurance initiatives need focus.
This is where a QA framework comes into play.
Think of your QA framework as a predefined scope for your program. Instead of stumbling through random data, your framework gives you specific targets.
To start, you'll need to set some guidelines for a QA program, such as:
What KPIs and metrics do you need?
Choose which key performance indicators (KPIs) make sense for your needs. You might focus on customer satisfaction (CSAT) or first-call resolution (FCR).
How will you analyze them?
Decide how to balance manual call monitoring and automatic data collection. Sensitive industries, such as healthcare, limit customer or patient data.
How will you act on this data?
Choose what happens when you have the data. This could mean updating agent scripts or creating a Quality Standard Definition Document (QSDD).
When building your framework, there are three standard frameworks to draw inspiration from: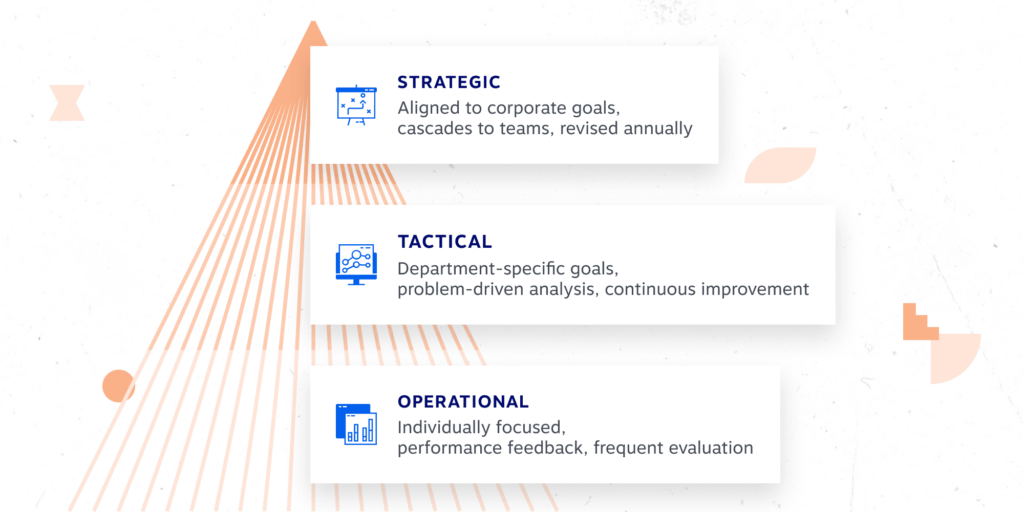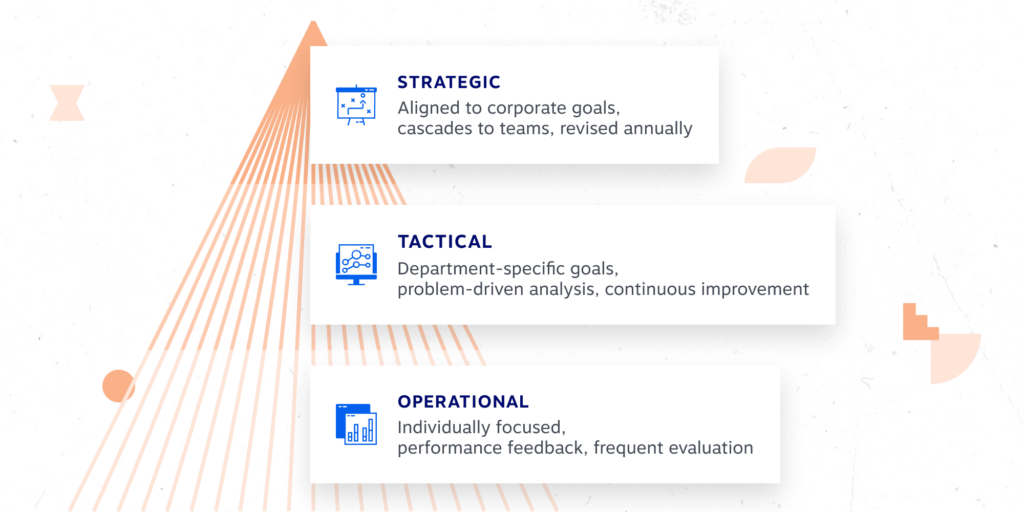 Operational digs into real-time call center performance.
Identifying gaps in operations filters relevant agents into the right training program, helping struggling agents.
Tactical looks at process and organizational flow.
The data will show that if there are repeat blockers in scripts or processes, agents keep getting tripped up at the same point. Amend these processes to give agents more flexibility or be more personable.
Strategic is about making your customers happier.
Improving metrics like Net Promoter Score (NPS) and Customer Effort Score (CES) leads to customer loyalty and higher customer retention.
Call Center Quality Assurance Best Practices
When building your own framework, make sure you have these five things on your call center quality assurance checklist.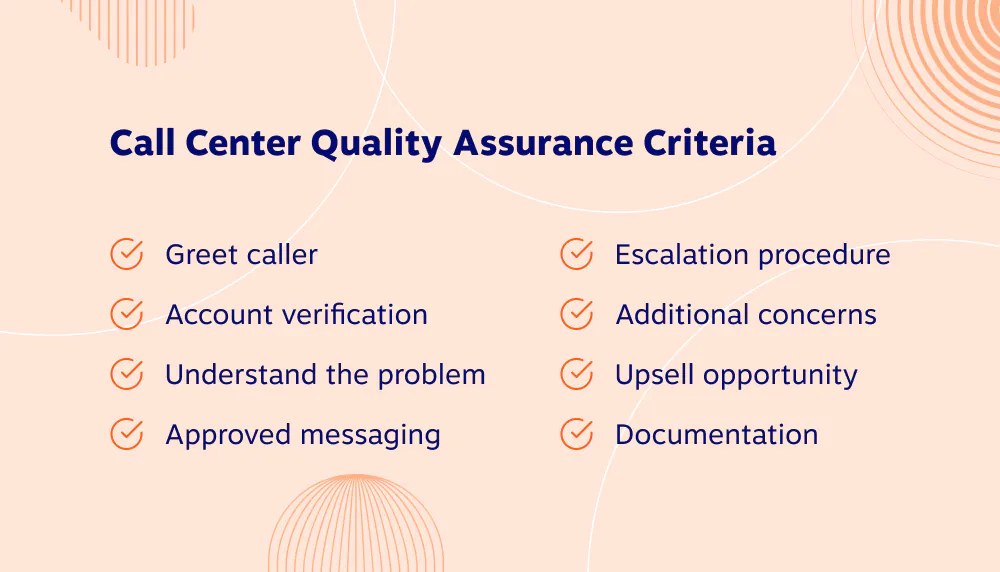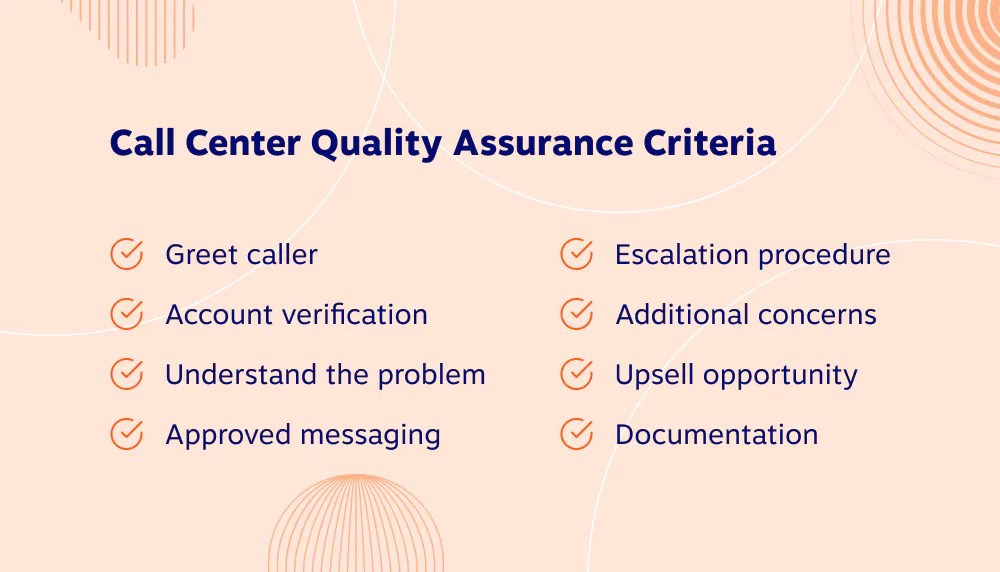 1) Plan regular quality assurance call monitoring
Make sure you have a schedule for call monitoring and establish it as routine.
This might be X number of calls per day, per department, or even per agent.
Here's what you should check for when monitoring calls:
Did the agent greet the caller accordingly?
Did they complete account verification?
Did they understand the problem?
Did the agent use approved messaging?
Was an escalation raised appropriately?
Did the agent ask if they could help in any other way?
Was there an upsell opportunity?
Did the call center agent document the call correctly?
2) Have one person responsible for quality assurance
Appoint a head of quality assurance whose responsibility is ensuring the processes get followed at all times.
The quality assurance manager's (or QA team) role includes:
Creating and maintaining quality assurance processes.
Collecting feedback from QAs and agents.
Training sessions for new protocols.
Onboarding for new agents.
Handling escalations from other QAs.
Conducting in-house audits.
Listening to calls.
While there may be a crossover with other quality assurance analysts, the QA manager holds the overall responsibility for the success of the function.
3) Make sure your goal is customer service
When you're performing checks and listening to calls, don't forget your purpose isn't to call out what customer service agents are doing wrong but to help delight and retain customers.
Part of quality assurance should be the opportunity for agents to provide feedback on what does and doesn't work well.
In case they find something in your process detrimental to the customer experience, let them provide feedback and use that as a source of improvement.
4) Positively reinforce the good
Everyone makes mistakes. And that's the mantra you should take when monitoring agent performance.
There might be a good reason why Angela skipped through half of the script. But if there is no excuse for skipping customer account verification, she needs to have this addressed.
There is a right way to go about this. When reviewing calls with Angela, highlight the good and the bad. Suggest improvements rather than repeatedly calling her out on her flaws.
Factor in that your agents are real people. They have lives outside the call center, too.
If something is going on in their personal life, punishment for deviating from your process will only make things worse.
Instead, be empathetic. Like you would with a customer. Understand why Angela had a bad call and see how you can help.
5) Measure using call center quality assurance metrics
There are many call center metrics you can choose to measure.
Each business, and sometimes each department, has its own needs.
Try these metrics out for size:
Matching these metrics to your goals and business type is crucial.
As is making sure your call center technology gives you access to the right features and metrics.
☀️ Case Study: Titan Solar Power Scaled Its Team by 450% with Nextiva
Technology to Streamline Your QA Workflow
Your contact center software makes all the difference by analyzing and acting on the data you find from your call center quality assurance program.
Modern quality assurance programs automate data collection. A cloud-based solution such as Nextiva combines the call center features you need to stay on top of your QA process:
Automatic call recording
Nextiva's call recording functionality lets you record all incoming and outgoing calls in your call center.
If you're a VoIP administrator, you can record calls for playback and manual monitoring when calls get flagged (or selected randomly).
Once inside the call, you can choose to download it locally or choose to share it with an email address. This is helpful to send to agents so they can review their own calls or learn from standout agent handling.
You can also hide parts of the call that you can't or don't want to be shared.
If you're a contact center supervisor, you can also report, monitor, and analyze call recordings. Using pre-populated question groups, you can rate calls in line with your defined QA procedure.
Have a look at this video to see how this works in Nextiva.
As you rate calls, this data feeds into reports in your analytics package.
Note: you can turn off the automatic call recording feature and choose to record on a call-by-call basis.
This might be needed for regulatory requirements such as HIPAA or PCI compliance.
Call and speech analytics
When you record your calls, you open the door to finding out information about them.
It's not scalable to listen back to every call, so let Nextiva's speech analytics software do the hard work for you.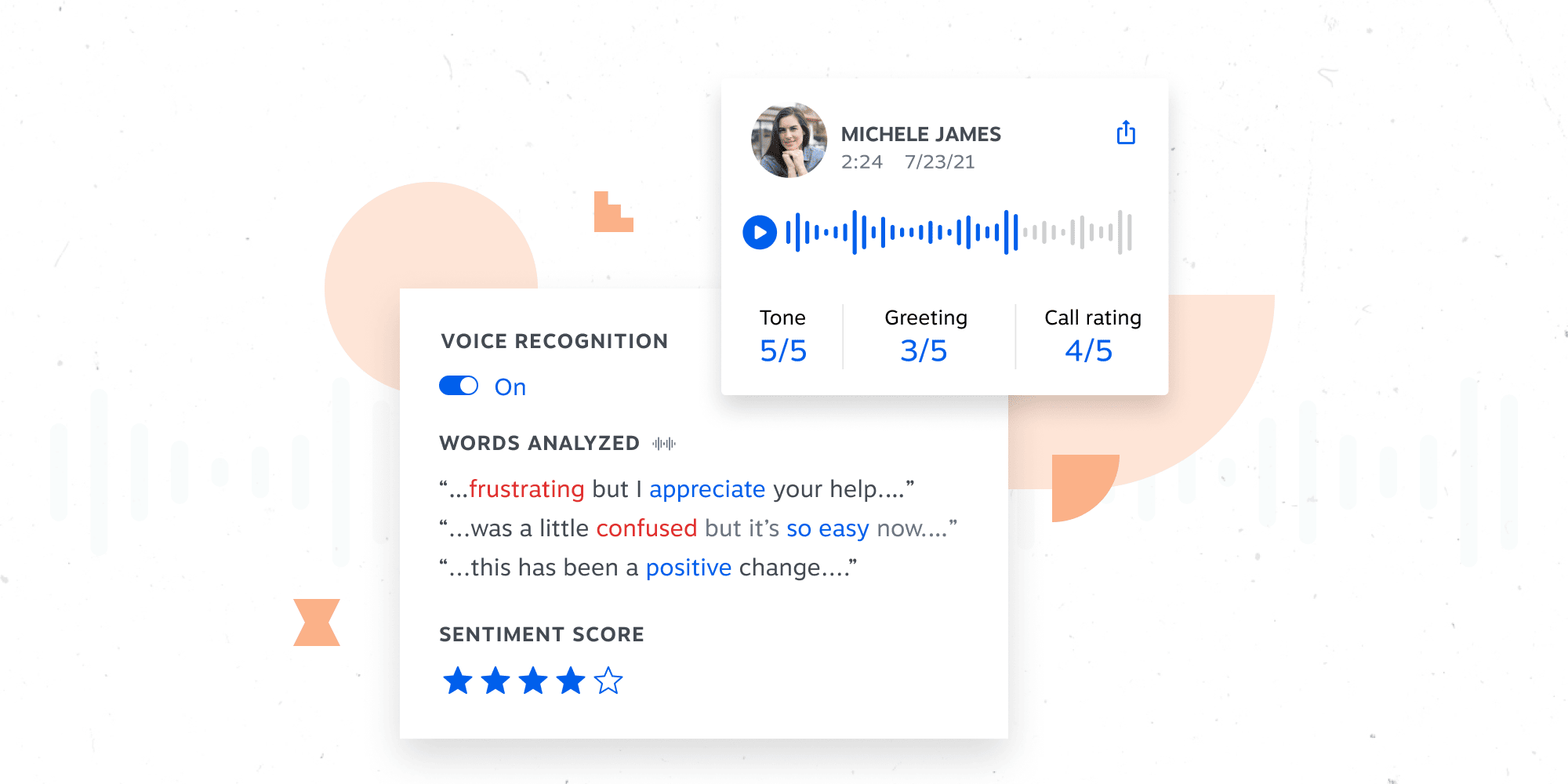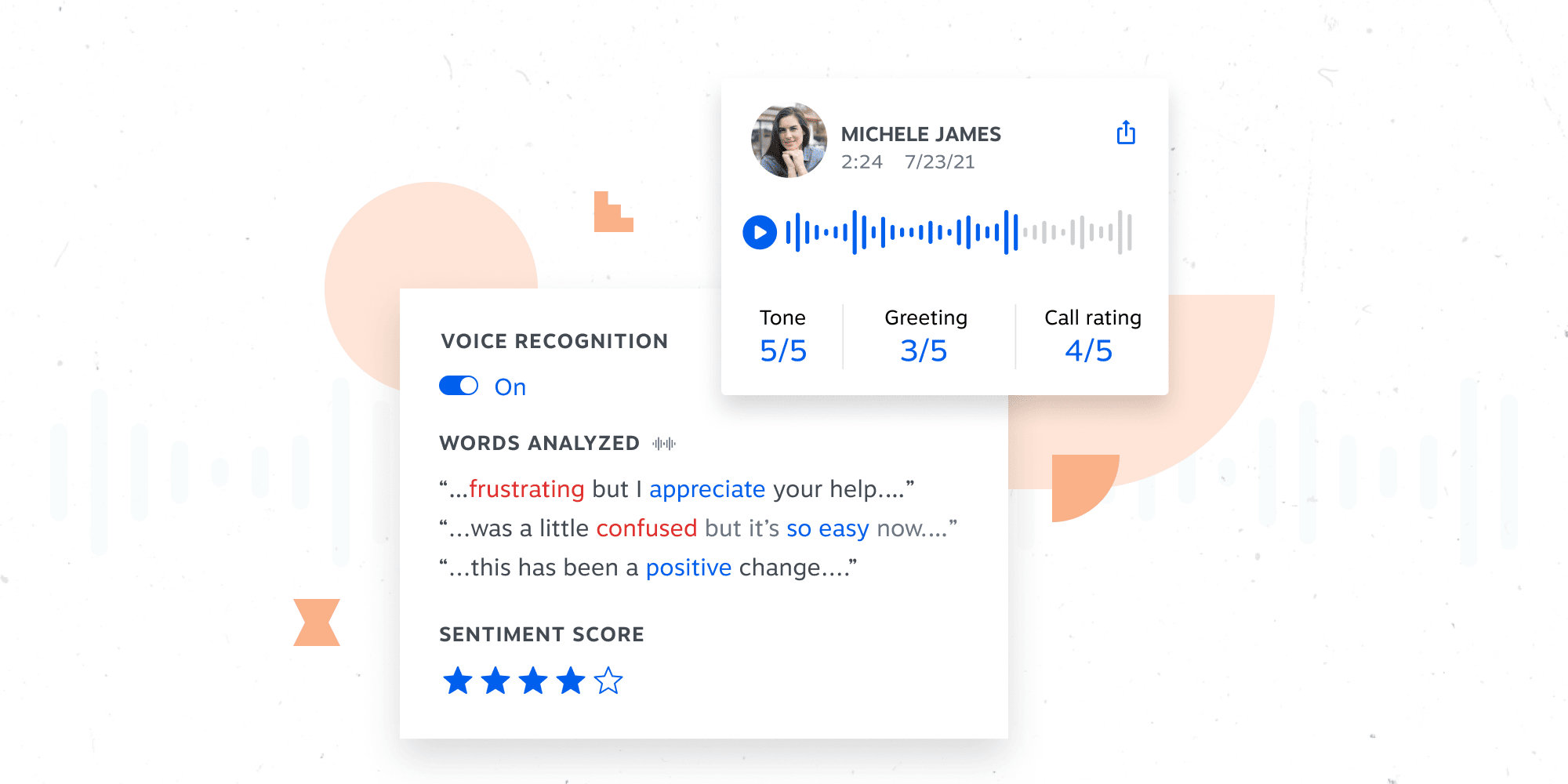 You get a holistic view of your calls, including metrics like call duration, count by day, and split between inbound and outbound. But the good stuff happens when you involve artificial intelligence (AI).
By automatically seeking out keywords and emotions, the QA software flags calls that need your attention.
For example, if a customer raises their voice or uses a word with a negative connotation, then you need to know about that call.
Instead of finding one by chance, using manual processes, let AI bring the most important calls to your attention.
You can also see the most used words and phrases to help identify bottlenecks and introduce self-service options for basic queries.
Or use speech analytics to find when there's no speech at all. For example, with metrics such as the average duration of silence, it is possible to identify agents who may be struggling with first-line customer support.
And it's not just calls you can apply this to…
Omnichannel contact center
When you use an omnichannel contact center, you're giving your customers the choice to contact you on a channel they choose.
But, with channels like web chat, email, SMS, and social media available for customers to reach you, it means more places for you to monitor.
That is unless you're using interaction analysis.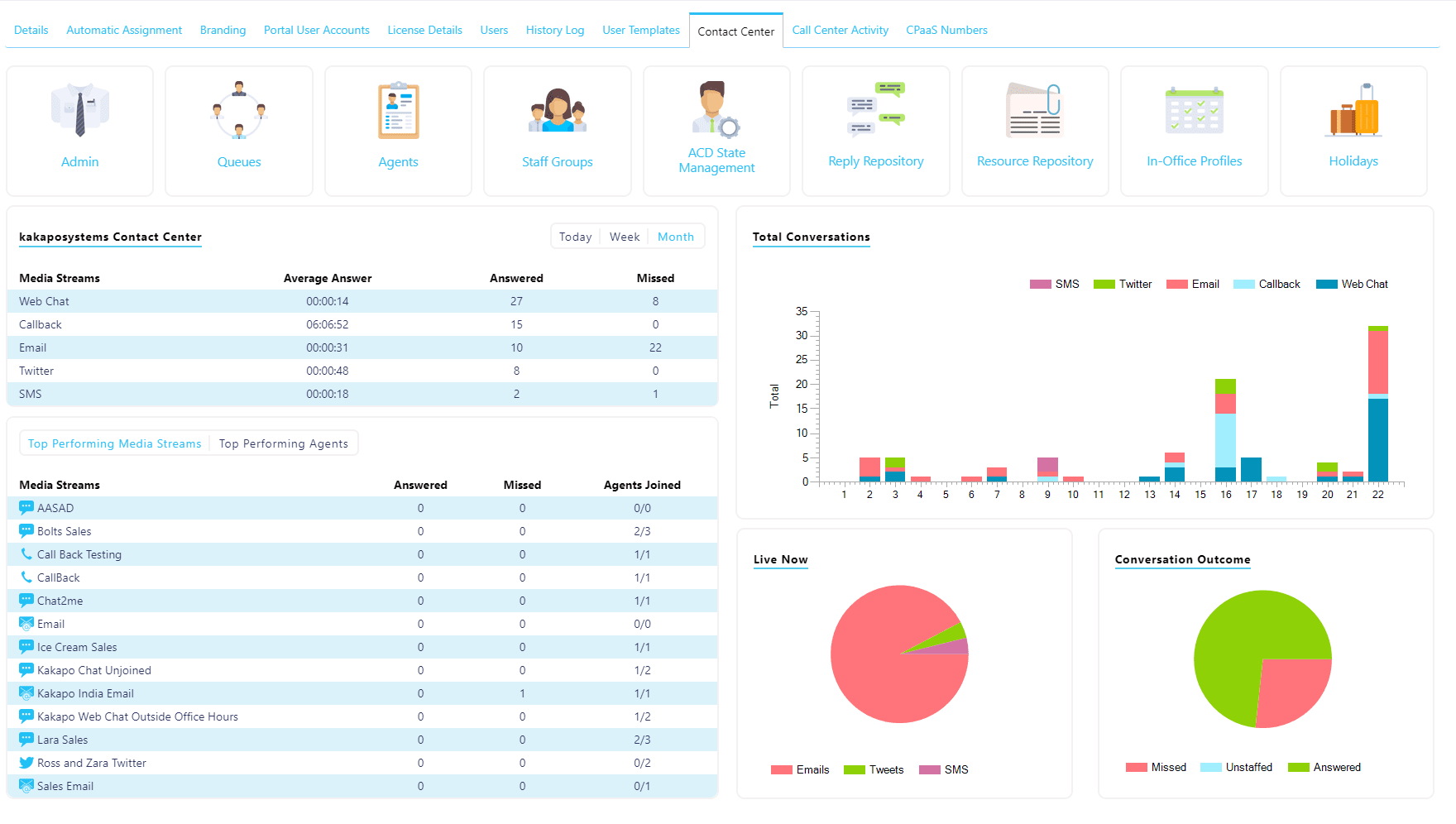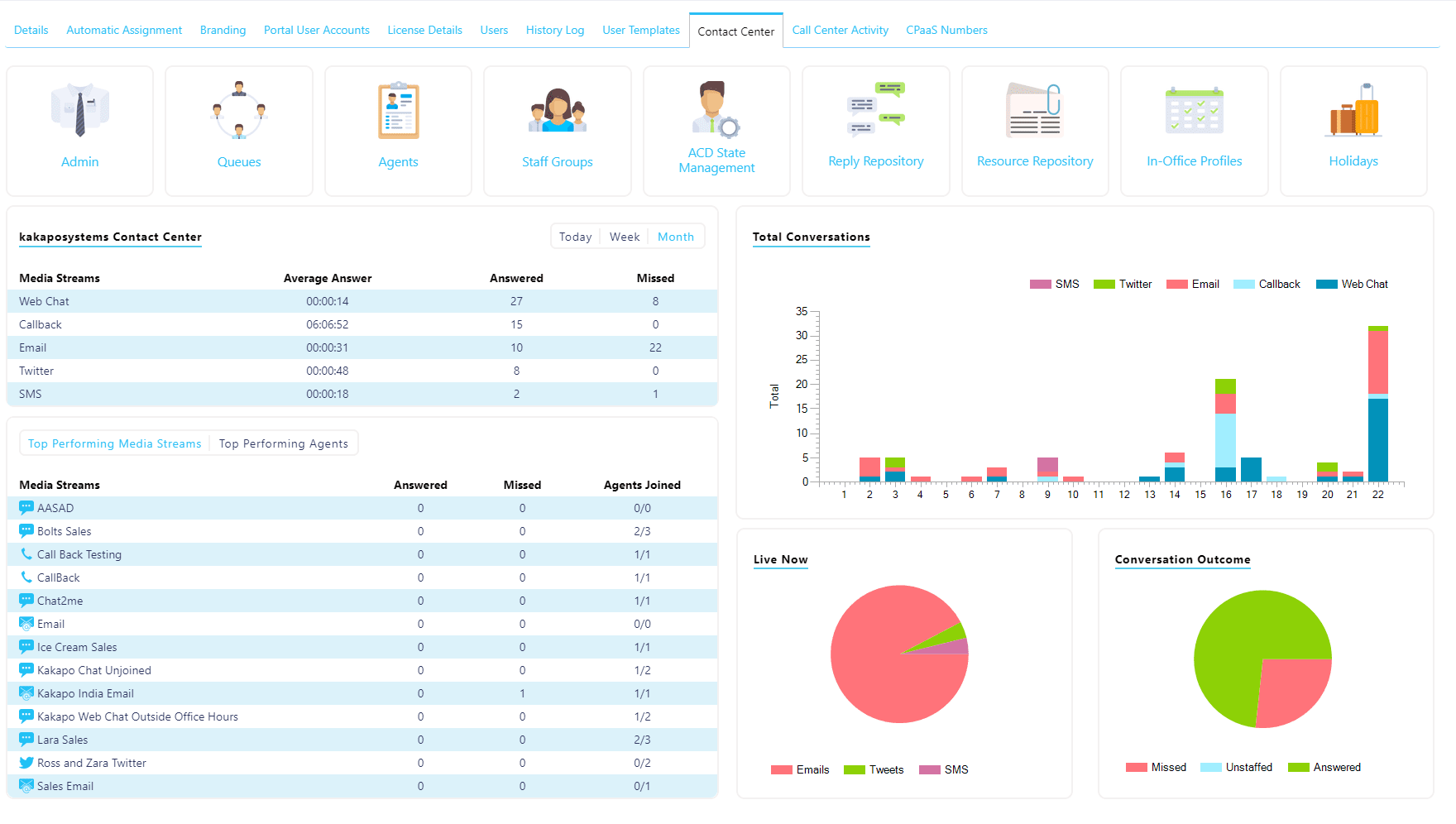 Like speech analytics, interaction analysis monitors all channels for negative sentiment, commonly used phrases, and emerging trends.
Every written transaction can be monitored to measure how well agents are handling urgent scenarios and dealing with irate customers.
You can use bad examples for one-to-one coaching and good examples for performance management sessions.
Performance metric tracking
When you have access to every customer's issue, you have a huge set of data you can use to track contact center quality assurance.
You have a plethora of options to choose from here:
Number-based metrics: like average handle time, time in after-call work, etc.
Outcome-based metrics: like first call resolution, number of sales, etc.
Feedback-based metrics: like customer satisfaction and Net Promoter Score.
You can even compare agents side by side to see who is answering the most calls, has the highest average talk time, or makes the unique dials.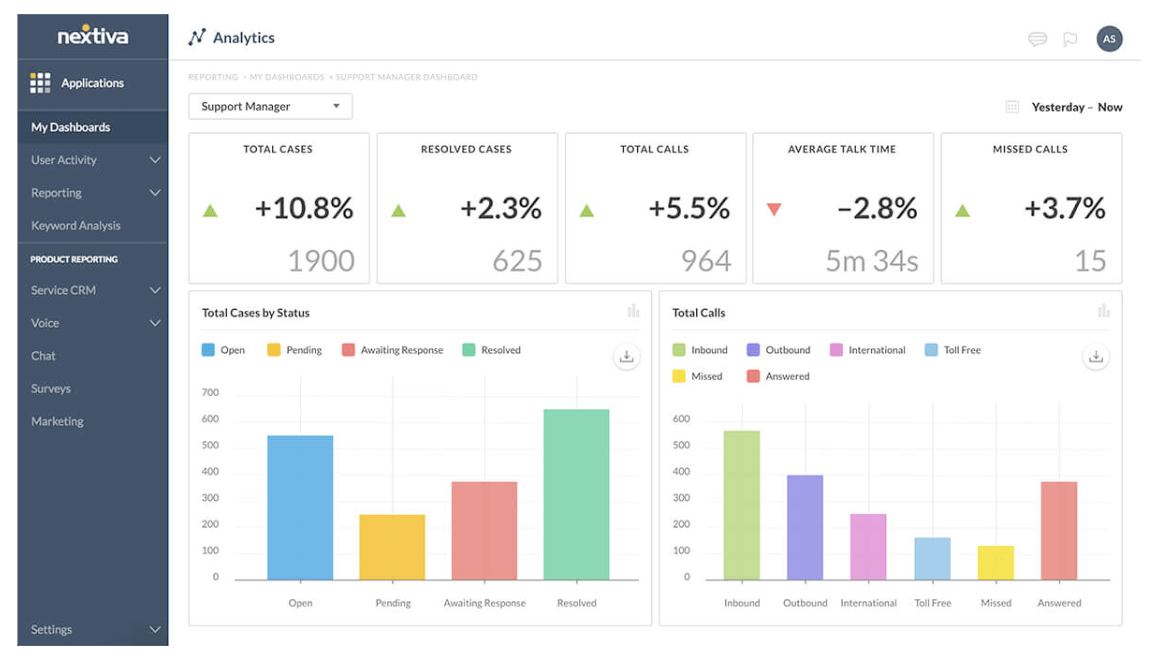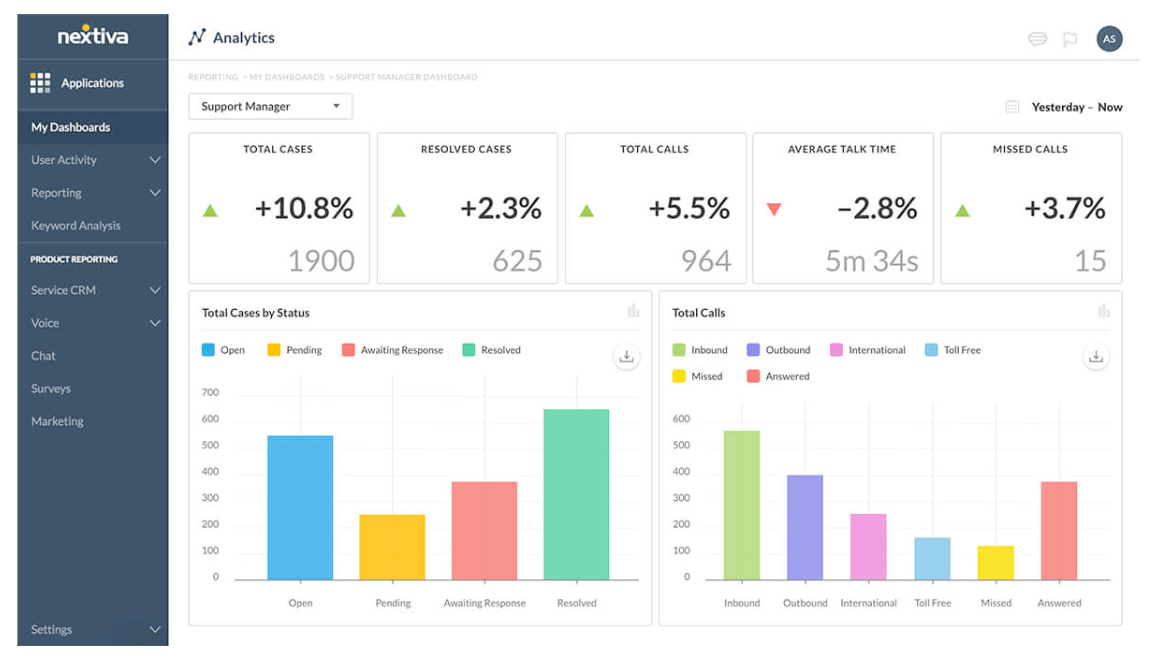 Most relevant to call center quality assurance are two key areas: agent quality and customer satisfaction
Agent quality is formed using quality scorecards or evaluation forms from your recording and monitoring program. Take an agent's average QA score and compare it against your benchmark.
Customer satisfaction scores are gleaned using surveys sent to customers.
Automated surveys
The problem with sending customers surveys is we don't send them immediately after a transaction.
This means customers forget their experience and scores aren't accurate.
Instead of compiling a set of questions to send out every quarter, use online survey software to create and automatically send a predefined list of questions at the end of every transaction.
Agents don't even need to hit a button.
As part of your quality assurance program, you need all the feedback rather than selective feedback.
Make collecting customer feedback an integral part of your call center strategy for a genuine view of agent performance.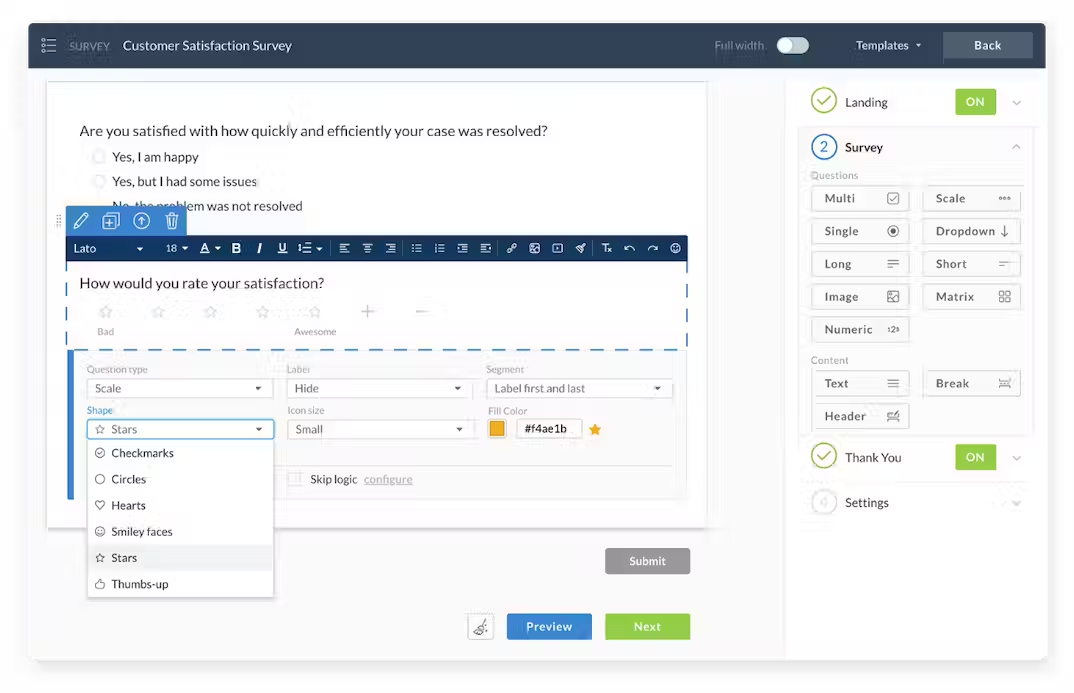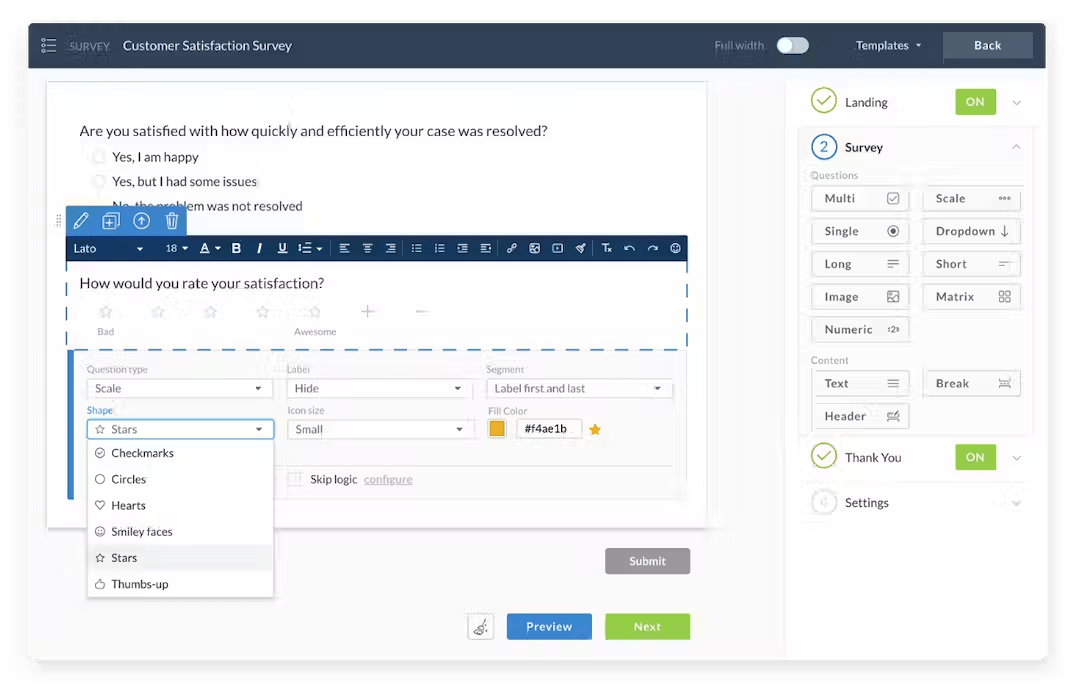 When the results are in, you can see how agents or departments performed on average or on specific days.
If, for example, you had more calls than forecasted due to an outage, you can identify agents who perform well under pressure.
Automated screen pop
To assist with the identification and verification process (often the first item in a quality assurance checklist), use Nextiva's screen pop feature to bring up information based on the incoming number.
Screen pop allows agents to move swiftly through their greeting and get straight to helping your customer.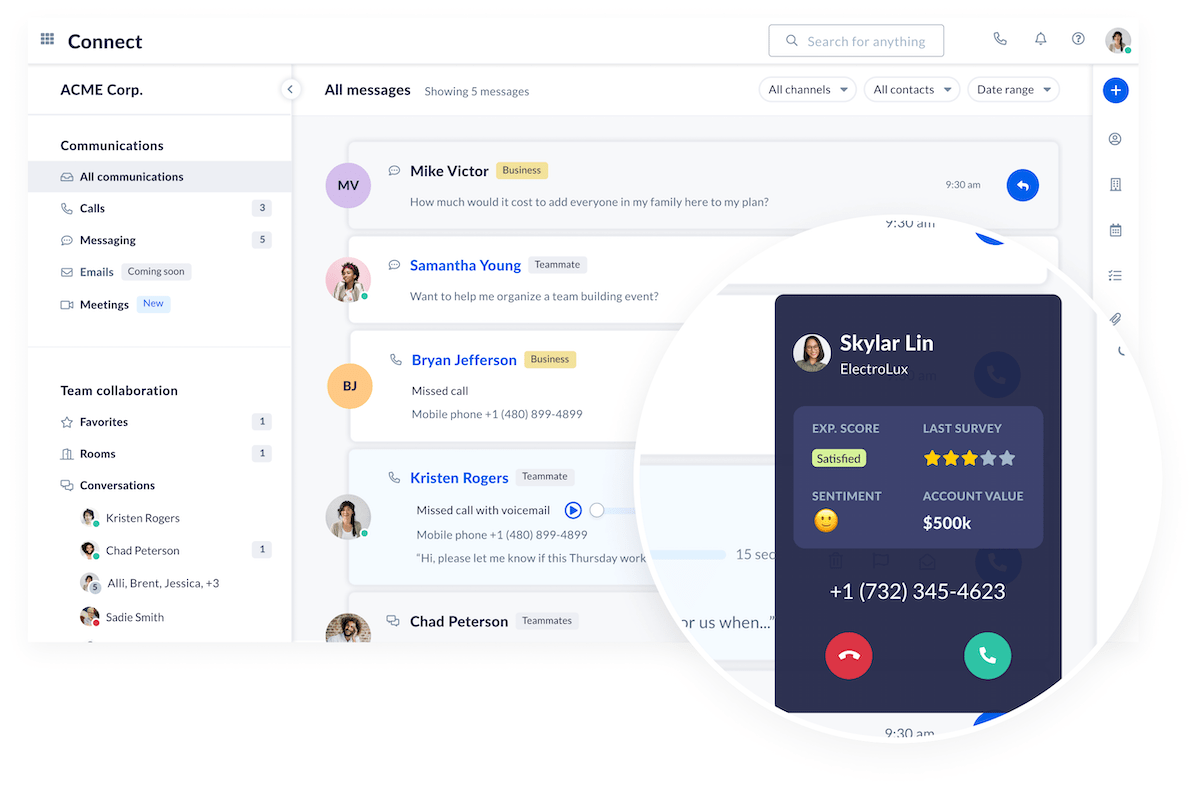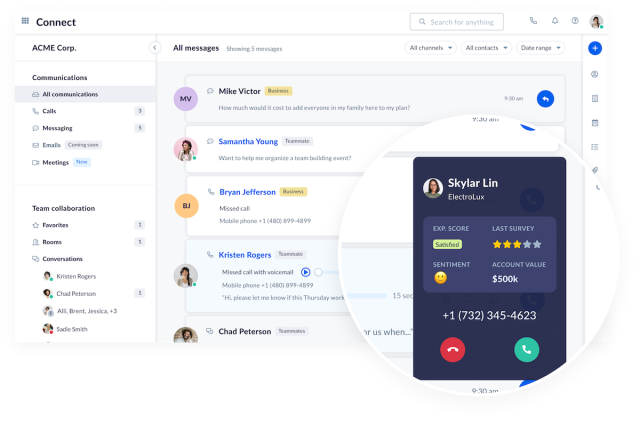 If you're using a CRM, you get instant access to all the information, including account numbers, recent orders, and tickets, enabling a more efficient customer journey.
By linking the incoming phone number to an account, some quality assurance programs skip this step as agents don't need to spend 60 seconds asking for account information.
Leaders Know Quality Isn't Subjective
It's easy to stick your head in the sand when customers get frustrated. Top customer experience leaders view every interaction as another opportunity to get better.
Incorporating QA into call centers is a powerful growth driver. The best contact center solution enables you to create happy customers and keep it the norm.