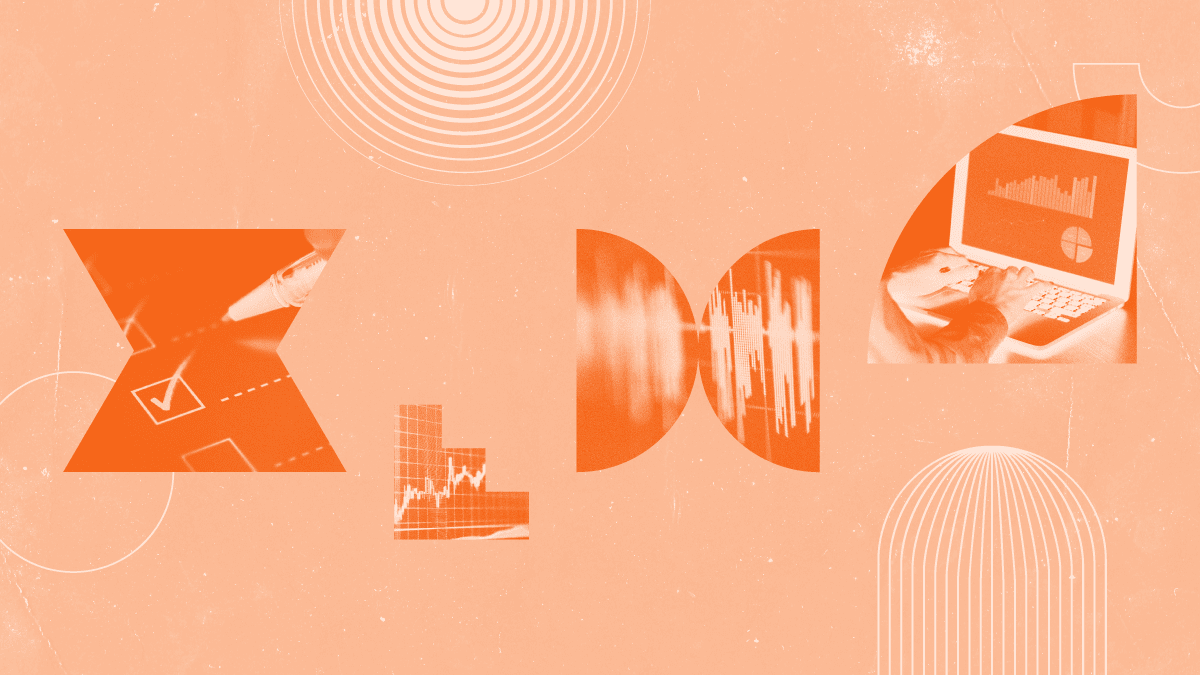 There's an old saying that a reputation takes a lifetime to build and seconds to destroy. The same goes for customer experience.
Every modern call center strives to offer the best experience possible. However, a single bad experience can send loyal customers heading for the competition.
Call center quality assurance ensures you're not being unresponsive to customer needs. With the right tools and processes, every customer interaction helps you get better.
People benchmark your brand's experience against every other customer service interaction. Can you compete? In this guide, you'll learn more about the elements of a robust call center QA program.
What is quality assurance (QA)?
In short, quality assurance (QA) is the process to ensure a product meets an expected outcome. QA programs reduce inconsistencies in the finished product or service.
Quality assurance is a critical part of software development and manufacturing processes. However, it's also as important when optimizing your customer experience.
Sales and customer service contact centers aren't new to quality assurance. They pioneered it by measuring behaviors and associated them with agent performance. This practice ensures that customers receive superior service every time.
Call center quality assurance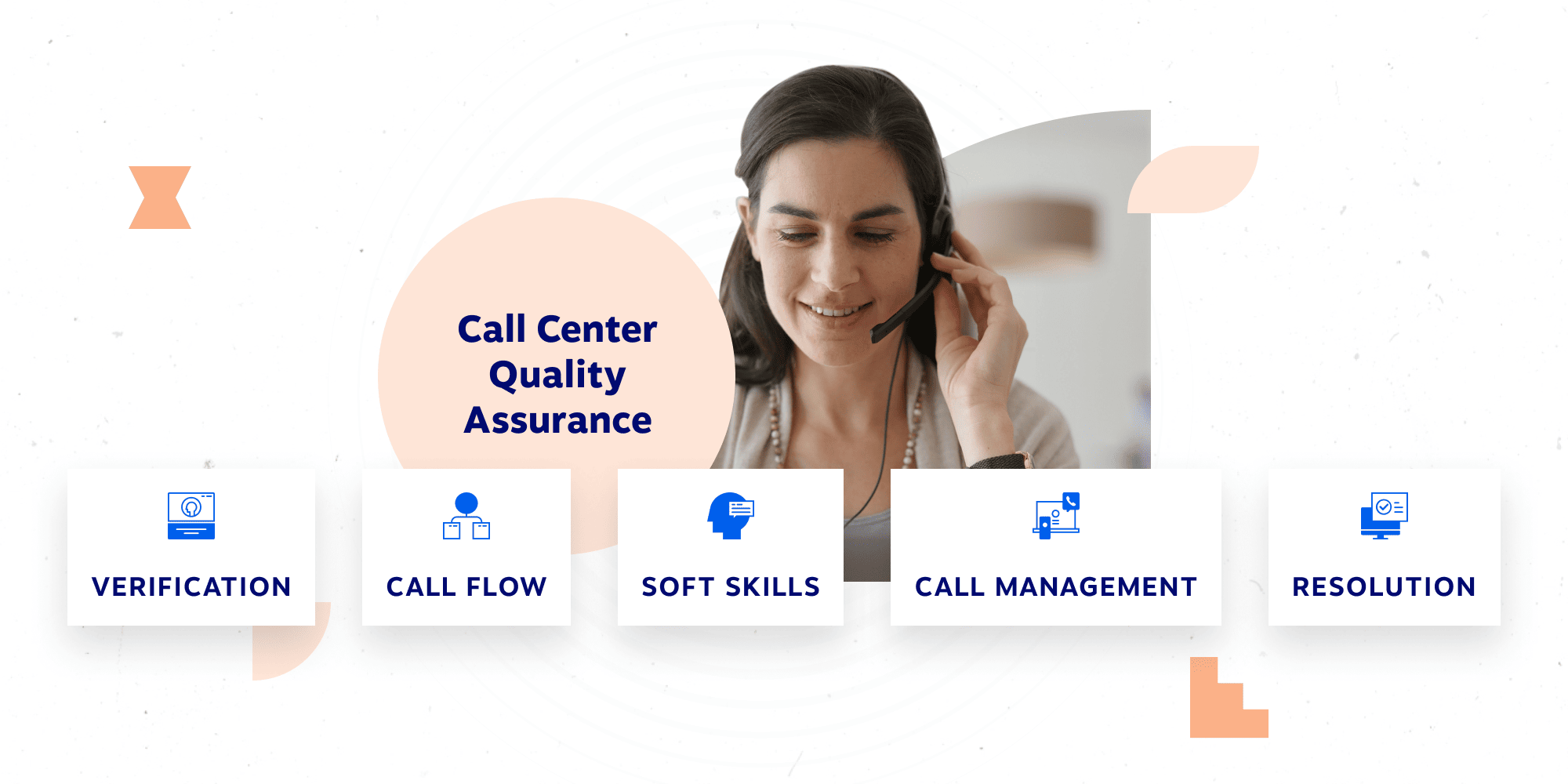 Quality assurance programs primarily measure agent interactions in the following five areas:
Verification – Assess whether agents authenticated callers before discussing the account.
Call Flow – Determines the alignment with a guided call flow or script.
Soft Skills – Reflects the demeanor of the agent when interacting with customers.
Call Management – Checks whether the agent demonstrated call control and acted with urgency.
Resolution – Confirmation whether a customer's issue was resolved and if the agent documented it properly.
These QA functions vary based on the nature of the interaction, such as a sales call, a billing request, or technical support.
Why is call center quality assurance important?
Phone support is still the preferred method of contact for most American customers. A study from Microsoft uncovered that 44% of people choose phone support instead of chat, email, or self-service.
Yet, it's hard always to know what's going on during a customer call. Compared to chat logs and emails, calls can feel like a black box. This makes them one of the greatest risks to your success but also a huge opportunity.
Studies show that 89% of consumers have switched to a competitor after a single bad experience. The easiest way to meet their expectations? Monitoring agent performance to find room for improvements.
This could be as simple as listening in on conversations to help with coaching or updating scripts. However, call quality is only scratching the surface of what's possible with call center QA.
Today's QA combines real-time call monitoring, customer satisfaction surveys, and a human touch. Here are a handful of ways that quality assurance improves call center performance:
Analyze data from call center software to report on metrics like speed of answer (ASA) and handle time (AHT)
Use sentiment analysis to track how customers feel along the customer journey
Define quality metrics and checklists across the organization
Provide feedback on how to improve training programs
Use historical trends to track team performance and optimize your call center strategy
Beyond improving your call center performance, QA is also a way to document and mitigate potential legal risks.
This is especially important if you work in a regulated industry. This isn't theoretical.
AOL infamously refused to cancel a customer's account in 2006, which wasn't isolated. It wasn't long until Attorneys General from 48 states settled with the company. Every retention request was subject to third-party verification.
Is a call center quality analyst a good career path?

As more businesses invest in contact centers, maintaining quality assurance is essential. Quality assurance analysts are core to high-performing sales and service organizations.
Call center QA analysts monitor inbound and outbound calls and document areas for improvement. Quality analysts need at least a high school education. More senior roles list a Bachelor's degree due to the emphasis on data and psychology in the field.

On average, call center quality specialists earn $61,467 per year, with the salary for managers rising to $77,011. These figures come from PayScale and from Salary.com and vary based on experience.
To recruit, look to your tenured customer service representatives. They are most familiar with the nuances of the everyday customer experience. You can also enlist outside help from a QA firm that uses many well-tested practices.
Top benefits of call center quality assurance programs
Quality monitoring and assurance are essential for any thriving call center.
Beyond ensuring compliance, QA programs lower costs, simplify hiring, and boost revenue. Here are several noteworthy benefits of a call center quality assurance program:
1) Improves customer engagement and retention
Customer engagement is now the number one priority for most businesses.
According to research, 86% of customers are willing to pay more for a great experience. In contrast, 67% of customer churn is preventable if you can resolve issues right away.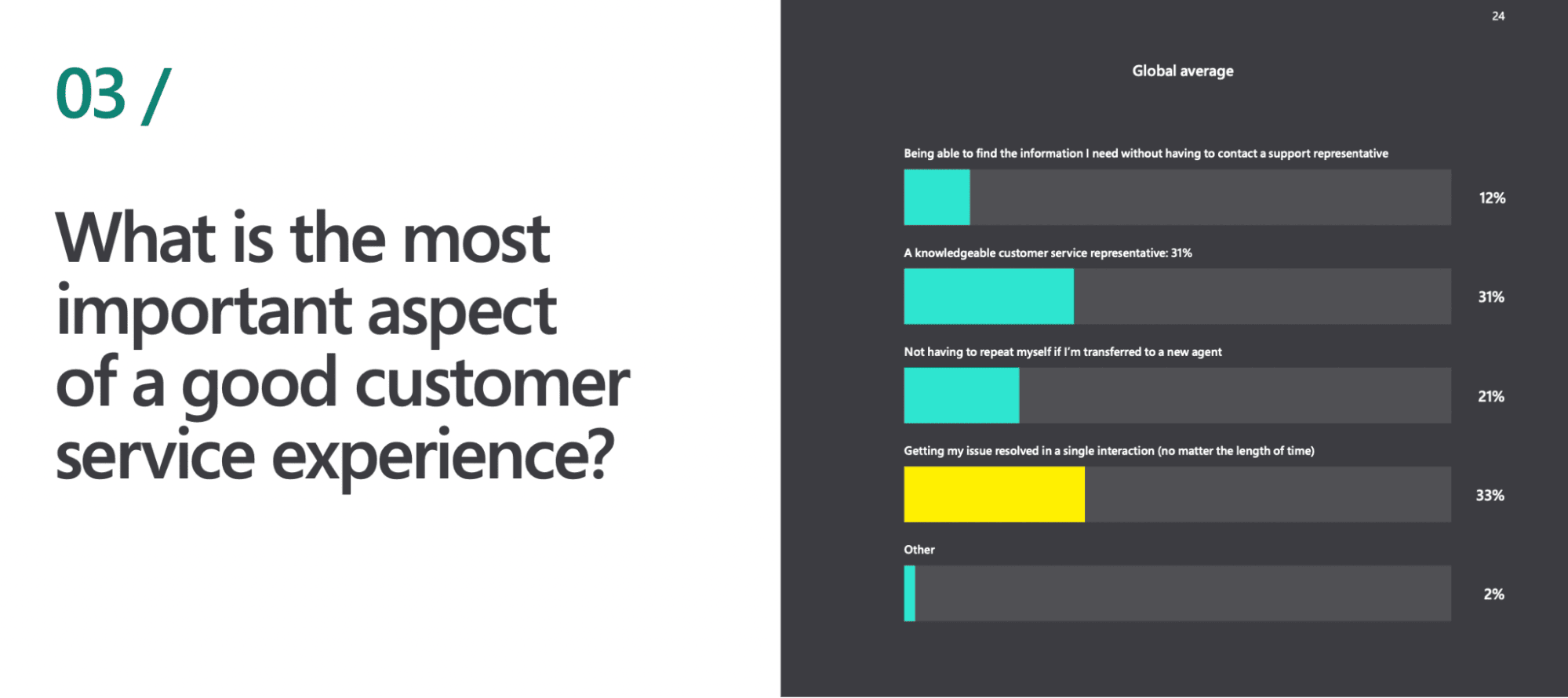 The main goal of any QA program is to make customers happier. Out of more than 150,000 customer interactions, MaestroQA found that higher QA scores led to higher customer satisfaction.
2) Sets objective standards for your entire team
QA programs gather a ton of data on how your call center operates.
Performance metrics like AHT and FCR offer specific targets to achieve. In practice, individual agent behaviors and soft skills contribute to these stats. Moreover, these KPIs serve as a benchmark to evaluate team member performance.
Quality assurance analysts complete evaluation forms to score customer interactions across the team.
When critical customer experience metrics slip, benchmarks will show it.
3) Gives insights into team performance
Quality assurance is all about continuous improvement. It's easier to track your call center performance across agents and the team as a whole. Call center software has a treasure trove of historical call metrics available.
Supervisors can coach agents falling below the average. This way, they can provide real-time scorecards to develop and grow agent capabilities.
Contact center directors can monitor the utilization of the workforce with ease. It's actionable to know if the team is overloaded. Likewise, they can update Interactive Voice Response (IVR) prompts to mitigate call volume.
4) Improves the employee engagement
Call centers are notorious for high turnover rates. However, a quality assurance process can create a better experience for employees as well as customers.
A good QA manager explains the purpose of the program, not just what metrics are being tracked. Quality assurance provides clear goals and an environment of trust where all stakeholders are on an even playing field.
When conversations go sour, QA programs can give agents a path to escalate. Call monitoring rewards high-performers or protects agents from abusive customers. It's also a great way to improve agent performance and resolve a customer's issue — faster.
5) Makes onboarding much easier
A well-documented QA program becomes a training guide for new employees. Instead of being thrown into the deep end, new agents learn proven scripts and benchmark KPIs.
Sharing a library of customer interactions and picking them apart helps agents know what to expect. Dissecting calls with a high average handle time or social media escalation can prove beneficial, too.
Breaking down the specific call center QA metrics will help new agents excel on day one.
6) Automatically collects more data on the customer journey
One crucial element of a call center quality assurance program is good data. But you don't have to be a developer or even particularly tech-savvy to get the data you need.
A cloud call center like Nextiva captures real-time customer data. It collects data from calls, emails, and social media. Even better, all this data is accessible within call analytics and reports.
7) Connects support agents to a larger purpose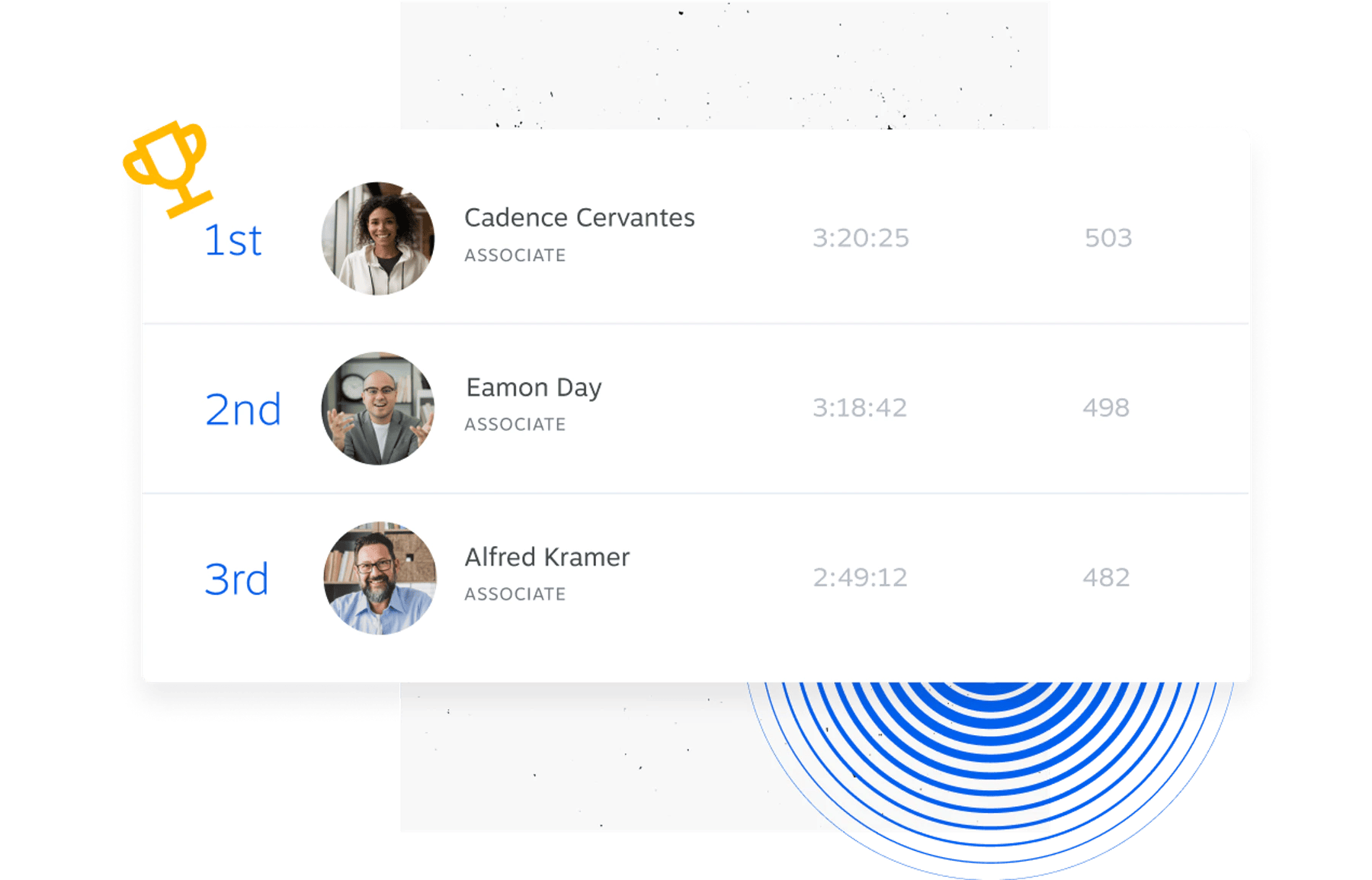 According to McKinsey & Co, almost half of Americans said that COVID-19 has caused them to reconsider their career path.
Employees are seeking purpose in their work. However, call center agents are often stuck in handling repetitive customer interactions. This pain point makes them feel disconnected from your company's larger goals.
A proper QA program ties your agents' daily tasks to a larger purpose. For example, prioritizing the customer's issue above call times is one way to help agents look at the big picture.
Connecting call center KPIs to a deeper purpose has a long-term measurable impact.
How to create a call center quality assurance framework
With thousands of interactions to examine, call center quality assurance initiatives need focus. This is where a QA framework comes into play.
Think of a QA framework as a predefined scope for your program. Instead of meandering through random data, a framework gives you specific targets.
To start, you'll need to set some guidelines for a QA program, such as:
What KPIs and metrics do you want to measure? Decide which metrics make sense based on your needs. For example, you might prioritize customer satisfaction (CSAT) or first-call resolution (FCR).
How will you analyze them? Different metrics need different approaches. Decide how you'll balance manual call monitoring and automatic data collection. Specific industries, like healthcare, limit the data that can be stored about patients.
How will you act on this data to improve the customer experience? Finally, you should have a process in place for turning insights into action. This could mean updating agent scripts or creating a Quality Standard Definition Document (QSDD).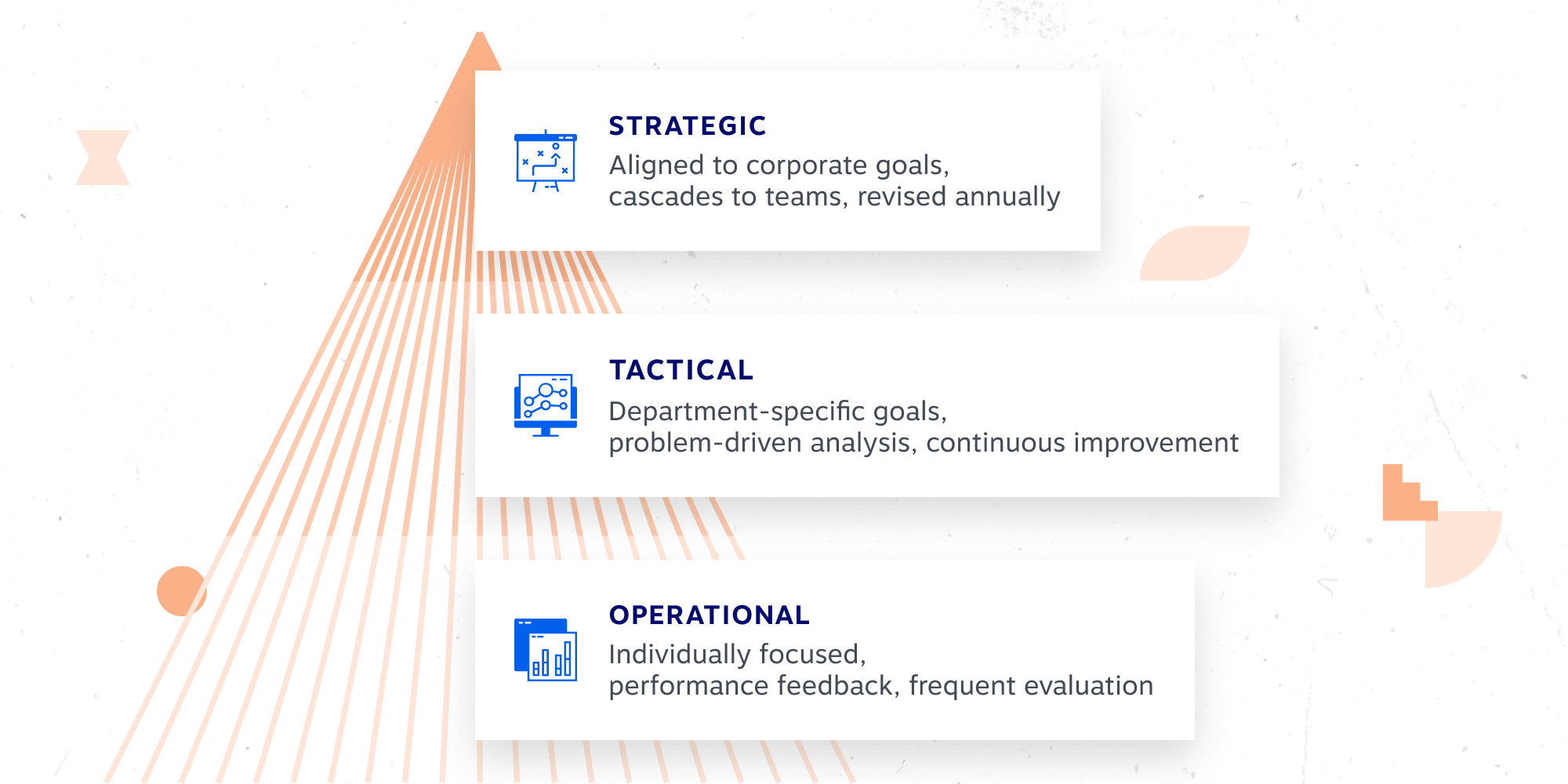 Next, decide which of the three typical call center QA frameworks you want to focus on first.

Operational
An operational QA framework focuses on measuring the real-time quality of service. It's simpler to understand and will help you answer questions like:
Where are your agents struggling? Who are your lowest performers? What performance indicators are you looking at during coaching sessions? An operational approach puts the spotlight on your front-line support contributors and supervisors.
Are you maintaining your quality benchmarks? If not, can you use a training program to improve and optimize your performance management? Reviewing team performance frequently is key to making this successful.
The downside of an operational framework is that it relies on periodic evaluation. When you only look at data monthly, you end up focusing on immediate issues over underlying trends.
Tactical
An operational framework is a good foundation for quality assurance. However, the next step is to zoom out and use long-term trends to help growth and scalability. A tactical framework skips individual issues to focus on the underlying root causes of poor performance.
For example, a tactical framework will tackle issues like:
Where are workflows being blocked? Can you change scripts or update processes to free up your caller flow?
Is your team struggling with knowledge gaps? Where can you provide training or reassign resources to help increase your effectiveness?
Are there organizational issues that need to be addressed? Are you dealing with high turnover due to managerial obstacles? Can you change your internal processes to improve the employee experience?
Tactical questions require a unified dashboard to analyze data and trends over time. For example, Nextiva surfaces trends in customer sentiment far beyond standard call reports.
What's great about a tactical approach is it shows the impact of changes on your call center. You can create a powerful QA feedback loop by balancing an operational and tactical system.
Strategic
Lastly, a strategic framework ensures your call center aligns with your organization's vision. It's very much forward-looking in nature.
A strategic QA framework focuses on more growth-focused areas:
What are your future business goals?
How can customer support improve account retention?
How do you identify and reward employee success in your call center?
The main goal behind the strategic framework is to improve your customer experience. Example measures could be Net Promoter Score (NPS) or Customer Effort Score (CES).
A strategic QA approach can make or break your customer experience. It's important to dial in your daily work first. Focus on operational first, then tactical before jumping to the higher-level ones.
These frameworks don't have to be exclusive. The most successful call centers leverage a few QA frameworks at any given time.
Call center quality management best practices
Every call center team is different. How you approach quality management will depend on your culture, size, and goals. However, there are a few common best practices that can drive a successful QA program.
✅ Establish QA criteria early and often
Your team can't provide a better experience if they don't know what 'better' means. For your QA program to succeed, everyone should know the metrics and KPIs that matter most (and why!)
Keep your metrics public and be consistent with them during any updates.
Yet, metrics only tell part of the story. Detail the ways agents can deal with difficult callers. Don't penalize agents for complying with regulations like the Do Not Call (DNC) registry.
Consistent greetings and scripts help guide interactions. While at the same time, a QSDD can share the criteria agents you measure them on.
✅ Choose the right software
The contact center software makes all the difference with analyzing and acting on the data you find from your QA program.
Modern quality assurance programs automate data collection. A cloud-based platform like Nextiva combines the features you need to stay on top of your QA process:
✅ Have one person (or team) responsible for QA
Call center managers and team leaders often have too much on their plate to handle quality assurance. So instead, it can be worth it to bring in a dedicated quality assurance manager.
QA specialists or department managers will monitor calls and improve training materials. If budget is a concern, look into outsourcing your QA process.
✅ Stick to a consistent schedule
There are two aspects of QA scheduling to consider. First is the schedule of the QA program itself. For example, when will the QA team do evaluations, calibrations, and data deep dives?
A consistent QA schedule ensures you're monitoring as many interactions as possible. It also helps with employee buy-in as they're getting regular and useful feedback.
The second schedule to consider is how your agents adhere to their schedule. In other words, are agents helping customers and being available for calls?
A lack of schedule adherence contributes to an increase in abandoned calls. However, you can't expect agents to be available 100% of the time.
Instead, set reasonable schedules that reflect when they need to be there. For example, plan breaks around your peak hours to ensure agents are available when needed.
✅ Make agent feedback a part of your process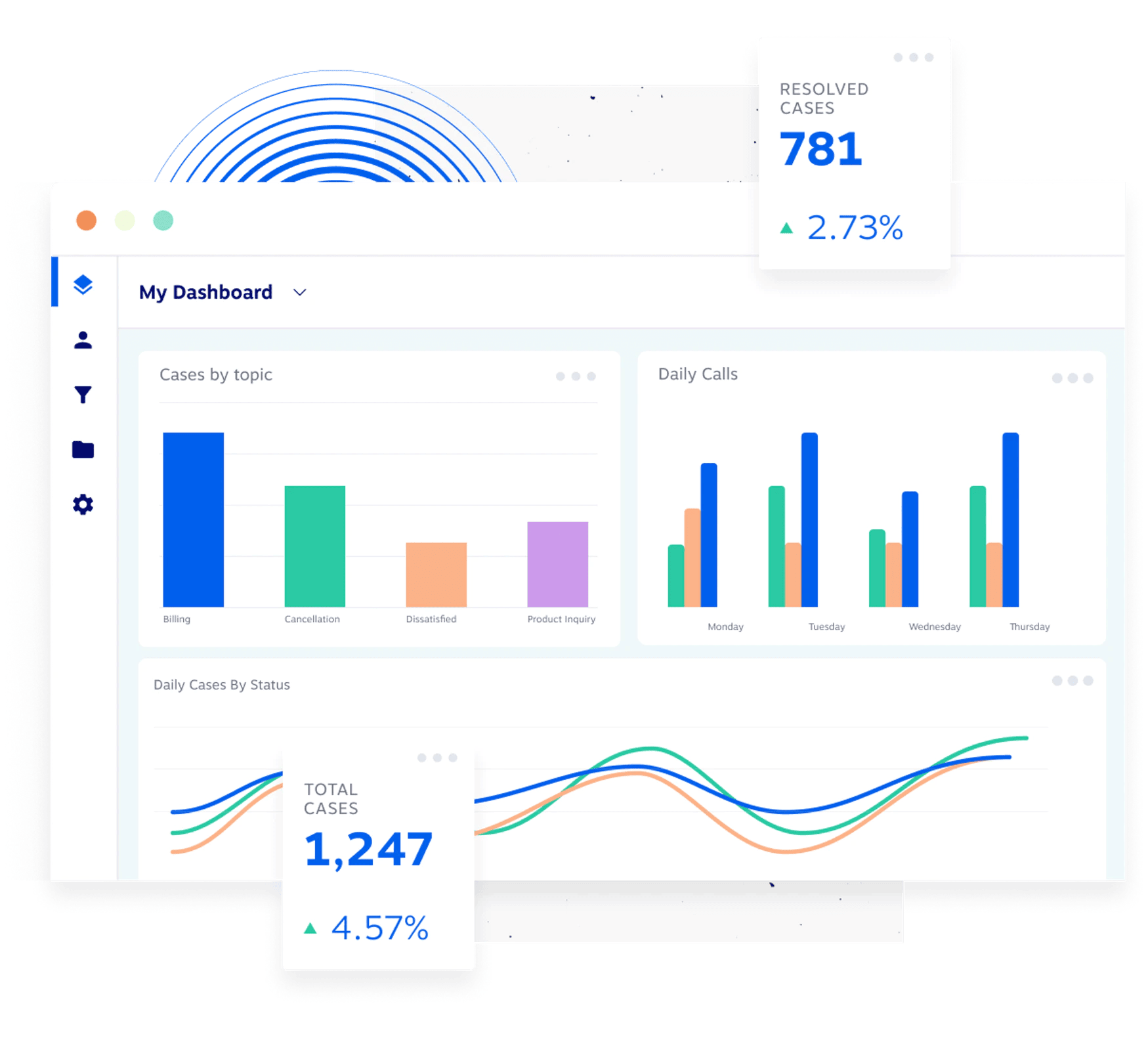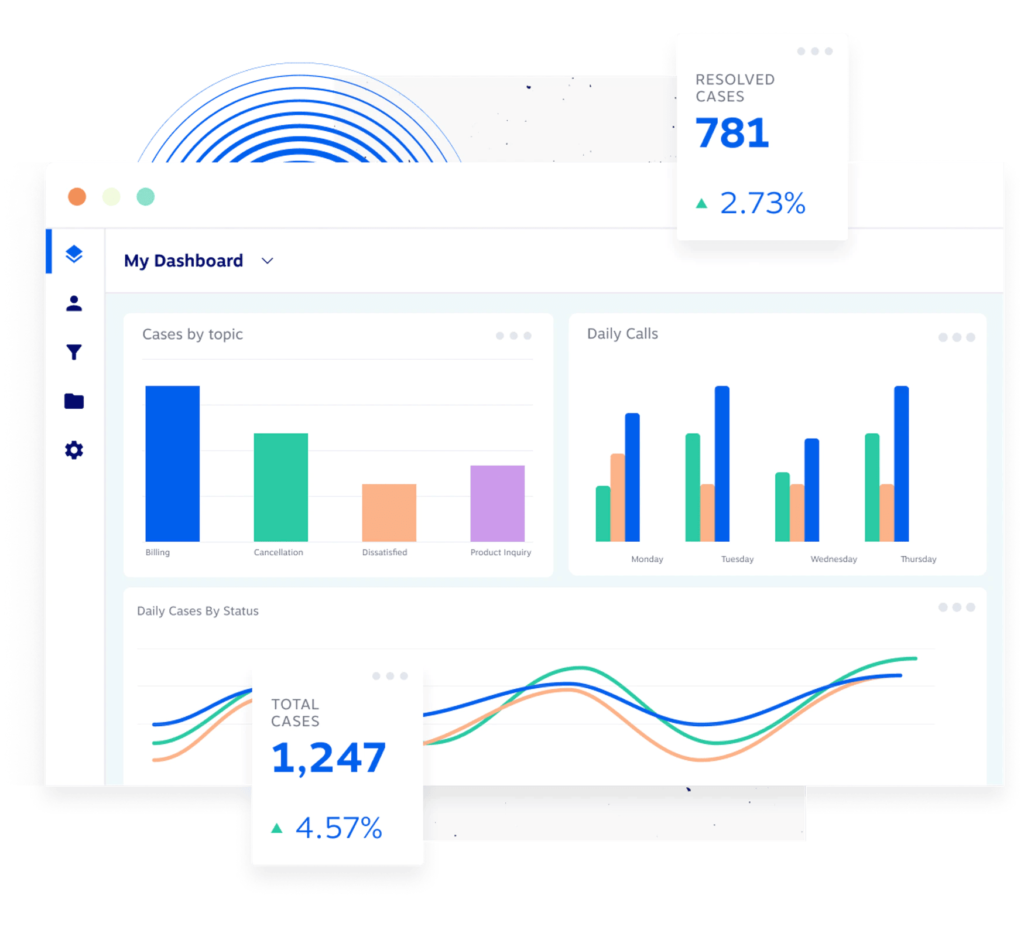 Quality assurance can feel invasive if you don't include employees in the process. Instead of using call center QA to punish, reward agents that excel your standards.
For example, agents can fill out a QA scorecard in a coaching session to discuss the interaction. This way, they're actively involved in improving their skill sets.
Celebrating agent performance from a customer experience standpoint inspires others to improve.

✅ Balance automated and manual data collection
Finding a balance between manual and automatic data collection can be complex.
Relying too much on manual call monitoring and customer feedback is time-intensive. Even worse, it can skew your evaluation of an employee if you only listen to a few bad calls.
While only using KPIs and metrics removes the human element of customer support.
Instead, try to get a holistic view of your call center's performance by balancing the two.
For quantitative data, share regular reports, so everyone knows what's collected. For manual call monitoring, you'll need to pick a specific approach:
Random sample monitoring is when you choose calls to listen by sheer chance. This approach will often reveal some hidden insights but is hit-or-miss at best.
Targeted monitoring is when you choose specific agents or call types to inspect for quality management.
Analytics-driven monitoring is a newer type of QA. This uses features like voice analysis to track keywords or phrases. This way, you can pinpoint relevant calls to listen to first.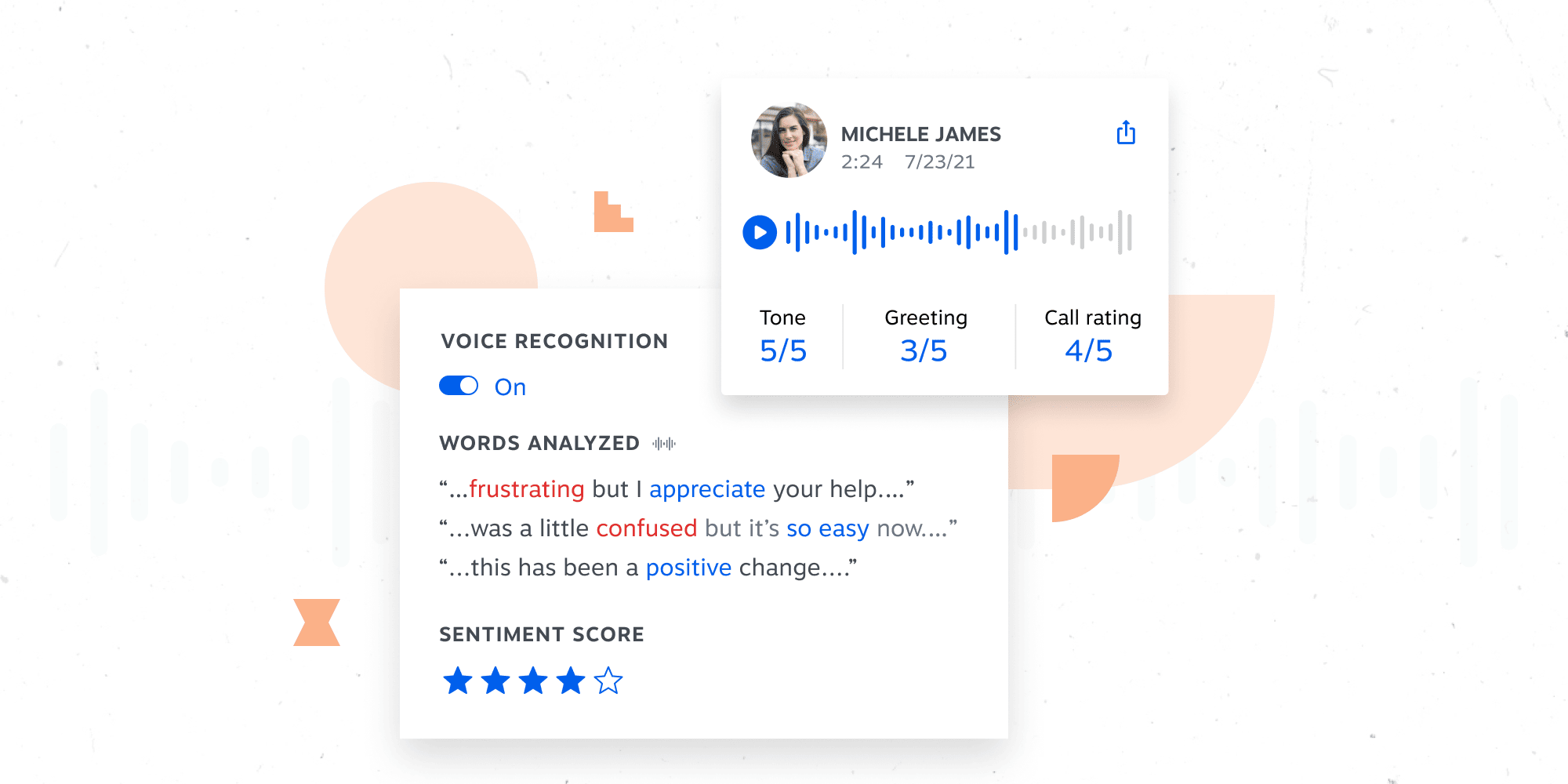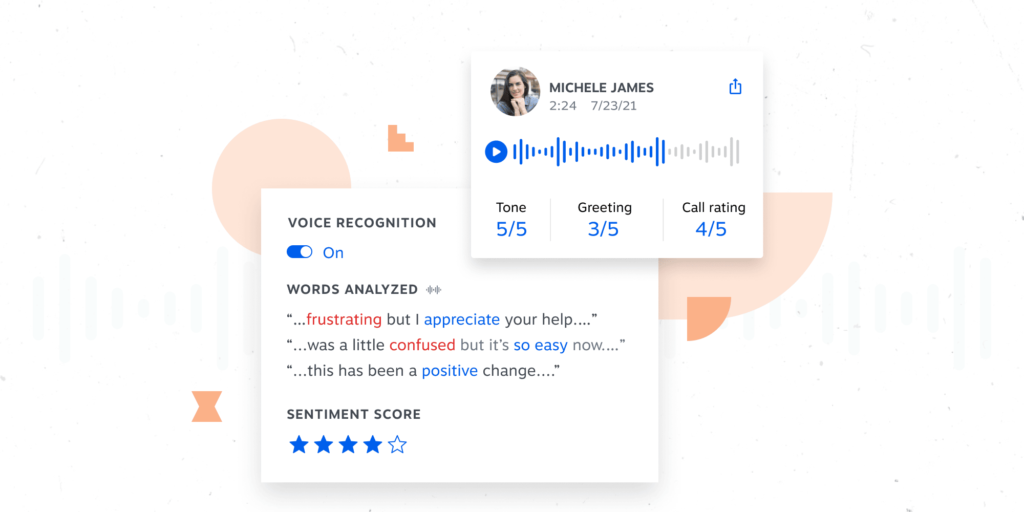 Taking it a step further, Nextiva lets you identify accounts by sentiment. This way, you can get the context of every conversation and know when you need to step in with coaching or training.

✅ Recognize the limits of quality assurance
Despite the benefits of call center quality assurance, there are risks to should know:
Too much data
Misinterpreting reports
Lack of time to create action plans
Pushback from agents
The right QA strategy solves most of these problems. Pushback from agents needs a more considerate approach. Involve employees early and often. Embrace the upsides of QA with regular and consistent evaluations.
✅ Revisit your KPIs, strategy, and processes often
Lastly, call center quality assurance is an ongoing process. Industries, markets, and expectations constantly change; it's impossible to get it right forever.
Instead, your quality assurance program should evolve with your company. Adopt long-term planning to question your strategy, switch frameworks, or recalibrate your team.
The best CX leaders know quality isn't subjective
It's easy to stick your head in the sand or throw your hands up when customers get frustrated. Top customer experience leaders view every interaction as another chance to get better.
Incorporating QA into sales and customer service teams is a powerful growth driver. The best contact center solution enables you to create happy customers and keep it the norm.