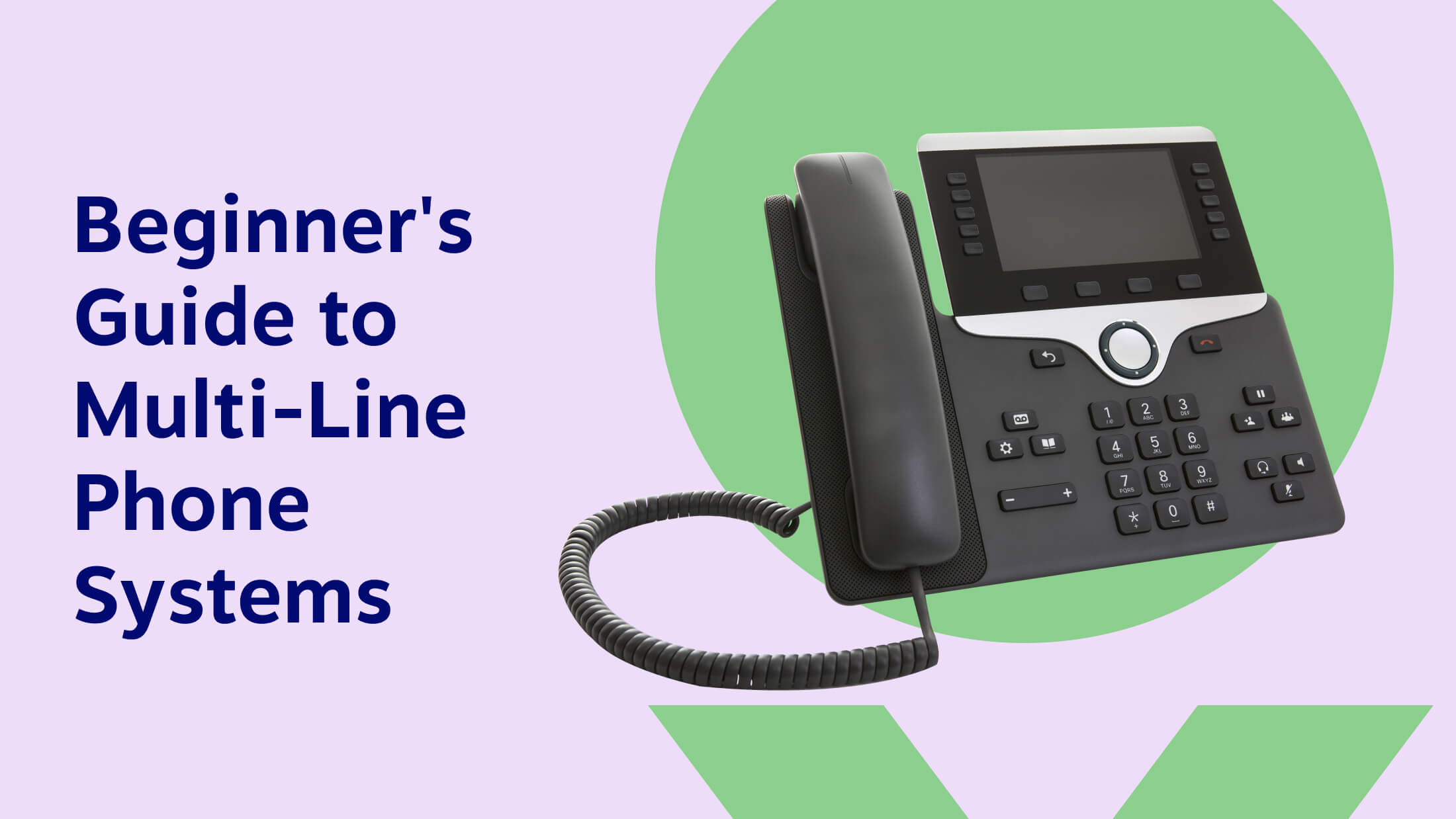 If your company is growing fast, chances are you've outgrown your company's phone system.
The inability to handle many calls at once costs you sales and hurts the customer experience. A multi-line phone system provides essential functions like holding calls and much more.
The best part is that you won't need any more phone jacks or changes to your phone numbers. There are a few ways to set up a business phone system to support multiple lines.
This guide will help you find the right multiline phone system that fits your needs.
What is a multi-line phone system?
A multi-line phone system lets you handle two or more calls simultaneously. It enables employees to place calls on hold, dial internal or external numbers, and return to the line.
Multi-line phones differ from phones with a single line that can only maintain one phone call at a time. Likewise, they have one phone number assigned to them. When the line is in use, callers will be directed to a voicemail or a busy signal.

When you hire new employees and scale your customer base, the single-line approach hinders your growth.
Businesses can set up a multi-line telephone system in one of two main ways: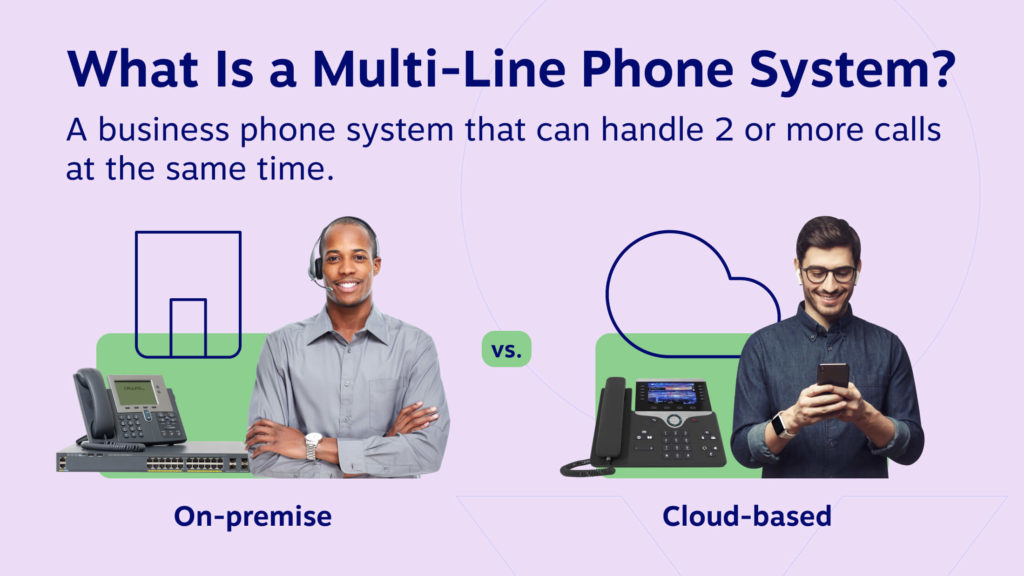 On-premises multi-line phone system – This aging on-premises phone system requires telecom equipment. Examples include a Private Branch Exchange (PBX) or Key System Unit (KSU). Both of which need many technical skills to manage.
Cloud-based multi-line phone system – This modern phone system exists in the cloud to provide unlimited phone lines for phones to use. Cloud phone systems don't need users to be on-site to reach a dial tone. Examples of this include newer VoIP phone services and some IP PBXs.
Business owners rarely touched traditional phone systems after they installed them. For the most part, a single device with multiple lines and phone numbers met their business needs.
At one time, PBX systems were affordable to set up and maintain. As the technology evolved, qualified technicians became scarce. Hardware and talent make these quite expensive to keep. Also, they lack the vital functionality for working remotely.
The cloud-based multi-line phone system leverages Voice over Internet Protocol (VoIP) technology. This newer phone system works using an internet connection rather than separate lines. These phone systems are more capable and cost-effective for companies of all sizes.
How does a multi-line phone system work?
A multi-line phone system creates an internal telephone network with separate extensions. This functionality lets operators hold incoming calls and see other extensions' real-time presence.
Traditional and cloud-based are two types of phone systems that support multiple telephone lines. You should know the differences between each type of phone system.
Traditional multi-line phone systems
Analog multi-line phone systems come in two flavors.
The first is where a single landline provides two-line functionality using existing wires. You'd wire these into phone jacks by using yellow and black wires. You'll need to pay for an extra line from the phone company to use it. Analog handsets can switch lines and place calls on hold using the flash button.
The second type is a Private Branch Exchange — or PBX for short. It accepts multiple phone lines by way of basic landlines or trunks. These provide phone features such as voicemail, call forwarding, and speakerphone. If you have to dial 9 to reach an outside line, you have a PBX.
Callers will receive a busy signal when your incoming lines are in use. This limitation is a notable concern to a business that needs to grow.
Traditional phone systems need desk phones that can accept multiple lines. These phones offer features like headsets or cordless phone (DECT) capabilities. However, its popularity continues to decline in favor of its alternative: VoIP.
Multi-line phone systems running in the cloud offer the best of both VoIP and PBX systems. Let's look under the hood to see how they work.
Cloud-based multi-line phone systems

The successor to the traditional phone system is the cloud phone system. They offer multi-line capabilities with limitless scalability. Plus, they offer many in-demand business features included.

How is this possible?
This type of multi-line phone system uses Voice over Internet Protocol. Bypass the local phone company entirely with VoIP. As a reliable business VoIP provider, Nextiva provides a complete phone system in the cloud with impressive uptime.
A cloud phone system converts calls into data packets. It transmits them to a nearby data center. In a matter of milliseconds, the IP phone converts the audio into the sound you can hear. The VoIP provider provides a virtual PBX dedicated to its business-class users.
"Virtual" is an important distinction when it comes to multi-line phone systems.
Phone extensions aren't physical phone lines. There aren't any phone jacks, either. They are logical representations for a cloud PBX to queue calls or provide call parking. You can queue up to 525 calls per line. That's a lot of calls!
As long as you have a reliable internet connection, you can have as many lines as you want.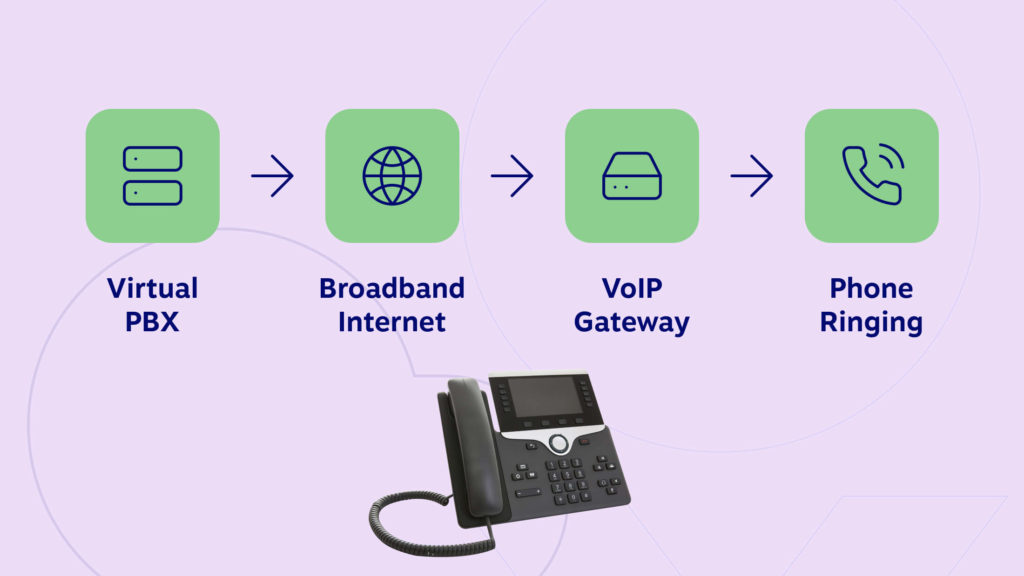 Types of multi-line phones (and use cases)
Picking out the phones for your company doesn't have to be a game of chance. There are a few types of phones to use with your multi-line phone system. Having more lines doesn't always mean better.
We've broken down phones based on the number of lines along with examples.
2-line phones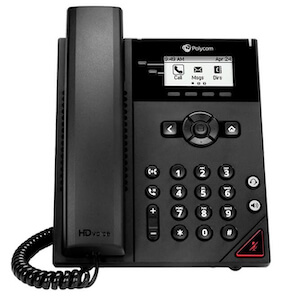 A two-line phone system is ideal for small businesses that have a predictable call volume.
Examples of companies use-cases that could use two lines include:
Solopreneurs with one line for sales and a second one for service.
Small offices with two employees, so they each have one line.
Small retailers to accept incoming calls and one line for management.
You can find two-line VoIP desk phones for approximately $80. The Poly VVX 150 is a great choice for those on a budget.
4-line phones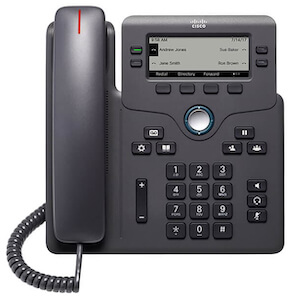 If you find that employees need to place calls on hold, warm transfer, a four-line phone is a great fit.
Check out these examples of a four-line phone in use:
Small agencies with sales reps and account managers to answer incoming customer calls.
Customer service teams with support reps call back customers, vendors, and employees.
Receptionists with a need to answer and transfer multiple incoming calls.
Prices for four-line phones start at around $160 per handset. The Poly VVX 250 or Cisco IP Phone 6851 are great picks for a heavy-duty VoIP phone.
6-12-line phones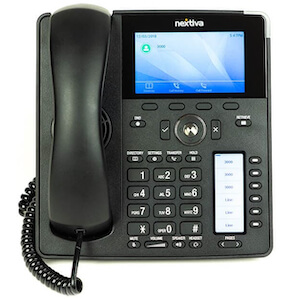 The next tier of multi-line phones provides better performance than lesser VoIP phones. They have faster chipsets, more memory, and even more customization than standard telephones. At this level, they offer advanced features, such as line presence and softkeys.
These will be the best option for these business needs:
Executive assistants who screen and need to know their exec's line status.
Team supervisors who need to monitor multiple calls at once.
Senior account executives who need to check inventory and pricing with management.
Desk phones above five lines are typically above $250. The cost-effective Nextiva X-885 VoIP phone supports 12 lines for only $190.
For the ultimate flexibility, try the Nextiva X-835 VoIP phone. Here's a review from business phone system enthusiast Prince Rich:

Video: Nextiva X-835 Device Review by Rich Technology Group
Flexible number of phone lines
The challenge of choosing a phone with a predefined number of available phone lines? You have to understand your business communication needs and anticipate your future requirements.
No matter the number of lines your company uses, it's always better to have phones that can handle more. It's important to point out these phones only need one wire, which makes installation a breeze.
What if you need four phone lines most of the year, but up to ten during busier seasons?
With traditional phone systems, you're unable to scale your call volume fast. And if you're hiring aggressively, you'll have to add more lines and buy new handsets.
This is where hosted VoIP comes in. When your needs change, you can add more phone lines when you need them right from your admin dashboard.
Instead of purchasing new handsets, they can use a business phone app on their smartphone. Boom, done!
How to set up a multi-line phone system
If you go down the traditional phone system route, you'll need the phone company to install every line. You'll also need to set aside a hefty budget for an on-premise PBX and a technician to set everything up. You'll need to configure desk phones to interface with your PBX.
A cloud-based multi-line phone system is a simpler alternative. All you need is an internet connection, and it only takes about 20 minutes.
Here are the four steps to set up your virtual phone system with multiple lines:
Choose a business phone service. Select a plan based on your business needs. Nextiva has a range of phone plans packed with powerful features. You can also try it out for free.
Assign phone extensions. In your admin portal, you can start adding internal extensions of each of your team members. This makes internal dialing and call transfers easy.
Record your phone greetings. Upload your custom greeting or record one from your phone (or computer). Leave a lasting first-impression when people call your company.
Begin making and answering calls: If you don't have a VoIP phone yet, you don't have to wait for one to arrive. Start with your iOS or Android smartphone thanks to a softphone app.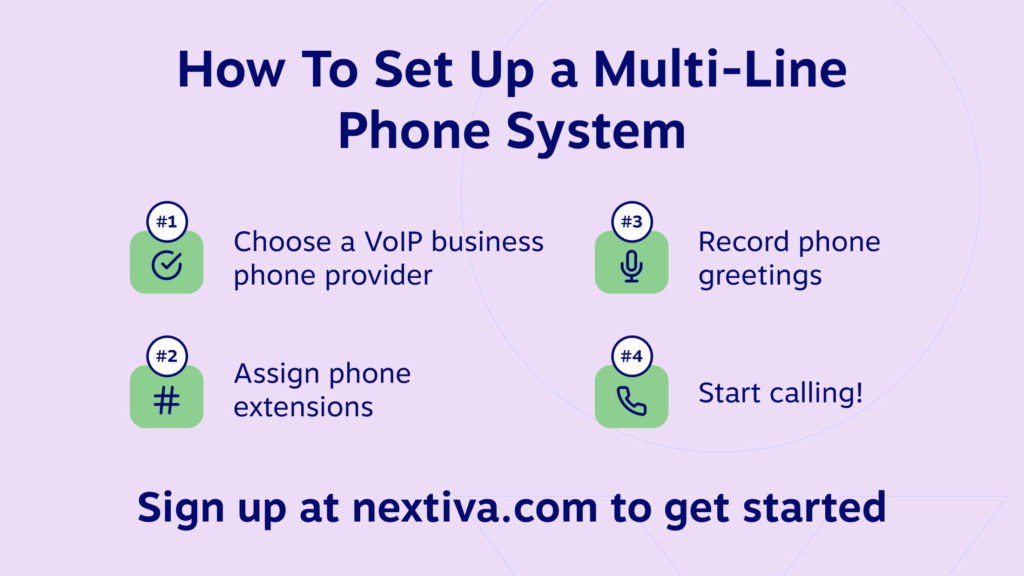 You'll have a multi-line phone system in less than an hour. VoIP phones from Nextiva come equipped with all your settings, so you need to plug them in.
Advanced features in a multi-line phone system
What can you do with a multiline phone system? They offer a lot more than multiple telephone extensions. Some features vary between on-premises PBXs and cloud phone systems.
Let's dive into the top VoIP features you'll want to have in your multi-line phone system.
1) Auto attendant
An auto attendant directs incoming calls to the right person or team based on your caller's keypad input.
Using an auto-attendant improves the customer experience by reducing the waiting time. You'll also convey an image of a professional business regardless of your company's size.
Save yourself time thanks to these ready-made auto attendant scripts.
2) Call hold and call parking
Call hold lets you pause a call so you can talk with a colleague or answer another call. Call parking is similar, but with the extra benefit of allowing others to retrieve the call that you've put on hold.
Holding and parking calls give you the benefit of resolving every customer call. Also, on-hold music engages callers and announces custom messages like payment options.
3) Call analytics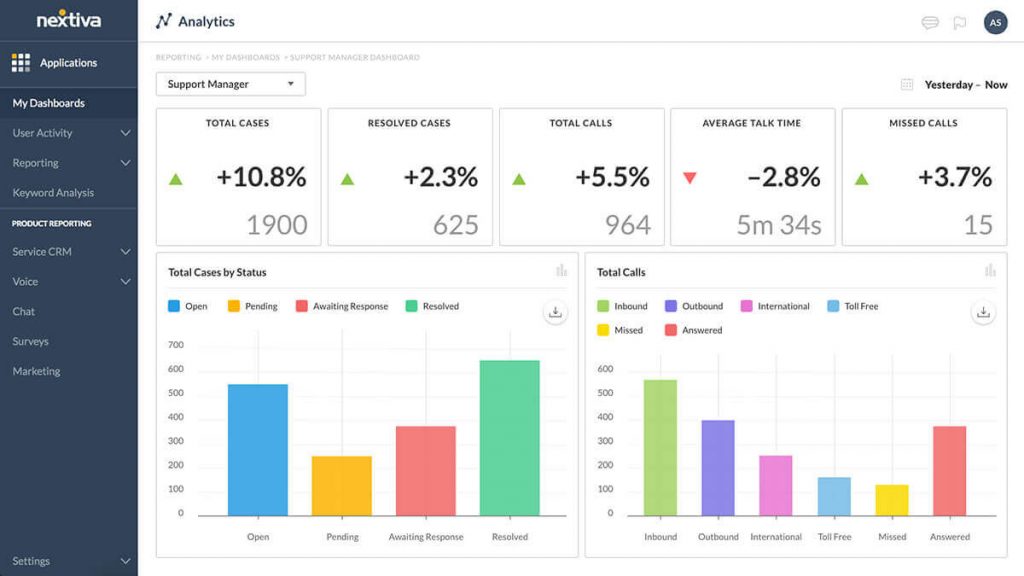 Measuring call volumes and associating those with business activity helps you scale your organization. Nextiva's business-grade internet phone service displays real-time call data and business analytics.
At a glance, supervisors can view reports and create custom dashboards for leadership and staff to perform at their best.

4) Call forwarding
The call forwarding feature allows you to transfer calls to any phone number or device. Depending on your provider, you might also route calls to your voicemail, desk phone, or cell phone.
Call forwarding helps you stay operational, including when you're out of the office. You can eliminate missed calls and missed business opportunities.
5) Call routing
Call routing is a VoIP feature that directs inbound calls to any person based on any criteria you define. This logic includes the time, caller ID, and auto attendant selections.
You can route your calls to your team using any of these policies:
Round-robin: calls are distributed in equal fashion across the team
Regular: calls are answered in chronological order
Uniform: calls go to the agent who's been available the longest
Simultaneous: all the phones ring, and the agent that answers it first takes the call
Weighted: You set a ratio of calls to be routed to each agent
6) Business voicemail
If you don't pick up your call on time, allow your callers to leave a voicemail. This means you won't lose a potential lead or a chance to delight a customer. Otherwise, they may turn to your competitor.
Business voicemail can also send voicemail transcripts to your email or text message. Keep on top of your voicemails so you can follow up in a timely way.
7) Screen pop
Screen pop shows real-time info about callers the moment your phone rings. Nextiva's Call Pop surfaces data such as customer sentiment and past interactions. This integrates with your CRM takes your customer experience to the next level.

8) Toll-free numbers
Toll-free business numbers help you gain a national presence. Toll-free numbers feature an 800/888/866 area code that doesn't charge landline callers.
Establish trust with your audience and track incoming calls across marketing campaigns. You can also get a toll-free number like 1-800-CONTACTS and build an even stronger brand.
9) Audio conferencing
Use a conference call to host meetings using your phone or an internet connection. Conference calls are a staple for any modern phone system, but it's usually an add-on for landline setups.
Conference calling brings participants together without an expensive PBX or a third-party service. You can enjoy productive meetings with colleagues, partners, or customers. A cloud-based VoIP solution means participants experience HD call quality, too.
10) Call recording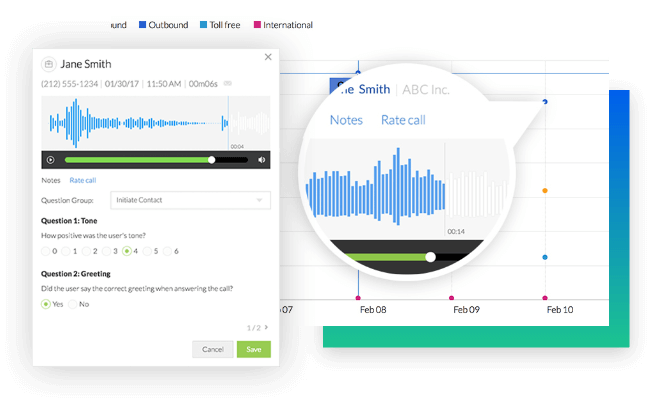 Recording phone calls increases accountability and training opportunities with your team. It unearths powerful insights about your prospects and your customer experience.
Adapted from high-volume call centers, VoIP call recording doesn't need any cassettes or equipment. Customize this feature to record all calls, select users, or on-demand.

Benefits of a multi-line phone system
Do you still need convincing on the advantages of a multi-line phone system? Here are some perks to consider.
Lower costs
Going down the cloud phone system route is the best way to provide multiple phone lines to your team.
A landline phone system based on the Plain Old Telephone System (POTS) costs $50 per line on average. That calling plan usually is for local calls only. It also lacks any of the business phone features that companies use today.
It's no secret businesses have moved on from the likes of AT&T, Verizon, CenturyLink, and Frontier for the cloud. They're saving up to 65% off their communications costs.
VoIP-powered phone systems cost less than $20 per line each month. You also won't pay for installation, a PBX server, or toll charges, thanks to unlimited calling.
Reliability
Your phone system needs to be reliable and secure. On-premises phone systems leave you vulnerable to power or network outages.
VoIP phone systems rely on multiple data centers for redundancy. Your business works uninterrupted, no matter what happens to the phone infrastructure.
On top of that, top service providers adhere to standards, including PCI, SOC 2, and HIPAA. Focus on your customers instead of worrying about security audits. Hooray!
Flexibility
Suppose you're hiring remotely, opening new offices, or switching to a hybrid workforce. In that case, you need a phone system that allows employees to work from anywhere.
A traditional multi-line phone system limits them to the office. It makes communication challenging when they're working remotely.
A cloud-based phone system gives you the flexibility to equip your team with the tools they need. They can get work done from the convenience of their cell phone and an internet connection.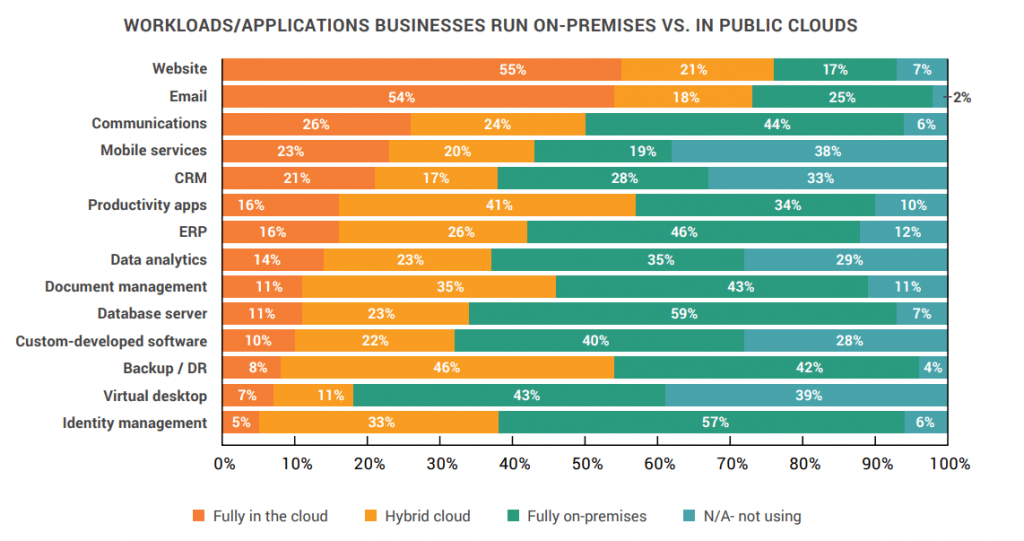 Scalability
If your company is growing and you don't want technology to get in the way, a cloud VoIP system is your best bet. It lets you add phone lines with ease. Even adding more locations to the same phone system can be done without any technical skill.
When you have a spike in demand or increase headcount, your phone service won't hold you back. Look to call queuing for another way to scale your customer service team.
Cloud phone providers like Nextiva boast an impressive 99.999% uptime and availability.
Convenience
A multi-line phone system simplifies life for you and your employees. They become more productive and can propel the company forward.
Thanks to features like auto attendants and toll-free numbers, you'll earn trust among your customers. If you need to set up an inbound call center, you can do that in less than a day.
Gone are the days of your phone company leaving you stranded. If you ever need a helping hand, contact us 24/7.
Experience the best business phone system

When choosing a business phone system, think about your needs today and a few years from now. What is the ideal way you want to interact with customers? Your communications platform can make or break your success.
An on-premises multi-line phone system can limit your potential. It holds you back by increasing costs and denying your team the advanced functionality they need.
Cloud-based phone systems are the gold standard for startups, midsize, and enterprises alike. U.S. News named Nextiva the best business phone service nationwide in 2020 and 2021.
Nextiva provides a complete multi-line phone system for less than half the cost of landlines. Get it all starting at $18.95/month and you won't look back.