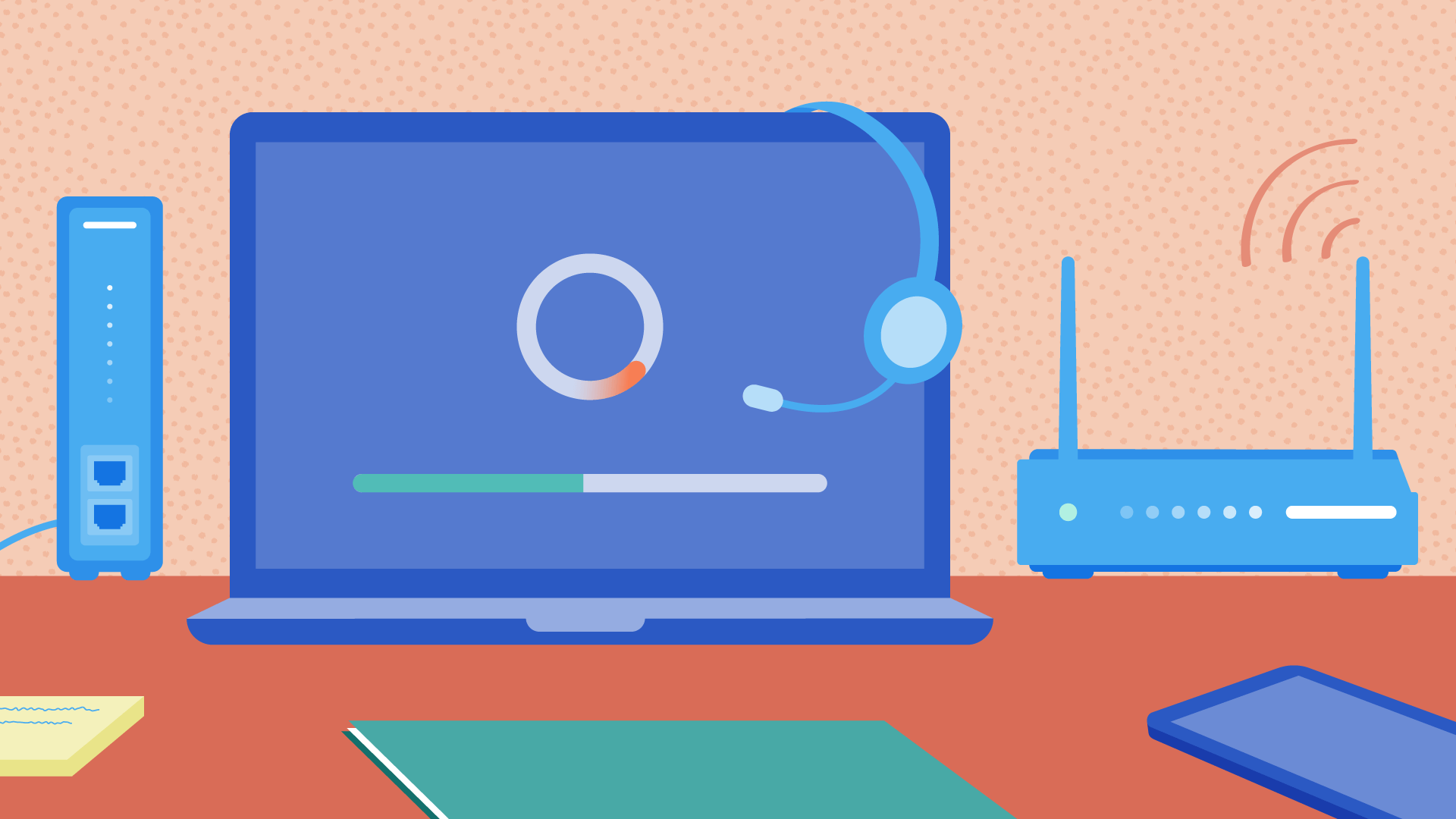 Forget about waiting for the phone company to set up your landline. In a matter of minutes, you can set up a virtual phone service for your business. The best part is all you need is an internet connection.
A business communications platform like Nextiva is reliable, offers a ton of features, and is easy to use.
In just four simple steps, you can set up your business phone system.
What is a virtual phone system?
A virtual phone system handles your incoming and outgoing business phone calls via an internet connection. This cloud-based system can be used on a desktop, laptop, or mobile device. Tom from Nextiva explains virtual phone systems in greater depth below:
Now, onto setting up your virtual phone system.
1) Choose a Business Phone Plan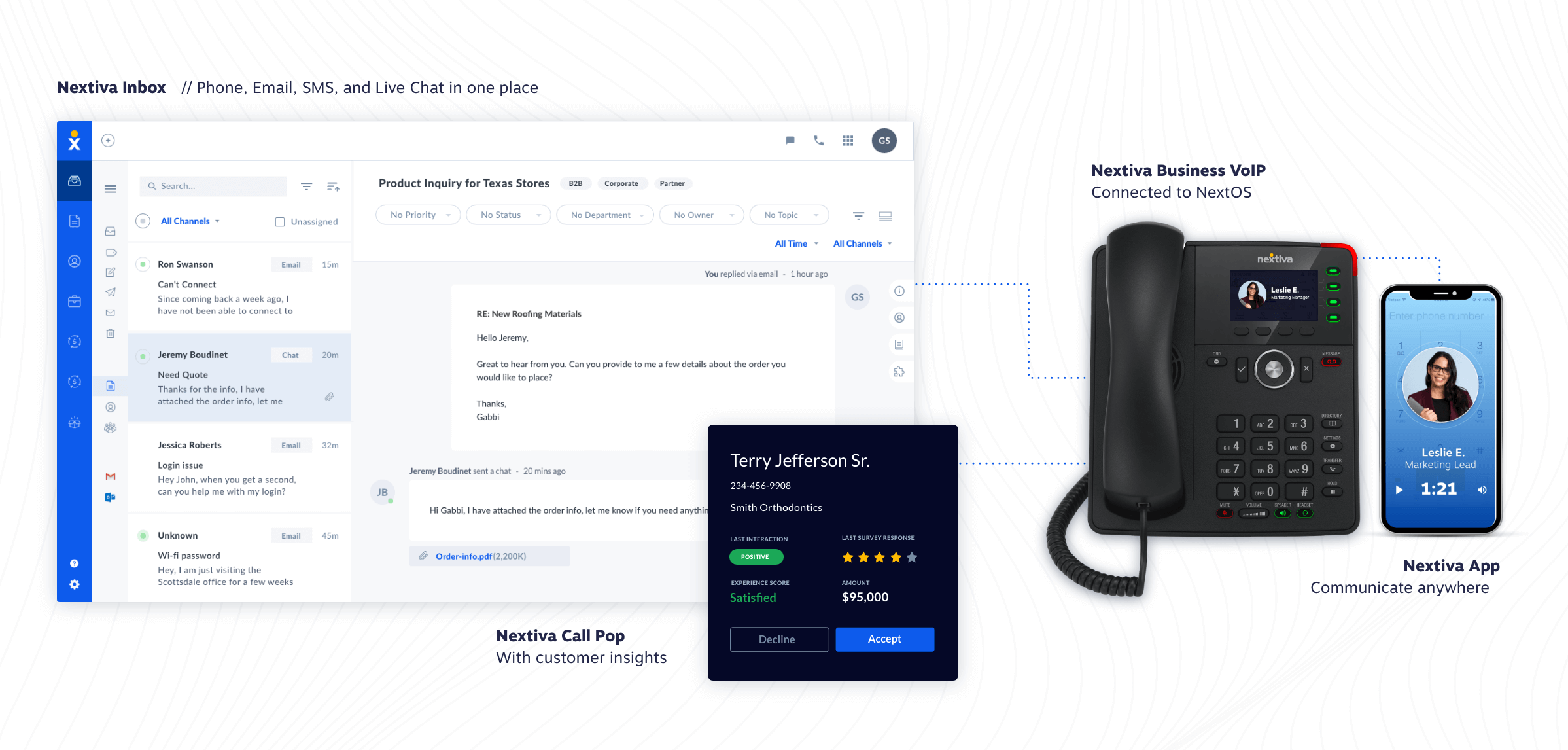 Most companies aren't one-size-fits-all. Your phone service needs to match your business needs. We've packed a ton of features into all of our business phone plans. Choose between essential, professional, enterprise, and ultimate plans for your business communication needs.
Keep in mind that with Nextiva, you get a toll-free number as well as a virtual phone number in any area code. Talk as much as you want with unlimited calls nationwide. You can port your existing phone numbers over later, too.
You can begin your free trial of Nextiva and set up your account in minutes. Pick out the plan that fits your business and we'll guide you through selecting the phone numbers for your virtual phone system.

Related: What Is Business Phone Number Porting?
2) Assign Phone Extensions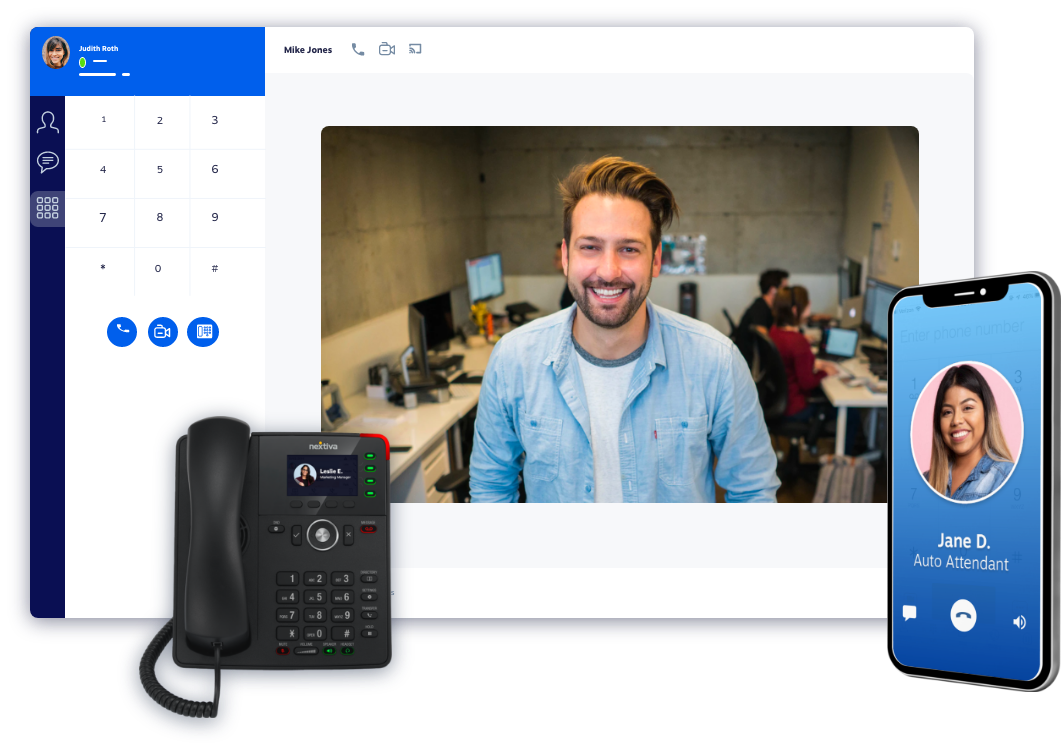 You're now ready to assign extensions to your team members. Sign in to the Nextiva Voice Portal. Under the Users menu, click Add a User. Provide the internal extension number for each user to receive inbound phone calls.
Phone extensions are how users can dial each other and you can route calls to them. These virtual numbers are meant to be used internally, so don't have to worry about these phone numbers.
Don't worry, you can always change your settings anytime you want like call forwarding, voicemail, and Caller ID.
Next, you'll set up how your phone system directs calls to these extensions. Your team can answer business calls on their computer, desk phone, cell phone, or any mobile device.

3) Record Your Phone Greeting
When someone calls your business number, they'll hear a greeting. This is known as an auto attendant.
Option 1: Manage your greeting from your browser.
Sign in to the Nextiva Voice Portal. Hover over Advanced Routing and select Auto Attendants. From there, you can manage your company's call routing in one spot.
After you create your first auto attendant, you can upload recorded custom greetings for your business.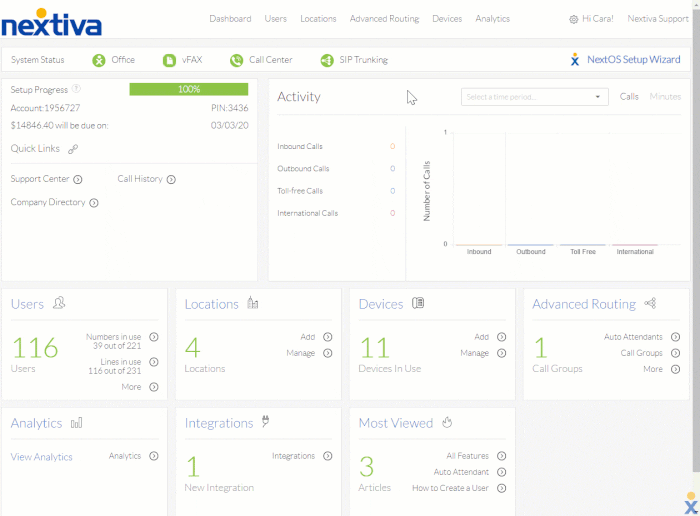 Option 2: Record a greeting with your phone.
Let's say your business needs to inform callers about changes to your hours or availability. You can update it from your business phone.
From your Nextiva office phone system, dial 9999. Then press the * at any time during the greeting.
Press 1 to change greetings. Then press 1 to adjust the business hours greeting. Press 1 again to record the greeting. Begin recording after the tone. Press the # key when you're finished.
Related: Auto Attendant Scripts with Real-World Examples
4) Begin Placing and Answering Calls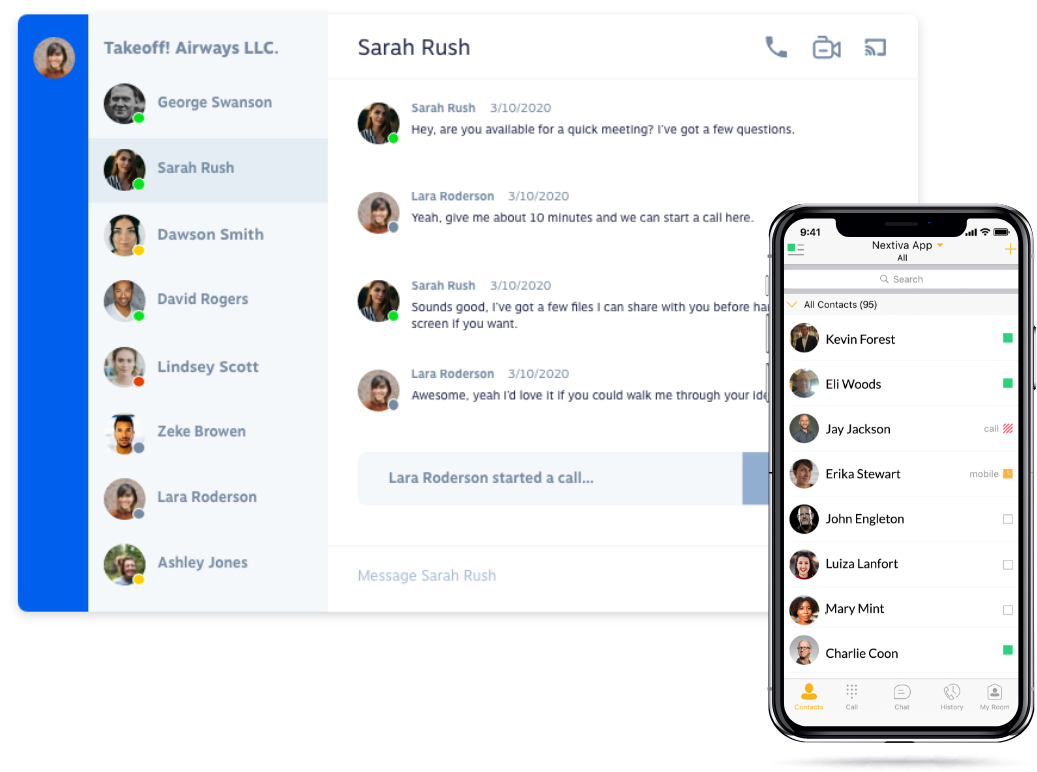 Now you can begin using your new phone system. Make as many calls as you need and receive incoming calls from your business line.
Enjoy the freedom to call anyone with your computer with the free business phone app. You can even complete calls using your iOS or Android smartphone using the mobile app.
If you need to step away, you can forward calls to any number you want, including your personal cell phone.

Reliable business phone service is just the beginning. From advanced video conferencing, call recording to text messaging, Nextiva has you covered with one powerful virtual phone service.
As your company grows, simply add local numbers, vanity numbers for all of your phone lines. Give your team members dependable VoIP desk phones or ask them to download the Nextiva App on their mobile phones.
If you're ever stuck or want a second opinion, you can always reach our live customer support. Our friendly support team can handle virtually any question about your business phone system. Small business owners appreciate the unmatched support from a VoIP service provider like Nextiva.
Once you learn how to set up a virtual phone system, you can't forget it. It's probably why Nextiva is rated the top-rated phone system on GetVoIP. Once you set it up, you'll get back to serving your customers.