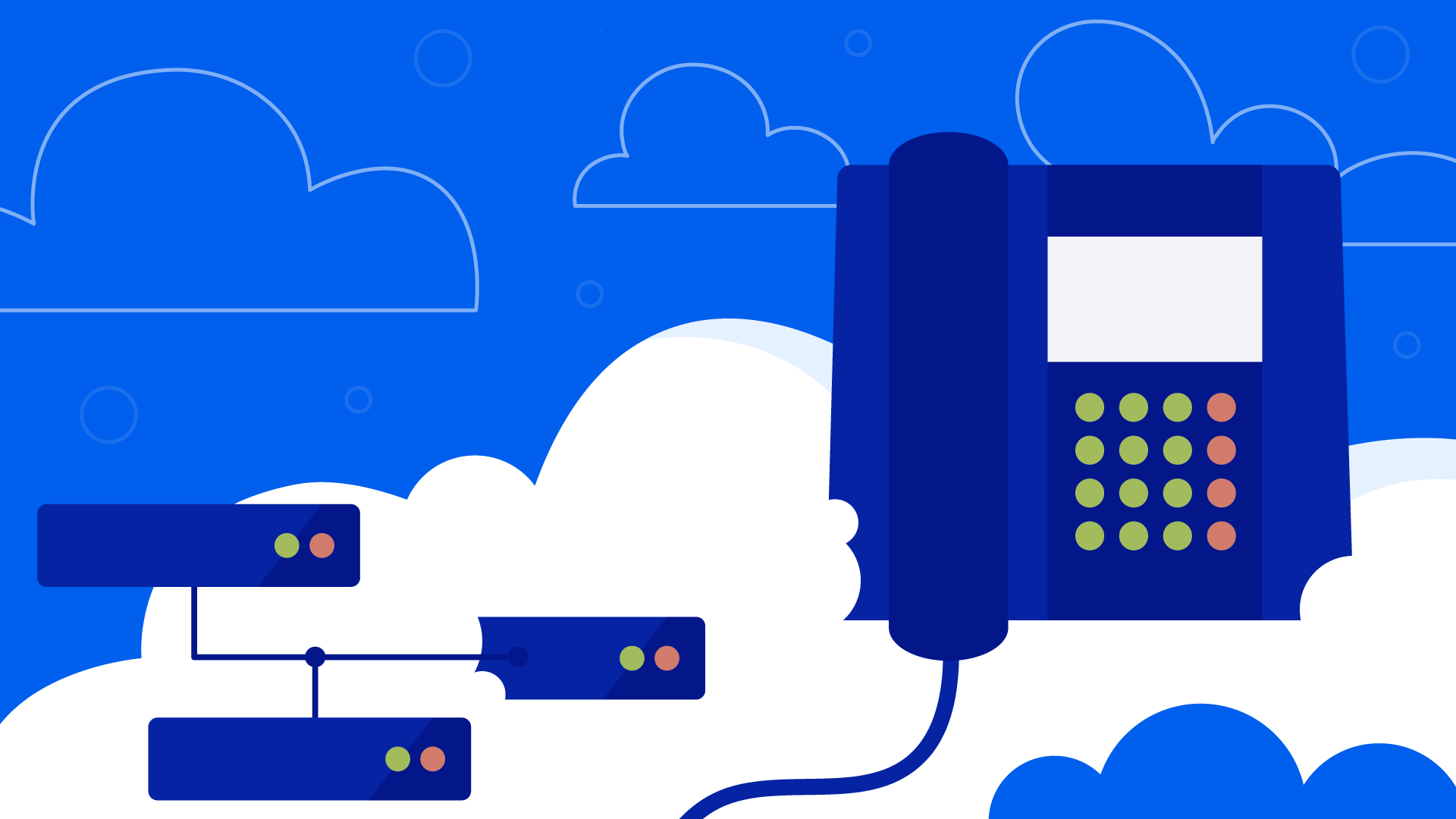 Are you planning on upgrading your business phone system? You'll surely come across hosted VoIP. So, what exactly is it, and how can your company benefit from a hosted VoIP provider?
Voice over Internet Protocol, known as VoIP, converts phone calls into a series of data packets and transmits calls to the telephone network. Unlike on-premises VoIP servers, hosted VoIP provides your company complete phone service from a trusted VoIP provider over the internet.
Instead of building and maintaining a series of servers, a hosted VoIP solution takes care of everything with their data centers. As a result, you need much less on-site hardware and you gain many more calling capabilities with zero maintenance.
Those are not the only benefits! This article guides you through how hosted VoIP works, its most important features, and what it can do for your business.
How Does Hosted Telephony Work?
With analog phone systems, one phone is connected to another via a PSTN (Public Switched Telephone Network). The phone uses electrical signals to generate audio in the speaker at the receiving end.
Hosted VoIP phone systems, on the other hand, transfer voice data over the internet.
It starts with an IP phone that turns your live voice communication into data packets. Unlike an on-site VoIP solution, the data packet first travels to one of many data centers. The VoIP service provider handles data conversion and transfer if the recipient's phone is on the telephone network.
If you already have a PBX in place, you can still take advantage of VoIP features with SIP Trunking.
How Does Hosted PBX Work?
A PBX, or private branch exchange, is a business phone system. PBX solutions have features like call queuing, extension numbers, voicemail, and more.
These features are powered by a complex hardware solution that IT professionals will have to manage.
Unlike a traditional PBX, a hosted PBX service is entirely different—in a good way.
You get all the same features, but a company manages the hardware solution for you. Your phones do not connect directly to an internal server. They connect through VoIP servers securely hosted the cloud. So on top of typical PBX functionality, you can also integrate top-notch phone service between offices.
A virtual PBX service gives you all the benefits of a PBX without any of the hassles. If you already have one in place, you can read more about hosted PBX vs. SIP Trunking.
Hosted VoIP Architecture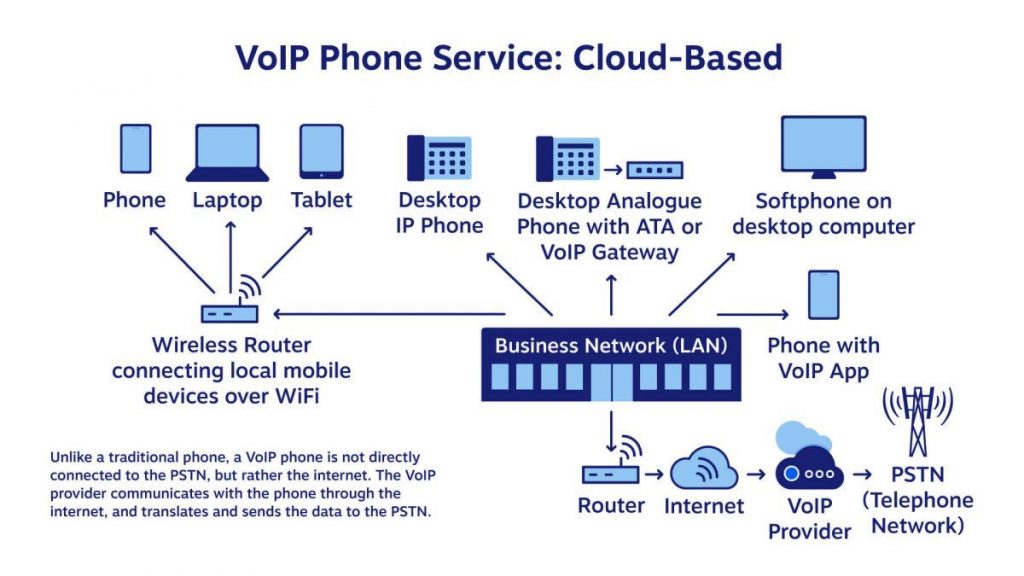 The foundation of VoIP is a reliable, fast, wired internet connection. As a rule of thumb, your wireless router isn't ideal for your phone system.
You need a modern business router to connect each phone to your LAN. We recommend a minimum of 100 kbps of bandwidth per line from your ISP. Be sure to read our in-depth guide to understanding how much data VoIP uses.
Next, you need a VoIP conference or a standard VoIP phone.

For a more modern solution, you can also use VoIP headsets and handsets. If you want to keep your existing desk phones, use a VoIP adapter.
If you're interested in moving away from an analog or PBX phone system, read about how to switch to VoIP.
Hosted VoIP Features
Hosted VoIP offers all the essential call center features. From call queues to auto attendants, it provides everything your team needs:
Conference calls
Mobile app
CRM integration
Advanced call analytics
Toll-free phone numbers
Local phone numbers
Find me, follow me
Voicemail-to-email
Unlimited scalability
These are just a few of the calling features Nextiva offers in its VoIP plans. You can read our full list of VoIP features here.
Is Hosted VoIP Right For Your Business?
Not convinced that hosted VoIP is the right choice for your business?
There are already 64 million VoIP lines in the U.S. The number of lines increased by 20% from 2014 to 2017. Almost half of these lines are for small businesses.
If you're looking for a long-term solution, hosted VoIP is a wise choice.
Hosted VoIP offers features of an enterprise business phone system at an affordable rate.
VoIP costs much less than traditional landlines. The added flexibility can be a competitive advantage to onboard new employees (including remote staff).
Nextiva's hosted VoIP platform is secure, HIPAA-compliant, and has a resilient 99.999% uptime.
Benefits of Hosted VoIP
1) Significant Cost Savings
Businesses save $1,727 per month on average by using VoIP softphones. If you are currently using a landline business phone solution, you can save big by making the switch. Hosted VoIP gives you all the features of a business phone plan for less.
Nextiva's basic plan starts at $20 per line per month and includes unlimited nationwide calling, free online faxing, call routing, and more.
You can also save on other business apps as Nextiva provides a full suite of tools including, sales and service CRM, surveys, analytics, website chat, and more.
2) International Calls Start at $0.01
Do you have offices, users, and customers in other countries? Nextiva's international calling rates start at $0.01. (No joke!)
If your staff makes a lot of international calls, you can save a lot on your business phone bill.
Compared to traditional phone lines, Hosted VoIP calls are often of higher quality than traditional calls. While analog calls travel across local phone lines, VoIP phone calls go most of the distance through the internet. This results in higher quality phone calls with more bandwidth.
Domestic long-distance calls are free and included in your monthly plan.
3) Unified Communications
Unified Communications is a concept where you integrate all communication channels into a single dashboard. It can be game-changing for customer service, marketing, and sales.
Your staff typically splits their workday between inboxes. They have to check email, social media, voicemails, online portals, helpdesks, and more. All separately.
Imagine how much more productive they could be if everything were in one feed. That's the reality with a unified approach. Because it is so useful for businesses, the market is in rapid growth. The UC market is forecasted to reach $167 billion by 2025.
4) Third-Party Integrations
Chances are, your business already uses software to get things done. Most companies have CRM, email marketing tools, analytics software, and more.
You can easily integrate calls with existing business tools with hosted VoIP systems. It's much more difficult with traditional phone systems. You would need extra hardware and specialized software to bridge the gap.
Since voice over IP is digital, integration is much simpler. For example, you can automatically sync call data with your existing CRM software. Go Integrator can sync Nextiva calls with Salesforce, Infusionsoft by Keap, and dozens of other CRM applications.
5) Advanced Contact Center Tools
The internet has ushered in a new era of customer service.
Customers expect companies to operate around the clock. Sending customers to a voicemail no longer cuts it. This is why businesses, even small businesses, use contact centers where agents respond to questions via email, phone, or text.
Previously, businesses had to establish an office, run dozens of telephone lines, hire an IT person to stay on top of it. Now, a hosted VoIP platform can provide end-to-end functionality without any massive costs. You can ramp up agents in record time with nothing more than a VoIP softphone.
For a more in-depth explanation, check out Nextiva's VoIP call center solutions.
6) One VoIP Phone Number, More Mobility
A cloud VoIP phone system makes it easier to maintain VIP customer relationships. With the "find me follow me" feature, incoming calls will reach the right person, no matter where they are.
First, it automatically rings the office desk phone. If unanswered, it tries the business cell phone. Finally, it might ring the home number.
All your customers have to remember is your office phone number.
You can also use a business phone service app to make calls on the go. It works on any device and integrates with the same analytics and CRM as VoIP. The best part is that you make the calls with your office phone number.
Who Is The Best Hosted VoIP Provider for Business?
Nextiva is one of the top hosted VoIP providers for businesses. But don't take our word for it!
In a recent Voice of the Customer report by Gartner, Nextiva received a rating of 4.6 out of a possible 5.0. That's not all.
More than nine out of ten businesses recommend Nextiva on GetVoIP, and that's from over 1,300 reviews. Astounding.
A 99.999% uptime is enterprise-level system availability. We also offer HIPAA-compliant Hosted VoIP solutions, so you can focus on patients, not IP phones.
Nextiva conducts regular security testing and invests millions to scale its network. They pair that with award-winning service, so businesses can focus on what matters: customers.
Upgrade your phone system to Nextiva
and see why it's the #1 Hosted VoIP provider.