Nextiva has earned over 8,400 reviews with its focus on delivering Amazing Service and an objectively impressive business communications platform.
What is Nextiva best for? What do other SMBs and enterprises think of it?
This guide will showcase highlights from thousands of Nextiva reviews, its most-loved features, and facts about Nextiva to consider.
Highlights at a glance:
Nextiva is a top-rated business communications provider that specializes in VoIP phone service, team collaboration, and customer experience tools.
Customer reviews cite customer support, uptime, text messaging, and overall product features as reasons to choose Nextiva.
The Nextiva platform provides CRM, helpdesk, social media monitoring, and conferencing functionality.
Nextiva is among the highest-rated VoIP providers with attractive pricing and 24/7 support.
Nextiva Reviews & Ratings
Across the board, Nextiva upholds a high level of customer service for thousands of companies with its unified communications solution.
| Review Site | Rating | Number of Reviews |
| --- | --- | --- |
| GetVoIP | 4.6 out of 5 | 2,994 |
| G2 | 4.5 out of 5 | 2,144 |
| Trustpilot | 4.4 out of 5 | 1,900 |
| Google Reviews | 4.3 out of 5 | 744 |
| Gartner | 4.5 out of 5 | 621 |
| Total | 4.46 out of 5 | 8,403 reviews |
GetVoIP Nextiva Reviews
GetVoIP is among the most reputable review sites for everything related to VoIP, conferencing, contact centers, and team collaboration software. It's a reliable resource to get a balanced view of how people think about business communication.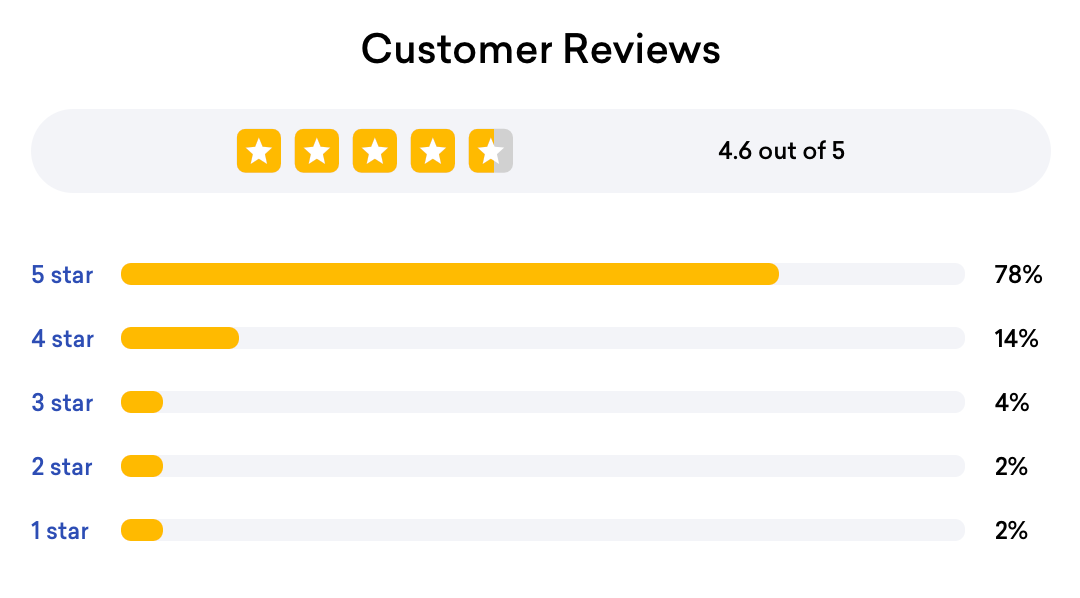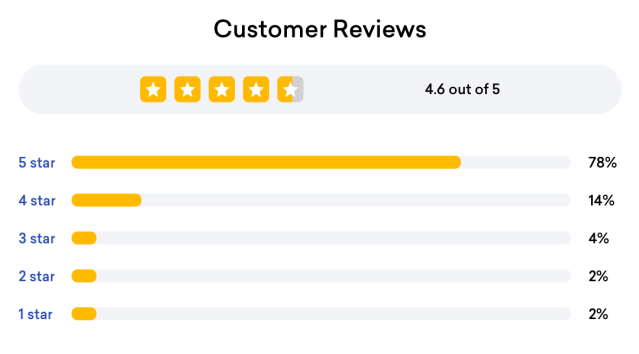 Small business reviews
Todd G. says:
The system is great. Fast updating of people and changes. Support is fast to get online and quick to make changes.

Every time I call for support, they clearly understand my changes, make the changes with a check to verify that all is good. They even have ideas on the changes and can make suggestions that are right in line with my needs.

Pros: Available 24/7 and always has a smile to help.
Cons: None
May 18, 2023
Jay H. says:
I recently helped my company switch over to Nextiva from a different service provider. Nextiva's resources and staff were helpful, patient, and clear and made the transition nearly seamless.

Since then, the support has been stellar, and the quality of our calls is significantly improved. The team has done a great job of helping specifically tailor the service to our needs as a company.

Pros: Helpful support, quality service, good resources for transitioning from a different provider.
Cons: None.
May 18, 2023
Russell M. says:
Switched [to Nextiva] for its technical support. I have not been disappointed. I don't have much spare time, and it is a great relief to have good tech support available when I need them so that I don't have to spend hours trying to solve the problem alone. If you are looking for a responsive company with a great product and great people, look no further than Nextiva.

May 1, 2023
Katy B. says:
We switched over to Nextiva in 2020 during the pandemic, and it's been a successful switchover for the firm.

We were able to work from home and still receive and make calls from our desktop app or mobile devices without clients noticing the difference we were in the office or home. We even switched over our fax service as well to Nextiva so we could fax from a desktop.

Pros: Mobile App and Desktop Options.
Cons: Park Calls.
April 24, 2023
Randell T. says:
I have been with Nextiva with my business for almost 10 years. They have always been responsive to my needs for support. They are affordable. They can easily scale up or down depending on your business needs.

Since I first joined them as a customer, their product offerings have increased significantly!

Pros: Great support (live and asynchronous), affordable, scalable.
Cons: None.
April 24, 2023
Mid-market and enterprise reviews
Krista K. says:
I have personally used the Nextiva VoIP phone system for the last 5 years and have implemented the Nextiva system for several clients, as well. Our client base is varied across healthcare, government, and other private commercial industries. Each installation has been a bit different, but the Nextiva system is adaptable to the needs of the clients.

The installation project is streamlined, and you truly have a "partner" in the implementation process, as well as after the installation, when needed.

As an admin on the Nextiva system, one can make many of the changes that may be needed to add/delete a user, change call flows or groups, etc; however, if I'd rather have some assistance or just work with support, they are able to assist. Nextiva offers multiple options for support when it is needed – chat, email, online portal access with quick videos, and via phone. They have a support team that is knowledgeable but have an escalation path for more advanced features when needed.

I personally use the Nextiva mobile and desktop app, as do many in my company, as well as our clients.

In short, I'm a fan of the Nextiva system for small to large businesses.

Pros: Value
Cons: App
May 1, 2023
Mark A. says:
We use Nextiva in our organization of 115 staff. It is user-friendly, and the administration portal for setting adjustments is intuitive. The app for the cell phone is very problematic. That is my only complaint. Often at the beginning of the call, there is an echo & the calls drop frequently. I hope Nextiva can fix this at some point in the near future.

Pros: Value
Cons: App
May 16, 2023
Kenyatta C. says:
I enjoy working with the Enterprise team for any setup, configurations, or working to resolve an issue. They are knowledgeable and helpful.

It is a pleasure to receive great customer support and to be shared information for self-service options in the future if needed. This makes myself and my team equipped to manage our services and customers as well.

April 18, 2023
Tiffany K. says:
While a little pricey, our agency appreciates the value we receive from Nextiva. The call recording features and good customer service we get from the 1-800 number make the price worth it. Any time we have had any questions regarding using our phones, Nextiva has gone above and beyond, no matter how small our request was. Thank you, Nextiva!

Pros: Good customer service.
Cons: None.
March 27, 2023
---
---
G2 Nextiva Reviews
G2 is a renowned product review platform where businesses discover, review, and manage the technology they need to reach their potential. The review process on G2 is rigorous and transparent, ensuring that every review is from a genuine user without any bias.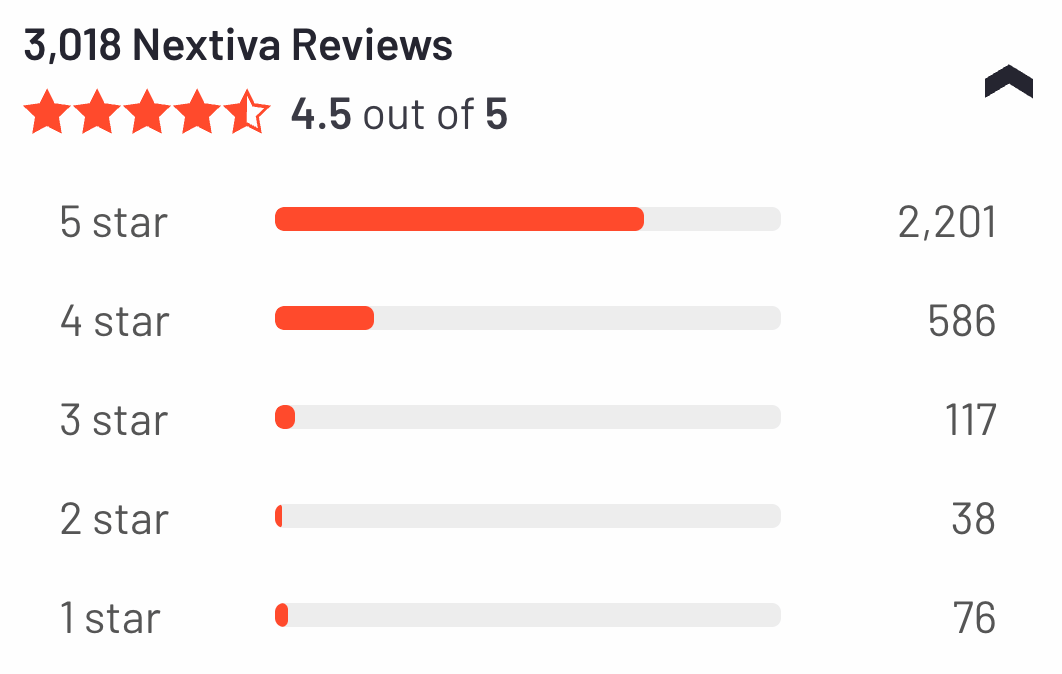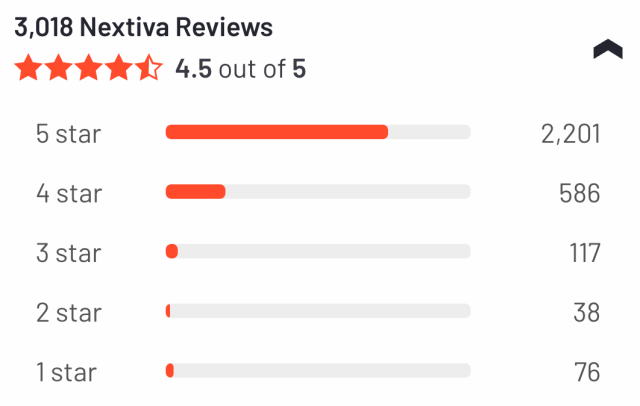 Small business reviews
Heather I. says:
What do you like best about Nextiva?
It was exactly what I was looking for; an immediate solution without the headache. I called from a referral, and by the time I got off the phone, I had established a phone system for my agency ready for immediate use.

What problems is Nextiva solving and how is that benefiting you?
I started with a Google Voice number and now I've established direct numbers for all my team and a way for them to work from anywhere.

Rating: 5 out of 5
June 21, 2023
Management Consultant (Anonymous) says:
What do you like best about Nextiva?
The platform is super user-friendly. Voicemail allows you to record through their software, or you can upload your own recording. The call flows are great for small businesses trying to manage their incoming calls. Callers can be directed to recorded lines for basic information, freeing up time for office staff to do things other than just answering the phone all day.

What problems is Nextiva solving and how is that benefiting you?
We have a remote employee working out of the country, and this allows her to call and text our customers with a local number and allows her to reach us directly via text message without incurring international fees.

Rating: 5 out of 5
June 21, 2023
Kaylyn M. says:
What do you like best about Nextiva?
The onboarding agent was extremely helpful and patient, as I didn't have all the information needed. They explained everything and answered all questions with clear answers!

What problems is Nextiva solving and how is that benefiting you?
Nextiva is being utilized to start our call center infrastructure. It allows us to have one area where we can see and monitor our calls, view reporting, and ensure our agents are providing excellent service.

Rating: 5 out of 5
June 15, 2023
Mid-market and enterprise reviews
Raimer E. says:
What do you like best about Nextiva?
In general, I am delighted with Nextiva's performance. It integrates many advantages for our business, including adapting capacity and communication services as needs arise quickly. It also provides the flexibility to add or remove users, adapt functions and expand the infrastructure without costly hardware investments or complex configuration modifications. One of the outstanding features of this software is its use of encryption technologies, data redundancy and secure servers to safeguard confidential information and ensure uninterrupted service operation.

What problems is Nextiva solving and how is that benefiting you?
Nextiva has revolutionized my business, changing the rules of the game. One of its main advantages is its intuitive user interface, which simplifies the management of all my communication channels, such as calls, videoconferences and messaging, from a single platform; Nextiva also offers me the possibility of adapting my communication preferences according to the specific needs of my company, giving me the required flexibility. In addition, it is vital to mention its excellent integration with other business tools, such as Salesforce, which significantly impacts our workflow's efficiency.

Rating: 4.5 out of 5
June 23, 2023
Bella H. says:
What do you like best about Nextiva?
We love how easy is to get the invoices for our 80 offices, and we love the app.

What problems is Nextiva solving and how is that benefiting you?
We used to pay for so many different services, but now we can have only one service provider.

Rating: 5 out of 5
June 13, 2023
Anthony S. says:
What do you like best about Nextiva?
The software is easy to use, provisioning new phones is simple, and the interface is easy to navigate.

What problems is Nextiva solving and how is that benefiting you?
Nextiva offers us a complete VoIP, texting, and call center solution without needing multiple companies and sets of software.

Rating: 4.5 out of 5
June 22, 2023
Joshua S. says:
What do you like best about Nextiva?
Any time you need help, they have several channels to assist. There is always a resource or person to help with anything you need. I have not been disappointed.

What problems is Nextiva solving and how is that benefiting you?
Nextiva allows us to centralize all of our remote office telephone systems. This makes it much easier to monitor and manage multiple sites. The phone service itself is also very reliable. Nextiva assists you every step of the way.

Rating: 4.5 out of 5
October 14, 2022
---
---
Gartner Peer Insights Reviews About Nextiva
When it comes to a review site that caters to the enterprise, look no further than Gartner Peer Insights. This platform is an accumulation of customer reviews and ratings from verified professionals.
Gartner Peer Insights is recognized for its stringent review process, ensuring that all reviews are authentic and unbiased. With that said, let's dive into what the Gartner Peer Insights reviews have to say about Nextiva.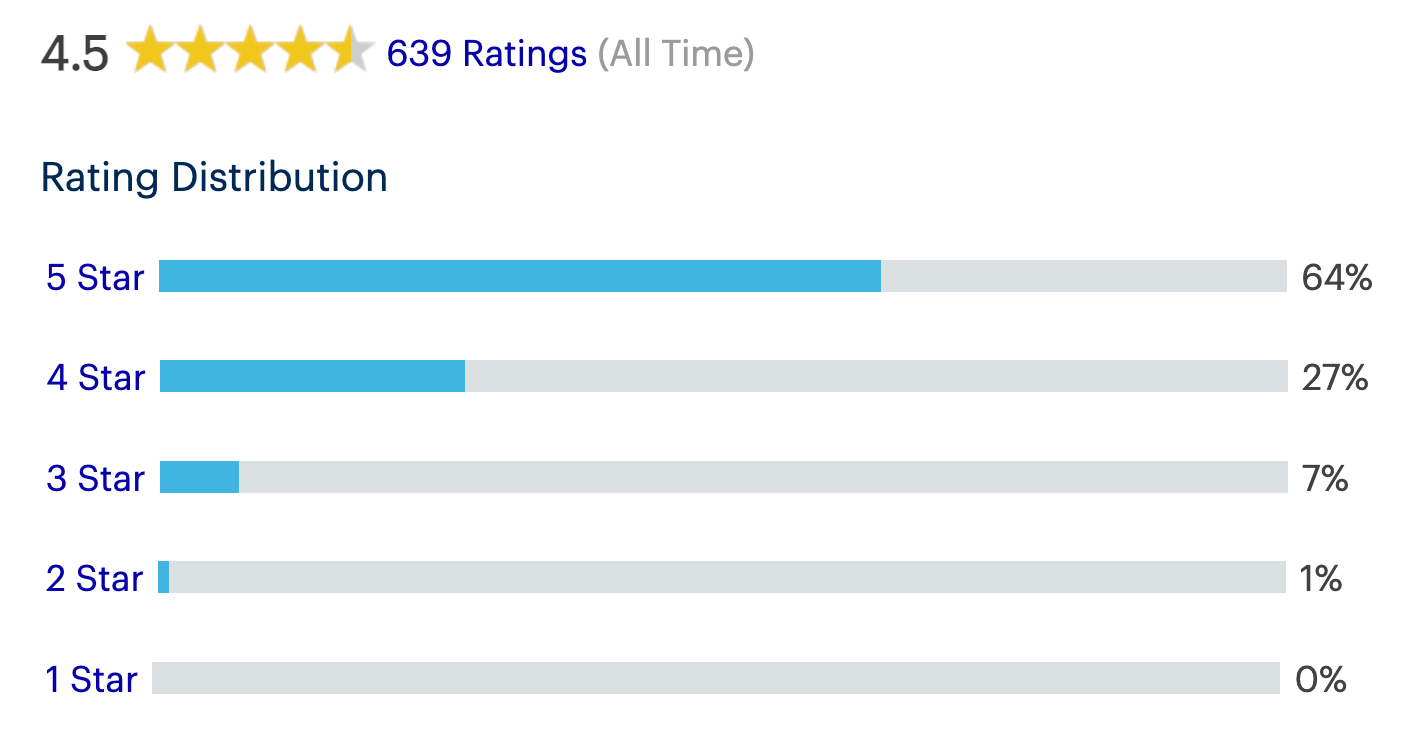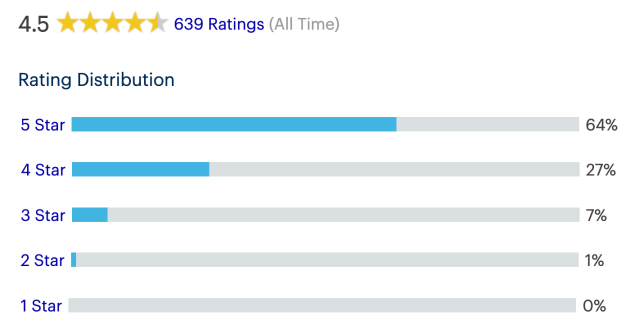 Small business reviews
Director of IT in Manufacturing says:
Nextiva has been great. I somewhat adopted the system when I took over as Director, but I have been pleasantly surprised by it. Our account manager has been awesome and great to work with. He responds quickly and with at least some sort of solution every time.

What do you like most about the product or service?

The ease of use when creating a new user [and] provisioning new devices The overall administration capabilities.

Rating: 5.0 out of 5
May 5, 2023
Customer Service Manager in Real Estate says:
Personally, I'm sure this tool helps me with client interaction daily since I work directly with appointments coordination between several parties. This is a really effective communication tool indeed.

What do you like most about the product or service?

Easy installation – Really fast and reliable installation process. Great connectivity – A very stable connectivity worldwide. User friendly – Information is very clear and useful for users.

Rating: 5.0 out of 5
May 3, 2023
Director of Technology in Manufacturing says:
Overall Nextiva has been the best VoIP solution I have used. Their customer service is unmatched in the industry

What do you like most about the product or service?

Customer service, integration support, ease of management.

Rating: 5.0 out of 5
November 17, 2022
Mid-market and enterprise reviews
Audit Associate in Healthcare says:
Nextiva has been great. I somewhat adopted the system when I took over as Director, but I have been pleasantly surprised by it. Our account manager has been awesome and great to work with. He responds quickly and with at least some sort of solution every time.

What do you like most about the product or service?

The ease of using my laptop to answer, transfer, and make calls, all staff are listed in the laptop application so no need for company [phone extensions].

Rating: 5.0 out of 5
March 29, 2023
Office Manager in Business Services says:
Customer service with Nextiva is wonderful! I have no trouble getting assistance when needed, but the portal is very user friendly. I can always find an answer or someone willing to work with me to solve the problem, which doesn't occur very often! Most recently, I had a billing question and this was investigated and answered promptly.

What do you like most about the product or service?

Easy admin portal navigation, wonderful customer service and quality of calls. The support team chat is one of the easiest to use, with a quick moving queue.

Rating: 5.0 out of 5
October 31, 2022
---
---
Reviews Around the Web
U.S. News & World Report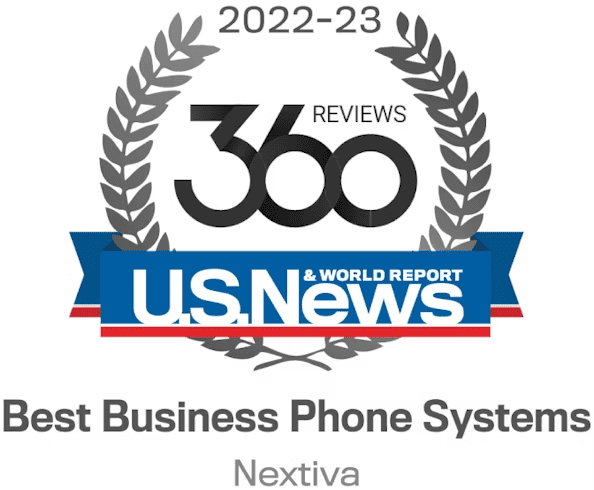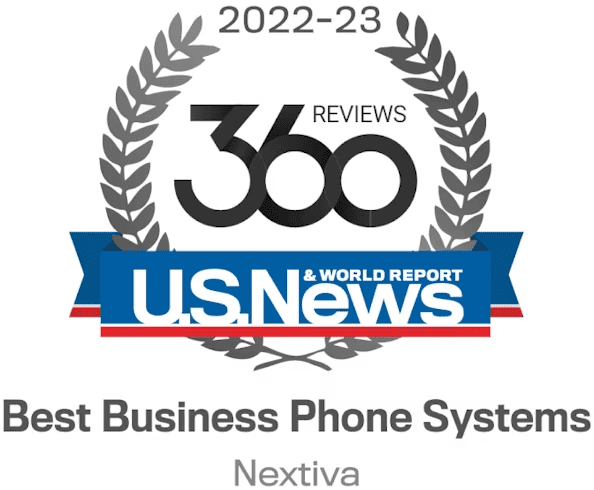 U.S. News is a leading digital news and information publisher. Their assessment not only placed Nextiva as one of the top VoIP providers but named them the best business phone system in 2020, 2021, and 2022.
Customers can get unlimited calling throughout the U.S. and Canada, a local or toll-free number, at least 1,500 toll-free minutes, internet faxing, and voicemail to email notifications with all plans. Nextiva also provides various conferencing options and the ability to schedule meetings through integrations with Google and Outlook. […]

Nextiva provides business customers with three highly customizable service plans: Essential, Professional, and Enterprise. Unlike some VoIP services, Nextiva provides upfront pricing for its plans. Moreover, once you have 100 users, the cost maxes out at $39.95 per month per user. In addition to scalability, Nextiva's pricing is transparent and easy to calculate.
In 2023, U.S. News named Nextiva the second-best business phone system.
WP Beginner


Small business owners and entrepreneurs have likely visited WP Beginner before. WP Beginner is more than a blog — it's a hub of tutorials, guides, and product reviews for small businesses using WordPress.
After the company considered several VoIP phone services, it decided to use Nextiva.
Over the last two years of using Nextiva as our unified communication platform, we have come to really appreciate some of their other advanced features like video meetings for conference calls, audio conferencing, and voicemail transcription.

What our team really likes about Nextiva is their high call quality, pretty much 100% uptime, and the fact that we can receive phone calls on the go from our iPhone (iOS), Google Android phones, as well as our tablets & laptops.
Business.com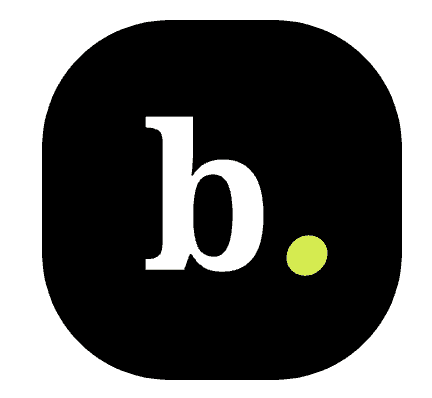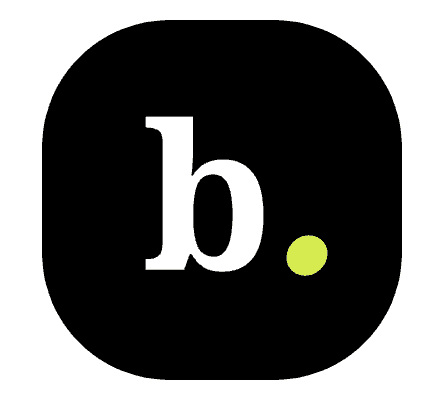 Starting and running a successful business isn't easy. That's exactly what Business.com aims to solve. Their extensive guides and comprehensive reviews help entrepreneurs learn and get helpful business product recommendations.
Nextiva stood out from other business phone services with its new, unified interface that keeps all your customer and employee communications in sync.

Companies can ditch the spreadsheets and use Nextiva trend analysis to increase visibility into past, present and future activities. Indeed, Nextiva's business intelligence features make it the best small business phone system for analytics and reporting. And with NextivaONE's desktop apps, users can see a customer's history, from emails to text messages, without switching applications.
It's no surprise why Business.com rated Nextiva a solid 9 out of 10 for its user-friendliness, reliability, and overall features.
Facts about Nextiva
Headquarters: Scottsdale, Arizona
People: 1,200
Conversations: 1.7 billion
Number of users: 914,000
Number of businesses: 140,000
Data centers: 8
Reliability: 99.999%
Certifications: SOC 2, PCI, and ISO/IEC 27001
Customer Rating: 4.44 out of 5
Funding: $250M, Goldman Sachs
Most-Loved Nextiva Features
Nextiva is renowned for its business VoIP phone system, which is packed with features designed to enhance communication and productivity.
Let's dive into the top 10 VoIP features users rave about in their reviews:
Auto attendant: This business phone feature allows companies to benefit from automation for incoming calls, providing a professional first impression.
Advanced call routing: Nextiva's intelligent call routing ensures no call goes unanswered, optimizing customer service. Direct inbound calls to your support or sales team based on your set criteria.
Mobile app: The NextivaONE app lets users stay in touch with customers and team members anywhere, making business communication seamless and efficient.
Business SMS: Nextiva provides built-in business text messaging (SMS) support that works across all cellular carriers. It lets users send texts from their business phone lines.
Video conferencing: Nextiva offers high-quality voice and video conferencing, facilitating effective team collaboration. Easily join a conference call with a click with the Nextiva desktop or mobile app.
Voicemail to email: Get an accurate voicemail transcription and attachment directly to users' emails so they never miss details when they're busy. This way, users can streamline how they check their missed calls without wasting time.
Platform integrations: Integrate your preferred business collaboration tools with Nextiva, enhancing its functionality and usability for your whole team. Nextiva integrates with Salesforce, Oracle Sales Cloud, HubSpot, and Microsoft Outlook.
Call recording: Record phone calls in the cloud for quality control and training purposes. Record and store phone calls securely for up to six months.
Business phone numbers: Nextiva walks new users through picking business phone numbers and transferring (porting) their existing numbers at no charge. Its onboarding team ensures your lines are always operational.
Amazing Service: Whenever you need a second opinion or want some help setting up a phone feature, Nextiva includes 24/7 customer support with every plan.
In addition to these helpful features, Nextiva provides free online faxing, a complementary toll-free business number, and Microsoft Outlook integration, making it a smart choice for business owners.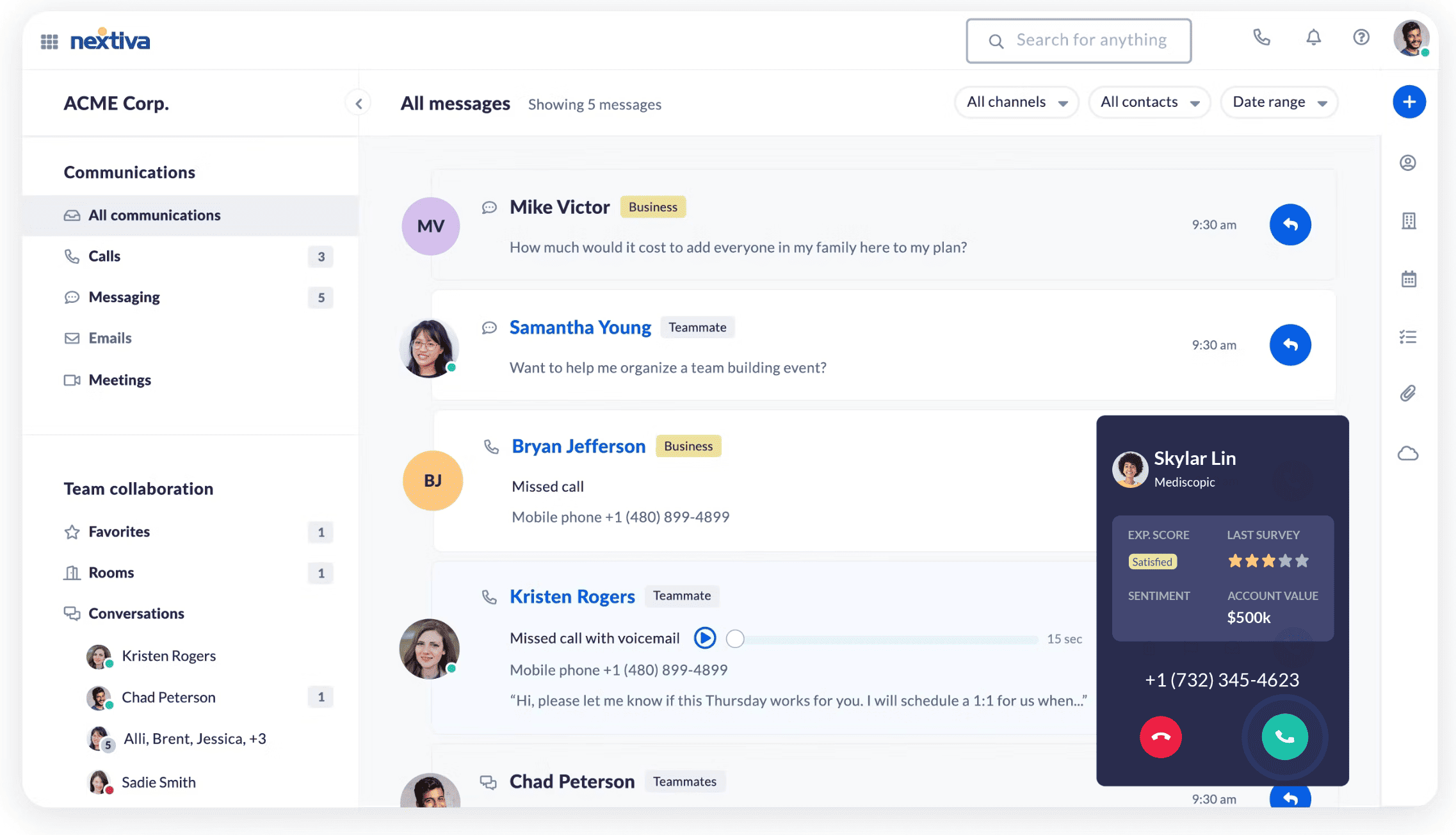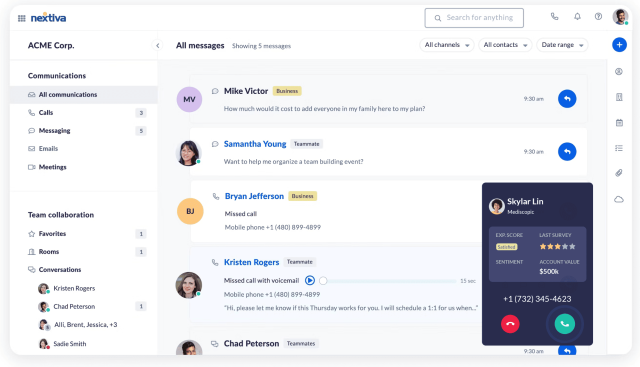 Why Nextiva Tops the VoIP Industry
We could rattle off a bunch of reasons why we're the best VoIP provider for businesses. Or, we could let our customers share the top four reasons why Nextiva earns its high praise.
1) One platform to power their business
When you have your company's communications in one place, you not only save time but also have the context you need to manage all of your customer and team conversations.
All Nextiva customers get unlimited nationwide calling. But on its Enterprise plan, they get unlimited conference calls, screen sharing, and call recording.
This way, small business owners get the insight to provide stellar customer experiences.
"Nextiva is reliable, and I never have issues with it. I like the accessibility the online portal gives us. It's easy to pull up past invoices to see what features we've added, such as voicemail to email. I can also tweak settings as needed in the portal and see a record of inbound and outbound calls."

Imahn Nadim
2) Ease of use keeps everyone happy
You don't have to be an IT wizard to use Nextiva, with a straightforward onboarding process. They don't have the time to learn how to set up a phone system from scratch.
"The NextOS portal is very intuitive and user friendly, and it is a snap to make changes. I can set up a new line for a new user in less than five minutes."

Chris Kontz
3) Outstanding customer support
No matter where you get your business phone service, you're going to have questions. Even IT staff get stuck sometimes. Nextiva support is there for your team whenever they need a second opinion or a refresher on using its phone features.
"Customer service is one of the big selling points, I'd tell anybody about Nextiva. We're a very customer service-driven business. That's number one on our list."

Michael Hall
4) Ultra-reliable communications network
Business communications must be reliable and dependable for your customers and your team. It's why Nextiva has invested millions into developing a multi-point, redundant network engineered for excellent call quality and uptime.
"We can't operate without a sturdy, high-functioning phone system. Nextiva has been tremendously reliable, and I definitely see us growing with Nextiva. I think Nextiva really gives us the flexibility we need to grow, and it's a very important part of our business."

Cara Barineau
The Bottom Line: Nextiva is the Best Choice for Business VoIP
Nextiva clearly stands out as the champion for business VoIP solutions. There are many reasons, but let's sum it up to a few key points:
Upholds superior network quality: Nextiva delivers crystal-clear call quality from its actively monitored enterprise-grade network, ensuring every phone call and video meeting is as good as it can be. Every data center meets stringent security standards set by ISO/IEC 27001.

Includes top business features: Nextiva offers a vast array of features, from voicemail-to-email functionality to a powerful IVR, as well as simpler features like call flow builder and auto attendants to keep your business communication online.

Provides more than phone service: Nextiva offers much more than reliable cloud phone service. It now has social media management and reputation monitoring as a part of its product suite. These features are a must-have for any company to build its brand and help its customers — and something you won't get from RingCentral or Ooma.
Among many others, these points have been echoed by the thousands of satisfied customers in their reviews, reinforcing Nextiva's position as the best choice for VoIP phone service.
Looking for more VoIP provider comparisons? Check out these head-to-head comparisons:


FAQs about Nextiva
Editor's Note: Customer reviews have been lightly edited for clarity and grammar. Some of the review sites mentioned may earn a fee for helping business owners find the best business phone service for their needs.