Nextiva and Vonage are popular VoIP service providers, each offering comprehensive features and competitive pricing.
Although both solutions are tailored to similar business needs, understanding their unique strengths helps you choose the one that fits your workflow.
Nextiva's advanced feature set is ideal for larger companies but is also accessible to small businesses, while Vonage focuses more on early-stage startups.
Continue reading for a head-to-head comparison of Nextiva vs. Vonage's features, pricing and plans, support, and usability to inform your choice.
Nextiva vs. Vonage VoIP Comparison Table
Feature
Nextiva
Vonage
Monthly Price (up to 99 users)
Professional plan is $22.95 per user
Premium plan is $17.49 per user and $3.50 per number
Customer Reviews (G2)
Rated 4.5 out of 5
2,629 reviews
Rated 4.3 out of 5
434 reviews
Video Conferencing
Unlimited for up to 250 participants per meeting
Unlimited for up to 200 participants per meeting
Auto Attendants
Available on all plans
Not available on the base plan
Monthly Toll-free Minutes and Numbers
2,500+ inbound toll-free minutes included
Add-on
Customer Support
Phone support and Live Chat (24/7)
Phone Support and Live Chat (Mon – Fri 9 a.m. – 12 a.m. ET; Sat 9 a.m. – 8:30 p.m. ET; Closed Sunday)
At a glance, Nextiva offers competitive pricing, higher participant limits in conferences, and inclusive features across plans compared to Vonage.
Vonage vs. Nextiva Pricing & Plans
Nextiva is a complete communications solution that's now even more affordable for businesses of all sizes.
With pricing starting at just $17.95 per user per month, Nextiva makes it easy for you to get the communication tools you need to stay connected and productive.
Vonage's pricing drops to $10.49/user/month on its mobile app plan for businesses with 20-100 users. You need to contact Vonage's sales team for plans beyond 99 users.
In terms of features, Nextiva's plans offer better value than Vonage's plans.
Nextiva's Essential plan includes one-to-one video calling, toll-free minutes and numbers, and faxing. Nextiva's Professional plan costs $22.95 for the same number of users.
Whether you need unlimited calling, video conferencing, or voicemail to email, Nextiva has you covered.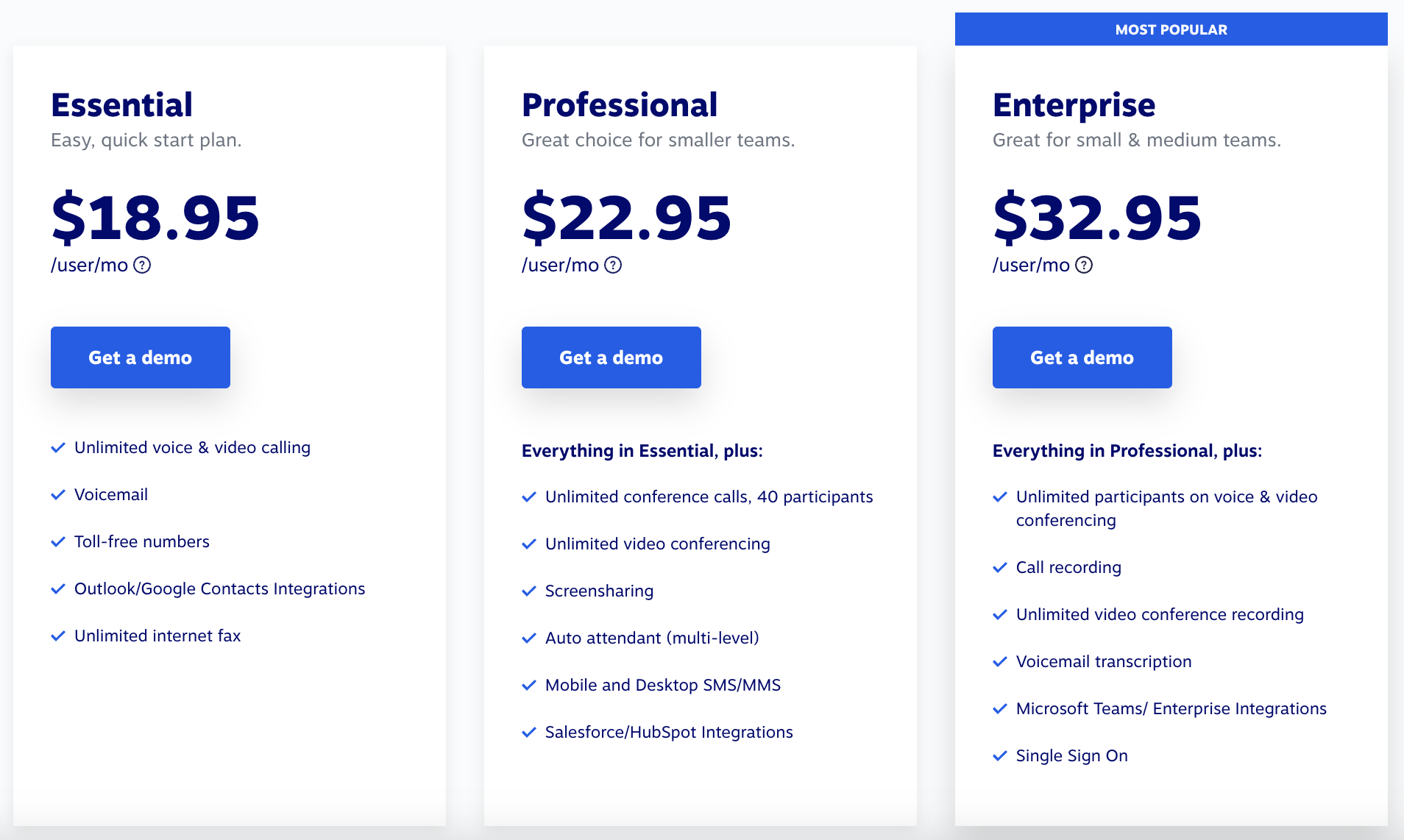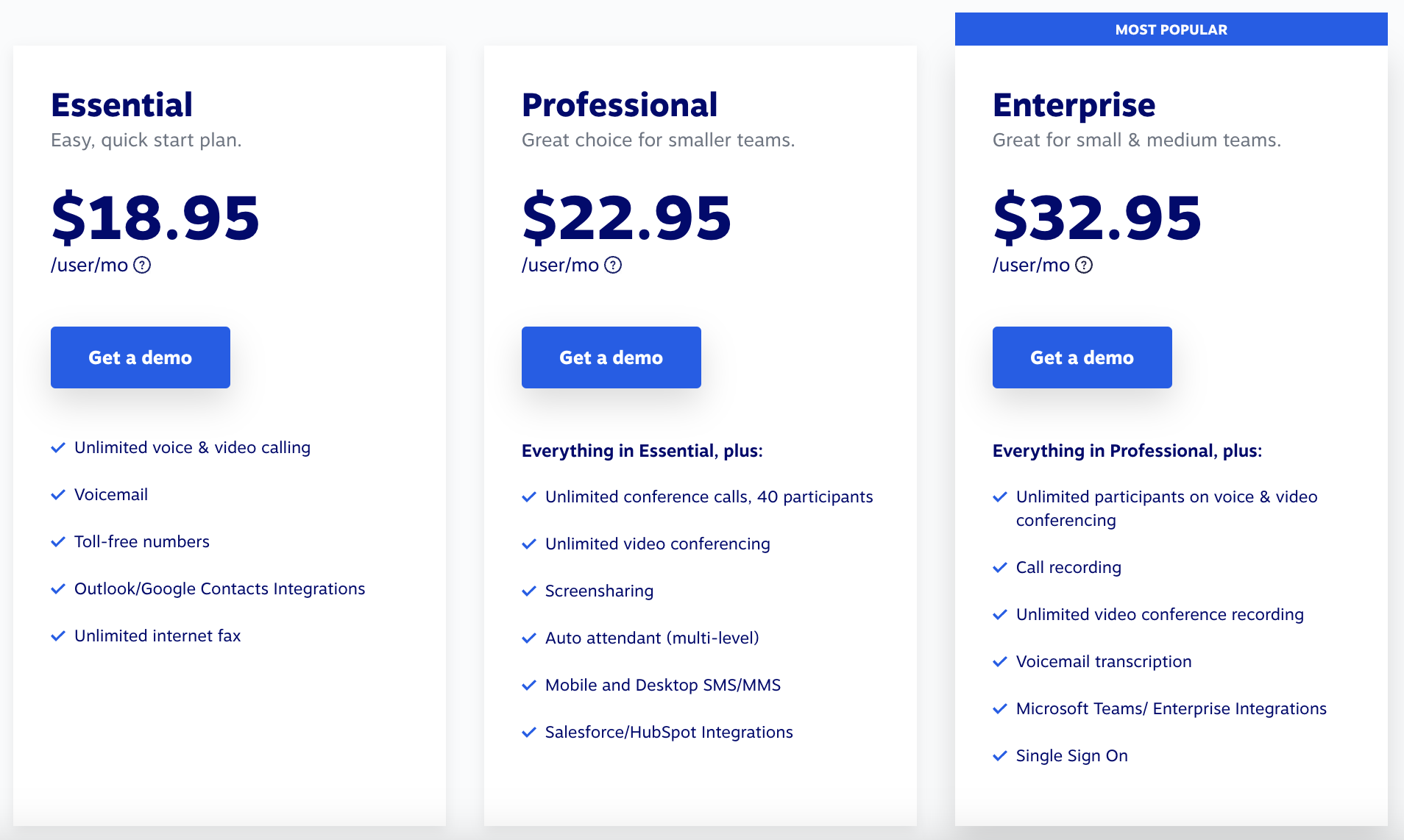 Vonage's Mobile plan, although cheaper than Nextiva, doesn't offer advanced calling features.
Vonage's Premium plan costs $17.49 for 20-99 users and is somehow comparable to Nextiva's Professional plan. But it lacks key features like multi-level auto-attendants, mobile and desktop SMS/MMS, and free integrations that Nextiva offers.
Additionally, some of Vonage's integrations are available through its paid VBC app center.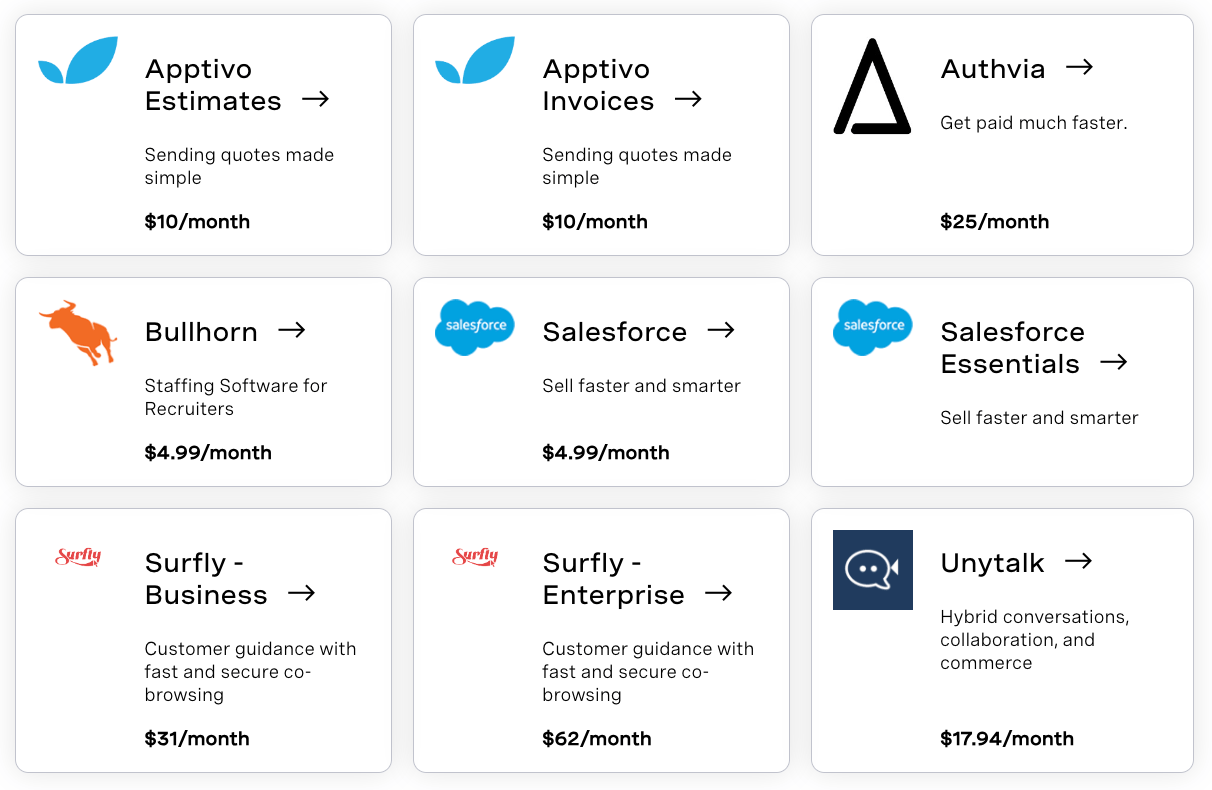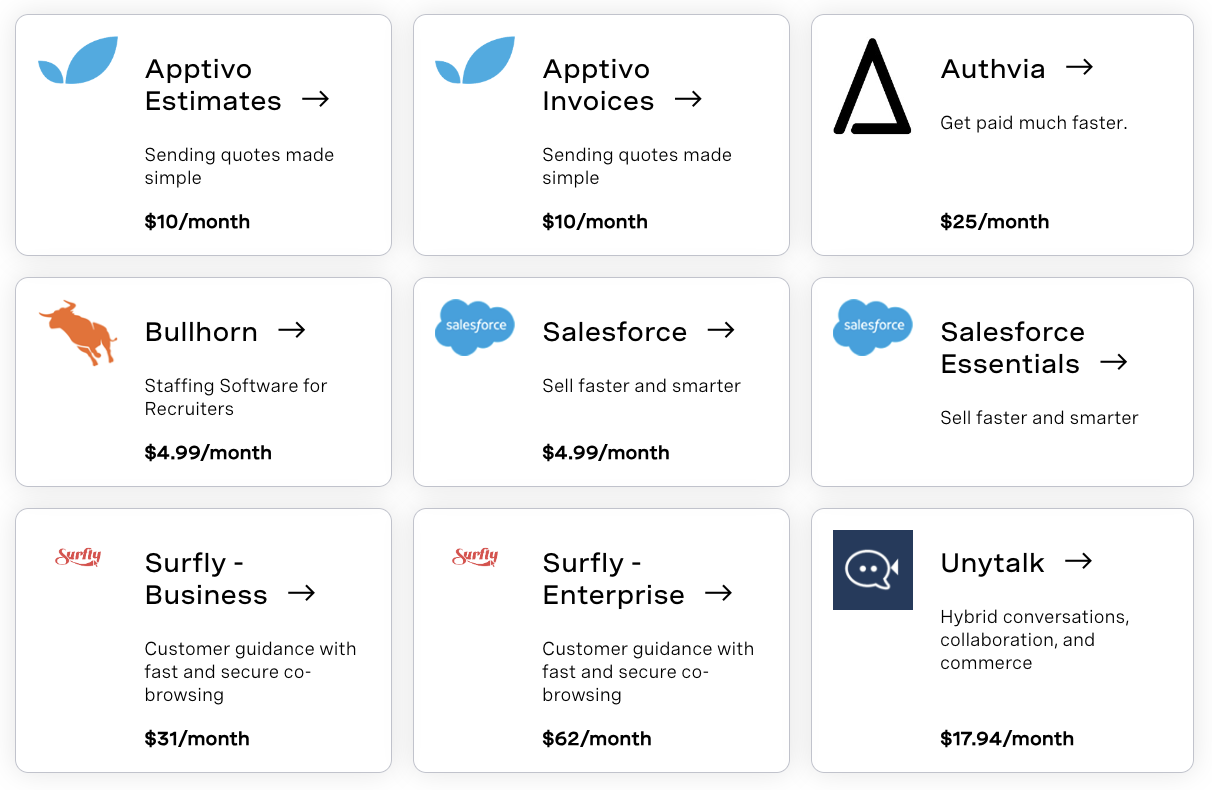 Nextiva and Vonage Products & Features Comparison
Both Nextiva and Vonage offer many VoIP features, including call forwarding, call transfer, voicemail, call routing, and call queues.
Here are some key differentiators between the two business phone services.
VoIP features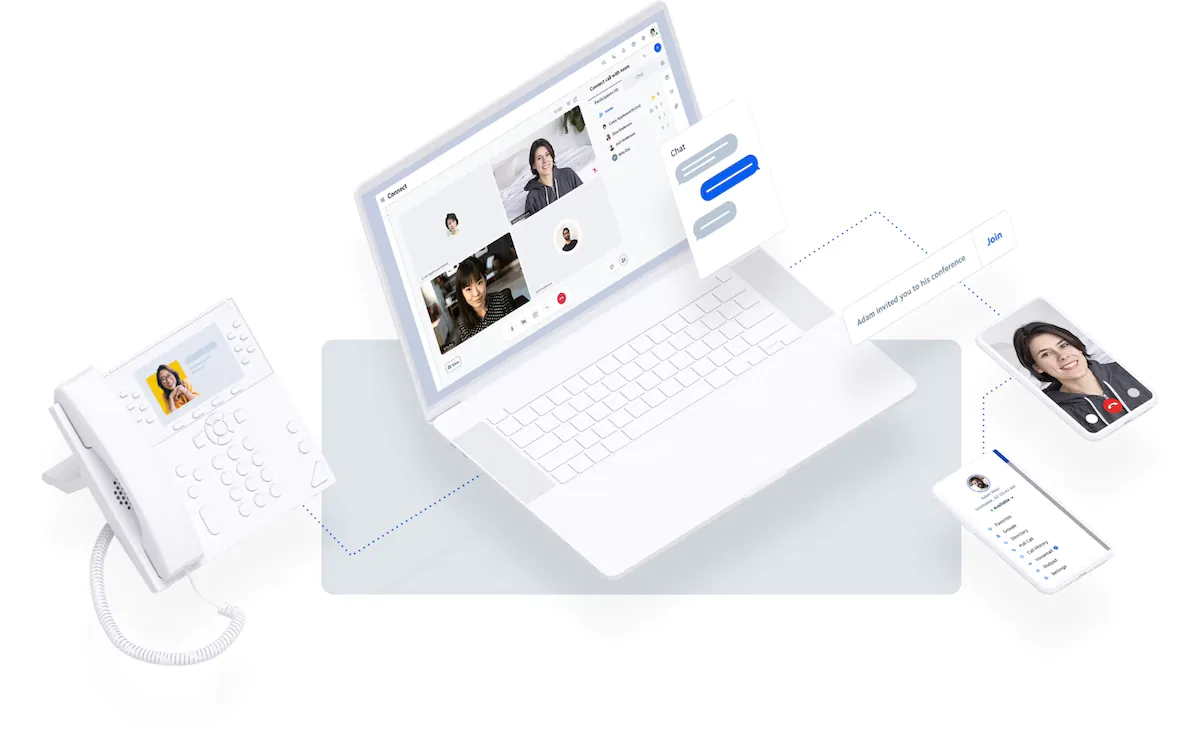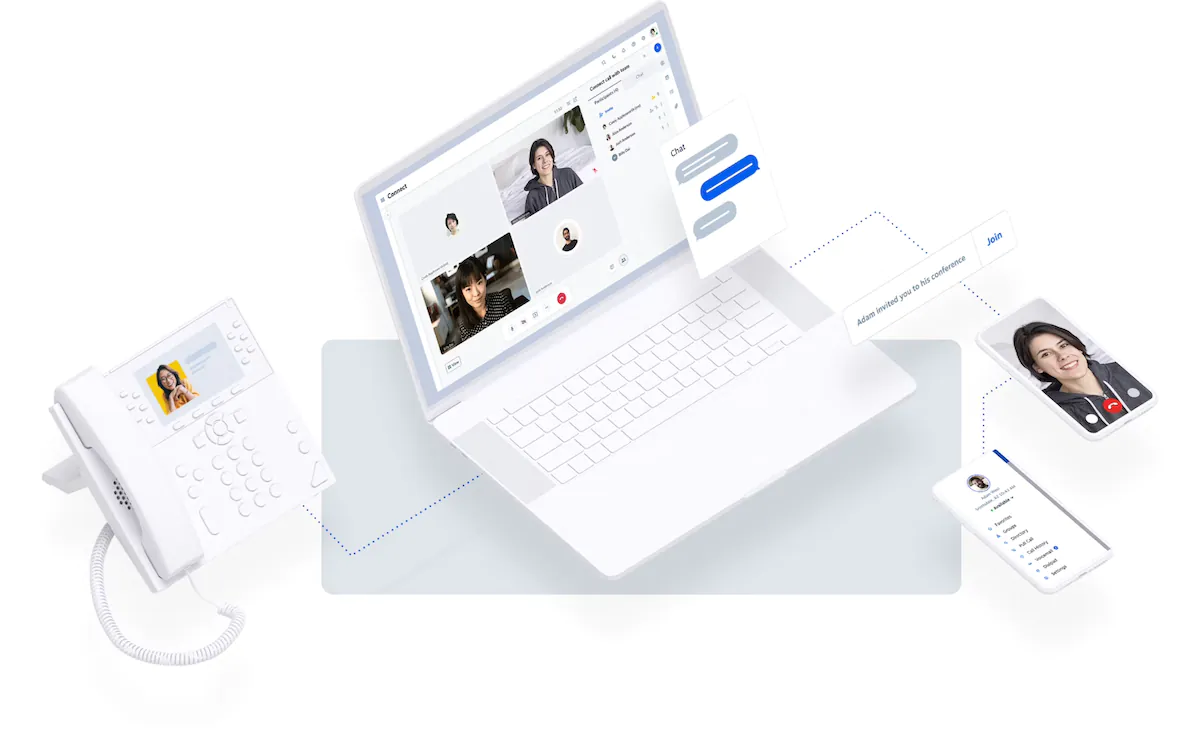 With Nextiva's Essential plan at $18.95/user/month, you get unlimited voice & video calling, voicemail, toll-free numbers, Outlook/Google Contacts integrations, and unlimited internet fax.
The Enterprise plan, an ultimate bundle, costs $32.95/user/month and offers everything in the Essential plan plus the following features:
Unlimited participants on voice & video conferencing
Screen sharing
Auto attendant (multi-level)
Mobile and desktop app
SMS/MMS
Salesforce/HubSpot Integrations
3 professionally recorded greeting
Unlimited video conference recording
Call recording and voicemail transcription
Microsoft Teams/Custom Integrations
Single Sign-On
Vonage Premium plan at $17.49/user/month offers unlimited team messaging, unlimited calls and SMS, mobile and desktop apps, and Vonage app center integrations but lacks unlimited video calling, voicemail transcription, toll-free numbers, and Outlook/Google Contacts integrations.
Vonage Business' Advanced plan, priced at $29.99 per user per month bridges the gap with multi-level auto-attendant, CRM integrations (Google Workspace, Hubspot, Zendesk, etc.). It also includes IP desk phone capability, call group, visual voicemail, toll-free numbers, plus everything in the Premium plan.
It still lacks some essential features like limited meeting participants of up to 100 participants and call recording, which is available on demand and only valid for up to 15 hours.
When it comes to VoIP capabilities, Nextiva outperforms in terms of functionality, flexibility, and value. The Essential plan offers key features at an affordable price, while the Enterprise plan caters to companies looking for advanced communication and collaboration tools.
Unified communications
Unified Communications as a Service (UCaaS) combines the capabilities of an office phone system and other real-time messaging apps in one place.
NextivaONE consolidates all business communication functions into a single platform. It works perfectly on desktop (Windows and MacOS) and mobile devices (iOS and Android).
The app ensures a seamless and consistent user experience. Users can easily access instant messaging, file sharing, video conferencing, and collaboration tools from a central location.
Vonage also offers some unified communications features, including team messaging and file sharing, but lacks advanced tools and some CRM integrations.
Contact center capabilities
Nextiva's sales and service tools cater to companies with high-volume call centers and contact centers. These tools include call recording, call analytics, and integrations with popular customer relationship management (CRM) systems.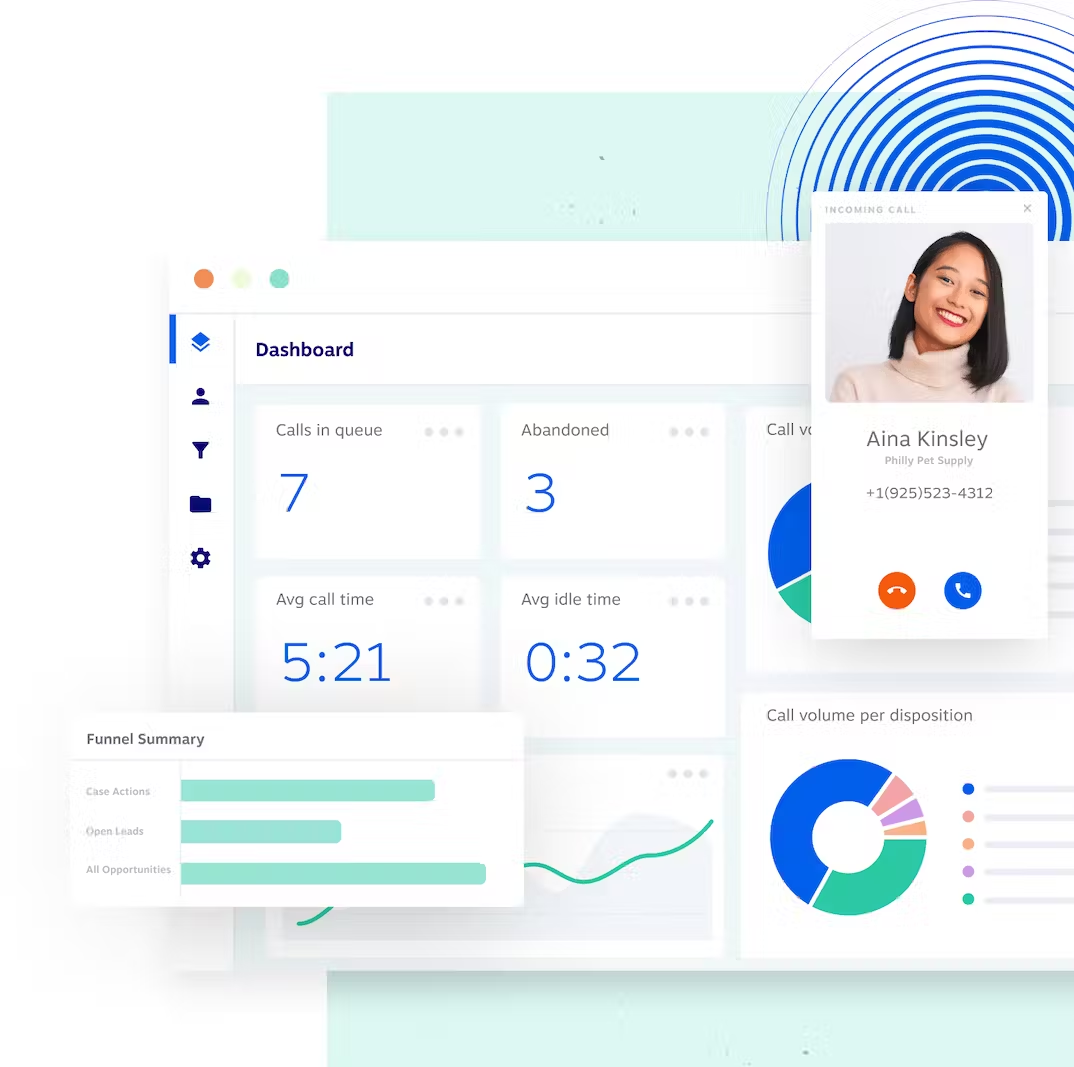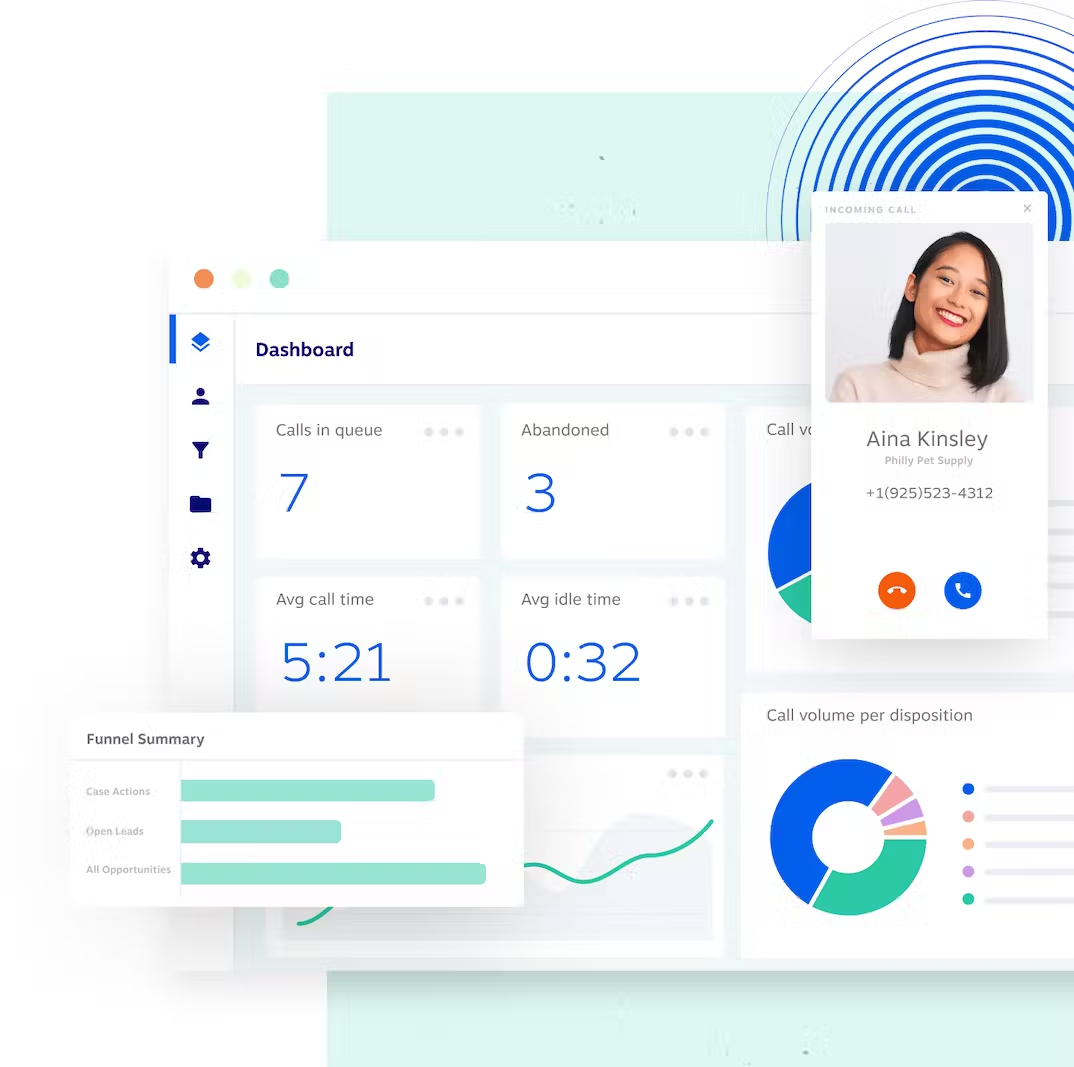 Vonage lacks pricing transparency, where users must request a quote. Nextiva, on the other hand, has public pricing shown.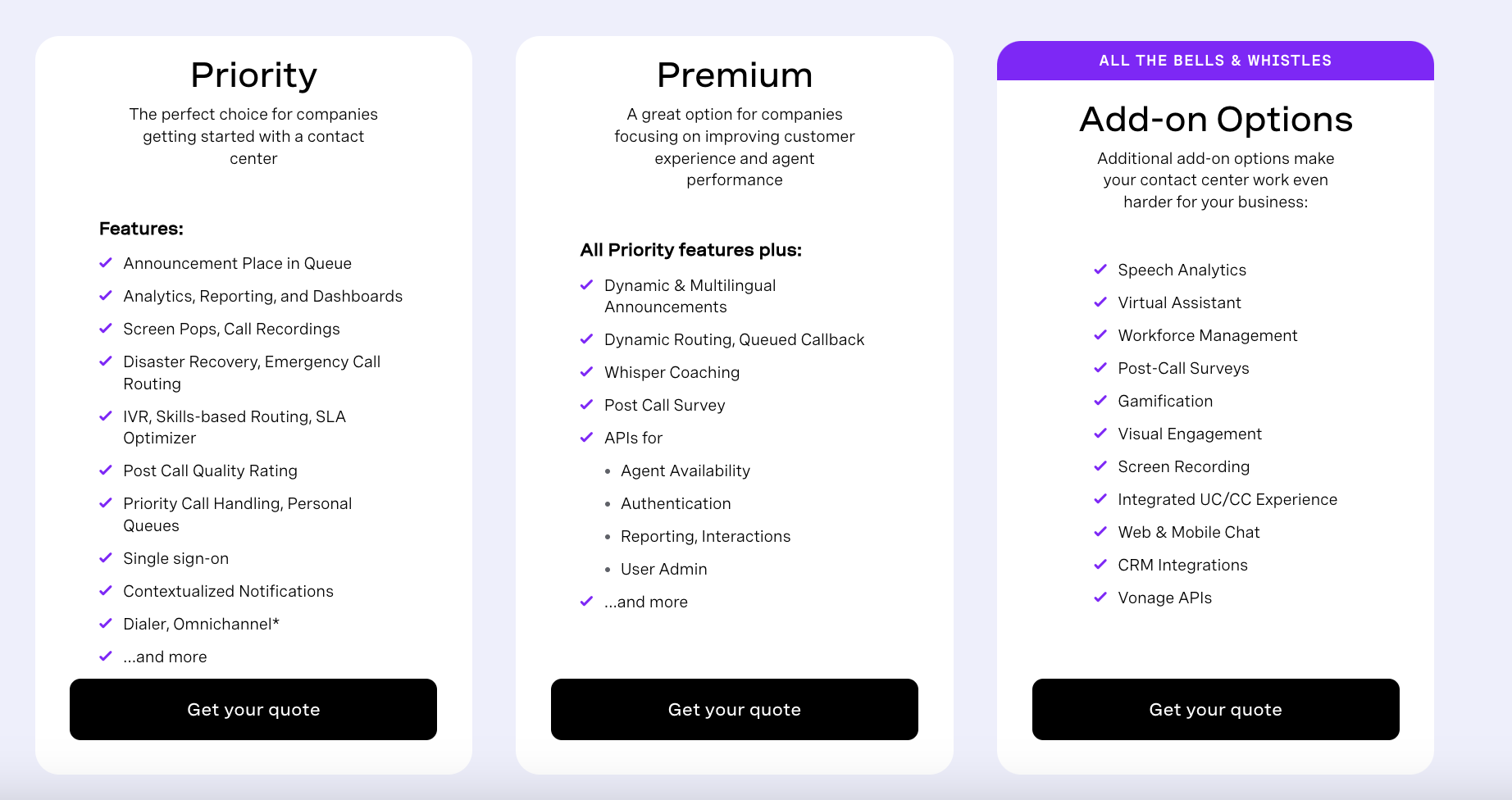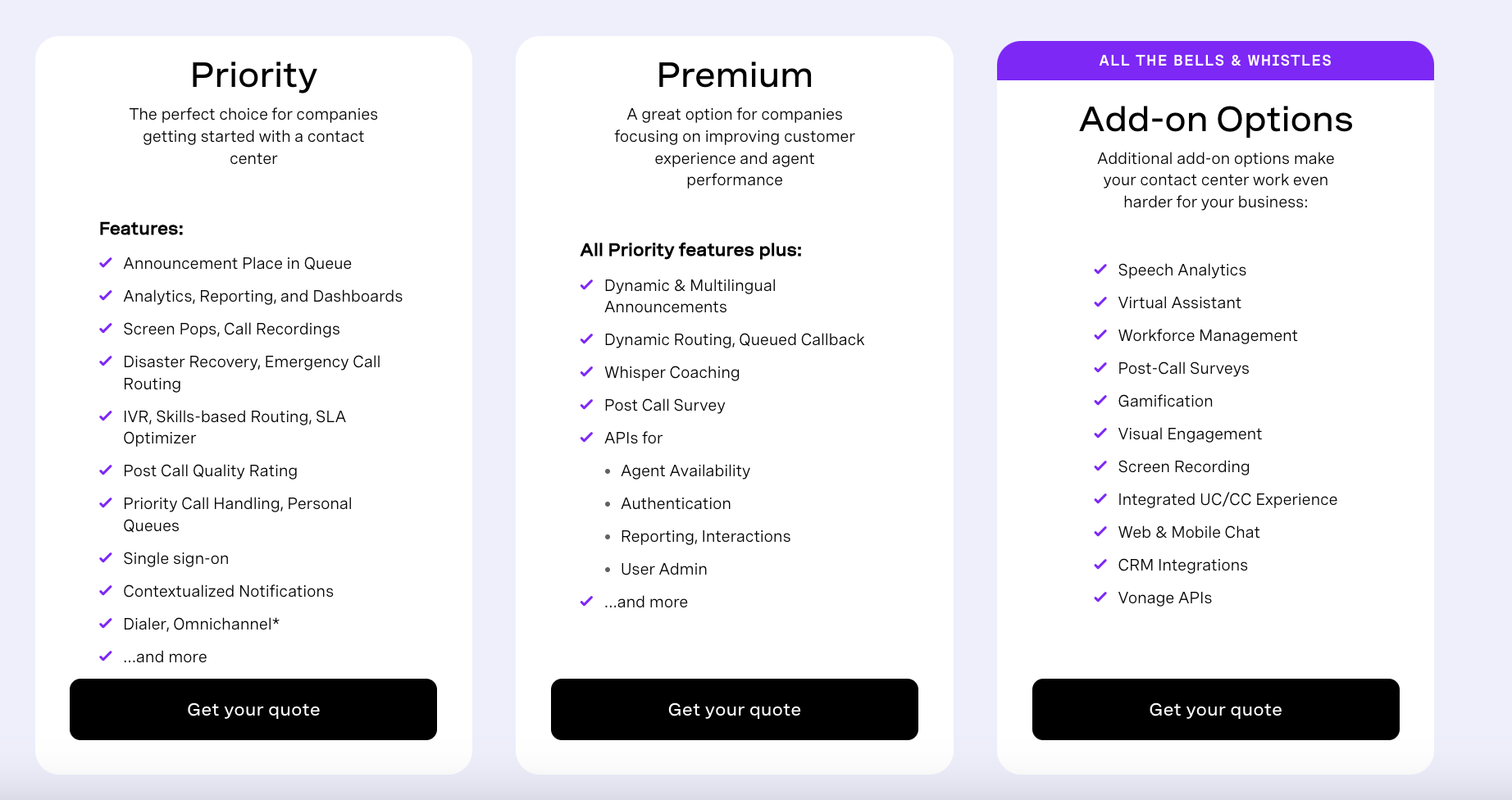 Vonage's contact center platform offers comparable functionality but isn't as advanced as Nextiva's sales and service tools.
Nextiva vs. Vonage Analytics
Nextiva and Vonage reports provide call recordings to improve the analysis of call statistics and enable you to gain deeper insights into customer interactions.
The Vonage Summary report offers a comprehensive snapshot of account-wide call activity. You can also track, measure, and correlate activity with detailed reporting.
However, reports can only be accessible to the Reports Administrators, Super User, Call Queue Reporting Administrators, Account Administrators, and Call Queue Administrators.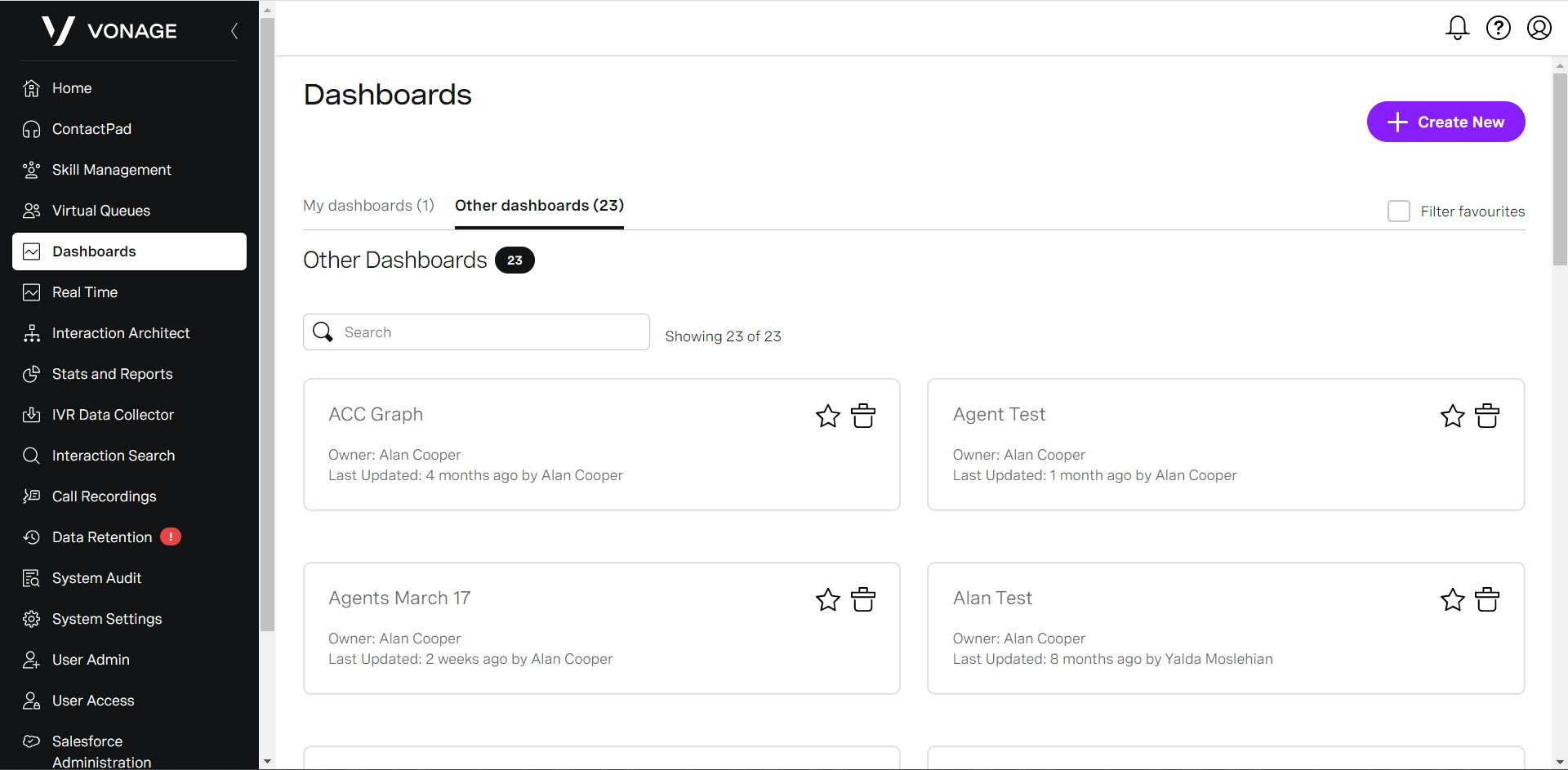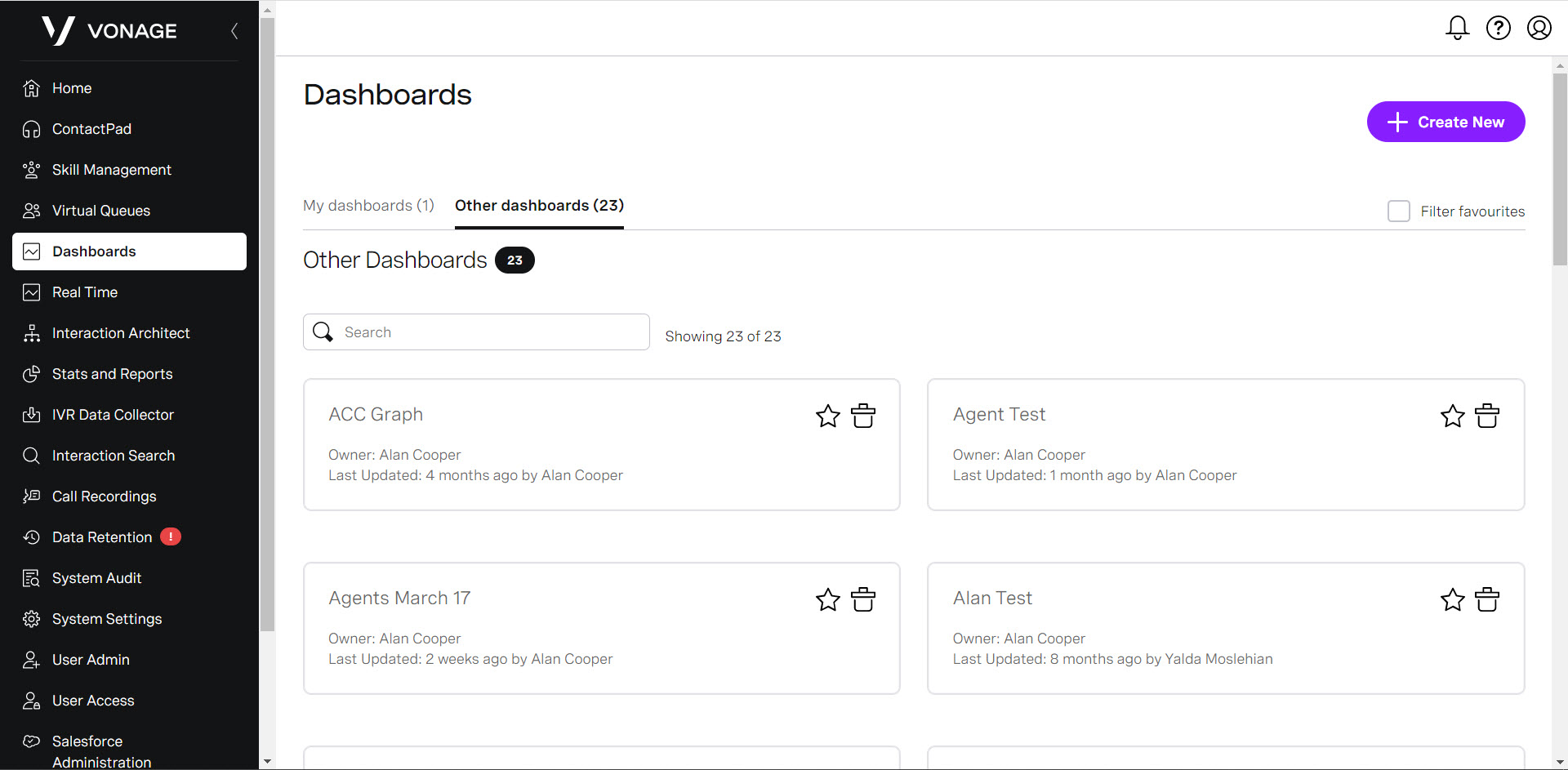 On the other hand, Nextiva features a built-in business intelligence tool that helps you make smart business decisions, find hidden insights, and boost staff performance.
Nextiva platform, in particular, has a voice analytics tool that provides a real-time synopsis of all actions in your contact center. You can also see the voice analytics data that you need with Nextiva's interactive maps and graphs.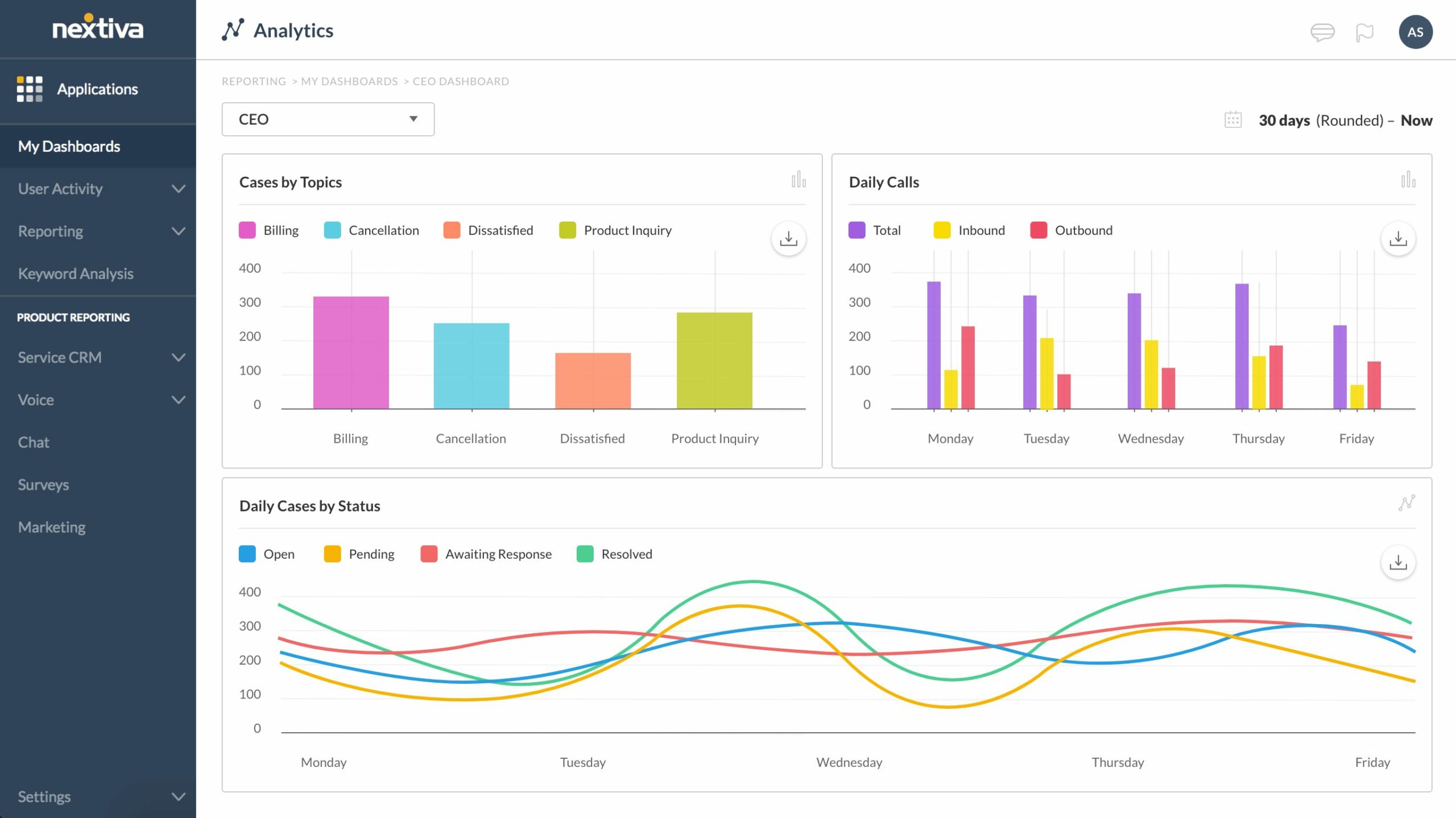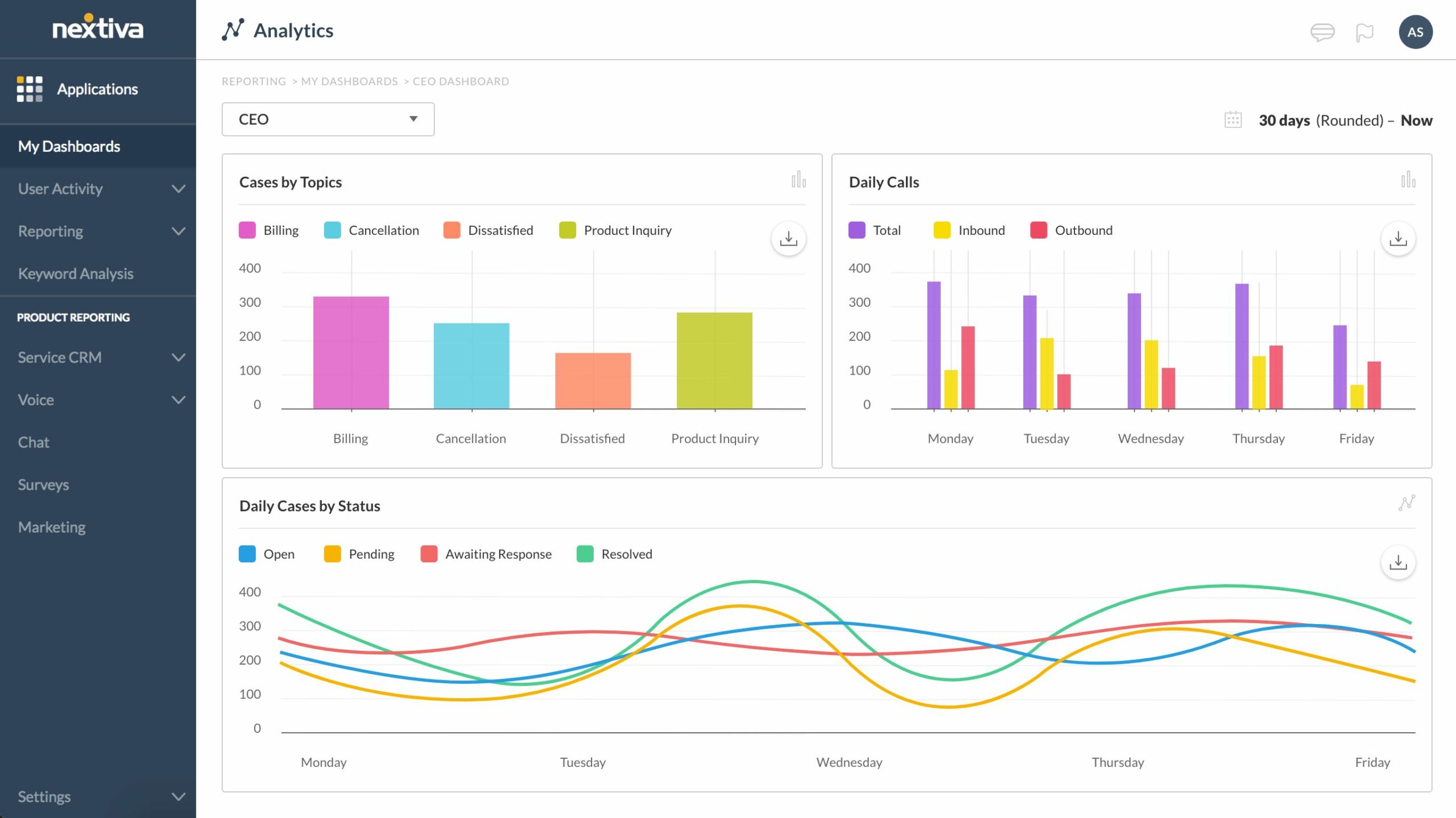 Vonage vs. Nextiva Screen Pops
Call Pops are built into the Nextiva communications platform, making them easy to use. The feature displays important information about the caller on the screen before you answer the call and during your conversation.
When a customer calls, Call Pop displays contact and essential account information, such as the customer experience score, last survey score, account value, and last interaction sentiment.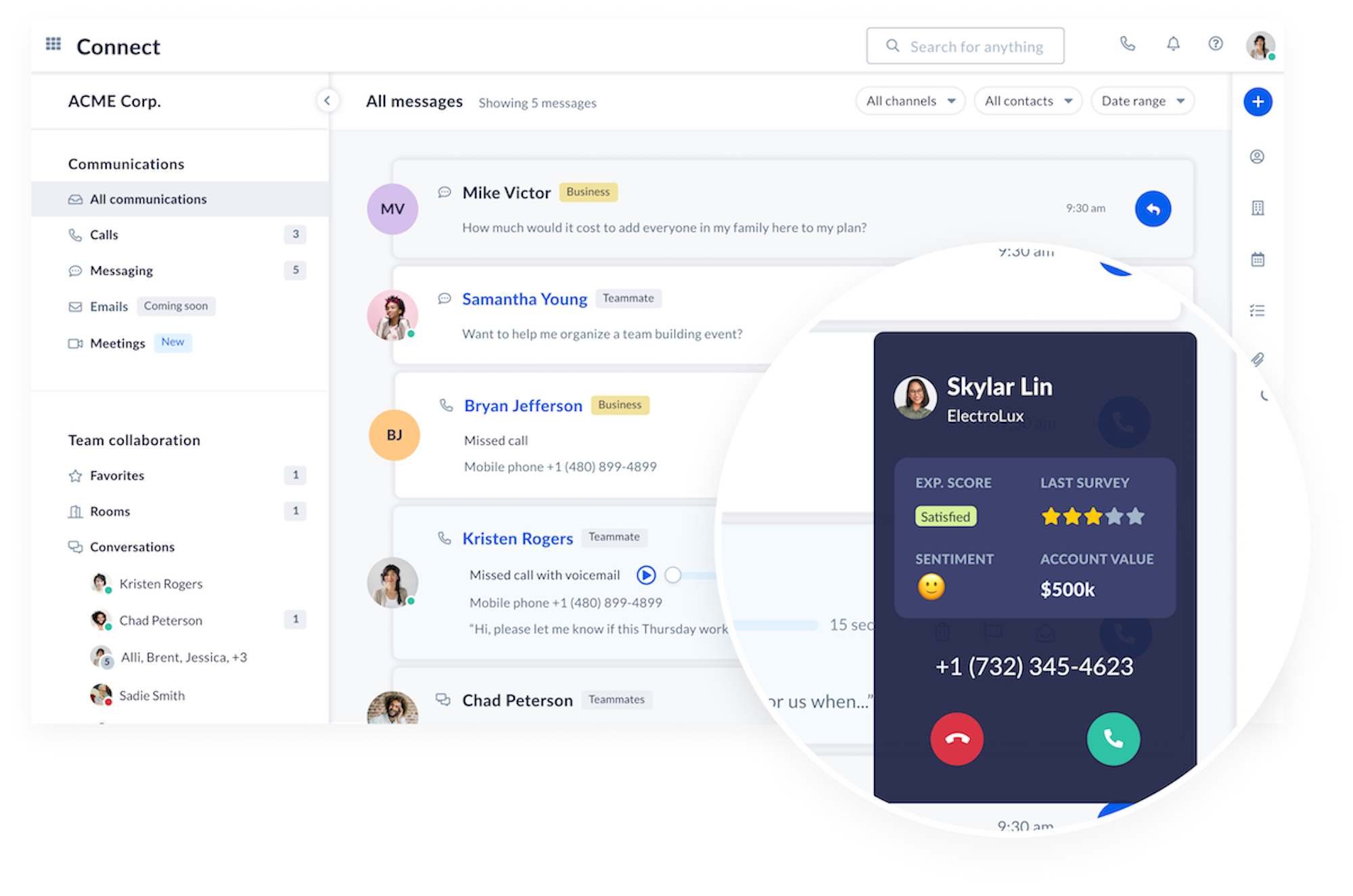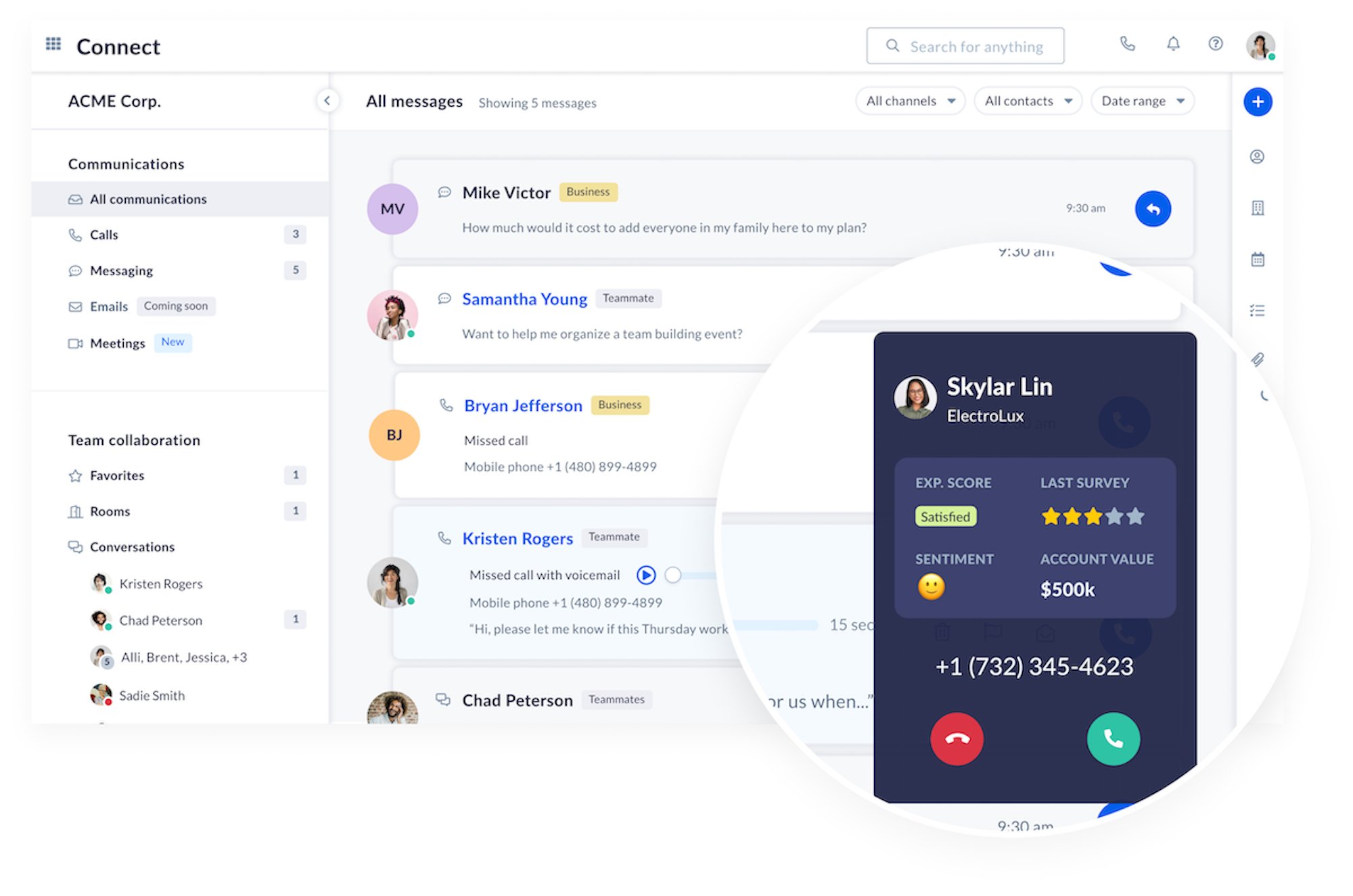 Businesses can customize the Call Pop to contain the most relevant information. Nextiva Call Pops can also be integrated into CRM systems, making customer data readily accessible for an integrated customer experience.
Vonage screen pops are not integrated into the platform and require outside integration with Zoho CRM. This can be a disadvantage for companies that don't use Zoho CRM or want a more integrated solution. Additionally, Vonage's screen pops are not as customizable as Nextiva's Call Pops.
The screen pops are still easy to use and work well for basic call management, including outgoing and incoming call reporting and call history. You can also add contacts, notes, and future tasks directly in Zoho CRM, even while on the phone.
Nextiva and Vonage Performance Comparison
Nextiva's network is one of the most reliable in the world, with eight points of presence and carrier-grade data centers.
The company is committed to providing 99.999% uptime so you can always stay connected with your customers. It's also highly secure, with multiple layers of protection to keep your data safe.
Nextiva's network performance is consistently praised by its customers, who appreciate its uptime and speed. The company has a proven track record of providing businesses the reliability they need to stay connected and productive.
"We can't operate without a sturdy, high-functioning phone system. Nextiva has been tremendously reliable, and I definitely see us growing with Nextiva. I think Nextiva really gives us the flexibility we need to grow, and it's a very important part of our business."

Cara Barineau
On the other hand, Vonage also claims to have a 99.999% uptime guarantee on all of its services. This is significant because the breadth of its uptime reliability adds value to its customers as it expands its communications offerings.
Vonage vs. Nextiva Customer Support
Nextiva is known for its excellent customer support, with a team of experts who are always available to help you with any questions and concerns.
The company offers numerous options for customer support, including online ticketing support, online chat service, and quality response, starting from the base package.
They also provide email and phone support Monday through Friday between 5 a.m. and 6 p.m. MST and Saturday between 6 a.m. and 6 p.m. MST.
Overall, Nextiva is rated 9 out of 10 (2,108 responses) vs. Vonage 8.7 (336 responses) for its Quality of Support on G2.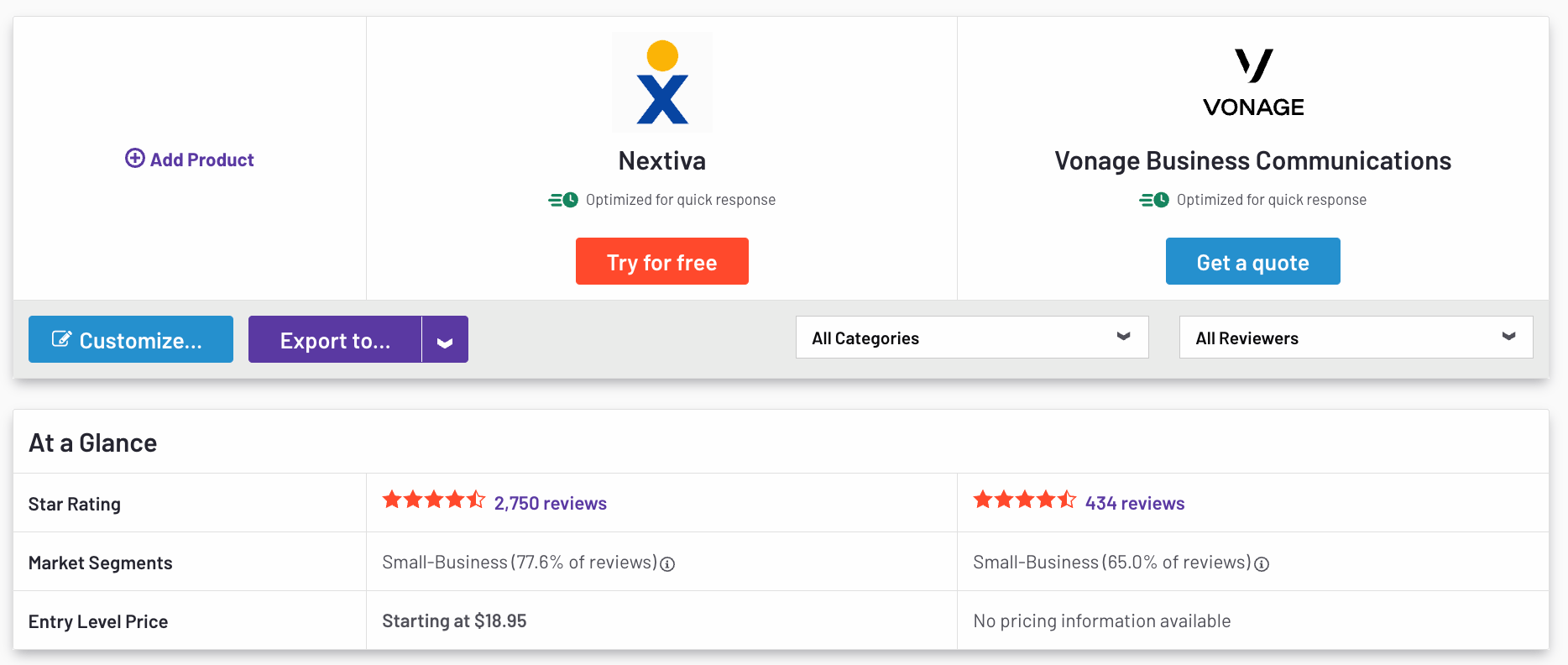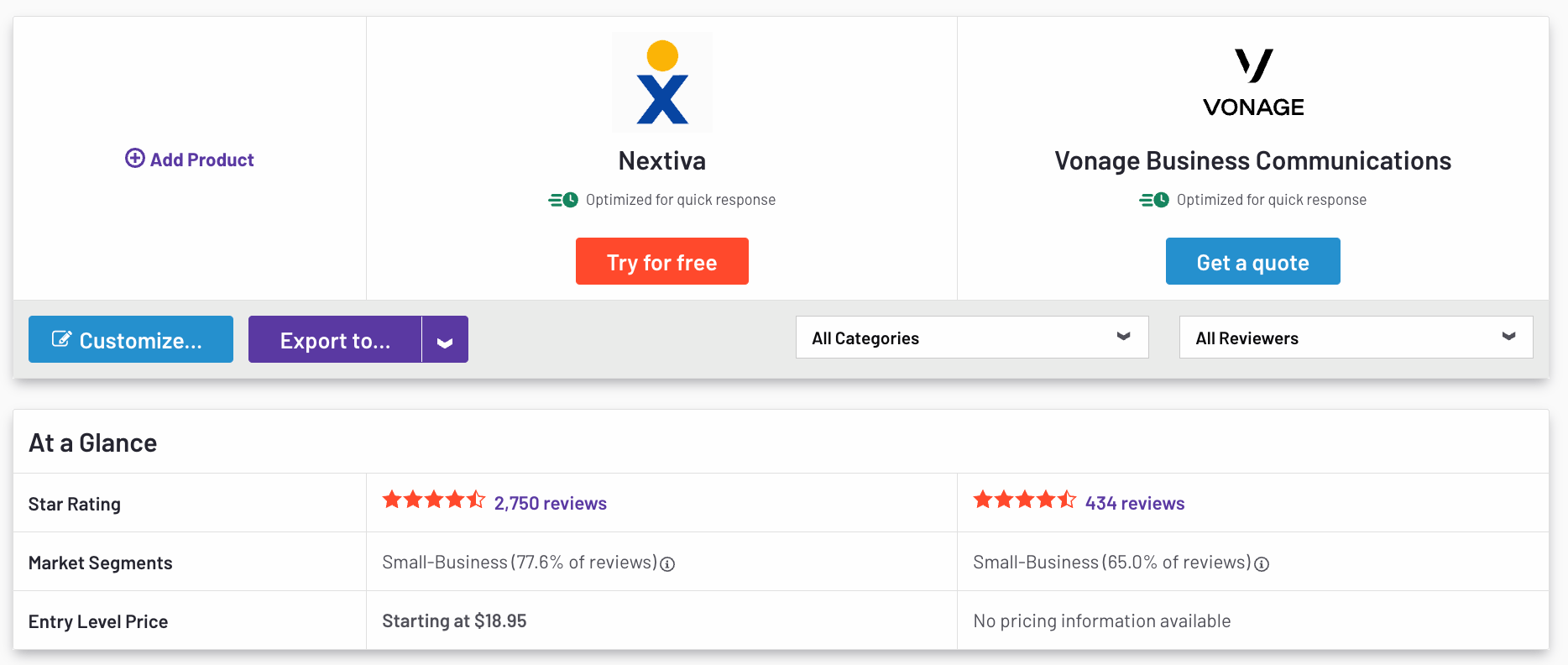 Vonage also provides its users with phone, email, live support, tickets, and training. They offer Phone Support and Live Chat between (Mon – Fri, 9 a.m. – 12 a.m. ET; Sat, 9 a.m. – 8:30 p.m. ET; Closed Sunday).
However, some Vonage customers have reported experiencing long wait times and difficulty resolving their problems.
One Ron C. cited issues with making changes to the service, like porting a number away from Vonage and canceling an account. Also, there are mentions of slow service when customers waited several hours for a support call back.
Nextiva and Vonage Setup and Usability
Nextiva's platform is designed for ease of use and intuitive navigation. Users can quickly set up accounts, manage users and devices, and configure communication settings with just a few clicks.
The platform is also well-documented, with a comprehensive help center and a variety of training resources.
Vonage's platform is also relatively easy to use. It provides a comprehensive introduction and setup resource to help new users get up and running quickly with their service.
Its simplistic design makes it easy to locate the functionality you need at a glance.
Which VoIP Provider Is Right for You?
Vonage makes sense for your business if:
Your business has 10 to 50 people who work mostly in a traditional office environment rather than remotely.
Vonage is also a good option for companies that already utilize many communication platforms or CRM systems and are looking to integrate those systems into their Vonage package.
Nextiva is best for your business if:
You want to get the most value for your money, prefer native functionality above third-party compatibility, and want to expand rapidly in the near future.
Nextiva's platform is suitable for businesses that rely significantly on voice, video, and text communications.
Nextiva is also best suited for companies that don't have a business communication system and want a full system or teams that find utilizing several software solutions too difficult and time-consuming and want to switch to an all-in-one solution.
So, which business VoIP should you choose?
Vonage's strength lies in its communication APIs and residential service offerings. The API allows businesses to integrate their VoIP phone system with other business applications.
Nextiva works best for small businesses and enterprises alike due to its ease of use and affordable pricing. Nextiva wins when it comes to transparent pricing, plans, and basic features, such as one-to-one video calling, toll-free minutes & numbers, and faxing.
Ready to give Nextiva a try? Speak to a Nextiva expert.