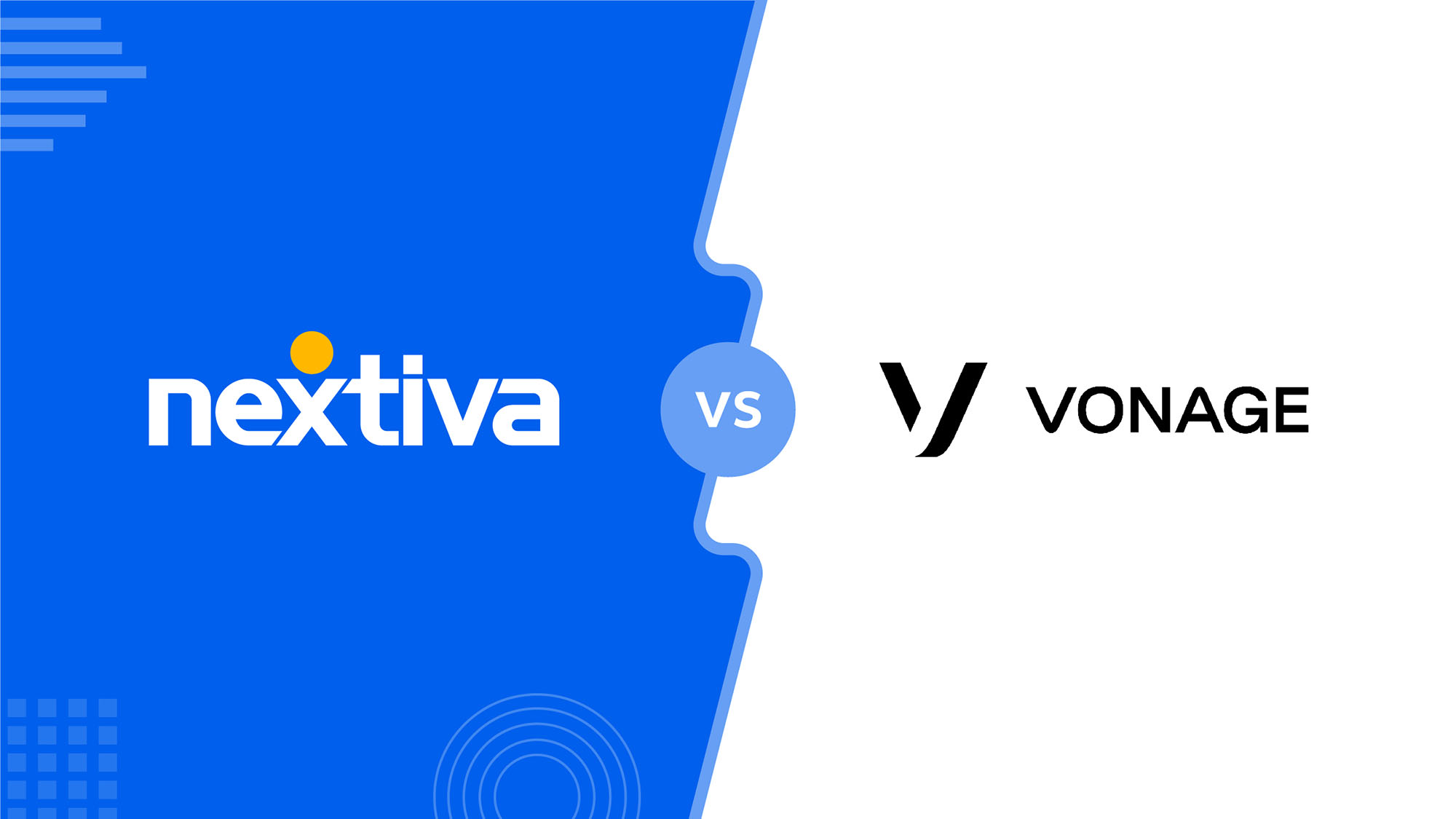 Deciding which phone system to get for your business is never easy since most providers have comparable features. For that reason, one may need some assistance when deciding between Nextiva and Vonage, two great VoIP solutions.
Even though both services provide all of the functionality that your company requires, one is more suited for big businesses. At the same time, the other is better ideal for smaller companies. So, which one do you think you should get?
Continue reading for a head-to-head comparison of Nextiva vs. Vonage's features, pricing and plans, support, usability, and more to help you determine which one is best for your company.
Vonage vs. Nextiva VoIP Comparison Table
Nextiva
Vonage
Pricing (monthly)
Starts at $25.95 per user.
*on plans up to 19 users
Starts at $27.99 per user
*on plans up to 19 users
Ease of Use
User-friendly
User-friendly
Video Conferencing
Unlimited, Up to 250 participants per meeting
Unlimited meetings for up to 100
Communication Channels
Voice, text messaging (SMS), video conferencing, team messaging, internet fax, voicemail
Voice, text messaging (SMS), video conferencing, team messaging, internet fax, voicemail
Free Trial
Available
Available
Monthly Toll-free Minutes and numbers
Included
Add-on
Reliability
99.999% uptime
99.999% uptime
Advanced Call Management Features
Available
Available
Customer support
Phone support and Live Chat(24/7)
Phone Support and Live Chat (Mon – Fri 9 a.m. – 12 a.m. ET; Sat 9 a.m. – 8:30 p.m. ET;Closed Sunday)
Advertised rates & features on vonage.com/unified-communications/pricing/, in June 2022
Nextiva vs. Vonage VoIP Pricing and Plans
Both Nextiva and Vonage measure up when it comes to monthly pricing; however, Nextiva offers more features than Vonage in all their plans.
Nextiva's Essential bundle may be the optimal choice if you're looking for a more economical VoIP subscription. It costs $18.95 per user per month and includes unlimited voice and video calls. On the other hand, Vonage Mobile's package costs $19.99 per user per month but does not include video.
Nextiva vs. Vonage VoIP Products & Features
Both Vonage and Nextiva have a number of features that are suitable for both small and big businesses. Although many of these features are comparable, there are a few instances where one service performs better than the other.
Nextiva VoIP Features
With Nextiva's Essential plan at $18.99/user/month, you get features like unlimited voice & video calling, voicemail, toll-free numbers, Outlook/Google Contacts Integrations, and unlimited internet fax.
The Enterprise plan, an upgrade of the entering package, costs $32.95/user/month. Subscribing to this plan offers you features such as unlimited participants on voice & video conferencing, screen sharing, auto attendant (multi-level), mobile and desktop app, SMS/MMS, Salesforce/HubSpot Integrations, 3 Professionally Recorded Greeting, unlimited video conference recording, call recording, voicemail transcription, Microsoft Teams/Custom Integrations, and Single Sign-On, plus everything in Essential plan. You can learn more about Nextiva's business phone service here.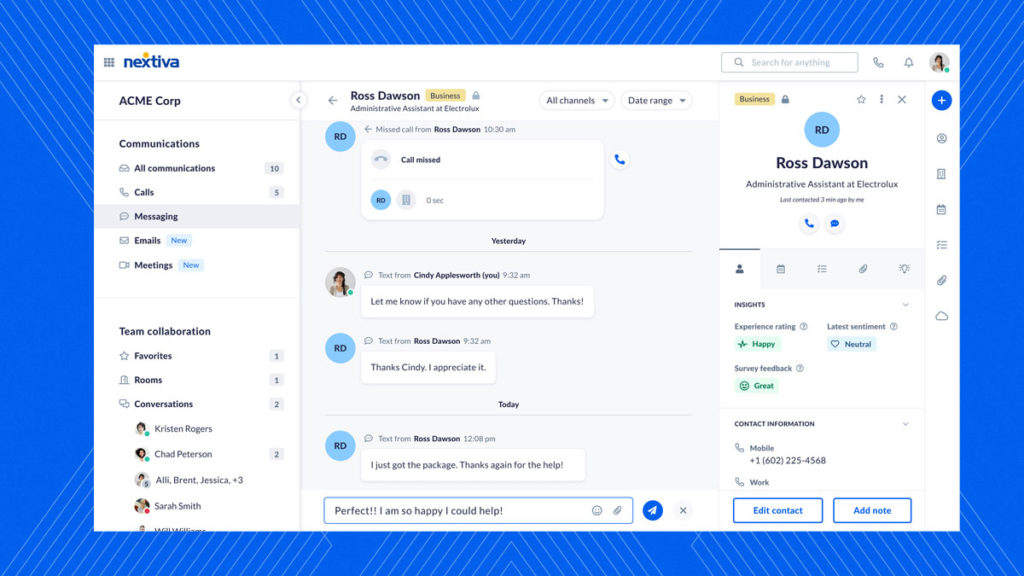 Vonage VoIP Features
Vonage Mobile plan at $19.99/user/month offers unlimited team messaging, unlimited calls and SMS, mobile and desktop apps, and Vonage app center integrations.
However, suppose you upgrade to the Advanced plan at $29.99/user/month. In that case, you get to enjoy features like unlimited meetings for up to 100 participants, Multi-level auto-attendant, CRM integration, including G-Suite, Hubspot, Office 365, Salesforce, Sugar CRM, Zendesk, Microsoft Dynamics, etc. It also includes IP desk phone capability, call recording: on-demand (15 hrs), call group, visual voicemail, toll-free numbers, plus everything in the Mobile plan.
Nextiva vs. Vonage Analytics
Both Vonage and Nextiva provide in-depth reports for individual users, call groups, and company-wide. Most Nextiva and Vonage reports include call recordings, so you can listen to them while looking at the statistics.
The Vonage Summary report gives you a comprehensive snapshot of account-wide call activity. You can also track, measure, and correlate activity with detailed reporting. However, reports can only be accessible to the Reports Administrators, Super User, Call Queue Reporting Administrators, Account Administrators, and Call Queue Administrators.
On the other hand, Nextiva features a built-in business intelligence tool that helps you make smart business decisions, find hidden insights, and boost staff performance. Nextiva platform, in particular, has a voice analytics tool that provides a real-time synopsis of all actions in your contact center. You can also see the voice analytics data that you need with Nextiva's interactive maps and graphs.
Nextiva vs. Vonage Call pops
Nextiva's Call Pop feature shows important information about the caller on the screen before answering the phone and during your conversation. When a customer calls, call Pop displays contact and critical account information, such as customer experience score, last survey score, account value, and last interaction sentiment.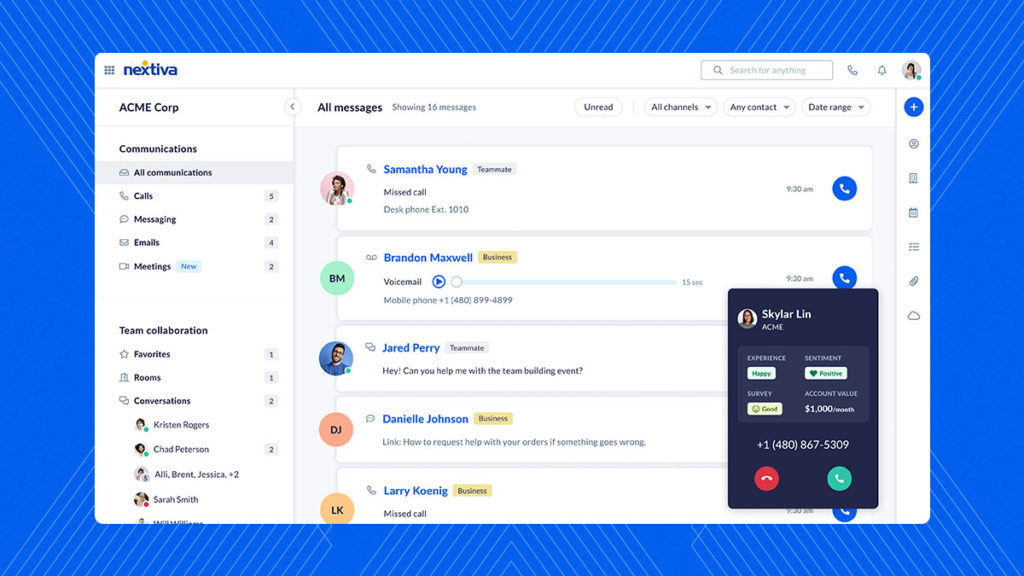 Vonage cloud-based application, VonageConnect for Zoho® allows you to manage important functionalities within Zoho CRM effortlessly. This user-friendly Zoho integration offers outgoing and incoming call pop-ups, call reporting and call history. You can also add contacts, notes, and future tasks straight into Zoho CRM even while on the phone.
Nextiva vs. Vonage Performance
Nextiva claims to have 99.999 percent uptime and carrier-grade data centers, which means you should never lose service for more than a few minutes each year. Nextiva's data centers use fully uninterruptible power sources, claiming to have the best uptime in the industry.
On the other hand, Vonage also claims to have a 99.999 percent uptime guarantee on all of its services. This is significant because the breadth of its uptime reliability adds value to its customers as they expand their communications offerings.
Nextiva vs. Vonage Support
Nextiva offers numerous options for customer support, including online ticketing support and, if needed, an online chat service, and quality response/advice, starting from the base package. They also provide email and phone support Monday through Friday, between 5 a.m. and 6 p.m. MST; Saturdays, between 6 a.m. and 6 p.m. MST.
Vonage also provides phone, email, live support, tickets, and training to their users. They offer Phone Support and Live Chat between (Mon – Fri, 9 a.m. – 12 a.m. ET; Sat 9 a.m. – 8:30 p.m. ET; Closed Sunday).
Vonage vs. Nextiva Setup and Usability
Nextiva's user interface is incredibly intuitive, making complex rules like call flows, user administration, and voicemail modifications a breeze.
Vonage provides a comprehensive introduction and setup resource to help new users get up and running quickly with their service. Aside from that, Vonage features a user-friendly interface: All of the settings in Vonage's desktop app are arranged in a logical manner so that you don't get dizzy moving your eyes in different directions. Its simplistic design makes it easy to locate the functionality you need at a glance.
Which One is Right For Your Business?
Vonage makes sense for your business if:
Your business has 10 to 50 people who work mostly in a traditional office environment rather than remotely. Vonage is also a good option for companies who already utilize a number of communication platforms or CRM systems and are looking to integrate those systems into their Vonage package.
Nextiva makes sense for your business if:
You want to get the most value for your money, prefer native functionality above third-party compatibility, and want to expand at a rapid pace in the near future. Nextiva's services could be suitable for a small business that relies significantly on video communication.
Nextiva is also best suited for businesses that don't have a business communication system and want a full system or teams that find utilizing several software solutions too difficult and time-consuming and want to switch to an all-in-one solution. Click here to book a demo.
So which one should you choose?
The comparison between Vonage and Nextiva's VoIP services and phone system solutions is not cut-and-dried. Both services offer unique selling features that make them suitable for various business purposes. However, we rank Nextiva higher when it comes to transparent pricing plans and basic features, such as one-to-one video calling, toll-free minutes & numbers, and faxing.
Nevertheless, the best VoIP services for your business are ultimately dependent on your budget, unique needs, and which platform features are most important to you.