Need some help decoding A2P 10DLC for your business communication needs?
This innovative technology is changing the way brands engage with customers. However, there are a few regulations and compliance matters to sort out before enhancing your business text messaging capabilities.
You'll learn how to register for a 10DLC number, forge stronger connections with your audience, avoid expensive fines, and set up your team for next-level success.
Let's begin with the first half of the A2P 10DLC equation:
What is A2P?
Application-to-person (A2P) messaging refers to using an app or software to text consumers. Business text messaging empowers brands to automatically send customers account notifications, delivery alerts, promotional offers, security codes for two-factor authentication, etc., to their phones.
As more consumers prefer texting over email and phone calls, SMS messages have the power to reach your audience directly. That may be why text messages have an open rate of up to 98%!
Text messages open a personal dialogue between brands and customers. While person-to-person (P2P) messaging is used for communication between acquaintances, A2P builds on those dynamics to make consumers feel as if they're hearing directly from a friend.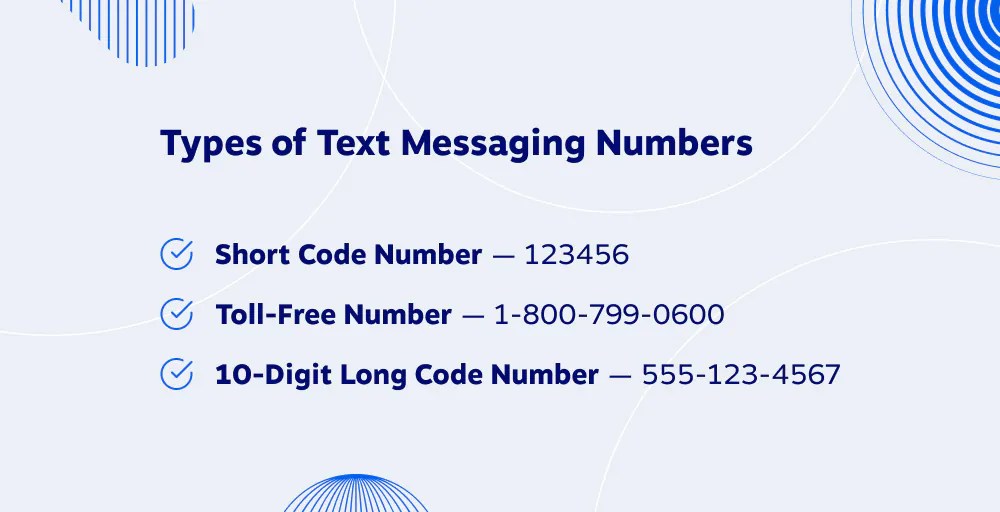 Businesses can send their A2P messages from a short code number (like 68442), a toll-free number (1-800 or 1-888), or a 10-digit long code number (555-123-4567).
What is 10DLC?
A 10-digit long code (10DLC) refers to a personalized phone number consisting of a 10-digit phone number designated for business communication and text messaging applications.
The genius of 10DLCs is that they're designed to look like local phone numbers. This makes business communication, text message marketing, and bulk messaging appear more trustworthy.
Plus, 10DLCs allow for two-way messaging and voice calls.
So, if a doctor's office or dental practice texts an appointment reminder, their patient can respond with a 'Yes' or 'No' to confirm. Or they can call the number to reschedule.
Toll-Free Numbers vs. 10DLC
Both 10DLC and toll-free numbers can be used for A2P messaging. But that simple area code makes 10DLC a better choice for large and small businesses. This local phone number feels more personable and gets more engagement.
Just think about the last time you answered a random 1-800 number. You probably sent it straight to voicemail, right?
Further, 10DLCs are more cost-effective than toll-free numbers, costing anywhere from $15 to $30 monthly. 10DLC texts? US carriers charge a fraction of a penny for these based on message volume.
Short Code Numbers vs. 10DLC
Dedicated short code numbers are five- or six-digit numbers used for SMS and MMS messaging.
Short codes are more difficult to obtain and more expensive (about $1,000+ per month) than 10DLCs. They also have a higher chance of getting filtered out as spam or blocked.
You can only use short codes for large marketing campaigns. 10DLCs offer more flexibility and versatility in their use and campaign types because they support two-way messaging and voice calls.
What is A2P 10DLC?
A2P 10DLC is a standard that allows companies to send Application-to-Person (A2P) type messaging using a standard 10-digit long code (10DLC) phone number.
Put simply, A2P 10DLC means text messages are authenticated by the provider and are routed through a software interface (like a web, desktop, or mobile app).
Combine the power of A2P messaging with the versatility of a 10DLC, and you get a robust, scalable solution for SMS business communication.
Your brand can even text from a virtual phone number. These numbers aren't tied to a fixed location and allow your team to exchange messages with customers from the same platform as your virtual phone system.
Create a fully automated text message ecosystem with campaigns for new product awareness, engagement, customer feedback, account notifications, and more. Then, monitor your stats in a centralized dashboard to make data-driven improvements.
The Importance of 10DLC Compliance
A2P 10DLC sounds like a no-brainer for forward-thinking businesses. That's why everyone jumped on the bandwagon — including those with nefarious intentions.
As consumers got bombarded with spam messages and text scams from unknown senders, they became wary of all SMS — even legitimate ones. To protect consumers from phishing attacks and other security risks, Congress and the Federal Communications Commission (FCC) passed stronger regulations and made opt-outs non-negotiable.
The major North American mobile carriers (Verizon, AT&T, and T-Mobile) created The Campaign Registry (TCR), a third-party organization that vets and controls 10DLC registration. TCR tracks which businesses are texting from these numbers and what types of messages they're sending in a central database.
A2P 10DLC compliance standards
Businesses must now gain approval from TCR before they can send messages. The A2P 10DLC registration process has two parts:
Brand Registration: Businesses must identify themselves to the carrier networks.
Campaign Registration: Businesses must give examples of the messages they're sending and show proof that consumers opted in to receive their text messages.
The vetting process ensures that businesses are legitimate and comply with regulations set forth by the Telephone Consumer Protection Act (TCPA) and the Cellular Telecommunications Industry Association (CTIA).
Brands must familiarize themselves with the CTIA Messaging Principles and Best Practices to demonstrate their compliance and receive approval.
How carriers ensure compliance
When TCR verifies that a business is legitimate, it will assign a 10DLC number with a trust score.
Carriers use this trust score to prioritize message delivery. Higher trust scores mean higher delivery rates and message throughput (messages sent per second). Lower trust scores mean the opposite.
Consequences for non-compliance
All mobile carriers began blocking texts from unregistered 10DLC numbers on August 31, 2023.
Carriers also impose hefty fines and non-compliance fees on businesses that fail to gain TCR approval. For example, T-Mobile has fines of up to $10,000 per non-compliance incident.
How To Register for A2P 10DLC (In 5 Steps)
Businesses don't interact with The Campaign Registry (TCR) on their own. Instead, the communications provider completes the registration process and secures a 10DLC number for them. Here's how it works:
Step 1. Choose a Campaign Service Provider (CSP)
A campaign service provider (CSP) works with multiple brands to create and launch SMS messaging campaigns. They're the "A" in A2P, an application or software provider your business uses to text.
When comparing your options for business text messaging tools, look for a reputable provider with friendly support and business voice and messaging capabilities.
Your provider should have a special form for you to complete so they can handle the registration process on your behalf.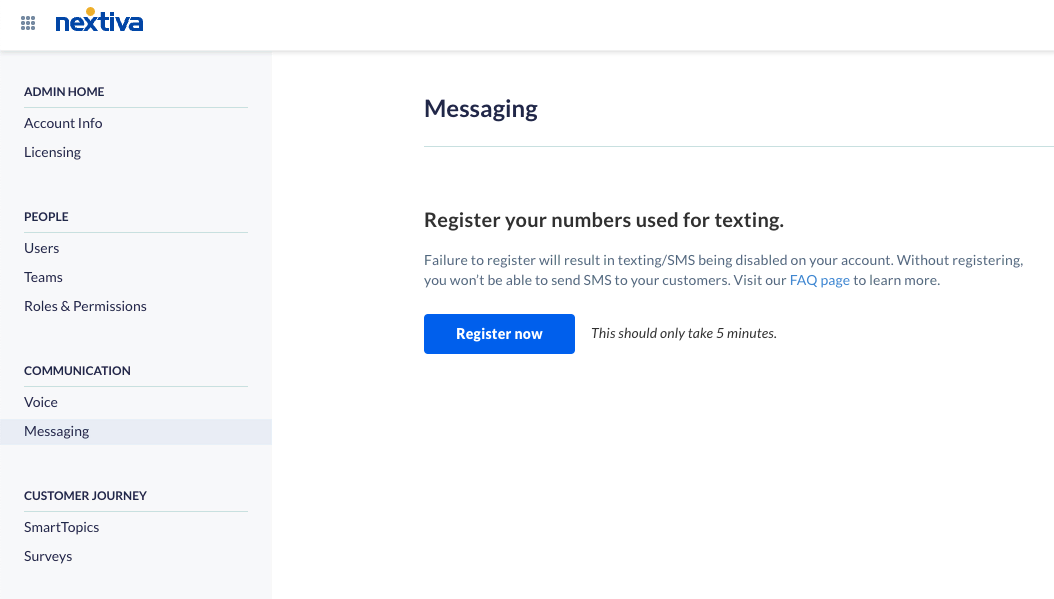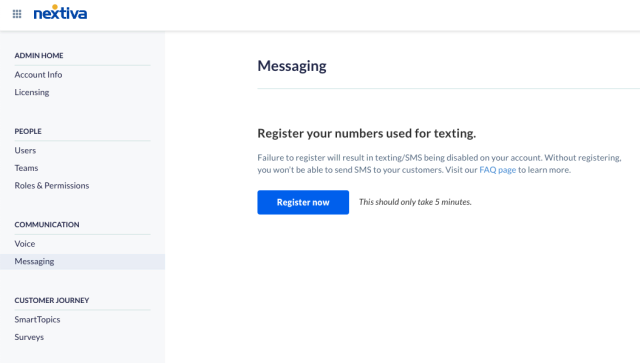 Step 2. Register Your Brand
Registering your business with the TCR identifies your brand to the carrier networks and verifies the legitimacy of your company.
Your service provider will submit details about your organization and may collect details such as the Tax ID, entity type (non-profit, public, private, government), business type (LLC, sole proprietor, or corporation), etc.
Step 3. Campaign and Use Case Registrations
Carriers must also understand and specify the types of messages your business intends to send, along with the frequency and purpose of each messaging campaign.
Your proposed campaign details will include:
Use case (standard campaigns or special use campaigns)
Message content and attributes
Three to five sample/example messages
Opt-in information (proof of verification and consent from consumers)
When outlining your campaign use cases, consider how you plan to use SMS for business communication. This might include sending messages for:
Customer support and follow-up
Marketing offers like discounts and coupons
Reminder texts (appointments, upcoming due dates, etc.)
Surveys, polls, and feedback about recent experiences
Step 4. Verification and Vetting by TCR and Mobile Carriers
TCR will review your application to ensure you're in compliance. They may also request additional information or clarification if necessary.
Once approved, your brand will be registered, and your campaign use case will be reviewed and scored. Then, you'll get your 10DLC number and link it to your campaign.
You can link multiple 10DLCs with a single campaign. However, you cannot use the same 10DLC for multiple campaigns. You'll need a unique 10DLC for each campaign you create.
Step 5. Testing and Launch
After a campaign is approved, your service provider works with mobile networks to update their databases with your confirmed 10DLC number.
It'll be added to a shared industry database and go live for testing. Don't skip this step. Ensure your numbers operate seamlessly and comply with carrier requirements.
Fix any issues during testing to guarantee a smooth customer experience.
Business Benefits of A2P 10DLC
A2P 10DLC is a game-changer for businesses striving to level up their messaging strategies. Here are several ideas for texting with an A2P 10DLC number.
Added Legitimacy, Trustworthiness, and Authenticity
Building trust with your customers is paramount for success in a virtual world teeming with SMS scams and spam.
A2P 10DLC delivers because:
There's a legit vetting process: Businesses using 10DLC numbers are authentic and comply with regulations. It also proves the consensual delivery of messages from genuine sources.
Local numbers foster trust: Rather than a short code or toll-free number, 10DLC local numbers are easily recognizable as a reputable doctor's office, favorite restaurant, etc., and offer high authenticity.
Improved Deliverability and Reliability
A2P 10DLC provides enhanced reliability in message delivery. Where short codes might encounter spam filters and blocks, 10DLCs offer a more stable, dependable channel for businesses to communicate with their audiences.
This advanced system means brands can count on time-sensitive notifications, promotions, and critical alerts to reach customers promptly and consistently, fostering trust and dependability.
All those perks come down to:
Reputation scores that reduce the risk of lost, blocked, or delayed deliverability: TCR gives all approved 10DLCs a reputation score. Mobile carriers then use that score to prioritize messages. The higher your reputation score, the higher your deliverability.
Improved throughput: Throughput refers to messages per second (MPS). Higher throughput allows your business to send more MPS simultaneously and on time. Because carriers view 10DLCs as more trustworthy, they boast higher throughputs than other numbers.
Greater Versatility
10DLCs boast incredible versatility and flexibility for various use-case scenarios. Besides clever SMS uses, your brand can add two-way messaging and voice calls to its customer engagement stack.
Most consumers aren't aware of the technical factors when texting a business number. They might already be messaging your company, but you can't read them.
Cost-Effectiveness
Compared to short codes and toll-free numbers, 10DLCs are a more affordable option for businesses. They're more accessible and easily scalable for brands of all sizes.
Companies can tailor campaigns for every type of business need and goal without breaking the budget.
Higher Customer Engagement
A2P 10DLC isn't just about sending messages; it's about creating meaningful connections.
With the reliability and authenticity it brings, your messages will reach your audience and resonate with them. 10DLCs foster stronger relationships with customers because:
They trust the source: Customers who are used to seeing a familiar 10-digit local number are more likely to engage with the content, leading to higher open and response rates.
They appreciate timely notifications: Improved deliverability and reliability mean customers are always kept in the loop, encouraging positive interactions and brand loyalty.
Two-way messaging feels personal: Customers can initiate conversations and interact with brands as they would in person or via customer support. Businesses score another opportunity to demonstrate their customer-first approach.
Top-Rated A2P 10DLC Service Providers
In the vast sea of SMS service providers, comparing all your options can feel overwhelming.
Larger providers are often too complicated for the needs of small businesses. Yet smaller providers lack the features, functions, and bulk text pricing that better align with your goals.
Let's see how these five service providers compare:
1. Nextiva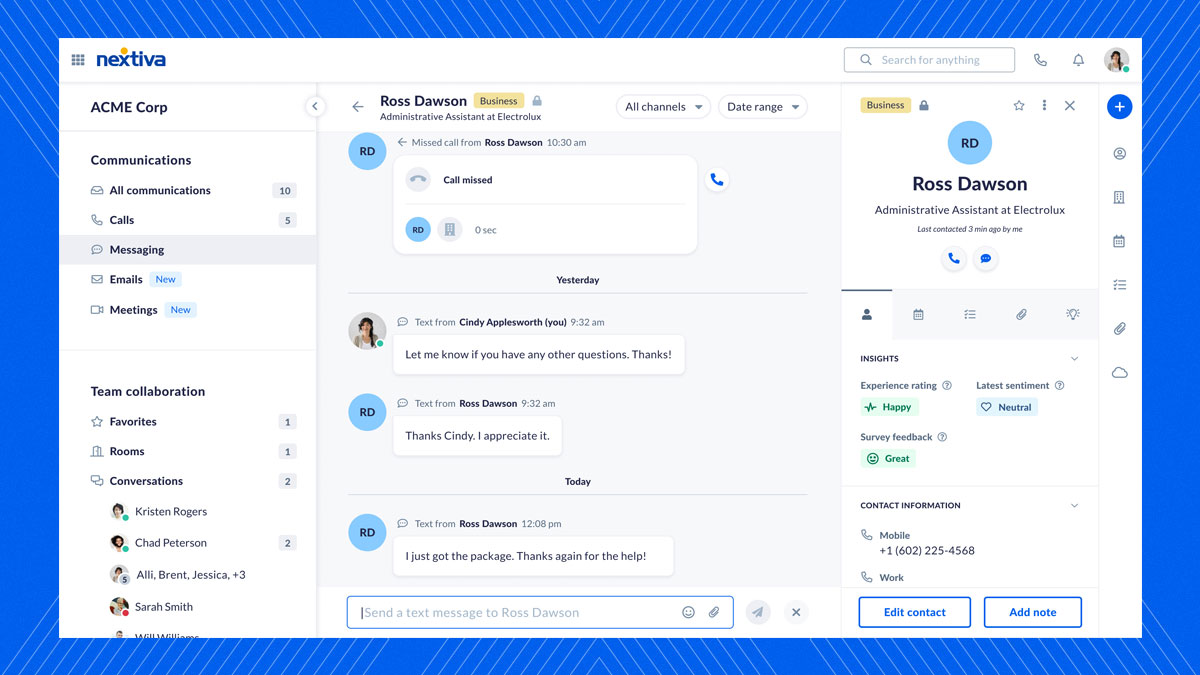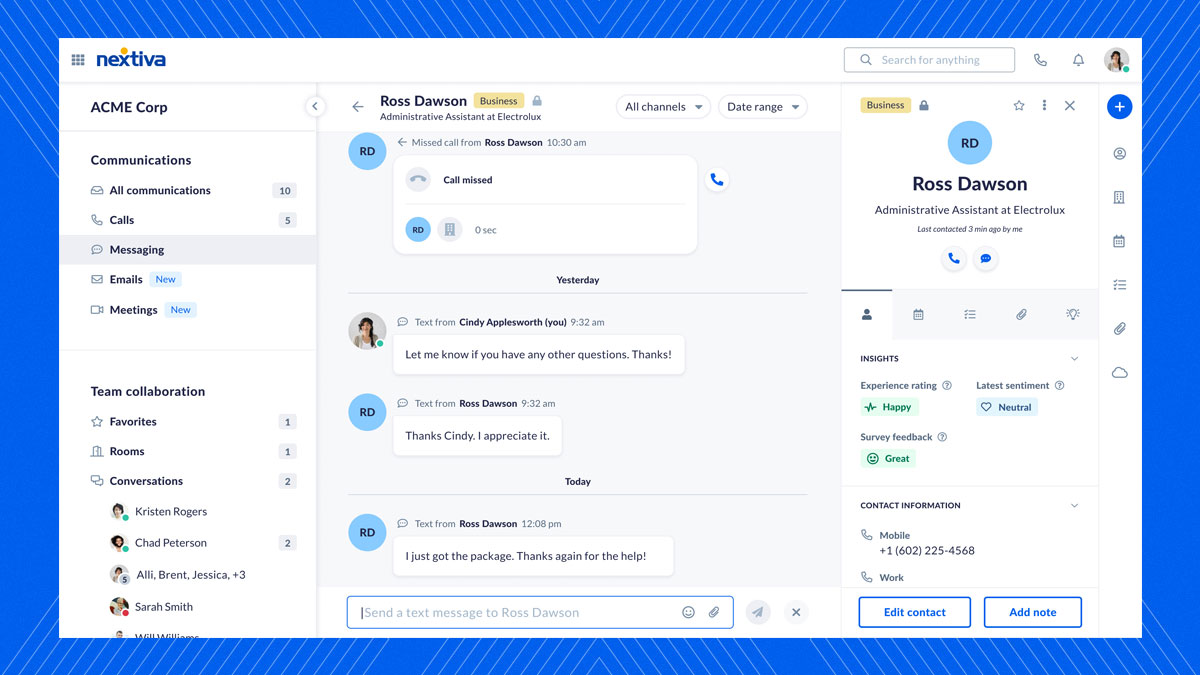 Nextiva is the best-rated business phone system. Our VoIP technology empowers your brand to call and text anyone in one simple, streamlined business phone service — no need to add a separate text messaging provider to your budget.
Business phone numbers from Nextiva comply with the new A2P 10DLC standards, and our business text messaging plans include thousands of text messages per user (where our competitors charge extra). And our relationships with phone service providers mean your text messages are always reliably delivered.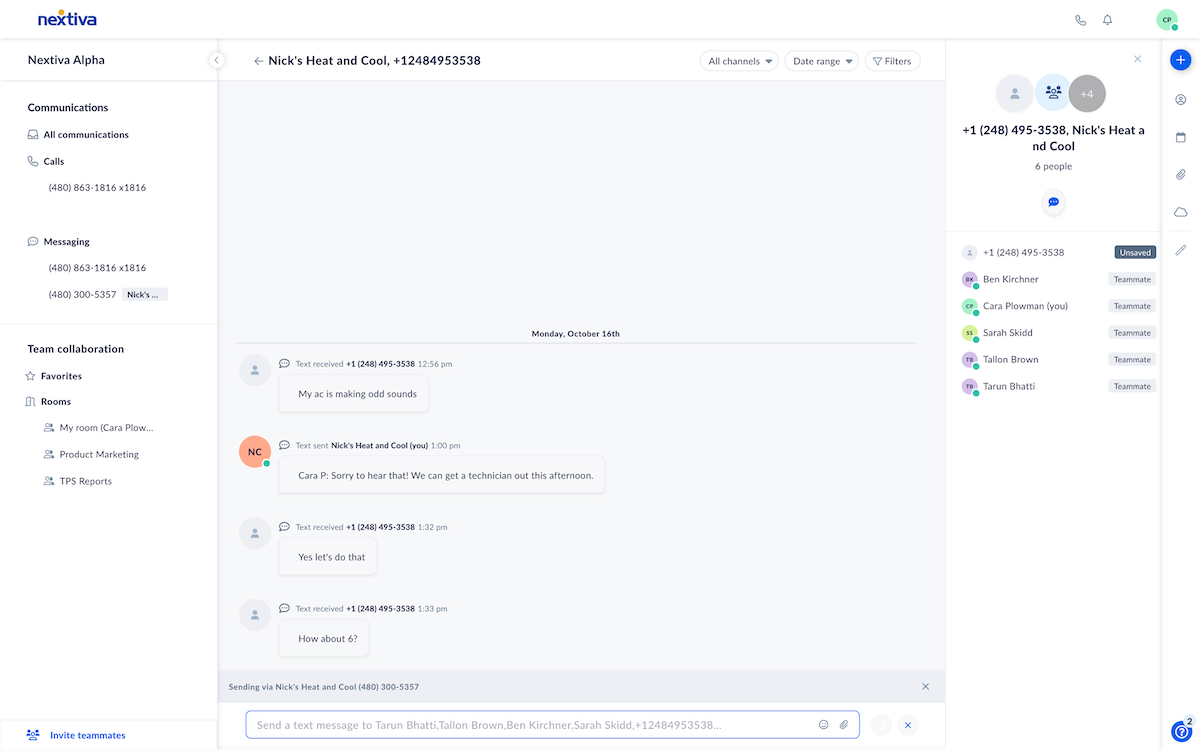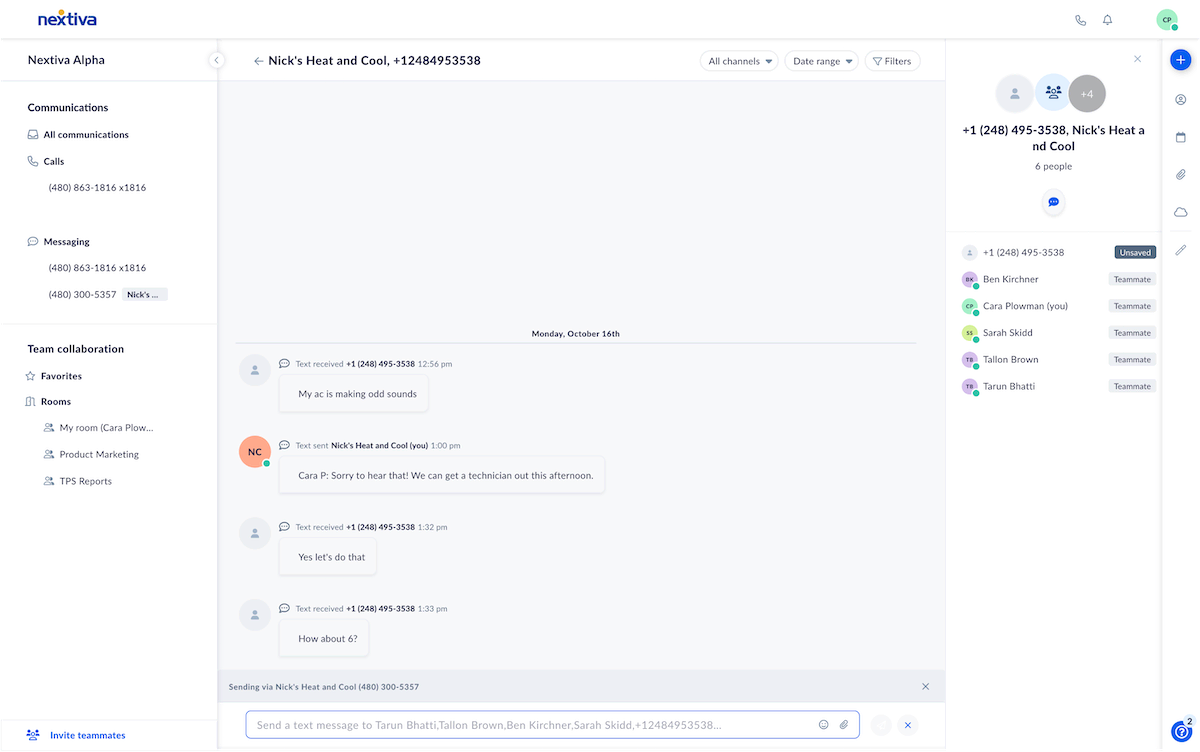 Your brand scores all the benefits of VoIP messaging without any of the clunky API integrations. Select or port in as many local phone numbers as your business needs. We'll verify they're available and enable VoIP SMS on them for you.
Our Professional plans start at $21.95 per month/user; our Enterprise plans begin at $31.95 per month/user. But the best part? Business VoIP with texting is just the start — every plan includes the most advanced communication features brands need to thrive.
2. Twilio
Twilio provides programmable communication tools for your business to send and receive text messages with its web service APIs. While they are a great carrier, you'll need a full-stack developer to take advantage of its offerings.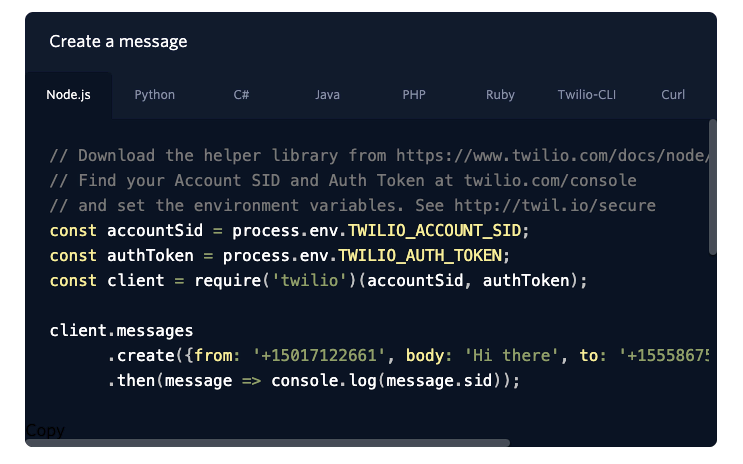 Their SMS pricing is based on the destination, type of message you're sending, and carrier to which the SMS is being sent. Here's a quick pricing breakdown:
Outbound and inbound SMS from 10DLC numbers: $0.0079 each
Automatic carrier fees: $0.0030 to $0.0050 per message
Leased 10DLC numbers: $1.15 per month
Bring your own 10DLC number: $0.50 per month
Read Next: The Best Business Texting Replacement for Twilio
3. Vonage
Vonage provides cloud-based unified communications and programmable communications APIs for businesses and enterprises. Its virtual phone numbers and SMS API require coding experience to deploy, which many small teams may find to be a blocker.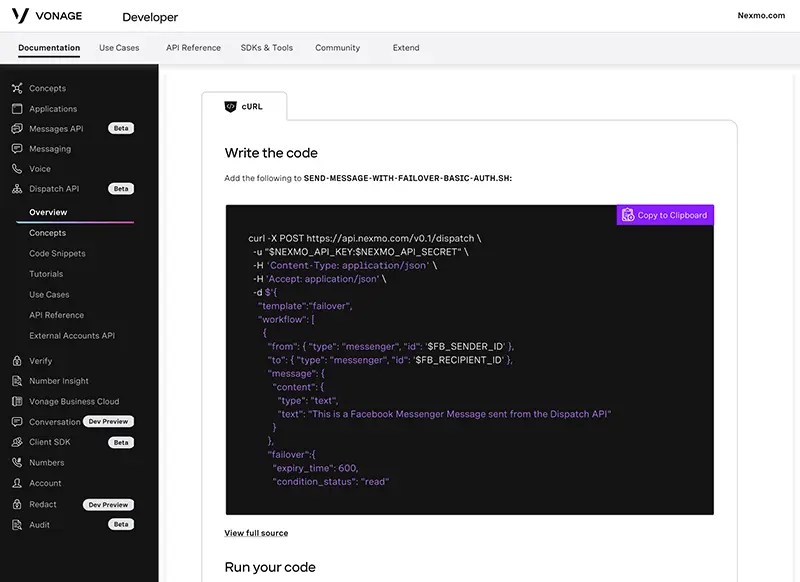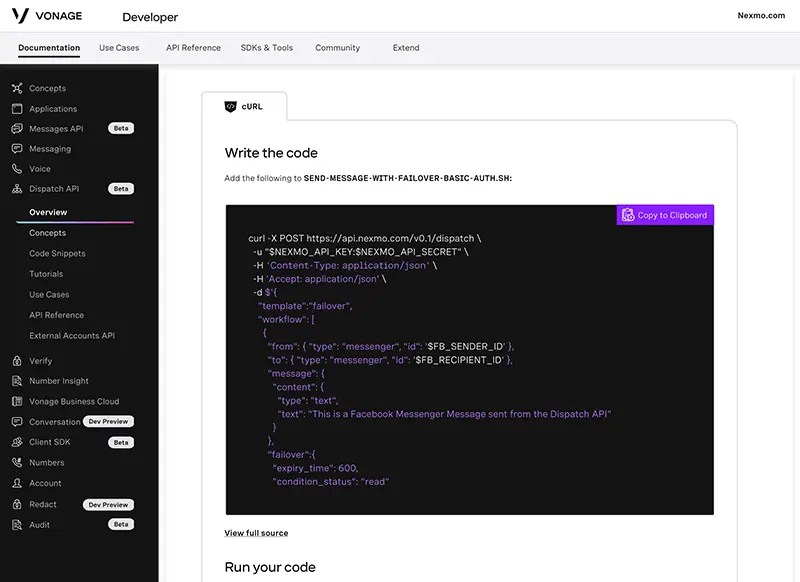 Here's a rundown of their SMS pricing:
Send a message: $0.0066 per message
Receive a message: $0.0061 per message
Rent a virtual phone number: $0.96 per month
Additional 10DLC carrier fees range from $0.0025 to $0.005 per message
4. ClickSend
ClickSend builds communication software and tools for businesses. Their SMS tool can be accessed via their Dashboard, app, API, or integration.


Here's a snapshot of their SMS pricing sheet:
Outbound SMS prices scale from $0.0228 per message (for under 5,000 messages/month) to $0.0082 per message (for 150k messages or more)
Additional SMS carrier fees are charged at a flat average rate of $0.0025 per message
Inbound messages are free, but replies are supported via a dedicated number, which costs $1.58 per month
5. TextMagic
TextMagic provides pay-as-you-go software to send personalized SMS texts from your online account, email, proprietary app, desktop, and more. There are no setup or account fees; you'll only pay for the services you use.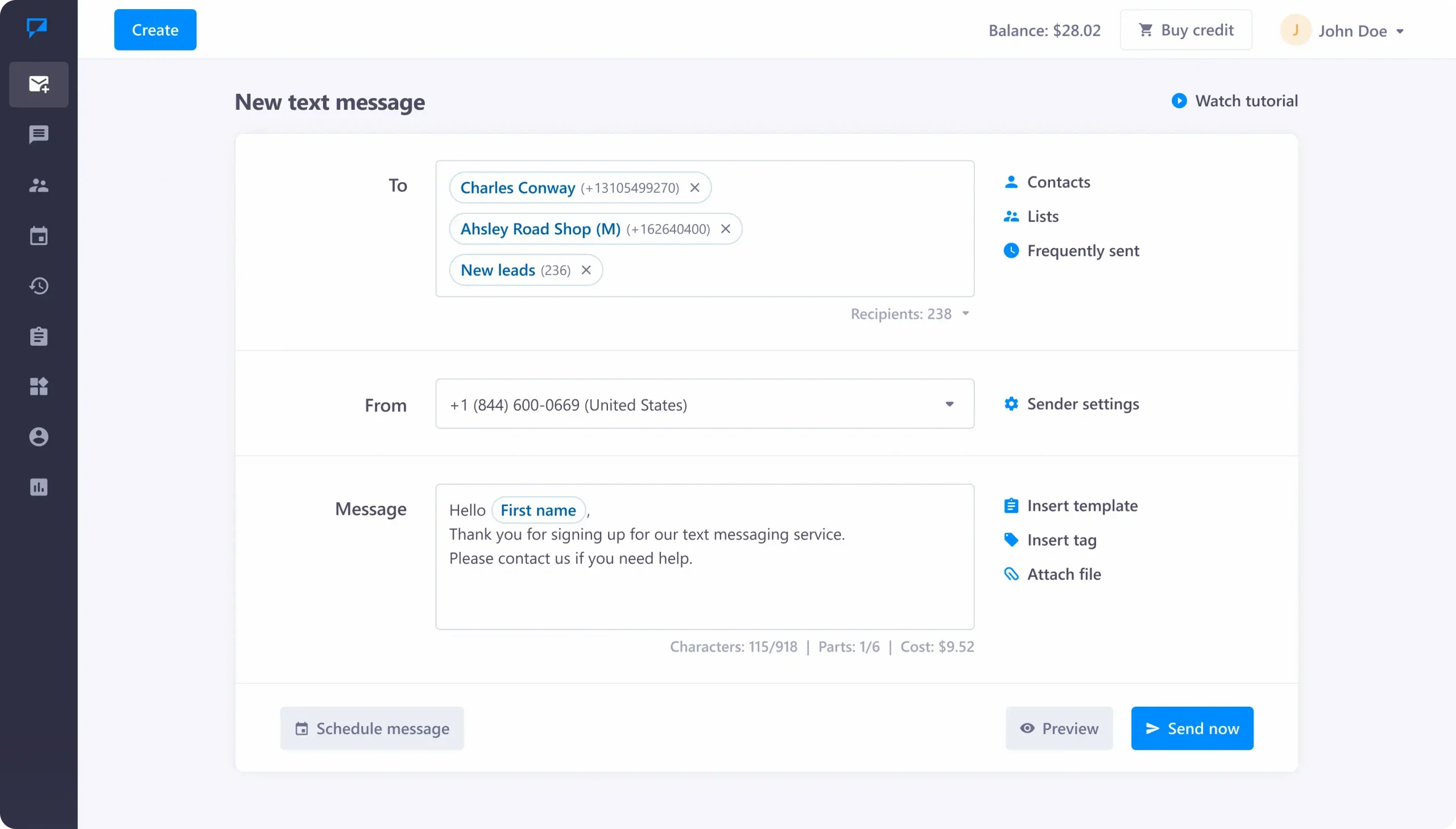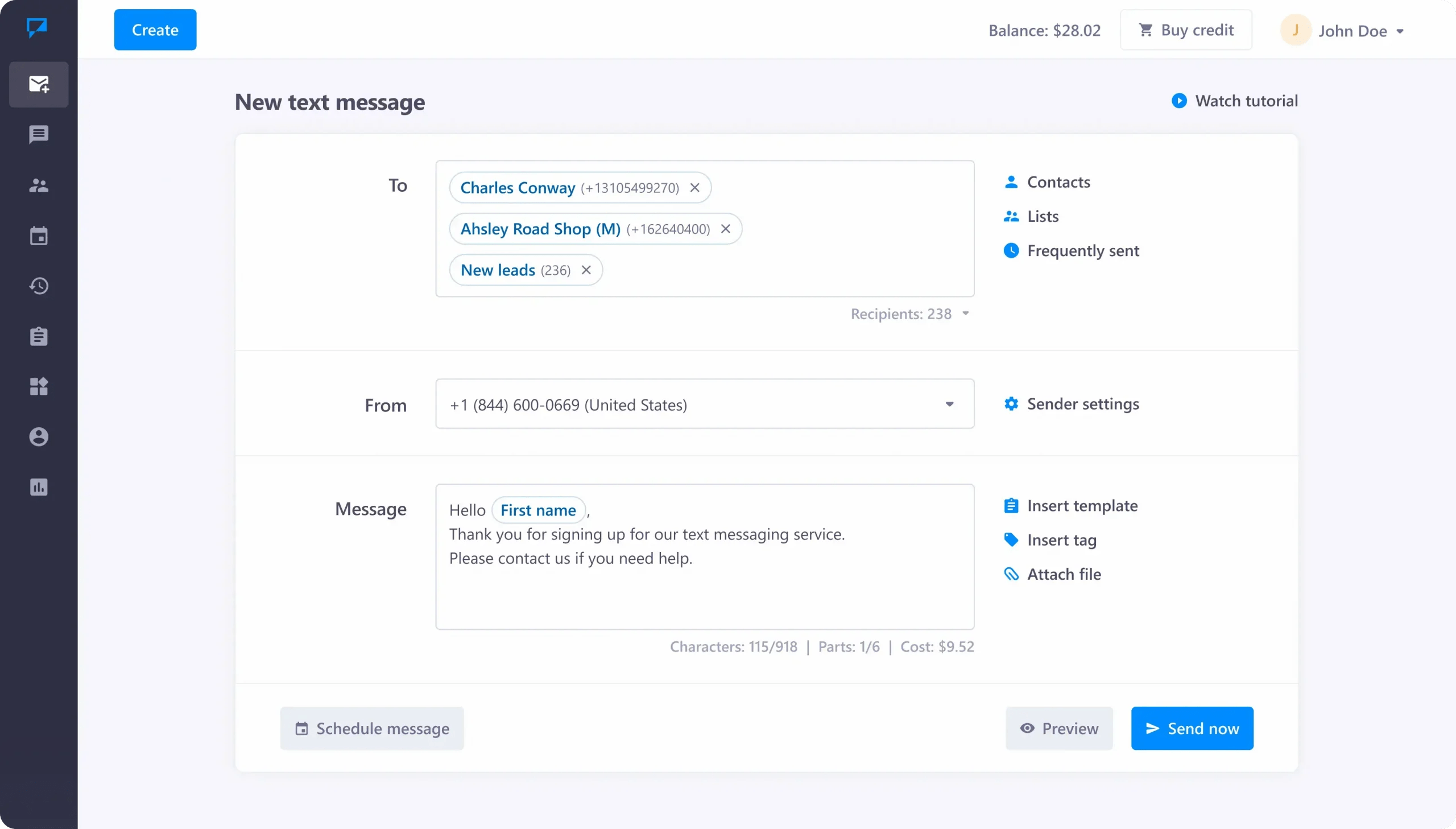 Here's an overview of their SMS pricing:
Virtual phone number: $10 per month
Price per SMS in the US: $0.049
Messages longer than 160 characters incur additional charges
No group messaging; sending one message to 10 recipients is the equivalent of sending 10 individual messages
With all these communications providers, is there an easy way to get a 10DLC-ready phone number? Yes, it's Nextiva. And you'll get a complete communications platform that the whole team can use — and be up and running in minutes.
Take Advantage of A2P 10DLC With Nextiva
As brands navigate the complexities of A2P 10DLC, enhanced reliability, trust, cost savings, and increased engagement make it a worthwhile investment.
Nextiva gives teams a comprehensive set of team collaboration and customer support tools. Text messaging is core to that — available with its business communication plans — without API coding. It's built-in.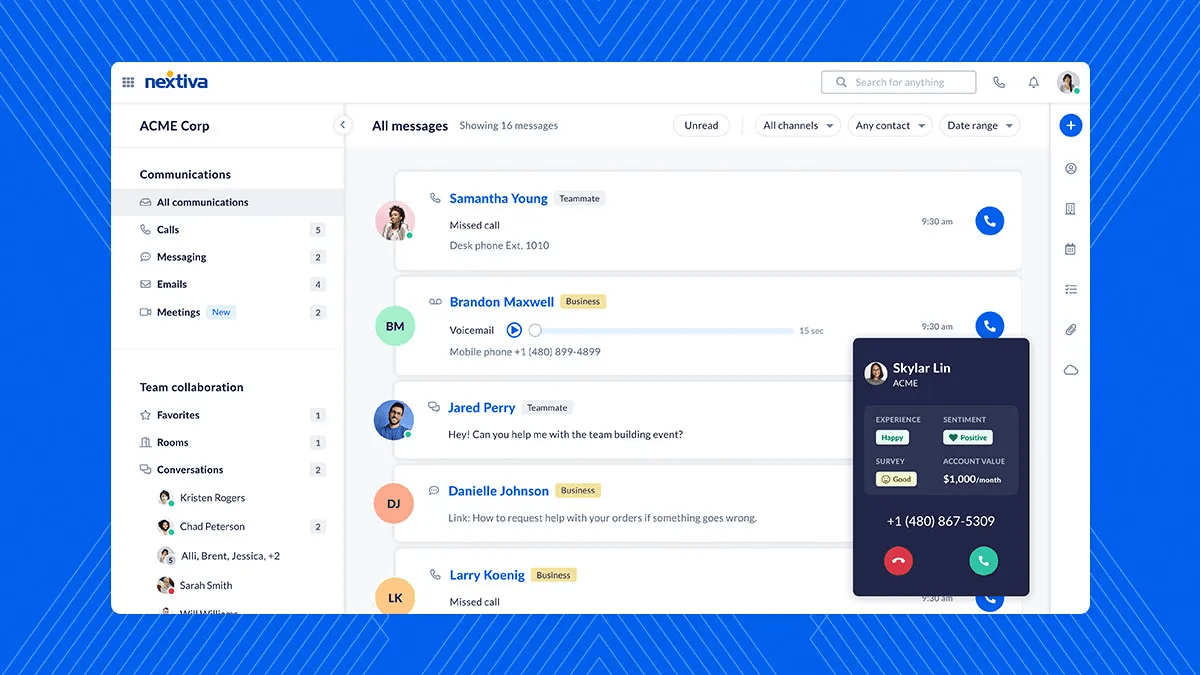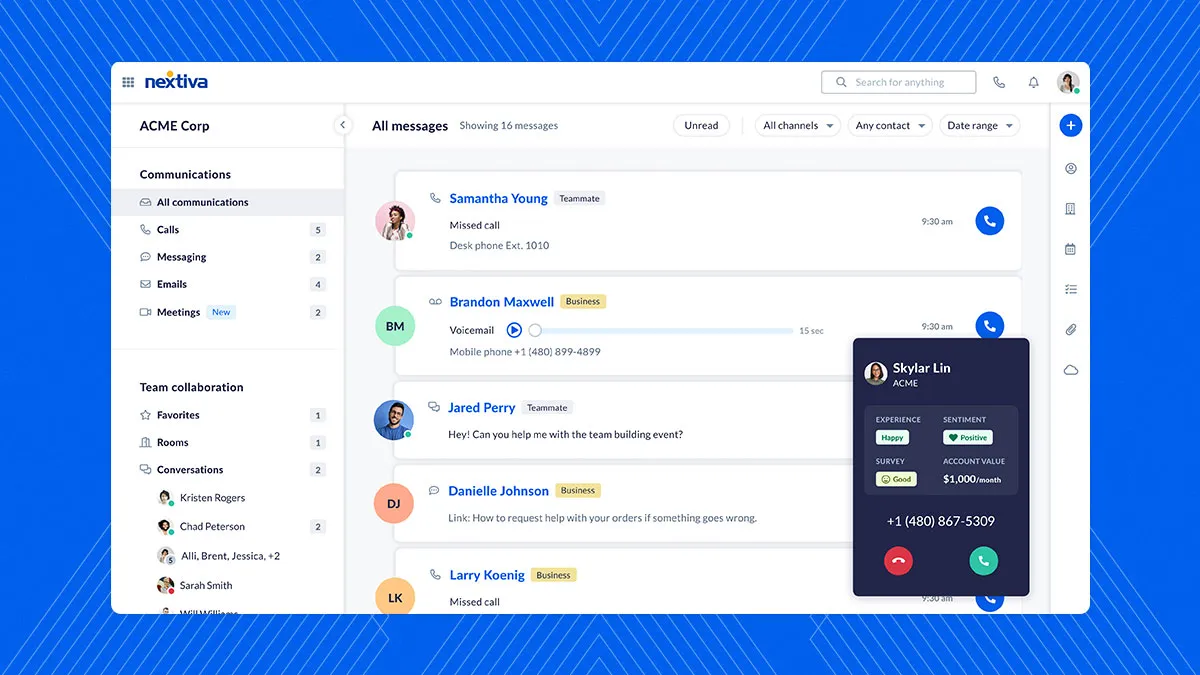 Choosing a reliable VoIP service provider is the first step to unlocking the full potential of this next-level messaging solution.
We'll guide you through the entire registration process so your brand can harness the power of A2P 10DLC … ASAP.
Talk with an expert today to see how you can manage your company's voice, text, and video all in one place.
FAQs
How long does the 10DLC registration process typically take?
It only takes a few minutes to complete your registration forms with your CSP. However, vetting and approval times vary based on your CSP, carrier review times, and demand. 

Now that businesses must register with TCR, demand is high, and the approval process may take two to four weeks (or longer).
What costs are associated with A2P 10DLC registration?
You'll need to budget for setup fees from your chosen service provider, TCR, and mobile carrier fees. TCR charges providers a one-time registration fee and monthly recurring fees for campaigns, often passed to business users.

– Brand Registration: This one-time fee per brand ranges from $4 for Sole Proprietors and Low Volume Standard Brands to $44 for Standard Brands (which includes secondary vetting).
– Campaign Use Case Registration: One-time $15 fee per campaign vetting.
– Campaign Registration: Between $2 to $10 monthly recurring charge, depending on the type.

What text messaging content is prohibited by Nextiva?
Our messaging guidelines are built from the CTIA Messaging Principles and Best Practices. Please refer to the CTIA guidelines for more details. Following these standards ensures optimal text message delivery is 10DLC certification.

Nextiva customers should take proactive steps to monitor and prevent unwanted message content, including but not limited to content that: 

– Is unlawful, harmful, abusive, malicious, misleading, harassing, violent, obscene/illicit, or defamatory 
– Is deceptive (e.g., phishing messages intended to access private or confidential information), including deceptive links 
– Invades privacy 
– Promotes illegal activity
– Causes safety concerns 
– Incites harm, discrimination, hate or violence 
– Includes malware 
– Threatens recipients or intended to intimidate 

For more information on Nextiva-specific details, visit our 10DLC FAQ.
What happens if I send messages via an unregistered 10DLC?
Any 10DLC numbers not properly registered with TCR will be blocked by carriers, preventing message delivery. Sending messages via unregistered 10DLCs also risks fines and penalties imposed by carriers.
Can I use the same 10DLC for transactional and marketing messages?
No, a single 10DLC number cannot be used for both transactional and marketing campaigns. Transactional and marketing use cases count as distinct purposes, each requiring its own dedicated 10-digit long code phone number.
How often do I need to renew my A2P 10DLC registration?
10DLC registrations remain valid for 12 months and must be renewed annually. This involves re-submitting your registration application and campaign details for re-approval.
What if my text messages aren't being delivered properly?
First, contact your text messaging service provider. They can check your reputation score and work with carriers to diagnose any delivery issues. Make sure your messages comply with length, frequency, and content guidelines. Also, verify your customers' mobile carriers support 10DLC messaging.