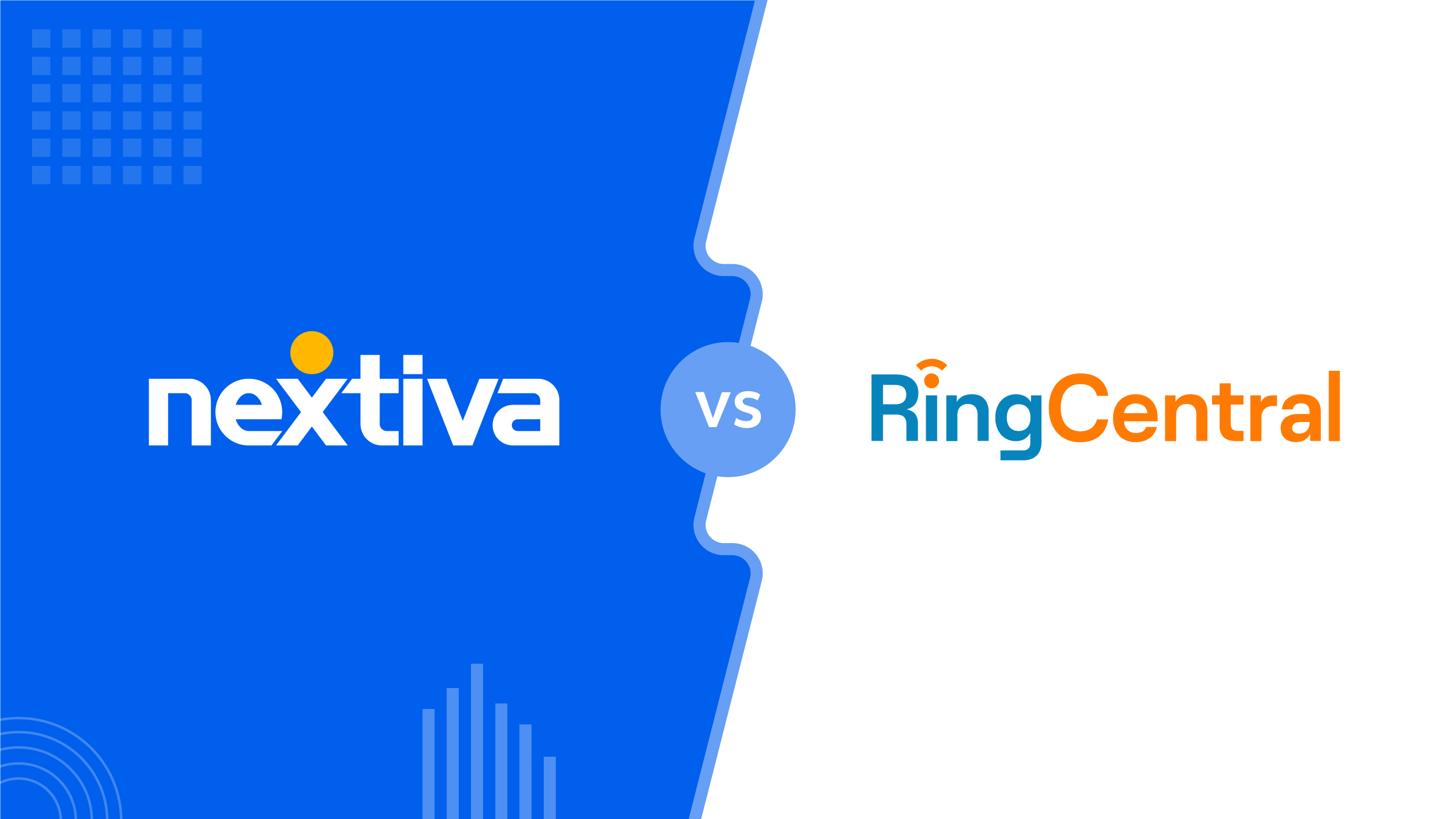 Nextiva and RingCentral are both well known when it comes to the best business full-service VoIP communications. The ease of use, industry expertise, superb features, exceptional customer service, and seamless third-party integration of Nextiva and RingCentral's VoIP services make them top industry choices.
While both Nextiva and RingCentral are excellent options, they vary in some ways. As a result, we compared the two to help you decide which is the best choice for your company's communications needs. We look at pricing, advanced features, performance, customer support, usability, and more to see how each VoIP phone service measures up.
Bonus? Nextiva offers business communication software that includes features beyond voice like business text messaging, automated surveys, customer sentiment scores and more. Read all about it here.
RingCentral vs. Nextiva VoIP Comparison Table
Nextiva
RingCentral
Pricing (monthly)
Starts at $18.95 per user.
(at 20-99 users)
Starts at $27.99 per user
(at 21-50 users)
Ease of Use
User-friendly
User-friendly
Video Conferencing
Up to 250 participants per meeting
Up to 100 participants per meeting
Communication Channels
Voice, text messaging (SMS), video conferencing, team messaging, internet fax, voicemail
Voice, text messaging (SMS), video conferencing, team messaging, internet fax, voicemail
Free Trial
Available
Available
Annual Subscription Discount
Yes
Yes
Reliability
99.999% uptime
99.999% uptime
Advanced Call Management Features
Available
Available
Integrations
Limited based on tier
More than 200 integrations
Customer support
Phone support and Live Chat
Phone Support and Live Chat
Advertised rates & features on https://www.ringcentral.com/office/plansandpricing.html, June 2022
Nextiva's Essential bundle may be the optimal choice if you're looking for a more economical VoIP subscription. It costs $18.95 per user per month and includes unlimited voice and video calls. On the other hand, RingCentral Office's Essentials package costs $19.99 per user per month but is limited to 20 users and does not include video.
Nextiva is less expensive at most price points and offers significantly more toll-free minutes than RingCentral.
Nextiva vs. RingCentral VoIP Products & Features
Both RingCentral and Nextiva offer many similar features that appeal to both small and big business owners when it comes to functionality. However, there are a few instances where one service outperforms the other.
Nextiva VoIP features
With Nextiva Essential plan at $18.99/user/month, you get features such as unlimited voice & video calling, voicemail, toll-free numbers, Outlook/Google Contacts Integrations, and unlimited internet fax.
Suppose you upgrade your plan to Enterprise at $32.95/user/month. In that case, Nextiva will offer you features like unlimited participants on voice & video conferencing, screen sharing, auto attendant (multi-level), mobile and desktop app, SMS/MMS, Salesforce/HubSpot Integrations, 3 Professionally Recorded Greeting, unlimited video conference recording, call recording, voicemail transcription, Microsoft Teams/Custom Integrations, and Single Sign-On, plus everything in Essential plan. You can learn more about Nextiva's business phone service here.
RingCentral
RingCentral's Essential plan at $19.99/user/month offers up to 20 users only, business phone or toll-free numbers, unlimited calls within the US/Canada, enhanced Business SMS, voicemail-to-text, team messaging, and document sharing.
However, suppose you upgrade to the Premium plan at $34.99/user/month. In that case, RingCentral offer features like video meetings with up to 200 participants, real-time analytics, popular CRM integrations with Salesforce, Zendesk, and more, industry-specific integrations with Canvas, Smarsh, and more, developer platform and custom integrations, advanced call handling including whisper, barge, and more, hot desking, pp to 8-digit extensions with site codes, multi-site admin and management, single sign-on, automatic call recording, business phone numbers in over 100 countries, unlimited audio conferencing, up to 24-hour meeting duration, popular integrations including Microsoft 365, Google Workspace, Slack, and more, unlimited number of users, and quality-of Enterprise reports.
For pricing, Nextiva gets a decisive winner here. However, RingCentral takes the lead when it comes to more features but it will cost you.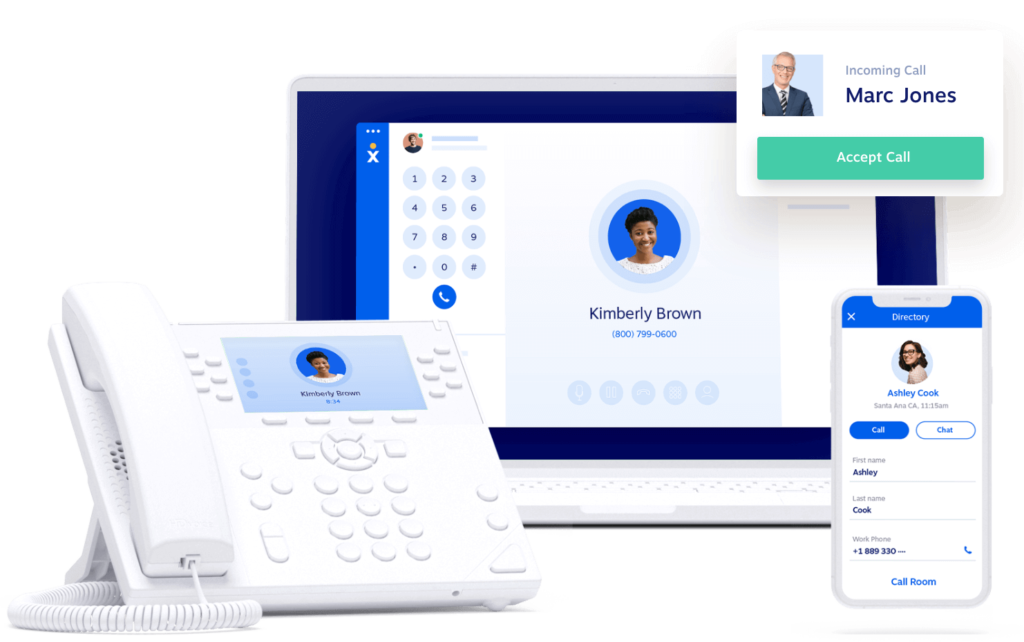 Nextiva vs. RingCentral Analytics
Nextiva features a built-in business intelligence tool that helps you make smart business decisions, find hidden insights, and boost staff performance. Nextiva platform, in particular, has a voice analytics tool that provides a real-time synopsis of all actions in your contact center. You can also see the voice analytics data that you need with Nextiva's interactive maps and graphs.
RingCentral also allows you to keep track of important KPIs and metrics. You can get reports like adoption and usage, organization numbers, quality of service, device status, and live reporting through the analytics portal provided by the solution.
Nextiva vs. RingCentral Call Pops
Call Pop is a feature unique to Nextiva. This feature shows important information about the caller on the screen before answering the phone and during your conversation. When a customer calls, Call Pop displays contact and critical account information, such as customer experience score, last survey score, account value, and last interaction sentiment.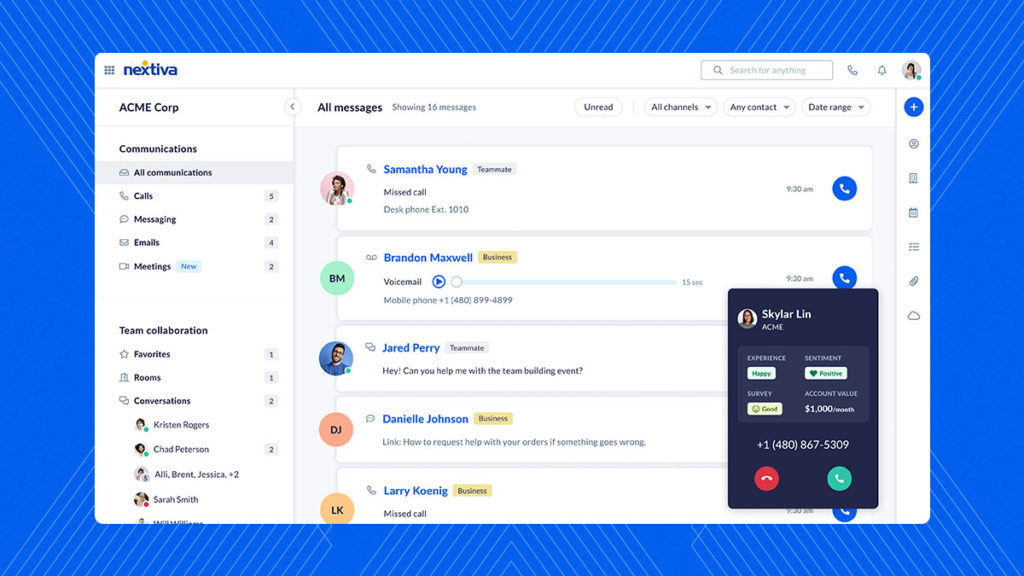 Nextiva vs. RingCentral Performance & Uptime
Nextiva and RingCentral both claim to have 99.999% uptime and carrier-grade data centers, which means you should never lose service for more than a few minutes each year.
RingCentral's cloud architecture is built on geo-redundant data centers, ensuring that your service remains operational even if the power goes out.
Nextiva's data centers, on the other hand, use fully uninterruptible power sources, claiming to have the best uptime in the industry.
Nextiva vs. RingCentral Support
Nextiva offers online ticketing support and, if needed, an online chat service for the starter plan. They also provide email and phone support Monday through Friday, between the hours of 5 a.m. and 6 p.m. MST; Saturdays, between 6 a.m. and 6 p.m. MST.
You should be well-served regardless of how you contact Nextiva.
RingCentral has its own 24/7 customer service but only starts with the second subscription plan.
RingCentral vs. Nextiva Setup and Usability
Both RingCentral and Nextiva provide easy-to-use, simple interfaces for desktop and mobile devices. Their devices and hardware are also pre-configured, making it easy for their users to use them.
Nextiva's user interface is incredibly intuitive, making complex rules like call flows, user administration, and voicemail modifications a breeze.
RingCentral prioritizes intuitive navigation in all of its desktop and mobile platforms. The key features are accessible via big buttons, and you can send out a message to every staff member in a department with a few touches.
Which One is Right For Your Business?
RingCentral makes sense for your business if:
You're willing to pay more for additional features like in-depth customer analytics, etc. It also makes sense for your business if your video conferences don't usually have a lot of participants, and you want to be able to use Zoom with your VoIP provider.
Nextiva makes sense for your business if:
You want to get the most value for your money, prefer native functionality above third-party compatibility, and want to expand at a rapid pace in the near future. Nextiva's services could be suitable for a small business that relies significantly on video communication. Talk to an expert to book a demo.
So which one should you choose?
Nextiva and RingCentral are excellent VoIP services and phone system solutions for any business. They both have enough VoIP features to meet the demands of most businesses. Besides, small businesses will benefit significantly from Nextiva's volume, affordability, and long-term contract discounts.
Nevertheless, the best VoIP services for your business are ultimately dependent on your budget, unique needs, and which platform features are most important to you.
However, if you're still undecided about which service would be the greatest fit for your company, a free trial of both services is a good way to better understand the options.