What is Interactive Voice Response (IVR)?
IVR is an automated phone system that allows callers to interact with a computer-operated telephone system through Dialtone input from a keypad or through voice response. It can route calls or even provide self-service options.
IVR phone systems have become so widely used that you've probably found yourself listening to a pre-recorded message or communicating with a virtual assistant over the phone more times than you can count.
IVRs manage inbound phone calls by collecting information about the customer inquiry before automatically transferring the call to the right department. They can tailor the conversation even based on the virtual phone number the person dialed.
Typically, customers are presented with a pre-recorded message explaining the options in a menu. After navigating the menu either verbally or manually (using the phone keypad), the customer is automatically connected to an agent who can help.
Get advanced IVR with conversational AI
Queue callback, natural language call steering, appointment scheduling, and more–integrated in one powerful IVR system.
Picture a line of people waiting to check in to an event. An IVR might split the line, so people with last names of A-L go one way, and M-Z go another. This tactic increases the speed and load placed upon your staff. That's the most fundamental goal of an IVR. Not only does this keep everything running more efficiently, but it also boosts the productivity of the call center staff.

An IVR system can also integrate—or may be bundled—with other call center software, like automatic call distribution (ACD) or customer relationship management (CRM) platforms.
We'll cover some other significant advantages of IVRs in a moment. First, let's go through a brief overview of how IVR works with automation.
Examples of automation with IVR
IVR can integrate with your internal systems to help customers resolve simple requests on their own. IVR automation is a win-win—you save time by freeing up your support staff, and customers resolve their issues faster.
Here are some examples of how IVR can help you automate common tasks:
Check account balance. IVR shares the current balance of a customer's accounts.
Check the order status. Customers provide details of an order for its current status.
Product lookup. Callers request information about products.
Bill payment. IVR applications can pull account information and accept credit card data without needing a call center agent.
Set or change PINs. Customers can set up or change their account or card PIN.
Answer surveys. Modern IVR can let customers give feedback at the end of a call.
How does IVR work?
Even the most basic IVR solution saves time and money by trimming hold times and requiring less workforce. That said, more advanced systems deliver an even better experience for the customer.
Basic IVR systems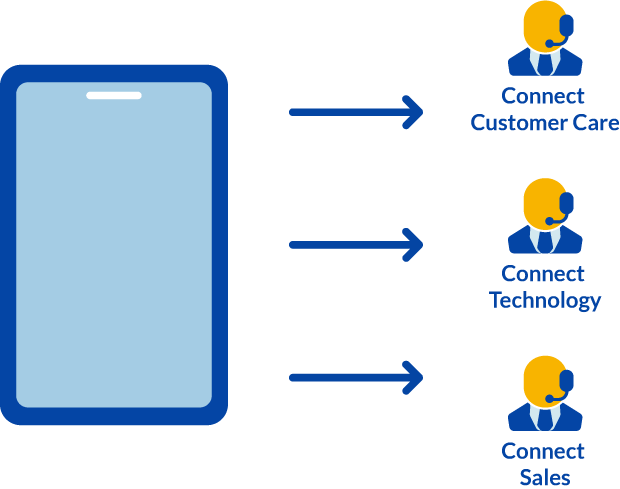 There are two primary components of IVRs that enable the computer to understand and process the caller's requests. One is voice recognition technology, and the other is called Dual-Tone Multi-Frequency signaling (or DTMF).
DTMF signaling occurs between the phone and the computer when callers use the keypad on their phone to select menu options. This touch-tone technology allows intelligent call routing to take place without a human operator.

IVR platforms with voice recognition capabilities enable what's called Directed Dialogue, which means callers can give verbal responses instead of using the keypad to navigate the menu. For example, an IVR menu might say, "For billing, press three or say 'billing.'"
Advanced IVR systems
As IVR technology develops, advanced systems make the customer's IVR interactions increasingly more natural, faster, and more enjoyable. Among the most customer-friendly advancements is in Natural Language Processing software (or NLP), which is a form of conversational AI.
Thanks to this sophisticated voice recognition technology, the computer can understand and process full sentences rather than limiting the caller's word choice by recognizing only particular commands. An IVR with built-in NLP can answer open-ended questions such as "what can we help you with today?"
As you can imagine, callers appreciate this conversational approach to customer service because it gives them more freedom. It's also a much faster way to navigate the IVR because callers can get to the point right away.
Related: 9 Powerful Ways to Use NLP to Improve Customer Service
Let's explore some of the reasons why an IVR is a game-changer for your business.
Nextiva's next-gen IVR functionality is available now!
See how Conversational AI wows your customers.
How do IVR menus work?
Typically, IVR menus include a top-level menu for incoming calls, plus additional submenus as necessary. Callers can select from the menu options to direct their call.
All IVR systems let users choose by selecting a number from their phone's touch-tone keypad, but this has limitations. With only nine options (the number zero is usually reserved to speak with an agent), an IVR system that needs to route hundreds of types of requests can be limited.
A more modern component of the IVR system is to accept spoken input. This allows users to speak any issue and be routed correctly, while also having a more comfortable and conversational feel.
How do you set up IVR?
To get started with IVR, you'll need a VoIP telephony service provider that offers an IVR system. Once you've gotten set up with the right provider, go to your dashboard and find the area to edit your IVR settings.
From here, you'll want to decide how to configure the call flow. Most IVR flows first deliver a welcome message, explain the menu options, and then wait for input before repeating the message. Most platforms let you choose between recording an audio message or writing a note which will be read to the caller using text-to-speech AI.
You can program the options on that menu depending on the key pressed. Typical options include an IVR submenu, an extension, a call queue, a voicemail, or another IVR process like sharing customer information or verifying the caller's identity.
How much does IVR cost?
An Interactive Voice Response solution typically costs $0.02 to $0.10 per minute of talk time. It's crucial to recognize the cost savings from diverting inbound calls from live agents, which could be $0.25/min multiplied by the average handle time.
Unlike cloud-based IVR software, the pricing for an on-premises setup is more than $1,500 per line, not including configuration and maintenance.
Why do companies use IVR?
Companies use IVR because it offers better-quality service at an even lower price. When customers interact with a computer first, they can get their issues resolved faster and more effectively—and it costs a fraction of the price.
Here are several additional benefits of IVR.
1. Automatic filtering
First and foremost, IVRs offer the core advantage of an automatic filtering process. Instead of reaching into a grab bag every time they pick up the phone, agents get an idea of what type of issue they'll be tackling before they answer. This type of call is based on which menu items the caller selected.
2. Better customer satisfaction
The caller benefits from speaking with an agent who's prepared to answer their questions. By starting the conversation with IVR, customers can share important details—like the specific issue they're facing, account information, and more—ahead of time.
This data gives the agent a better understanding of the incoming call and the problem the caller is trying to solve, resulting in more effective and personalized customer support.
3. Fewer transfers and shorter wait times
With a traditional hotline, callers might need to be redirected several times between departments. But IVR means bypassing the time-consuming and frustrating process of being manually transferred by agents from one department to another before speaking to someone who can help.
It will automatically sort customers based on their requests, letting the right agent handle the call from the beginning. The customer avoids being put on hold multiple times on the same call, and your business avoids the hefty costs associated with unnecessarily long call handling times.
4. Increased credibility
Better business phone service with an auto attendant immediately boosts the trust and credibility of your brand. IVRs take that a step further. They improve brand image because they present a consistent, welcoming, and on-brand greeting to every caller before they reach a representative.
This comes across as organized and professional, which boosts credibility in the eyes of customers. It also sends the message that your business is equipped to handle a wide range (and high volume) of customer calls.
Related: 12 Customer Service Trends You Must Know in 2020
5. Self-service options
An IVR system allows you to serve your customers even when agents aren't available. Callers can access basic information outside of regular business hours—or while agents are busy with high call volumes—via your phone number and an IVR menu.
Even if your team is available, IVRs lets callers handle issues on their own. As many as 83% of customers prefer self-service options rather than speaking with a representative—especially for simple tasks like checking into a flight, tracking a shipment, checking account balances, and so on.
6. Better personalization
If you think setting up an IVR means throwing all personalization out the window in the name of efficiency, think again. Advanced cloud phone systems with IVR incorporate biometric capabilities that recognize customer numbers and answer accordingly.
Anything from scheduling an appointment to acknowledging the caller's birthday can be accomplished without the assistance of a live agent.
7. Better data and continual improvement
Gathering information about your customer base is vital to the success of your business. An IVR system is built to collect, process, and store high levels of information. The data that your IVR collects about caller inquiries is not only valuable for your business strategies in general but it can also be used to continually improve your IVR setup.
Agents will never provide the kind of data and call analytics you'll get from an IVR system. It's the foundation for any data-driven call platform.
Related: Check out these 33 Phone System Features for Your Call Center
How do IVRs help the customer experience?
IVRs help the customer experience in several ways. They can offer a more efficient, personalized, and even more helpful experience than traditional calling.
Fewer transfers. Customers can get directed to the right department the first time, without time-consuming transfers.
Faster resolution. Callers can get their issues resolved faster with IVR since they'll be directed to an agent best prepared to respond to their specific needs.
Better personalization. IVR systems can integrate with known numbers, offering personalized messages or passing that information along to agents.
More security. Callers can confirm sensitive information before engaging with an agent.
Easier service. Many customers prefer to be able to resolve issues on their own. IVR lets customers take advantage of the self-service they want.
IVRs with Speech Recognition and NLP
Requiring callers to dial a digit on their keypad works, but it's slow and cumbersome. The modern, advanced IVR solution uses speech recognition and natural language processing, or NLP. These are types of artificial intelligence that can interpret human language, letting callers communicate by talking normally instead of pressing numbers.
This creates a more natural experience for the caller and often one that's faster and more efficient, since there's no need to listen to an entire menu of options. And NLP can also help IVR systems understand various kinds of information apart from just keyed numbers, like shipping addresses or emails.
Integrate IVRs with other apps
Many organizations use IVR to efficiently move calls, but the technology potential goes beyond just call routing. IVR can also integrate with the apps you use via an API, giving you tremendous power in how you handle and personalize customer requests, plus how you can even offer self-service options.
For example, your IVR can integrate with your customer relationship management (CRM) software, automatically pulling up customer data correlated to the incoming phone number. Or it can integrate with your eCommerce and shipping software, sharing up-to-date order information with customers over the phone without needing a live agent.
IVR features checklist: Comparing top IVRs
| | | |
| --- | --- | --- |
| | Nextiva | RingCentral |
| Contact center pricing | Starting at $50/user/month | Contact sales |
| G2 score | 4.4 of 5 stars | 3.9 of 5 stars |
| Conversational AI | Yes | Yes |
| Voice recognition and NLP | Yes | Yes |
| Integrated CRM | Yes | No |
| Queue callback | Yes | Yes |
| Call analytics | Yes | Yes |
| Free toll-free number | Yes | No |
| Call queueing | Yes | Yes |
| Call recording | Yes | Yes |
| Auto attendant | Yes | Yes |
| Real-time analytics | Yes | Yes |
| Intelligent call distribution | Yes | Yes |
| CRM integrations | Salesforce, Microsoft, Zendesk, ServiceNow, Oracle, Google, HubSpot, and more | Salesforce, Microsoft, Zendesk, ServiceNow, Oracle, and more |
How to choose the best IVR for your business
IVRs have emerged as one of the most effective ways for small businesses to lower costs, lighten the load on their staff, and deliver a better customer experience.
But venturing down the path to select an Interactive Voice Response system isn't always easy. There are plenty of options to choose from, and it can be challenging to decide which is best for your organization.
Here are the steps to take to choose the right system for your business.
Move your phone system to the cloud. Make that easy to navigate internally and externally. If you have an on-premises PBX, consider moving it to the cloud to unlock massive new connectivity and features—like an IVR.
Look for the right integrations. Choose an IVR solution that integrates with the software you already use, like your ERP, CRM, eCommerce platform, or other key components.
Choose the features you need. You should ensure you're choosing an IVR system that works with other call center features you need, like multiple channels, real-time notifications, and more.
Align your experience to the customer journey. Align your phone system to serve current and future customers so they get in touch with the right people on your team.
Empower callers to reach a live person. Nothing upsets someone more than getting stuck in a phone menu. Provide a helpful path to reach a live agent so your IVR advances your customer experience.
If you're a business leader, you never stop searching for ways to make improvements. An IVR enhances your brand image in every possible way and also provides a top-notch customer service experience to everyone who engages with your business.
Level up your call center using VoIP. Unlock massive growth in the cloud!
What NOT to do with IVR
The possibilities with an IVR are endless. Instead of a list of best practices, perhaps it's more beneficial to share "bad practices" to avoid.
The more effective your IVR is, the more it will benefit your customers. On the flip side, a poorly constructed IVR can ruin the experience and lead to customer frustration.
The goal here is to make things more convenient for the customer—not to make them want to throw their phone across the room.
Make sure your IVR setup is one of the good ones by avoiding the following fatal mistakes.
The overcomplicated menu
One way to help out your callers is by simplifying the recorded menu as much as possible. Start with a few general categories in the opening menu (preferably no more than four or five), and make sure all the options are straightforward enough for the customer to navigate on the fly.
Keep it short and sweet. If you take the caller through too many submenus, they're more likely to get confused or hang up because they feel they're not getting anywhere.
Reserve the earliest parts of the menu for the topics customers call about the most. Otherwise, the caller will choose to bypass the menu altogether, believing the topic of their inquiry isn't included in the menu at all.
The elusive agent
No matter how user-friendly your IVR menu is, don't expect everyone to cooperate. Always provide the opportunity to speak with a representative—and don't bury this option too deep in the menu.
The fact is that some callers do have questions that don't fall under any of your menu categories. Failing to put them on the line with an agent makes the customer feel overlooked and always results in a negative customer experience.
Lengthy hold times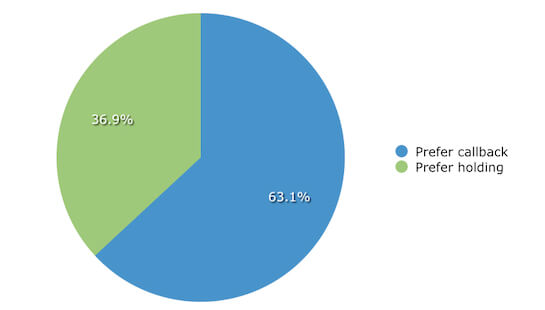 Let's face it—patience is not a virtue most possess when it comes to waiting on hold. And as it turns out, it's often an unnecessary evil.
There's a simple way to save your customers the time and frustration associated with being on hold for too long. Nextiva's Q-for-Me feature is an example of a callback system that's focused on reducing abandoned calls. Also known as the virtual hold, it enables customers to go about their day while reserving their place in line—all thanks to the IVR.
When customers select the callback option, they can hang up the phone and wait for their call to be returned when an agent becomes available. Not surprisingly, most people prefer to receive a callback rather than wait on hold.
Related: Should You Get a Cloud-Based Phone System? (Pros and Cons)
Level-up your call center using VoIP.
Unlock massive growth in the cloud!
Interactive voice response FAQs
Who uses an IVR?
Conventional wisdom suggests that you need a call center to use an IVR. The reality is that companies from virtually every industry can benefit from Interactive Voice Response.
Typical use cases include:
Account identification
Transactional information
Product Assistance
Sales call routing
Appointment confirmations
What is the purpose of IVR?
Businesses use Interactive Voice Response (IVR) for three primary purposes:
Deflect inbound calls. Reduce the number of live calls handled by a live agent to lower costs.
Enhance the customer experience. Offer self-service functionality to customers to solve simple account inquiries. Additionally, reaching the right department improves the first-contact resolution rate.
Reduce handle times. Provide customer service agents with real-time intelligence about the caller, such as account verification and call drivers.
IVRs can save businesses thousands every year in wasted talk time and provide a better customer experience.
What is a smart IVR?
A smart IVR or intelligent IVR is an Interactive Voice Response system that adapts to callers' real-time responses. Instead of static-based menus that are linear, callers can maintain a natural conversation with the virtual phone system.
Not every business needs a smart IVR. Designing your call flows with redundant menu paths can meet most customers' expectations. Companies with a high-volume call center and a wide range of products are best suited for a smart IVR.
What is an IVR call flow?
An IVR call flow is the projected prompts and inputs you want callers to take before reaching an agent. It operates like a flowchart that branches out to help callers arrive at their destination. Instead of a live person transferring inbound calls, the Interactive Voice Response phone system handles it.
Nextiva provides a visual call flow builder as a part of its communications platform, NextOS.