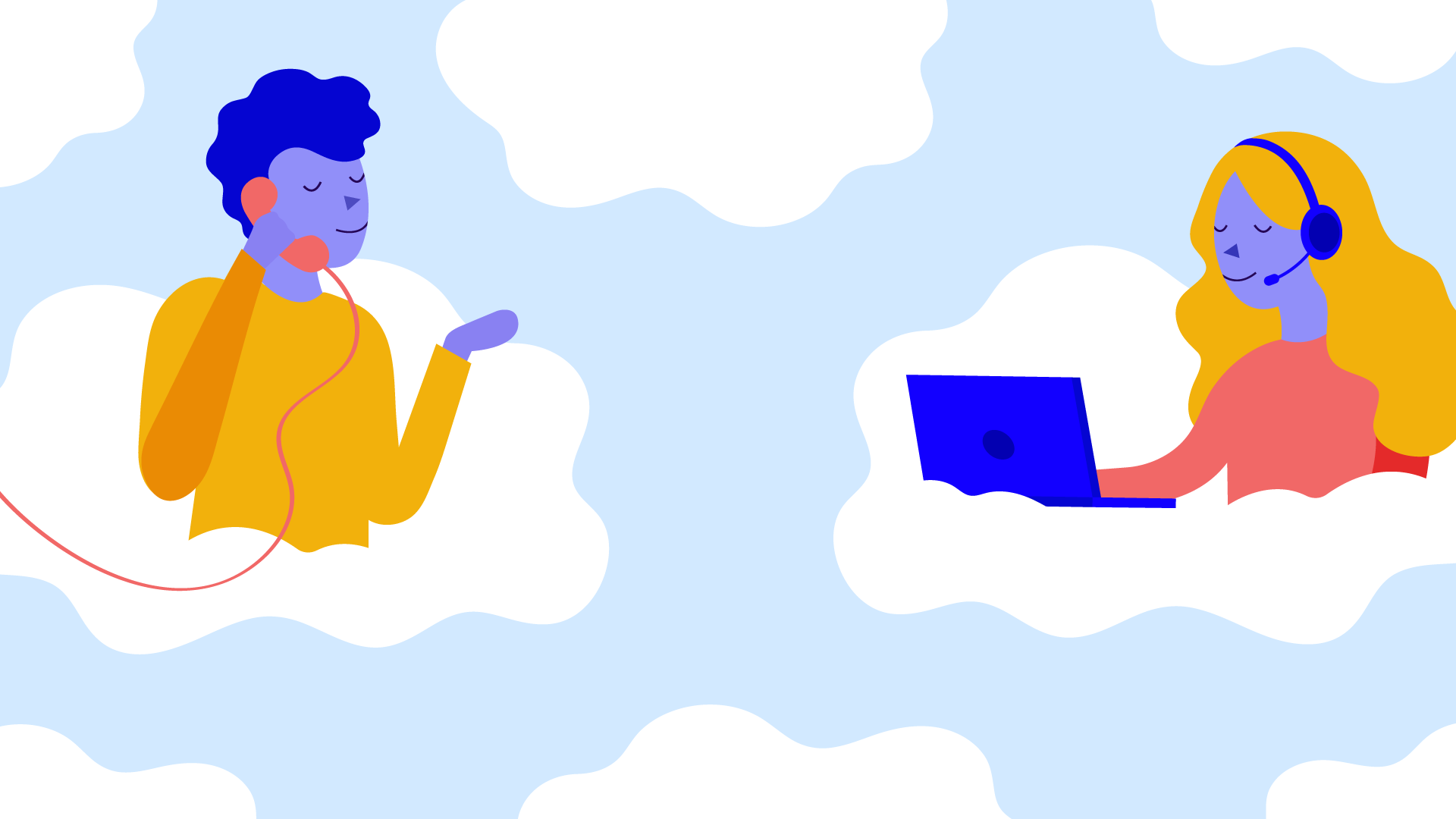 It's no secret that customers want easy and reliable service from brands they trust. According to research conducted by Microsoft, more than half of consumers have higher expectations than they did the previous year.
To keep up with the rising tide of customer requests, companies set up contact centers and call centers to meet customer needs.
However, not all customer support software is made equal. We'll separate the facts from fiction when it comes to selecting a call center or a contact center for your business.
In this guide, we'll compare two of the most popular options for handling a high volume of calls and support requests.
Want a quick breakdown of contact centers and call centers? Check out our three-minute video below:
What is a call center?
A call center is an office dedicated to handling inbound and outbound calls in a business to communicate with customers, leads, or even internal staff. Companies use call centers for telemarketing, customer support, and information gathering.
Call centers limit conversations to voice communication. They can handle inbound and outbound calls. The staff that initiates or receives calls are referred to as "agents" or "representatives." They focus on meeting key business objectives through the phone system.
There are two types of technologies that power call centers:
On-Premises PBX: A Private Branch Exchange (PBX) is typically found within a traditional call center. It relies on actual hardware—like desk phones and wires—to work, and needs to be professionally set-up in an office. Depending on the age of the system, the phones can be proprietary and difficult to support.
Voice over Internet Protocol (VoIP): Inbound and outbound calls made through a cloud phone system are handled differently and use different equipment. They use an internet connection (like Wi-Fi), rather than relying on a strong cellular connection. This means calls are often of better quality. Plus, they use software that can be installed on existing devices, rather than installing brand new lines.
What is a contact center?
A contact center is similar to a call center. The only difference? An omnichannel contact center handles several digital channels of communication, including: Live chat Email Support tickets SMS/Text Messages Phone calls This contact center technology is sometimes known as omnichannel contact centers because customers can reach you through more than one channel, and support agents can provide assistance across all of them.
A contact center is generally adopted as a core business strategy. With a comprehensive Customer Relationship Management (CRM) strategy, you can streamline and improve customer communication. You have their full history available to view alongside their contact information.
Contact centers are becoming increasingly popular for this reason. Our research finds that nearly two-thirds of office workers use three devices to communicate. This doesn't count the numerous apps to talk with customers and leads.
With one solution, you don't need to pay for multiple tools. Benefits of call centers & contact centers Call centers and contact centers offer a variety of compelling benefits each.
Here, we break down the key benefits and functions of each type of support operation.
Call center benefits
1) Ability to handle a high volume of calls.
Arguably the biggest benefit of call centers is that they can handle a large influx of phone calls. Modern VoIP technology has a stronger and more reliable connection than cellular lines. Unlike a contact center, a call center is designed to scale phone-based communications. From the call center software to the user hardware, it's all crafted for one purpose. The setup of a virtual phone system is easy and only takes minutes to get started.
2) Call center software is less expensive.
Call centers tend to be cheaper than omnichannel centers. Since the scope of their tools and function is narrow, so are their costs. With VoIP now powering many call centers, the costs are extremely competitive. That makes it a popular option for smaller businesses with less sophisticated needs. Why bother forking out more cash for extra communication features you won't use?
3) There's less risk with a call center.
A call center also comes with less business risk than a complete contact center solution. With the reliability of Voice over Internet Protocol, the phone calls can be reliably distributed to agents. Since tooling is different within a call center, the IT skills tend to be specialized. In the event of an issue, sometimes a technician needs to be dispatched to restore business communications. Follow these call center best practices to ensure you achieve high ROI.
4) Call centers are great for remote teams.
Another huge advantage of call centers is that VoIP systems work great in an office, at home, or even in a coworking space. When employees have autonomy for where they work, their happiness This trend is likely to become more crucial to consider as approximately half of companies embrace remote work. Your agents can be on the other side of the world, and there aren't any extra charges to speak with customers via your call center. You just need a hosted PBX system to facilitate it.
5) Access in-depth call analytics.
Most platforms allow access to in-depth analytics because call center software only handles voice. Call-centric analytics assist with workforce management. You can get detailed information about your calls, including the real-time performance of agents and calling trends. Real-time analytics enables your team to plan resources effectively. Are employees meeting their KPIs? When are the peak times and days for calls? Which team member closes the most deals? What impact does each agent have on your bottom line?
Related: Adding a Call Center? Check out These 33 Phone Features Used in Call Centers

Contact center benefits:
1) View complete lead information.

Contact centers use and hold more customer data on the lead than a call center. Inside contact center software, agents can see previous interactions with that person—not just over the phone. They can see all previous interactions, whether over the phone, email, text, chatbot, or website chat. What impact does this have on other parts of your business? Take the Interactive Voice System (IVR), for example. This automated system asks a customer what they're calling for. Then, an Automatic Call Distributor (ACD) directs them to the most relevant person or department. Because a contact center holds this information already, the ACD system is more accurate. Contact center agents can look in the software and see what they've needed help with previously.
2) Give better customer satisfaction.

It's frustrating to be passed around when you're contacting a company. You've asked for help with a certain issue, but when you call back, you're on the line to a different agent. You need to explain the problem all over again. Solve this problem with an omnichannel center. Complete information is there for your customer service agents to see. That way, customers have a reduced wait time and resolve their problems faster. You can truly save your customer and staff many extra steps with a fully integrated, omnichannel CRM.
3) Improve marketing and advertising campaigns.
Imagine a situation when your company launches a highly visible marketing campaign and a prospect calls in to ask about it. Will your staff be able to guide them to the right salesperson? The hard truth is that for many companies, they have no idea how to handle such a request. Since your company's CRM houses sales pipeline information, you will know the answer before the words leave the person's mouth. The phone system can automatically identify what campaign a lead is calling about and display it to the agent. This is incredibly important when you launch a local radio or TV campaign so you can measure the response rate. As a helpful marketing tip, every marketing campaign must be tracked. It's the only way to increase performance.
Related: 14 Reasons Why Your Business Needs a SaaS Call Center in 2020
Does my business need a call center or a contact center?
A call center is limited to inbound and outbound voice calls. A contact center handles all forms of communication. Both of which support essential business processes. A contact center is best for large businesses with lots of agents.   You already know that a contact center has more features than a call center. But because it offers all lines of communication, it can feel like "feature overload."
That's why contact centers are generally better for larger businesses. Those with hundreds of customer interactions or support agents. You can have an "all hands on deck" approach to customer service. For example, Agent #1 can pick up leads from any contact channel. Then, when the same customer sends an SMS, Agent #2 can look in their CRM to view that chat.
With excellent customer service, people are no longer frustrated by having to explain their problem to various people. And, your agents stop wasting time understanding problems that might've already been dealt with. Call distribution is more effective on both parts.
Related: 6 Essential Call Center Campaigns Proven to Increase Sales & Satisfaction
A call center is best for companies whose customers rely on calls. What happens if you do have a large business whose customer base relies on phone calls? Take a look at your sales team activity. You might note that 85% of customers contact you by phone, versus just 15% for email.
In this case, it might make sense to opt for a call center. It's more effective, and offers more phone-based benefits, than a contact center.
For example, you can:
View in-depth reports about your sales calls
Use VoIP call center software to ditch costly, obsolete hardware
Take voice calls overseas without expensive roaming charges
Call centers are also good for businesses on a budget. The fewer features on offer justify a lower price point. That makes it a great starting point for businesses with a new (or growing) customer service team. Our take is this. It depends on your future business needs.
If your business is exclusively tied to a phone system, you might lean toward a call center. Otherwise, if you've already completed the digital transformation, a contact center might be optimal.

The best part? There's no reason why you can't pick a contact center solution and add a call center as you grow. Feel out the demand for support or sales phone channels. Then, determine whether it's sensible to upgrade to a dedicated call center solution. Keep agents happy and your customers happier.
Get a demo to see what's possible. See It