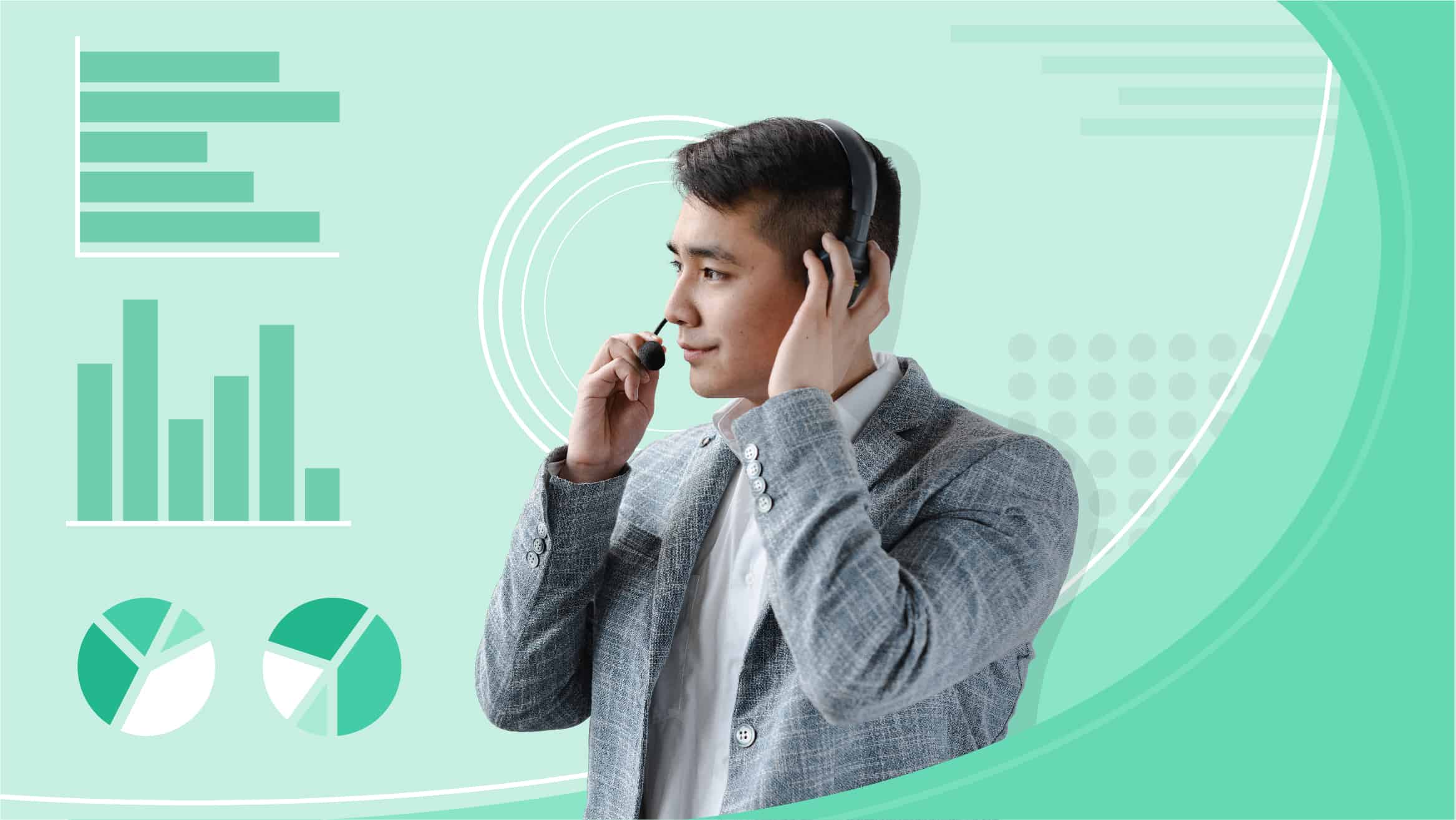 Contact centers serve as one of a business's main customer experience offerings. They range from traditional phone-only call centers to the most preferred modern option (omnichannel).
In this omnichannel contact center, customers can move between channels (phone, email, SMS (texting), web chat, social media) without ever experiencing a loss of service. And thanks to cloud capabilities, omnichannel contact centers are available even to firms that cannot afford (or don't want to operate) the office space and infrastructure to host them in person.
Businesses running contact centers need to think about how to monitor agent performance, spot trends in real-time, and deal with issues before they get out of hand. Likewise, they should capture and share key analytics about the business with other teams, such as the product and sales groups. Contact center reporting is the key to capturing and leveraging this crucial business intelligence.
What is contact center reporting?
Contact center reporting is the organized capture and display of your contact center's activity, both in the historical and real-time data.
Excellent contact center reporting solutions incorporate dashboards to help you monitor trends and see a quick 'full picture' of the business but also allow you to funnel data into the Key Performance Indicators (KPIs) that matter to your business.
What are common KPIs for contact center reporting?
First Contact Resolution (FCR) is a great example of a contact center metric. It is known that customers are more likely to be satisfied if their problem is solved the first time they reach out for help. With contact center reporting, you can track FCR and get a sense of how it moves over time. This may help identify agents who require additional training.
While there are many standard metrics that contact center operators use, here are a few of the most common.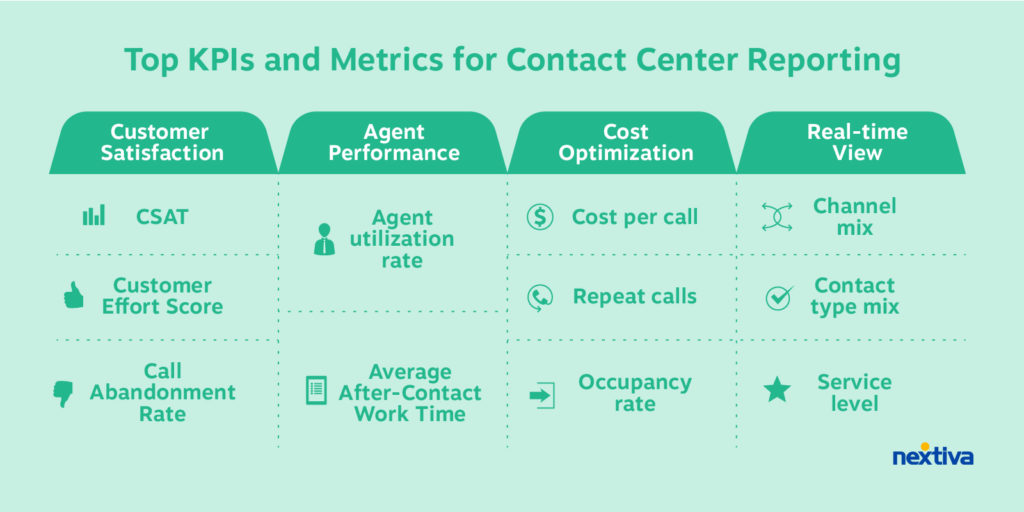 Top reasons to start reporting in your contact center
Quality contact center reporting solutions offer significant enhancements to every element of your customer journey. Here's a look at some of the top benefits you'll experience from working with a great contact center reporting provider.
1. Customer Satisfaction
Contact center reporting can directly translate into improved customer satisfaction. You can target traditional areas known to be important to customers, such as:
First contact resolution
Not having to explain the problem to multiple agents
Avoiding long hold times
But with contact center reporting, you can also gather a more nuanced view of your customers. You can create customer personas and journeys that you monitor and adjust over time as new data becomes available. 
You may also identify key trends about how customers prefer to communicate based on product cycles, the time of year, or other periods that you would only notice if you had access to good data.
Common metrics for customer satisfaction
Customer Satisfaction (CSAT), which asks customers to rate how satisfied they are after their contact center experience
Customer Effort Score (CES), which indicates how easily your products or services solve a customer's need.
Call Abandonment Rate, which indicates that customers hung up or otherwise exited the contact before reaching your agents. Abandoned calls are a key indicator of customer frustration.
2. Agent Performance
Agent performance is another key area of focus. You will be able to monitor important factors like the FCR, the overall number of customer contacts, the average amount of time a contact takes to handle, and whether or not the agent is moving quickly enough to the next customer issue.
By using quality assurance to monitor contact center agents, you will develop a natural sense of what issues are systematic and require product or process adjustment versus which problems may indicate a particular agent needs more focused training. 
Either way, the opportunity for custom feedback will give agents the ability to correct issues and feel that their positive work efforts are being recognized.
Common metrics for agent performance
Agent Utilization Rate, which tells you the percentage of time in a shift the agent spent dealing with customers
Average After-Contact Work Time measures the time needed after a customer contact to document it and finish any related processing. Long delays between customer contact handling could point to agent or process inefficiencies.
3. Cost Optimization
Cost optimization is another critical business improvement made possible by contact center reporting. You will quickly develop a rich data history for events such as product releases or upgrades, significant bugs, or seasonal events that can affect customer contact volume. With this in mind, you can augment staff levels up or down during these periods only as much as will be needed to maintain a strong customer experience.
Likewise, you will be able to identify lower-cost customer support options that can be entrusted to self-guided webpages, app tutorials, or automated chatbots, freeing up your staff to assist customers with more complex issues.
For example, your firm may already have a strong Interactive Voice Response (IVR) system that is successfully handling more of your basic questions without needing customer support. But as you better understand the results of your reporting, you may identify new support topics that you hadn't realized could be built into an IVR system and bypass live agent support entirely – all while improving customer experience. 
In the long run, you would be able to reduce overall agent count and focus on maintaining agents who are experts in working customers through the most complex issues in a rapid manner.
Common metrics for cost optimization
Cost Per Call (CPC), which directly tells you how much your contact center operation is costing per customer contact.
Repeat Calls, which indicate an issue that could not be resolved in a customer's first attempt. This affects customer satisfaction and agent performance, resulting in a waste of time and money for your operation.
Occupancy Rate, which measures how much time your agents actually spend working on their primary tasks. Long breaks, poor agent work skills, or even too-frequent meetings could be cutting into your contact center's efficiency.
4. Real-Time View of the Business
One of the immediate advantages of contact center reporting is that you gain a real-time view of customer experience happening across your business. Your managers can silently monitor discussions to understand agent performance and customer sentiment, but the value goes far beyond live dashboards.
Contact center reporting allows you to share live customer information with your team members. Product managers can better understand the product life cycle, and engineers can get critical insight into how bug fixes or product upgrades are received. Because this information is shared as it is happening, it puts your teams ahead of the curve in responding to issues proactively before customer satisfaction is seriously affected.
Common metrics for real-time status view of your business
Channel Mix, which displays live activity across phone calls (voice), mobile, email, SMS (texting), social media, and other channels.
Call Type Mix (or Contact Type Mix), which shows you the types of customer contacts you are experiencing (lost passwords, account terminations, upgrades, complaints, etc.)
Service Level, which measures your ability to meet a standard of service you have set for the team. For example, you may decide that 80% of customers should get a live agent response within 30 seconds of initiating contact.
Put contact center reporting to work for your business
A top contact center solution, accompanied by strong reporting, can positively affect every business area, including customer experience, sales, marketing, and product.
Talk to an expert or book a demo today to begin the next stage of your business journey.