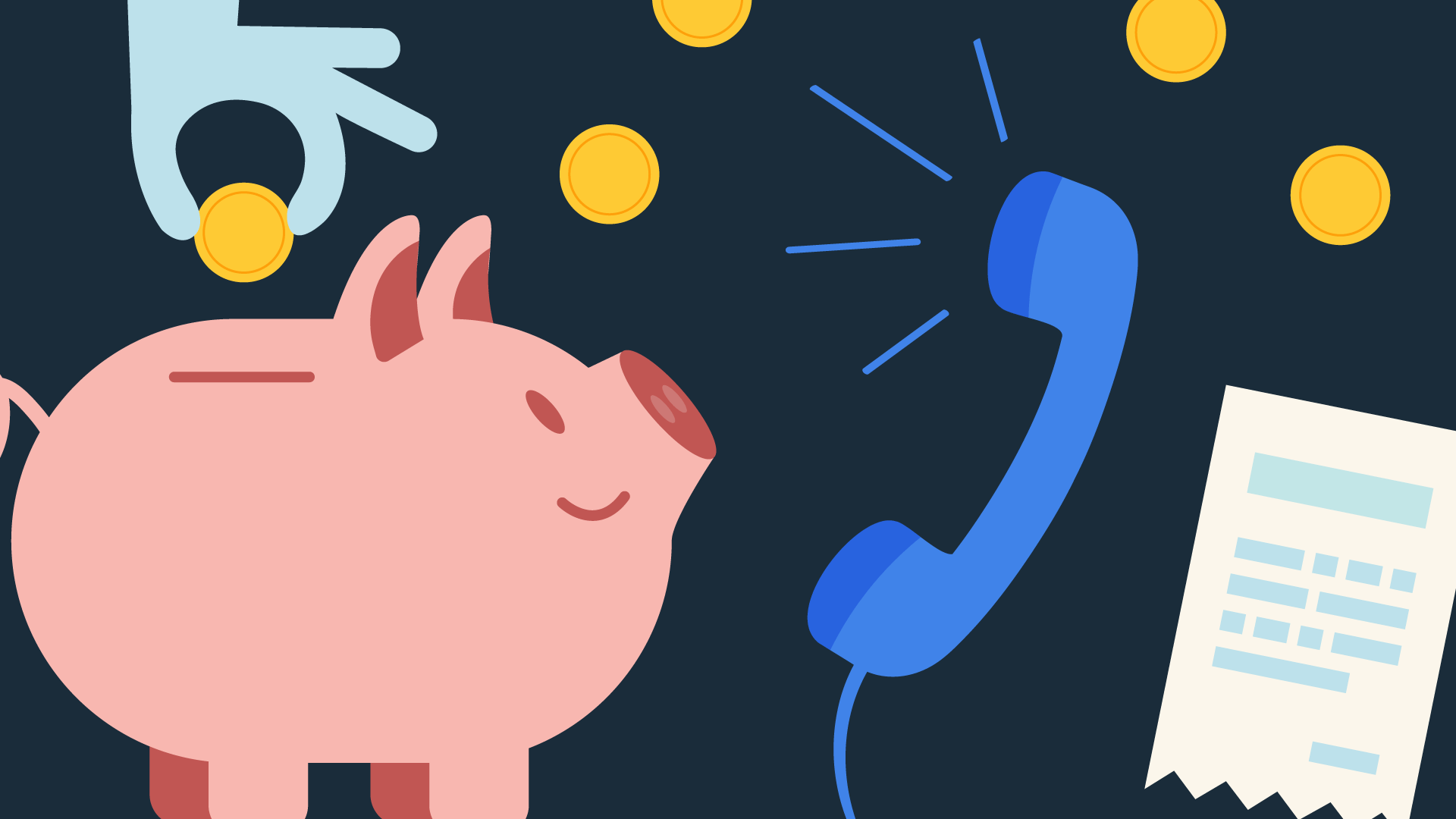 As you're on your journey to select a SIP trunk provider, you'll want to understand the pricing. A SIP trunk functions as a bundle of phone lines using the Session Initiation Protocol known as SIP. Businesses rely on SIP trunks to provide their office with a backbone of voice lines for everyone the office.
The cost of a SIP trunk varies, so we'll help you maximize your investment and level up your phone system on a budget.
What makes a SIP trunk provider attractive is that you can upgrade your existing PBX (Private Branch Exchange) without any additional hardware—and still lower your monthly expenses. Since the implementation is digital, you'll enjoy instant scalability no matter how fast your company grows.
Unlike typical business phone service, it's priced differently, so we'll offer recommendations to keep your SIP trunking costs low.
What is SIP Trunking?
SIP trunking is a method to provide VoIP (Voice over Internet Protocol) connectivity between:
An on-premises phone system, also known as IP PBX
The Public Switched Telephone Network, also known as PSTN
In VoIP, you could also choose between a hosted PBX or a SIP trunk. A hosted PBX is entirely cloud-based and handled by a service provider—there's no PBX equipment you need to buy. If you have existing PBX equipment in your office, you'll want to know how a SIP trunking service reduces your phone service monthly fee.
Related: SIP Line vs. SIP Trunk: What's the Difference?
How Does a SIP Trunk Work?


SIP trunk doesn't use traditional telephone lines to route voice calls. Instead, it sends your voice calls over data networks. In other words, SIP trunks serve as an intermediary between your phone systems and an ITSP (Internet Telephony Service Provider).  That happens through a SIP server — a program that handles signaling and voice access to a centralized service, like an IP PBX we mentioned earlier.
Simply put, a SIP Trunk provides an office PBX with phone service to the outside world.
SIP Trunk Pricing: Top Four Factors
When you make the leap and choose SIP trunking, here's what affects the cost of SIP:
Monthly subscription – priced per channel of voice service
Outbound call rates – metered plans will charge you per minute
Add-ons – optional features might cost extra, such as call recording or an auto attendant
Setup fees – one-time activation or setup fees to begin SIP trunk service
An excellent SIP trunking provider will offer you an easy, low-cost way to keep your existing hardware while moving all your communications to the cloud. Two main approaches to the monthly costs of SIP are:
Metered plans include a monthly fee and per-minute charges for outbound calls
Unmetered plans include a monthly fee and unlimited calling for a fixed price
Lower costs to obtain your company's phone service is one of the key benefits of SIP Trunking. Porting to SIP trunking can reduce your current phone bill by up to 65%. On top of cost savings, you get a better call quality even when running concurrent outgoing and inbound calls.  You can also divert calls to your smartphone when you're out of the office and keep your business moving forward.
Related: Revealed: 12 SIP Trunking Benefits You Probably Didn't Know
How Much Does A SIP Trunk Cost?
Nextiva is a SIP trunk provider—we can transition your PBX system into a powerful cloud system. You won't experience disruptions or have to buy new equipment. That means there are no setup fees, and you can get started immediately.
The price of a SIP trunk ranges from $15 to $25 per line every month, but make sure you understand the differences between metered and unmetered plans.
1) Nextiva's SIP metered plan starts at $14.95
The metered plan is an ideal option if you want to start saving on your phone system, but don't have a significant need for long-distance calling. If you know your historical monthly usage and can forecast your growth, a metered plan might make sense.
A metered SIP trunk with Nextiva comes with a toll-free number and costs .008 cents per minute for domestic calls. On a domestic plan, international calls are made up of the domestic rate plus the international calling rate per minute for that call. International calling rates start at $0.01 per minute and depend on the country you're calling. We'll cover these more below.
2) Nextiva's SIP unmetered plan starts at $24.95
An unmetered SIP trunk plan includes unlimited calling everywhere—United States, Canada, and Puerto Rico. There are no per-minute charges. Nextiva's elastic SIP trunking is compatible with many popular PBX systems including, Asterisk, Cisco, 3CX, FreePBX, Mitel, Avaya, and more. These rates can significantly reduce your phone service costs that come with an on-site PBX system. And if you already own VoIP-enabled equipment, you'll be able to use them with our SIP trunking, too.
If your company has a lot of phone usage, or you simply don't care to track minutes, you'll enjoy the freedom of an unmetered SIP trunking plan.
How Nextiva's PBX SIP trunk service is billed
If you're wondering how this phone service works in practice from an admin perspective, we send a pro forma invoice to the email address for the account. This happens five days before you're charged the monthly recurring fee. We bill you at the beginning of the month for the new month you are entering. The only arrears billing happens with the per-minute charges for our SIP unmetered plan or any toll-free calls to your Nextiva SIP trunk account.
No matter what, you're well-supported with a 24/7 customer support team who can make special arrangements that work for your business.
Why Are SIP Trunks So Affordable?
If you're looking at your current phone bill and comparing it to the above numbers, you already know what makes SIP trunking affordable. Here are the reasons why SIP trunking is so affordable:
There's no need for expensive POTS (short for Plain Old Telephone Service) lines
Lower cost of per-minute SIP calling, even on metered plans
Uses internet technology to complete calls through Voice over Internet Protocol
It maximizes your existing phone system and connecting it to a cloud PBX
Unlike SIP Trunks, operating a legacy phone trunk is quite expensive. Hardware is rapidly becoming obsolete, and it's increasingly difficult to find the technical staff to maintain it.
Scalability: How Many Channels Does a SIP Trunk Have?
If your company is growing, a traditional phone system will punish you for growth. Hiring more people means adding more phone lines. With PRI (Primary Rate Interface), you're using a traditional phone line to make phone calls. Each PRI circuit allows for up to 23 simultaneous calls. If you need more, you have to buy PRIs in bundles of 23 channels at a time.
A legacy phone system doesn't give you flexibility or predictability in your recurring or upcoming expenses. It makes scaling particularly tricky if you're growing your call center. SIP trunks make it easy to upgrade to a higher plan at any time. You can add more concurrent calls (also known as SIP channels) and phone numbers in real-time.
Differences Between Hosted PBX & SIP Trunking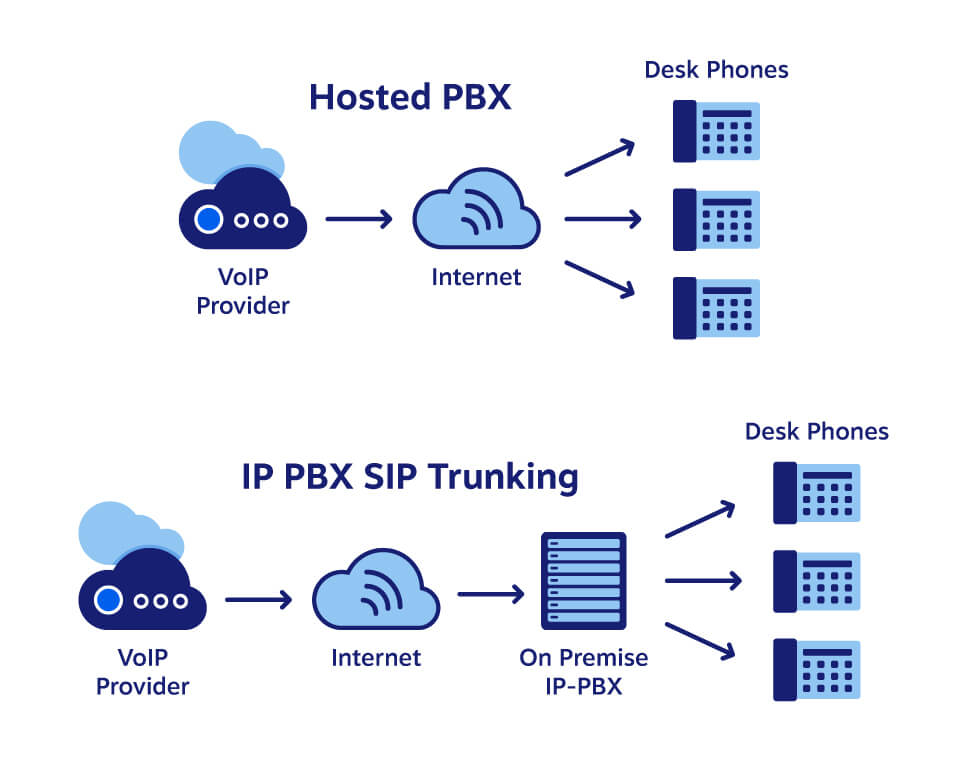 If you're considering hosted PBX and SIP trunking as your two VoIP phone system options, here are the key differences and comparisons you should keep in mind:
Cost of initial setup: low for hosted PBX if you have no on-site PBX equipment, low for SIP if you already own equipment
Ongoing costs: similar, usually between $15 and $50 per phone line per month
Maintenance: handled by your provider for hosted PBX and by your internal IT staff with SIP
Company size: hosted PBX is best for small businesses, SIP trunking is best for 20+ employees and growing businesses
Call quality: hosted PBX suitable for fewer concurrent calls, SIP trunking handles high volume much better
Security: SIP trunking offers superior security over hosted PBX
Review your requirements and resources for these categories, and your best phone system option will become clear. If your organization is larger, you might want to check into our guide to writing the best VoIP RFP so you can upgrade your phone system with confidence.
Related: Switching to VoIP Looking Hard? Not with These 9 Steps
SIP Trunking International Calling Costs
International calling rates start at $0.01 per minute and depend on the country you're calling. Below, we summed up some of them—check them out.
1) UK
Outbound call rates to the United Kingdom start at $0.01 per minute for corporate numbers, $0.42 to $0.58 per minute for mobile numbers, $1.02 per minute for freephone numbers, and $1.62 to $3.6 per minute for non-geographic telephone numbers.
2) Germany
Outbound call rates to Germany start at $0.01 per minute for calls to numbers located in Berlin, Frankfurt, Hamburg, and Munich, and $0.54 to $0.63 per minute for mobile numbers and non-geographic telephone numbers.
3) Australia
Outbound call rates to Australia start at $0.02 per minute for calls to numbers in Sydney, Adelaide, Brisbane, Canberra, Melbourne, and Perth, $0.1 to $0.19 per minute for mobile numbers, and $0.26 per minute for external territories and satellite numbers.
4) Hong Kong
Outbound call rates to Hong Kong are $0.06 per minute for all numbers, including mobile numbers.
5) Malaysia
Outbound call rates to Malaysia are $0.12 per minute for all numbers, including mobile numbers.
6) Mexico
Outbound call rates to Mexico start at $0.04 per minute for calls to numbers in Guadalajara, Mexico City, and Monterrey, $0.16 per minute for other areas as well as equal access (1, 2, and 3), freephone, and satellite, and $0.45 per minute for mobile numbers and mobile equal access (1, 2, and 3).
7) Singapore
Outbound call rates to Singapore are $0.12 per minute for all numbers, including mobile numbers.
8) South Africa
Outbound call rates to South Africa are $0.35 per minute for calls to numbers in Cape Town, Johannesburg, and Pretoria, and $0.54 per minute for mobile and non-geographic telephone numbers.
9) UAE
Outbound call rates to the United Arab Emirates are $0.41 per minute for all numbers, including mobile numbers.
Get Started With SIP Trunking Today
With affordable SIP trunk pricing, you can take your business to the next level for less. Nextiva can power your entire phone system with our powerful cloud-based solution. Imagine a business VoIP phone system that lets you grow and doesn't let you worry about its cost or maintenance work.
Optimize your PBX with the #1 SIP trunk provider.