If you want to delight your customers, you should spend less time with them. Huh?
Yep. We said it. If you want to keep your customers happy, solve their problems faster.
A Harvard Business Review study concluded that customers are genuinely delighted when a company's contact center can "solve their problems quickly and easily," such as through first-call resolution (FCR).
In this article, we'll examine first call resolution and its positive effects on the customer experience and aspects of your business, including employee morale.
We'll also show you some tips for improving your own business' FCR strategies so you can truly delight your customers with quick, efficient solutions in one shot.
What is first call resolution?
First call resolution (FCR) is when you solve a customer's problem on the first time they contact your company.
By understanding the number (or percentage) of client problems solved in one call, your company can better measure the success of its documentation, materials, product design, and call center staff.
Of course, first call resolution is just one part of the client experience.
For example, 'first response' measures the time between when a client contacts your call center and when they get an answer from the call center staff. Tracking a number of key call center metrics ensures you have the best picture of your call center effectiveness as you work towards FCR.
How to Measure Success with First Call Resolution
Now that we understand how first call resolution fits into the complete call center picture, let's examine the key question, "How is first call resolution measured?"
In this section, we'll answer that question and finish with some key reminders as to the best ways to measure and improve your FCR across contact centers and support channels.
First call resolution formula
First call resolution, or first contact resolution (if among different support channels), can be measured in two similar ways:
Total number of reported issues resolved on a first call ÷ Total Number of calls X 100
or
Total number of reported issues resolved on a first call ÷ Total number of first calls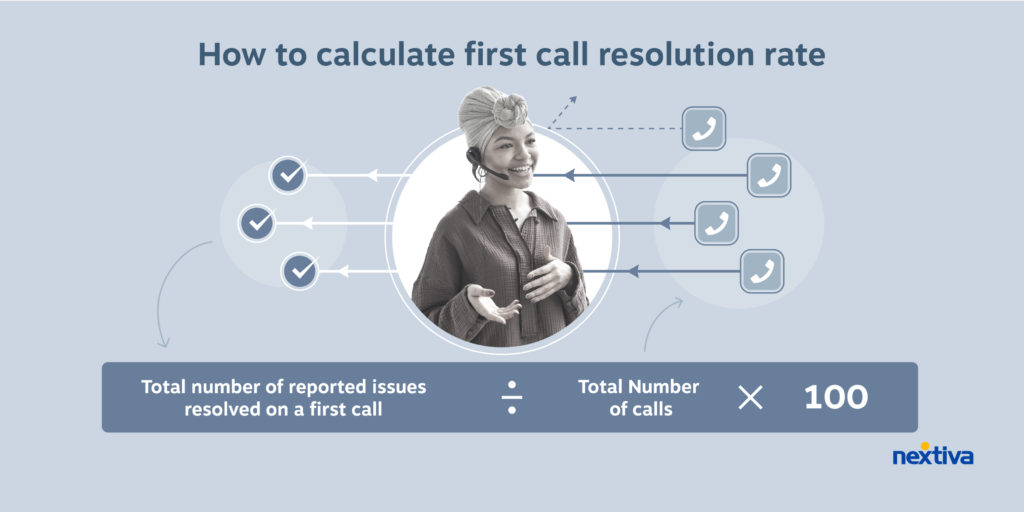 Regardless of your method, it is important to understand the answer to the question, "What is a good FCR rate?" Depending on the industry, the usual range for contact centers is 70-75%. In other words, approximately three-quarters of callers should be seeing their issues resolved in a single attempt.
When evaluating your FCR rates, make sure to hold yourself to a target…but be prepared to shift that target temporarily in times of high call volume or stress.
Benefits of first call resolution
While a broad understanding of your metrics is important, first call resolution can serve as a great 'test' of the overall picture because it means you solved a client's problem on the first try.
ContactBabel, a leading client experience and contact center analysis firm, found that FCR is the second-most important call center metric behind only the overall customer satisfaction rating.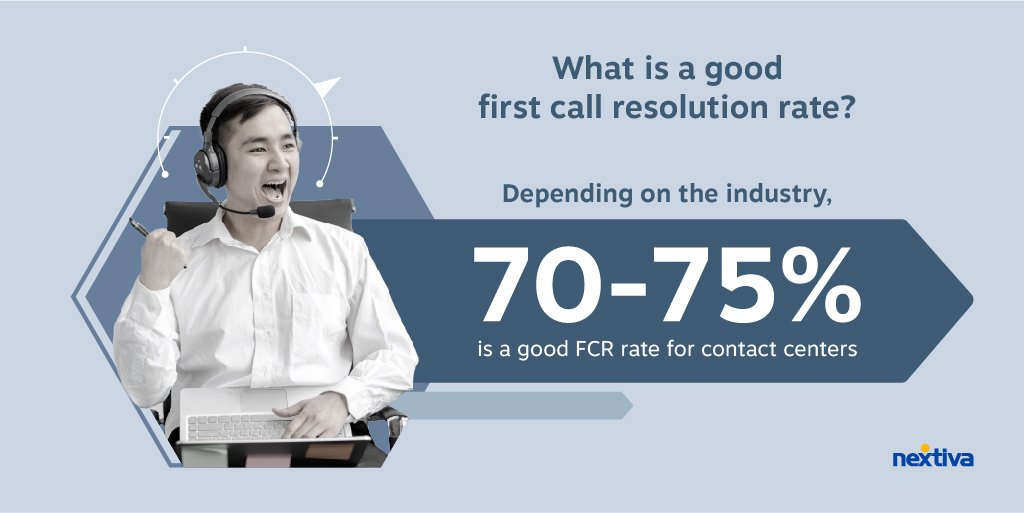 In this section, we'll discuss some of the significant benefits you can get from an effective FCR program.
1. Reduce operating costs and maximize efficiency
If employees spend less time on a client's issue by avoiding repeat calls, they can move on to the next client's problem. In this case, first call resolution reduces backlog, cuts first-response times, and leads to more customers getting quick answers to their questions.
Call center operators are increasingly waking up to this link between FCR and reduced costs, and their investment dollars are following. Deloitte Digital's 2019 Global Contact Center Survey found that 78% of call centers listed 'service improvements' as a main driver of investment (from 57% in 2015).
2. Improve customer satisfaction
It seems like those investments may be paying off. While it can be difficult sometimes to measure FCR effectively, a benchmarking study found that 80% of contact centers saw improvements in customer satisfaction when focusing on FCR.
This is important because customers are more likely to explore competitors or reduce services if they have negative experiences with customer support. A 2021 study from Qualtrics/ServiceNow found that 80% of customers have switched brands due to poor customer service.
At the same time, those customers ranked their top three examples of positive customer service as shown below – and the link to FCR is clear:
Their issue being resolved
Minimal hold time
Not having to speak with multiple agents
Time after time, the numbers speak for themselves. Customers love FCR, and the results benefit a company's bottom line.
But what about the frontline employees serving your customers?
3. Improve employee performance
Employees who can resolve client problems on a first call will feel more confident about their work and have more time to properly diagnose complex issues when they arise.
Their employee performance scores will also improve as they must dedicate less time to repeat issues. And GrooveHQ quantifies just how quickly this can add up across a single call center:
"If you handle 1,000 interactions per week, and your average first contact resolution rate is 70%), that means that 30% of your tickets require multiple responses. Increasing your typical first contact resolution rate by just ten points to an 80% success rate means you'll send at least 300 fewer emails per week, or 15,600 per year."
First call resolution challenges
First-call resolution doesn't happen in a vacuum. For example, first call resolution can definitely be impacted by how well your agents are trained. Or how many staff you have working on a given day.
By understanding the limitations on FCR, you'll be in the best position to make meaningful adjustments to your overall customer strategy to enjoy the actual benefits of FCR in the long term.
FCR could impact other metrics
Talk Time is one of the most important traditional metrics in contact center operations because it represents something anyone can understand. The longer an employee spends talking to the customer on the phone, the greater the chances that they could not find a quick resolution to the customer's problem – and the more impatient and dissatisfied the customer may become.
In other words, it makes sense to focus on building high FCR and low Talk Time. But contact centers need to understand that an increased emphasis on FCR may increase Talk Time temporarily, as employees adjust their workflows and areas of coverage to try and solve problems on a single call.
Likewise, hold times could increase as call center employees try to reach colleagues in other departments on the phone or on internal chat systems to avoid transferring a client.
Over time, this initial cost in hold volumes may result in significantly reduced call times as call center employees become more familiar and are cross-trained in fundamental problem solving normally handled by other departments.
It's important to account for these adjustments because otherwise you could accidentally mistake your new initiative as decreasing efficiency if you don't give it enough time for the transition to work.
FCR does not account for all channels
In many contact centers, FCR will only measure first interactions on the phone, which will exclude potentially more efficient systems such as e-mail, chat windows, and even self-serve web documentation and FAQs.
There's also the question of whether a 'first call' is valid if it involves transferring the caller to another team member, such as a supervisor. From the business' point of view, this would be one telephone call, but from a client's perspective, being transferred is one of the least pleasant support experiences and often requires explaining an entire problem additional times.
Lastly, consider that FCR may vary by channel based on how well your company pushes information across all client support options. Suppose your online documentation is up to date, but your contact center employees haven't been trained about new technologies. In that case, you may find a gap in their performance that has less to do with their efficiency and more with internal training and documentation problems.
The solution? When developing your internal metrics, including FCR, narrow the scope until you have a number you can trust. Decide whether or not any channel counts towards FCR, or if only the phone does; likewise, make rules about when FCR has failed, including internal transfers. The more clearly you define FCR, the better the analytics will serve your business.
How to improve first call resolution
One of the most critical questions for contact centers is, "How do I improve my first call resolution?" It starts by understanding that the most efficient (and often least expensive) support channels for your business may not be the ones your customers prefer.
Statista found that telephone support came in second only to email as the channel preference of choice.
The lesson is clear: customers expect companies to maintain an active, helpful phone support system even as new technologies become available. These companies must respond by making the phone process a straightforward, efficient, and powerful tool for enabling customer success.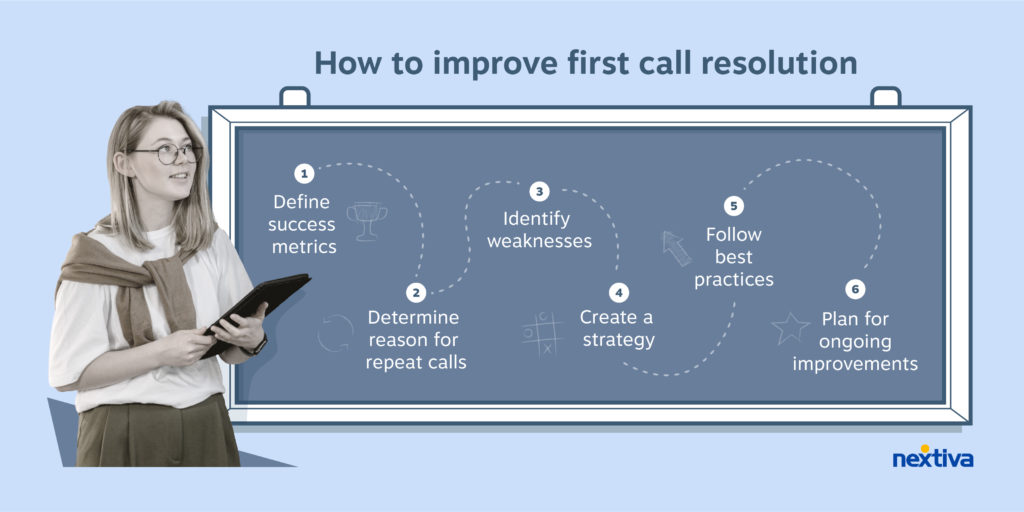 Step 1. Define what success looks like
What does success look like in an FCR-focused call center? Again, this will come down to defining the terms and conditions for what constitutes a 'win' to your company.
We've already asked some obvious questions, but they're worth revisiting. Does it count as FCR if the call needs to be transferred to a supervisor? What if the customer calls because they found the online live agent chat unable to assist with their goals?
It's also important to remember that if your vision of success doesn't align with your customer's view, you could be in trouble. If your FCR rate is 95% and leads to excessive client churn to a competitor, you would have been better off accepting additional calls with your customers.
As technology evolves, make sure you are continually checking your assumptions about what makes a successful FCR call. Automation and AI may be used in the future to study the most successful calls to look for patterns that will suggest new tracking methods and determine why repeat calls are happening in the first place.
Step 2. Determine reasons for repeat calls
Of course, you don't need AI to start searching for the cause of repeat customer service calls. You should organize your contact center tracking in ways that allow patterns to be identified and mitigated by the business quickly.
For example, imagine two contact centers experiencing high repeat call volumes. One finds that the calls all relate to the same product feature, regardless of which agent the caller speaks with. The other call center finds that the repeat calls only happen with the agents rated lowest for their soft skills, such as listening and empathy.
These contact centers have different next steps in their problem resolution.
By analyzing your repeat client contacts for a wide range of possible causes, you will be positioned to form the correct business response to the problem, ensuring a quick improvement in client satisfaction.
Step 3. Identify weak spots
Your search for answers should not be limited to what happens on the phone, or possible issues with a product or service. It is important to view your contact center agents within the context of your full business as well.
Do you have bad policies or ineffective communication across teams manifesting itself through the need for repeat calls? Are team members outside the contact center familiar with the importance of FCR, and do they have a stake in the results?
Companies that evaluate contact center problems against their full operations will be in the best position to discover the hidden levers of dysfunction – and create winning strategies for change.
Step 4. Create a strategy.
Once you've identified problems in your FCR implementation, work with team members to create a strategy for success. It can be as simple as identifying two to three causes that lead to repeat calls; the more everyone understands the specific causes, the better your chances of finding and implementing solutions.
Next, think about the best way to structure change. Do you need new agent support scripts? Will there be a need for individual/group training, or is it sufficient to send out a list of tips for dealing with specific problems?
And make sure you have a plan for testing whether your solutions are working. Set measurement and time-based goals to revisit the problems, check for FCR success and communicate results to the team. Agents who know their performance is improving due to new training or policies will be more confident in future suggestions, ensuring that your problem mitigation process gets uptake and support on the frontlines of your contact center.
Step 5. Follow best practices
The best advice we can give is for call centers to remember their best practices and constantly check for deviations. By following the steps above, your teams will have the confidence to identify and fix problems as they occur, with less need for management intervention or work interruptions.
At the same time, your customers will feel increased trust and satisfaction in your products and services, leading to more positive future experiences with your brand and products.
Step 6. Normalize ongoing improvements
As you achieve FCR success, it's important to avoid growing complacent. Even if your FCR and client satisfaction scores are hitting new highs, you should constantly be thinking about new ways to set goals and track progress.
At the same time, you will be able to leverage new technologies like AI – and benefit from insights you might have missed before. You might find out that seemingly unconnected events drive call center volume, like proximity to specific holidays, weather issues, or other external occurrences. Or maybe you will find that FCR is falling in basic issues because your agents have stopped having to answer those types of questions.
By embracing the best technologies for call center operations and equipping your team with best practices, you will be well-positioned to deliver true 'delight' to your customers (and team) – and when that happens, everybody wins.
Start tracking your first call resolution with call metrics
If you're ready to start improving your first call solution, it helps to have call analytics on board. Nextiva has voice analytics capabilities to make tracking and reporting easier so you can get to work on the optimizations.
Our Cloud-Based VoIP Call Center Solutions are here to provide you with key resources as you embark on your FCR journey. You can take more calls with fewer agents, automate multichannel customer support and self-service options, and equip your agents and supervisors with dashboards and reporting that provide real-time control and uncover hidden business insights.