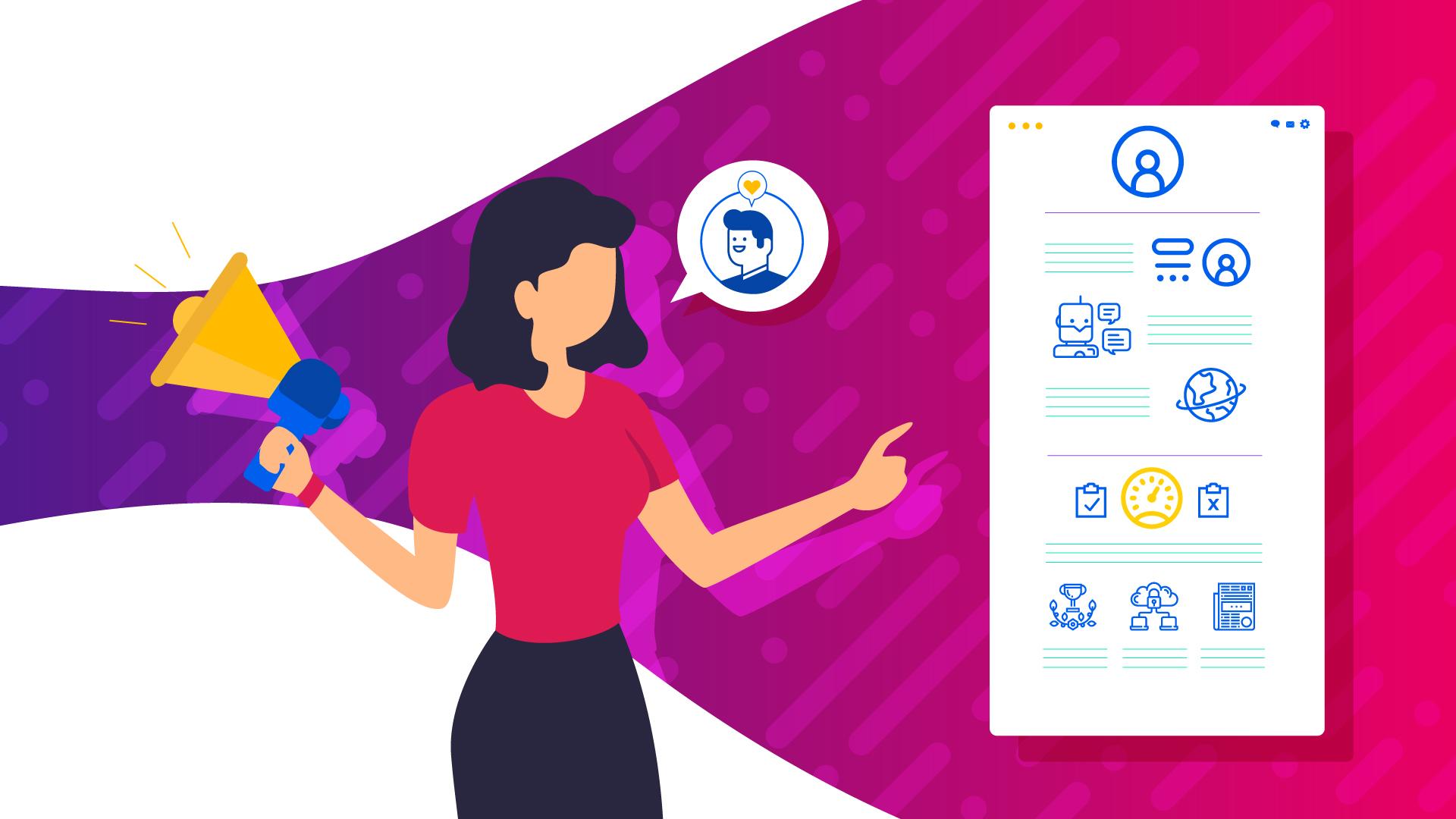 At least one-third of consumers said they would consider switching companies after just one instance of bad customer service. If losing return business isn't bad enough, these consumers will likely tell their peers or the general public about their poor customer service interactions.
Can you afford to lose business and face scrutiny over poor customer service? If not, it's time to identify and begin tracking a set of customer service metrics to improve the quality of support you offer your customers.
Customer service metrics measure the efficiency of your support team. They'll provide insight into how long your customers wait on hold, how long it takes your reps to resolve an issue, peak call hours, and so much more.
In this guide, our team compiled the 18 must-have customer service metrics for any call center to track. From this list, you can select a handful of metrics that make the most sense to the success of your support team.
18 Customer Service Metrics to Track
1) Average Wait Time
Average wait time is the average amount of time customers have spent before being connected with a support agent.
The formula is very simple:
Total time on hold
_______________________
Total number of calls
No one likes waiting on hold, especially if it's a customer with an important question needed to be answered. Average wait time is a metric that you absolutely should track and work toward improving.
2) Rate of Answered Calls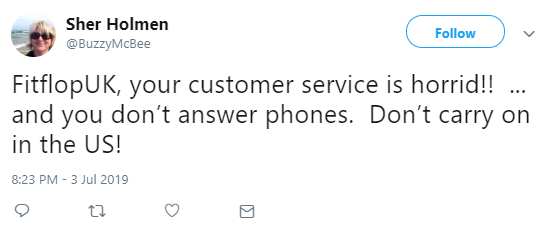 According to Microsoft, 24% of U.S. consumers cite the inability to reach a real support agent as their biggest customer service frustration. Having a high percentage of missed phone calls means you have a lot of customers with negative experiences.
As referenced in our intro, after a single bad experience, one-third of customers will no longer do business with a company.
Calling is often the last resort for desperate customers, and they are quick to take their complaints on social media if they can't reach your support team on the first few tries.

To minimize this kind of negative customer response, make sure you measure the average rate of answered calls.
The formula is straightforward:
Answered Calls
___________________
Total Number of Calls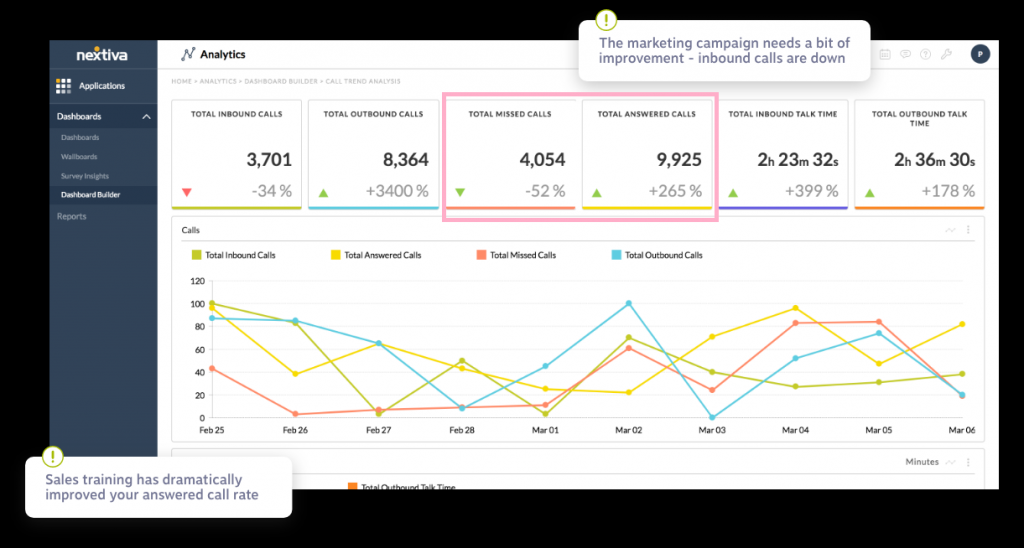 If you use landlines, it can be hard to keep track of these metrics. But with VoIP and Nextiva's Service CRM, call tracking happens automatically.
You can even see this breakdown of the rate of answered/missed calls.

3) First Call Resolution Rate
First call resolution rate is a metric that measures the percentage of customers that have their problem solved on the first call.
Number of customer complaints solved in one call.
________________________________________
Total number of customer complaints.
Seems simple enough, right?
But it can be tricky to measure without a proper CRM system.
If you only measure phone numbers, your data could get eschewed by calls over separate issues. If the person calls from two different phones or contacts through another channel, it will be recorded as two people.
That's why it's crucial to track the customer journey across all channels using modern tools.
Remember how we covered that the #1 annoyance is not being able to reach a support rep that can help them on the first try?
If they call and get through to an agent, but their problem isn't solved,
That's why the rate of answered calls and average wait time isn't the end-all-be-all of call center metrics.
4) Call SLA (Service-Level Agreement)
A call SLA or service-level agreement is an internal goal/rule for the level of service. A set % of calls have to be answered within X seconds.
So the formula is:
Calls answered within X seconds
_________________________________
Total calls
Companies often refer to SLAs over average wait time as they eliminate outliers by focusing on answering the vast majority of calls.
This focus allows them to make decisions like efficiently pooling their resources around high-demand times. Even if it means a small number of calls during odd times won't meet the goal time.
Call centers also rely on other standard metrics that every service department should use.
5) Average Handle Time
The Average Handle Time (AHT) is a metric that can help you improve customer service and improve your call center's efficiency.
It measures the average amount of time a customer spends on a call from start to finish.
The formula is:
Total talk time + total time on hold
__________________________________
Number of calls
It is a valuable metric you can also use to evaluate the performance of individual agents and teams.
If an agent is spending on average a lot longer time to resolve similar issues as another agent, it might be worth further investigation.
6) Average Interactions/Ticket
Average interactions per ticket is a measure for how many times a customer contacts support over the same customer's issue.
Total no. of interactions
________________________
Total no. of tickets
It is a simple formula, and with a CRM, it's easy to calculate with decent accuracy. Without a CRM that keeps track of customer profiles across channels, things get a lot more complicated, however.
And it is a metric that you want to measure and improve as much as possible.
36% of global consumers' least favorite thing is when the agent doesn't have the know-how to answer their question. 31% cite having to repeat themselves as their biggest frustration.
Ensuring issues get solved quickly and with little effort on the customer's part is the best way to please the majority of the customers who contact your business.
7) First Response Time (FRT)
First response time is a metric that measures the average time it takes for a customer to get their first reply.
Total wait time before a response
____________________________
Total number of tickets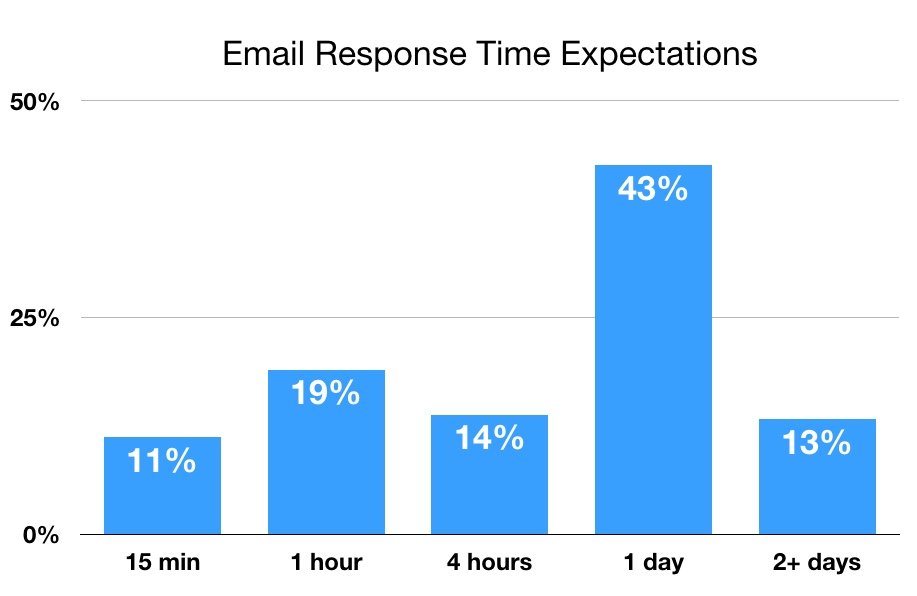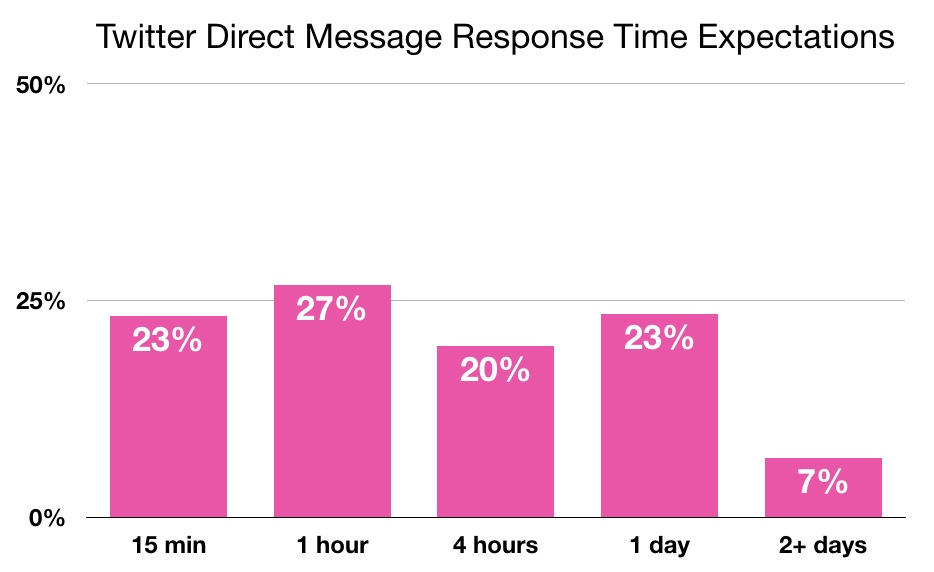 When it comes to first response time, it's vital to also differentiate between channels.
The reason for this is simple; customer expectations.
19% of consumers expect an email to be answered within 1 hour, with 11% preferring within 15 minutes. That means you risk upsetting 30% of your customers if you take longer than an hour to respond.
But when they contact you on Twitter in a direct message, now 50% of consumers expect an answer in less than an hour.
Since it is a necessary standard to uphold, it's also an important metric.


8) Reply Time
Average Reply Time is a metric that measures the average time for each response to a ticket. (First Response Time only measures the wait time until the first response.)
FRT is a great metric for measuring how a service experience starts. If it is fast, the customer is likely receptive to receive support.
ART, on the other hand, shows a clearer picture of the entire customer journey. It is an indicator of how team members follow up, not just initiate a ticket response.
Deliver the best customer experience with the
ultimate phone system.
9) Average Time to Resolution
Similar to average handle time, time to resolution, or resolution time is the time it takes to resolve a support request from first contact.
The difference is that it measures the time from the first contact until the issue is confirmed as resolved. (Average handle time typically only measures the length of the call regardless of the result.)
Again it is a simple formula.
Total time for unresolved tickets to get resolved
_________________________________________
Number of tickets
We've already covered that customers don't want to jump through multiple hoops and wait a long time just to fix simple problems.
Just like first response time, and avg. interactions per ticket, it is a metric that helps lead the way to a more efficient customer service strategy.
10) Issue Resolution Rate
Issue resolution rate measures the percentage of total issues your customer service team resolves.
Resolved Issues
_________________
Total no. of issues
Customers who don't get their issues resolved aren't exactly happy. You don't need us to tell you that.
So keeping this as close to 100% as possible is always a priority for engaged customer service teams.
11) First Contact Resolution (FCR)
First contact resolution is exactly what it sounds like. It measures the percentage of calls your agents resolve on the first response.
Issues resolved in a single agent response
_____________________________________
Total no. of issues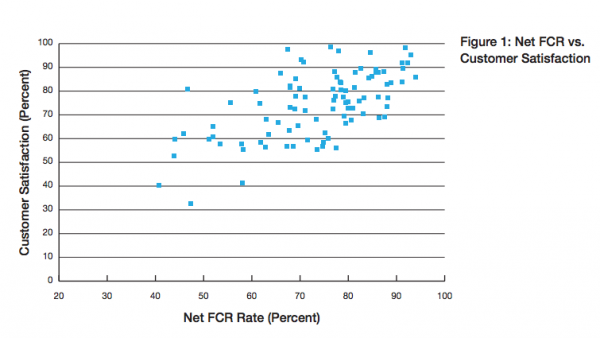 No matter the channel, this is something you have to measure and prioritize.
Solve an issue in one go, and you have kept your customers happy. If your customer support team drops the ball on this, it's the beginning of a bad customer experience.
For that reason, FCR is one of the most important metrics in the industry. There is a strong correlation between high rates of FCR and customer satisfaction.

High FCR rates mean that you get the right calls to the right person at the right time.
12) Self-Service Usage
Be it a Facebook chatbot or a VoIP phone service, many companies offer self-service customer support for common issues.
Self-service usage is a metric that measures what percentage of your customers take advantage of your self-service support options for these support requests.
With an IVR, you can measure the percentage of customers who elect to solve their issue with the IVR instead of contacting an agent.
With web-based self-service, you can compare the number of visits to your FAQ, knowledgebase or wiki, to the number of calls/tickets that deal with the same issues.
13) Backlog
In customer service, backlog refers to the total number of unresolved tickets. Unlike the percentage-based metrics, you want to keep this as low as possible.
Having a large number of unresolved support tickets means you have a lot of unhappy customers.
14) Customer Satisfaction Score (CSAT Score)
U.S. Auto Insurance with high levels of customer satisfaction achieved 30% higher profits than their competition over the past five years.
Happy customers stay customers longer. And increasing customer retention rates by as little as 5% can increase profits by up to 95%.
That's just part of what makes the CSAT score one of the most critical metrics for your business. (Not only customer service.)
The CSAT score is calculated by giving a simple 1 question survey to your customers after a service interaction.
The official question is:
"How would you rate your overall satisfaction with the service you received?"
But many companies choose to use variants like: "How was your experience with us today?"
(You may even have seen it in a box form after passing through airport security.)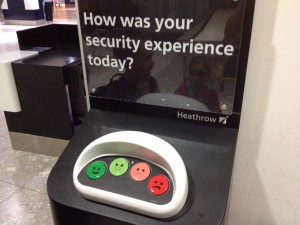 (Source)
The customers then respond on a scale from 1 to 5.
Very unsatisfied
Unsatisfied
Neutral
Satisfied
Very satisfied
The CSAT score is calculated by the percentage of customers who answer 4 or 5.
Which makes the formula:
Number of Satisfied Customers X 100
_____________________________
Number of Survey Responses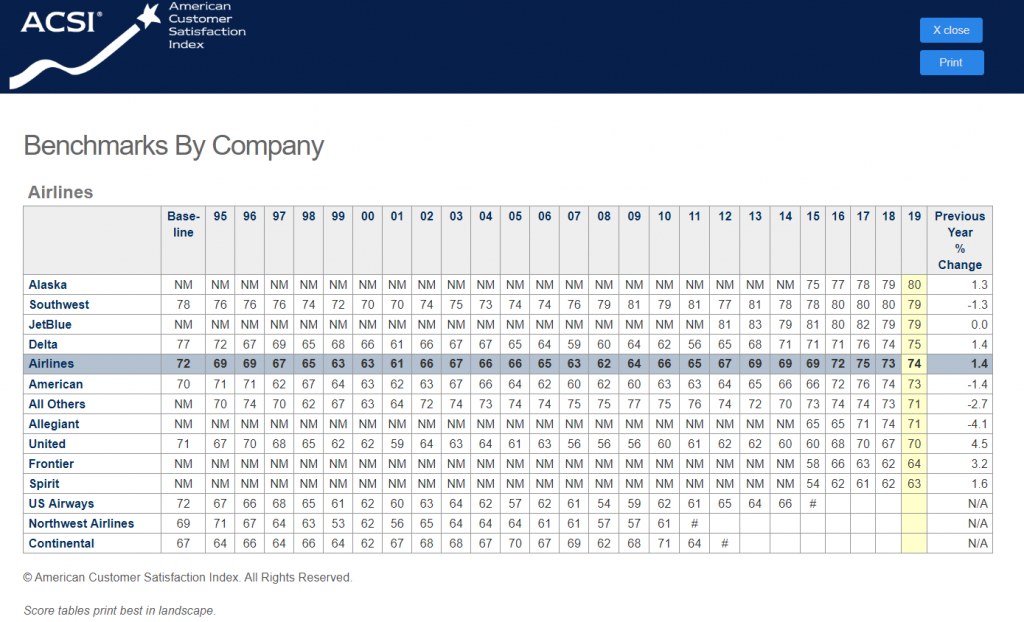 If you issued the survey to 100 customers, 43 answered "satisfied," and 29 answered "very satisfied," your CSAT score would be 72.
The American Customer Satisfaction Index publishes the CSAT scores of several major companies every year.
This public data makes it easy to benchmark your scores against other companies in your industry.

(Source)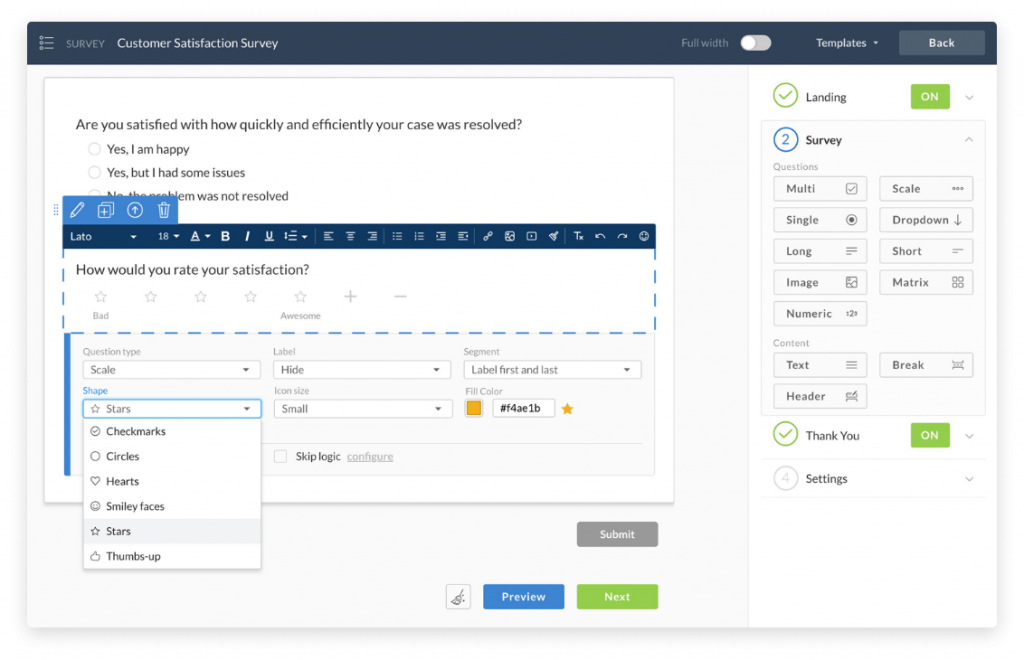 With Nextiva's Inbound Call Center Solution, you can easily handle tons of incoming calls, track team performance, and generate a lot more revenue. It has a built-in CRM so that you can see the customer sentiment in real time.

15) Net Promoter Score (NPS)

The Net Promoter Score is a survey-based metric that aims to show how likely a customer is to recommend your business.
Unlike the CSAT survey, it's not necessarily asked right after a service interaction. The NPS survey can be sent to the customer at any point in time after they purchase your product or service.
It is a staple for SaaS businesses and apps and is often used when forecasting organic growth. Like the CSAT, it is a simple 1 question survey with a scale to answer.
"How likely is it that you would recommend OUR BRAND to a friend or colleague?"
Unlike the CSAT, it usually uses a numbers scale from 1-10.
It also uses a different formally to calculate the score.
When calculating the NPS, you divide the results into three categories:

Detractors (Scores 0 – 6)
Passive (Scores 7 – 8)
Promoters (Scores 9 – 10)
You calculate the NPS by subtracting the percentage of detractors from the number of promoters. For example, let's say you issued an NPS survey to your customers.
Seventy answered 9-10, 20 answered 7-8, and 10 answered 1-6.
Even though your responses were mostly positive, and the average answer would be 8 or higher, your NPS would be 60.
16) Customer Effort Score (CES)
The Customer Effort Score is another important survey-based metric for your customer support staff.
You guessed it; it's a single-question survey answered on a scale. This one is from 1 to 7.
The question in question here is some variation of the following:
"To what extent do you agree or disagree with the following statement?
The company made it easy for me to handle my issue."
Then the following answer scale looks like this:
Strongly disagree
Disagree
Somewhat disagree
Neither agree nor disagree
Somewhat agree
Agree
Strongly agree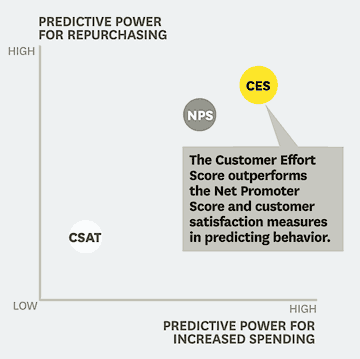 The final calculated CES is the average of all the answers.
According to Harvard Business Review, the CES score has a much better predictive power for repurchasing than the CSAT.

(Source)
93% of customers who used little personal effort to solve an issue said they were likely to repurchase.
81% of people who felt they had a hard time solving their issues said they were likely to share their negative experiences with their peers.
That's why every business must learn how easily their support staff solves customer requests and problems.
17) Customer Churn
For a high-growth service business, SaaS or startup, customer churn is a vital metric. Simply put, it is the percentage of your customers that leave during a specified time frame.
For example, if you had 100 customers last year, and 12 months later you have 50 of those same customers, your churn rate is 50%. (Over 12 months)
There is no unified agreed-upon time frame that everyone agrees upon, but many companies calculate it by weeks, months, or quarters.
It all depends on the industry, type of service, and contracts. A social media app might go as far as to calculate churn by the day. A real estate management company might calculate it by the year.
18) Repurchase Rate (Customer/Brand Loyalty)
Customers that are loyal to your brand and purchase your products repeatedly or stay with your service for a long time.
If your company is not a SaaS, one thing you can measure is the rate at which customers purchase your products again.
This metric is especially relevant for consumer products that are sold directly to the customer online. (Ecommerce.)
This formula calculates the repurchase rate:
Repeat customers
_________________
Total customers
If you have a high rate of repeat customers, this can be an indicator that your CS squad is doing their job right.
Especially interesting are repeat customers that have purchased again after successful customer service interactions.
If your company sells consumer goods through retailers, the only reference points you have is if they sign up for your insurance or contact customer service.
Conclusion
With modern tools, like Nextiva, you can measure every step of the customer journey across multiple channels.
These tools help you isolate metrics like first response time and the average number of interactions per ticket. That too, irrespective of channel.
By getting a grasp on vital customer service data points like average resolution time, resolution rates, and first contact resolutions, you will learn precisely where your team needs to improve.
And this knowledge is the first step to deliver an excellent customer service experience.
Get all the tools you need to create the best
customer experience.