You're reading this article, so you probably already know a little about different types of CRM. But just in case:
CRM = Customer Relationship Management. CRM is how you manage interactions with your customers, vendors, team members, or other business contacts. This could be a simple process or methodology your company uses. But in most cases, CRM is an application or piece of software your team uses to maximize efficiency.
Types of CRM
There are three types of CRM systems.
Operational

Analytical

Collaborative
Each of these types of CRM systems have similarities. But each is focused on a different area of business and supports different functions.
Let's take a closer look at each of them and how they play a part in a customer's interaction with your company.
Operational CRM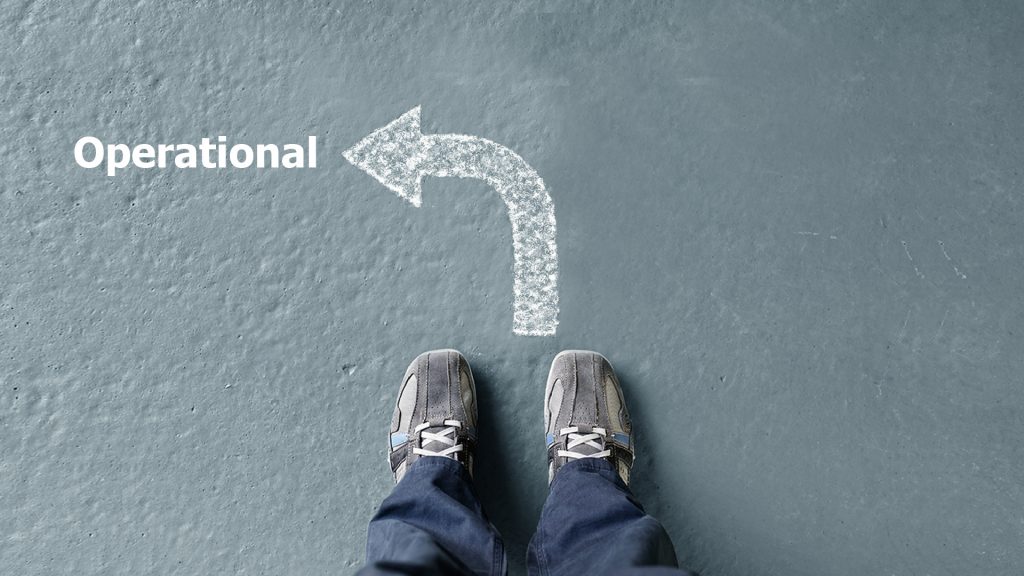 An Operational CRM helps directly manage your relationship and communication with customers. It streamlines your customers' interactions with your company.
Operational CRMs are best suited for customer service, sales, and marketing operations. These CRMs are great at handling any customer-facing function. Here's how.
Service Automation
This is all about customer service – Talking with and interacting with your customer. Operational CRMs take your customers' emails, phone calls, webforms, and orders and tie them up in a nice package. This package follows your customer through their life with your company.
Customer reaches out to your call center? No problem – The customer service CRM provides your call center rep with a complete picture of the customers previous calls, their orders, and even their complaints.
Customer calls to check on an order? Piece of cake – The CRM helps your team track the order from time of purchase through delivery.
Customer emails to check on a previous complaint? Don't fret – The CRM has the complaint logged along with the action your team has take to fix the issue.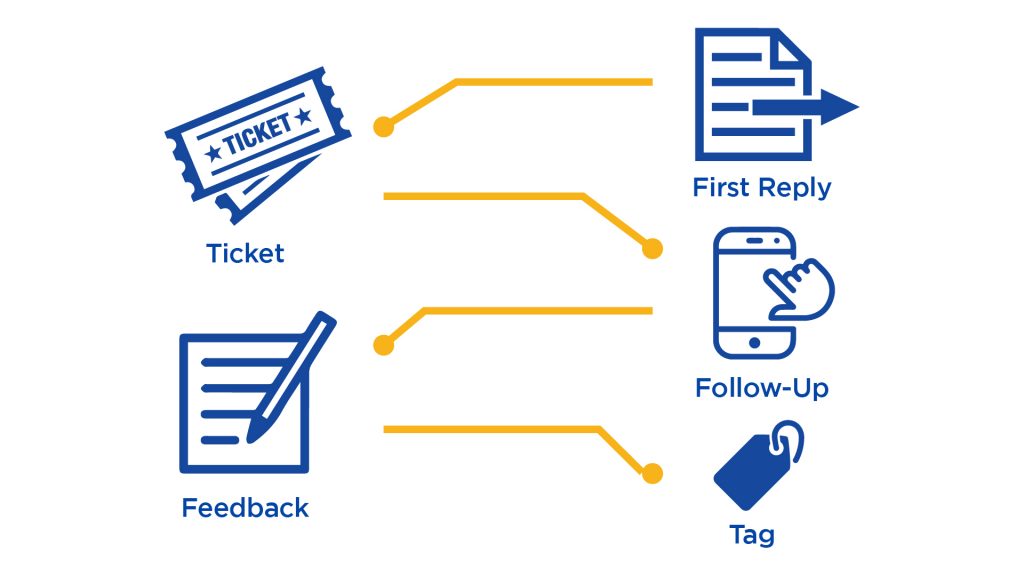 Sales Automation
Taking care of existing customers is important. But getting new customers is important, too. The service automation of a CRM ties in directly with the sales automation.
Here's how it usually works: prospect→ sale→ customer→ repeat customer.
This lifecycle – all of it – from prospect to repeat customer, is housed in your CRM. How does this help your sales team? Here are a couple of ways.
Scheduled follow-ups (or not)
If someone says no to your sales pitch you probably don't want to call them again the very next day. But you might try them again in six weeks or six months. Keeping track of your follow-ups, knowing who to contact and when, is imperative to any sales force.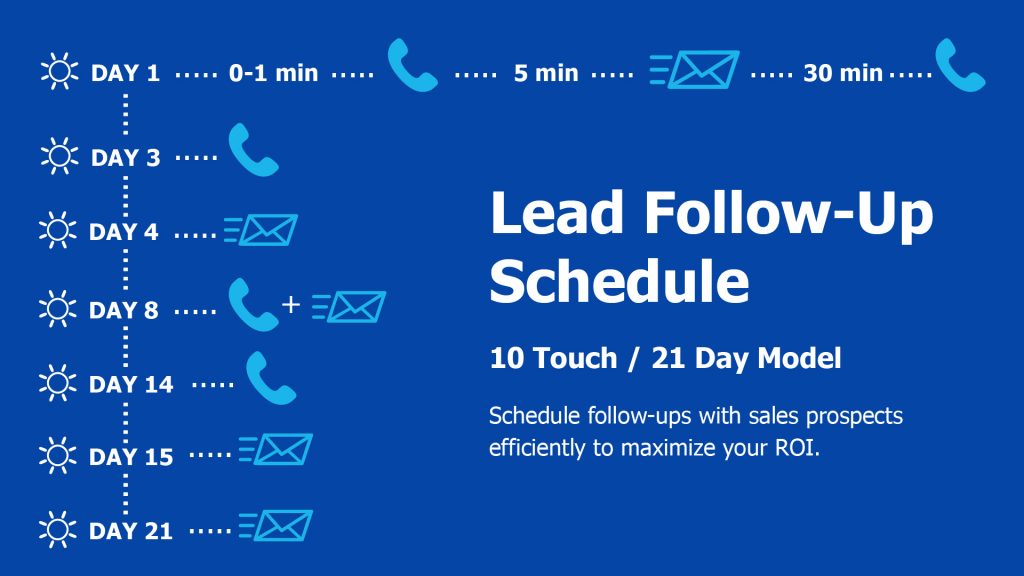 Missed follow-ups are missed sales. A CRM manages all this, and more. Many systems automate follow-up contact with customers, taking the responsibility out of the hands of your sales team.
What if there's a prospect who is combative and completely unwilling to listen to your pitch? No problem – Your CRM can flag this prospect's record so you (or your colleagues) don't contact him again.
Manage your sales team
From a management perspective, it's often hard to know who is doing what on your sales team. Depending on your business, it might even be hard to figure out who is making sales and who isn't.
Enter, the operational CRM system. Your CRM doesn't just keep track of prospects and customers, it also keeps track of your team's interaction with those prospects and customers. You can track, view, and report on your team's performance and make strategic adjustments as needed.
Marketing automation
Identify and target potential customers with through marketing automation. How? Well, you already have a database full of customer information. Why not use that information to identify the best possible prospects and focus your marketing efforts there?
Don't stop there. Integrate the CRM system with your overall marketing plan. When a potential customer visits your website or signs up for your mailing list, their information is automatically loaded in your CRM. You can now initiate contact with a casual shopper and turn them into a customer.
Analytical CRM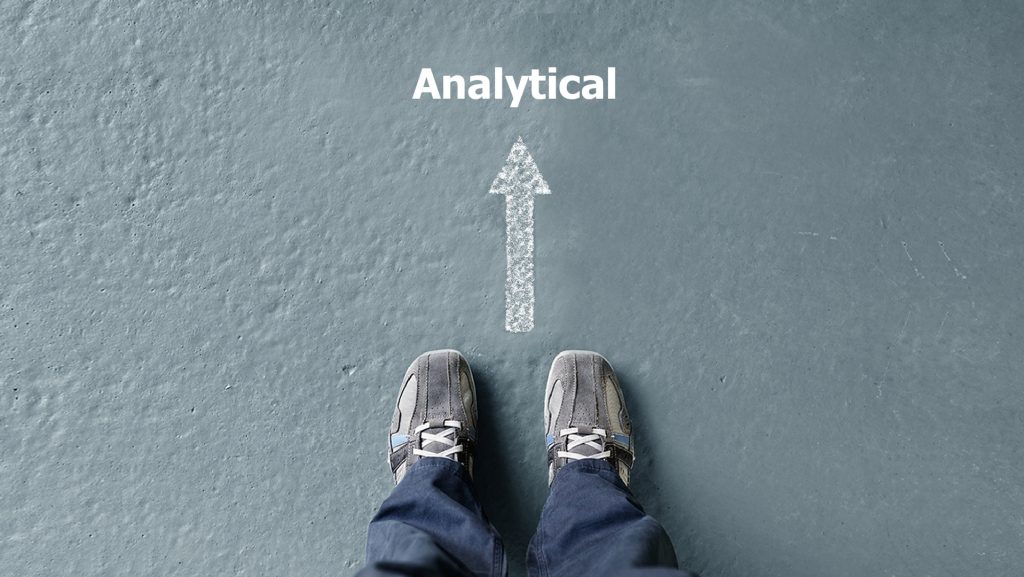 The next type of customer relationship management system we'll look at is analytical CRM.
An analytical CRM is all about data. This type of CRM gathers, stores, and analyzes information about your customers. This usually includes customer data, marketing data, sales data, and service data. Here's how each of them comes into play.
Customer data
Get a cradle to grave picture of your customer. Location – Age – Gender – Marital status – Income bracket – these are all details your analytical CRM might capture. And there are many, many more data points the CRM can manage.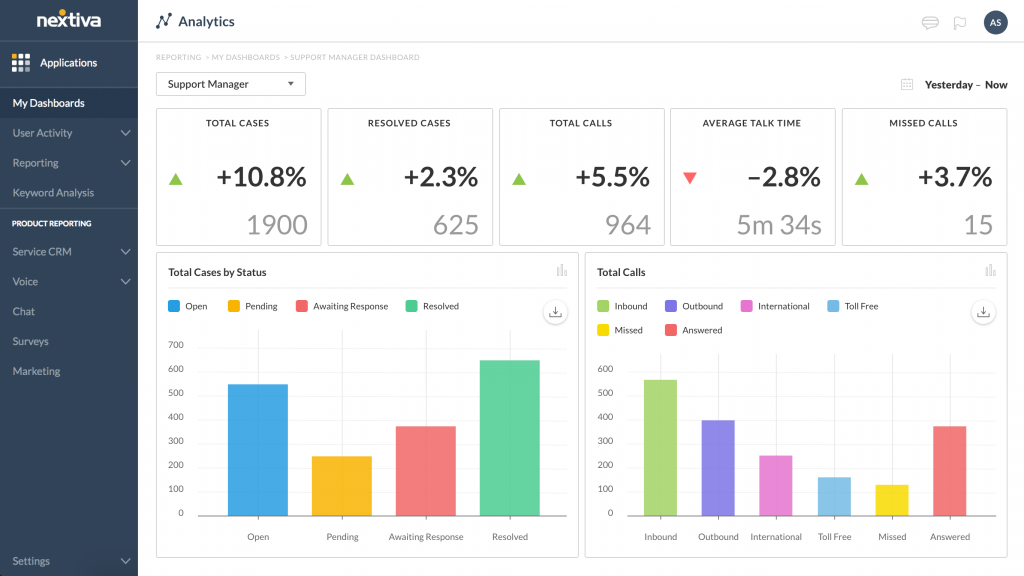 Each piece of information you gather and analyze gives you a clearer picture of your customer. What are their buying habits? Their needs and wants? Use your CRM to report on customers and fine tune your marketing and sales efforts.
Marketing data
Now that you know how to dial in your marketing efforts, use your CRM to measure how it's actually working.
Plan your marketing campaigns based on your customer data reports. Once launched, measure the success of your campaign.
Analytical CRM systems typically provide a wide range of reports to help you learn which customers convert the best, which campaigns are most successful, and which campaigns are making or losing money.
Sales data
How many sales did your company make on Black Friday? What about during your Memorial Day sale? Do your high-ticket items sell better in the winter or in the summer? Answer these questions and many others by running a detailed sales report from your CRM system.
Not only does this data help you identify sales trends in a particular time frame, it can show you which geographic areas outperformed others and which products outsold others.
Sales reports, coupled with your customer and marketing data, can help you plan ahead and retarget your efforts to draw new customers.
Service data
Analyzing your service data is a big deal. It can give you major insight into three key areas: customer satisfaction, sales opportunities, and employee performance.
Customer satisfaction
Imagine all your customers were complaining about the same thing, but you didn't realize it. What should've been a simple fix to increase your overall customer satisfaction could now snowball into a huge issue. A CRM system can allow you catch and address service and satisfaction issues early on.
Your CRM can help you identify and track these important aspects of customer complaints:
Type of complaint

Cause of the complaint

How the complaint was handled
With this data on hand, you can quickly address the root cause of the complaint and fix it. From a customer service standpoint, you can develop the best way to deal with the complaints until they're all resolved.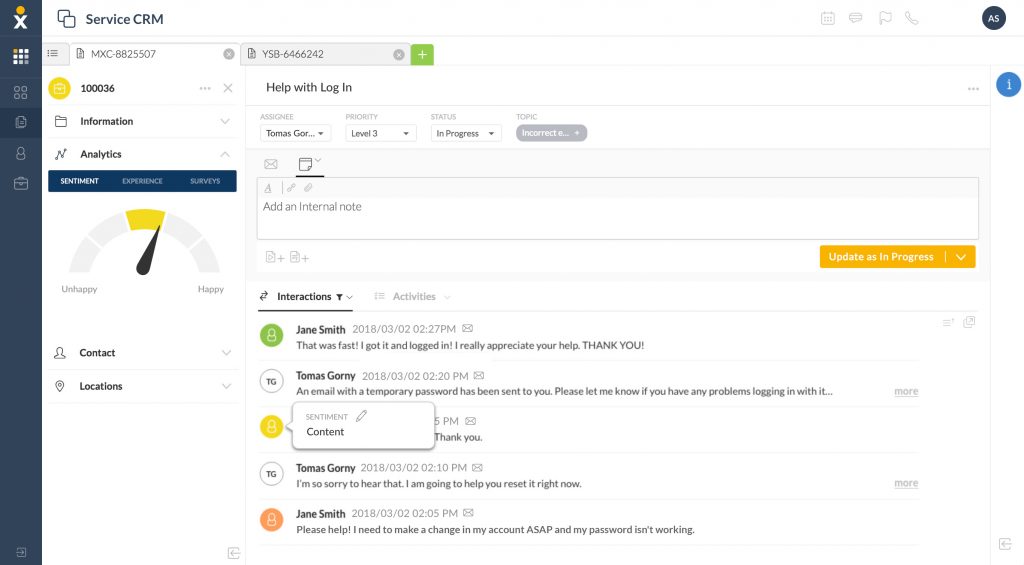 Customers usually understand things can go wrong, but they have little patience for problems that don't get resolved. Use your service data reports to attack service issues head on.
Sales opportunities
Your CRM system gives your staff insight into your customers' biographical data, past purchases, and buying habits. This is a perfect set up for cross-sell and up-sell opportunities.
You can train your staff to identify these prospects and use the CRM's data to maximize the sales opportunity.
Employee performance
We talked about tracking customer complaints. But your CRM can also help track how your employees are handling complaints and other interactions with your customers.
Keep an eye on employee productivity, service levels, and identify areas for improvement with reports generated right from your CRM.
Collaborative CRM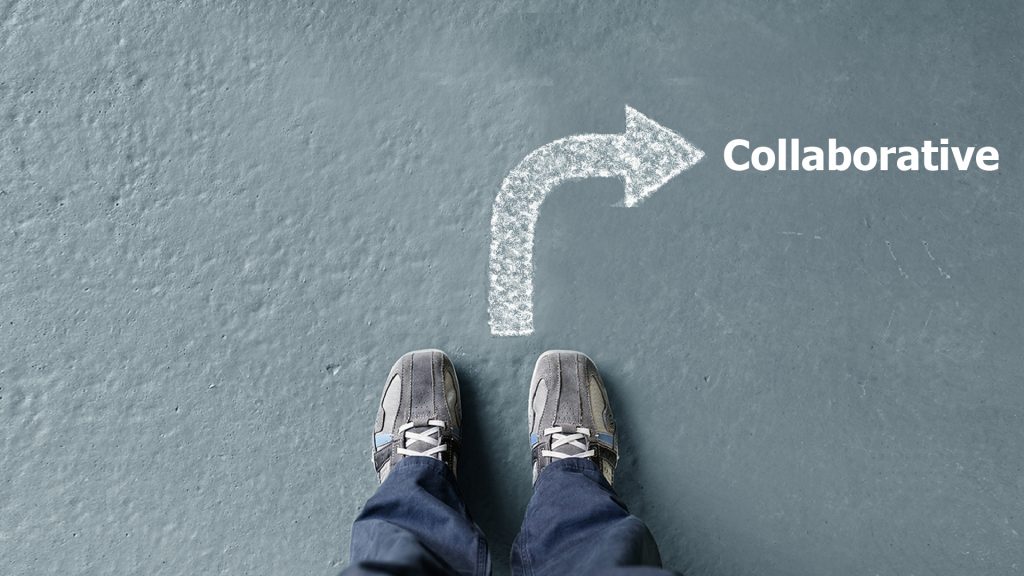 The third and final type of CRM system is collaborative CRM.
The collaborative system facilitates sharing information across your company. This could include sales and purchase history, customer service contact, marketing interaction, and technical support interaction.
When customer information is collected, organized, and shared across your organization it gives your entire team unique insight into the customer's needs.
This collaboration happens in two parts – interaction management and channel management. Check out how each part works together to make for a better customer experience.
Interaction management
Knowing your customer is the first step in meeting their needs. Using a CRM system can make this a lot easier.
Logging and analyzing every interaction a customer has with your company helps you identify issues with an individual customer as well as overall problems your customer base may be having.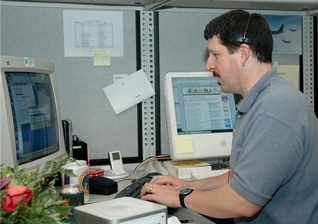 Imagine your customer calls up the tech support team for help with their new purchase. After some troubleshooting, their problem is resolved and they're happy. In a few months, your customer reaches out to the sales team about another possible purchase. The customer expresses some concern about their earlier technical problems. The sales team doesn't have access to a good CRM system, so they have no record of the customer's past issues. Not a great place to start if you're trying to close a sale.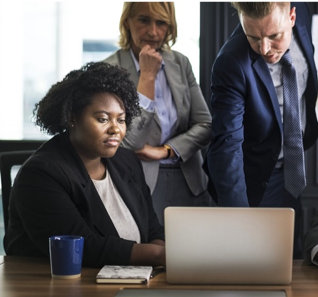 Now consider a sales team with access to a collaborative CRM. The sales rep can see a detailed account of the customer's previous issue. He can address the concern before the customer even has a chance to mention it. The customer feels good. They feel like your company cared enough about their earlier problems to make a note of it. Now they're likely to purchase from you again.
We've all been there – You call a company with a problem. You explain the issue. Then you're transferred to someone else. And you have to explain the issue again. You might've even been transferred again and had to explain it a third time. This is terrible customer service.
Channel the power of a CRM system to make your customers feel like you know them, their history, and the best way to help them.
Channel management
Learning and recording your customers' contact preferences is just as important as knowing their history. Some people prefer text messages. Others prefer phone calls. A few might still prefer snail mail. Either way, you have to communicate with your customers the way they want.
A collaborative CRM can record the preferred method of communication for each of your customers and then employ that channel with each contact.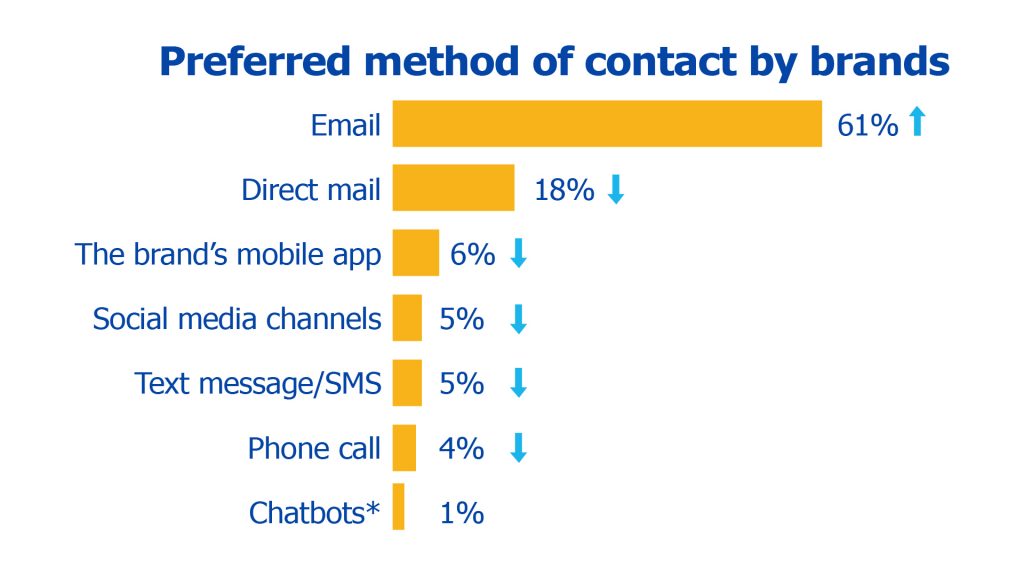 Effective communication with your customers can truly make – or break – your business. Here's a simple example.
You've targeted current customers, women ages 25-45 for your latest product launch. Your CRM database shows these customers prefer an even mix of email and postal mail communication. You decide to send all the customers in your buyer segment a postal mailing because it's more cost effective.
You can probably see where this is going. You just missed out on half your potential sales because your customers won't even see your communication. Scenarios like these can be easily avoided by using the data on hand in your CRM.
And it's not just used for mass communications. The same rules apply for one-to-one contact. Here's another example.
You've almost closed a deal with a huge client. You sent over your final presentation and wait to hear back. You follow-up a few days later, leaving a quick voicemail. You're still waiting to hear back. You follow-up again in a week with another voicemail. Still nothing. Then you check the client's record in your CRM. You find he prefers email communication. There's even a note that he rarely checks his voicemail. You send an email and get a positive response in less than an hour.
Checking the client's contact preferences at the start could've save you more than a week of idle time while trying to close a deal.
How do you choose the right CRM?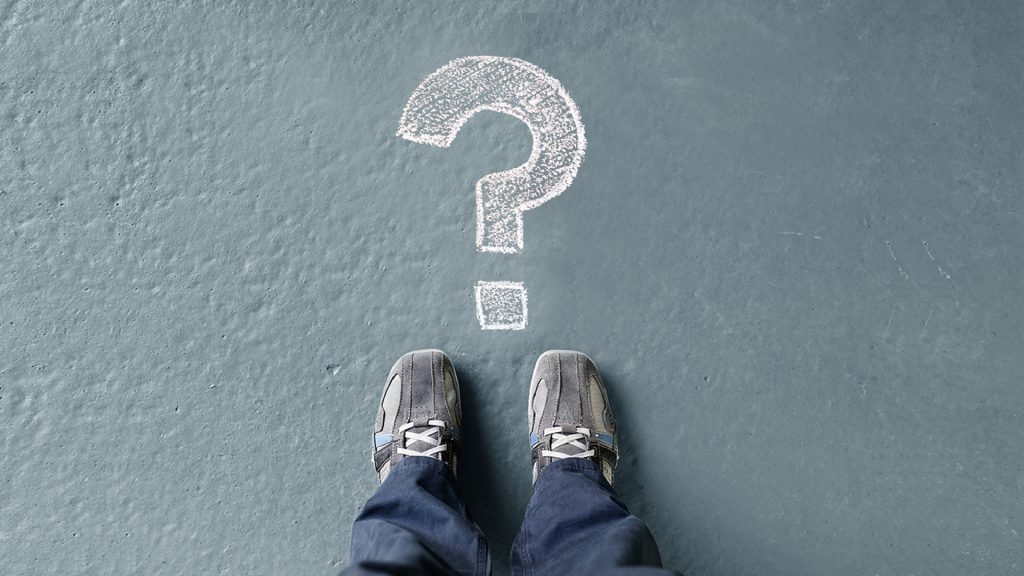 There are some inevitable questions that come along with deciding on a CRM type and selecting a solution.
Do you have a current CRM in place? If so, how's it working? What do you love about it? What do you hate about it? Think about those headaches and remember to address them when shopping for a new CRM.
What are your short-term and long-term growth goals? Are you expecting steady growth or an explosion of growth in a short time? The CRM type you choose needs to meet your growth needs not just today but well into the future.
What problems are you trying to solve? Is your customer service department a mess? Or maybe you need to streamline your marketing processes. Identify your issues and look for specific solutions in a CRM.
What are your goals? Do you want to increase customer satisfaction? Or drive sales? What features of a new CRM will help you meet those goals?
Here are some other key points to consider.
Sales
Presumably, your company sells something, whether it's a product or a service. You need a tool that can track and manage your leads and then help turn those leads into sales.
Look for a tool that integrates with your marketing efforts, like your website, social media, and direct calls. Customers who sign up on your site, call in, or engage with your social media are all potential sales. These leads should be captured by your CRM where follow-up can be automated.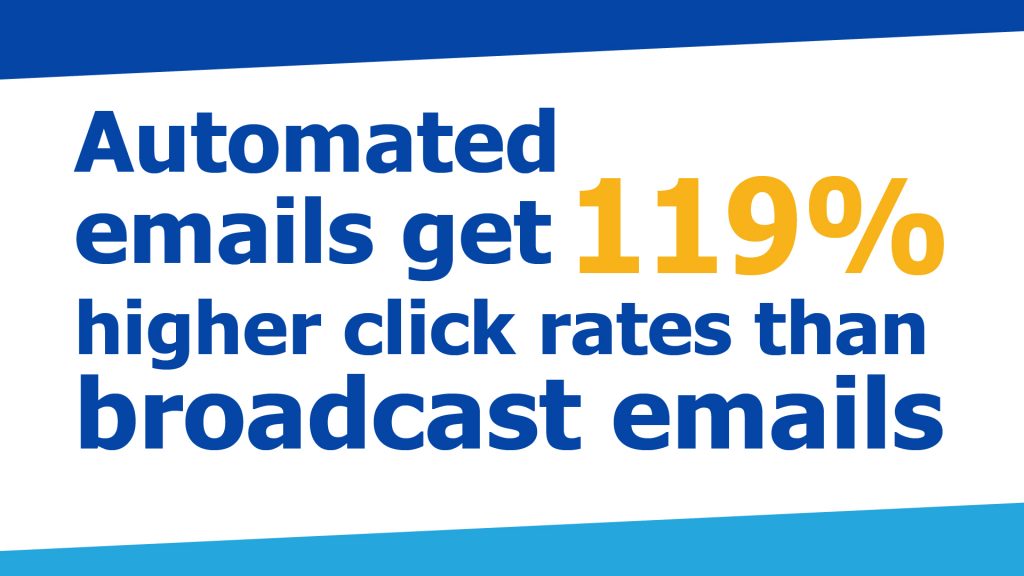 A great CRM will reach out to those initial leads with little to no involvement from your sales team.
Marketing
Be sure to select a CRM that comes complete with marketing tools. Your database of leads and customers should be put to good use with automated emails, sales funnels, and good tracking capabilities.
E-commerce
If you're selling online, you might consider a CRM with an e-commerce component. With e-commerce built in to your CRM you can avoid the task of transferring customer data back and forth. Track visitors, sales, contacts, and more in one centralized location.
Reports
Okay, we all know how important reports are to your business. Reports tell you what's happening and what's not happening. Reports help you plan your strategy. They show you what's working and what isn't.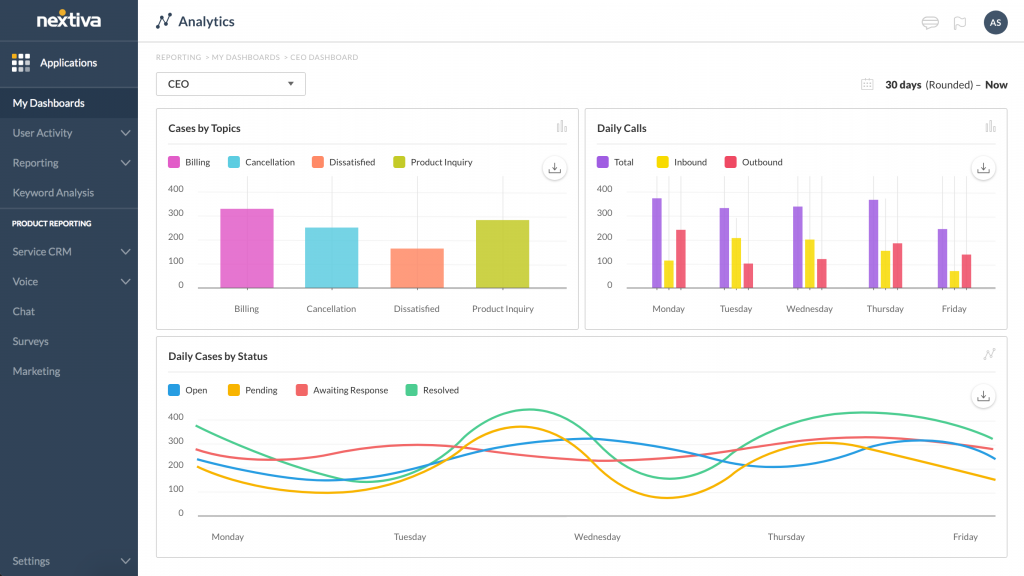 But what's just as important as the report itself? The ability to generate the report and make sense of it.
When you're looking into CRMs, be sure you understand how their reporting functionality works. Find out how easy it is to run the reports. Be sure the reports you actually need are available to you.
Call center
This is a big one. If your company has a call center – pay attention.
As strange as it may seem, call center functionality is not always an inherent part of CRM tools.
If you have a call center, you want them to work along side your sales and marketing teams, right? That's why it's important to select a CRM with a robust call center solution. Can you imagine how much awesome data you'd miss out on if your sales and marketing teams couldn't see what was going on in the call center?
Consider the different channels your customers may use to contact you. Phone, email, live chat, webform, and the list goes on. Find a CRM that helps your call center interact with your customers in the way the customer wants to interact.
Bottom line
There are three main types of CRM systems to choose from. The one you choose should be based on your company and its specific needs.
Here's a quick recap.
Operational CRM = Streamlines all customer communications with your company across various departments. Great for customer-facing functions.
Analytical CRM = Gathers and arranges sales and customer data. Good for getting an overall picture of your sales, marketing, and service functions.
Collaborative CRM = Connects the various teams in your company and allows them to view a customer's communication history. Allows for a 360° view of the customer's lifecycle from prospect to sale to customer support.
What are my options?
Save yourself some time digging through the features and types of CRMs and start your search with Nextiva's NextOS solution. Here's why.
Voice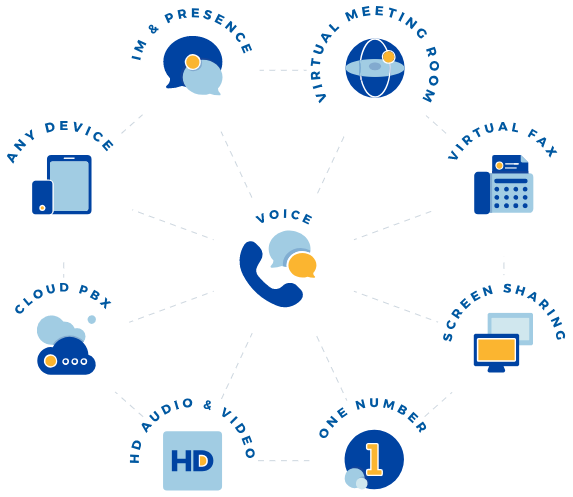 Get your call center set up to speak to your customers with Nextiva Voice. Connect every team member in your company, whether they're in the cube next to you or halfway around the world.
Equip your staff with state of the art technology – poor call quality and dropped calls will be a thing of the past.
Service CRM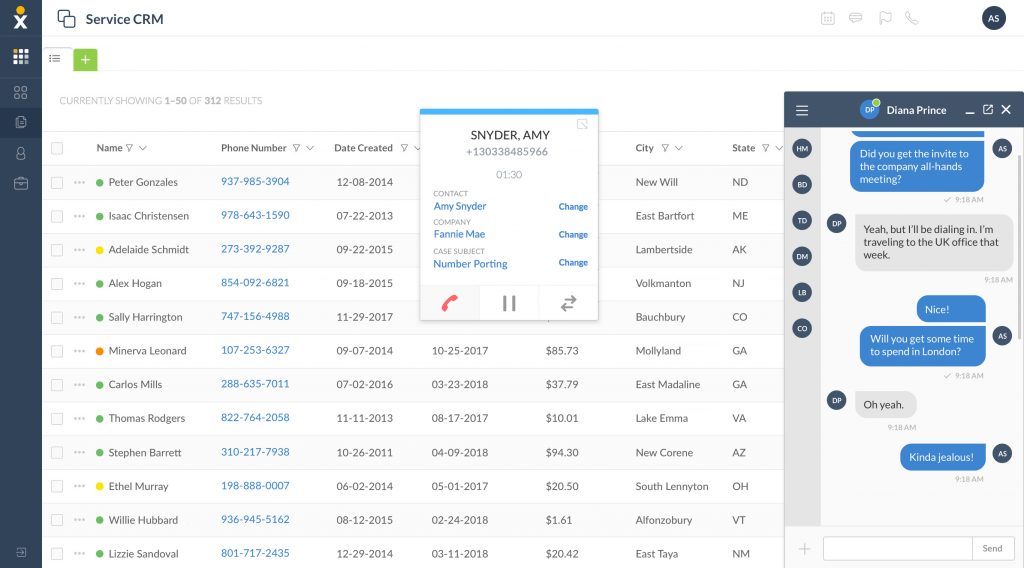 Automate communication with your customers with Nextiva's Service CRM. Use call routing and smart greetings to get your customer to the right person the first time.
Integrate support requests or complaints with your ticketing system. Automate how communications are handled for the most efficient support possible.
Surveys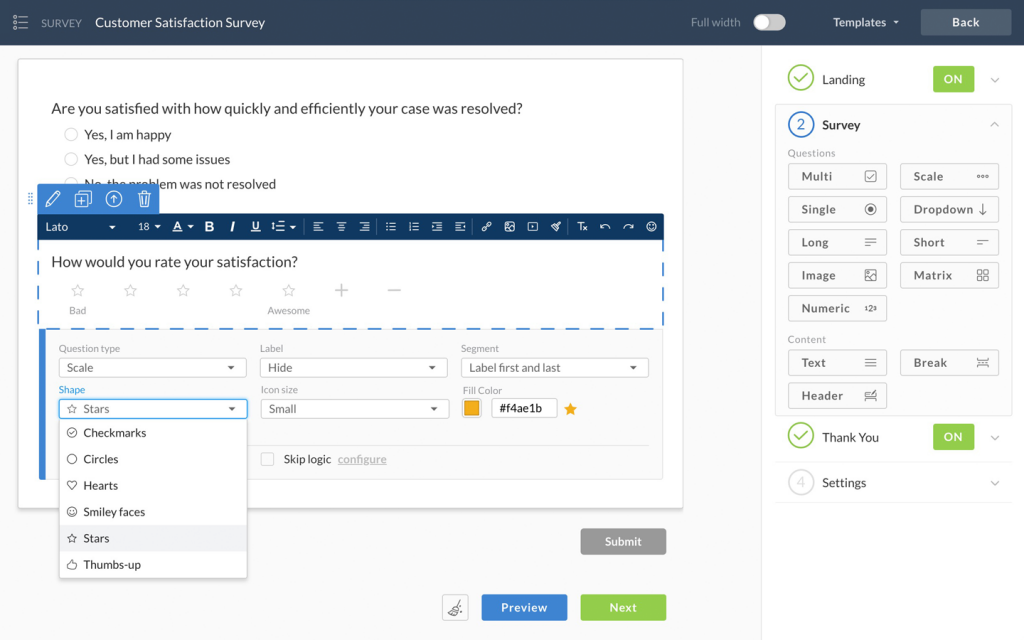 Learn more about your customers with Nextiva Surveys. Access the dashboard to gather data, report on it, and analyze it.
Channel what you learn into marketing campaigns, product launches, and planning for the future.
Chat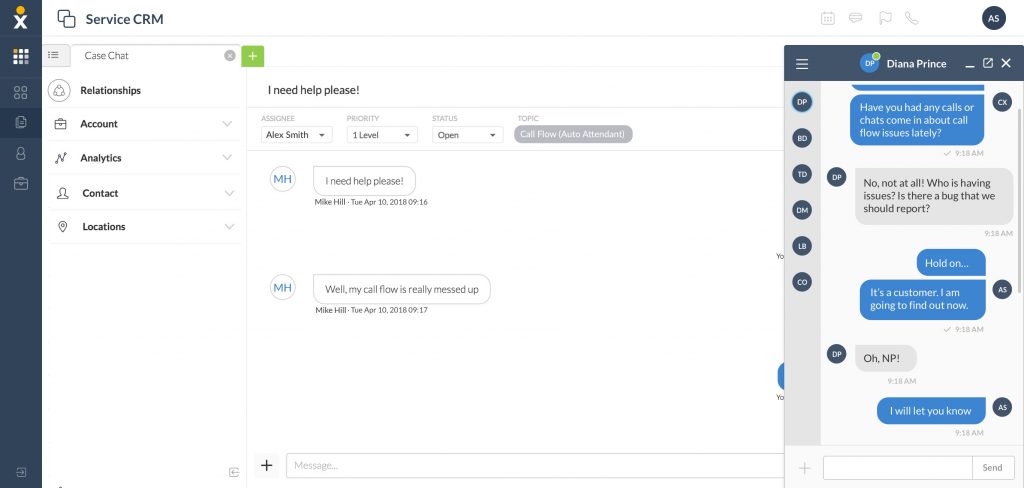 Take your call center to a new level with Nextiva Chat. Interact with your customers who don't have time for calls or emails.
Sales, support, or customer service, all done quickly and efficiently through the live chat interface.
AI
Don't just run reports and look at them. Let NextOS's AI do some of the work for you.
Use the AI insight to help you create a truly awesome customer experience.
What about customer support?
Maybe we should've mentioned this sooner. If your CRM isn't backed by great support, you'll be in for a long ride.
Support is much more than implementation. It's more than troubleshooting. Support means having a resource to tap whenever you have a question.
Want to learn how to best gather your customers' data? Need to change your call routing to make your call center more efficient? Have a marketing campaign to launch? Your CRM's support team should be able to guide you through these scenarios and most other things you can come up with.
Nextiva is serious – really serious – about taking care of its customers. So serious, in fact, our company is founded on providing amazing service. It's not just something we do, it's how we live.
Try NextOS free for 30-days. Take if for a spin. Talk with us about your wants and needs, your goals and your challenges.
Among the many types of CRM software out there, NextOS is an industry leader. We'd love to get you set up with the best CRM solution for your company.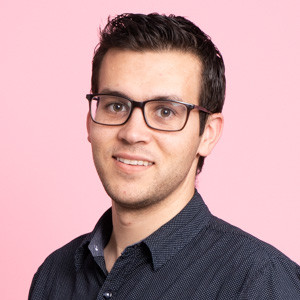 Cameron Johnson is a market segment leader at Nextiva. Along with his articles on Nextiva's blog, Cameron has written for a variety of publications including Inc. and Business.com. Cameron was recently recognized as Utah's Marketer of the Year.