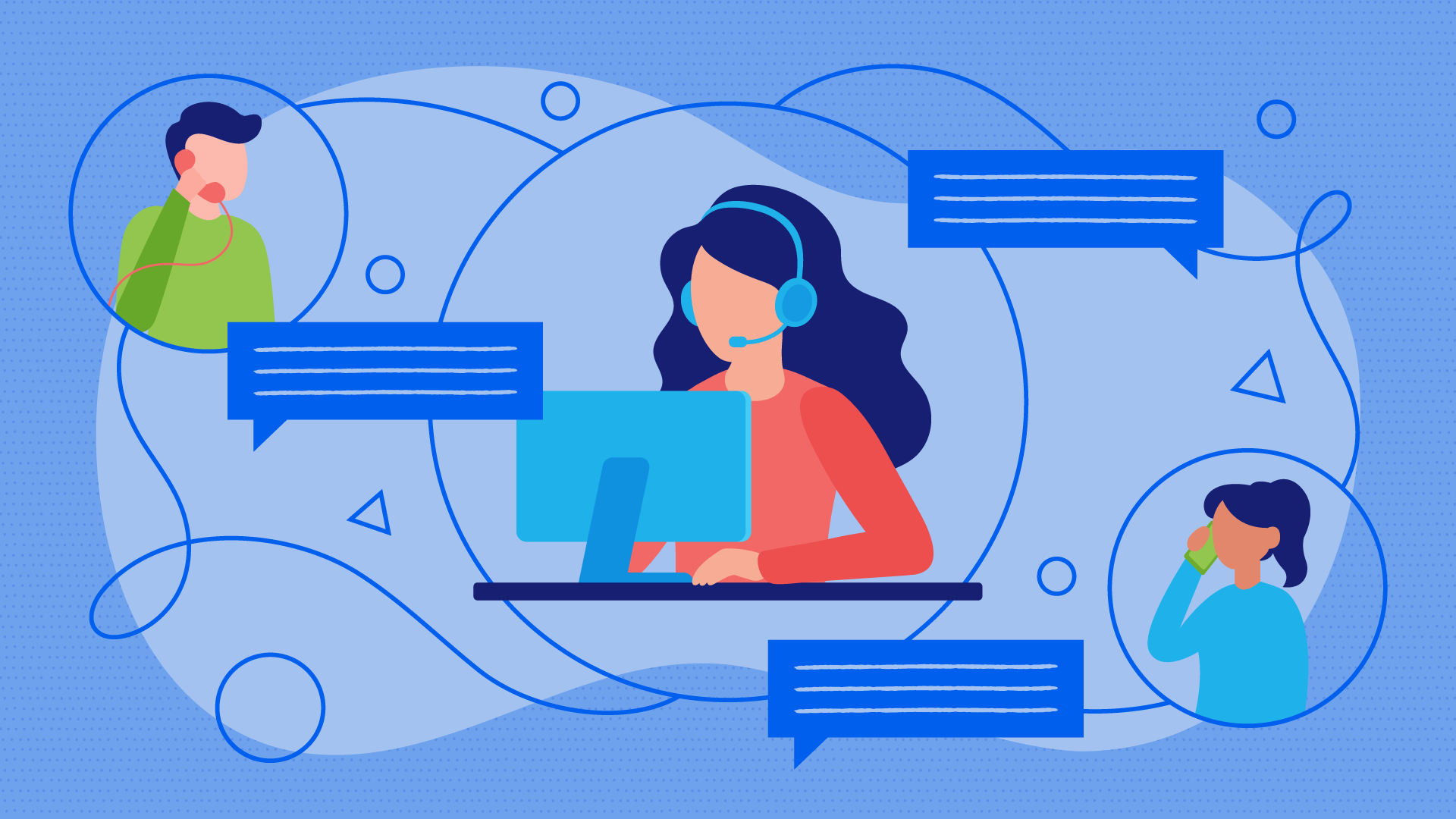 When running a business, call routing might not be the first thing you think about when you start your day. However, when inbound calls are not handled well, it immediately becomes a fire to put out for the day.
The worst nightmare to a business owner is that prospects reach a dead-end, hit someone's neglected voicemail, and talk to the wrong people on their team.
Fear not. Call routing tends to incoming calls any way you want. As a core function of a cloud phone system, call routing directs calls based on certain conditions such as the reason for the call, day of the week, time of day, agent skills, and much more.
In this guide, we break down how call routing works along with tips to increase your productivity and performance.
What Is Call Routing?
Call routing automatically answers incoming business calls and directs them to individual extensions or groups based on rules and criteria you set.
Routing calls means that people can always reach the right person or department they need right away without dialing a separate phone number. Call routing is also known as Automatic Call Distributor (ACD) and also works hand-in-hand with auto attendants.
The easiest way to know what this is with an example.
A Real-Life Call Routing Example
Let's say you want to increase your spending limit with your business credit card. You call the toll-free phone number on the back of your card.
Then the phone system presents you with several options: open a new account, account statements, dispute a charge, set a travel alert, or to seek a credit limit increase. All you have to do is press a number or say what you want verbally.
The company's phone system knows that you are already a cardmember. It directs you to the team that handles credit limit increases, instead of general customer care.
Behind the scenes, call routing identified you and seamlessly directed you to the right person that's qualified to solve your concerns.
How Does Call Routing Work?
A Voice over Internet Protocol (VoIP) phone system can route calls a variety of ways. When a person calls your company, your cloud-based phone system accepts the call, provides an auto-attendant menu, and transfers the call to your team.
Some of the criteria used to determine how a call is handled includes:
Time of day — Both the caller and the contact center in different time zones
Caller ID — The phone number of the incoming call, which also informs about the caller's location.
Auto-attendant selections — Input from the caller in response to an auto-attendant menu of choices.
Agent skill – Direct calls to members of your team better suited based on intelligent call routing logic.
Interactive Voice Response (IVR) — If the caller voices their needs, your phone system can use artificial intelligence and machine learning to route the call.
Pro-tip: If you think call routing is hard to set up, don't worry. It helps to map out what you want to happen on the back of a napkin or a whiteboard. Get your ideas out first, then implement them.
Different Ways to Route Calls
Call routing can occur in several ways. Types of call routing rules will suit various business needs. To know which ones are available to you, talk to your phone system provider.
Here are call routing policies you should consider:
Round-robin
This type of call routing means that calls will be distributed in an equal fashion among your team.
Example: If there are five agents in the call center, the first call will go to the first agent. After they successfully accept that call, the next one goes to the second agent. After the fifth agent, the first agent receives a call.
Regular
The regular type of call routing requires a specified order to be determined.
Example: if there are three agents assigned to the call center, the policy will always insist on routing in chronological order. If agents one and two are unavailable, calls will be directed to the third agent.
Uniform
The uniform type of call routing will route the call to the agent who has been available the longest. Once they accept a call, they are now at the back of the line until they have the longest available time.
Example: If you have five agents on your team. Agent number one took a call 12 minutes ago. Agent number two received a call 32 minutes ago. The next call would be routed to agent number two.
Simultaneous
This call routing type is simple: it will make all the assigned users' phones ring at the same time. Routing calls this way is ideal when speed is essential to your business.
Example: If you have three members of a call group, all of their phones will ring when a new call comes in. The one who answers it first takes the call.
Weighted
This call routing type lets administrators set a ratio of calls to be routed to each call center agent. It must add up to 100%. This inbound call strategy works much like a sales pipeline for new leads. Routing calls this way is great for onboarding new employees, or slanting calls toward high-performers.
Example: Let's say you have 100 calls come in and three live agents. The first agent has an 80% weighted call distribution, the second agent has 15%, and the third agent has 5%. The call routing policy will deliver 80 calls to agent one, 15 calls to agent two, and five to agent three.
Related: Call Center Strategy: How Do You Build One That Sticks?
The Benefits of Call Routing
Call routing isn't just a call center technology. Call routing is an invaluable feature for companies of all sizes and industries. Small businesses, solo entrepreneurs, enterprises with thousands of customers, and support and sales teams all benefit from routing calls effectively to its workforce.
Top benefits of call routing
Improves the customer experience by directing inbound calls to the best person
Reduces the time on hold because agents are more productive
Limits phone calls from coming in outside of business hours
Forwards calls to a business partner when you're unavailable.
As a result, call routing increases immediate customer satisfaction and increases revenue-generation activities. Instead of calls ending up in a voicemail, they are answered by the right people at the right time.
Upgrading Your Phone System
Call routing is a building block of a bigger-picture solution — a modern VoIP phone system.
Now that you know about call routing, you need to implement it. Analog phone systems or a mish-mash of personal cell phones can't keep up. It's time to upgrade to a phone system made for businesses.
A cloud-based phone system lets you manage your outgoing and incoming calls over the internet using a user-friendly dashboard. It also keeps their customers safe by preventing bad actors from using their platform.
In addition to directing calls efficiently, VoIP delivers incredible value to your business.
Lower communications costs – up to 60% less!
Complete flexibility to work from anywhere
Scale your company up as fast as you need
Exceptional call quality in HD
Custom caller ID to conceal your personal number
Now that you know how powerful call routing can be for your business, customer experience, and productivity, think about all the other benefits of internet phone service.
As you know by now, call routing is a crucial step to showing up for your customers the way they want you to.
Every time people call you, it's a critical call. Customers expect you to show up in a timely, efficient, thorough way. Without call routing, you could harm your brand's reputation and even let deals slip through.
Avoid these obstacles by upgrading to a robust office phone system for your company to simplify the way you serve your customers.