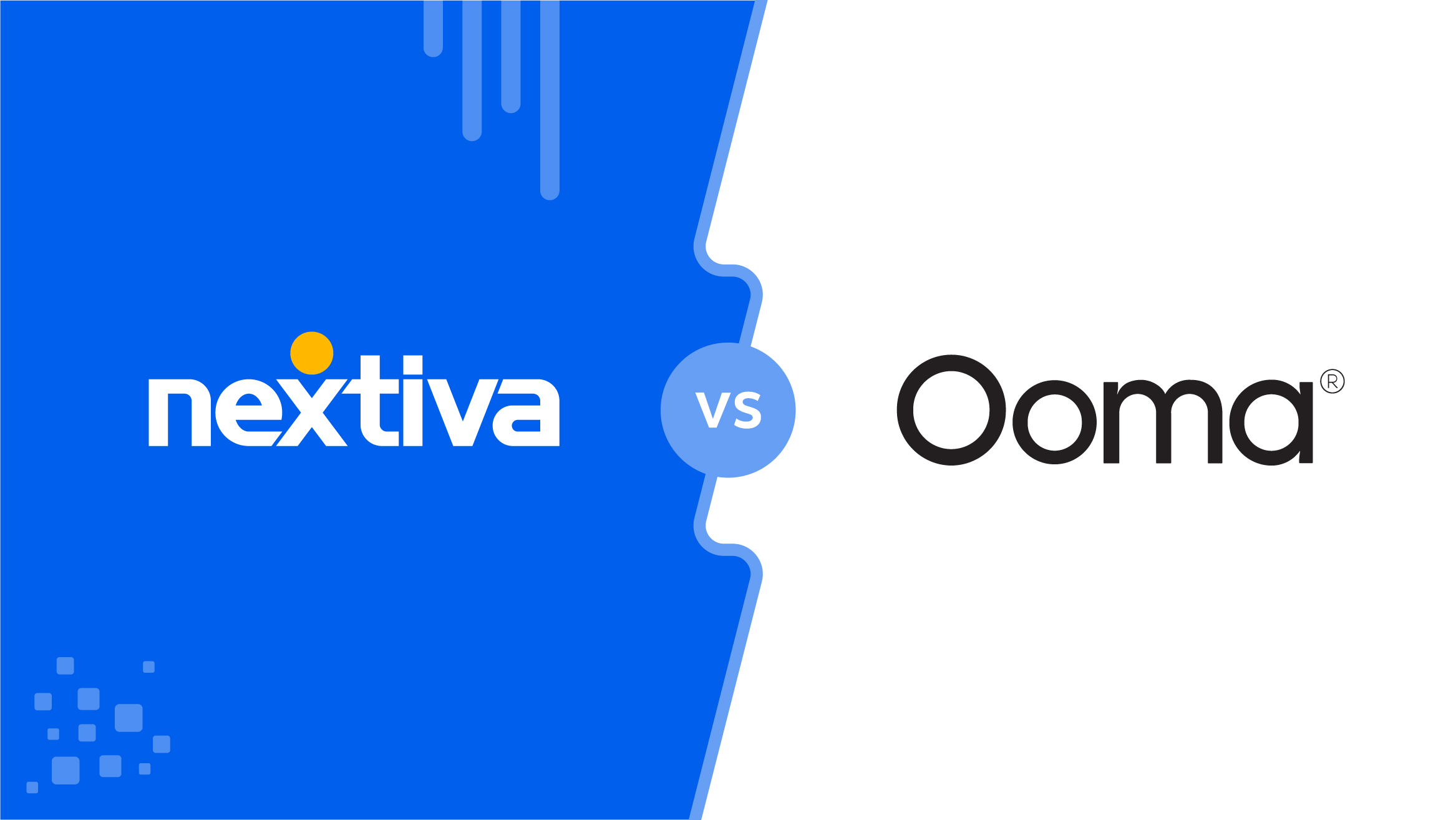 Both Nextiva and Ooma are two popular phone systems that offer a wide range of features for your business needs without costing you a fortune. And, despite their comparable prices, they offer significantly different features. So, which one would provide you with the greatest service?
The following point-by-point comparison highlights the major differences between Nextiva and Ooma to determine which provider is best for your business.
Ooma vs. Nextiva VoIP Comparison Table
| | | |
| --- | --- | --- |
| | Nextiva | Ooma |
| Pricing (monthly) | Starts at $18.95 per user. | Starts at $19.95 per user |
| Ease of Use | User-friendly | User-friendly |
| Video Conferencing | Up to 250 participants per meeting | Up to 100 participants per meeting |
| Communication Channels | Voice, text messaging (SMS), video conferencing, team messaging, internet fax, voicemail | Voice, text messaging (SMS), video conferencing, team messaging, internet fax, voicemail |
| Free Trial | Available | Available |
| Annual Subscription Discount | Yes | Yes |
| Monthly Toll-free Minutes | 2500 | 500 |
| Uptime service guarantee | 99.999% | Ooma doesn't give that same guarantee |
| Advanced Call Management Features | Available | Available |
| Integrations | Limited based on tier | More than 50 integrations and open API |
| Customer Support | Phone support, email, self-training resources, and Live Chat | Phone Support, email, self-training resources, and Live Chat |
Pricing and features as advertised on www.ooma.com/small-business-phone-systems/plans/ in June 2022.
Nextiva vs. Ooma VoIP Products & Features
Both Ooma and Nextiva offer many similar features that appeal to both small and big business owners when it comes to functionality. However, there are a few instances where one service outperforms the other.
Nextiva
It's no coincidence that Nextiva is among the well-known virtual phone systems on the market as it offers a full set of features while being inexpensive. For as low as $19.95/month/user, you get to enjoy unlimited voice & video calling, voicemail, toll-free numbers, Outlook/Google Contacts Integrations, and unlimited internet fax.
Suppose you upgrade your plan to the Enterprise package at $32.95/user/month. In that case, Nextiva will offer you features like unlimited participants on voice & video conferencing, screen sharing, auto attendant (multi-level), mobile and desktop app, SMS/MMS, Salesforce/HubSpot Integrations, 3 Professionally Recorded Greeting, unlimited video conference recording, call recording, voicemail transcription, Microsoft Teams/Custom Integrations, and Single Sign-On, plus everything in Essential plan. You can learn more about Nextiva's business phone service here.
Ooma
Ooma is well renowned for its free residential VoIP system, which allows users to make unlimited calls within the United States. For as low as $19.95, small businesses can get features like unlimited calling in the United States, Canada, Mexico, and Puerto Rico, One FREE Toll-free Number (includes 500 minutes of inbound calls per month), Call Blocking, Voicemail, Bulk CSV Upload for IP Phones, Forward Calls During Device Outages, Virtual Fax, Overhead Paging Support, FREE Number Transfer, Voicemail-to-Email Audio File, One Conference Bridge per User, Call Forwarding, and more.
However, suppose you upgrade to the Premium Pro plan at $29.95/user/month. In that case, Ooma will offer you features like video meetings with up to 100 participants, digital fax, mobile app, email audio attachments, desktop app, video conferencing, call recording, enhanced call blocking, voicemail transcription, caller info match, dynamic caller id, Google and Office 365 Integrations, call analytics, call queuing, salesforce integration, hot desking, find me, follow me, etc. Plus, everything the Essential package has.
Nextiva vs. Ooma Analytics
With the Ooma Office Pro plan, you can utilize the new Call Analytics functionality to get a complete overview of when your calls come in with easy-to-use charts. You can be able to view metrics like call volume trends, call metrics by day of the week/hour of the day, call distribution, time period, missed calls, outgoing, and internal calls, peak period, etc.
On the other hand, Nextiva features a built-in business intelligence tool that helps you make smart business decisions, find hidden insights, and boost staff performance. Nextiva platform, in particular, has a voice analytics tool that provides a real-time synopsis of all actions in your contact center. You can also see the voice analytics data that you need with Nextiva's interactive maps and graphs.
Nextiva vs. Ooma Call pops
Ooma Office outbound and inbound screen pops provide you instantaneous visibility into who is calling. The screen pops will display all the relevant contact information about the caller before the call is answered.
Nextiva's Call Pop feature also shows important information about the caller on the screen before answering the phone and during your conversation. When a customer calls, call Pop displays contact and critical account information, such as customer experience score, last survey score, account value, and last interaction sentiment.
Nextiva vs. Ooma Performance
Nextiva claims to have 99.999 percent uptime and carrier-grade data centers, which means you should never lose service for more than a few minutes each year.
Nextiva's data centers use fully uninterruptible power sources, claiming to have the best uptime in the industry.
On the other hand, Ooma boasts call quality but does not have an uptime guarantee like Nextiva and other VoIP providers.
Nextiva vs. Ooma Support
Nextiva offers a variety of customer service options, including phone support, live chat, an online ticketing system, video tutorials, and an online knowledge center.
Their phone lines are open Monday through Friday from 5 a.m. to 6 p.m., seven days a week.
While on weekends, their phone lines are open between the hours of 5 a.m. and 6 p.m. MST; Saturdays, between 6 a.m. and 6 p.m. MST.
Ooma also provides phone support that is available 7 days a week during office hours. Their support personnel are reliable in terms of ensuring that you get the needed help at any time.
Ooma vs. Nextiva Setup and Usability
Ooma's 3-step system makes the setup process incredibly simple. This enables you to get the system up and running in your company without wasting much time. Ooma also provides easy-to-use, simple interfaces for desktop and mobile devices. Their devices and hardware are also pre-configured, making it easy for their users to use them.
Nextiva's user interface is incredibly intuitive, making complex rules like call flows, user administration, and voicemail modifications a breeze.
Which One is Right For Your Business?
Ooma makes sense for your business if:
Your company is a small one with few workforces. The pricing for each user is set at $19.95 per month, and you can add more users at any time. However, there is a limit of 20 users, but it is a better choice for smaller businesses with fewer employees.
Nextiva makes sense for your business if:
You want to get the most value for your money, prefer native functionality above third-party compatibility, and want to expand at a rapid pace in the near future. Nextiva's services could be suitable for a small business that relies significantly on video communication. Click here to book a demo.
So which one should you choose?
Hopefully, we've offered you a good idea of what Nextiva and Ooma Office has to offer in terms of features, pricing and plans, usability, performance, analytics, customer service, and more.
Nevertheless, the best VoIP services for your business are ultimately dependent on your budget, unique needs, and which platform features are most important to you. So, make sure you choose the one with the most beneficial features for your business.