Is your brand active on Facebook? What about LinkedIn? Instagram? TikTok?
Social media management tools are now necessary for businesses of any size to keep up with the endless flood of comments, mentions, tweets, and stitches.
Hootsuite has become one of the more recognizable social media management platforms but is by no means the best option for your business.
Nearly half (48%) of consumers expect a response to social media within 24 hours, according to Statista. Without the right social media monitoring tool, you could leave customers waiting — potentially being courted by your competitors.
Here, we'll cover 15 of the top Hootsuite alternatives and the unique features each brings to the table.
Why Seek a Hootsuite Alternative?
Hootsuite's most affordable plan starts at $99/month, which may be prohibitive for teams with tight budgets. Here are a few Hootsuite limitations that stand out in customer reviews:
Customer support responsiveness — "Takes weeks to hear from anyone, including their chatbot. No issue is taken seriously. It has been months of an unusable platform, ignored via email and chat, without any resolution in sight." (Aimee F.)

Technical issues causing extra work — "… it always glitches and messes up your live posts, doesn't show companies or people to tag even when I am copying and pasting the exact names and can see they have a profile, and you are limited in how you can 'schedule.'" (Rachel R.)

Price plan increases (and ending its free plan) — Hootsuite ended its free plan on March 31, 2023. Along with that change, users have noted steep pricing increases for its social media software. "I am unhappy with doubling the price starting next month. I understand pricing can go up, but double? That's ridiculous." (Melissa R.)
Nearly every social media management platform includes content scheduling, inbox management, and reporting, but what if you're looking for additional features? Teams may seek out a better Hootsuite alternative.
⏳Short on time? Here are the top five alternatives to Hootsuite at a glance. Pricing plans vary depending on the number of social media profiles, team users, and platform functionality.
Top 5 Hootsuite Competitors
Social Media Tool
Best For
Key Features
Monthly Pricing
1. Nextiva
Nextiva is best for small businesses with lean social media teams.
• Unified social inbox
• Message alerts
• Intelligent topic routing
• Integrated chatbot
• Essentials: $59/user
• Professional: $99/user
2. Agorapulse
Agorapulse is great for businesses, especially those working with a lot of paid media and having to do content moderation.
• Cross-channel publishing
• Unified social inbox
• Reporting & ROI tools
• Social listening
• Free with limited functionality
• Standard: $49/user
• Advanced: $119/user
3. Social Pilot
Great for small and midsized businesses (SMBs), agencies, and multi-location brands.
• Scheduling & publishing
• Collaboration tools across departments
• White-labeling
• Professional: $30/month (1 user)
• Agency: $100/month (6 users)

4. Sprout Social
Best for larger organizations and agencies that conduct extensive brand monitoring.
• Mature social media management
• Schedule & publishing
• Analytics dashboard
• Employee advocacy support
• Standard: $249/month (1 user) + $199/month for each additional user
• Professional:$399/month (1 user) + $299/month for each additional user
5. Buffer
Good all-around solution for small teams, particularly those with a strong focus on Twitter.
• AI-assisted social publishing
• Analytics dashboard
• Draft management tools
• Free with limited functionality (3 channels)

• Essentials: $6/month (1 channel) + $6/month for each additional channel

• Team: $12/month (1 channel + unlimited team members) + $12/month for each additional channel
At a fraction of Hootsuite's cost, Nextiva provides a better social media management tool to oversee multiple social media networks from one place.
A huge benefit of Nextiva is its collaboration functionality. The platform can seamlessly operate alongside's reputation management and customer support tools to keep your entire team aligned. Nextiva also integrates with popular CRMs like Salesforce and Dynamics 365.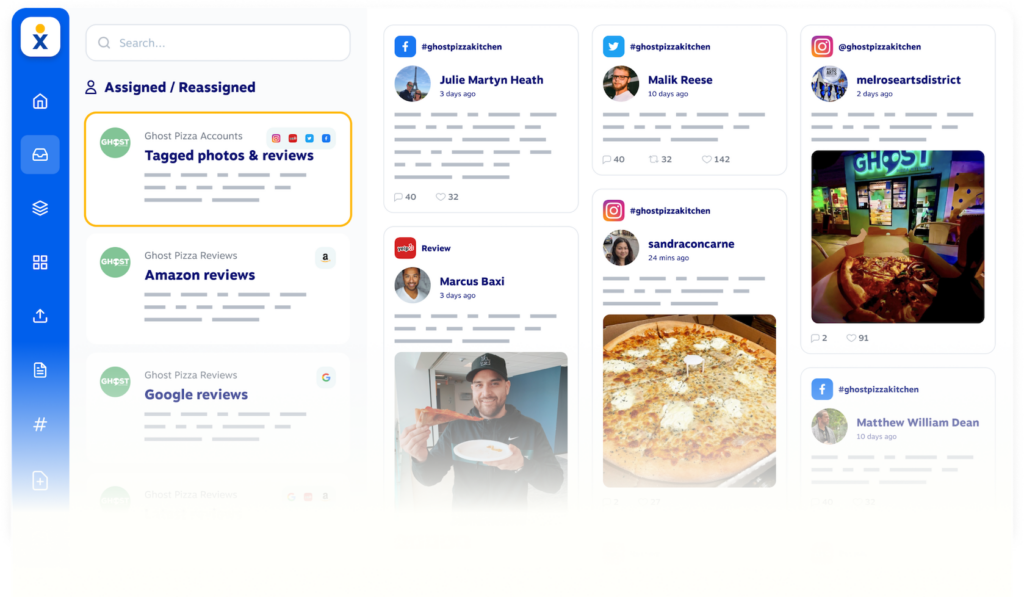 Key Features
Social media scheduling tool to publish posts across social media channels
Social inbox for managing messages, comments, tags, and mentions from social networks
Reporting & social media analytics aid decision-making
Seamless connection to other marketing and customer success tools
Why It's Better than Hootsuite
Bulk messaging to reply to multiple posts at once
Escalate notifications based on set parameters, making it easy to collaborate with customer success teams
SLA management keeps your customer support team on track
Collects customer feedback with social media surveys
Pricing
Nextiva's pricing model is simple. Their Social Essentials plan is $59/month per user, and the full-featured Social Professional plan is $99/month. The professional plan has additional features like support SLAs, chatbot tools for inbox management, intelligent inbox routing, and robust social media analytics capabilities.
?Tip: Nextiva is renowned for its virtual phone service, which over 100,000 companies use today.
2. Agorapulse
Agorapulse covers all the basics of social media management: reliable social media scheduling, inbox monitoring, reporting, and team collaboration. While they may lack advanced AI and automation tools, Agorapulse offers a strong suite of fundamentals.
They're known for a simple user interface and are intended for larger teams with complex approval workflows.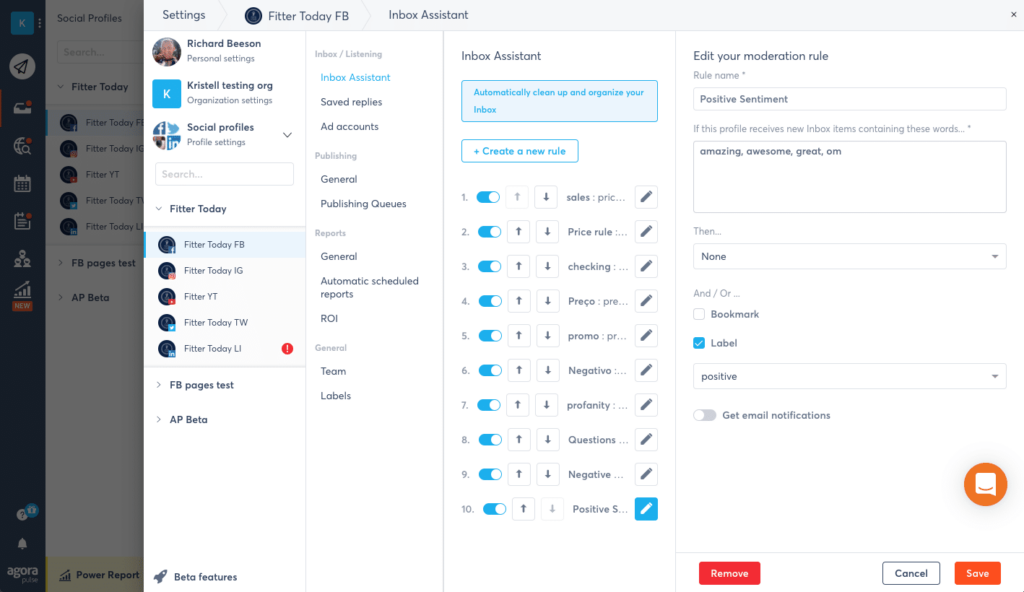 Key Features
Social listening about your brand and competitors
Scheduled social media calendar across multiple social networks
Social inbox for inbound messages, comments, tags, and mentions
Reporting & ROI: measure the success of social media campaigns
Why It's Better than Hootsuite
One-click post across multiple channels without duplication
Considered a more affordable Hootsuite alternative
Easy interface to use and navigate
Comprehensive inbox management features make it easy to assign tasks to team members
Schedule Instagram stories in advance
Pricing
Agorapulse's pricing starts at $49 per user, per month. Its Advanced Plan with ROI and power reporting starts at $119 per user, per month. Free 30-day trial, no credit card required.
3. SocialPilot
SocialPilot is a customizable social media content platform for SMBs and agencies. Teams can manage social media channels across multiple brands, locations, and clients. The social media management tool is adept for organizations with numerous social media profiles.
Their white-label solutions offer a personalized touch for clients.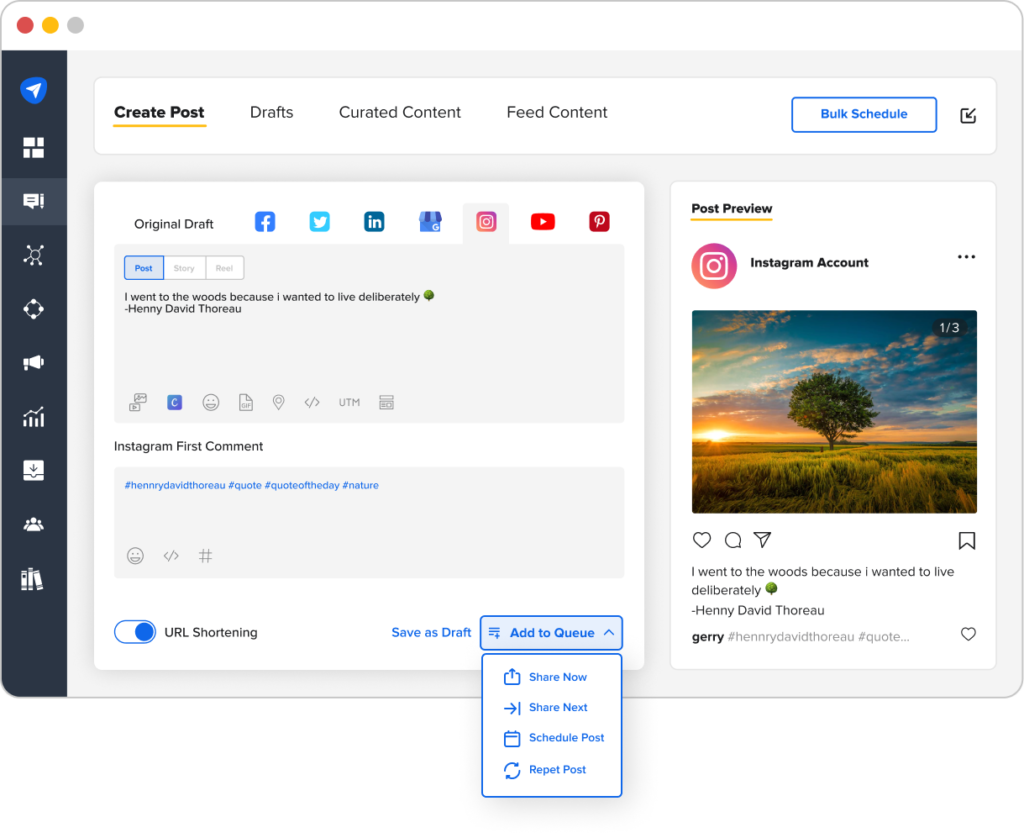 Key Features
Create and schedule posts across multiple social platforms
Collaboration tools to streamline design and scheduling approvals
Reporting & analytics
White-labeling for social media marketing agencies
Why It's Better than Hootsuite
Quickly customize each post for separate channels
Publish Instagram posts, including carousels
Use SocialPilot's Canva integration to collaborate with team members
Schedule Instagram comments before publishing
Pricing
Social Pilot's professional plan starts at only $30/month. Their popular Agency plan is $100 a month, which supports up to six users across 30 social media accounts. All plans come with a 14-day free trial.
4. Sprout Social
A social media management tool for brands and agencies of all sizes, Sprout Social helps with social media publishing, scheduling, and reporting tools.
Its pricing isn't among the cheapest Hootsuite alternative, but they offer a lot of features in each plan.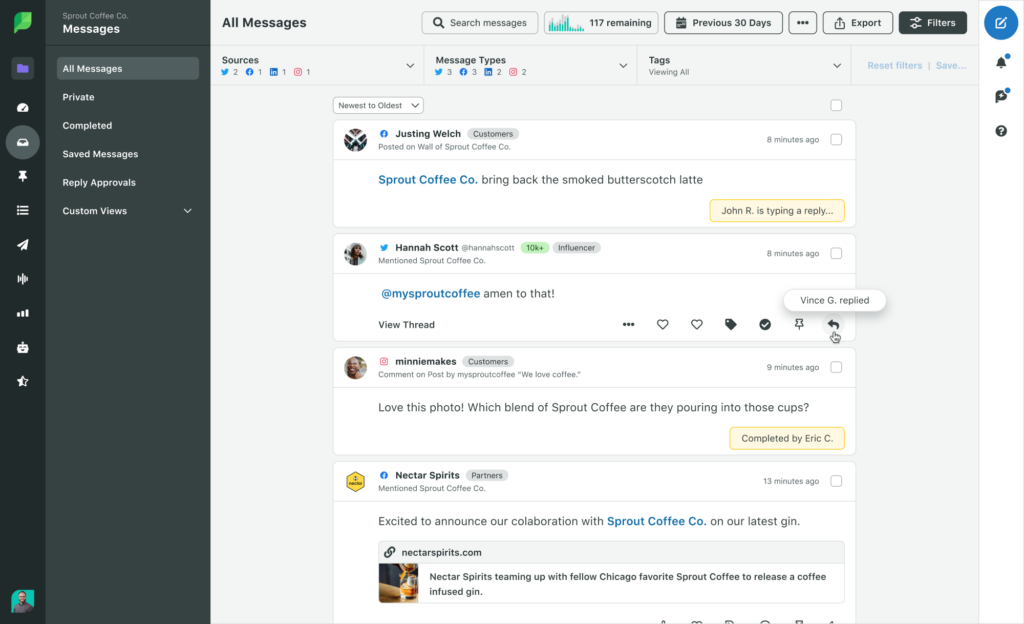 Key Features
Plan, get feedback, and publish posts across social networks
Collaboration tools at every stage of the process, from design to client approval, to scheduling
Detailed insights and social media analytics
Why It's Better than Hootsuite
Quickly customize each post for individual platforms beyond text-only customization
Schedule carousel Instagram posts
Utilize the Canva integration to collaborate with team members
Schedule posts for optimal reach and engagement
Pricing
Sprout Social's standard plan runs $249 per month, with a supplementary $199 for each additional user. The plan supports five linked social media accounts.
The popular Professional plan is 399$ a month, with an additional $299/month for each user. All plans come with a 30-day free trial.
5. Buffer
Buffer describes their platform as the "all-you-need social media toolkit." Its marketing tools are best for small businesses and solo freelancers.
While it lacks the advanced features of other social media platforms and does not support all types of posts, it's a solid option at an affordable price.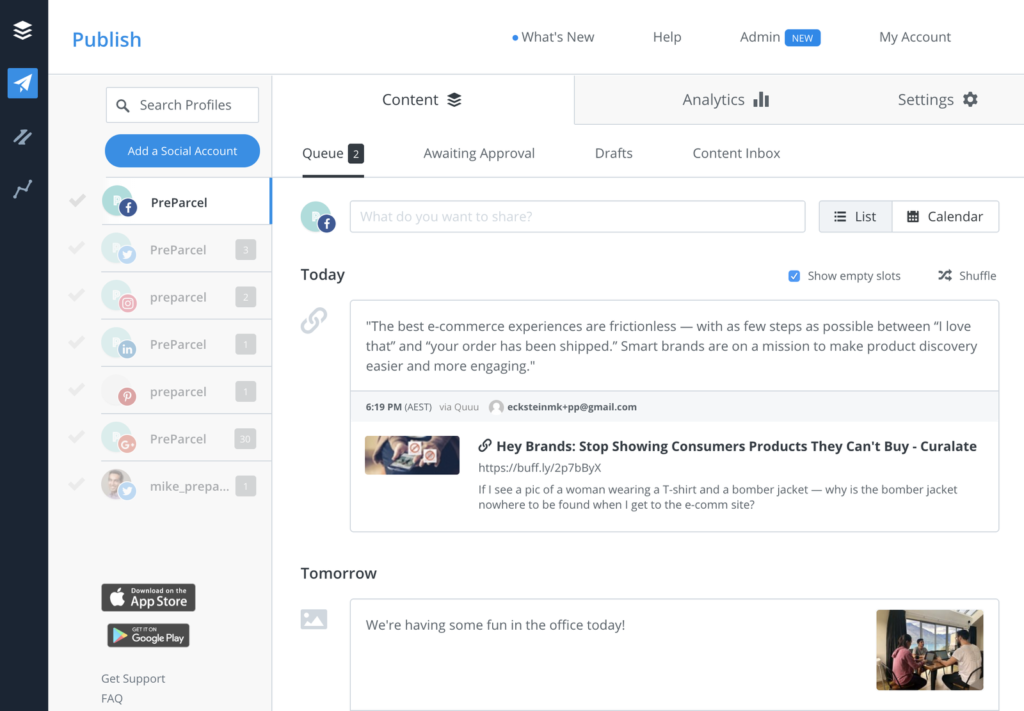 Key Features
Cross-channel posting across multiple social media accounts
Dashboard for analytics and reporting
Manage comments and online interactions through the Social Media Engagement tool
Why It's Better than Hootsuite
Build flexible "Start Pages" with Buffer's Landing Page Builder
Leverage the AI Assistant to quickly brainstorm ideas, write faster, and repurpose posts
At $0 per month for the basic plan, it's hard to beat the price.
Pricing
Buffer's basic plan is $0 per month, which includes up to three connected channels. Additional functionality, like engagement tools and analytics reports, runs an additional $6/month per channel.
6. Sendible
Sendible's clean, user-friendly interface and top-rated support team make its platform a reliable choice for small businesses.
While the social listening features may not be as advanced as other solutions, the platform is affordable.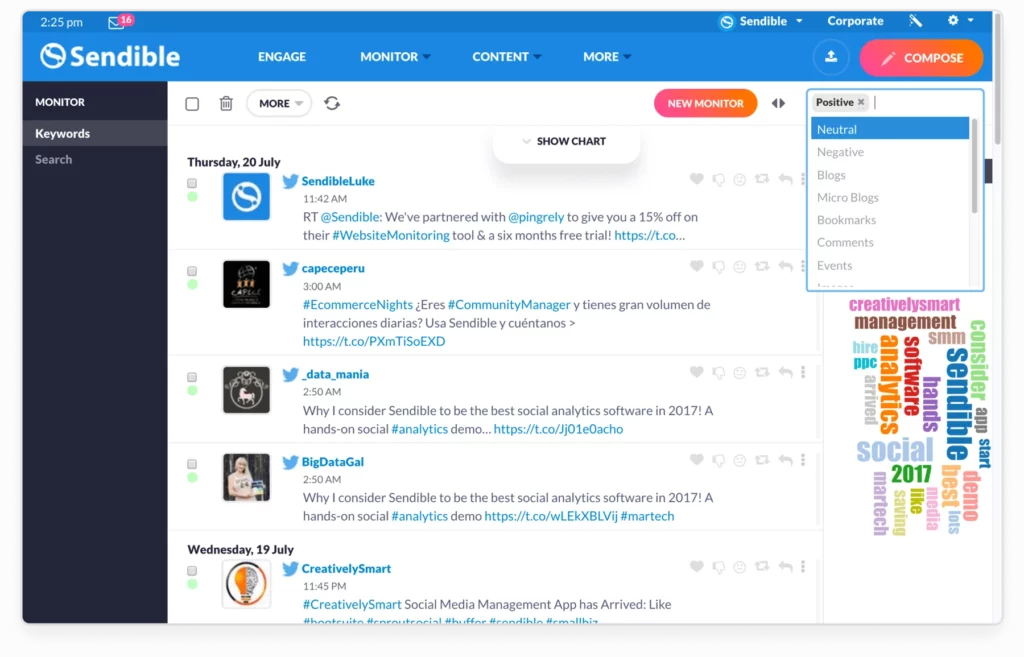 Key Features
Bulk import, customize, and schedule posts
Use a centralized inbox for audience engagement
Generate automated custom reports to view trends
Why It's Better than Hootsuite
Use advanced client collaboration tools, such as client-centered reporting dashboards.
Schedule stories to Instagram and TikTok
Unique brainstorming tools like a dashboard holiday calendar, automated RSS feeds, and Google alerts can streamline the post-creation process
Pricing
Sendible's basic plan is 29$ per month, which includes one user and six connected channels. The premium white-label plan is $240/month and includes 10 users on up to 60 social profiles. This premium plan includes special features like account management and custom branding.
All plans come with a free 14-day free trial.
7. SocialOomph
A social media management tool that's been around since 2008, SocialOomph offers social media and blog scheduling tools.
While the ability to schedule blogs may be a unique feature for many businesses, keep in mind that SocialOomph has limited social media integrations. Popular apps like TikTok and Instagram are not supported on the platform.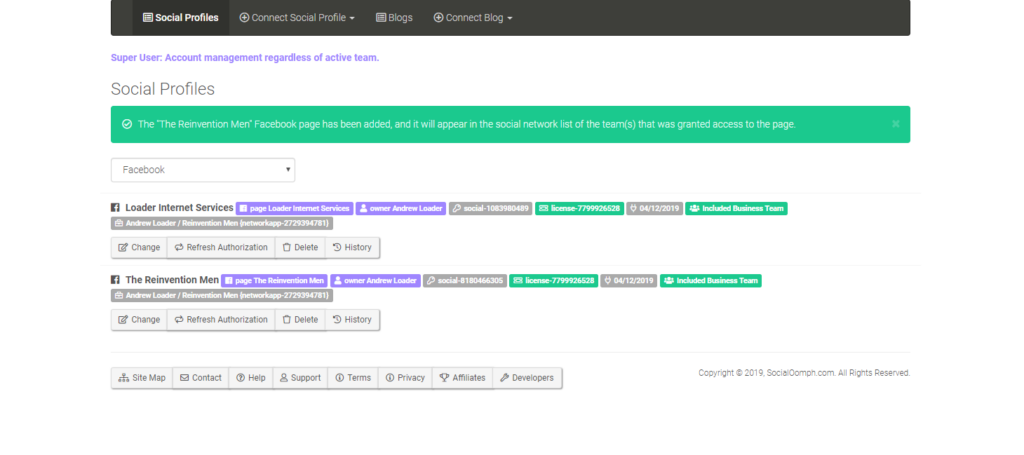 Key Features
Schedule and publish to social channels and blogs
AI post-generation functionality
Webhook API connections and customization functionality
Excellent customer service: the top 5% in their Zendesk category
Why It's Better than Hootsuite
Bloggers can schedule posts to WordPress without changing platforms
Prevent outdated information with an optional "self-destruct" post feature
Use Webhook API connections to create posts from your own service or app
Pricing
SocialOomph offers a free plan which includes one social profile and limited features. The Professional suite is only $25 per month and includes team access, AI post generation, 10 social channels, 5 blogs, and more. Paid plans all come with a free 30-day trial.
8. Planable
Planable is all about improving the content curation and approval process for small businesses. Rather than focus on every aspect of social media management, their platform focuses on design-first planning across multiple social channels.
This social media management platform is best for larger businesses or digital marketing agencies that juggle many stakeholders.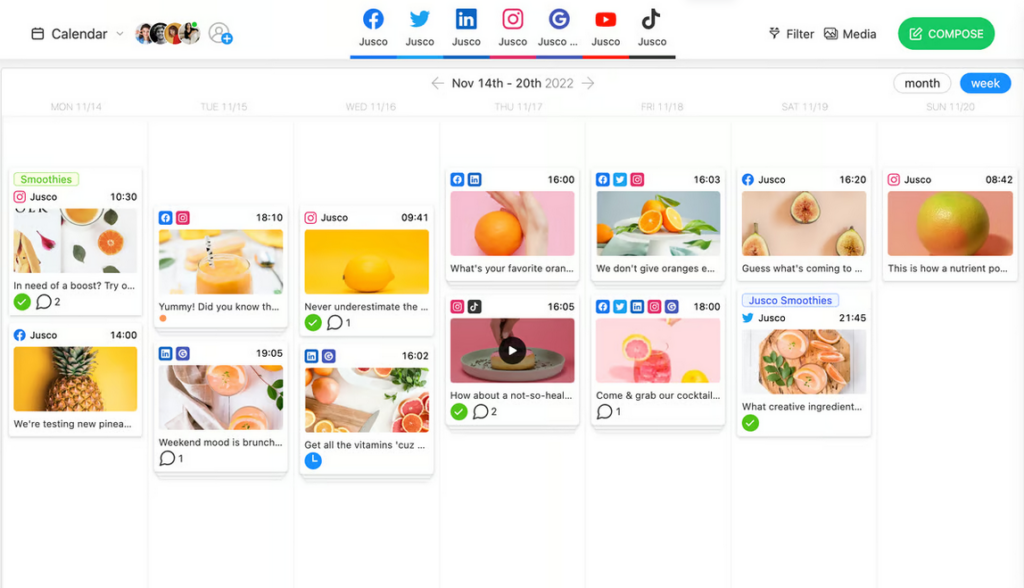 Key Features
Plan content on a clean, intuitive interface
Built-in collaboration features for team members and clients
Create flexible feeds that include many types of media
Why It's Better than Hootsuite
Planable's scheduled posts look identical to live versions, leaving no room for design errors
Bring together newsletters, social posts, emails, and more into a single content feed
Choose between four different ways to view upcoming content: feed, grid, calendar, or list
Pricing
Planable's basic plan is free but is limited to 50 posts. The Pro plan is $22/month per user and includes unlimited posts, three types of approval, the ability to save posts as ads, and more.
9. CoSchedule
Rather than focusing solely on social media, CoSchedule is a work management software for all marketing team tasks.
Like Notion or Monday.com, CoSchedule helps marketing teams stay on top of deadlines and collaborate on projects within the platform. The marketing calendar tool can be used to plan out social media content month by month.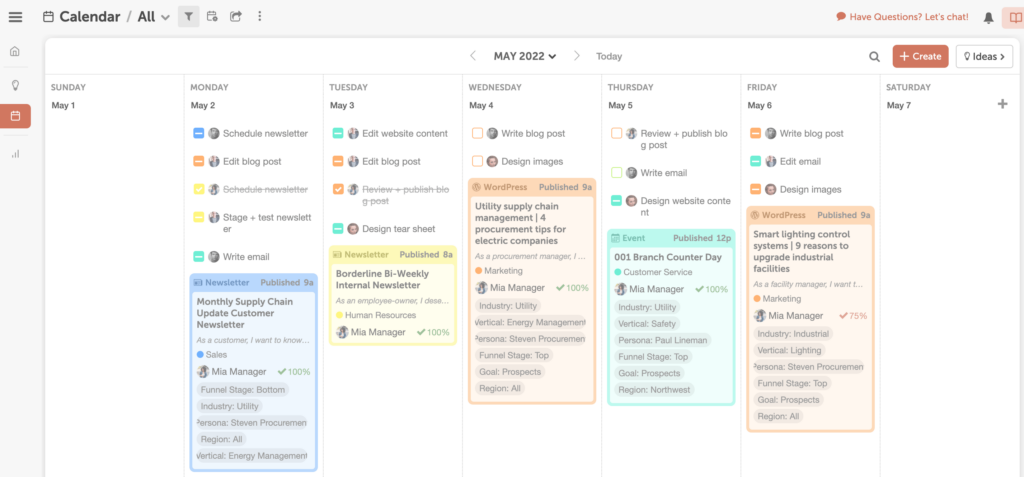 Key Features
Marketing calendar for tracking events, deadlines, and social media posts
The Headline Studio helps copywriters craft effective headlines
Learn new social media marketing skills through CoSchedule's Marketing Institute
Why It's Better than Hootsuite
Great for teams that need an all-purpose solution at a low price CoSchedule is not limited to only social media management
Integrate with CoSchedule's other marketing tools to boost productivity
Use the Discussions feature to collaborate in-app, assign repetitive tasks, and discuss marketing tasks
Pricing
CoSchedule's basic marketing calendar is included under their free plan, but the Marketing Pro calendar is priced at $29 per user per month. This plan includes features like team member access, read-only views, and work automation.
10. MeetEdgar
MeetEdgar focuses on automating evergreen content for social media channels. Rather than manually creating new posts, MeetEdgar pulls previous evergreen content from a queue and re-publishes it at set intervals.
The platform will use AI to determine the best times to post this content, keeping your social media presence fresh every day.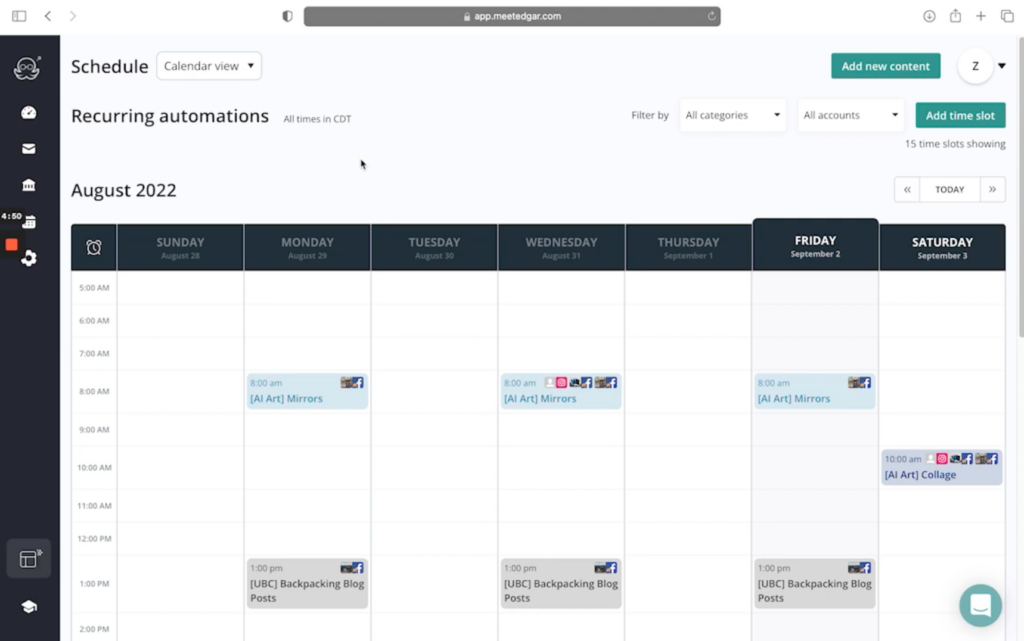 Key Features
Evergreen content library contains a repository of all posts, organized by category, to be reused as needed
Auto-scheduling so users don't need to individually schedule every post
The platform can automatically select which posts are best to reuse from the Evergreen content library
All tools are built with automation in mind
Why It's Better than Hootsuite
Monitor and test A/B variations of social posts
Content repurposing tools help give posts new life– reducing the overall time spent creating content calendars
A lightweight Hootsuite competitor that has a simpler approach to content publishing
Pricing
MeetEdgar's basic plan is $24.91/month and includes five social accounts. The official Edgar annual plan is $41.58 per month and supports up to 25 social accounts, with options for add-ons. This plan also includes unlimited automations, customizable categories, and more.
All plans come with a 7-day free trial.
11. SocialFlow
Focused on AI-powered social publishing, SocialFlow uses real-time data and machine learning to determine the optimal times to post your content.
This tool is best for large organizations that need a specialized solution for social publishing. SocialFlow does not include other common features like inbox management or social listening.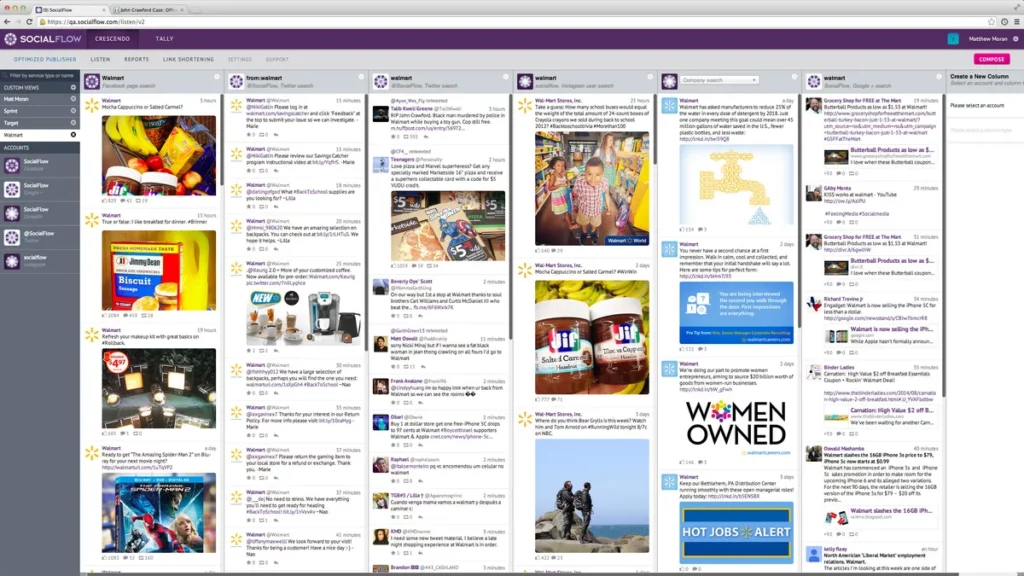 Key Features
AI-assisted publishing: users set up a content library, then the platform automatically posts for you
Advanced security options like two-factor authentication and single-sign-on (SSO)
Deep customization options that can be altered based on audiences, channels, etc.
Why It's Better than Hootsuite
SocialFlow focuses on marketing metrics like newsletter subscriptions, sponsored content performance, subscriber retention, and more.
The platform uses advanced AI systems, making it easier to scale operations
Pricing
Pricing is provided upon request.
12. Crowdfire
Crowdfire focuses on streamlining content creation through suggested topics, competitor analysis, and curated post recommendations.
While it does have limited inbox management and collaboration features, Crowdfire's content tools are designed to make the content creation process more efficient. However, Crowdfire has limited bulk publishing features for Twitter.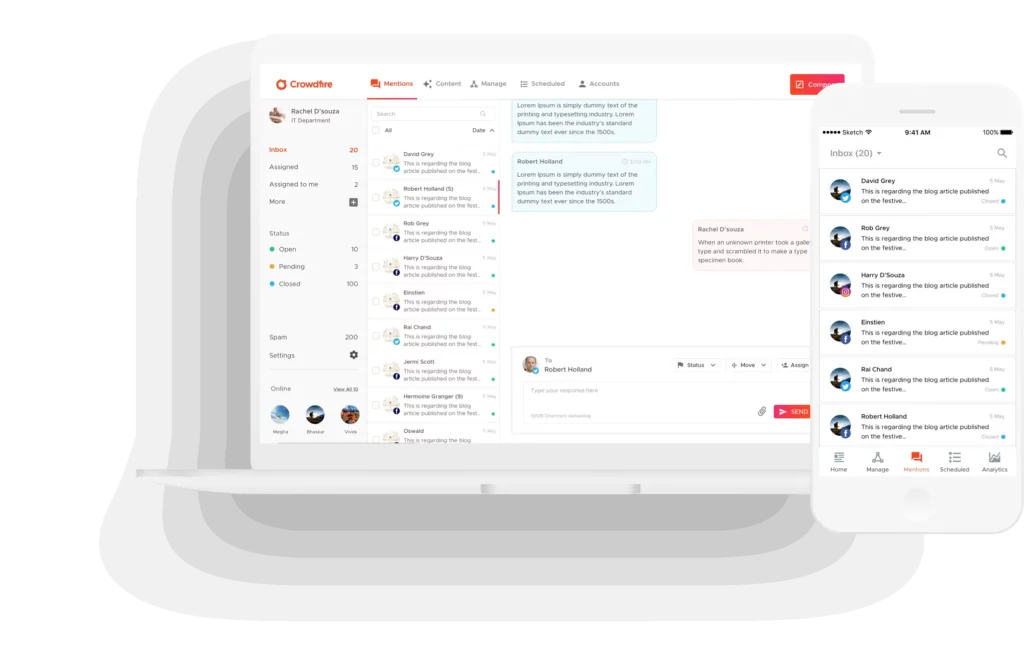 Key Features
Guided article and image recommendations
Schedule and publish to five different social media platforms
Content curation from various content sources like blog RSS feeds.
Why It's Better than Hootsuite
See how you stack up against industry competition with competitor analysis tools.
Custom article and image recommendations help social media managers save time
Pricing
Crowdfire's free version includes three linked accounts and 10 scheduled posts per account. The Premium plan runs $37.48/month and supports 10 accounts and 100 posts per account per month.
13. eClincher
An all-in-one social media management platform, eClincher focuses on increasing social media ROI and providing 24/7 support to users. Its recent features include generative AI functions like ChatGPT to create posts faster.
eClincher is best for large agencies that work with multiple brands. The interface could be more intuitive than other social media management platforms, and features like reputation management are only available at an extra cost.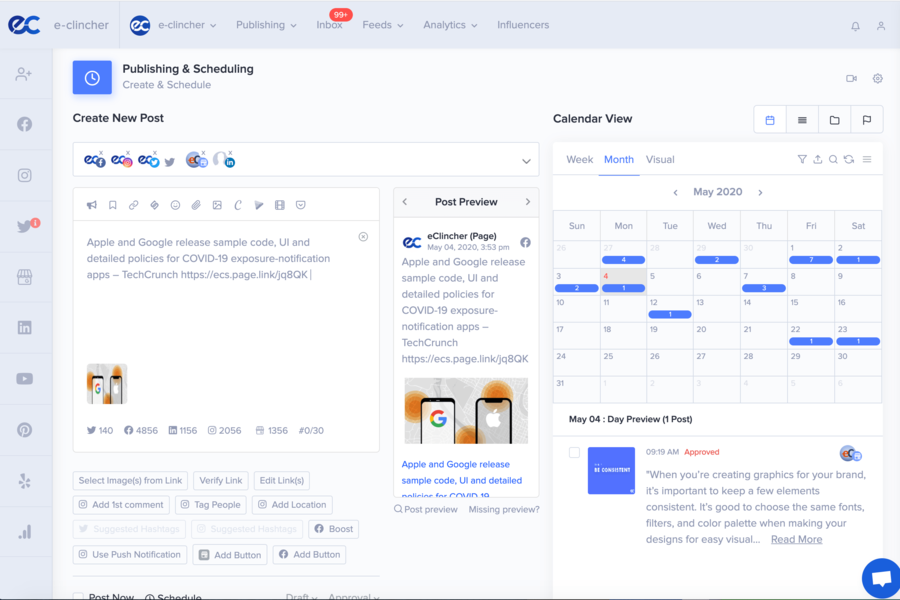 Key Features
Reputation management and brand monitoring on higher plans
Schedule and publish content to multiple channels
Inbox management to track messages, comments, and tags
Why It's Better than Hootsuite
Use auto-posting queues & RSS feeds to schedule and post content quickly
Archive and reuse evergreen content easily
Sentiment analysis uses keywords to detect the mood of your audience
Pricing
eClincher's basic plan is $65/month and supports one user on 10 profiles. For team and client collaboration, the Premier plan runs $175/month and also includes engagement, social listening, and analytics reporting. All plans come with a 14-day free trial.
14. MavSocial
MavSocial focuses on providing social media tools for retail businesses with multiple locations. Best for national franchises, dealerships, and other organizations that oversee multiple accounts under the same brand name.
The platform provides more extensive ad/paid media support than other social media management platforms.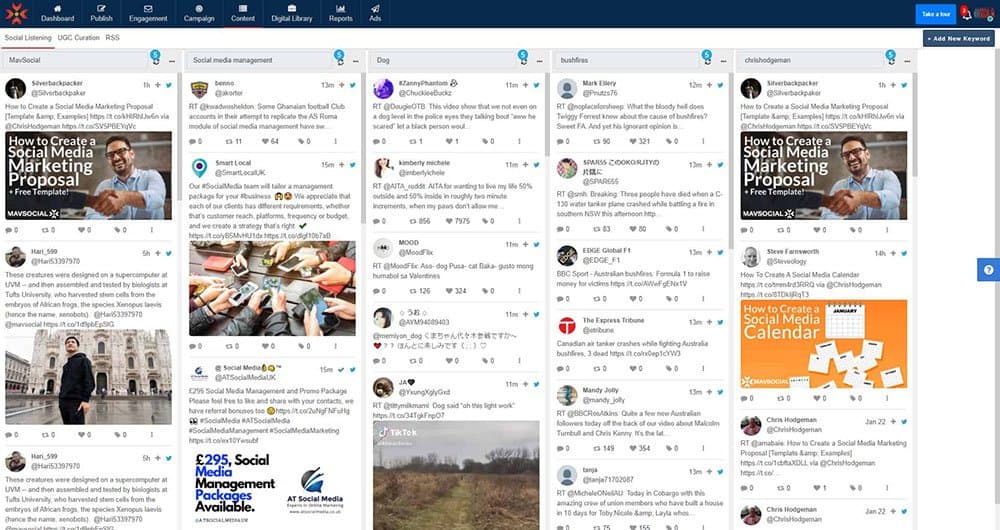 Key Features
Team workflow features to avoid replying to the same person simultaneously
Manage, schedule, and publish social media content
Track and report performance across locations
Visual social media calendar and stock photo library
Why It's Better than Hootsuite
Built-in dark ads management for boosted and published content
Create Facebook ads in bulk: great for franchises, dealerships, etc.
Monitor ad comments alongside organic media comments
Pricing
MavSocial's Pro plan is $78/month for three users and 30 social media profiles. For larger organizations, $249/month includes five users, 40 social media profiles, and unlimited lite users. Each plan includes a 14-day free trial.
15. ContentStudio.io
ContentStudio uses a visually-appealing interface and AI tools to help smooth the content production process. It supports most social media platforms, including Google My Business and WordPress.
While it is a comprehensive solution, Content Studio may be better for small teams or for those who prefer a 24/7 support team.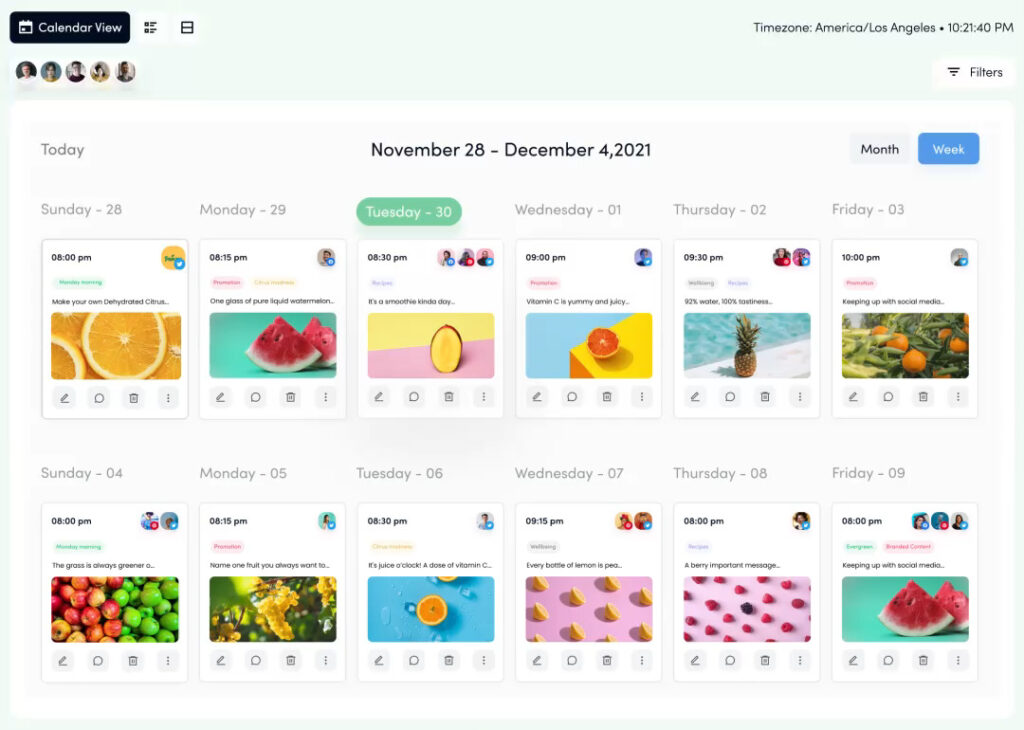 Key Features
Plan, create, and schedule posts across channels
Built-in content approval process for large organizations
Customizable social media tracking and performance reports
Content aggregation features and AI to help create post ideas
Why It's Better than Hootsuite
Automation tools: evergreen campaigns, RSS feeds, and CSV uploads
AI writing tools help create templates and generate hashtags, add emojis, or even generate custom images
Attractive pricing makes it more affordable than Hootsuite for a small business.
Pricing
ContentStudio's starter plan is $25/month, including one workspace and five social accounts. The pro plan, at $49/month, includes team functionality and publishing to blog sites. All plans come with a 14-day free trial.
Final Verdict: Best Hootsuite Alternative
Finding the ‌best social media management tool doesn't have to be so hard. You can make a more informed choice with our list of worthy Hootsuite competitors.
All solutions considered, Nextiva offers small businesses the best balance of social media monitoring and publishing features. Its pricing is also attractive to most small businesses.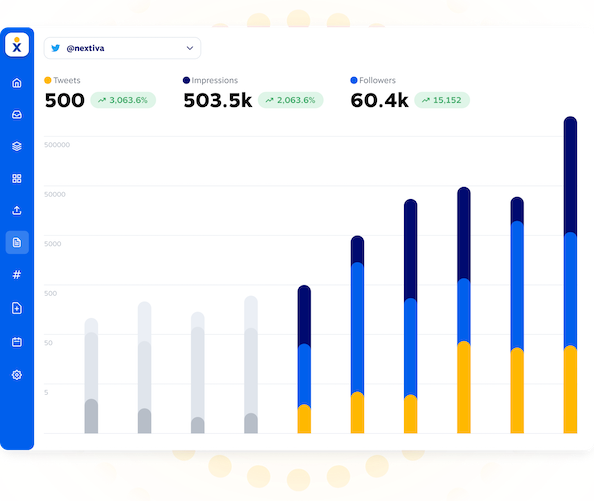 Most social media management tools will include scheduling, reporting, and inbox management. Along with all of these features, Nextiva includes:
Tools for customer support teams. Beyond inbox management, Nextiva enables support SLAs, triages social media posts to external support, and integrates with existing CRM and marketing tools.
Surveys to amplify customer voices. Nextiva offers unique surveys and analytics to identify customer sentiments and trends across social media channels.
Detailed dashboard analytics. Track your social media presence, competitor sentiment, team collaboration, and other insights across comprehensive dashboards.
At a fraction of the cost of Hootsuite, Nextiva provides a total solution that supports social media marketing and customer support teams alike.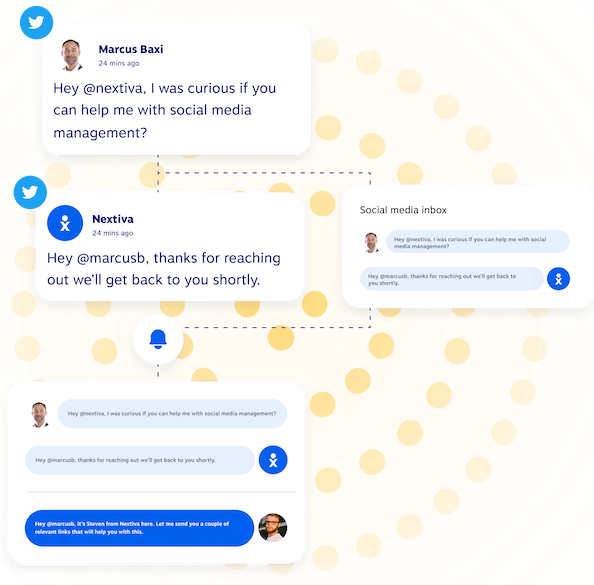 Features to Consider in a Hootsuite Alternative
⏰ Social Media Scheduling
Multiple platform support: Ensure the software supports scheduling posts on various social platforms like Facebook, Twitter, Instagram, TikTok, LinkedIn, and more.
Time-saving features: Look for options like bulk scheduling content, content calendar, and auto-scheduling to make the scheduling process more efficient.
Visual content preview: Preview how your content will appear on different social media platforms before publishing.
Evergreen content management: Consider options that allow you to easily recycle past posts.
? Team Collaboration
Role-based access: Assign specific roles and permissions to team members for better control over the content creation process and approval workflows.
Task and workflow management: Track and manage tasks, deadlines, and team communication within the software for a smoother collaboration process.
Content approval system: Establish a content review and approval system within the software to maintain the quality and consistency of your social media posts.
? Analytics Capabilities
Comprehensive reports: In-depth analytics and reporting features to provide insights into your social media performance and audience engagement.
Customizable dashboards: Personalize your social media analytics dashboard to focus on the metrics that fit your business plan.
Data export & integration: Export data in various formats and integrate with other tools for further analysis and insights.
? Pricing Plans
The number of social media accounts: Consider the number of social media accounts/channels each price plan supports. Similarly, think about the number of accounts you actually need.
Pricing per user: The cost per user could be a limiting factor since people tend to use social media tools differently. Consider extra users such as business owners, marketing leaders, clients, and social media content creators.
Support and onboarding: Migrating your existing content and brand standards (templates, locations, permissions, replies, dictionaries, etc.) could be complex. Get clear on what kind of support and onboarding process looks like. Some platforms offer comprehensive 24/7 support, while others are limited to a help center or chatbot.
5 Tips to Choose the Best Hootsuite Alternatives
Narrow your picks: Take the time to research and compare social media management platforms. Read reviews, consider recommendations, and conduct a thorough analysis of each tool's features and pricing plans.
Schedule a live demo or start a trial: Most platforms offer free trials or live demos. Before committing to paid plans, take advantage of these opportunities to test the software, ask questions, and see if it meets your needs and expectations.
Check integrations: Ensure that the alternative you choose integrates with your business's social media platforms. Additionally, consider how well the software integrates with other business tools and systems you're currently using.
Confirm customer support: Consider the level of customer support the social media tool provides. Quality support can make a world of difference in your overall experience with the tool.
FAQs
What's the best alternative to Hootsuite? 
While every business has unique needs, Nextiva is the best social media management tool that replaces Hootsuite for small businesses. In addition to basic scheduling and inbox management tools, Nextiva includes functionality for customer support teams, such as SLA support, reputation management, and more.
What features should I look for in a social media tool?
When vetting social media tools, consider their scheduling features, collaboration tools, content curation, and any additional features important to your business. Additionally, you want to take advantage of workflow automation so social media posts don't fall through the cracks. Lastly, an important factor is how its pricing plan is billed (monthly or annually).
Is there a lower-cost Hootsuite competitor?
Yes, there are several affordable alternatives to Hootsuite with flexible pricing plans. Check out these top five Hootsuite competitors: Nextiva, Agorapulse, SocialPilot, Sprout Social, and Buffer. When evaluating them, consider your social media publishing needs and how social media fits with your business plan, such as customer retention, demand generation, and brand management.