"You have the wrong number…" That's the last thing you want your customers to hear when dialing the same number they've always used to reach you. But, let's say you're moving locations or unhappy with your current phone service.
How do you ensure business continuity? Retaining your business phone number, in cases like these, is critical.
This is why local number portability or LNP is a must-have when evaluating a VoIP provider.
We put this guide together to help you get the porting process started.
In this article, we'll cover these:
What is VoIP number porting?
VoIP number porting retains your phone number as you change service providers.
The FCC requires that phone numbers are portable between telephone providers, so long as you stay within the same geographic area.
Your local geographic area, which is also known as a rate center, determines what phone number and area code you get. As long as you're within those limits, the company should be able to port your number to the new carrier.
This means you won't have to print new business cards, update your site, and have your customers deal with the hassle of a new phone number. VoIP number porting is great news for a small business looking to lower costs.
As a last resort, the FCC suggests you contact your local public utilities commission if your telephone company is refusing to port your number.
This is to say, from plain old telephone service (POTS) or another VoIP provider, number porting should be straightforward.
How does porting work with phone numbers?
There are a few things you should know before starting the VoIP porting process.
1) Reach out to your new VoIP service provider about your port request.
When signing your new contract with a VoIP provider, like Nextiva, let them know you need to port numbers over. This may need to be added to the scope of work and come with an additional porting fee.
Just to be clear — there's no charge to port your number to Nextiva.
Read more: VoIP Cost Breakdown: How Much Should You Actually Spend?
2) Maintain your current phone service to avoid interruptions.
Once you've decided on your new VoIP provider, keep your existing phone service so you can port numbers over.
Before you end your contract with your old provider, wait for a successful port transition. Sometimes you want to cut over to a new provider fast. To do this, ask your VoIP provider to give you temporary numbers. You can use these temporary phone numbers just to forward calls over from your old phone service.
When your port is complete, your numbers will switch over to the new phone provider. This is optional, but it's one way to accelerate your move to a new phone service provider.
The bottom line is that you don't want to cancel your old phone service. You'll risk delaying the number porting process.
Rest assured that Nextiva will notify you every step along the way with phone number porting.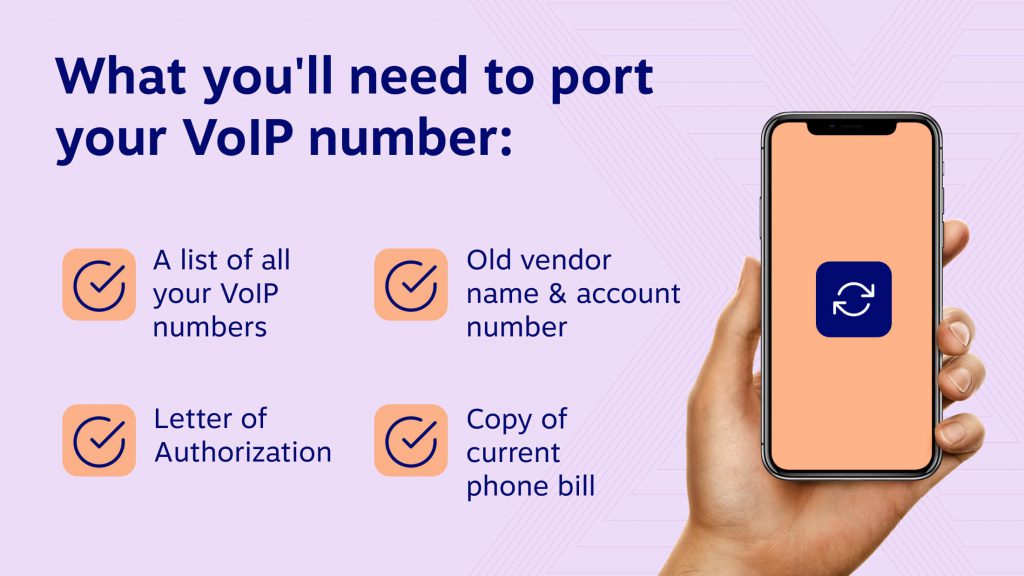 3) Obtain your account information for an LOA authorization.
The FCC notes your former vendor is legally required to allow you to port, irrespective of the outstanding balance for a terminated contract. But they do need to verify the request to ensure it's authentic. The Letter of Agency (LOA) needs to have the correct account information.
At this stage, obtain your past billing statements and documentation so you can seamlessly migrate your phone service. Be available on your phone or email the VoIP porting team needs to review account information like PINs, social security numbers, or EIN/tax identification.
Until your number ports into your new phone service, your phone service should continue uninterrupted.
Requirements for VoIP number porting
Now that the contract is signed, you'll need to provide your new vendor a list of information so they can begin the phone number porting process.
You will need to provide:
A list of all your phone numbers – It includes all extensions that may be in use.
Letter of Authorization or LOA – Allows your new vendor to act on your behalf with the old vendor. It provides important information about who can make decisions on the number(s) in question.
Old vendor and account number – The two vendors will communicate with each other to complete the process.
Copy of current phone bill – Has necessary information in an easy format for the new provider and provides additional proof of phone number ownership.
Potential roadblocks during VoIP number porting
While porting phone numbers should be an easy process, sometimes there can be hiccups.
There are two types of issues you can face when porting numbers.
1) Your number isn't portable
These are significant problems that will inhibit you from porting your phone number. While the FCC requires numbers to be portable, there are a few snags that could occur:
Incomplete rate center – Your new provider doesn't yet have coverage in your area and can't yet port numbers there
The number is no longer in service – If your phone number isn't in current service, portability is impossible
No interconnect agreement – VoIP providers must have an agreement with the telephone carrier that holds that phone number
If you find yourself in this situation, unfortunately, you'll have to find an alternative to porting your number or select a new one.
2) Other errors that may occur
The second set of problems that may arise are all fixable, albeit time-consuming. These issues include:
The phone line is DSL – If you have a DSL* line, unless the DSL provider allows a dry loop, you may need another associated phone number. Always check with your DSL provider before attempting to port a DSL phone number.
Incorrect contact information – When your name and address are different than those on the order request, you might have to provide additional proof to demonstrate phone number ownership. If the service address is different than the address on the porting request, you might be able to request a correction.
Toll-free 800 number redirect – Number being ported is being directed to a toll-free 800 number, you will just have to build some extra time to complete the porting process.
The old telephone number is already disconnected – You might have to take a few extra steps to get your number ported if it's already disconnected.
Telephone number not found – User error can occur when inputting a phone number and the result ends up being that telephone cannot be found.
The great news is that while most of these issues are inconvenient, the porting process is not impossible.
*Digital Subscriber Line. "Dry loop DSL" is telephone lines without an associated dial tone.
How long does number porting take?
As we said earlier, porting phone numbers should be a very simple process. Phone number porting takes between 2–4 weeks to complete.
In the meantime, you should still have access to your phones and be able to place inbound and outbound calls. Your new VoIP phone provider will communicate the next steps and inform you when the number will port over.
Porting toll-free (800, 866, 888, etc.) numbers can take longer. Your service should not be interrupted during this time.
Don't cancel service until porting is complete
After your number is ported and the route to your phone number is being handled by your new provider, you can end services with your old provider.
Keep in mind that your old provider isn't allowed to retaliate or block the port out request. You may still be liable for any outstanding balances, termination fees that may apply. Don't assume it disappears because it's likely that it won't.
Maintain the integrity of your business phone service
The phone number porting process isn't too difficult; it's there for a reason. To combat fraud and abuse, requests have to be authenticated. Gone are the days of telecoms holding your phone number hostage — we can all be thankful for that.
Don't forget why you're ditching your old service provider. It's not only the cost — your new VoIP phone system offers a wealth of new features, greater functionality, and friendly and helpful customer service.
Work with a proven VoIP service provider, like Nextiva, to ensure a streamlined, successful porting process.