Predictive dialers and auto-dialers help you address the time your agents spend not talking to your contacts, which can cost your campaign some cents. In some cases, it might be preferred over using a business VoIP service.
But, it's important to understand the difference between the predictive dialer and auto dialer so you can choose the perfect dialer for each campaign and increase conversions.
This post highlights everything you need to know to decide between a predictive dialer and an autodialer.
What Is a Predictive Dialer?
A predictive dialer is an outbound calling software that calls multiple people at the same time. It works with the help of AI technology and statistical algorithms to begin dialing numbers even before the agents wrap up the previous call.
As a result, the agents will have another call in the queue after completing the current call. This guarantees that there is no time wasted and that agents can connect with a maximum number of prospects.
What Is an Auto Dialer?
An auto dialer is a type of automated calling software that dials phone numbers, connects a caller (customer or prospect) to the contact center agent, and plays a recorded message.
Agents must upload a list of leads' and prospects' contact information before launching a campaign. The numbers are then dialed sequentially by the autodialer. And if the call goes to voicemail without being answered, your agent has the option to end it.
Predictive Dialer vs. Auto Dialer: What to Know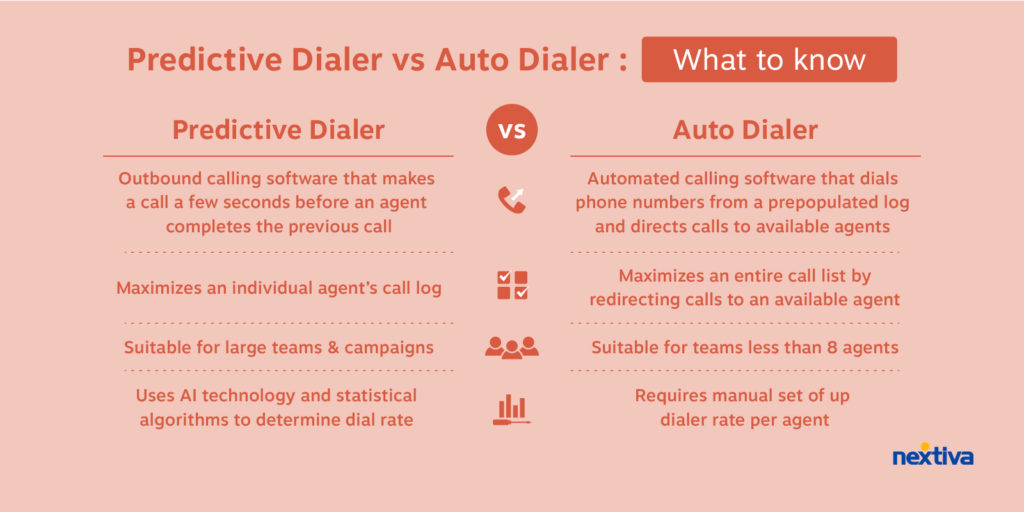 While auto-dialers are noted for effectively managing the workload by assigning connected calls to available agents, predictive dialers are the favored option for campaigns that aim to maximize connectivity.
Predictive dialer software places a call a few seconds before an agent completes the previous call. It does that by estimating the agent's call duration and availability. Conversely, an auto dialer dials a number of contacts and connects answered calls to an available representative.
While you have to set up the auto dialer call rate per agent, the predictive dialer estimates and sets the dial rate based on the number of agents, call duration, etc.
An auto dialer is suitable for teams with less than eight agents and campaigns with small contact lists.
Predictive dialer software is perfect for teams with more than eight agents and outbound calling campaigns with high call volumes and fast turnaround times.
Benefits of a Predictive Dialer

1. It Helps Increase Agents' Productivity
A predictive dialer dials multiple calls at once. And this implies that a new call will be waiting for the agent as soon as they wrap up an active call. As a result, there is no time wasted.
Additionally, the software will route the call to the appropriate department, saving the agent time from picking up the wrong calls. All of this increases agent productivity while ensuring the highest customer satisfaction.
2. High Scalability
The ability to add multiple agents or remove agents from a row makes a predictive dialer very scalable. You can use this dialer for a number of marketing campaigns; thus, it's most suitable for call centers and big organizations.

3. Call Monitoring and Analysis
Monitoring outbound calling campaign calls is difficult, which is why a predictive dialer is helpful. The dialer makes it easier to keep track of calls by providing different metrics, including the total number of dialed calls, the average call duration, the overall duration of the call, etc. All these metrics help supervisors understand how an agent is performing.

4. Customizable List
With a predictive dialer, a user is able to create and customize their own list of customers. And this means any agent can create their own marketing campaigns. The dialer will help them achieve set targets as it makes dialing easier.
Weaknesses of a Predictive Dialer
Failure of the algorithm could be a risk.
It poses the risk of abandoned calls if reps take too much time to connect
Agents must be adept at promptly answering calls after one has ended.
It performs better with big campaigns because more data is available for the algorithm to use.
Benefits of an Auto Dialer
1. Advertising
An auto dialer helps you effectively carry out advertising campaigns by ensuring that agents pay close attention to leads with high conversion rates.

2. Ensures 100% Utilization of Agents' Call Time.
Compared to manual dialing, an auto dialer enables you to use an agent's talk time best. And by reducing the idle time, your agent will be more productive and thus help to increase the call-connect ratio.

3. Keep Constant Interaction With Customers
The primary goal that contact centers should pursue is customer interaction. This is where a good auto dialer software comes in handy. Instead of doing needless tasks, agents can concentrate on taking calls.
Weaknesses of an Auto Dialer
It does not check to see if an agent is available, leading to dropped calls.
It needs more than a few outbound calling agents.
It causes a short wait time before the agents connect to the call.
It does not always correctly detect answering machines.
Optimizing Outbound Calls for Your Call Center
In reality, many businesses' outbound dialing strategies have been enhanced by the development of predictive and auto dialer software.
Your organization can minimize overall downtime and increase operational efficiency with a scalable VoIP phone system. Integrating dialer software also increases efficiency while helping eliminate idle time and time zone navigation concerns for your call center agents.
You might still wonder, "How can I optimize my outbound calling strategy once I decide on an auto dialer software?" For more questions about predictive dialers, check out this set of FAQs.
Here are some strategies for optimizing outbound calls to increase sales and revenue while maintaining a positive call center environment.
1. Personalize Scripts
Sales scripts act as a blueprint for your outbound call. They decide why you are placing the call in the first place and leave the rest up to you to improvise.
Scripts are a useful tool that can work for or against your company. The solution to ensuring that your reps don't rely on scripts too heavily or come off as overly scripted, train your sales and support reps on how to pull up data from your CRM and use it to personalize calls.
2. Use a Variety of Channels for Awareness Campaigns
Customers that consider telemarketing calls to be spam will simply hang up. Thus, utilizing email, SMS, and chat instead of only cold sales calls seems more like engagement and relationship-building.
3. Scale Your Call Center
Analyze data from your dashboard, such as average handle time and the number of calls made, to decide how many sales or support agents are required to achieve your goals.
Set fair, challenging, but realistic quotas for sales and support representatives
Monitor and analyze call data to determine which representatives are performing effectively and which ones aren't
Evaluate your goals carefully, and set metrics and KPIs that are appropriate. Then establish workflows that lead to progress.
Record and review customer interactions to determine whether sales and support agents take too many or too few calls.
Learn more about how to scale your call center operations with a predictive dialer system. Talk to a Nextiva expert today.