Many companies leverage customer service automation to improve their support agent productivity. It aims to help customers with fewer live human interactions. It also insulates businesses from high call volumes, speeds up customer service processes, and minimizes human error.
Although, there are drawbacks to automated customer service, such as its lack of human connection and inability to handle complex questions.
To understand if your business could benefit from automated customer service, we pit the benefits against the drawbacks. We also discuss how to automate some (or all) aspects of your company's customer service.
Overview:
What is customer service automation?
Customer service automation is a customer support process that reduces human involvement in solving customer inquiries. Businesses achieve automated customer service using self-service resources, proactive messaging, or simulated chat conversations.
Below are some examples of automated customer service systems:
Automated workflows
Chatbots
Email automation
Self-service help centers
Frequently Asked Questions (FAQs)
Traditionally, companies have helped customers fix issues with a team of customer service agents. These support agents managed service interactions through inbound phone calls, email, and other channels. As the company grew, so did its need for more support staff.
Unfortunately, hiring means added expenses for the company. As a result, customer service automation became a cost-reduction measure to scale support without sacrificing quality.
What are the pros of automated customer service?
Automating customer service processes comes with a host of benefits. Besides lower costs, let's dive in to learn why more businesses are automating their customer service.
1) Reduces customer service costs
We can't talk about customer service automation without considering the price. It costs a fraction of a live representative to engage with customers. According to McKinsey, businesses that use technology, like automation, to revamp their customer experience can save up to 40% on service costs.

Companies can reduce the need for new hires as they scale. The cost savings are beyond labor, as you minimize your office footprint and increase your customer lifetime value simultaneously.
With the basics covered, automation helps humans focus on satisfying customers – not daily metrics. It improves workflow and saves time for more complex, individual customer interactions.
2) Enhances human interactions at key touchpoints
In many businesses, the customer experience exists in context to the customer journey.
For example, consider a real estate agent helping a client buy their first house. There are many milestones and uncertainties before they get their keys. A smart agent anticipates their client's needs to provide relevant information at the transaction's important stages. This well-timed delivery lowers anxiety and increases confidence in the agent.

Anticipating customer needs before they arise is an example of excellent customer service. Your employees can focus on complex and challenging tasks. When they reach customers, they can show greater empathy and solve problems with increased mental capacity.
3) Improves efficiencies and speed to value
Customers gain value from automation with shorter response times. Diverting customers from calling your business allows agents to solve more complicated problems.
Instead of pressuring human agents to achieve a short call time, they can focus on outcomes. Imagine being able to resolve issues the first time rather than bouncing customers around multiple people. This approach means happier customers and fewer complaints.
If your support team adopts customer service metrics like First Contact Resolution (FCR) or Average Handle Time (AHT), automation could help them hit their goals.
4) Encourages support team collaboration
Automated customer service tools can help increase team collaboration and eliminate confusion about who owns a specific support ticket.

Help desks equipped with automation can improve workflows for resolving customer complaints, which prevents wasteful steps. For instance, to avoid a ticket from falling through the cracks, automation can flag a ticket for review if it doesn't change after a week.

Some helpdesks include internal wiki functionality to share insights between agents. Such help center software can dynamically suggest articles from its knowledge base. By doing so, it can track and improve resolution rates.
5) Allows for 24/7 support
Humans can only work so many hours throughout the day. On the other hand, automated customer service provides 24/7 customer support without interruption.

For example, a chatbot allows for online assistance without any human interaction. For certain workflows, chatbots can notify on-call staff regarding a service interruption.

This type of always-on service extends beyond customer support. Your prospects need help, too. Intelligent chatbots can collect contact information from leads without filling out any forms. Then, that chatbot escalates the lead to a sales agent so they can call them the next day.
6) Establishes a uniform tone and voice
Automation allows your team to provide customer experiences that are on-brand for your company. For instance, if your brand uses a certain phrase, you can program a chatbot or auto-attendant to stay on-brand.

Your team can set up on-hold music and messages in your business phone system to align with your brand.
7) Centralizes information
Using a CRM platform makes it possible to centralize all your customer information, including contact information, transaction history, self-service interactions, viewed content, and more.

Integrating your CRM with your automated customer service systems, like a virtual phone system, provides a more holistic view of customers. Support agents can access real-time customer data ahead of incoming calls, emails, or web chats.

In seconds, your customer service team can view this information. They can deliver a top-notch customer experience without navigating a myriad of tools, tabs, or spreadsheets.
8) Minimizes human error
No one likes getting bounced around from one support agent to another, regardless of how friendly the support team is. You owe it to your customers to resolve their inquiries as fast and efficiently as possible.
Automation is one of the best ways to improve service speed and reduce human errors.

People tend to rely too much on instinct and intuition. Live agents do their best but tend to develop a muscle-memory for customer inquiries. Individual interactions may not be representative of the entire customer base.

Support reps don't have the time to conduct an in-depth analysis in every call. Automated customer service tools like Call Pop surface context-sensitive intelligence before answering an incoming call. Below is an example of what a Call Pop notification would look like to one of your support reps.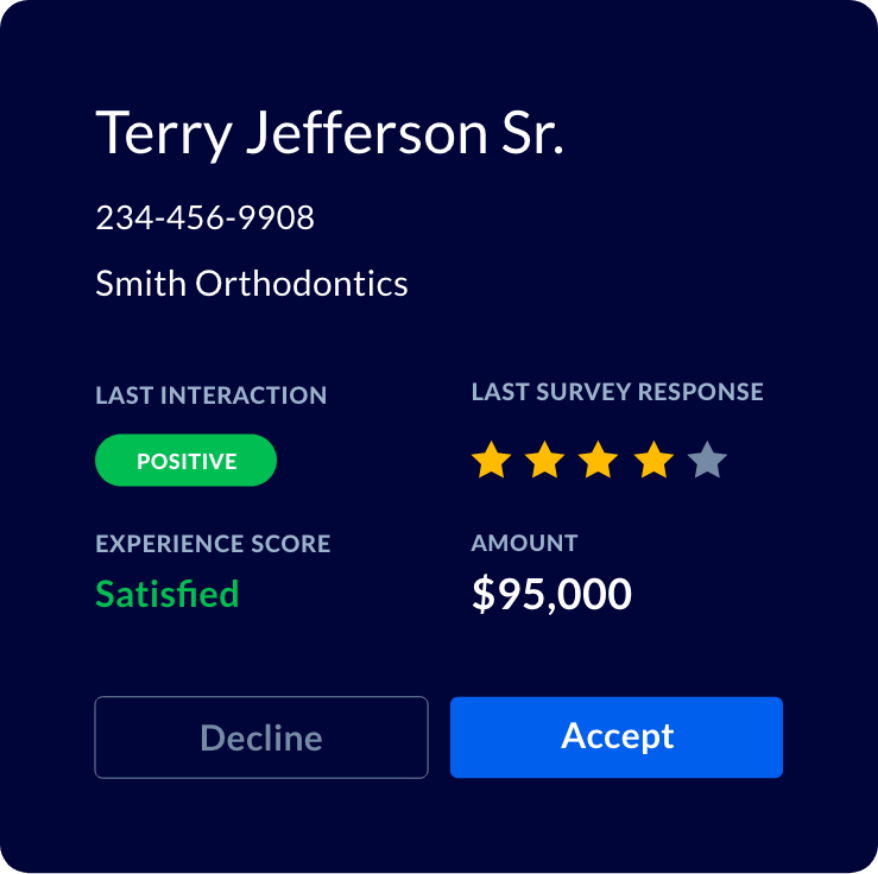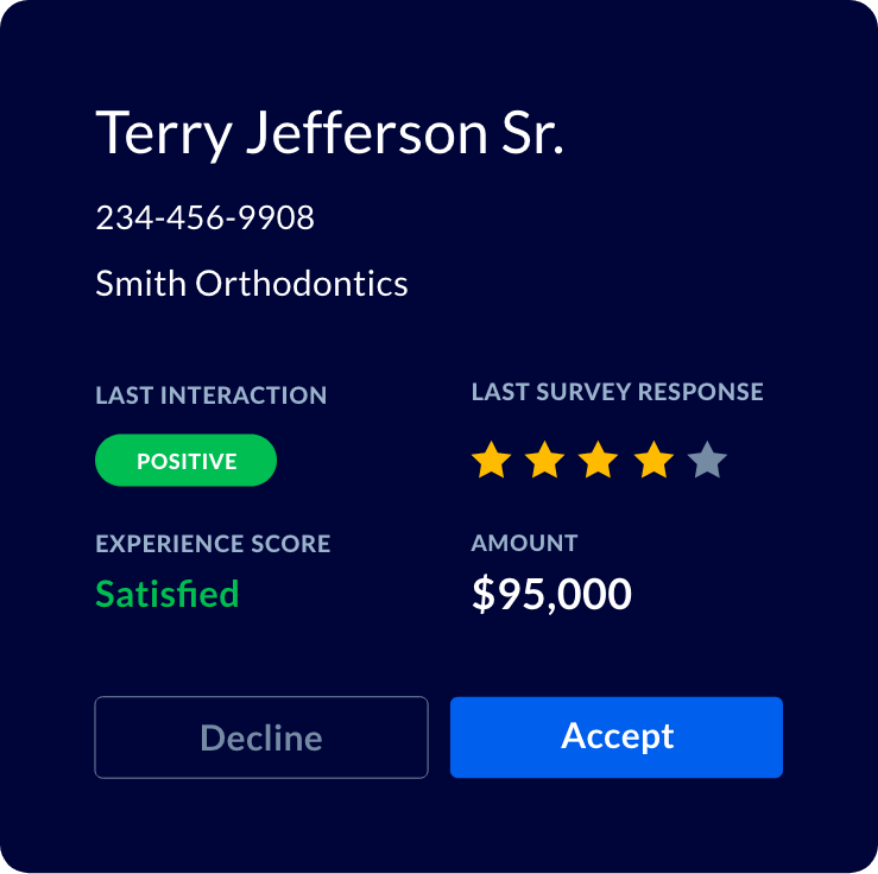 9) Supports customer feedback campaigns
Customer service automation can collect feedback along the entire customer journey. Go beyond whether a customer endorses your brand and discover why they love your company.

Brand metrics like Net Promoter Score (NPS) and Customer Service Satisfaction (CSAT) are valuable, but there's a better way to use them. Consider tracking which customer channels result in more satisfied customers.
10) Aligns with the preferences of modern customers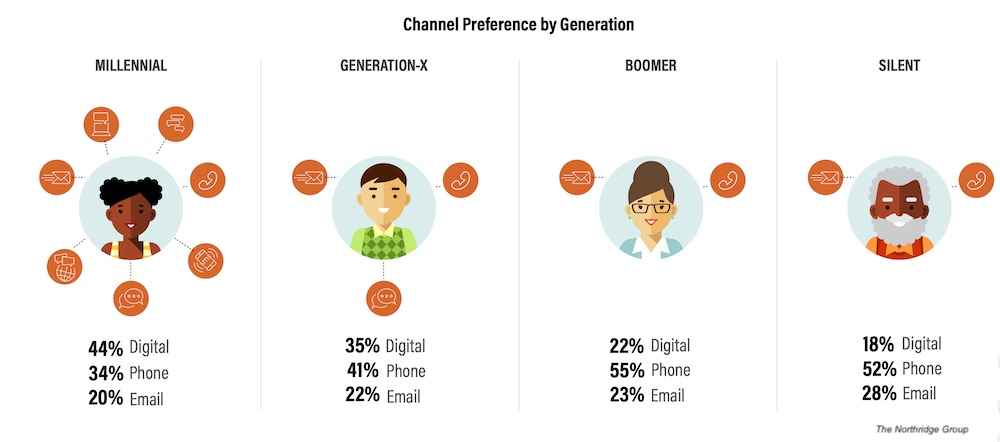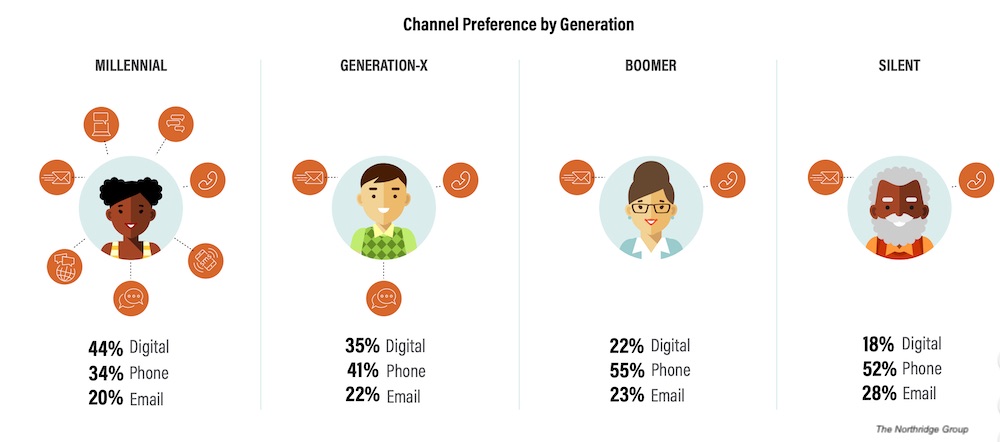 While the phone remains one of the most widely used customer service channels across all generations, that trend is evolving. Northridge Group reports that younger generations embrace communication channels outside of placing a phone call to receive support.

As digital natives, Millennials and Gen-Z are increasingly comfortable solving problems by themselves. They are familiar with online knowledge bases, FAQs, virtual assistants, web chat, and social media messaging.
If you don't offer automated customer service, you're limiting the level of service you can provide to savvy customers.
What are the cons of automated customer service?
There is some truth to the automation skeptics. We've all experienced terrible customer service before. In some cases, automation made it even worse. Here are some risks and drawbacks that you need to know.
1) Lacks human touch
The absence of a personality and emotions are significant limitations. Artificial intelligence systems tend to feel robotic no matter how well we dress them up.

For example, chatbots lack the required empathy to de-escalate frustrated customers. Automated systems can direct customers to specific solutions. Less sophisticated ones point customers to irrelevant articles and create a confusing experience. This scenario can harm a brand's trust and lead to escalations.

In some cases, they can turn a simple question into an explosive complaint. To address these, it typically requires even more human intervention to resolve. And unfortunately, less than desirable online reviews persist.
2) Unable to solve complex issues
At some point, artificial intelligence will evolve to the point where it can solve most business problems and customer issues. We're not there yet.

Many AI-based customer service platforms address simple customer concerns such as queries about billing dates and how-do-I questions. For more complicated issues that require human intuition, bots are currently unable to meet this demand. When customers express frustration or use sarcasm, can an automated customer service platform respond appropriately?

We're almost there. At a recent NPR Intelligence Squared debate, IBM Project Debater challenged a top debater in real-time, adapting to counter-arguments dynamically.
3) Threatens customer service jobs
Customer service agents and supervisors might view the automated customer service systems as a threat. Companies are likely to shift their budget beyond one-to-one contact. Reps will need to become less reliant on scripts and provide more personalized support.
This presents an excellent opportunity for customer service agents to elevate their business value. They can serve customers across multiple channels and do so in a personable manner. Customer service automation can make way for proactive customer care.
4) Needs significant resources to deploy customer service AI
Most current AI solutions aren't as robust as they claim. Therefore, customer service leaders will need to invest substantial technical resources into its design.

Even beyond the design, execution is what counts. Will it meet customer demands? The bar is high, and the skills required are expensive.

To augment this, you should look toward a solution that offers the ability to scale.

For chatbots, ensure that conversational capabilities have high standards. Provide ways for rapid escalation to a live rep rather than leaving a customer in limbo. Robotic conversations will frustrate anyone if they are at a dead end.
5) Increases reliance on technology
With the rise of automated customer service tools, it can detract from the focus on customers. Instead of delighting customers, companies engineer a bot to emulate human interactions.

A dependency on AI may result in a weaker bond with customers. Have you established customer service best practices with your team that endures regardless of your toolset?

A tactful way to address this is to be clear about your intentions. Use the data gleaned from chatbots to improve your customer service skills.

"Wow" your customers in every customer service interaction.
6 customer service automation strategies
More and more businesses recognize the benefits of automation. Call center software, AI, and customer messaging platforms will enhance the customer experience.

Companies also see a wide range of use cases for customer service automation. Here are several strategies you can apply throughout your company.
1) Add live chat to allow immediate engagement
Live chat has much higher engagement than you might expect, and it's not only used for customer care.
The first objective here is to add live chat to your website and monitor the conversations. Get a feel for the topics and ways in which your team responds.

The second component to live chat is to offer an automated chatbot to handle inquiries outside of business hours. After you perfect the right responses, chatbots can function as standalone virtual agents on your website.

It can be scary to entrust your entire customer experience in the hands of a bot. A happy medium is to implement live chat software.

See how your team handles the live questions from visitors. Once you get your feet wet, then you can look toward a scripted approach to responding to chat queries.
2) Update announcements on your phone system
When you're aware of an issue impacting customers, which medium is best to tell them? Look no further than your company's phone system. It's most often the first path customers take to get immediate help. It's easy to provide notifications for incoming support calls.

While this seems obvious, many businesses overlook this method of contact. When customers call, they'll appreciate that you're actively working on their problem. A proactive notification on your phone system can do wonders for your customer experience.
3) Encourage self-service with a useful knowledge base
Why do customers skip self-service methods for customer service? They've lost trust in your support articles that are outdated and unreliable. It's a huge opportunity to surprise them with engaging support articles.
Audit your support content regularly for accuracy, readability, and findability. Performing frequent quality assurance audits will flag articles in need of revisions. A web accessibility service like SiteImprove or Monsido can monitor your site for areas to improve.
Include videos for greater interactiveness and have your support team review the content often for accuracy. Vidyard reports that 68% of people would rather watch a video to solve their problem than speak with a support agent. You can see an example of this in action within our support article on setting up call forwarding.
4) Make use of templated responses
When the volume of customer requests starts to pile up, it can become overwhelming.

Offering editable responses can be advantageous to your team to save time and increase individual care to customers. Customer service managers can craft informative answers to the most frequently asked questions. Support agents can then use those templates in their replies to customers, with a modest amount of personalization.

By creating pre-built responses for top call drivers, you can equip your team to support customers via email, chat, social media, and phone.
5) Integrate customer service automation into your CRM
Most customer service tools operate independently from other business applications. On top of that, they primarily respond to inbound customer service inquiries.

CRM software now offers integrations that can trigger automated sequences along the customer journey. If a user hasn't signed in after a month, it's worth checking in with them via email. If they haven't signed in after two months, you could arrange an outbound phone call to discover why.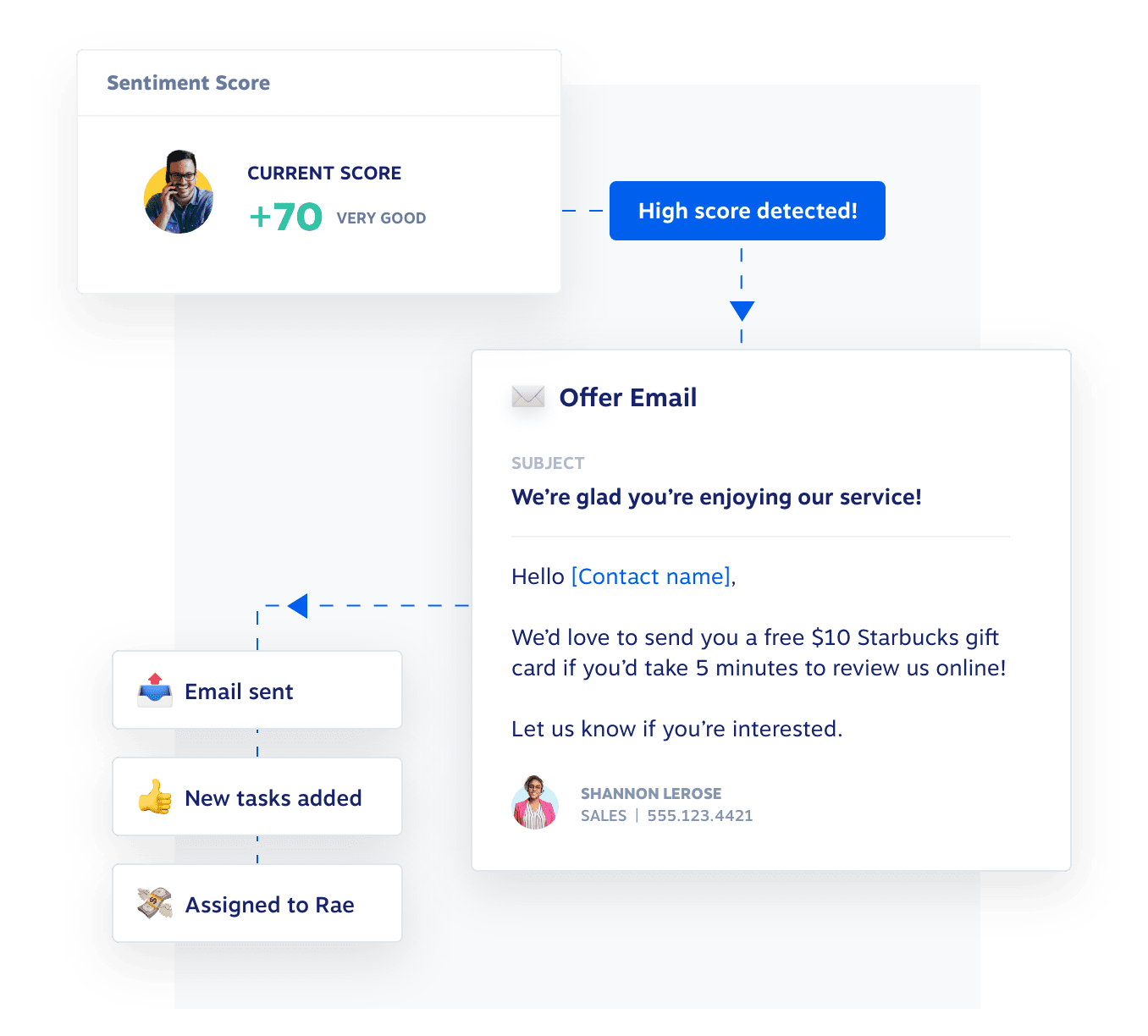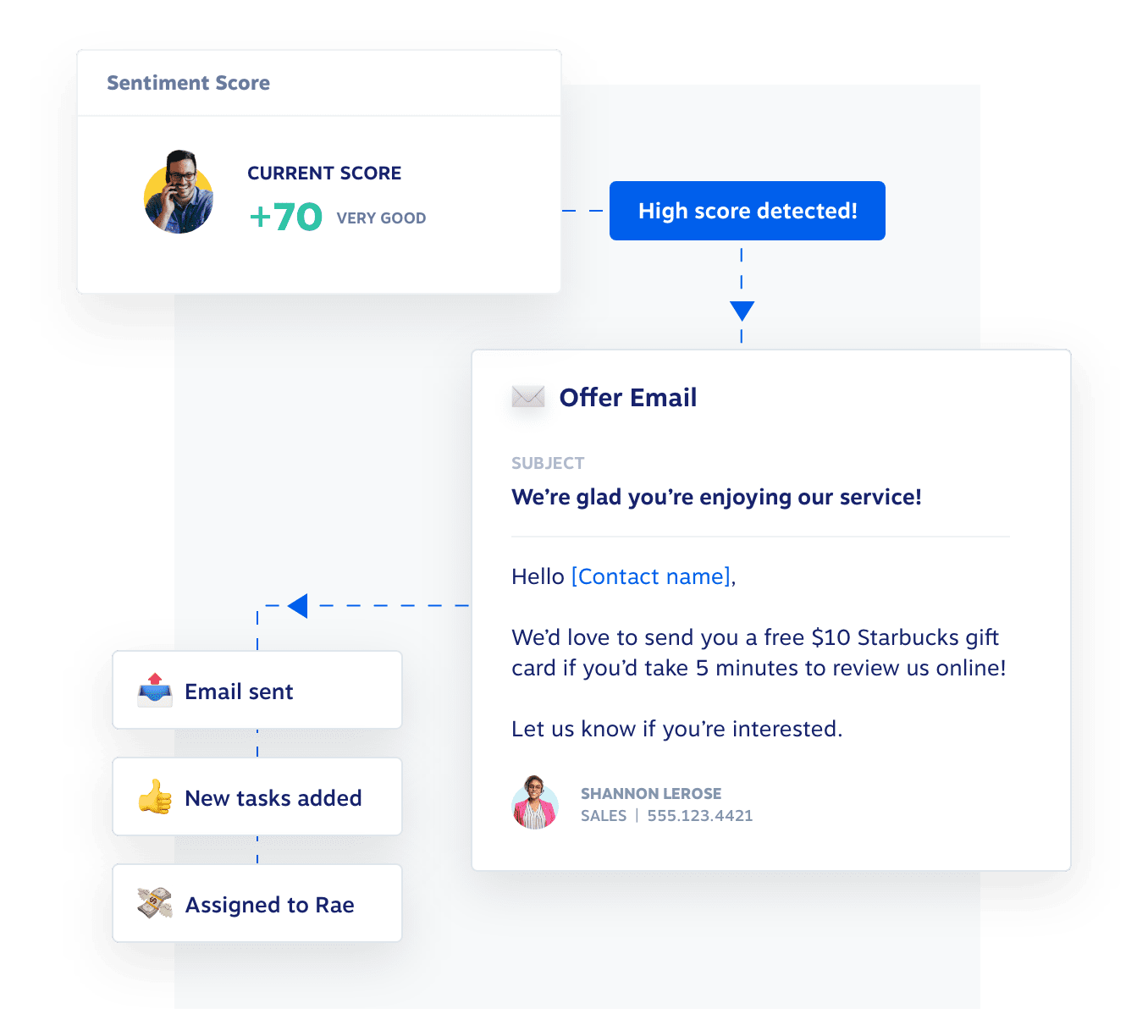 Rather than wait for a chargeback nine months later, you could salvage the relationship by proactively reaching out. And while you're at it, determine if there are any additional contacts to add to their account. It could just be a lost password!

The monumental shift here is to view customer service as vital to maximizing customer lifetime value versus a cost center. Tying in your CRM with customer service tools is necessary to achieve that goal.
6) Survey customers after every interaction
You can't improve what you don't measure, which is why you should incorporate real-time customer feedback metrics into your customer service strategy.

If there is a broken experience or customer service process, people will let you know.

Take it further with automated surveys. You can trigger an escalation based on how a customer responds. If they left a one-star rating and angry comments, schedule a call from a customer service manager.
This customer service outreach reduces churn and yields valuable insights for improvement.
Are you ready for automation?
With the tools and technologies widely available today, what excuse is there not to provide better service and support for your customers? There are many benefits of automating customer service, along with some caveats. Let's make more sense of them below.
Should businesses automate their customer service? It depends on the scale and scope.
Yes, you're ready:
If you receive a high volume of customer requests every week and it outpaces your agents' ability to resolve these requests. Automated customer service will be able to solve questions and free up resources for your skilled agents.
You may also be ready if you have a remote workforce across different time zones.
No, you're not ready:
If you tend to have only a few customer service interactions a day. Automated interactions may harm customer relationships and become a distraction.
However, a professional chatbot gives the appearance that your firm is a larger organization. Plus, it can capture contact info after hours.
Our recommendation?
You should look to customer service automation to empower your team to provide an excellent customer experience. For some, that means taking the first step to add website chat. If you have a heavy volume of customer contacts, consider a chatbot with responses populated from top call drivers.

Let these customer service platforms deflect basic inquiries. This way, your team can focus on more complex customer interactions.

When it comes to phone systems, you can't go wrong with Nextiva's customer service tools. It eliminates busywork and lets your team serve customers across many channels without distractions. For the ultimate in customer service automation, our advanced IVR solves customer concerns without any live agents needed.