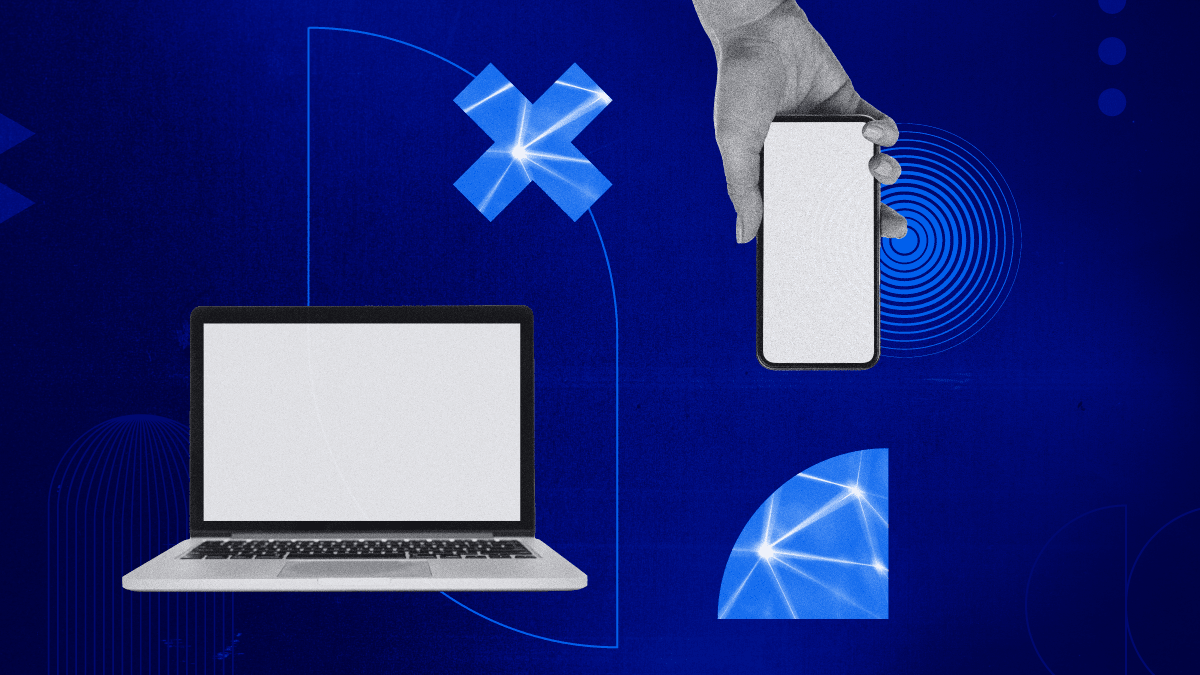 Last edited on August 23, 2021
The Unified Communications (UC) market is already worth $64 billion and is predicted to triple in the next five years with more businesses moving away from traditional phone systems and one-off communications tools in favor of a platform that can do it all.
There's a sense of urgency around having a single communications platform to handle business phone, email, and team chat. Businesses have more distributed teams than ever before. Data shows 38% of companies have employees that work remotely. Almost half have a combination of in-office and remote-only employees.
With remote being the future of work, a single Unified Communications as a Service (UCaaS) platform helps you bid farewell to disparate tools that don't always work well together. UCaaS is an end-to-end communication platform for employees to use on whichever internet-connected devices they're using for work – be that their smartphone, desk phone, or laptop.
Whether you're migrating to Unified Communications or searching for a better UCaaS provider, we're here to make your life easier. This article breaks down the top eight Unified Communications companies on the market today based on features, customer experience, support, reliability, and security. Tap on a company below to read more:
1. Nextiva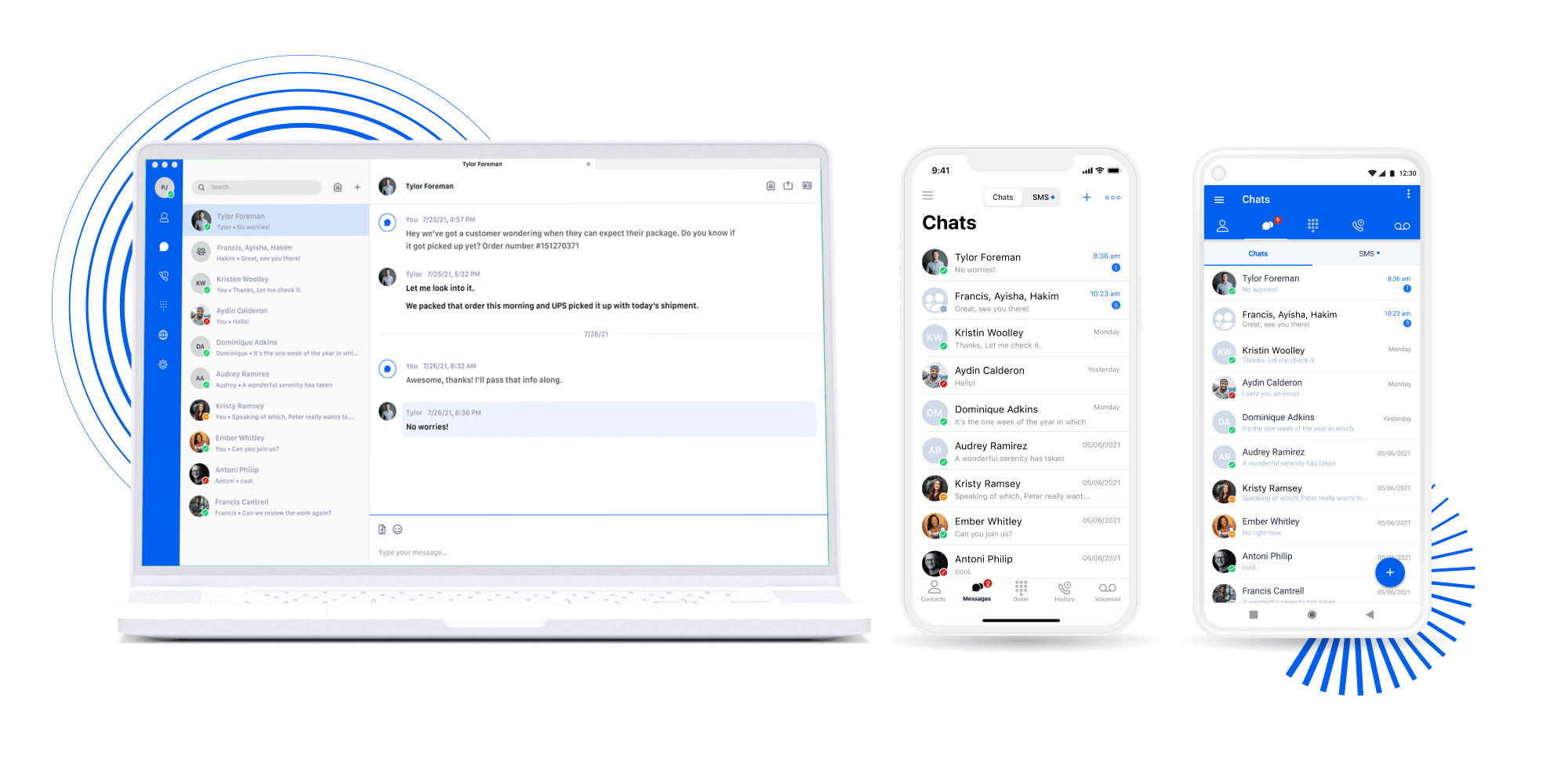 Nextiva is an all-in-one Unified Communications solution that offers voice, video, messaging, email, workflow automation, and integrations in a single platform. You can also set up a self-service help desk for customers to get answers to their questions without needing to reach a human support rep.

Nextiva partnered with Five9, the leader in contact center technology, to bolster its cloud communications offering. It also has more than 4,000 partners in the U.S. to give companies the communication tools they need to be successful.
Top Unified Communications features
Let's take a look at the top UC features inside Nextiva's platform:
Business phone system: As part of its UCaaS package, customers utilize a cloud-based VoIP phone service for their businesses. It's able to turn an internet-connected device, including desk phones and smartphones, into a business communication device.
Video conferencing: Need to have a face-to-face meeting with your team? Jump on an HD video conference and host meetings, live streams, webinars, and team workshops.
Team chat: Email isn't always the best communication method for busy teams, as your inbox could get clogged up quickly. For quick questions, sharing files, and giving team updates, use the team messaging feature inside Nextiva.
Integrations: NextOS works with the tools you're already using. Plugin your CRM, email, or calendar tool to see data from other platforms all on one screen.
Workflow automation: Nobody likes spending time on repetitive tasks – especially if most of them can be automated. Schedule follow-up reminders, assign tasks to team members, and share resources on autopilot.
Customer sentiment
Nextiva's UCaaS platform has a 4.4-star rating on peer review site G2. Customers love the video calling and desk-to-desk calling features. One customer on Capterra said the only downside was "​​That I didn't switch over sooner [because] it would have saved me a lot more business."
However, because Nextiva's UCaaS platform runs through VoIP, some customers say they have issues accessing the platform if they're in a location with spotty internet connectivity.
Support, reliability, and security
Nextiva has eight carrier-grade data centers around the US. Each has 24/7 security monitoring, biometric checkpoints, and meets ISO/IEC 27001 security standards. This means the platform has a 99.999% uptime – the gold standard in the UCaaS industry.
Should you need help, Nextiva has an online support portal of videos and documents to guide you through using the UCaaS platform. But, sometimes you just need to speak to a real person. Every Nextiva customer gets 24/7 email, phone, and chat support as standard. It's why Nextiva considers Amazing Service as part of its core values.
2. GoToConnect (formerly Jive)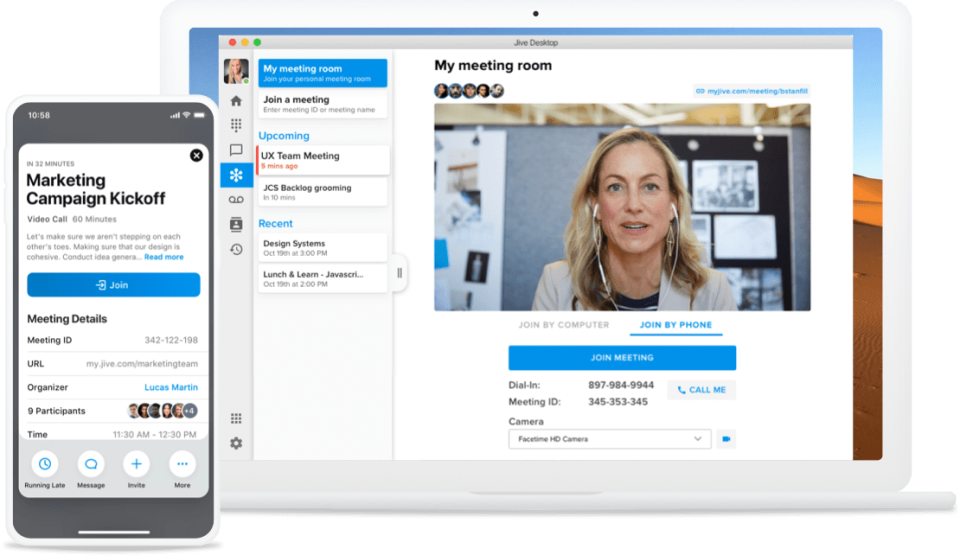 GoToConnect also offers a UC platform as part of its suite of cloud products. The platform includes VoIP calls, video conferencing, and team messaging.

Features
Amongst some of GoToConnect's best UCaaS features include:
Personal meeting rooms: Hosting a video conference with a customer? GoToConnect's video conferencing tool is browser-based. They don't have to download an app to join.
Wait time announcements: Keep incoming callers updated if they're waiting in a queue. It'll share an estimated wait time so they can make an informed decision on whether to hold the line or hang up and call back later.
Mobile app: Turn any smartphone into a business communication tool with GoToConnect's mobile app. Just switch the toggle to "off" during weekends and vacation days.
Customer sentiment
GoToConnect has a 4.5-star rating on Capterra. Customers love its admin portal and customer service – the latter of which is its highest-rated area, slightly beating value for money and ease of use.
Despite its above-average ease of use rating, GoToConnect users report that "the app is slow and takes a long time to switch screens and load data".
Support, reliability, and security
If your entire business communication runs through a single platform, it needs to be reliable. GoToConnect has 99.996% uptime and enterprise-grade security and privacy settings. It's also SOC 2 Type II compliant.
3. 8×8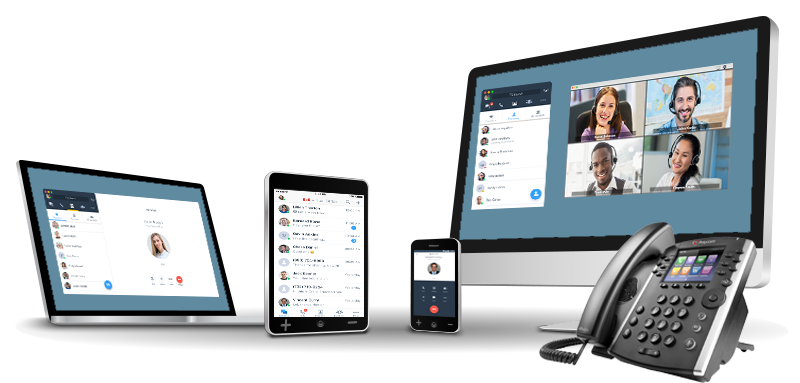 Part of 8×8's cloud offering includes a UCaaS platform used by over a million employees. Its platform includes a contact center, video, voice, and chat features to give staff the tools they need to work remotely.

Features
8×8 has a range of communications features in its UC platform, including:
Cloud recording: Need to reference a conversation you had in a meeting, or share the conversation with someone unable to attend? Share audio and video recordings from the cloud library.
Branded video conferencing: Ditch 8×8 branding inside your conference room and replace it with your company URLs, logos, and backgrounds.
Virtual assistant: Greet incoming callers and divert them to the best possible employee with this feature. It uses conversational AI to understand the reason for a call.
Customer sentiment
8×8 has a 4-star rating on G2. Customers love the fact it's easy to set up, with one commenting: "I love we can have a new hire and within 15 minutes get the new hire on the phone."
However, certain 8×8 features – including social, email, and web chat – fall below average for other cloud contact center tools. Its also rated below-average for ease of use and quality of support.
Support, reliability, and security
Speaking of support, 8×8 customers have access to an online portal to find tutorials on how to use the UC platform.
Its network also offers end-to-end encryption, meaning hackers are unable to eavesdrop on your business communication. 8×8 uses 35 private and public data centers which have a 99.99% uptime record.
Related: 8×8 vs Nextiva, how do the two solutions stack up against each other?
4. Zoom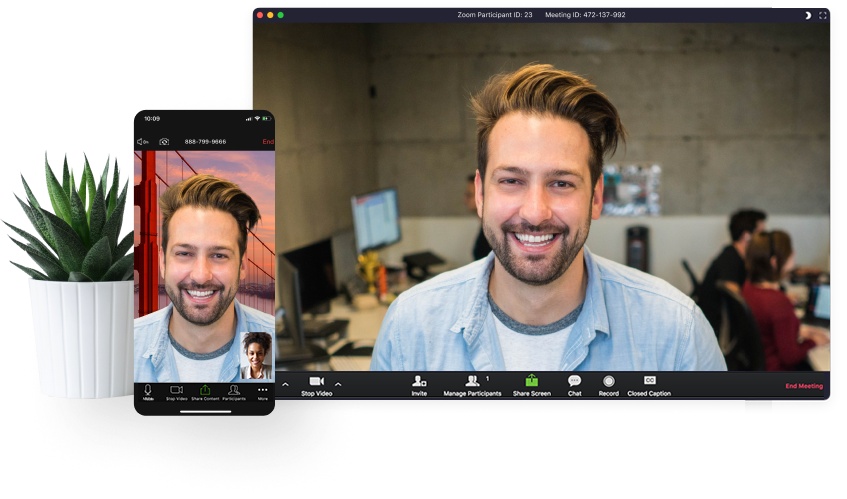 Zoom's video conferencing software exploded in popularity after COVID-19 forced teams to work remotely. Alongside its online meeting software is a bunch of other UC tools, including phone service, chat, and conferencing.

Features
Zoom has more to offer than standard video conferencing tools. Amongst some of the features included in its UC platform are:
Break out rooms: Hosting a webinar or team-wide meeting? Break people into groups for their own private discussions, then return to the main virtual conference room to regroup.
Zoom Rooms: If you're one of the hybrid teams who have some employees working in-office and others remotely, Zoom Rooms help everyone join an online meeting.
Cloud VoIP: Not every team conversation needs to be a video chat. Zoom's VoIP phone system allows businesses to make audio-only calls from anywhere in the world.
Customer sentiment
Customers rate Zoom 4.5 out of 5 stars. Its screen sharing, presentation, and desktop app are all features related above-average for video conferencing tools.
The downside to using Zoom is that it recently came under fire for its security settings. A number of customers reported Zoombombing, where uninvited visitors come into their private meeting rooms. Zoom has since released a number of security updates and features to prevent this from happening.
Support, reliability, and security
To help customers secure their business communications, Zoom offers features such as password protection, waiting rooms, and locked meetings. All data passed through Zoom's VoIP network is protected with end-to-end encryption. Zoom is also GDPR, SOC 2 Type II, and HIPAA compliant.
As for support, Zoom has customer service teams around the world. You're able to contact them through live chat, email, or phone.
5. Vonage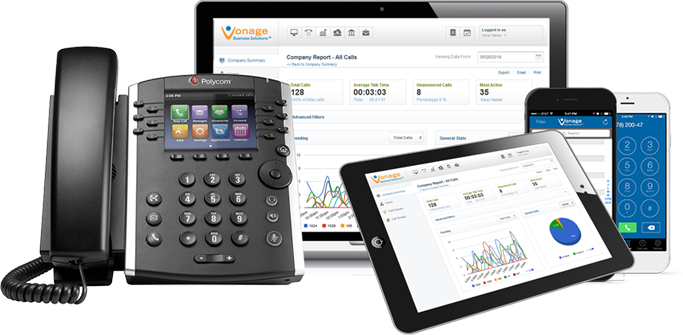 Vonage is a cloud phone system that launched back in 2004. It offers a unified communications platform with voice, chat, and video conferencing tools.

Features
Vonage customers get access to a robust suite of UC features, including:
Team messaging: Share company announcements and get quick updates on projects with the team messaging feature.
Click-to-dial: Save time by clicking the number you want to dial directly from your device. You don't need to remember (nor cut and paste) the number into the app.
Integrations: Send business communication data to the tools you're already using in your company, such as Salesforce, Google Cloud, and Office 360.
Customer sentiment
Vonage has a 4.5-star rating on G2. It's rated slightly above average for its desk-to-desk calling, VoIP number, and phone calling features. That being said, some customers do report issues within the software: "Bugs and errors sometimes arise, making it difficult to work with at times."
Support, reliability, and security
Vonage has one network operations center that runs 24/7, year-round. It has a reported 99.99% uptime and multi-level fail-safes to make sure you're up and running should something happen.
It also has a 24/7 support center and online knowledge base articles for customers to find immediate answers. However, Vonage recently moved to chat-only support. You won't be able to speak to a representative via phone anymore.
6. Microsoft Teams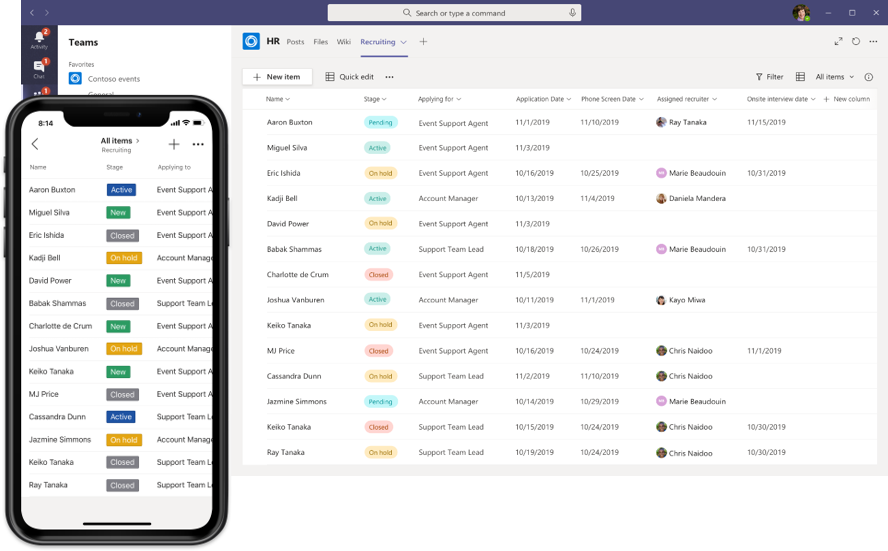 Microsoft has a range of business communication tools alongside its operating software and PC products. Designed for companies of all sizes, Microsoft Teams allows employees to call, chat, and host meetings inside one platform.

Features
Amongst some of the best features in Microsoft Teams are:
Screen sharing: Sometimes it's easier to walk someone through a problem than it is to explain it. Share your screen with team members if you're on a video conference.
File sharing: Microsoft Teams deeply integrates with many other Microsoft software, including Word, OneDrive, and OneNote. The UCaaS platform can pull files to reference in team chat.
Chat translation: If you're working with a global team, use this feature to automatically translate team messages into another language.
Customer sentiment
Microsoft Teams has a 4.5-star rating on Software Advice, with customers sharing: "Team chats, audio/video meetings, file sharing, voice mail features actually help to collaborate with the team members."
But according to G2 reviews, Microsoft Teams falls short on ease of use. It's rated 8.6 compared to the 9.0 average for other business instant-messaging tools.
Support, reliability, and security
Administrators of a Microsoft Teams account have access to strong security settings. Users can also label which messages contain private, confidential, or sensitive information.
Because Microsoft has such a huge community of users, it also has an online discussion forum. It's often a customers' first port of call. Chances are, another user has asked the same question and got a response.
7. 3CX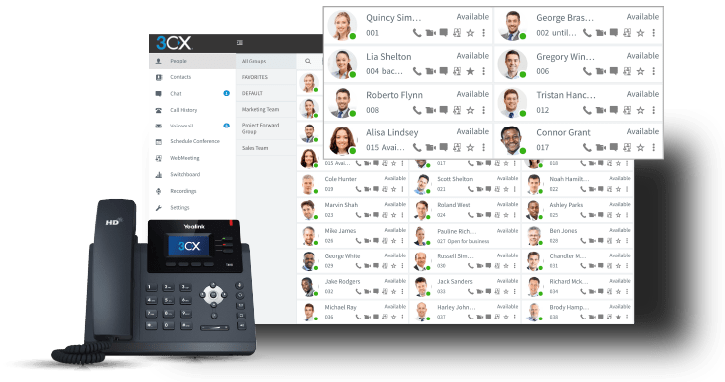 3CX is a UCaaS platform built for remote teams. It offers live chat, video conferencing, SMS messaging, and call center software to its 250,00+ customers in 190 countries.

Features
3CX has a range of UC features included in its packages. Amongst some of most popular are:
Live chat: Prompt website visitors (or Facebook followers) into starting a conversation with your sales teams with live chat. Feed that data back to your CRM through integrations.
SMS messaging: Send text messages to customers with 3CX's mobile app, and view responses in the web-based admin portal.
Call analytics: Get insight into call volume, wait times, and performance by team members with advanced call analytics.
Customer sentiment
3CX has a 4.5-star rating on Capterra. One customer says: "Their support is top-notch and the phone system itself is very easy to manage." However, G2 users rated it below-average for quality of support. It has a 7.9 rating compared to the 8.6 average for other contact center platforms.
Support, reliability, and security
Customers get access to 3CX's library of self-serve content, including its YouTube channel, online training academy, and community of 90,000+ members.
As for reliability and security, 3CX's VoIP system has built-in anti-hacking software. In the unlikely event that someone hijacks your business UCaaS platform, 3CX gives the opportunity to blacklist the intruder's IP.
8. Mitel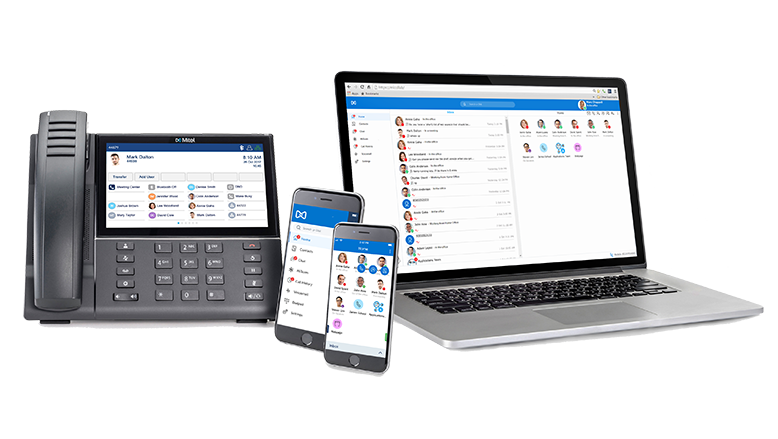 Mitel is a cloud-based communication platform that helps companies with distributed teams to chat, video conference, and audio calls. It's best suited for small teams with a stable number of employees.

Features
Amongst some of Mitel's most popular features include:
Softphone apps: Turn any internet-connected device into a business communication tool with Mitel's Android, iOS, and Web app.
Personal dashboard: Make it easy for each employee to track their activity and to-do lists with personalized dashboards.
Data archiving: If a team member leaves or a conversation is no longer relevant, archive it. You'll still be able to access it if needed, but it won't cloud up your dashboard.
Customer sentiment
Mitel customers gave it a 3.8-star rating on G2. One said: "MiCoud Connect desktop application is actually a very good softphone/desk phone interface." However, Mitel falls behind averages for other VoIP platforms when it comes to ease of use, quality of support, and ease of setup.
Support, reliability, and security
Mitel customers rated the UCaaS platform highly for features like installation and integration, service and support, and multinational support.
Mitel customers have 24/7 technical support should they run into any problems when using the UCaaS platform. It also has an online portal of security advisories for businesses using their suite of communication tools.
Which is the best UC platform for your business?
With more people working remotely than ever, it's no surprise that companies are searching for a UCaaS platform to handle internal and external communications.
If you're thinking of consolidating your business' communication stack in an easier-to-use, single platform, Nextiva is here to help.
NextOS is the all-in-one solution for voice, video, and team chat. It's trusted by forward-thinking companies of all sizes who want reliable software to handle their business' most important activity: conversations.
Ready to level up your business communication? Get started today.
New E-Book: Better Together: Connect UCaaS and CCaaS to Meet Customer Needs
GoToConnect, 8×8, Zoom, Vonage, Microsoft Teams, 3CX, and Mitel have no relationship with Nextiva, Inc. and are the registered trademarks of their respective owners.