What's that number calling?
Why are they calling?
And how should you answer?
When you're taking business and personal calls on the same device, it's easy to make a mistake.
The wrong greeting or slow response can send would-be customers to voicemail or even lose a sale.
That's where business phone apps come in. They help you manage business calls on a single device.
They're a simple solution to keep work and personal calls separate, letting you receive incoming calls on a dedicated business phone number without carrying around two phones.
The best platforms offer you the flexibility to use your personal phone, VoIP phone, or another internet-connected device like a laptop.
But not all options are created equal. At Nextiva, we've handled billions of phone calls for 100,000+ companies and helped countless users connect reliably on every device.
In short, we know what teams of all sizes need in a VoIP phone system.
We've reviewed the top 10 apps to help you pick the right solution for your business needs.
Short on time? Our pick is Nextiva. Most phone apps are too simplistic for a growing business or too complex for small teams. Nextiva includes the advanced features businesses need with an easy-to-understand interface and award-winning support that makes it accessible for companies of all sizes.
Get a business phone app by Nextiva.
Business phone, messages, video meetings, contact management and notes–integrated in ONE powerful app.
Here are the top-rated business phone apps for 2023 and beyond:
Our picks for business phone apps at a glance
A business app can help you manage separate work and personal numbers on the same device, as well as give you the tools you need for a professional phone presence.
Every incoming call is a potential sale, which is why it's important to choose an app with the right features for your business. Integrated features help you streamline the platforms you use and can result in less app fatigue for your team.
A common business phone alternative is Google Voice, but it has limited features. The good news is that a Google Voice number can be later ported into a business phone service platform like Nextiva.
| Feature | Nextiva | Sideline | Unlisted | 1-VoIP | Banter.io |
| --- | --- | --- | --- | --- | --- |
| Pricing for business plan | From $18.95/user/month | From $14.99/month | From $13.99/number/month | From $14.97/line/month | From $9.99/line/month |
| Numbers available | Local and toll-free | Local | Local | Local | Local and toll-free |
| Porting of existing number | Yes, including bulk porting | Yes | Yes | Yes | Yes |
| Auto attendant | Yes | No | No | Yes | Yes |
| CRM integration | Yes | No | No | No | Yes |
| VoIP technology | Yes | No (VoIP option available) | Yes (non-VoIP option available) | Yes | Yes |
| Channels available | Phone calls, video conferencing, instant chat, SMS | Phone calls and SMS | Phone calls and SMS | Phone calls, virtual fax | Phone calls, SMS, virtual fax |
| Additional numbers | Unlimited | One additional | Unlimited | Unlimited | Unlimited |
Top 10 business phone apps
1. Nextiva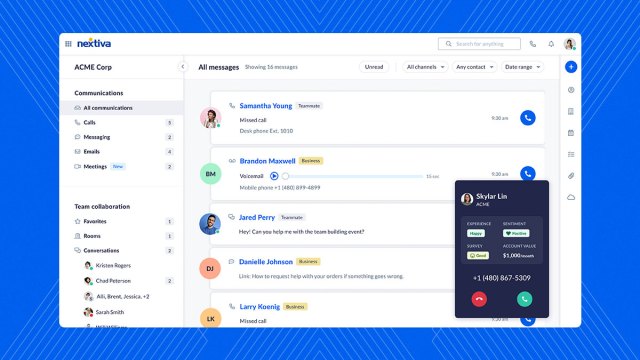 "We are saving on our previous system costs and we have a far superior system so I couldn't be happier. I also think it's worth noting the service from the Nextiva team. Every step of the way the rep and his team were available, knowledgeable and quick to sort any issues."
Nextiva's business phone software allows users to call, instant chat, or video conference with a single click. Users can move from the mobile app to the desktop app seamlessly, making it great for on-the-go calls and working from your desktop at home or in the office.
Nextiva provides a suite of business phone features with every plan. These features streamline your communications with one easy-to-use app, making it the best choice for most businesses.
Nextiva features
An interactive voice response (IVR) auto attendant so inbound callers can quickly select which department to speak with using their dial pad.
Local and toll-free numbers, so customers don't have to pay a fee when they reach your business. A vanity number also increases the credibility of your business.
Unlimited HD voice calls with stellar call quality from any computer or mobile phone.
Custom caller ID, so prospects know who is calling ahead of time, increasing your chances of them picking up the phone. In fact, 76% of calls go unanswered if they're from unidentified or unfamiliar phone numbers.
Call routing so inbound callers reach the right department faster, reducing wait times and improving the customer experience.
Integration with popular CRM software, including Salesforce, HubSpot, and Microsoft.
Voicemail transcription so you can save time and screen voicemails quickly without needing to listen to them.
Nextiva pros
Wide range of features, including virtual meetings, video conferencing, and team collaboration
User-friendly interface and easy setup
Reliable call quality and customer support
Integrations with popular productivity apps like Google, Salesforce, and Zendesk
Nextiva cons
Premium features may cost more than plans with cheaper providers
No free trial
Nextiva pricing
Essential plan: $25.95/month
Professional plan: $30.95/month
Enterprise plan: $40.95/month
2. Sideline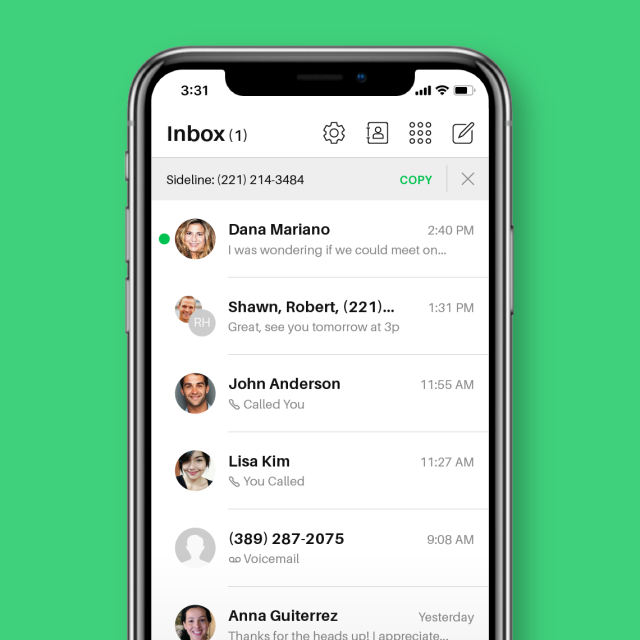 "It seemed to work well at the beginning and was good for the price, but things deteriorated over time, causing a lot of problems with my not getting back to customers whose messages got lost in Sideline cyberspace"
Sideline strives to organize communication, simplify customer interactions, enhance responsiveness, and boost team collaboration with its "second number" feature that allows users to add a second phone number to their existing phone line.
Sideline features
Free phone number so users can use a work and personal number on the same device.
Business texting so users can text clients and customers for relationship-building beyond a call or a sequence of emails.
Auto-reply feature to send follow-up text messages to missed calls.
Team number, which puts one number on multiple phones to share responsibilities and communication with team members.
Connects through your service provider instead of over VoIP, which means your virtual phone system doesn't rely on Wi-Fi or data (but can't be used on a separate device).
Sideline pros
Affordable and cost-effective
Good call quality and reliable connection
User-friendly interface and easy to set up
Sideline cons
Limited features compared to other VoIP providers
Some users have reported missing calls and login issues
Sideline pricing
3. Unlisted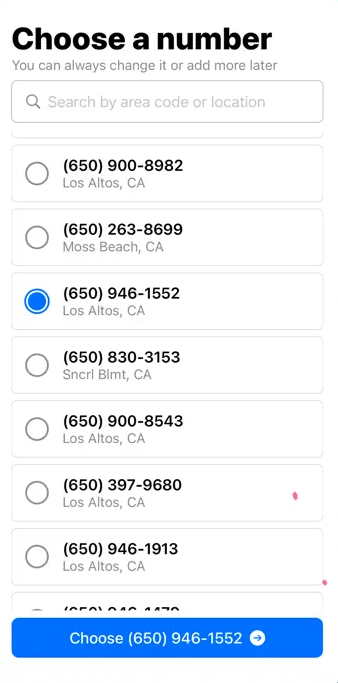 "My phone never drops calls or has audio issues. But this app sure does. Worst part is, if I leave a message, no way of knowing if this app shorted out and the person didn't get it."

— Mikron88, Apple App Store
Unlisted is an app that lets you add as many additional numbers as you like to your phone. You can make and receive calls from the app for business or personal use and choose a number from any area code.
With Unlisted, you can set your availability and automatically send calls to voicemail when you like. You can also set up automatic messages for any missed calls.
Unlisted features
Separate phone numbers are accessible via an app on your mobile device.
It uses a real phone number with your local or different area code if your business is targeting a certain location or demographic.
Use Unlisted's built-in VoIP service or switch to relay calling to dial through your cell service provider.
Unlisted pros
Anonymous calling and texting, making it ideal for privacy-conscious businesses
Discounted annual plan for additional savings
Unlimited numbers on the same device
Unlisted cons
Some users have reported poor call quality and dropped calls
Some users have reported issues with logging in
No interactive voice response features, as you'll find with enterprise platforms
Unlisted pricing
Monthly: $13.99/number/month
Annually: $99.99/number/year
What's the best softphone for your team?
We've covered basic smartphone apps that let you open a new business line on the same device. But what if you're looking for a softphone for your entire workforce? What's the best pick?
Nextiva has features that are designed for teams, from small businesses to enterprises and everything in-between. With Nextiva, you'll get the seamless management and security features you need, all in an easy-to-install platform with award-winning customer service.
4. 1-VoIP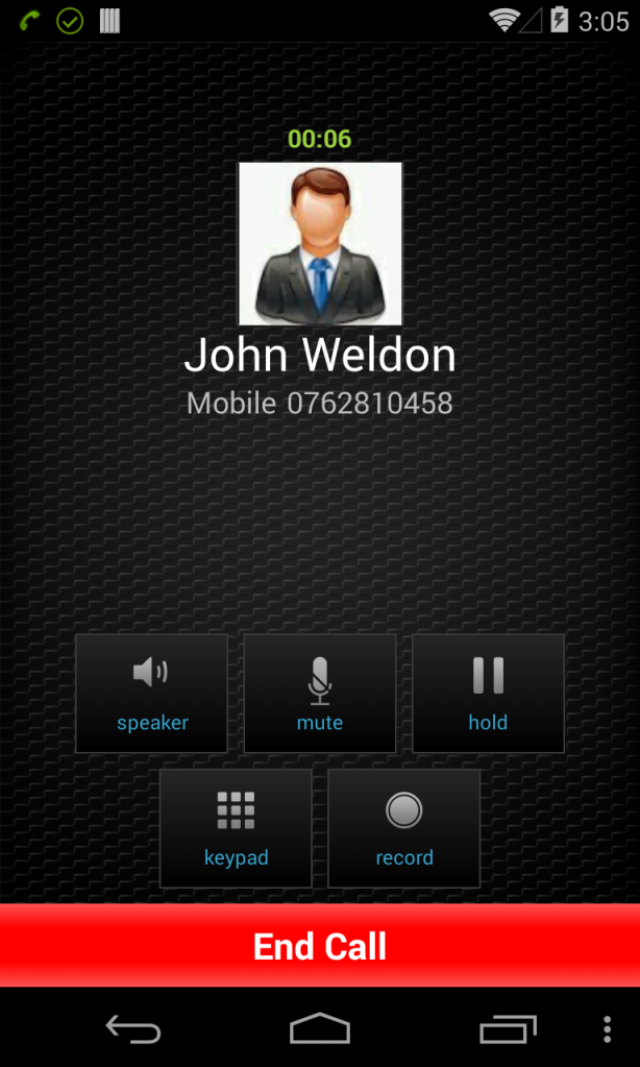 "This company takes customers of any size and offers some additional perks that few others openly promote. One frustrating aspect of the site is the lookup feature for International calling. Try it very well before buying it."
1-VoIP is a residential and business VoIP provider that also offers SIP trunking. While it doesn't include its own softphone apps, it integrates with other providers to let you make VoIP calls through any internet-connected device.
1-VoIP features
Digital call forwarding to additional phone numbers.
Digital softphone setup so users can make and receive calls from mobile or desktop devices.
A do-not-disturb mode for when you need to unplug.
A U.S.-based support team and a 24/7 support center so that someone's always available should a problem arise.
1-VoIP pros
24/7, U.S.-based support team
Affordable plans for most small businesses
1-VoIP cons
Doesn't support video conferencing
Doesn't integrate with other software like Google or Salesforce
Some users mention hidden fees that increase the final sale price
1-VoIP pricing
Business VoIP: From $14.97/month, plus $0.02/minute
SIP Trunking: From $29.97/month
5. Banter.io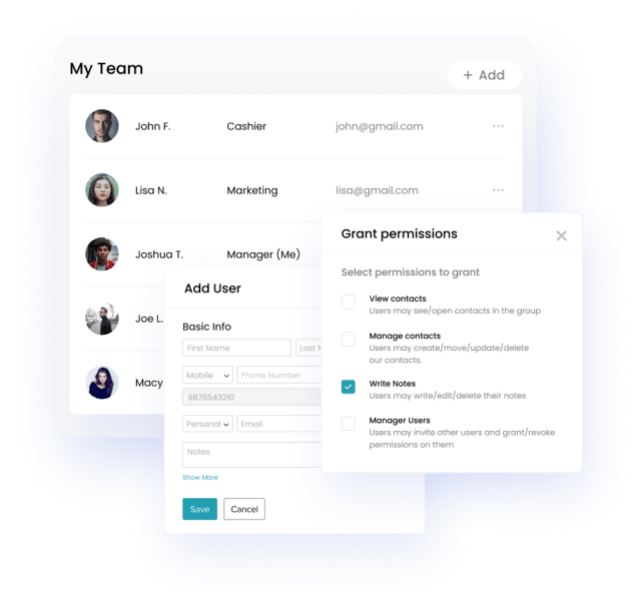 Banter.io offers a unified voice, text, and fax tool for its users. Its texting feature enables businesses to engage in SMS marketing, while its voice and fax tools allow for a more familiar business phone experience. Users get unlimited calling and texting capabilities, browser calling, app integrations, and more.
Banter.io features
Custom caller ID so prospective customers know who's calling them ahead of time.
Call recording for internal training purposes.
Integrations with over 2,000 apps.
Extensive business communication features, including contact management, call transfer, and conference calling with up to three people at once.
Virtual phone system that's available on an unlimited number of devices simultaneously.
Banter.io pros
Integrations with 2000+ major platforms, including Google, HubSpot, Salesforce, and Microsoft Teams
Easy no-code logic pipelines to help you respond to every call quickly
Banter.io cons
Relatively limited knowledge base
Limited community and few third-party reviews or feedback
Banter.io pricing
Standard: $9.99/line/month
Enterprise: Enterprise calling packages require negotiation with Banter.io's sales team
6. RingDeck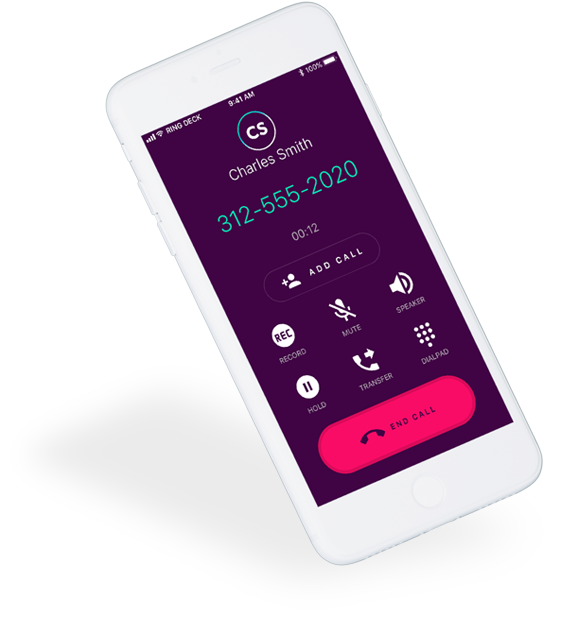 "Additionally, messaging on the app is very clunky, you have to keep refreshing it to be able to see new messages. Very disappointed."

— Owen Deen, Google Play Store
RingDeck is a business phone system that allows users to call from anywhere on any device. While it doesn't have extensive integrations for larger teams, it works well for small business owners who need to keep work and personal numbers separate.
Ring Deck features
Local and toll-free numbers as part of each package.
Manage business calls from a mobile device or desktop computer.
Add up to 50 extra numbers for $2/number/month.
Ring Deck pros
Toll-free numbers included
Relatively affordable pricing for adding new numbers to any plan
Ring Deck cons
Several users report issues with logging into the app
Per-minute billing can get expensive as your business grows
Ring Deck pricing
Local number with 1000 minutes: $20/month
Local number with 5000 minutes: $30/month
Local number with 10,000 minutes: $40/month
Toll-free number: $5/month plus $0.02/minute
7. GenVoice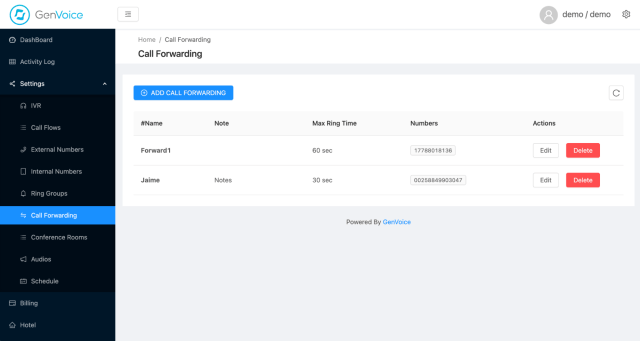 "GenVoice helped us set up a new cloud business phone system with five users, one Fax to Email and one free conference room. It helps us save a lot. Their technician and customer service teams are always available to handle our requests."
GenVoice offers a cloud-based VoIP service with over 40 business features, from hold music to call parking. GenVoice has integrations with most major CRMs and offers softphone apps for desktop computers and cell phones.
GenVoice features
Toll-free and global number functionality for receiving international calls.
Business hour functionality to reroute calls during your off-hours.
Address book and CRM integrations, so your most important contacts are saved automatically.
Local numbers increase the trustworthiness of your brand or business, even without a standalone office.
GenVoice pros
Unlimited extensions on every plan
Standard VoIP features including call forwarding, call waiting, and call parking
The ability to add international virtual phone numbers to your plan
GenVoice cons
No support for video conferencing
Limited integrations with major platforms
GenVoice pricing
Basic: $20/user/month
Team: $25/user/month
Enterprise: $35/user/month
8. Phonewire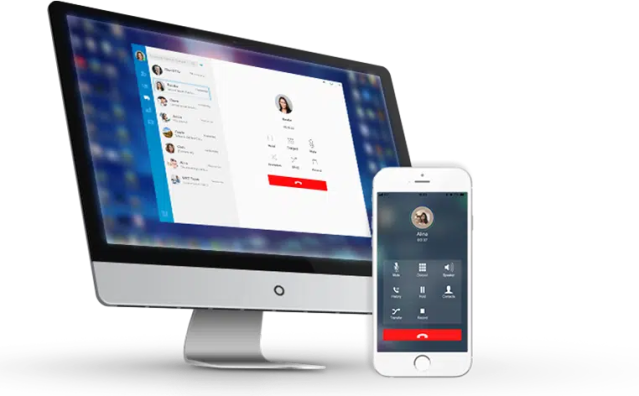 Phonewire is a cloud business phone service for Android, iPhone, and desk phones. It offers a hybrid solution for complete VoIP service or integration with your existing landline numbers.
Phonewire features
Call queuing so inbound callers know their place "in line" and aren't waiting on hold aimlessly.
The option to blacklist and whitelist sets of phone numbers.
Call-to-email functionality, so if you miss a call, it will be transcribed in an email and sent straight to your inbox.
Phonewire pros
Call routing rules to ensure incoming calls go to the correct line
Hands-on customization and help choosing the right system
Phonewire cons
Not the most affordable solution compared to other providers
Limited geographic location for local installations
Phonewire pricing
Phonewire gates their pricing information, which can only be accessed via a contact form.
9. NetLines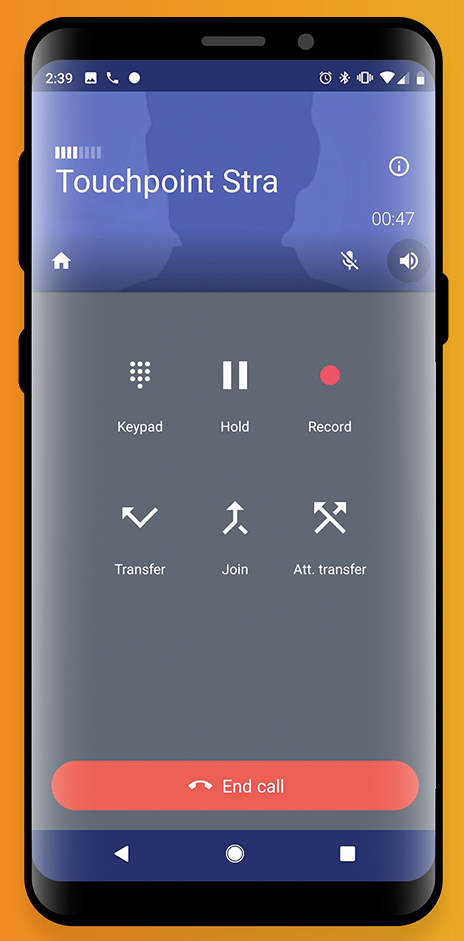 "Honestly very disappointed with NetLines. The customer service was not friendly and not helpful. But I will say that it does work and I use it for my business."
Netlines is a phone number app for Apple and Android. It offers more features for a small business phone system than some competitors, including auto attendant (like a virtual receptionist), video conferencing, and call recording.
Netlines features
A second business line with the option the port over your existing phone number as well.
Auto-attendant to route inbound callers to the correct departments via dial pad.
Call management encompassing call forwarding, screening, recording, and blocking.
Netlines pros
One of the cheapest options on the market
More advanced features than other apps, including auto attendant and conference calling
Netlines cons
Some reviewers complain of limited customer support
Some reviewers complain of bugs in the app
Netlines pricing
$9/month if billed annually, plus $4.50/month for each additional user.
$10/month if billed monthly, plus $5/month for each additional user.
10. Vonix.io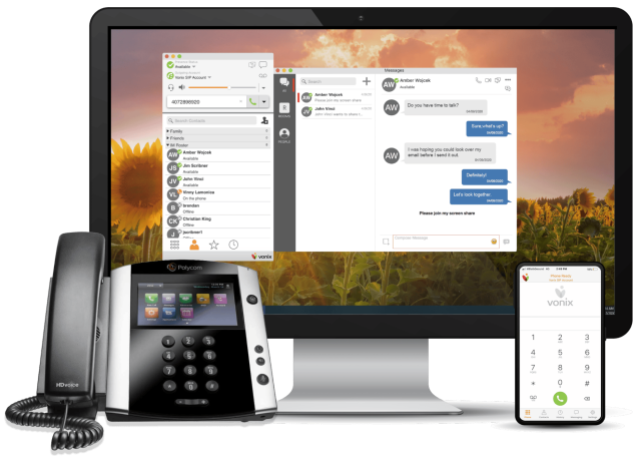 "The quality of the calls is much better than our previous provider. The cost is lower than our previous service provider.  It is always a process of changing providers but we were able to schedule a time when it would least impact our office and Vonix was able to get it done within the allotted time."
Vonix.io offers cloud voice and messaging for its users, plus features like business texting and team chat to improve internal collaboration. Businesses can post on their social media channels directly from Vonix.io as well, making it a single portal to connect with customers wherever they are.
Vonix.io features
Unlimited calling in North America with no extra fees.
Personal, direct line of contact with its in-house support team.
Call analytics and reporting to get data about call times, call volume, and other metrics.
Vonix.io pros
Affordable plans compared to other vendors
Reliable and stable phone service
Customers report helpful, friendly customer service
Vonix.io cons
Some customers say the implementation process was less smooth than expected
Lacks integrations with major platforms like Google or Salesforce
Vonix.io pricing
Basic: $19.99 per-user, per-month, plus taxes and fees.
Pro: $29.99 per-user, per-month, plus taxes and fees.
Team: $39.99 per-user, per-month, plus taxes and fees.
Enterprise: If your team needs a more robust plan, speak to a sales representative.
Honorable Mention: Zoiper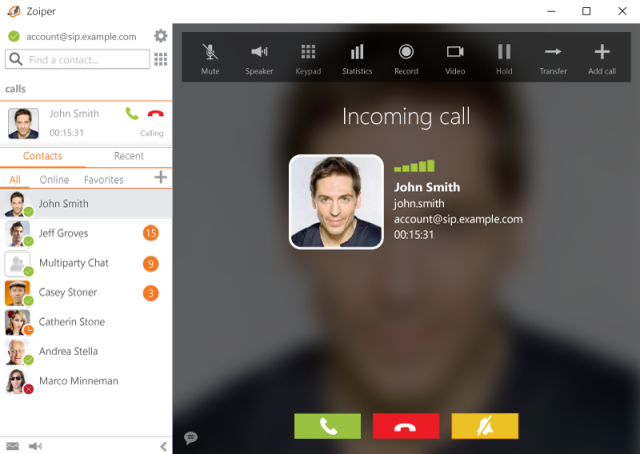 Zoiper is a universal VoIP app. It works with many VoIP providers, including Nextiva.
You can connect Zoiper with your phone provider instead of using proprietary software. You can also connect it to a SIP trunk provider, which is handy for testing connectivity.
Zoiper is a good option for technical teams that are looking for more control over their VoIP system than what's provided out of the box.
The final verdict: Nextiva
Our top pick for a business phone app is Nextiva. Nextiva offers the best overall value for teams of all sizes. Nextiva includes superior cloud reliability, robust features, and an easy-to-use interface. The software is easy and fast to set up, and Nextiva's award-winning support team is available 24/7.
No matter the size of your organization, you can improve your business phone by upgrading to Nextiva.
So, why should you go with Nextiva's business phone app?
Having a business phone app that is reliable, flexible, and feature-rich is important for any growing business, but not just any provider will do.
Over 100,000 businesses across the U.S. choose Nextiva as their VoIP provider. With more than 40 features in one easy-to-use, comfortably priced business phone app, Nextiva makes communication with customers seamless and enjoyable.
To get started, take a look at our pricing page for a complete breakdown of each plan and a transparent view of the features each one includes.