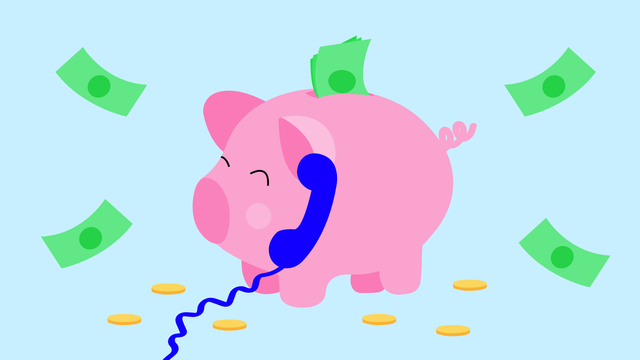 There are a million ways to communicate with your customers these days, but voice communication is still a step above all the tweets and chat boxes out there. That's why a business phone line is so important.
However, the cost of implementing an outstanding business phone line can be hefty, and many people don't know where to start. So, how much is a business phone line? And where do you get started pricing one out?
A business phone line can cost anywhere from $20 per month to $30 per month per user.
But here are some other factors to consider before you buy your business phone system:
Pricing Factors
No one phone provider is alike. Each one comes with its own set of features and pricing options. What's most important when you first start shopping for a virtual phone system is knowing what you need and what you want.
Here are a few of the important things to consider when choosing your phone plan. Number of:
Employees
Phones
Phone numbers
Simultaneous calls
1) Your Company Size
If you have just one location with 10 employees or 10 locations with multiple employees per location, it will make all the difference when it comes to your cost. Some providers charge an installation fee per location which can significantly drive up costs.
Related: How Many Phone Lines Do I Need for My Business?
2) Phones
If you need to purchase physical phones for your location it's another cost to consider. Phones come in basic, middle of the road, and feature-rich options that vary when it comes to price points.
Typically, your provider can help you make decisions depending on the goals you have for your phone service.
3) Additional Features
Some features are built into your service rather than your phone. Which means some features may be an additional cost. For example, Nextiva's three plans each come with their own set of features.
You can see that Office Pro comes with fewer features than Office Enterprise, but if the lower tier has the features you want, then there's no need for the more expensive plan.
Related: How To Choose A Business Phone System
Cost Per User
Once you know the number of lines and locations and have defined your feature set, you can start to get an idea of how much your phone system is going to cost per user. Here's an example of average cost per user:
Low-End Plan – $200 per user
Mid-Range Plan – $400-600 per user
Enterprise Plan – $1,000 per user
As you can see, the size of your business can make all the difference when it comes to setting up your business phone service. But there are even more options that can affect your cost, including the type of phone system you decided to go with.
Looking for a flexible business phone system? See what Nextiva customers are raving about!
Type of Phone Systems
1) VoIP
A Voice over IP (VoIP) solution gives you the opportunity to host all your voice communications from your internet service.
For example, Nextiva's VoIP for small business is a unified communication solution that includes everything from video conferencing to virtual faxing making and more. And it doesn't require an additional hard-wired installation like your traditional landline.
2) Landline
Most of us know what a landline is. That hardwired phone we used to have in our homes or offices. While not obsolete, landlines are usually much more costly, require a telephone line, and can be time-consuming to install. Landlines don't offer nearly as much freedom as a virtual phone service.
3) Virtual Phone System
A Virtual Phone System is also known as internet phone service, which requires a fixed telephone line. That one line is funneled to your computer screen where all of the features and controls are then available to you.
Now that you have a better idea of what business phone systems are available to you let's dive into the good stuff.
Looking for cheap VoIP phone system?
It's helpful to remember that a "cheap" phone system doesn't necessarily mean it's more affordable. A dirt-cheap price may exclude many features and capabilities (and support) a fast-growing business needs. Don't take our word for it — here's a perspective from industry insider Prince Rich as he explains what to watch out for when considering cheaper VoIP options.

Video: 'Is VoIP Cheap' by Rich Technology Group
Most Popular Features
These days everything is about the features. When it comes to your business phone line, you're sure to have a list of things you'd like that line to do. Below are some of Nextiva customers favorite business phone features.
Security – We have 6 redundant data centers to help protect your business against fraud, natural disasters, and business continuity issues
Local Area Codes – Nextiva offers area codes in every state across the U.S.
Reliability – Our highly redundant network offers eight points of presence and 99.999% uptime
Conference Calling – Easily schedule, moderate, and record audio conference calls
Auto Attendant – Greet your customers with an automatic message and give them automated options to choose from
Call Recording – Record calls automatically, pause or resume during a call, and access recording features on demand
Call Forwarding – Forward your calls to other phone numbers or business extensions at the click of a button
These features are available to any of our users depending on which plan they choose, and we make it easy to upgrade should you change your mind later.
Related: How Do I Get a Business Phone Number?
Total Estimated Cost of a Business Phone System
Let's take Nextiva for example. You can buy Nextiva's Business Phone Service along with other add-ons from the Business Communication Suite.
Nextiva's business phone system has a tiered pricing system that easily breaks down the features and prices so that you know what you're getting upfront.
Basic – As low as $20 per month/user
Unlimited calling and SMS messages/Internet faxing
Voicemail with email delivery + text delivery
Free local phone number + toll-free number
Keep your existing number
Advanced call management
Contact management
Omnichannel support
Standard reporting
Pro – As low as $25 per month/user
All of the above
Professionally Recorded Greeting (1)
Nextiva mobile app (iPhone, iPad, Android) + desktop app
Instant messaging & presence
Team messaging & presence
Unlimited conference calls
Customer Surveys (NEW with Pro)
Enterprise – As low as $30 per month/user
All of the above
Website Live Chat
We've covered what kind of expenses you need to consider when it comes to choosing the best business phone service plan, and even broken down the cost per user. These costs can vary greatly depending on the plan you choose and the vendor you decided to go with.
Here's an average look at what your overall business phone system might cost.
Enterprise Grade cost per user: $1000 x 20 users = $20,000
This Enterprise grade account is only one example. If you're a small business, it's likely your costs will be much lower. This is why we encourage you to speak with a knowledgeable professional, like a Nextiva Amazing Service rep, to get a more accurate estimate.
Looking to set up your business phone system and have some questions? Nextiva is here to help. You can contact us here or call us at 1-800-799-0600 to get your quote started today.
Nextiva could be exactly what you're looking for. Hop on a no-strings-attached demo to learn more.