Nextiva released its State of Business Communication Report; the results are staggering.
Among them are statistics on how businesses of all sizes are increasingly moving communications to the cloud, how communication tools are proliferating faster, how workplace behaviors have changed wildly, and how businesses are losing money due to inefficient communications practices.
The report was a collaboration between our team at Nextiva; Poly, a global communications company; and AA-ISP, a global community dedicated to advancing the profession of inside and digital sales.
Our process with this industry-wide survey was comprehensive. We wanted to make sure to get the best possible information about how businesses communicate, their feelings about the widespread migration from the legacy phone providers of the past to modern cloud phone systems, and their challenges in the communications space.
All told, we polled more than 1,000 business professionals from a variety of industries.
The results shocked all of us, and we think they will have a massive impact on the business communications industry as a whole. In addition to our findings in the report, we included numerous key takeaways and recommended actions for business owners who want to up their business communications game.
Here's a preview of what's inside.
Communication Channels Are Proliferating
Hello, communication channels! Receiving feedback from our participants proved what we've learned in our workplace: communication channels are exploding. Where the phone served as the primary gateway between businesses and their customers for the last several decades, we are seeing major changes on that front.
Think about your own workspace. If you're like us, you might have a cell phone next to your laptop, and on your laptop, you might have a dozen different applications to help you communicate with your team and customers via email, chat, and more.
The rise of these new channels has proven to be a double-edged sword for businesses. While it's easier to communicate than ever before, it is harder to manage those communications.

We found that 59 percent of business professionals use at least three devices while at work.
While it might be fun to have so many channels to communicate with customers, we found that they can be overwhelming.
Fragmented communication systems can be extremely difficult to stay on top of customer interactions and track conversations happening simultaneously across multiple channels.
Due to this fragmentation, a whopping 60 percent of business professionals report facing a communications crisis every month!
Related: Avoiding the Next Success Crisis with Daniel Pentecost [Podcast]
Communication Preference Styles Are Changing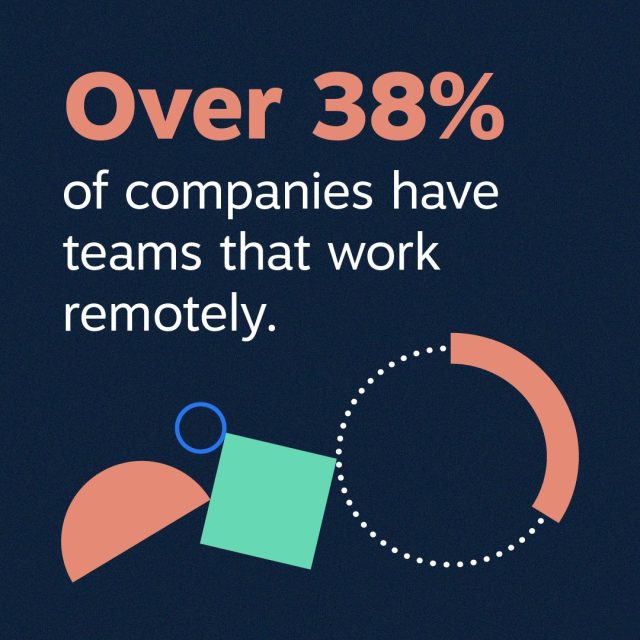 Over and over while combing through this research, we heard that workers prefer face-to-face communication over everything else.
But for those who don't physically come into an office — more than 38% of companies have team members who work remotely — they are more inclined to communicate with their bosses via email or phone.

One of the many surprising findings from this report was the response we received around project management tools (think Slack or Asana). The world of project management tools has grown in recent years, but of the people we polled, a little more than 21 percent of them said those types of programs were the least favorite tools at their disposal.
The responses, though, were mixed.
Around 18 percent of participants said they like project management tools because they make communication easier but admitted that they still have flaws. Interestingly, 5 percent said they couldn't work without them.
When asked about email, our participants had a lot to say. While many said they are getting better at email, more than half said email is a black hole for important messages. What's more, on a weekly basis 16 percent of workers said they missed information shared in emails, and 6 percent said they're overwhelmed by the number of emails in their inbox, which leads to missing vital messages.
"For remote workers, tools are enablers. Often, remote workers spend a lot of time arguing which tools are better when we should move on to a discussion on how to implement them and how to use them regularly. No tool is right or wrong by default; you might be just using it in the wrong way. As communication is a key for remote teams, you should make it a priority to revisit how your team is adapting your tool stack"

Iwo Szapar, CEO & Co-founder at Remote-how
2020 vs. 2016: Changes to the State of Business Communication
We wanted to compare how businesses are communicating now with our 2016 State of Business Communications Report; while we thought things would have changed, we didn't realize the tectonic shifts that were actually underway.
New technology and new customer preferences are creating a host of communication challenges and opportunities for the modern workplace.
In general, customer expectations are higher for businesses. Clients have less tolerance for poor communication than ever before. Drilling down, we learned that 33 percent of businesses lost customers in 2020 due to a communications issue, up from 25 percent of businesses in 2016.

On a positive note, we learned that workers are improving their use of email communication. In 2020, around 16 percent of workers missed important information in emails on a weekly basis, which is a significant decrease from 28 percent of workers that did the same back in 2016.
From these numbers, we've realized that communication issues have increased across the board since 2016, despite new technology growth. No one wants to lose a customer, but many businesses are struggling with how best to use the new technology systems and minimize digital distractions in the workplace.
These revelations inspired us to offer our readers a few recommended actions, including creating internal and external communication strategies and identifying and killing your communication silos where possible.
Growth Opportunities in Business Communication
Our report is filled with analysis of how business communication will change in the coming years. Chat is one area where we forecast significant growth. Our survey discovered that the majority of companies are missing an opportunity to engage with customers via live chat or a chatbot and — by a 3:1 ratio — are more likely to text than chat.
We anticipate a tremendous rise in chat in 2020 and beyond. More than 269 billion emails are sent every day, and many can get lost. On the other hand, chat allows businesses to speak with customers in real time without too much disruption to their days.