What is a hosted contact center?
A hosted contact center is a communications solution hosted at your service provider's physical location or on the cloud instead of on your premises.
The terms cloud services and hosted services are often used interchangeably. However, cloud services are a subset of hosted services. This is because hosted services include any infrastructure outside of the user's physical location, which includes both the vendor's location and the cloud.
A hosted contact center solution allows you to serve your prospects, customers, and partners across different channels in an efficient manner.
It's different from a call center as it covers many types of communication rather than just voice calls.
Call center vs. hosted contact center: Key differences
A call center is an office that handles inbound and outbound calls of a company. This includes potential and existing customers, partners, and internal staff. Businesses typically use call centers for sales and customer service.
Traditional call centers use a Private Branch Exchange (PBX) that runs on physical phone lines. A more flexible approach is a VoIP call center. It runs on a broadband connection and offers rich features.
Modern call center software based on IP telephony offers several benefits:
Capability to handle a high volume of calls
Great for remote teams
In-depth call analytics
Cost-effectiveness and scalability
Intuitive features to speed up workflow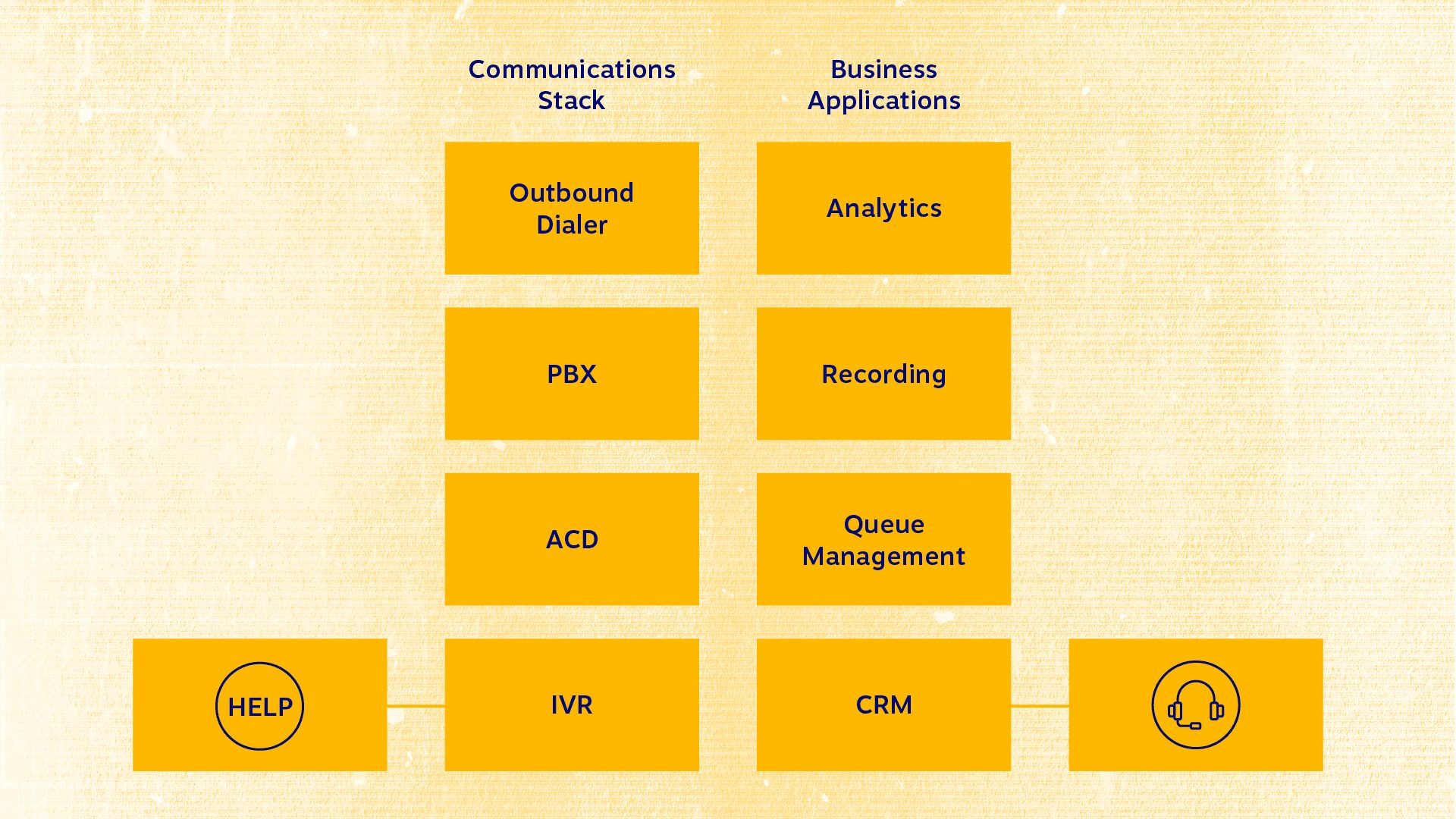 A call center only handles voice calls. In contrast, a contact center solution includes other channels like email, live chat, SMS, instant messaging, and support tickets
Contact centers are also omnichannel because it allows customers to communicate with you on a channel of their choice.
For many businesses, voice calls have become an escalation channel, not a primary service. This means channels like web chat and mobile self-service are on the rise.
With a contact center platform, you can run more effective sales and marketing campaigns. It gives you access to the complete customer journey, regardless of the channel. You can also resolve customer issues more quickly, thanks to easy access to past interactions.

Deciding between a contact center and a call center? Think about it this way: A contact center is best for large businesses with lots of agents. A call center is ideal for companies whose customers heavily rely on calls.
Advantages of a hosted contact center
A hosted contact center brings powerful benefits compared to traditional on-premises contact centers. It's also known as a virtual contact center.
Contact center virtualization
The days of a busy, noisy contact center in a room are dwindling. Hosted contact centers don't have to rely on physical infrastructure and copper wires. This means your agents can access their workstation wherever they are — as long as they have internet access.
This makes hosted contact centers a great option for remote workers, as well as those that are often on the go.
Rich features for agents and supervisors
Hosted contact centers help with more than managing several phone calls at once. Their features are easy to add and implement and include:
Powerful integrations for centralized access to data
Hosted contact centers allow you to implement Computer Telephony Integration (CTI). This way, you can connect your phone system to your existing business tools and apps.
One of these tools is a Customer Relationship Manager (CRM) tool. It gives you instant access to all the information you have about the customer, like past purchases and interactions.
This allows you to optimize every customer interaction for maximum customer satisfaction.
Advanced IVR and call treatment
Interactive Voice Response (IVR) is an automated phone system with call routing capabilities. It gives your customers on-demand, self-service options and routes call to the best agent for the issue at hand.
Basic IVR systems use voice recognition technology and keypad entries to route the call in the right direction. Advanced IVR systems use Natural Language Processing (NLP), a form of conversational AI, to understand full sentences and answers to open-ended questions.
This means your customers will get their answers quicker, and agents can be more efficient.
The total cost of ownership and ROI
Consider the total cost of ownership (TCO) of a contact center and its return on investment (ROI). Take into account the costs of:
Hardware
Software licenses
Hiring expert staff or contractors
Maintenance
Recurring vendor charges
Training
Traditional contact centers come with heavy-duty equipment. It creates a lot of upfront cost, requires technical expertise, and only gets more obsolete with time.
Cloud contact center solutions are lean and scalable. There's no on-premises equipment, so you don't need contractors and personnel to set it up or maintain it. Your provider takes care of everything for you.
Detailed reporting
How well are you splitting the work between your agents? Where do customer requests come from? What can you automate?
Your contact center software will show you your key metrics in real time. These include:
Queue times
Handle times
Abandonment rates
Agent uptime
First-call resolution (FCR)
This allows you to track and improve your contact center's performance.
Outbound campaigns
You can manage an outbound calling campaign with a contact center software solution.
Instead of dialing each number in an outbound campaign by hand, you can configure the platform to dial contacts from a list you imported and direct that call to an available agent.
This frees your agents from mundane, repetitive tasks. They can focus on what matters most: their conversation with the customer.
Factors to consider before switching to a hosted contact center
Ready to choose your contact center technology? Here are a few things to consider as you do your research.
Security policy management and customer data privacy
Reviewing contact center vendors? Don't be afraid to ask them about the policies and procedures they've put in place to protect your data.
These can be a disaster recovery plan, redundant data centers, 24/7 monitoring, and real-time network status updates.
Additionally, check each provider's certificates and compliance with regulations. These include GDPR, PCI, SOC 2, ISO/IEC 27001, and any certificates relevant to your industry such as HIPAA.
The features your business needs
List the features that are non-negotiable for your business communication.
Look for an integrated omnichannel approach so you can manage all your communication channels and expand to new ones if you need to. Otherwise, you might have to switch to a different provider once your needs grow.
Be sure to make the most of automation and intelligent routing with IVR, Automatic Call Distribution (ACD), and predictive dialers. This way, you'll maximize agent efficiency and make your workforce management (WFM) easier.
Analyze each provider's list of features to double-check they offer everything you need.
Bots and AI-based automation
Bots and automation are here to stay. Gartner recently reported that 25% of customer service operations will use virtual customer assistants or chatbot technology, up from less than 2% just a year prior.
Automation based on artificial intelligence (AI) is the perfect match for the growing number of digital channels your customers use. With conversational AI, you can get your system to learn from each interaction and:
Answer simple, recurring questions without tying up an agent
Reduce hold time and solve customer service issues faster
Steer calls toward the right agents every time
Increase customer satisfaction
Customer experience and agent experience
Your customer service solution isn't just about your customers, but also about your agents — and these depend on each other.
A Global Contact Center Survey from Cisco revealed that 74% of customers feel agent experience significantly impacts their experience and business results. Almost all agents — 93% of them — feel technology is highly important in creating better agent experiences.
It's essential to consider your agents' needs and experience when choosing your contact center solution. Agents are on the frontline with your customers, and how you equip them matters.
Empower your agents with an easy-to-use but powerful interface and maximize their focus time by minimizing distractions and repetitive work.
Set up a flexible communication solution
The best part about cloud-based communication solutions is that they're flexible and scalable based on how your business evolves.
If you want to take more customer calls and monitor your call flow better, consider a contact center. You'll be able to automate multi-channel customer support and build self-service options so your customers always feel taken care of, no matter how busy you get.