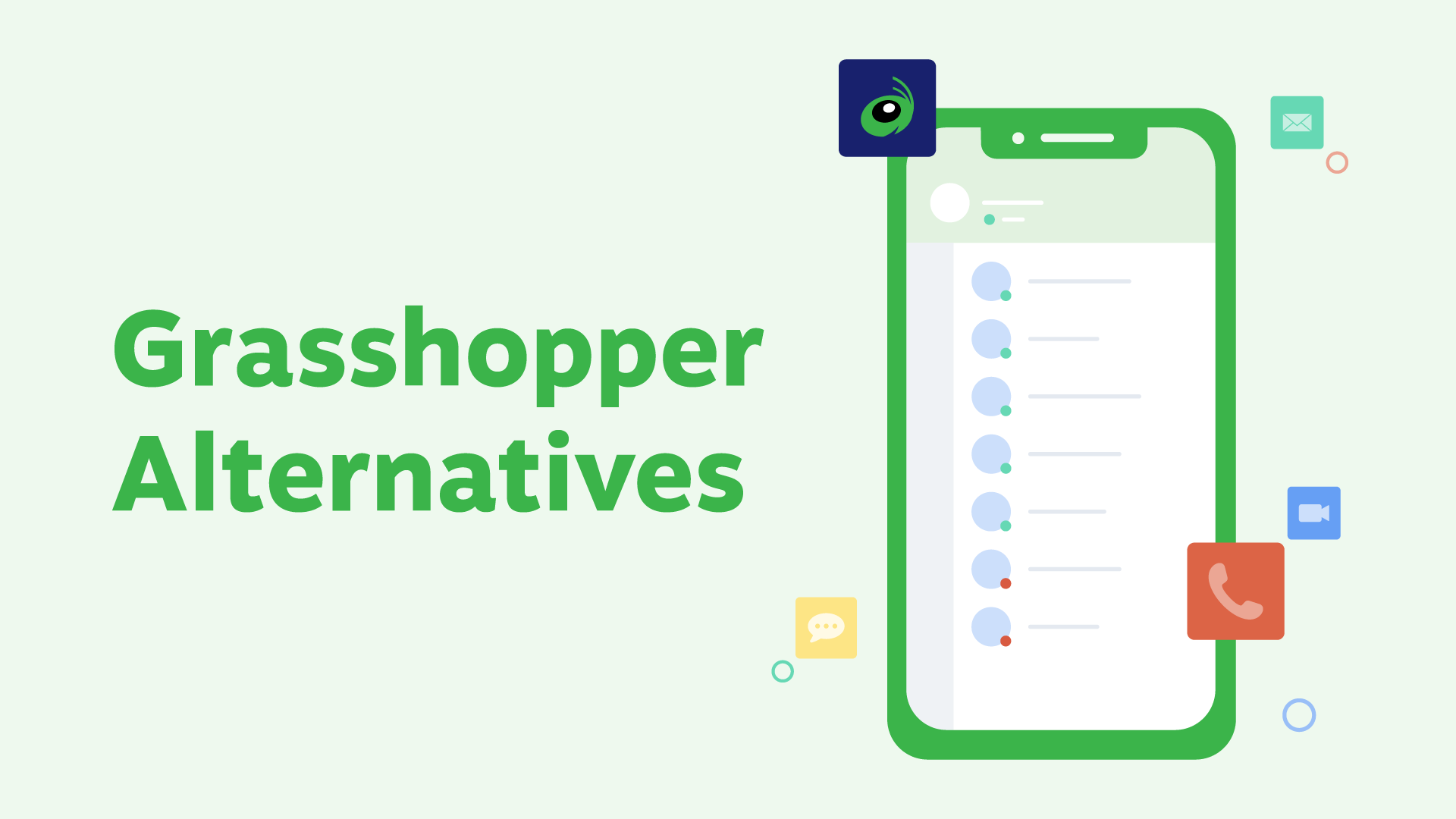 Last edited on June 2, 2021
If you're on the lookout for a new cloud phone system, there are a ton of options to choose from.
One of these services called Grasshopper might fall onto your list. It's a virtual phone system that helps small business owners look and sound professional. You'll be able to keep your work and personal life separate, despite using the same phone to handle both.
However, if you're looking for a more robust cloud phone system than Grasshopper, we got you covered. Below is a comprehensive list of the 10 best Grasshopper alternatives. That includes:
If you run a small business and want a second opinion on whether or not Grasshopper is right for you, check out Prince Rich of Rich Technology Group's honest review of the provider below:
Now, onto the top 10 alternatives to Grasshopper.
1. Nextiva
Nextiva is a VoIP provider that offers a variety of communication and collaboration features for businesses of all sizes. It is the best business phone system of 2020 and 2021, according to U.S. News. Third-party review sites also rate Nextiva highly compared to other solutions.



More than 100,000 businesses across the U.S. use Nextiva as its VoIP provider, some of which include Amazon, Cisco, Netflix, and more recently, the Pac-12 Conference. Nextiva has been helping businesses supercharge their phone systems since 2006.
What are some of its top features?
Nextiva has a robust VoIP phone system with more than 40 basic and advanced features, some of which include:
Auto attendant: Greet incoming callers without the need for a human receptionist. An automated attendant lists each department and how it can assist, and an incoming caller uses their dial pad to reach the right department. For example, "press 1 for sales, press 2 for support," is an example of an auto-attendant.
Audio and video conferencing: Connect with your remote and distributed teams using Nextiva's video conferencing tools. You can keep cameras off and still host a voice conference.
Mobile and desktop apps: With Nextiva's mobile and desktop apps installed, employees can work from anywhere in the world as long as they're connected to the internet.
Team messaging: Communicate and collaborate with your colleagues easier with Nextiva's team messaging feature. This feature also has team presence, which basically means you can see which of your team members are active, away, busy, or offline. Users can launch video chats or share their screens within the team messaging app.
Call forwarding: This feature allows your employees to route incoming calls to other devices automatically, such as a mobile phone, desk phone, or softphone. You can even set this feature so it forwards calls to your voicemail if you're away.
Call recording: Customer calls can be recorded and stored in the cloud. Those recordings can be used for quality assurance, to train your customer support and sales teams, and to minimize legal risk in obtaining verbal commitments.
Reliability, support, and security
Nextiva includes a professional-grade network and security with eight carrier-grade data centers and 'round-the-clock monitoring.
With nearly zero downtime, you can serve more customers with confidence. Eight points of presence provide redundant connectivity in the event of an interruption.
Nextiva is certified with multiple security standards. Its data centers are ISO/IEC 27001 compliant, it is SOC 2 compliant for storing data in the cloud, PCI compliant, and HIPAA compliant when it comes to sensitive healthcare patient data.
Nextiva pricing options
There are four different plans for Nextiva, with pricing as low as $17.95 per user, per month. Pricing also depends on the number of seats a business needs for its plan and whether or not they'll be billed monthly or annually. Below is a more detailed breakdown of each plan:
Essential: Plans start as low as $17.95 per user, per month. This plan is great for getting started on a small scale. It features unlimited calling, unlimited peer-to-peer video chat, free toll-free number, and more.
Professional: Plans start as low as $21.95 per user, per month. This plan is best fit for smaller teams. It has all the upgraded essential features plus call pop, voicemail to SMS notifications, voicemail to email, and more.
Enterprise: Plans start as low as $31.95 per user, per month. This plan can support small-to-medium-sized teams. It has all the upgraded professional features plus voice analytics, call recording, voicemail transcription, and more.
Ultimate: Plans start as low as $52.95 per user, per month. This plan is best for enterprise companies. It is the most feature-rich plan for Nextiva, with features like automated surveys, customer journey analytics, sales pipeline management, and more.
2. GoToConnect (formerly Jive)
GoToConnect is a business phone system formerly known as Jive. It's run by the team at GoTo, who also run LogMeIn. Their suite includes additional products for conference room calls, delivering training, and running online webinars.
What are some of its top features?
GoToConnect's VoIP packages include a handful of important features that businesses need from their phone service, such as:
Video conferencing: Conferences held through GoToConnect's software allow up to 250 participants. They also offer personal meeting rooms for staff to arrange their own conversations with internal or external people.
International calling: Some providers charge extortionate fees for international calls. GoToMeeting includes that as standard. No expensive fees for you, nor your customers.
Call queues: Don't give customers a bad impression if they call and head straight to voicemail. With GoToConnect, you can place incoming callers into a queue that informs them of how long their wait will be.
Reliability, support, and security
Since GoToConnect is a cloud-based phone provider, they're top-notch when it comes to security. All calls made through their network are encrypted. Plus, they offer privacy protection in the form of passwords and advanced privacy settings to put your mind at ease.
GoToConnect also adheres to all security standards. They credit themselves with always keeping your data safe, secure, and compliant with important security measures.
GoToConnect pricing options
GoToConnect has one Basic plan that includes access to all of its features. However, pricing depends on how big your team is:
1-4 users: $29.95 per user, per month
5-9 users: $25.95 per user, per month
10-24 users: $23.95 per user, per month
25-49 users: $21.95 per user, per month
For larger teams of 100+ people, like if you're running a call center or larger customer support team, prices are custom. You'll need to contact their team for a tailored quote.
3. OnSIP
OnSIP is a hosted PBX provider for small to medium-sized remote teams. They were recently acquired by Intrado.
Their product suite includes video conferencing and high-quality VoIP phone calls. It's designed to help businesses upgrade traditional landlines and switch to a modern alternative that moves with their team, wherever in the world they may be.
What are some of its top features?
Some of OnSIP's essential office phone system features are:
Live website chat: Also referred to as sayso, OnSIP customers get access to a live chat tool in their VoIP phone package. It integrates with HubSpot and helps business owners communicate with potential customers browsing their website.
Conference bridges: Host phone calls with several people on your team with a conference bridge. You can have up to 15 people join a group phone call using OnSIP. However, this does come at an extra cost on top of their basic plans.
Extension dialing: If you have a larger team, make sure customer calls are routed to the correct department with extension dialing. For example, they can add ";582" to the end of your business' phone number to reach your sales team.
Reliability, support, and security
Calls made through OnSIP's network are secure and encrypted—voice calls, and calls to landlines included. They're also HIPAA and PCI compliant.
As for reliability, OnSIP has several data centers so that if a single server fails, your phone system will always have another to run through. But OnSIP prides itself on world-class customer support. You'll always have someone to speak to should any issues crop up.
OnSIP pricing options
OnSIP has three main pricing plans for businesses using their phone software:
Basic Plan: Prices start from $49.95 per user, per month. There's also a 2.9 cent per minute calling rate if you're making calls outside of the United States.
Unlimited Plan: Prices start from $18.95 per user, per month. This includes new desk phones or VoIP headsets to replace your old equipment. However, there is a five-user minimum for businesses wanting to use this plan. That's a minimum monthly charge of $94.75 for their ultimate plan.
sayso Voice and Video Chat: Prices are up to $49.95 per month, depending on the size of your team. This is the only package that includes voice and video conferencing. You'll need to add the cost to one of the plans above.
4. Phone.com
Phone.com is a business phone system provider. They were founded 10 years ago to give entrepreneurs and small businesses an easier way to manage their communication.  Now, they have over 40,000 customers in a variety of industries.
What are some of its top features?
Phone.com offer 50+ features as standard in their business phone system packages, including:
Local numbers: Making phone calls to customers all over the country? Use an area code for each location you're calling. It could make them more likely to pick up.
Vanity numbers: Ditch hard-to-remember sequences and make it easier for customers to recall your business phone number. You can use vanity numbers to create a numeric sequence or text-based number, like 800-BUSINESS.
Voicemail to text: If you have a large number of incoming calls, it's inevitable that some people might go to voicemail. Have those messages transcribed and sent to your inbox so you never forget to follow-up with them.
Reliability, support, and security
When it comes to security, Phone.com automatically enables secure VoIP on every call. This means SRTP and TLS encryption comes as standard—and nobody can eavesdrop on your business calls.
Phone.com's downtime is limited because they offer several carrier options. If there's an issue with one carrier in your area or the person you're calling, Phone.com will route your call to another carrier so you'll always be connected.
They also offer 24/7 customer support by live chat, phone, or email.
Phone.com pricing options
Phone.com offers three different pricing plans depending on the size of your team, the features you need, and whether you'll be paying monthly or annually:
Base Account: This plan starts at $12.99 per user, per month. That allows up to 300 monthly minutes, 2,000 text messages, and one local or toll-free number. There's a 30-day money-back guarantee on this plan.
Plus Account: For more minutes and texts, along with premium hold music and their voicemail to text feature, pricing starts at $19.99 per account, per month.
Unlimited Extension: Pricing starts at $29.99 per user, per month. This includes all of their features and is the only package that allows employees to host video conferences.
5. Mitel
Mitel offers a suite of business communication tools including a VoIP phone system, contact center, collaboration software. They have two types of packages: one for small businesses, and another for midsize and enterprise businesses. Both are designed to be the only package a business needs to manage its communications.
What are some of its top features?
Mitel's cloud phone system includes some great features like:
Call analytics: See real-time analytics for calls being made through your network. With it, you can detect phone fraud, improve customer service, and build an accurate library of customer feedback.
Integrations: Sync your call data with tools like Microsoft Teams, Chrome browser, Google Cloud, and Salesforce.
IVR routing: Use Interactive Voice Response (IVR) technology to greet direct incoming callers, ask what they need help with, and route them to the right department automatically.
Reliability, support, and security
Mitel has 99.999% SLA performance and two data centers to keep your business communications up and running, even if one location runs into a problem. They also publish a list of security advisory warnings online for you to investigate before buying.
They also have an online training hub that guides you through how to set-up their business phone system. That's great if you'd rather service yourself, rather than have someone physically talk you through it.
Mitel pricing options
Mitel has three main plans for their business VoIP packages. Not all team members have to be on the same plan; you can mix and match the plans your team are on, depending on the features each person needs:
Essentials: This plan starts from $20.99 per user, per month. This grants you access to their basic features like a cloud-hosted PBX, collaboration, and conferencing tools.
Premier: Prices start at $26.59 per user, per month. This includes the features from the above plan, plus CRM integrations and call recording. According to Mitel, this is their most popular plan.
Elite: Prices start at $38.49 per user, per month for this plan. It includes all features.
6. Sangoma
Sangoma is a unified communications suite for business customers. They provide both cloud-based and on-premise phone systems, meaning you have the option to use their tools for each type of phone service. Small businesses in over 150 countries use Sangoma to communicate with both internal and external people—without the hefty price tag.
What are some of its top features?
Sangoma's VoIP phone service offers some great features, including:
Call transfers: Easily transfer your call to another staff member using this feature. It's great if someone gets put through to the wrong department, or a customer wants to speak with someone they've already discussed an issue with before.
Custom caller ID: Have your business' name appear on the caller ID, instead of your phone number. This could make customers more likely to pick-up your calls.
Virtual switchboard: Get a clear picture of your business' communication with their switchboard. It allows you to make, transfer, and park calls directly from your web browser.
Reliability, support, and security
Sangoma's virtual phone service uses a Session Border Controller (SBC)—a feature designed to monitor calls being made through your business' SIP network. They say this can help protect against VoIP threats, and encrypt the phone line so calls are crystal clear. There's little chance of anyone eavesdropping.
At the time of writing, Sangoma's uptime is relatively good. Their last incident was reported in June 2020; the one prior a year earlier. Both of those issues were resolved within the day.
Sangoma pricing options
All plans for Sangoma's VoIP phone service include key features you'll need. But, plans are divided into two groups, depending on how reliable and consistent you want your billing to be:
Unlimited: Pricing starts from $19.99 per seat, per month. This includes unlimited minutes for companies who need predictable billing.
Metered: For a smaller fee of $12.99 per seat, per month, their metered plan includes all of their features. This is similar to a pay-as-you-go option. You'll get access to their customer support teams from the base price. Calls are billed on top and can be charged upwards of $0.023 per minute. However, there is a five-seat minimum for this plan.
7. 8×8
8×8 is a VoIP service provider for businesses. Their suite of products includes all types of communication—including video, mobile, and text. Each runs through a company's privately hosted PBX platform managed by 8×8.
What are some of its top features?
The exact features you'll get depend on which plan you choose. But some of the best features 8×8 have on offer are:
International calls: Got a customer base spread all over the world? 8×8 plans tend to favor more worldwide calling. The company's top-priced plan allows for unlimited international calls to 47 countries — without incurring extra calling charges.
Team chat: Make it easier for your internal team to communicate, share files, and have private conversations.
Advanced conferencing tools: Staff can create their own virtual meeting rooms, and host live streams, with this feature. You can also store recordings of conference calls in your own cloud-hosted drive.
Reliability, support, and security
8×8's VoIP service is ISO certified, which means they operate to a high level of security. They also have additional certifications, like HIPAA and SOC compliance, to protect the information flowing through your VoIP service.
They also have data centers located across the country. Should one go down or become redundant, your network will automatically run through another data center. That means little-to-no downtime.
Not all plans provide live phone support. When you need help and it isn't available, you might be compelled to look for 8×8 alternatives.
8×8 pricing options
8×8 has three pricing tiers depending on the features you need access to:
Small Business Phone System: Prices start from $12 per user, per month. This includes access to essential features like call routing, auto attendants, and unlimited VoIP calling within the U.S. and Canada. Live support is excluded in this plan.
All-in-one Voice, Video, and Chat: For unlimited international calls to 14 countries, plans start from $24 per user, per month. This also includes a variety of conferencing tools, along with SMS, team, and MMS chat functionality.
Analytics for Administrators and Supervisors: Pricing starts from $44 per user, per month. You'll get all of the features discussed so far, along with unlimited voice calls to 40+ countries and advanced reports.
8. Zoom
Zoom is best known for helping businesses host virtual meetings. However, they also offer other communication features through their virtual platform, including a phone system that allows you to make and receive business calls.
What are some of its top features?
Zoom has some great features on offer in their communications package, including:
High-quality audio: Video and audio calls made through Zoom's VoIP network are high-quality and secure. It beats a traditional landline.
Integrations: With Zoom being such a popular tool for hosting meetings, they integrate with tons of other tools—including Slack, G Suite, Zapier, and Calendly.
Intelligent call routing: Have your business always open to take calls. Zoom Phone's call routing capability can route calls to specific employees or departments, depending on their availability.
Reliability, support, and security
With Zoom being such a popular platform to host meetings, they are more vulnerable to hacks. There have been some reports of Zoom hacking. However, users can reduce the risk of having anyone eavesdrop on their calls by setting secure passwords for their phone lines and meeting rooms.
Zoom recently announced that they're offering end-to-end encryption on calls through their platform. This makes it impossible for anyone to listen in on your conversations.
And, according to one platform, Zoom had the most reliable performance for smooth streaming experiences.
Zoom pricing options
Zoom has a free plan that allows you to host meetings. But for access to their phone system, you'll need one of these plans:
US & Canada: Pricing starts from $120 per user, per year. That includes a custom U.S. and Canada number, and metered rates for any calls your team makes. For unlimited regional calling in the US and Canada, you'll be looking at a cost of $180 per user, per year.
Pro Global Select: Pricing starts from $240 per user, per year. This includes unlimited domestic calls in 40 countries. There's also an optional add-on to make and receive unlimited calls from 18 others.
Zoom United Business: Pricing starts from $300 per user, per year. This includes access to all features in their VoIP phone service, alongside meetings up to 300 people and company branding, However, there is a minimum of 10 seats required on this plan.
9. Aircall
Aircall is a VoIP platform designed for contact centers. It integrates with helpdesk and CRM software and is designed to be the only tool a business would need to manage conversations with their customers.
What are some of its top features?
Aircall offers some great features in their cloud phone system packages, like:
Call analytics: See important data about conversations—like call volume, average wait times, and missed call rates—both on a team and individual basis.
Custom business hours: Have calls routed to team members based on their working hours. It stops incoming calls from heading to voicemail. Another staff member can take their call.
Call tags: Similar to a CRM tool, you can look inside your dashboard and tag each type of conversation you've had with people. It's easier to tag those conversations than listen to snippets of each conversation for context on what the call was about.
Reliability, support, and security
Aircall has had some minor outages and downtime recently, according to StatusGator. Most of these relate to network issues and problems with outbound calls.
However, Aircall reports 99.99% uptime because they have seven data centers worldwide. Should one go down or experience issues, they'll automatically route your business phone system through a functioning one.
Communication—including voice calls, video calls, and messages—sent through Aircall's platform is encrypted. These centers are provided by Amazon Web Services; a reliable and secure infrastructure with extensive disaster recovery plans.
Aircall pricing options
Aircall has two main pricing tiers as explained below. But for extra features like unlimited worldwide calls, custom analytics, and personal onboarding, you'll need to call for a custom quote:
Essentials: Pricing starts from $30 per user, per month. This includes unlimited outbound calls (except toll-free calls), voicemail, and phone support.
Professional: Pricing starts from $50 per user, per month. This is the only package that includes all basic features alongside call monitoring, advanced analytics, and unlimited simultaneous outgoing calls. You also have a dedicated account manager to help with any support questions.
10. Dialpad
Dialpad is a business communications platform that runs through the cloud. It's built on artificial intelligence (AI). Their APIs are designed for both small and large businesses to make and receive calls from any location, using the devices they've already got.
What are some of its top features?
Some of Dialpad's best features include:
Artificial intelligence: Their algorithms understand what your callers ask about, and predict what your sales and support teams might be dealing with on incoming calls.
Port your own number: If you have a business phone number that's already well-known and recognized, you can use Dialpad's porting service to tie your existing phone number to your new platform.
Spam blocking: Ditch the automated spam calls with Dialpad's spam blocking filters. The only incoming calls you'll receive are those from people genuinely interested in talking to you.
Reliability, support, and security
Calls made on Dialpad's VoIP network are stored in a Google Cloud Platform that is encrypted using TLS. They're also committed to helping companies be compliant with local laws and privacy regulations, including GDPR and HIPAA. Plus, extensive user settings mean you can choose who you grant and deny access to your phone system to, on an employee-by-employee basis.
As for reliability, Dialpad stores backups of all information. In the unlikely event that the worst does happen, and your phone system goes down, Dialpad will be able to restore your entire system like nothing happened.
Dialpad pricing options
Dialpad has three plans for businesses using their phone service. It isn't always limited by feature, though. Some plans need a minimum number of licenses to qualify:
Standard: Pricing starts from $15 per user, per month.
Pro: To get access to essential features like 24/7 phone support and local numbers for 50+ countries, you'll need their Pro plan. That starts from $25 per user, per month. There's a three license minimum for this plan.
Enterprise: This plan has a minimum of 100 licenses and includes all features. Pricing for this is custom; you'll need to reach out to their sales team for a quote.
Why is Nextiva the top alternative to Grasshopper?
While Grasshopper offers some good functionality for businesses, it falls short when compared to Nextiva.
Nextiva has a 4.7-star rating on GetVoIP, with over 93% of customers recommending its business phone system.
Customers often reference Nextiva's outstanding customer service and support. It's why Nextiva coined the term Amazing Service and made it an integral part of its team culture. When it comes to physical and network security, Nextiva has top-grade security with calls going through one of 8 military-grade data centers in the United States.
Nextiva has all the essential and advanced phone, communication, and collaboration features your business needs. With a variety of pricing options for businesses at any stage, this is why we have Nextiva listed as the top alternative to Grasshopper.
Grasshopper, GoToConnect, OnSIP, Phone.com, Mitel, Sangoma, 8×8, Zoom, Aircall, and Dialpad have no relationship with Nextiva, Inc. and are the registered trademarks of their respective owners.