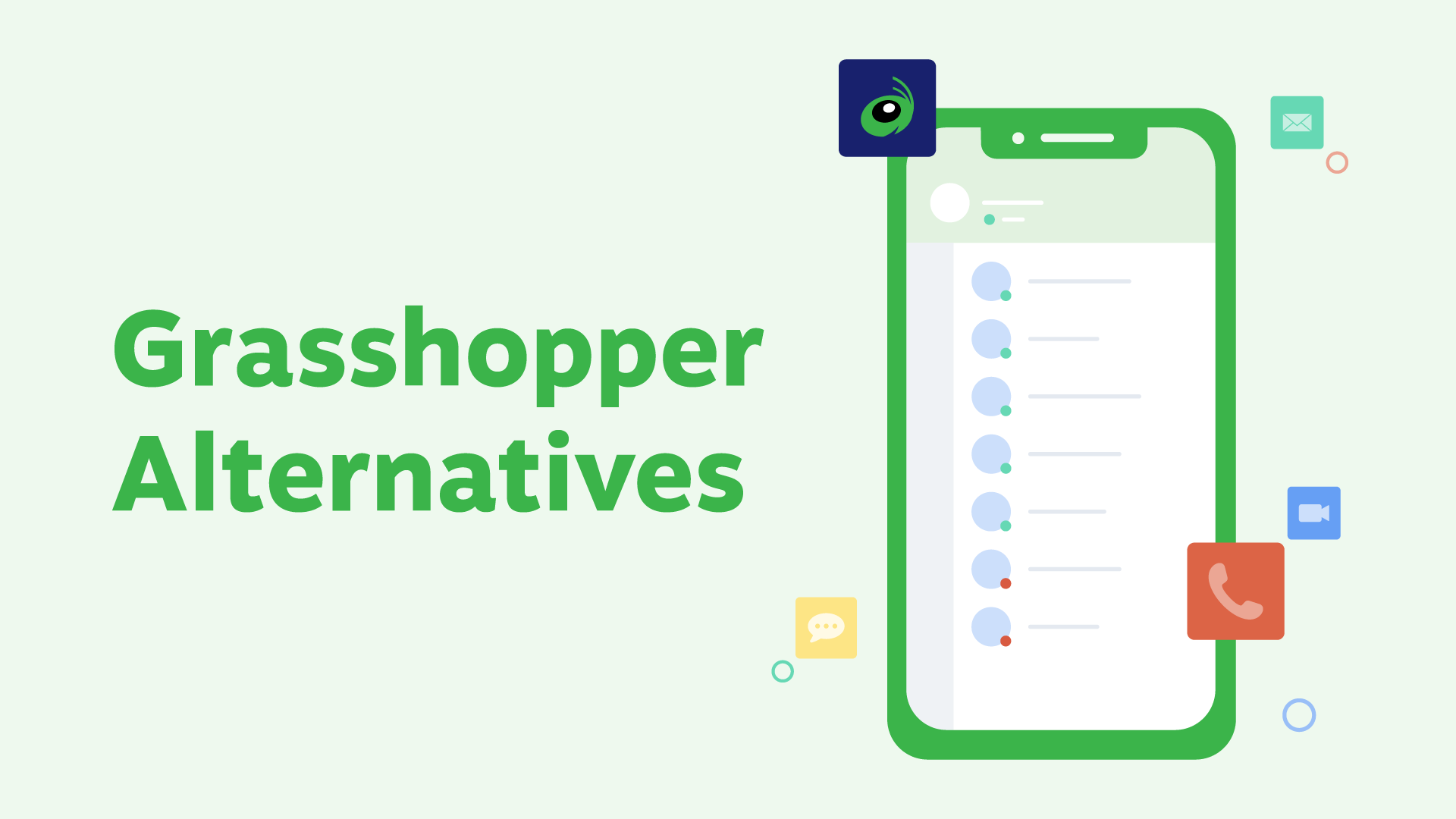 It's likely you're here because you want something better than Grasshopper. We hear you.
We took a few weeks to research and compare several Grasshopper alternatives based on the factors most important to businesses searching for a new virtual phone system.
Our analysis includes the following considerations:
Top features
Ease of use
G2 ratings
Customer service support
Security and reliability
Pricing per user
So if you're looking for a more capable phone system than Grasshopper, we've got you covered. Below is a comprehensive list of the finalists we found when evaluating the 10 best Grasshopper alternatives.
1. Nextiva
G2 rating: 4.4 out of 5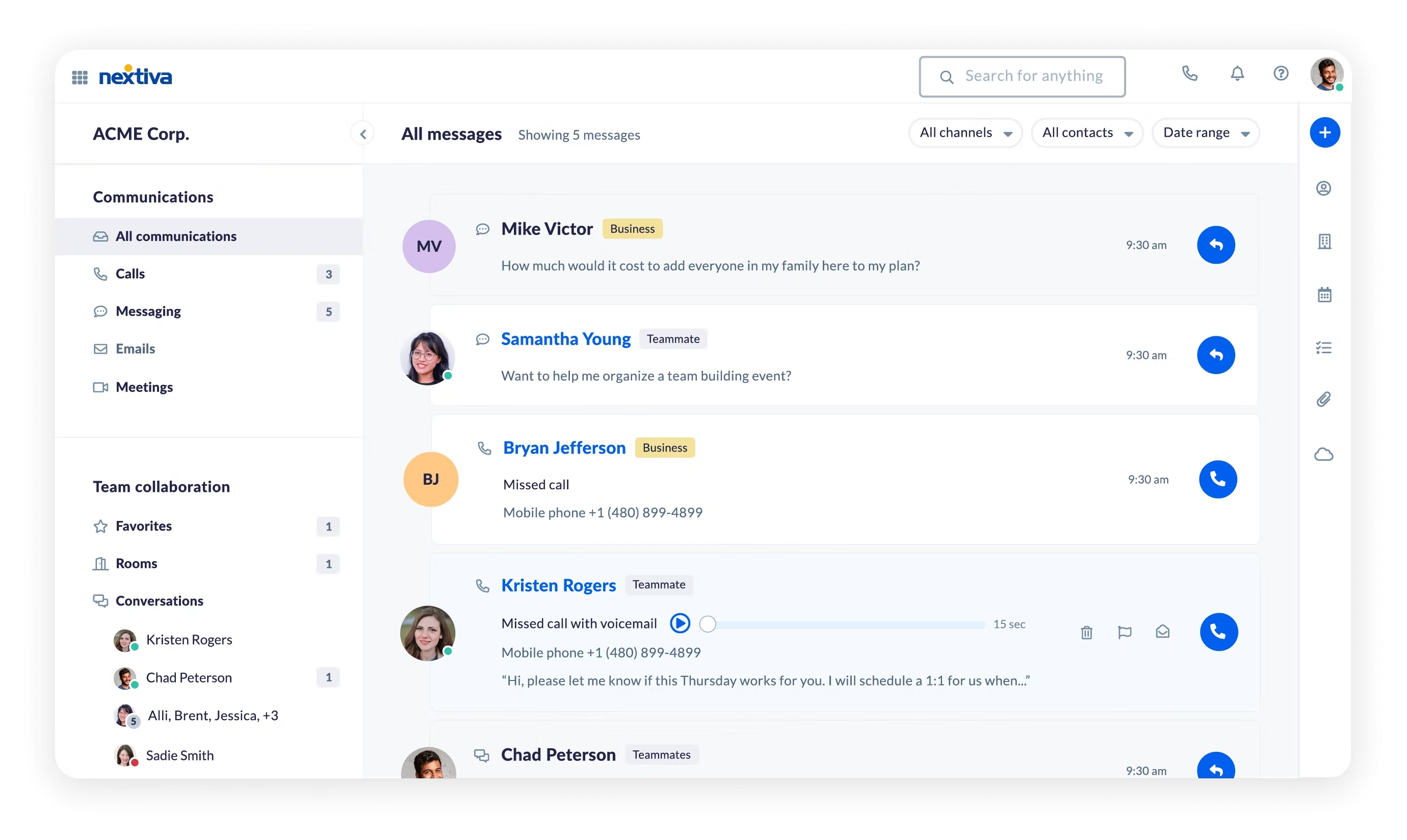 Nextiva is a VoIP provider that offers a variety of communication and collaboration features for businesses of all sizes. U.S. News named it the best business phone system for four years running. Third-party review sites also rate Nextiva highly compared to other solutions.
More than 100,000 businesses across the U.S. use Nextiva for its VoIP service. Notable customers include Amazon, Cisco, Netflix, and the Pac-12 Conference. Nextiva has been helping companies supercharge their phone systems since 2006.
Nextiva pricing options
There are three plans for Nextiva, with pricing as low as $17.95 per month. The cost also depends on the number of seats a business needs for its plan and whether customers pay monthly or annually.
Below is a more detailed breakdown of each price plan:
Essential: Plans start as low as $17.95 per month. This plan is ideal for small businesses. It features unlimited calling, peer-to-peer video chat, and a complimentary toll-free number.
Professional: Plans start as low as $21.95 per month. This plan is an excellent fit for smaller teams. It has all the upgraded essential features, screen sharing, multi-level auto attendant, integrations, and more.
Enterprise: Plans start as low as $31.95 per month. This plan can support small-to-medium-sized teams. It has all the upgraded enterprise features plus voice analytics, call recording, voicemail transcription, and more.
Pros of Nextiva
99.999% uptime with carrier-grade data centers
A complete unified communications tool with all the features you need to communicate internally and externally
Call Pop gives the information you need about a customer before answering incoming calls.
Cons of Nextiva
Not ideal for solopreneurs, but it's best for startups, small businesses, and enterprises.
Business communication features may be overwhelming to some users.
A high-speed internet connection is required, which is a downside of VoIP.
How easy is it to set up?
Nextiva is incredibly easy to use, even amongst users unfamiliar with cloud-based phone service. Once your subscription is active and settings configured, sales and support teams download the NextivaONE mobile app to communicate internally and externally.
What are some of its top features?
Nextiva has a robust VoIP phone service with more than 40+ standard and advanced features, several of which include:
Reliability, support, and security
Nextiva has outstanding enterprise network reliability with eight carrier-grade data centers with 'round-the-clock monitoring.
With nearly zero downtime, you can serve more customers with confidence. The company's eight points of presence have you covered with redundant connectivity.
Nextiva is certified with multiple security standards. Its data centers are ISO/IEC 27001 compliant. It's SOC 2 compliant for storing data in the cloud, PCI compliant, and HIPAA compliant regarding sensitive healthcare patient data.
2. GoTo Connect (formerly Jive)
G2 rating: 4.4 out of 5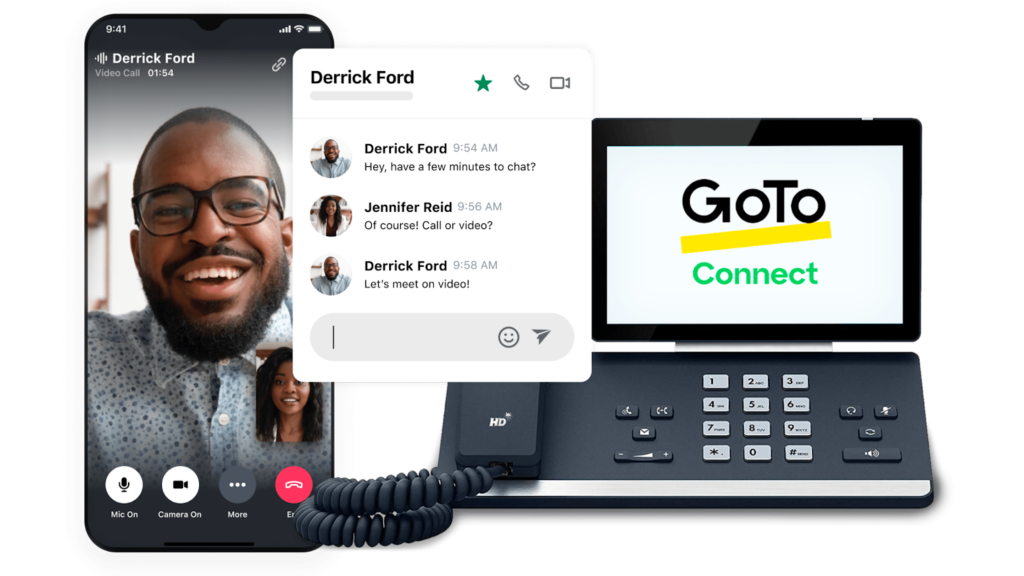 Nextiva is a professional VoIP system. GoTo Connect is a good alternative if you're a startup looking for a business phone system with fewer features.
GoTo Connect is a VoIP phone service formerly known as Jive. It's run by the team at GoTo, which also runs LogMeIn. Their suite includes additional products for conference room calls, delivering training, and running online webinars.
GoTo Connect pricing options
GoTo Connect has one Basic plan that includes access to all of its features. Pricing depends on how your team size, from $27 per month for up to four users, to $43 per month for its standard package.
Pros of GoTo Connect
99.999% uptime
Enterprise-level security
24/7 customer support
User-friendly interface
Cons of GoTo Connect
SMS is limited; no plan offers unlimited business text messaging
Reporting isn't as advanced as other VoIP services
The basic plan limits video conferencing participants to four people
There aren't too many API integrations
How easy is it to set up?
GoTo Connect has a single administrative portal, making accepting and receiving business calls easy. This installation is similar to Nextiva's VoIP phone service.
What are some of its top features?
GoTo Connect's VoIP packages include a handful of features that businesses need from their phone service, such as:
International calling plans
Hold music and call queues to keep callers on the line
Web-based video conferencing for up to 250 participants
Drag-and-drop editor to configure call flows
Integrations with tools like HubSpot, Zendesk, and Microsoft
Reliability, support, and security
Since GoTo Connect is a cloud-based phone provider, they actively monitor for security threats. All calls made through their network are encrypted. Plus, they offer privacy protection in the form of passwords and advanced privacy settings to put your mind at ease.
GoTo Connect also adheres to all security standards. They credit themselves with keeping your data safe and compliant with essential security practices.
3. OnSIP
G2 rating: 4.1 out of 5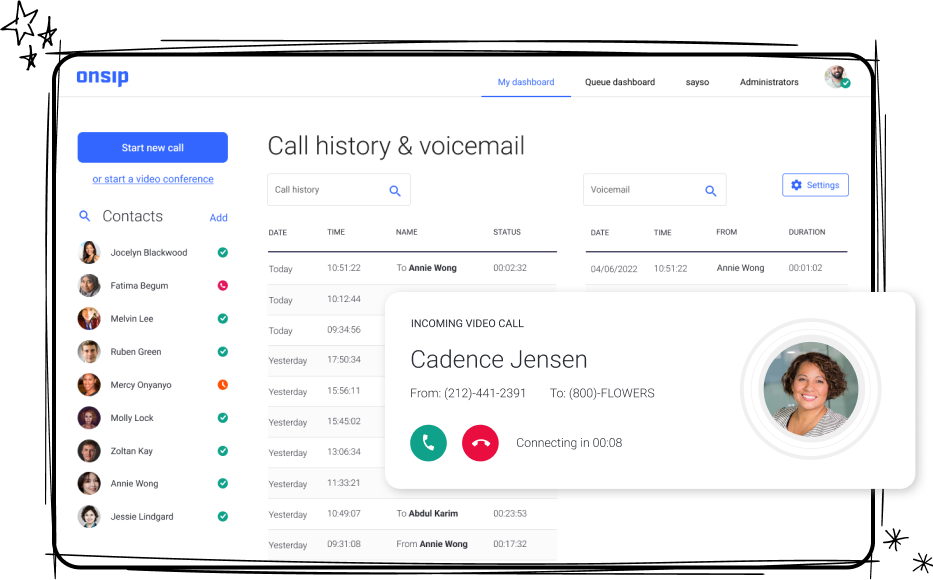 With its suite of advanced features, Nextiva might feel overwhelming if you're moving from traditional landlines to VoIP for the first time. OnSIP is an alternative to RingCentral and Grasshopper in the U.S. or Canada.
OnSIP is a hosted PBX for small to medium-sized remote teams. Its product suite includes video conferencing and high-quality VoIP phone calls. As a strong Avaya alternative, the platform is designed to help businesses upgrade traditional landlines and switch to a modern alternative that moves with their team, wherever they may be.
OnSIP pricing options
For OnSIP's basic plan, prices start from $49.95 per month. Calling minutes aren't included — $0.032 per minute.
Prices for its unlimited plan start from $18.95 per month. This includes new desk phones or VoIP headsets to replace your old equipment. However, there is a five-user minimum for businesses wanting to use this plan, so expect to pay at least $94.75 monthly.
Pros of OnSIP
Overall good ease of use and installation
Low pricing plan for small businesses with light usage
Only pay for the features you use with add-ons
Cons of OnSIP
It can become expensive for small businesses that use multiple add-ons
Calling minutes are not included in plans, which adds up for support teams
Only available for companies in the U.S. or Canada
How easy is it to set up?
OnSIP prides itself on being easy to set up, promising businesses a complete cloud phone system they can have up and running within an hour. No extra hardware is needed.
What are some of its top features?
Some of OnSIP's essential office phone system features are:
Live website chat
Auto attendants
Announcements (caller notifications)
Call recording
Softphone dialer
Reliability, support, and security
Calls made through OnSIP's network are secure and can be encrypted — from softphone dialer apps and VoIP phones to landlines. They're also HIPAA and PCI-compliant.
As for reliability, OnSIP has several data centers, so if a single server fails, your phone system will always have another to run through. But OnSIP prides itself on world-class customer support. You'll always have someone to speak to should any issues crop up.
4. Phone.com
G2 rating: 3.3 out of 5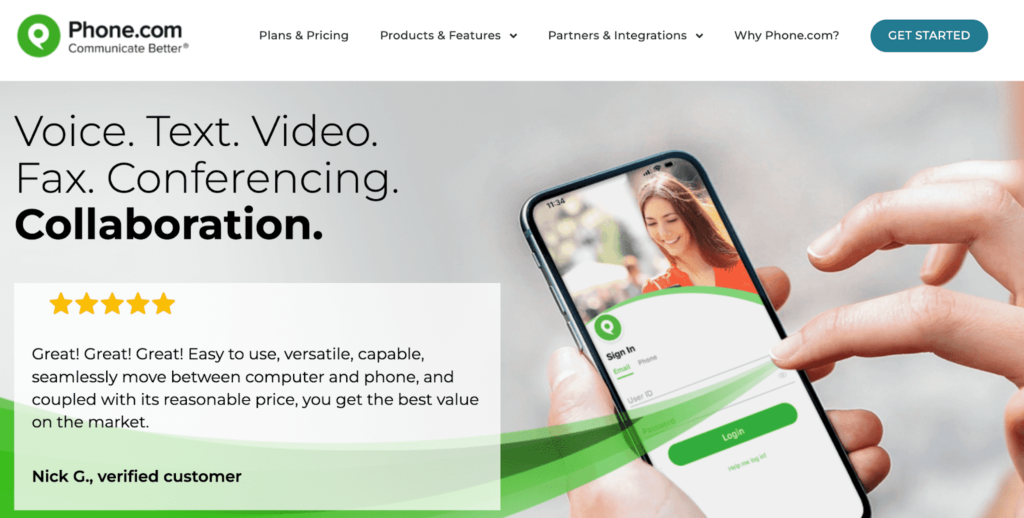 Nextiva is a communications platform that allows teams to collaborate. If you're solely looking for a VoIP phone system, consider Phone.com.
As a Grasshopper alternative, Phone.com is a business phone system provider to check out. The company was founded 10 years ago to give entrepreneurs and small businesses an easier way to manage their business communication. Now, they have over 50,000 customers in a variety of industries.
Phone.com pricing options
Phone.com offers three different pricing plans (billed annually) depending on the size of your team, the advanced features you need, and whether you'll be paying monthly or yearly:
Basic: The basic plan starts at $11.99 per month. That allows up to 500 shared minutes, 1,000 text messages, and one local or toll-free number. This price plan provides only web and mobile app (Android and iOS) connectivity.
Plus: For unlimited minutes and texts, along with video conferencing and their voicemail-to-text feature, Plus pricing starts at $15.99 per account per month. This price plan provides IP desk phone connectivity.
Pro: Pro Pricing starts at $23.99 per month. This includes all features and is the only package providing call recording, call analytics, and CRM integrations.
Pros of Phone.com
24/7 customer support by live chat, phone, or email
Low monthly price ideal for small teams
All plans include a 30-day money-back guarantee
Cons of Phone.com
Some G2 reviewers complain of poor customer service
The interface isn't very user friendly
The basic price plan is too limited for typical small businesses
How easy is it to set up?
Unlike Nextiva, Phone.com isn't the easiest business phone system to set up. One customer who reviewed Phone.com on G2 said, "I dislike how ancient and clunky the site is. Not very user friendly. The site may take some getting used to as well as learning how to navigate it."
What are some of its top features?
Phone.com offer 50+ features across their business phone system packages, including:
Business text messages (add'l fee)
Voicemail to text
Phone number porting
Local business phone numbers with area codes for each location
Hold music
Reliability, support, and security
Phone.com automatically enables secure VoIP on every call. SRTP and TLS encryption is standard — nobody can eavesdrop on your business calls.
Phone.com's downtime is limited because they offer several carrier options. If there's an issue with one carrier in your area or the person you're calling, Phone.com will route your call to another carrier so you'll always be connected.
5. Mitel
G2 rating: 3.8 out of 5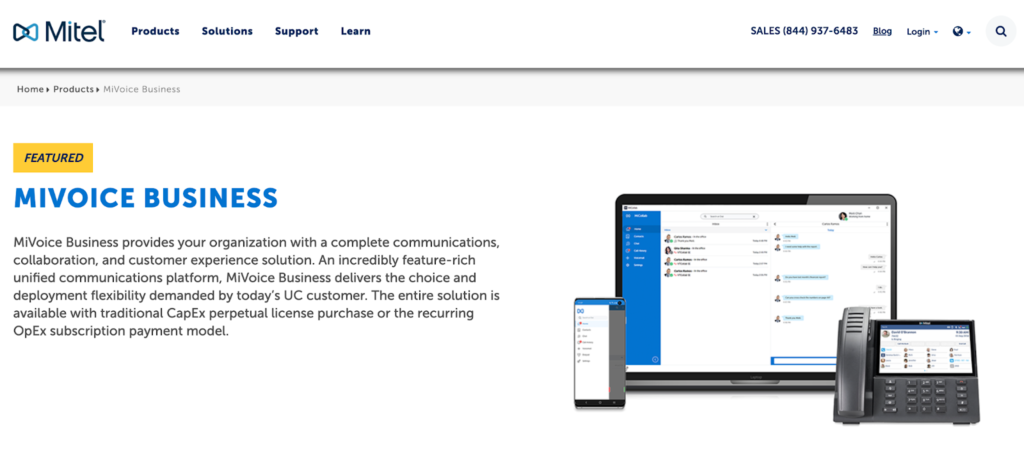 Much like the other Grasshopper alternatives we've shared (including Nextiva), Mitel offers a suite of business communication tools, including a VoIP phone system, contact center, and collaboration software.
Mitel has two types of packages: one for small businesses and another for enterprise businesses. Both business VoIP plans are designed to be the only solution a company needs in a communications platform.
Mitel pricing options
Mitel has three main plans for its business VoIP packages:
Essentials: This plan starts from $20.99 per month. This grants you access to features like a cloud-hosted PBX, collaboration, and conferencing tools.
Premier: Prices start at $26.59 per month. This includes the above plan's features, CRM integrations, and call recording. According to Mitel, this is their most popular plan.
Elite: Prices start at $38.49 per month for this plan. It includes all features.
Pros of Mitel
Unified communications platform integrates with RingCentral
Cloud telephony is ideal for large corporate deployments
Attractive hardware, including VoIP desk phones
Cons of Mitel
Cloud phone system pricing isn't publicly shown on its website
Product names can confuse small business owners, such as MiTeam Collab to MiTeam Meetings
GetVoIP reviewers report poor call quality and customer support, and limited contact center capabilities
How easy is it to set up?
Much like Nextiva, Mitel has an online training hub that guides you through how to set up their virtual phone system. That's great if you'd like to provision yourself than have someone physically talk you through it.
However, small business owners will likely feel intimidated by Mitel's feature-rich VoIP solution with many collaboration features.
What are some of its top features?
Mitel's cloud phone system includes some great features like:
Team collaboration and video calls
Video conferencing
Integrations with Microsoft Teams, Chrome browser, Google Cloud, and Salesforce
Interactive Voice Response (IVR) technology to greet direct and divert callers
Mobile app dialer to provide business phone number connectivity (iOS/Android)
Reliability, support, and security
Mitel has 99.999% SLA performance and two data centers to keep your business communications up and running, even if one location has a problem. They also publish a list of security advisory warnings online for you to investigate before buying.
Reliability, support, and security
Mitel has 99.999% SLA performance and two data centers to keep your business communications running, even if one location runs into a problem. They also publish a list of security advisory warnings to investigate before buying.
6. Switchvox by Sangoma
G2 rating: 4.2 out of 5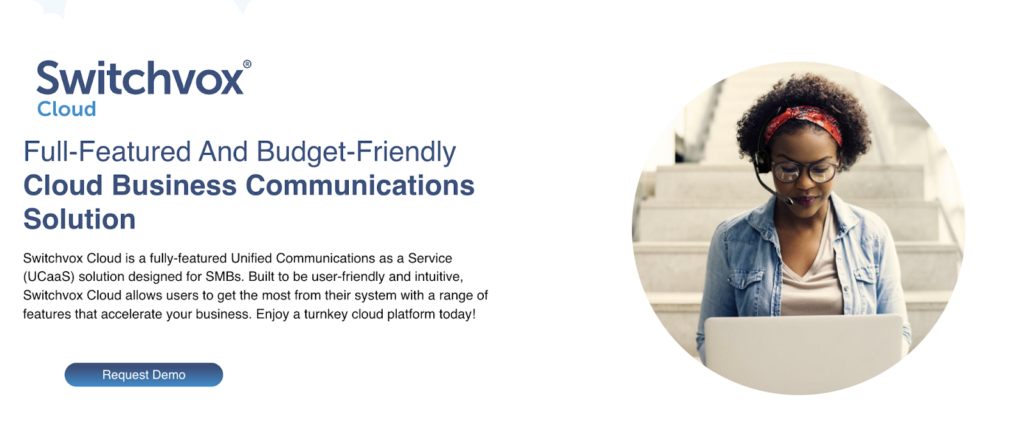 If you're looking for a different business phone system than Google Voice or Vonage, consider Switchvox by Sangoma.
Sangoma is a unified communications platform for small businesses. Its products lean toward the on-premises office phone system variety and its cloud option. This way, users have the choice to use wired phone lines.
Small businesses in over 150 countries use Sangoma to communicate with both internal and external people — without the hefty price tag.
Sangoma pricing options
All plans for Sangoma's VoIP phone service include key features you'll need. They offer two plans, each designed for businesses of the following sizes:
Cloud Premium Plan: For the small business plan, pricing starts from $26.99 per user (min. 5–19 users) with a three-year contract. Toll-free usage starts at $0.019/minute.
Cloud Ultimate: At $23.99 per user (min. 20+) with a three-year contract, this plan is designed for large businesses with few workforce changes. Toll-free usage starts at $0.025/minute.
Pros of Switchvox by Sangoma
iOS and Android apps to turn any smartphone into a business cell
Satisfy the craving for an on-premises VoIP phone system with many UC features
Integrate with tools like Microsoft Teams, Outlook, Salesforce, and Zendesk
Cons of Switchvox by Sangoma
Pricing is complicated, with lengthy contracts for a competitive price
Its communication platform is only available to businesses in North America
Some customers complain of subpar customer service
How easy is it to set up?
Customers say Switchvox by Sangoma is easy to use and set up. This makes sense — its business communication software is geared towards small businesses with technical staff familiar with on-prem VoIP.
What are some of its top features?
Sangoma's VoIP phone service offers some great features, including:
Voicemail to email functionality
Hot desking, which is ideal for offices with remote teams
Call transfers to quickly divert your call to another staff member
Custom caller ID to show your company name alongside an incoming call's phone number
Virtual switchboard to make, transfer, and park calls directly from your web browser
Reliability, support, and security
Sangoma's virtual phone service uses a Session Border Controller (SBC) — a feature designed to monitor calls made through your business' SIP network. They say this can help protect against VoIP threats and encrypt phone calls. There's little chance of anyone eavesdropping.
At the time of writing, Sangoma's uptime is relatively good. Their last incident was reported in February 2023; the two prior were a year earlier.
7. 8×8
G2 rating: 4.0 out of 5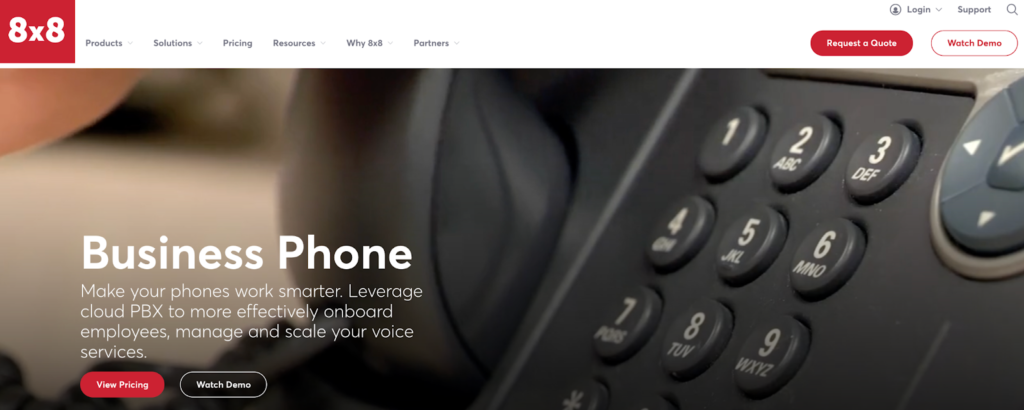 8×8 is a VoIP service for businesses; Nextiva is a complete business communications platform. 8×8's suite of products is used by more than two million business customers and includes all types of communication — including video, mobile, and text. Each runs through a company's privately hosted PBX platform managed by 8×8.
As a Nextiva alternative, it gives businesses VoIP features like auto attendants, call recording, and voicemail to email. As a Grasshopper alternative, 8×8 is a step up.
8×8 pricing options
8×8 has two pricing tiers depending on the features you need access to:
Express: Prices start from $12 per month. This includes access to essential features like call routing, auto attendants, and unlimited calling within the U.S. and Canada.
All-in-one Voice, Video, and Chat: For unlimited international calls to 14 countries, plans start from $24 per month. This also includes various conferencing tools and SMS, team, and text message functionality.
Advanced Call Handling and Analytics: For $44 per month, add unlimited users to your team and unlimited voice calling to 48 countries.
Pros of 8×8
Praised for its customer support
Data centers located across the country to improve reliability
Customers can access 8×8 University, an online education portal with mini-courses on how to use the tools
Cons of 8×8
Not all plans provide live phone support
Only three data centers in the U.S. (compared to Nextiva's eight)
The Express plan doesn't include 24/7 customer support
How easy is it to set up?
8×8 is incredibly easy to set up, thanks to its 8×8 University. The helpdesk portal includes mini-courses that walk through how to set up its VoIP phone system. Some users may find configuring auto attendants relatively complex compared to drag-and-drop call flows.
What are some of its top features?
The specific features you'll get depend on which plan you choose. But some of the best features 8×8 has include:
International calling to 14 countries
SMS, MMS, and team chat
Audio and video conferencing
Microsoft Teams integrations
Reliability, support, and security
8×8's VoIP service is ISO-certified, which means they operate to a high level of security. They also have additional certifications, like HIPAA and SOC compliance, to protect the information flowing through its VoIP service.
They also have data centers located across the country. Should one go down or become redundant, your network will automatically run through another data center. That means little-to-no downtime.
8. Zoom
G2 rating: 4.5 out of 5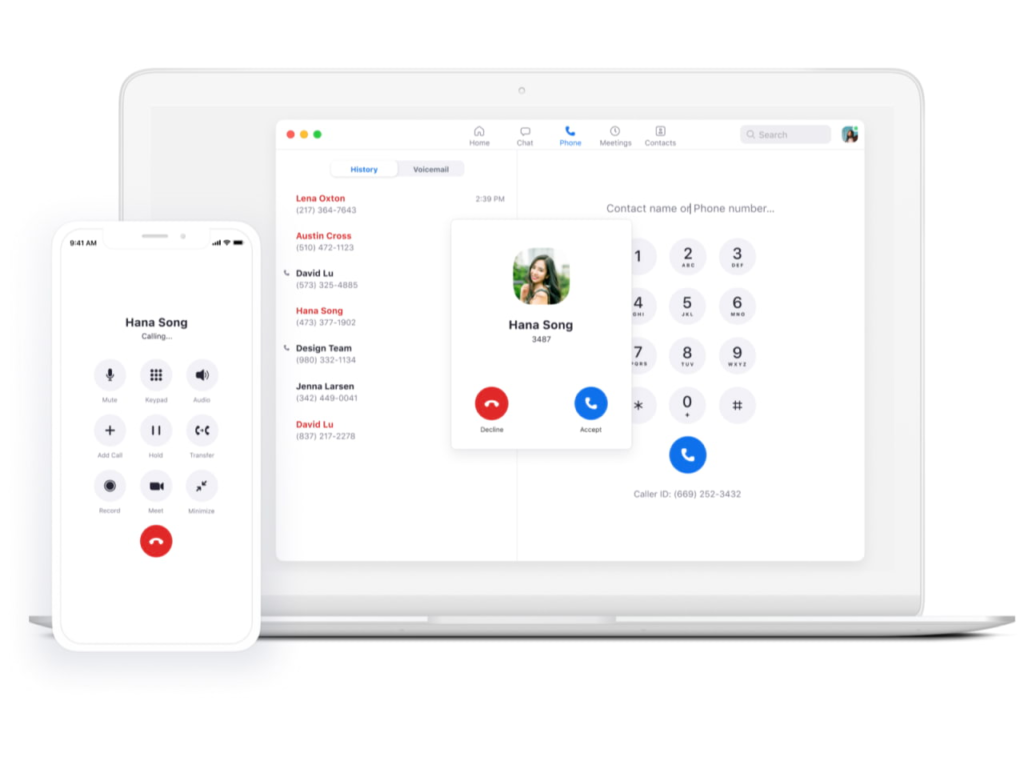 Zoom is best known for helping businesses host online meetings. However, they also offer other communication features through its Zoom Phone — a business phone servicethat allows users to make and receive calls. It's not as feature-rich as Nextiva, but it's a good alternative to Grasshopper.
Zoom Phone pricing options
Zoom Phone has a free plan that allows for video conferencing. But for access to its virtual phone system, you'll need one of these plans:
US & Canada: Pricing starts from $120 per year per user. That includes a custom U.S. and Canada number and metered outbound calling charges for every call your team makes. For unlimited regional calling in the U.S. and Canada, you'll be looking at the cost of $180 per year per user.
Pro Global Select: Pricing starts from $240 per year. This includes unlimited domestic and international calls in one of 40+ countries. There's also an optional add-on to make and receive unlimited calls between 19 others.
Pros of Zoom
Great brand recognition with external customers for video conferencing
Good customer support through live chat, email, or phone
Ideal for lighter outbound calling needs over a desktop and mobile app dialer
Cons of Zoom
Additional business phone numbers cost $60 per year
Reporting features aren't as advanced as other platforms like Nextiva
Premium dedicated customer support plans cost $675–1,900 monthly
How easy is it to set up?
Zoom surged in popularity during the pandemic because of its ease of use. Business customers using the Zoom Phone functionality have a similar customer experience. But, should you get stuck, its support options—from the online community to "getting started" guides can help.
What are some of its top features?
Zoom has some great features on offer in their communications package, including:
Integrations with Slack, Google, Zapier, and Calendly
Online whiteboard to collaborate visually mid-conference
Video and audio calls made through Zoom's VoIP network are high-quality and secure
Reliability, support, and security
Zoom is a more popular video conferencing solution than Grasshopper, so it's a breeze to set up and start a meeting.
Zoom recently announced that its platform offers end-to-end encryption on calls. This enhancement makes it impossible for anyone to listen in on your conversations. Despite media reports about Zoom hacking, the company has resolved those concerns with passwords and moderator PINs.
9. Aircall
G2 rating: 4.3 out of 5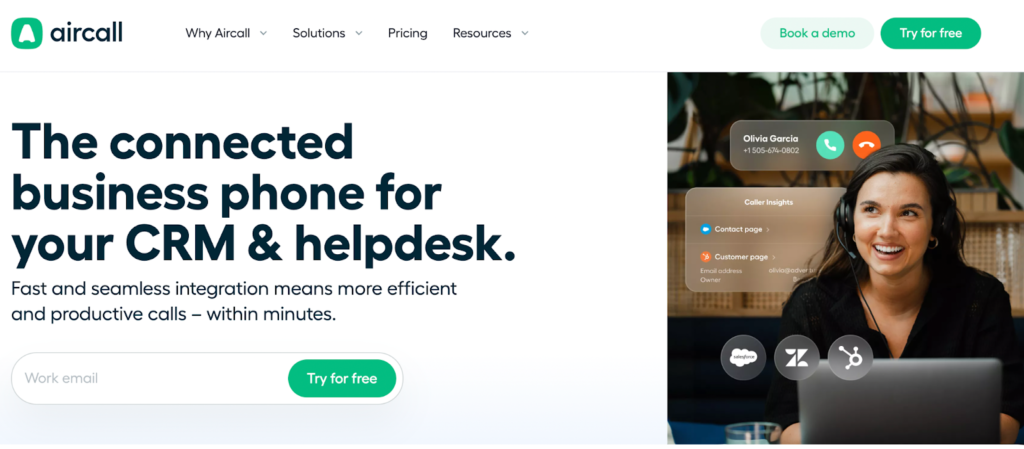 Like Nextiva, Aircall is a VoIP platform for contact centers. It integrates with helpdesk and CRM software and is designed to be the only tool a business would need to manage customer conversations. It's a strong Grasshopper competitor if you want VoIP call center functionality.
Aircall pricing options
Aircall has two main pricing tiers, as explained below. But for extra features like unlimited minutes worldwide, custom analytics, and personal onboarding, you'll need to call for a custom quote:
Essentials: Pricing starts from $30 monthly with a three-user minimum (billed annually). This includes unlimited calls within the U.S. and Canada (except toll-free calls) and voicemail transcription.
Professional: Pricing starts from $50 monthly with a three-user minimum (billed annually). This plan includes essential features alongside call monitoring, Salesforce CRM integration, and a power dialer.
Pros of Aircall
Softphone desktop and mobile apps
Get international numbers for 100+ countries
Its data centers are powered by Amazon Web Services for reliable telephony
Cons of Aircall
Lack of video conferencing features
It's designed for call centers, not specifically startups or small business owners
The basic plan can quickly become expensive for large call center teams
How easy is it to set up?
Aircall's cloud-based call center system is easy to set up. According to its website, you only need a headset, internet connection, and computer to get started, making it a good option for sales teams.
What are some of its top features?
Aircall offers some great features in their cloud phone system packages, like:
IVR menus and ring groups
Conversation tags to categorize and filter previous call recordings
Custom business hours to stop incoming calls from heading to voicemail
Analytics like missed call rate, call volume, and first-call resolution
Desktop notifications for incoming calls
Reliability, support, and security
Aircall has had some minor outages and downtime recently, according to StatusGator. Most of these relate to network issues, SMS delays, and problems with integrations.
However, Aircall reports 99.99% uptime because they have seven data centers worldwide. Should one go down or experience issues, they'll automatically route your business phone system through a functioning one.
Business communications are encrypted, including voice calls, video calls, and messages sent through Aircall's platform.
10. Dialpad
G2 rating: 4.4 out of 5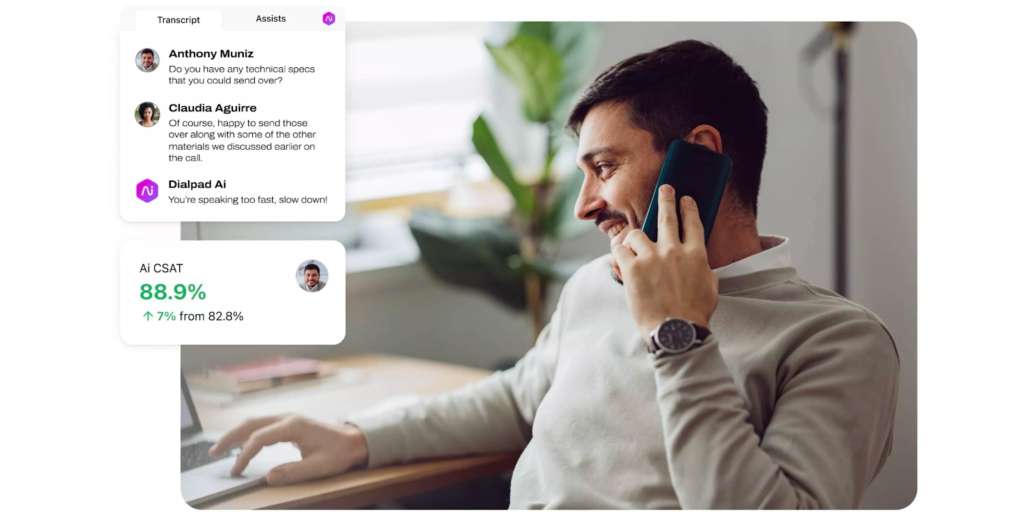 Dialpad is a Grasshopper alternative with almost as many advanced features as Nextiva. The main difference is that it's built on artificial intelligence (AI). Its solution is designed for both small and large businesses to make and receive calls from any location using the devices they've already got.
Dialpad pricing options
Dialpad has three plans for businesses using their phone service (price per user, billed annually):
Standard: Pricing starts from $15 per month. This includes unlimited calls and video meetings, AI-powered calls, and web chat support.
Pro: To get access to essential features like 24/7 phone support, CRM integrations, and local numbers for 70+ countries, you'll need their Pro plan. That starts from $25 per month.
Enterprise: This plan has a minimum of 100 licenses and includes all features. Pricing for this is custom; you'll need to talk to their sales team for a quote.
Pros of Dialpad
Dialpad stores backups of voicemails and call recordings in Google Drive
Artificial intelligence features to improve team productivity
100% uptime on enterprise plans
Cons of Dialpad
Group messaging is limited to nine non-Dialpad users
The basic plan only includes customer support through chat and the web five days a week
Video conferencing is limited to 150 participants per meeting (compared to 250 with Nextiva)
How easy is it to set up?
Dialpad prides itself on not requiring its business customers to hire IT consultants when setting up a new phone system. Users can initiate their first phone call quickly.
What are some of its top features?
Some of Dialpad's best features include:
Real-time call transcription and post-call summaries
Transfer your business phone number (porting)
AI-enabled coaching to help sales teams communicate more effectively
Predictive CSAT tools to anticipate and change customer satisfaction in real-time
Reliability, support, and security
Calls made on Dialpad's VoIP network travel through Google Cloud Platform, which is encrypted. They're also committed to helping companies comply with local laws and privacy regulations, including GDPR and HIPAA. Plus, extensive user settings mean you can choose who you grant and deny access to your phone system on an employee-by-employee basis.
Why is Nextiva the top alternative to Grasshopper?
While Grasshopper offers some good business functionality, it falls short compared to Nextiva.
Nextiva has a 4.6-star rating on GetVoIP, with over 92% of customers recommending its business phone system.

Customers often reference Nextiva's outstanding customer service and support. It's why Nextiva coined Amazing Service and made it an integral part of its team culture. Regarding physical and network security, Nextiva has superior reliability, with calls going through one of eight military-grade data centers in the United States.
Nextiva has all the essential and advanced phone, communication, and collaboration features your business needs. With flexible pricing options for businesses at any stage, we have Nextiva listed as the best Grasshopper alternative.
---
Grasshopper, GoTo Connect, OnSIP, Phone.com, Mitel, Sangoma, 8×8, Zoom, Aircall, and Dialpad have no relationship with Nextiva, Inc. and are the registered trademarks of their respective owners.