If you're looking for a Dialpad alternative, something has gone wrong.
And we get it. Not every communication platform is for everyone.
You want what you need and nothing else when you're a small business. The allure of AI doesn't appeal quite as much, and you're not ready to scale to the major components it promises.
If you've had a play with Dialpad and have found yourself looking for an alternative phone system, you're in the right place.
In this post, we tested and compared over 25 different Dialpad alternatives and distilled them to the top 10.
| Company | Best For | Falls Short On | Pricing |
| --- | --- | --- | --- |
| Nextiva | Small businesses looking to move quickly and want one phone system for all their team members with plenty of integrations | No integration with Apple Business Chat | From $17.95 |
| Aircall | Businesses who spend all day in an app like Zendesk or Slack | No formal contact center | From $25.00 |
| 3CX | Basic requirements if you're looking for a no-frills approach to VoIP | No formal contact center | From $17.66 |
| Grasshopper | Adding a business number to your personal phone | No formal contact center | From $26.00 |
| Zoom | Users familiar with Zoom | New to contact center market | From free |
What is Dialpad?
Dialpad is a provider of Unified Communications as a Service (UCaaS) and Contact Center as a Service (CCaaS) solutions.
Its two core platforms fall into two categories:
Business communications
Customer engagement
The business communications side of Dialpad focuses on calling, messaging, and meeting in a single app. All your internal communications happen in the Dialpad app, and its cloud phone functionality powers external calling.
The customer engagement side focuses on omnichannel customer support. Here, you manage inbound customer interactions via phone, email, web chat, social media, and messaging apps.
Where does Dialpad excel?
Dialpad comes to the fore when you want to use artificial intelligence (AI).
You can have "AI meetings," which provide live captions during your meeting and a transcript for post-meeting notes.
The AI functionality of Dialpad is most used on the contact center side of things. Here, you can run outbound campaigns with real-time assists and pick up on missed sales opportunities and angry customers.
Following support phone calls, Dialpad sends AI customer satisfaction surveys, so you know how happy your customers are with your service.
Consider looking at Dialpad alternatives and competitors when:
1) You're not ready to go all-in on AI
Artificial intelligence (AI) has been little more than a buzzword in the communications industry for well over a decade. Today, it has become prominent and is tried and tested in many cases.
For example, you can use Nextiva's bot-assisted live chat for website visitors to pass identification and verification before they chat with a human agent. Making a case for using AI in your contact center is very much possible.
But just because it's possible doesn't mean you must. If you favor the human connection and have spent time establishing human processes, relying on AI so much might be a turn-off.
Dialpad excels when businesses use its AI features. But, if you're not focused here, you're paying for features you'll never use.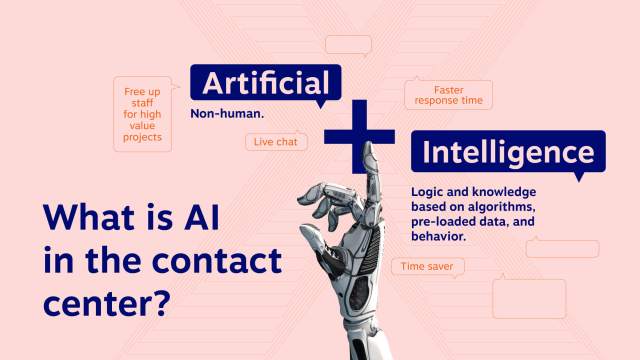 2) You need to move quickly
With complex elements like bot scripts, pre-loading of data, and building out its logic, setting up Dialpad can become time-consuming.
With anything AI, the quality of your output depends on the quality of your input. You'll unlikely get your desired outcome if you rush the provisioning and configuration phases.
Suppose you need to set up a contact center solution quickly. In that case, better phone systems are more suited to quick and self-service onboarding.
3) You're a small business that needs a quick idea of pricing
Dialpad's UCaaS tools are $23 (Standard) and $35 (Pro). But getting a price for your contact center implementation and ongoing costs needs a lengthy conversation with its sales team.
In large enterprises, project management, including stakeholder engagement, requirements gathering, and observation sessions, is important. But smaller businesses can be more prescriptive.
If you know what you need and want to compare apples with apples before you start engaging with a vendor, Dialpad doesn't offer detailed public pricing.
Top 10 Dialpad alternatives and competitors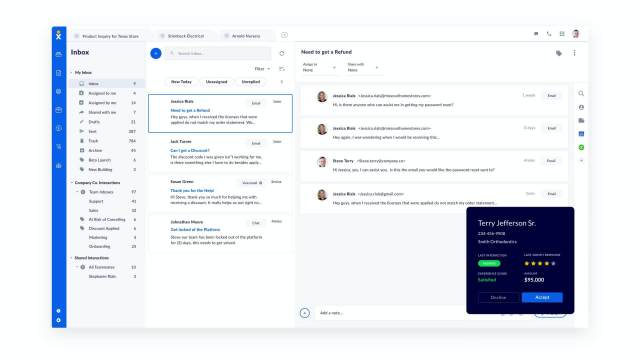 Nextiva is a Dialpad alternative that provides a cloud phone system and call center solutions for small to medium businesses.
It includes a workhub to make calls, chat with colleagues, and service customers.
As customers use more and more channels, Nextiva continues to provide a unified communications platform to manage interactions.
? Nextiva does three things never seen before:
Brings all communication channels into one single thread
Bridges team and customer collaboration into one tool
Combines business communications and customer support in a single app
Nextiva boasts a 99.999% SLA and a 24/7 support team, including chat and ticketing options.
The Nextiva Support Center also includes webinars, phone guides, and other documentation to self-administer your setup.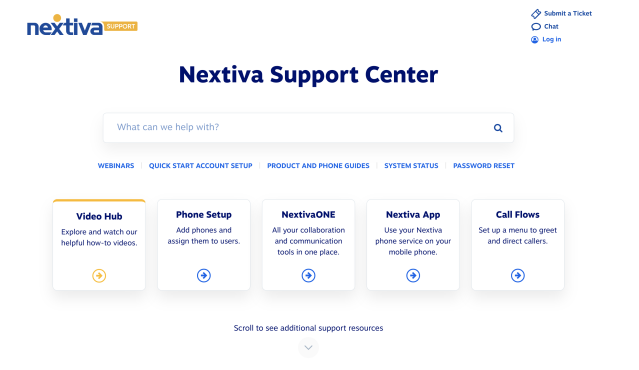 You get omnichannel support across your customer's favorite channels:
Phone
Email
Video calls
Web chat
Social media
These are all tied together with cross-channel reporting and analytics. Agents can even access back-office data thanks to UCaaS and CRMintegration library.
With a single interface for both team and business communications, there's no reason for agents to lose time switching between apps. Even better, there are no more disgruntled customers when your agents can't find the right help.
Year founded: 2006
HQ location: Scottsdale, Arizona
Number of customers: 150,000+
Pros:
Easy to setup when you need to move quickly
Integration of front and back office
A scalable and cloud-first approach
Cons:
Fewer AI options than Dialpad
No integration with Apple Business Chat
Pricing:
Essentials: $17.95* per user per month
Professional: $21.95* per user per month
Enterprise: $31.95* per user per month
Contact Center: Custom prices
*Based on 100+ users. Save up to 28% when you pay annually.
Check out all of Nextiva's pricing options ↗
2. Aircall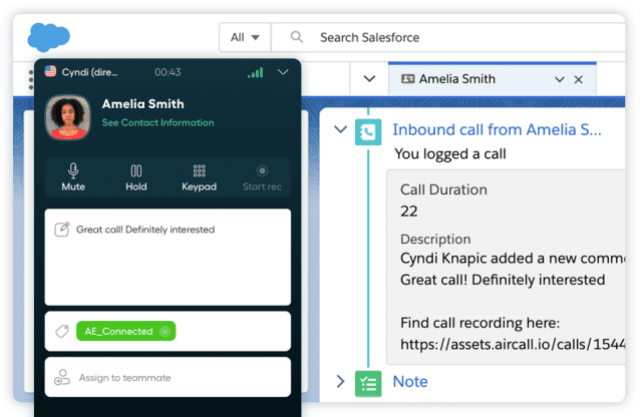 Aircall is an alternative to Diapad, which hosts cloud-based call center software specializing in integration with your line of business apps.
If telephony is a secondary requirement, as you spend most of your day in Slack or Zendesk, Aircall offers an add-on-style solution that provides calling functionality inside that app.
When a customer calls in, you can see contact information and access call center controls without leaving your primary app.
While Aircall only provides phone dialer functionality, it's a good Dialpad Talk alternative if your customers don't use channels like email, web chat, or social media.
Year founded: 2014
HQ location: Manhattan, New York
Number of customers: 10,000+
Pros:
Easy to setup when you need to move quickly
Many business app integrations
Free trial
Cons:
No multichannel option
Only beneficial for agents who spend the majority of their day in a primary app
Pricing:
Essentials: $25 /user
Professional: $40 /user
Enterprise: Custom
3. 3CX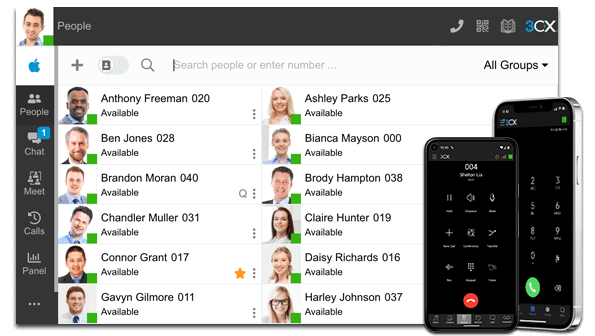 3CX is a Dialpad alternative with a phone system, video conferencing, and live chat options to manage internal and external communications. In addition, the software can be installed in the cloud on services like Amazon Web Services, Microsoft Azure, and others.
Beware, its advanced phone service functionality is more technical than other phone providers. For some, that's a great quality, but it can be intimidating for most small businesses.
These options are available via web browser and mobile app for "no hassle" communications. Admins might like configuring users' softphones with a QR code, so that's unique.
With a focus on simplicity, you get limited collaboration features, and no true contact center option exists. Remember that the DIY version requires updates and expertise in configuring PBX systems.
But, for smaller teams or those with basic requirements, you get up to 10 users free forever and enable basic communications functions.
Year founded: 2005
HQ location: Nicosia, Cyprus
Number of customers: 600,000+
Pros:
Microsoft Teams integration for direct call routing
Softphone installation and setup
DIY VoIP phone service option
Cons:
Lacks modern collaboration features
Not a true contact center
Technical skills to maintain
Pricing:
3CX has different pricing options based on whether you opt for a hosted or self-managed deployment. Pricing starts at $17.66 on the Startup Pro package for the hosted option.
You must contact 3CX to start configuring your instance in an Amazon, Google, or Azure cloud environment.
4. OnSIP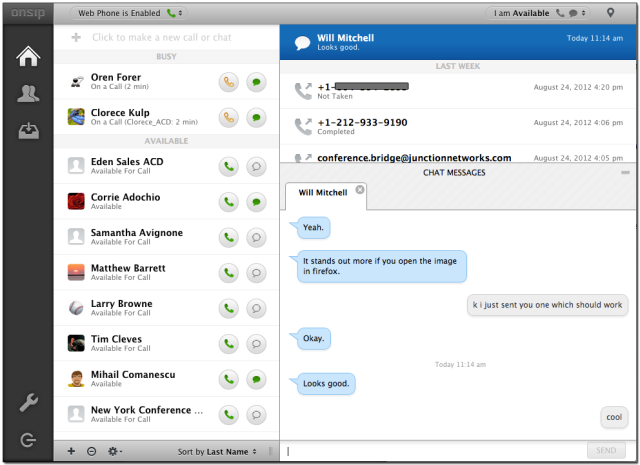 OnSIP is a decent Dialpad alternative if you only want a VoIP replacement for your on-premises phone system.
Its simple interface and basic range of features make for an easy-to-use, no-frills option for those who don't need the complexities associated with collaboration and a contact center.
Year founded: 2004
HQ location: Manhattan, New York
Number of customers: 70,000+
Pros:
Can use VoIP capabilities to configure an informal contact center
HubSpot integration
Zendeskintegration
Cons:
No omnichannel experience
Expensive to configure contact center capabilities
Pricing:
Unlimited: $18.95 per user
Pay-as-you-go: $49.95 per user
Add-ons to build a contact center experience
5. OpenPhone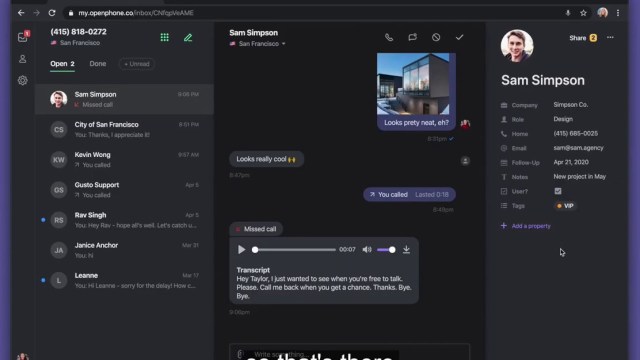 OpenPhone is a younger alternative to Dialpad aimed at startups and small businesses. You get a single interface to manage your business calls, texts, and contacts.
OpenPhone's focuses on basic phone use cases rather than packing it full of features. While this eliminates it from enterprises, getting started without training or a complex setup is attractive.
If you don't need a typical VoIP desk phone, then OpenPhone could be a lightweight option.
Year founded: 2018
HQ location: San Francisco, California
Number of customers: 4,000+
Pros:
Free trial
Custom phone book
Shared phone numbers
Cons:
No contact center option
Only integrates with Salesforce and HubSpot CRMs
Some integrations require higher pricing tier
Pricing:
Standard: $13 per user per month
Premium: $20 per user per month
Enterprise: Custom
6. Grasshopper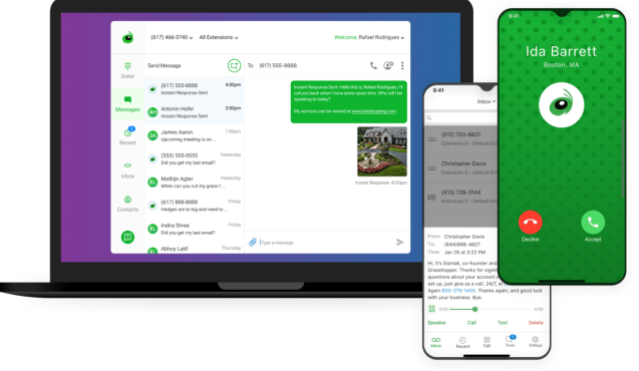 Grasshopper is a Dialpad alternative that adds a business phone number to your personal mobile. As a result, you can use the same phone for business and personal use without mixing the two.
When your phone rings, you get a notification, so you know how (or if) to answer. Likewise, you can separate personal and business texts.
Many of its users use Grasshopper as a standalone auto attendant, which provides call forwarding to select team members based on a caller's input.
Year founded: 2004
HQ location: Boston, Massachusetts
Number of customers: 300,000+
Pros:
Virtual receptionist option
7-day free trial
Easy toll-free number selection
Cons:
Only available in the USA and Canada
Call recording isn't permitted
No contact center option
Pricing:
Solo: $26 per user per month
Partner: $44 per user per month
Small Business: $80 per user per month
7. Zoom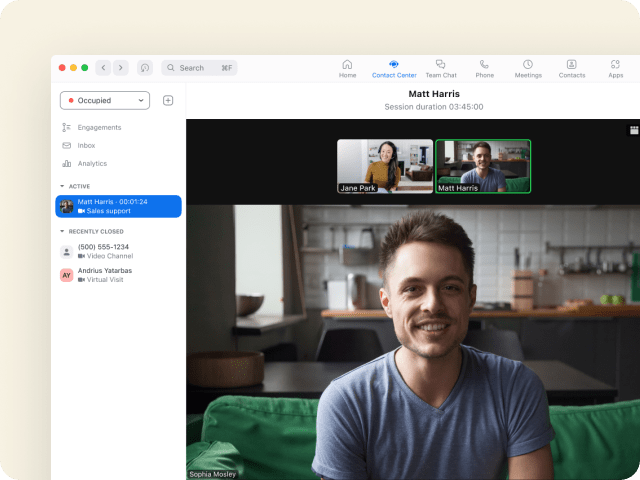 If you prefer a consumer-style interface, your users likely have used Zoom at home.
Zoom is a neat Dialpad alternative that comes with the benefit of the majority of your team already having used it before.
Its UCaaS suite supports phone, meetings, chat, mail, and calendar. You can also turn your Zoom interface into a contact center console, supporting popular channels like email, web chat, and social media.
Year founded: 2011
HQ location: San Jose, California
Number of customers: 300m
Pros:
Integration with other platforms like Microsoft Teams
Free access to 40-minute meetings
Familiar interface
Cons:
New to the contact center market
Configuring automated workflows and IVR may be complex
Regular new products can be overwhelming for small businesses
Pricing:
Basic: free
Pro: $14.99 per user
Business: $19.99 per user
Business Plus: $25 per user
Enterprise: Custom
Contact Center: custom
8. Vonage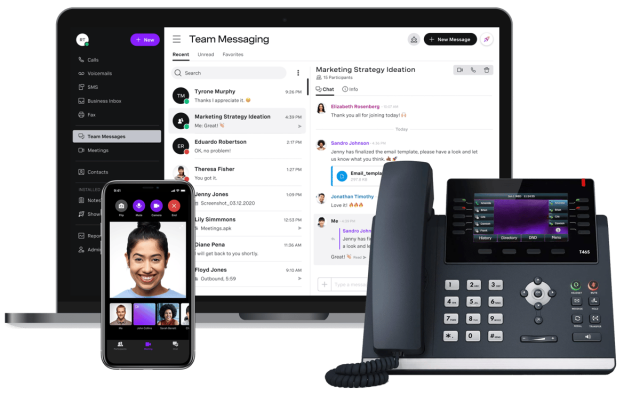 Following acquisitions of Nexmo and NewVoiceMedia in the 2010s, Vonage was acquired by communications equipment giant Ericsson in 2021. Vonage now lives on as a Dialpad alternative with a UCaaS solution offering chat, calling, and meetings from a single app.
Vonage also has key integrations with Microsoft Teams and Salesforce, recognizing the likelihood of target enterprise customers using at least one of these platforms.
Vonage's other developer-friendly products make it a better alternative to Twilio, specifically for programmable voice, messaging, and SMS automation.
Year founded: 2001
HQ location: Edison, New Jersey
Number of customers: 100,000+
Pros:
Integration with enterprise apps
Conversational commerce add-on
Access to composable CPaaS options
Cons:
New to the unified communications market
An amalgamation of previous apps can be confusing
Products tend to be more developer-focused via APIs
Pricing:
Varies based on requirements for API access.
9. GoToConnect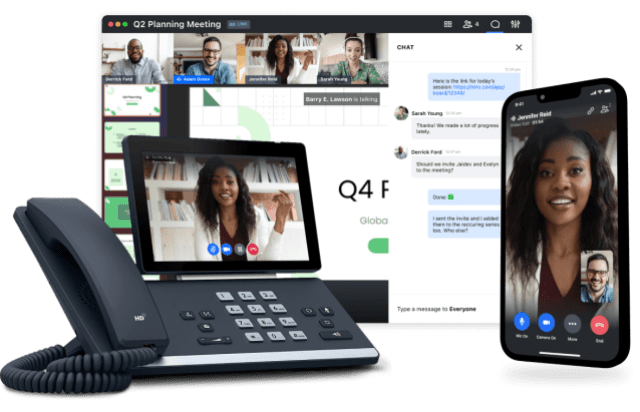 Having merged with LogMeIn, the companies rebranded as GoTo in February 2022. Formerly GoTo Meeting and GoTo Webinar, GoTo now hosts a UCaaS suite, including chat, phone calls, and meetings.
GoTo also provides GoTo Contact Center, supporting omnichannel and advanced call center features.
Year founded: 2003
HQ location: Boston, Massachusetts
Number of customers: Nearly 800,000
Pros:
Add-ons for business continuity and SD-WAN
Direct routing option for Microsoft Teams
Access to webinar and conference calling tools
Cons:
Lack of maturity in a cloud communications market
Inconsistent pricing between USD and GBP
Pricing:
Basic: $27.00 per user per month
Standard: $32.00 per user per month
Premium: $43.00 per user per month
10. 8×8
8×8 offers a composable "experience communications as a service" option called XaaS.
8×8 is an alternative to Dialpad when you have prescriptive needs for a contact center, unlimited calling, video, or chat. You can choose from phone and multimedia channels to build what best suits your customers' needs.
Year founded: 1987
HQ location: Campbell, California
Number of customers: 60,000
Pros:
Single platform for VoIP calls, video meetings, chat, and contact center
Integration between components
Discount for annual billing
Cons:
Frequently changed model
Some basic features only available in higher pricing tiers
A steep learning curve to customizing VoIP solutions
Pricing:
Express: $15 per user
X2: $24 per user
X4: $44 per user
X6: 85 per user
X7: $110 per user
X8: $140 per user
Why is Nextiva the best alternative to Dialpad?
Nextiva has been named the Best Business Phone System by U.S. News for four years.
Not only that, Nextiva scores 4.7 out of 5 with Forbes and is described as highly reliable by CrazyEgg.
And it's easy to see why.
With a wide range of features included with its business phone system, collaboration, and contact center in a single interface, Nextiva provides everything you need to communicate with your customers and colleagues.
Businesses like Shelby America, Veterans Home Care, and Orange County Rescue Mission all choose Nextiva for their business communications.
Titan Solar Power used Nextiva to scale its operation by 450% over two years. As one of the fastest-growing renewable energy companies in North America, it needed a reliable and scalable VoIP provider that supported its requirements then and in the future.
"Setting up a phone tree for a gazillion people is not easy but the questions that our Nextiva reps asked and what they have done with other companies made it easy. What I like the most about Nextiva is how scalable it's been. We started at 400 employees and we're at almost 1800 employees now."

Annie Izquierdo
Nextiva places a premium on providing amazing customer service for the 100,000+ businesses using our solution. Titan's experience with Nextiva has held to our patented Amazing Service® philosophy.
For a unified communications platform, Nextiva includes many popular business features:
Multi-level auto attendants
Call queues and hold music
Voicemail transcription
Business text messaging (SMS)
Video conferencing and screen sharing
One-click video calls
Toll-free phone number
Local numbers
Its phone call quality is noticeably sharp and clear, but that's not all people like about it. Its Android and iOS mobile apps rock a user-friendly interface quite familiar to its desktop apps.
When you want a well-rounded Dialpad competitor, look no further than Nextiva.
⚡️Ready to get started with Nextiva? Compare features and pricing here!
Dialpad, Aircall, 3CX, OnSIP, OpenPhone, Grasshopper, Zoom, Vonage, GoToConnect, and 8×8 have no relationship with Nextiva, Inc. and are the registered trademarks of their respective owners.