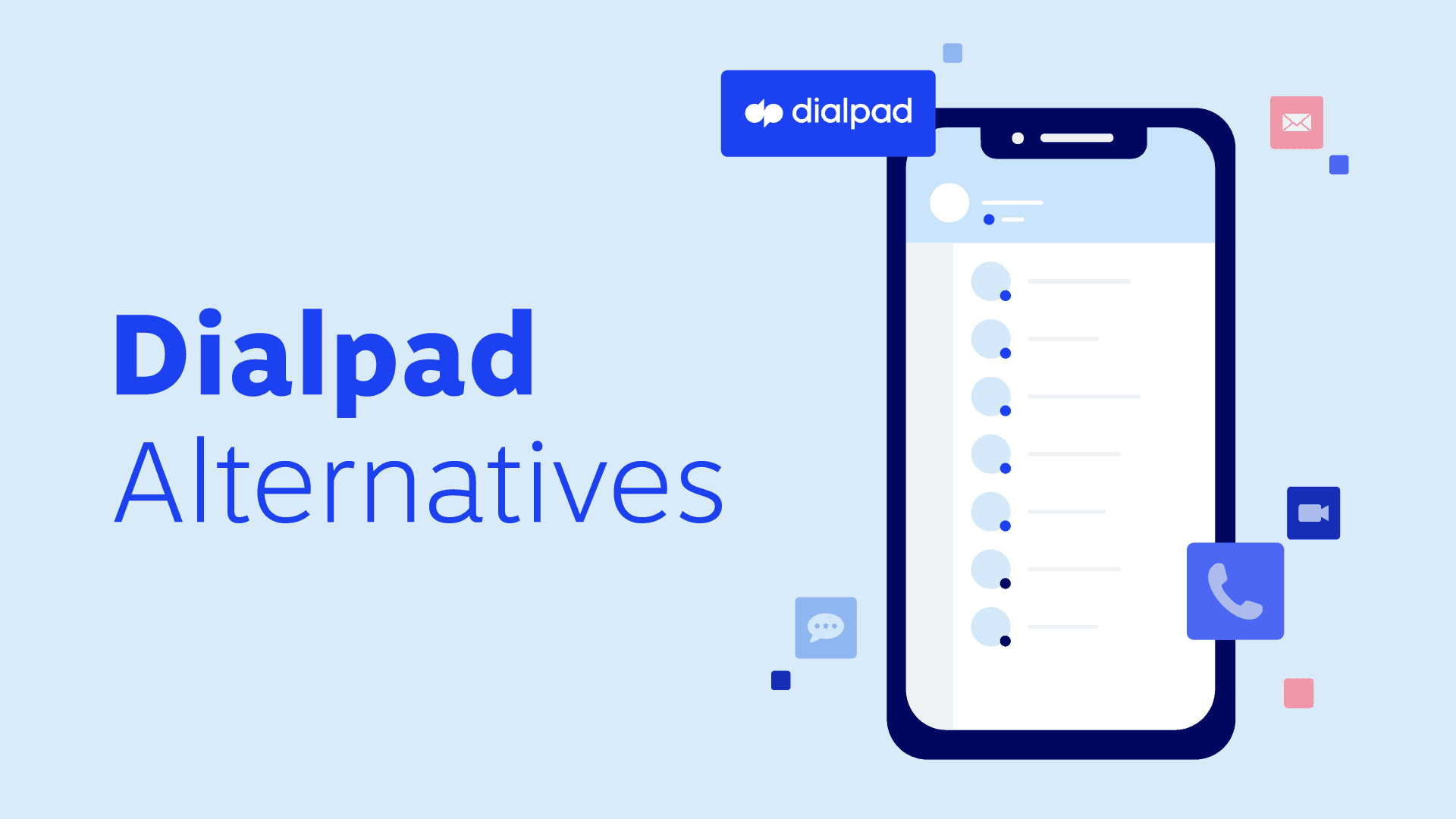 Last edited on June 2, 2021
If you're in the market for a cloud phone system, there are dozens of options to choose from. Providers will have their key features, multiple pricing tiers, and can service anywhere from small businesses to large enterprises and contact centers.
Dialpad may be one of the options on your shortlist. It's a cloud communication platform powered by artificial intelligence. Dialpad Talk, their business phone system, works with VoIP phones as well as laptops, tablets, and smartphones thanks to a softphone app.
Dialpad's fully-featured plan requires a minimum of 100 seats, so if you're looking for alternatives with more flexibility, here are some of the top alternatives below:
1. Nextiva
Nextiva is a cloud-based communications platform made for modern work. Its phone service has the basic and advanced phone features teams need to improve their workflow and manage conversations in a single space.
Nextiva serves more than 100,000 companies and organizations, some of which include Cisco, Netflix, Pac-12, and more. It is a well-rounded option for businesses of all sizes and budget requirements. If you're interested in learning more about Nextiva, Prince Rich of Rich Technology Group gives his transparent review in the video below:
What are some of its top features?
Nextiva offers more than 40 VoIP features, including:
Auto-attendant: An automated greeting that lets your callers choose the person or department they want to reach via the phone menu.
Softphone app: The Nextiva App turns your mobile device into a virtual office. Communicate with your customers, employees, and partners while on the go.
Call recording: Access call recordings, listen to them, and share them with teammates. Use call recording for quality assurance purposes, a way to implement customer feedback, or to improve sales call scripts.
Team chat: Easily collaborate wherever you are with Nextiva's team chat app. Use it to run video meetings, share screens, access message history, and quickly exchange ideas. The app also has a team presence feature, which shows teammates who are online and who are away.
Call flow builder: Quickly build out your inbound caller navigation with Nextiva's call flow builder. You can customize your phone menu here, create custom voicemails, implement phone FAQs, and make sure customers reach the right departments with this feature.
Reliability, support, and security
Nextiva ensures world-class network security and reliability. Nextiva uses eight carrier-grade data centers, each with an ISO/IEC 27001 certification, so you can enjoy a 99.999% uptime. Its data centers are monitored 24/7 and have multiple redundancies in place.
Nextiva is also SOC 2 compliant, PCI-compliant, and HIPAA compliant so your information is always safe and protected.
When customers need help, Nextiva's award-winning in-house support team has your back. In fact, Nextiva has won Stevie Awards for its customer service in telecommunications for six years in a row.
Nextiva pricing options
Nextiva offers four pricing options based on your needs:
Essential: Starts at $17.95 per user per month and gives you unlimited voice and video calling, auto-attendant, toll-free numbers, voicemail-to-email, unlimited internet fax, mobile and desktop app, and 24/7 support.
Professional: Priced at $21.95 per user per month and adds conference calls, video conferencing, Call Pop, business SMS, extended integrations, and professional setup to the mix.
Enterprise: Starts at $31.95 per user per month and extends to unlimited participants and recordings for voice and video conferencing, voice analytics, transcription, and even more integrations.
Ultimate: Starts at $52.95 per user per month with all enterprise-ready features, including sales pipeline management, service productivity, ticket management, automated surveys, and customer journey analytics.
2. Aircall
Aircall is a cloud-based call center software with customers like Expensify and Pipedrive. It's an easy-to-set-up solution that integrates with a range of tools you already use, like Slack, HubSpot, and Zapier.
What are some of its top features?
Here are a few of the many features Aircall offers:
Power dialer: Trigger automation and workflows after the call to minimize downtime between calls.
Call tagging: Add tags to calls to make it easy for the next agent that speaks to the caller to gain context, follow up, and make smart decisions.
Live feed: See the capacity of each agent in real-time so you can reorganize resources, balance their workloads, and maximize the whole team's efficiency.
Reliability, support, and security
Aircall has seven worldwide data centers provided by Amazon Web Services. Aircall has a 99.99% uptime, with some minor outages on a monthly basis, according to StatusGator.
Medium and large teams get a dedicated onboarding manager to ensure QoS with network setup, IP prioritization, and port setup. Aircall's support managers monitor network performance in real-time, so they can diagnose and resolve issues when they come up.
They follow various security frameworks including ISO 27001/27002, SOC 2, and PCI/DSS. All customer data is encrypted.
Aircall pricing options
Aircall offers two pricing plans; both require a minimum of three users and come with a free trial.
There's also a custom quote option for a customized package that includes unlimited outbound calls, access to API support, custom analytics, and more.
Here are Aircall's pricing options:
Essentials: Starts at $30 per user per month and includes unlimited inbound calls (toll-free excluded), IVR, call recording, voicemail, click-to-dial, and phone support.
Professional: Starts at $50 per user per month. This plan gives you a dedicated account manager and access to features like live call monitoring, advanced analytics, and sales features, and call tagging.
3. 3CX
3CX is a low-cost communication solution for businesses. It includes PBX, video conferencing, live chat, and solutions for call centers. In their own words, they're trusted by 250,000 companies and serve 5 million users every day.
What are some of its top features?
3CX offers features like:
iOS and Android apps: Great for remote employees and teams that need to work from home or are often on-the-go.
Video conferencing: Integrated into the communications system, removing the need for separate apps for video calls. Video conferencing also includes screen sharing for easy presentations.
Facebook messaging: Messages are delivered directly into the dashboard for easy connection with customers on Facebook (without having to keep checking Facebook).
Reliability, support, and security
3CX offers built-in VoIP anti-hacking security settings, including Secure SIP and IP blacklisting, to make your system more resilient to attacks.
3CX stores user data securely in a regional Google datacenter. All video, audio, and signaling forwarded through 3CX is encrypted. 3CX is also compliant with GDPR, HIPAA, SOC 2, and ISO 27001.
3CX pricing options
3CX offers three pricing plans:
Standard: This plan is free (hosted version only free for one year) and includes core PBX features, auto-attendant, screen sharing, live chat, and Facebook messaging.
Pro: Starts at $2.08 per user per month ($250 per year) for 10 users and four simultaneous calls. This plan adds integrations with CRM tools and Microsoft 365 and call center features to the mix.
Enterprise: Starts at $2.52 per user per month ($303 per year) for 10 users and four simultaneous calls. This plan gives you enterprise features like call flow, call recording, and skill-based routing.
4. OnSIP
OnSIP offers a hosted PBX solution for remote work. It's a complete phone system replacement with no new equipment required, making it easy to turn any location into an office. They were acquired by Intrado in 2020 and serve customers like iHeart Media and Codecademy.
What are some of its top features?
Here are some features OnSIP offers:
Softphone apps: Easily make and accept calls on your smartphone or laptop. Softphone apps turn devices you already have into full-featured phone systems.
Website chat: Get potential customers to voice or video chat with your sales team through your website. Chat also integrates with HubSpot.
5-way video conferencing: Great for remote collaboration and removing the distance between team members, no matter where they are.
Reliability, support, and security
OnSIP uses two datacenter locations in the United States, as well as owns and operates their own redundant physical networks and systems. Their hardware is from Dell, Cisco, and Juniper.
OnSIP browser, desktop, and mobile apps support end-to-end encrypted communication. OnSIP also offers directions on how to enable encryption on VoIP phones.
They offer a rich knowledge base that covers dozens of categories, topics, and FAQs related to their product. Their support is instantly available through chat or calls right from the website.
OnSIP pricing options
Here are three pricing plans OnSIP offers:
Basic Plan: $49.95 per month per account, with an extra 2.9¢ cents per minute. Features on this plan are often limited or not included at all, with upgrades you can pay for.
Unlimited Plan: Costs $18.95 per month per user and includes desk phones and headsets for new accounts. Most included features are unlimited. There's a five-user minimum.
sayso Voice & Video Chat: Priced between $0 and $49.95 per month and lets you receive voice and video calls directly through your website.
5. OpenPhone
OpenPhone is a modern business phone for professionals, startups, and small businesses. It connects with tools like HubSpot, Zapier, and Google Contacts so you can save time and automate fewer fun tasks.
What are some of its top features?
Here are some features OpenPhone offers:
Call labeling: Your calls can have a distinct label so you can always easily see if a call is a business or a personal call.
Snippets: Create templates of messages you send most often, reuse them as snippets in your responses, and speed up your response time. This is great for frequently asked questions.
Call transfer: You can transfer incoming calls to other team members, different teams, or even an external phone number, all from your smartphone app.
Reliability, support, and security
OpenPhone's infrastructure sits on the Amazon Web Services platform. They fully encrypt user communication and store user data in redundant databases across multiple physical locations so if one fails, another one will pick up.
OpenPhone is GDPR-compliant and they use Stripe to process PCI-compliant payments.
OpenPhone isn't HIPAA or PHIPA compliant, which means they're not an ideal solution for companies that need to share private health information with their customers.
OpenPhone pricing options
OpenPhone offers two predefined pricing packages below (both include a free trial), as well as custom pricing for companies with complex requirements:
Standard: Priced at $10 per month per user. It includes unlimited calls and texts to U.S. and Canada, group messaging, voicemail-to-text, call recording, and other core calling features, as well as integrations with email, Slack, and Zapier.
Premium: Costs $25 per month per user. It adds HubSpot CRM integration to the mix, as well as analytics and reporting, and priority support.
6. Grasshopper
Grasshopper is a virtual phone system that helps you separate your personal and business calls. It works by adding a business line and a virtual phone system to your personal phone, which helps you present yourself more professionally without extra equipment or setup.
Grasshopper was acquired by LogMeIn in 2018.
What are some of its top features?
Here are some features you get with Grasshopper:
Toll-free numbers: Get a memorable and professional national appearance. Toll-free numbers are free of charge for the caller, even for long-distance calls within the country.
Virtual fax: Receive incoming faxes as PDF attachments in an email using a cloud-based fax delivery service. Works much simpler than using an actual faxing machine.
Instant response: Automatically send a text message to a new client whose call you missed. This saves you time and reduces the risk of losing new business to competitors just because you weren't able to pick up right away.
Reliability, support, and security
Grasshopper supports Wi-Fi calling and it can seamlessly switch between your cell network and Wi-Fi to give you the best call quality available.
They've served over 135,000 businesses and help make around 140 million calls per year, so you know they can handle your calling needs.
Grasshopper isn't HIPAA compliant because they must have access to user accounts and information in it, including text messages, faxes, and voicemails to provide troubleshooting.
Grasshopper pricing options
Grasshopper offers three pricing plans, all of which come with a 7-day free trial. All plans include all Grasshopper features and vary based on the number of phone numbers and extensions you need.
If you choose annual billing, you'll save around 10% on these prices:
Solo: Costs $29 per month and gives you one phone number and three extensions. This plan is tailored to entrepreneurs with side gigs.
Partner: Priced at $49 per month and includes three phone numbers and six extensions. This plan is made for growing businesses with up to three employees.
Small Business: Costs $89 per month and includes five phone numbers and unlimited extensions. This plan works for teams that need more flexibility with call routing options.
7. Zoom
Zoom Phone is a cloud phone system that runs through Zoom's well-known platform. Zoom sold one million Zoom Phone seats to date. Zoom also offers solutions for meetings, webinars, and video conferences, which can be integrated with Zoom Phone plans for a unified experience.
What are some of its top features?
Here are some of the many features Zoom offers:
Voicemail with transcription: Access voicemails in text format through a mobile app, desktop app, or email so you can get back to your callers quickly and easily.
Call delegation: Set up administrative assistants that can make and receive calls on behalf of managers and executives.
Quality dashboards: Use a single dashboard to monitor, troubleshoot, and solve network and call quality issues to make sure poor call quality doesn't affect your workflow—and reputation.
Reliability, support, and security
Zoom has huge call and meeting capacities and can handle high call volume well.
When it comes to security, Zoom enables GDPR compliance, HIPAA and PHIPA compliance, and FERPA compliance (useful if you're in the education sector). Calls are encrypted using 256-bit TLS encryption.
Zoom pricing options
Zoom Phone comes in three pricing plans, plus an option to integrate meetings and chat with your phone plan:
US & Canada Metered: Costs $10 per month per user and gives you a US and Canada number, domestic SMS and MMS, metered outbound minutes, use on multiple devices, and advanced phone features.
US & Canada Unlimited: Priced at $15 per month per user and gives you unlimited calling in U.S. and Canada. There's an optional add-on with unlimited calling to 18 countries.
Pro Global Select: Costs $20 per month per user and gives you a direct dial number and unlimited domestic calling in 40+ countries. You need to contact sales to purchase this plan.
United Business: Starts at $30 per month per user, with a minimum of 10 licenses ($300 per month). It adds Meetings to the mix, with meetings up to 300 participants.
8. Vonage
Vonage is a unified communications platform that offers business phone systems, communications APIs, and contact center solutions. They serve more than 100,000 businesses worldwide, including Concur, Glassdoor, and Zipcar.
What are some of its top features?
Here are some features Vonage offers:
Team messaging: Stay connected with teammates through desktop and mobile apps. Share files, join group chats, and run voice and video meetings with ease.
Click-to-call me: Give your customers an easy way to reach you. Add this button to your website or email signature so that customers can call your business phone number with a simple click.
Virtual receptionist: Create menu pathways so you can route callers to the right department or person. Customize call routing based on holidays and office hours.
Reliability, support, and security
Vonage has a 99.999% uptime and uses a network of redundant physical data centers from AWS in Europe, U.S., and Asia. Their data is regularly backed up offsite—your data and your access to a stable network are secure.
However, Vonage removed access to phone support for accounts under a certain premium. For them, support is available as a chat-only option, meaning you need a higher-priced plan to be fully supported by Vonage.
Vonage pricing options
Vonage offers three pricing plans that vary based on your number of employees. All plans come with a free 14-day trial. Here's pricing for five employees:
Mobile: Starts at $17.99 per month per line and offers unlimited calls (in the US, Canada, and Mexico), unlimited SMS (U.S. and Canada), Vonage app center, and unlimited team messaging. Good for remote teams and professionals.
Premium: Priced at $27.99 per month per line and offers features like unlimited video, auto-attendant, CRM integration, and IP desk phone capability.
Advanced: Starts at $37.99 per month per line and gives you call recording, call group, visual voicemail, and white-glove setup.
9. GoToConnect
GoToConnect (formerly Jive) is a cloud phone system and a virtual meeting platform. GoToConnect is another product from the LogMeIn family of products, offering calls, meetings, and messaging on a single platform.
What are some of its top features?
GoToConnect offers 80+ features on all of their plans. Here are some of these features:
Dial plan editor: A visual, drag-and-drop interface that lets you build and customize your own call flows. They're easy to change as your needs evolve.
Phone number extensions: Add unlimited extensions for your business phone number, so you can easily make internal calls and route external calls to the right person.
Call monitoring: Level up your sales team with ease, including remotely, by analyzing their customer interactions on a call. You can also help your agents by giving them information they can use as they speak with the customer.
Reliability, support, and security
GoToConnect uses 11 data centers worldwide, seven of which are in the United States. This helps them guarantee a 99.999% uptime and keep your data safe.
They use security protocols like TLS and AES to encrypt your meetings and call recordings. GoToConnect is also GDPR and SOC-2 compliant and provides safeguards to help you meet HIPAA compliance.
GoToConnect pricing options
GoToConnect's plans vary by the number of users. Each plan comes with all features and is priced this way:
Tier 1: 1-4 users, $29.95 per user per month
Tier 2: 5-9 users, $25.95 per user per month
Tier 3: 10-24 users, $23.95 per user per month
Tier 4: 25-49 users, $21.95 per user per month
Tier 5: 50+ users, $19.95 per user per month
100+ users: Contact GoToConnect for a custom quote
10. 8×8
8×8 is a business phone system that offers cloud-based voice, video, messaging, and contact center solutions. They also provide communications API, team chat, and SIP trunking services. As an alternative to 8×8, Dialpad has its work cut out.
What are some of its top features?
Here are some of the best cloud phone features 8×8 offers:
Three-way calling: Easily collaborate with two additional parties with a simple setup process. No bridges or dedicated equipment required, and no limit to your meeting length.
Multi-level auto attendant: Personalize your caller's experience with a multi-level self-service menu so they can solve their own issues quickly or reach the right person more efficiently.
Presence: Reduce distractions by customizing your status message so teammates know when you're available and when you don't want to be disturbed. Easily change your status in two clicks.
Reliability, support, and security
8×8 is designed with no single point of failure thanks to geographically diverse data centers. This means their rerouting capabilities and redundancy will make sure you don't experience downtime in case of an outage.
8×8 is compliant with HIPAA, GDPR, ISO 27001, and PCI, so both your data and your customer's data are secure.
8×8 pricing options
8×8 offers three pricing options based on your needs:
Small business phone system: 8×8 Express starts at $12 per user per month and gives you voice, video, messaging, unlimited calls in the U.S. and Canada, and features like auto-attendant, call routing, and voicemail. Free one-month trial available.
All-in-one voice, video, and chat: Starts at $24 per user per month with annual billing and gives you unlimited voice calling in select countries, video and audio conferencing, SMS, MMS, team chat, and integrations.
Analytics for administrators and supervisors: For $44 per user per month with annual billing, you get unlimited voice calling to 47 countries, call quality reporting, supervisor analytics, and advanced monitoring features.
Why is Nextiva the top alternative to Dialpad?
Dialpad is a solid business phone solution, especially if artificial intelligence is a must-have feature. But when it comes to going with a business phone system that can do it all, it doesn't get much better than Nextiva.
Nextiva boasts a 4.7 out of 5-star rating on GetVoIP with 93% of customers recommending it. Ratings across other third-party review platforms, like G2 and Gartner, follow the same sentiment:


Nextiva is the #1 rated business phone system according to U.S. News, and Deloitte ranked Nextiva among the top 500 fastest growing technology companies in North America.
Nextiva's unmatched security and reliability, a powerful set of features, and Amazing Service means you can supercharge your sales and service teams and collaborate smoothly no matter where you are.
With Nextiva, you can build better relationships with your customers and eliminate busy work to allow you to focus on what you do best. That's what makes it the top Dialpad alternative. Head to Nextiva's pricing to find the best plan for your needs.
Dialpad, Aircall, 3CX, OnSIP, OpenPhone, Grasshopper, Zoom, Vonage, GoToConnect, and 8×8 have no relationship with Nextiva, Inc. and are the registered trademarks of their respective owners.