As customers' expectations in a digitally first world keep rising, more and more businesses are turning to automation to scale their teams using technology. One such capability that is gaining a lot of attention is an intelligent virtual agent (often referred to as a virtual agent).
Maybe you have already read about chatbots, bots, and intelligent virtual assistance but are still confused about the difference. This article takes a closer look at Intelligent Virtual Agents, what they can do, how they can benefit your business, and how some companies are using them.
What Is an Intelligent Virtual Agent?
Intelligent virtual agents (sometimes referred to as just IVAs or "virtual agents") are AI-powered software that can have conversations with customers. They are essentially digital assistants that can comprehend human speech and answer in a human-like manner, particularly in the case of simple, recurrent requests.
Intelligent virtual agents are designed to do certain tasks, including qualifying leads and offering customer service. They provide a fantastic customer experience while enabling businesses to scale their team by offloading some requests and tasks to the virtual agent.
Even though Virtual agents are occasionally confused with chatbots, they are significantly more advanced. Why? A virtual agent's conversational abilities are powered by natural language understanding and cognitive process automation (a subset of AI) that mimic how the human brain works to help humans complete tasks, make decisions, or achieve goals.
A Virtual Agent, to put it simply, is not a basic bot that will just provide the user with a limited number of pre-registered answers.
Virtual Agents offer a crucial service layer for many businesses. IVAs provide a better customer experience than traditional chatbots and can give a faster resolution to a customer's issue. By lowering the number of customers that require live operator assistance, IVAs can reach resolution faster and improve a customer's experience.
Intelligent Virtual Agent vs. Chatbot: What's the Difference?
The two are fundamentally different in terms of their capabilities and the degree of customer experience they facilitate. Virtual agents and chatbots are simple and quick ways to provide instant support and interaction to website visitors and customers without the need for a human agent. But virtual agents offer a better customer experience because of their real-time results and AI-powered backbone.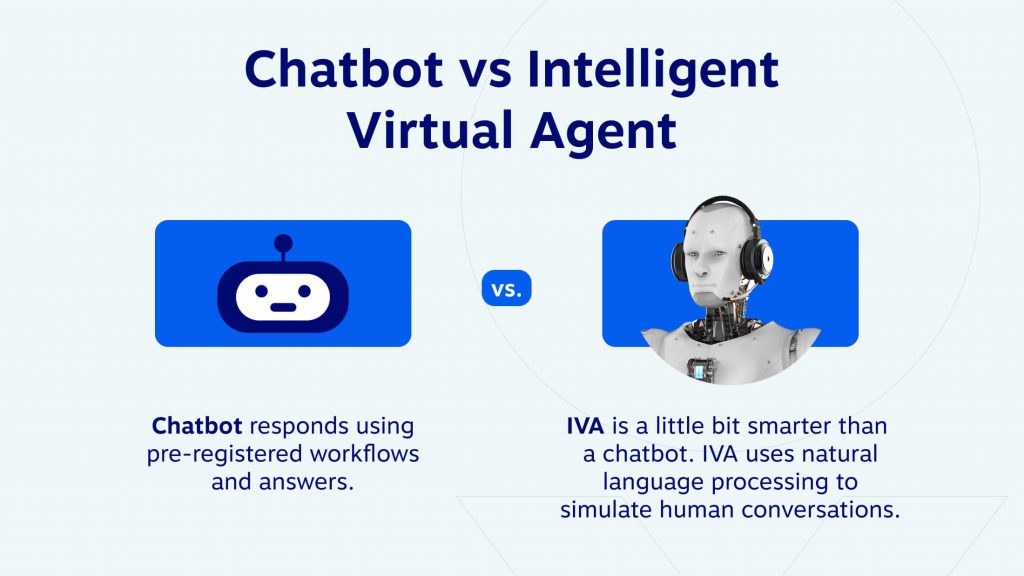 A basic chatbot can respond to typical questions using a small number of pre-registered workflows and answers by picking up keywords from a conversation. In addition, a simple chatbot can offer pertinent articles from a knowledge source.
A virtual agent uses AI technology and Natural Language Processing (NLP) to simulate human conversation, better grasp user language, ask follow-up questions to gather context, answer real-time queries, and transfer a chat to the right human agent or best subject matter expert.
Let's use an example of a customer query to help you better understand the differences.
Query: "I'd like to renew my subscription"
Chatbot: Will search the knowledge base for the term "renew subscription" and present an article outlining how to renew a subscription.
Virtual agent: Will ask about the subscription plan, submit a request for a subscription, and will also attempt to upsell.
Even though chatbots and virtual agents can access knowledge base articles, recognize keywords, and present users with a list of results, a virtual agent has an advantage over basic chatbots due to its AI and natural language processing algorithms.
Next, let's discuss how virtual agents and virtual assistants differ.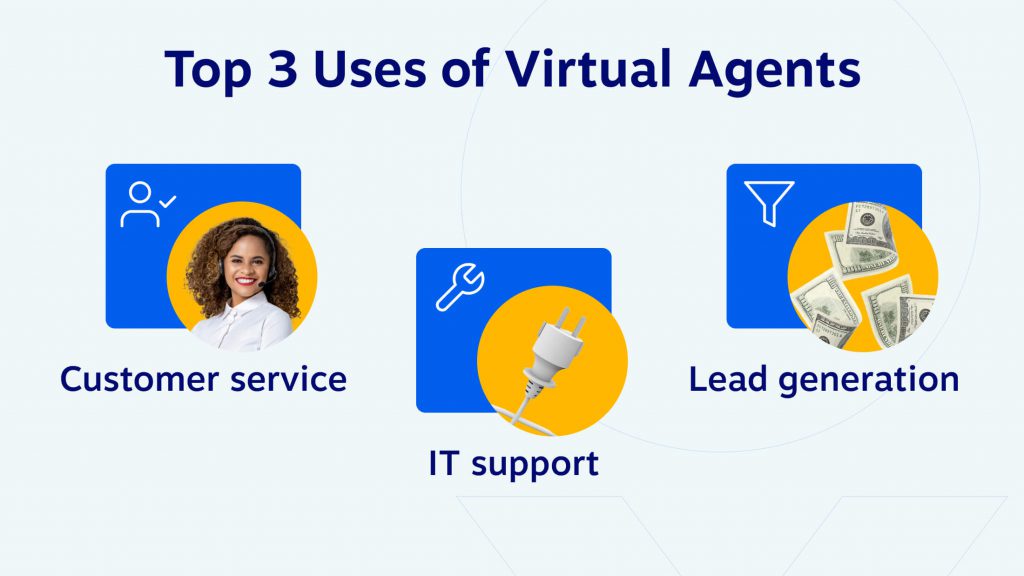 3 ways to use virtual agents in a contact center
Virtual agents thrive in contact centers because they can help ease your team's workload and manage early communications with your customers. They can be used in these three important areas:
1. Customer Service Agents
Virtual agents are a wonderful addition to any customer support team, but that does not mean they should take the place of your live chat agents.
Many of the inquiries that customer service agents deal with are somewhat routine, for example:
How do I renew my subscription?
Do you give discounts on orders?
How do I update my account details?
A virtual agent can respond to all of these questions instantly, and responses are more convincingly natural – thanks to conversational AI. As a result, routine inquiries won't require a team member to respond to them via email or hold a lengthy phone call. The virtual agent handles their resolution instead.
2. IT Support
An IT helpdesk will have to handle a lot of repetitive requests, just like customer service. A virtual agent can handle software updates, password resets, and simple troubleshooting tasks. A virtual agent or simple chatbot can collect information and generate a ticket even for more complex inquiries.
3. Lead Generation
Your sales team can benefit from virtual agents and chatbots by using them to help with generating leads. They offer a fast way to gather user data and determine their intentions.
With a virtual chat agent in place to take information like email, name, and reason for contacting, your salespeople have enough detail to begin chasing leads.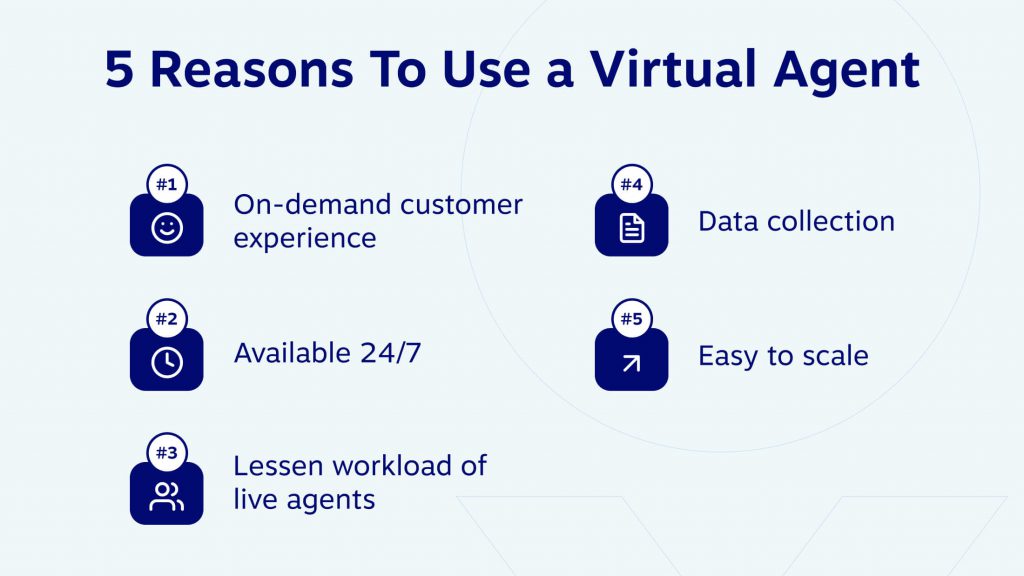 Benefits of Virtual Agents
1. Unique Customer Experience
Customers that require assistance want it provided as quickly as possible. They don't want to go through a seemingly never-ending phone tree or communicate with a chatbot with limited options.
Intelligent virtual agents offer a human-like experience that can instantly assist customers in finding a solution.
These tools often help customers resolve issues or quickly transfer their call to the right people.
2. Available 24/7
It's difficult for any business to offer customer service around the clock. A virtual agent, on the other hand, allows you to always have something available.
Since virtual agents can respond to the majority of typical inquiries, this is an effective way to scale your team after hours and save employee billable hours.
3. Improved Efficiency
Many businesses have been looking for call center solutions that lessen the workload on live agents while maintaining a high level of customer service.
These companies benefit from the use of intelligent virtual agents to deflect customers from email, phone, and live chat in favor of artificial assistants.
This ensures that agents are directly assisting customers with particular needs or sensitive situations that call for a personal touch whenever agents are on the phone.
4. Collect Useful Information
Virtual agents are an excellent way to amass a collection of actionable data since they converse via text. The analysis of this data, in conjunction with other applications of AI and natural language processing, can produce valuable insights.
You can use this information to create a self-service knowledge resource, which helps to reduce the amount of communication you receive.
5. Scalable and Provides Long-Term Returns
Recruiting and training new agents on the same repetitive activities is not the ideal expansion plan for your organization. Instead, virtual agents are your best option since they only need a one-time setup, can be trained, and can be scaled to any numbers without further training.
A good combination of virtual agents for repetitive tasks and support agents to manage inquiries that need human assistance can lead to better returns and a more sustainable business expansion plan.
How to Make a Virtual Agent?
It's harder to get started with a virtual agent. Instead of building one from scratch, there are tools available for you to customize.
For example, Nextiva's contact center software, powered by Five9, includes a robust IVR so you don't need to build one from scratch.
The Nextiva IVR software enables you to provide individualized service, stay in constant contact with customers, and automatically align agent scheduling to match changing traffic patterns.
While IVAs can handle the basic tasks, self-service interactive voice response (IVR) handles large call volumes, freeing up your live agents to handle calls that require a more personal touch.
We will help you find the perfect contact center solution for your company's requirements.
Ready to give it a try? Talk with an expert from Nextiva.
What Is an Intelligent Virtual Agent?
Intelligent virtual agents (sometimes referred to as just IVAs or "virtual agents") are AI-powered software that can have conversations with customers. They are essentially digital assistants that can comprehend human speech and answer in a human-like manner, particularly in the case of simple, recurrent requests.