Every interaction a customer has with your organization impacts their experience. Yet, most companies rely only on high-level metrics such as Net Promoter Score or customer churn rate. 
It's time to move beyond these metrics that only give a snapshot of customer approval. It's time to really get granular and dig into the customer experience at each phase of the customer journey. 
For instance, a customer's experience signing up for your product is entirely different from their experience dealing with a technical issue. Each moment is an opportunity to either improve or hurt their overall experience.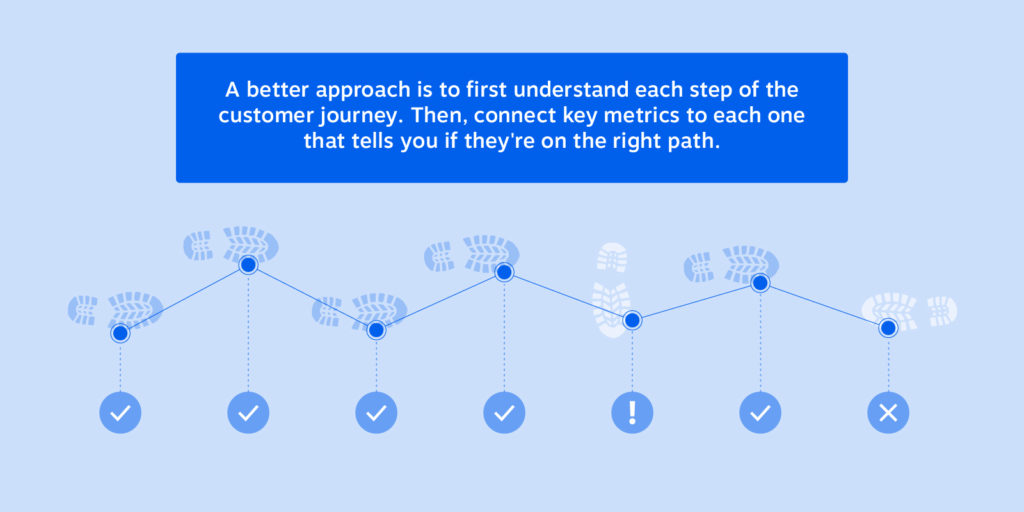 Here's an example.
Let's say you ordered a new bed frame, but it's missing a part when it arrives. As you're on hold with support to sort out the issue, an automated email pops up asking if you'd recommend the company. But you haven't had a chance to try the product. Plus, you don't know your experience of getting a replacement. 
Instead, a better approach is first to understand each step of the customer journey. Then, connect key metrics to each one that tells you if they're on the right path. 
A simple framework for measuring experience across the customer journey
By breaking up your CX metrics into steps of the customer journey, you'll start to see how many different elements impact the customer experience. Rather than just look at the end result of a customer journey, you can dig down into the exact moments that need your attention.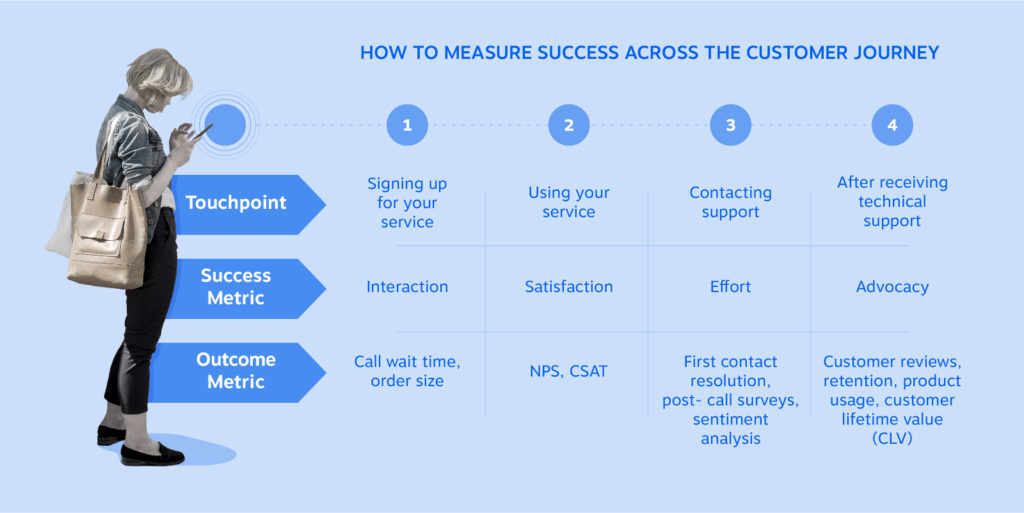 To do this, we're going to create a framework that uses what you already know about your customers to measure the impact and efficiency of your CX initiatives. Here's how:
1. Outline the customer journey & "touchpoints" along the way
Ask yourself, what action or goal do you want customers to take? For instance, your goals might be booking a demo, signing up for your service, onboarding other teammates, or even receiving a product on time.
Every journey to that goal is made up of a series of "touchpoints" that customers go through on their way to a goal. For example, new customers have a business pain point, learn about your brand on social media, and then go through your sales process.
Each touchpoint is a focused opportunity to improve the customer experience. And as you improve each one over time, you'll start to identify larger opportunities and impact the overall customer experience with your company. 
If you see a potential customer drop-off, was it an issue with your marketing being unclear? Was it pricing? Was the effort involved in switching too much? Or was it even a problem with your call center team when they called in for help?

Our tip: Start by prioritizing a single 'quick win' journey to get momentum and buy-in for larger projects. If you already understand your common customer journeys, use them to highlight pain points or look for opportunities. Otherwise, talk to your support team and ask where customers are getting frustrated.
2. Set a customer experience success metric for each touchpoint
Now that you can know the steps of your customer journey, it's time to set success metrics and KPIs for each touchpoint. These in-journey signals will become the guardrails that keep your customers moving in the right direction. 
One exercise that can help you here is to think about what customers experience, feel, and do. Forrester calls these interaction, perception, and outcome metrics.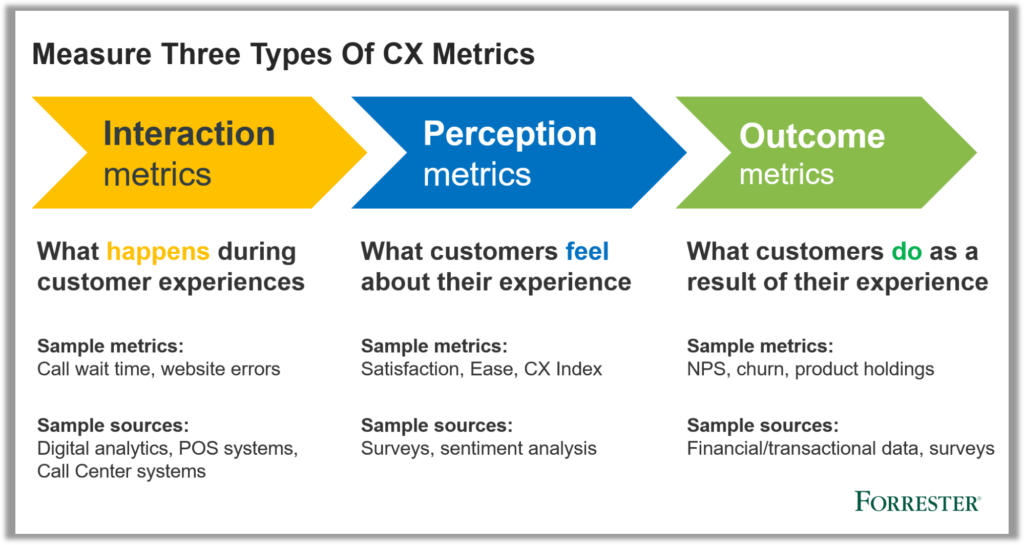 After you've gone through the customer journey for your specific business, your chart might look something like this:
Example of how to map customer experience metrics to customer journeys
Success metric
Journey step
In-journey signals
Tools
Purchase product
Browse website
Time on site
Pricing page CTR
Website analytics
–
Complete checkout
Account creation
Post-purchase survey
3. Set up automations to ask for customer feedback
Customers have limited time to give you feedback. To get the data you need, it's essential you make your process short and sweet.
Follow these best practices when asking for customer feedback:
Meet them where they are. Your customers have their preferred channels. Rather than force them into your flow, use an omnichannel contact center to keep the conversations where they want to be.
Reach out at the right time. Timely feedback is essential to understanding your customer's emotions. However, it can also skew data in the wrong direction. For example, rather than use IVR after a long support call to ask for feedback, choose a medium they can use at their leisure, like SMS or email.
Use data sources beyond surveys. Customers are hitting survey fatigue. Yet 70% of organizations rely entirely on surveys for feedback, leaving other valuable sources untapped. Take advantage of advanced tools like AI call analysis and product usage to give you a full picture of the customer experience.
Lastly, move away from manual processes so your CX measurement isn't restricted to business hours. For example, in Nextiva, you can set up customer service automations to analyze customer conversations and actions and trigger a relevant response.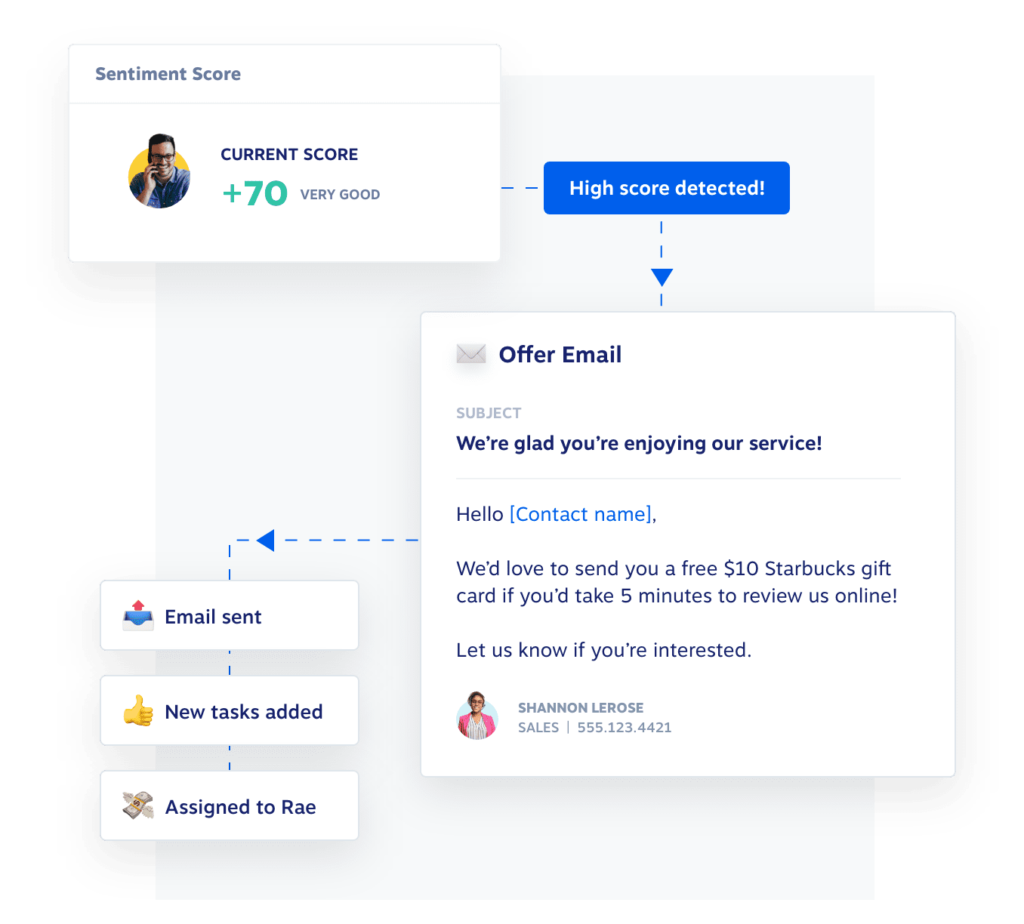 Automations help you ask for feedback at the right time and provide 24/7 support while saving you money. According to McKinsey, businesses that use automation to revamp their customer experience strategy can save up to 40% in operating costs.
4. Create a central customer experience dashboard
Customer experience data is useless if it isn't accessible, easily understood, and actionable. A central dashboard for all your metrics is a single source of truth and an essential tool for measuring customer experience.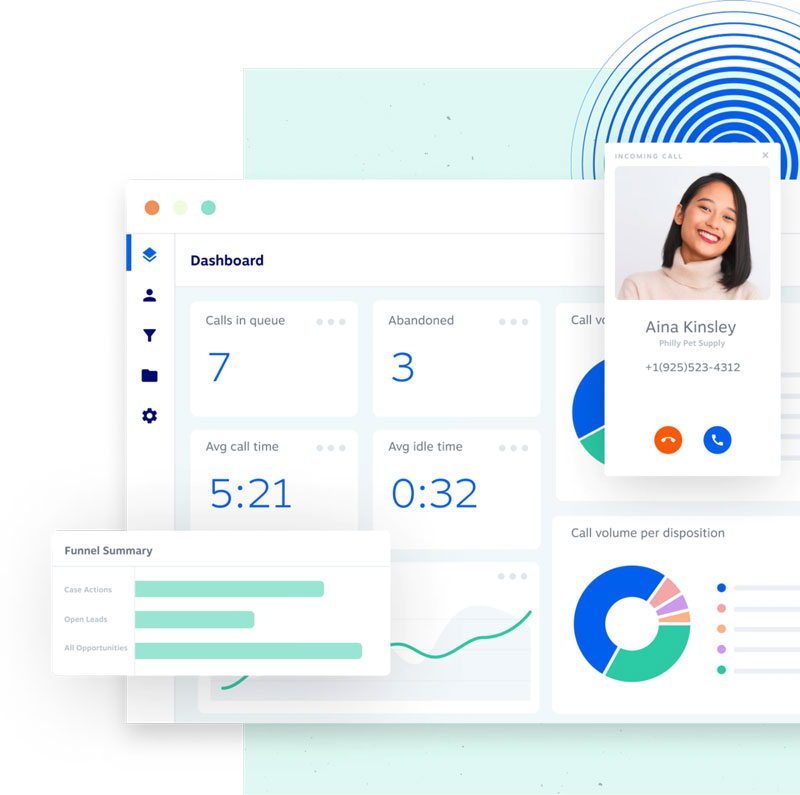 Look for a unified communications (UC) tool like Nextiva that combines tools like phone, chat, and video with a service CRM. This way, you can access real-time and historical data alongside customer conversations. 
Related: The definitive guide to Unified Communications as a Service (UCaaS)
5. Future-proof your customer experience with regular quality assurance monitoring
At this point, you have a framework for tracking customer experience across different journeys. However, your customers, business, and industry are always evolving.
There's never really a moment where you're done measuring customer experience. Instead, you should build in regular quality assurance (QA) to find ways to improve.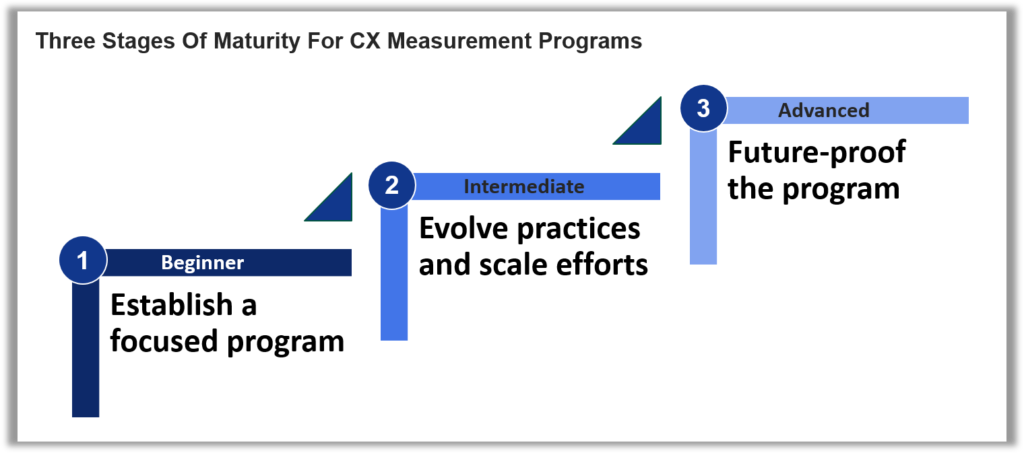 Customer experience QA comes in many forms. Here are a few suggestions to get you started:
Listen in on calls. Transcripts only capture so much information. Instead, listen to how customers interact during critical touchpoints of their journey.
Use sentiment analysis to track how customers feel about changes. Modern technology like AI and natural language processing can scale your QA effort by analyzing customer sentiment. This is especially helpful for tracking the ROI of your support investments, as you can track trends over time. 
Define quality benchmarks. Historical benchmarks give you a bottom line to track changes or prepare agents for challenging scenarios. For example, your support agents can see the average handle time in your contact center and anticipate customers getting agitated when they go beyond it.
Set predictive metrics. QA isn't just about looking at the past. Setting predictive metrics shifts your thinking from reactive to proactive support. This is a great way to continue to evolve and scale your CX strategy.
Segment data by customer or behavior type. Not all customers are the same. Use customer data to define your most problematic or most loyal customer groups and see how their experiences differ. You might find different customers have different in-journey signals for the same goal.
Making sense of customer experience data doesn't have to be complicated
When it comes to how to measure customer experience, simpler is often better.
Instead of drowning in customer experience metrics, prioritize a single journey, understand the in-journey signals to watch out for, and then bring it all together in a single dashboard like Nextiva.
The more unified your data, communications, and software are, the easier it is to create meaningful and enjoyable customer relationships.